Rigatoni with prosciutto and pepper vodka cream sauce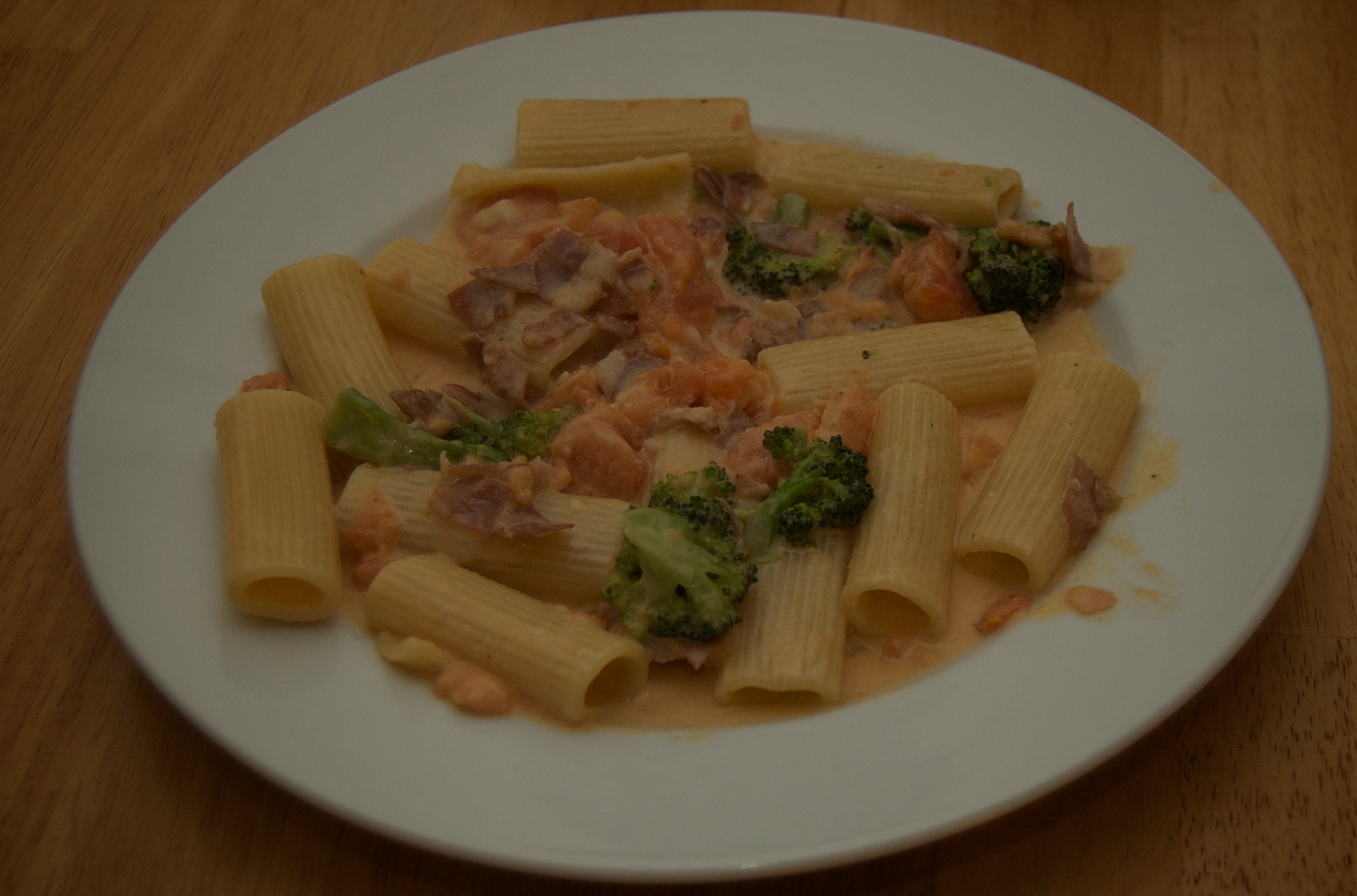 1.5 oz. thinly sliced prosciutto, cut into strips 9.2 oz. plum tomatoes, peeled, seeded, and diced (3 large) broccoli, steamed olive oil 3 cloves garlic, pressed red pepper flakes 1 oz. pepper vodka 0.5 oz. Parmesano Reggiano cheese, grated 0.5 oz. Pecorino Romano cheese, grated 2.0 oz. heavy cream salt and pepper rigatoni
Bring a pot of water to a boil.
Drop the tomatoes into the water for 30 to 45 seconds. Then remove and chill under cold water. This will make peeling the tomatoes much easier.
Salt the water and cook the pasta according to package directions.
Heat a sauté pan over medium heat.
Peel, seed, and dice the tomato.
Steam the broccoli.
Add add the olive oil to the hot sauté pan and briefly sauté the garlic, making sure it does not burn. Add the tomatoes and red pepper flakes and cook for several minutes.
Add the pepper vodka. I used my own jalapeño and habanero infused vodka, though a prepared pepper vodka, such as Absolut pepar, also works fine.
Push the contents of the sauté pan to the side to make room for preparing the cream sauce. Add a portion of the cream and the cheese, and stir to make a sauce. Adjust the consistency as necessary by adding cream. Mix into the tomato/prosciutto. Add the broccoli. Add the cooked and drained pasta. Salt and pepper to taste. Serve.