Marinated Tempeh Fried Wontons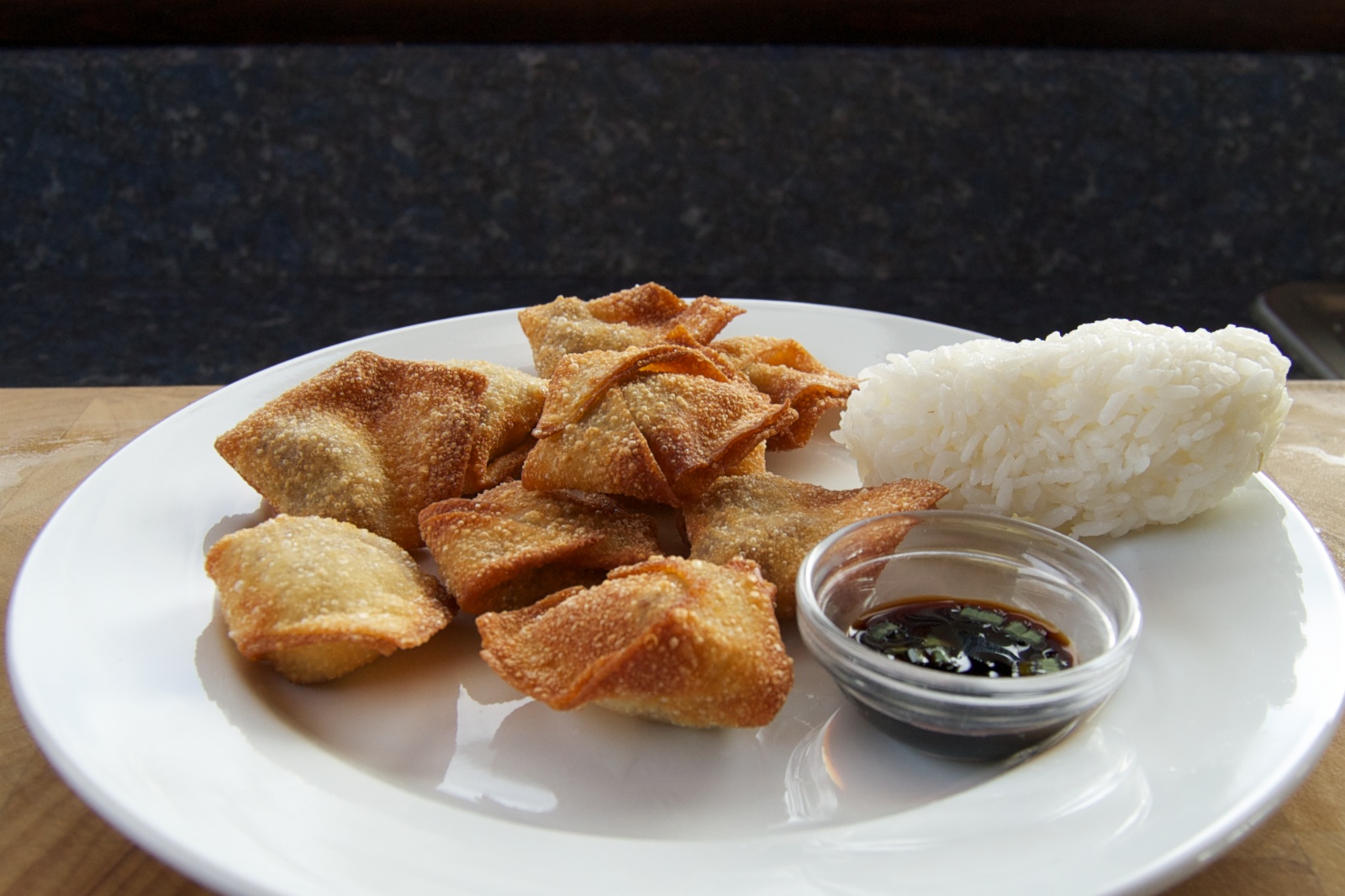 These fried wontons were excellent! You might even fool a few meat eaters with these.
The marinade is used for both the tofu and the tempeh. You really only need about 1/3 of this for just the tempeh.
1 scallion, finely chopped 3 oz. soy sauce 1.5 oz. sake, mirin, or dry sherry 1 tbsp. granulated sugar 0.2 oz. fresh ginger, peeled and minced (1 tbsp.) 2 cloves garlic, pressed 1/4 tsp. black pepper 1/4 tsp. cayenne pepper
Heat the ingredients in a small saucepan until simmering. It is not necessary to boil it, but heat it long enough to dissolve the sugar and meld the flavors.
Break apart the tempeh (fermented soybean cake), pour about a third of the marinade (about 1.5 oz.) over the tempeh and marinate for 2 hours. Most of the marinade will soak into the tempeh.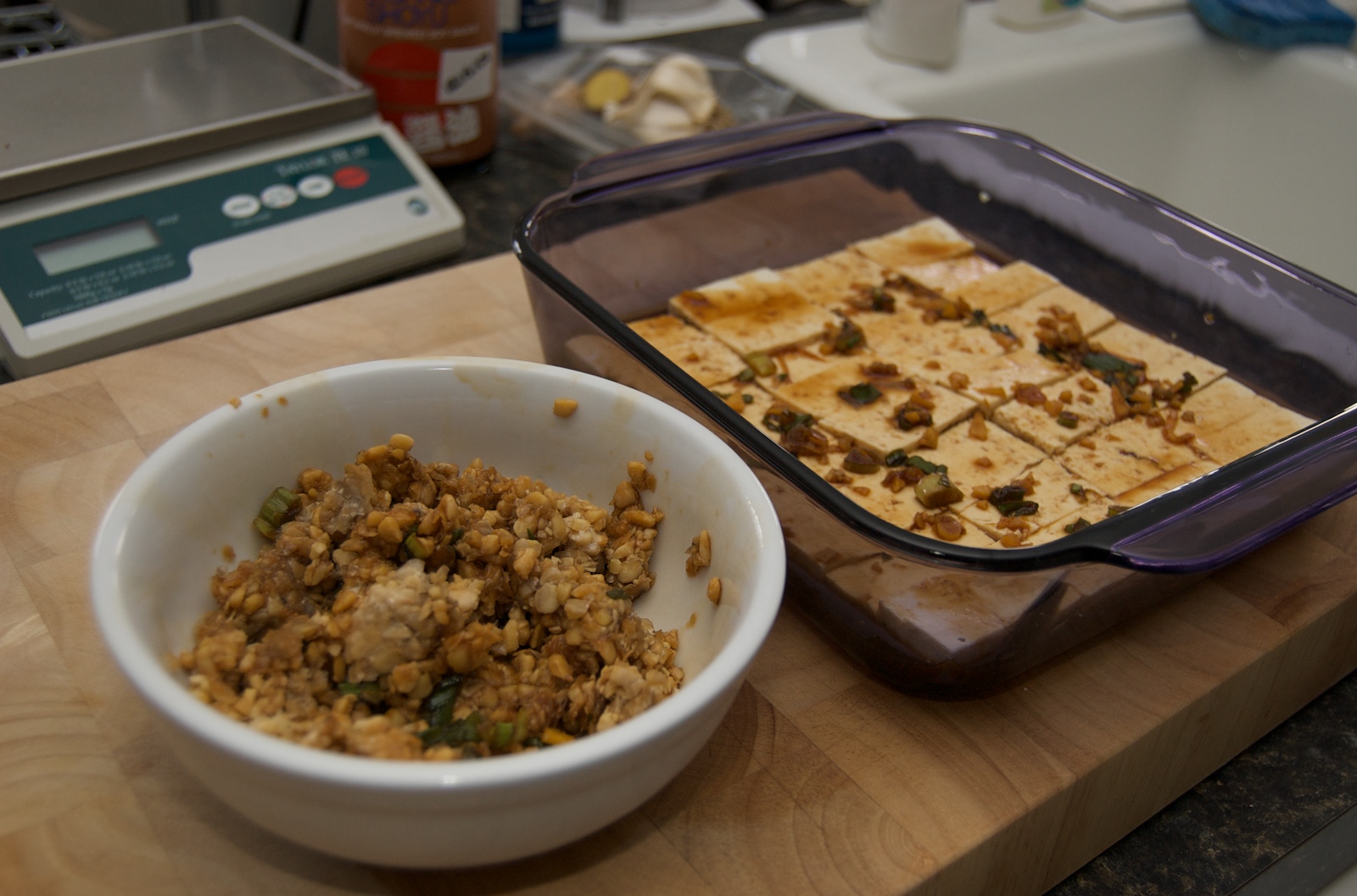 Prepare the wontons: Take a wonton wrapper, moisten two adjacent edges, add a small amount of the tempeh filling, about 1/2 tbsp., and fold into a triangle.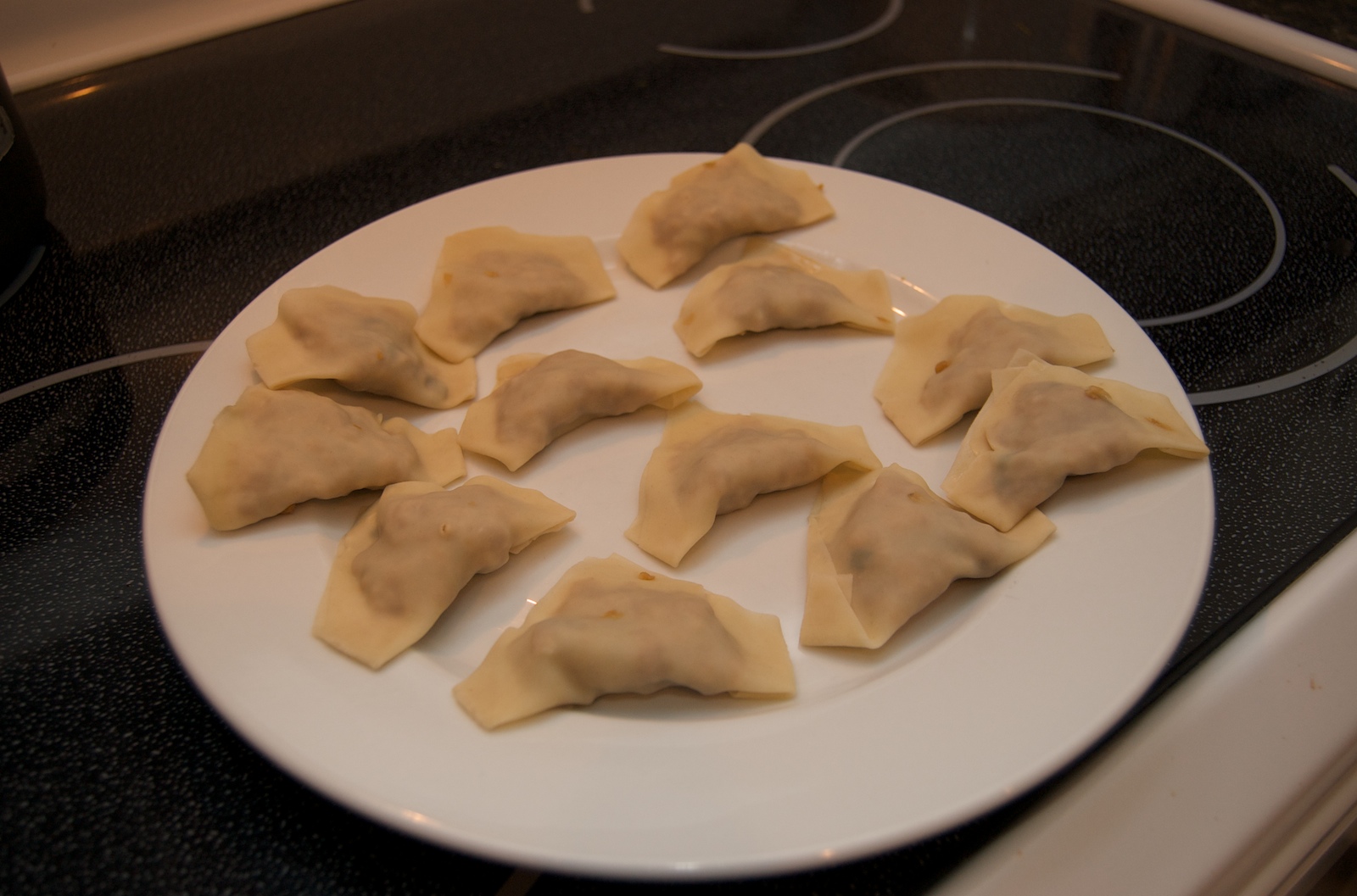 Deep fry for 1 to 2 minutes at 360°F.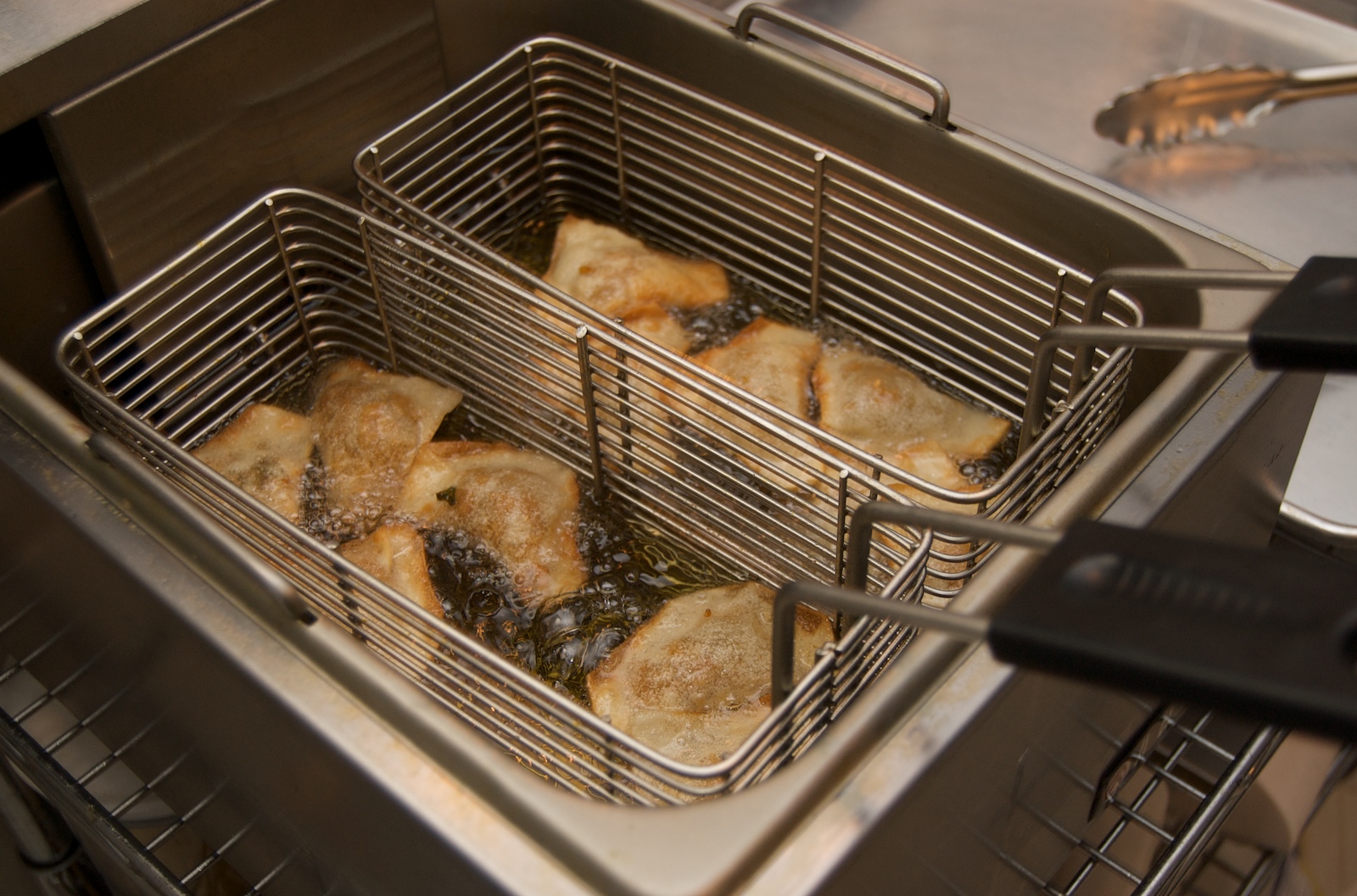 Makes at least a dozen, perhaps 2 dozen, wontons.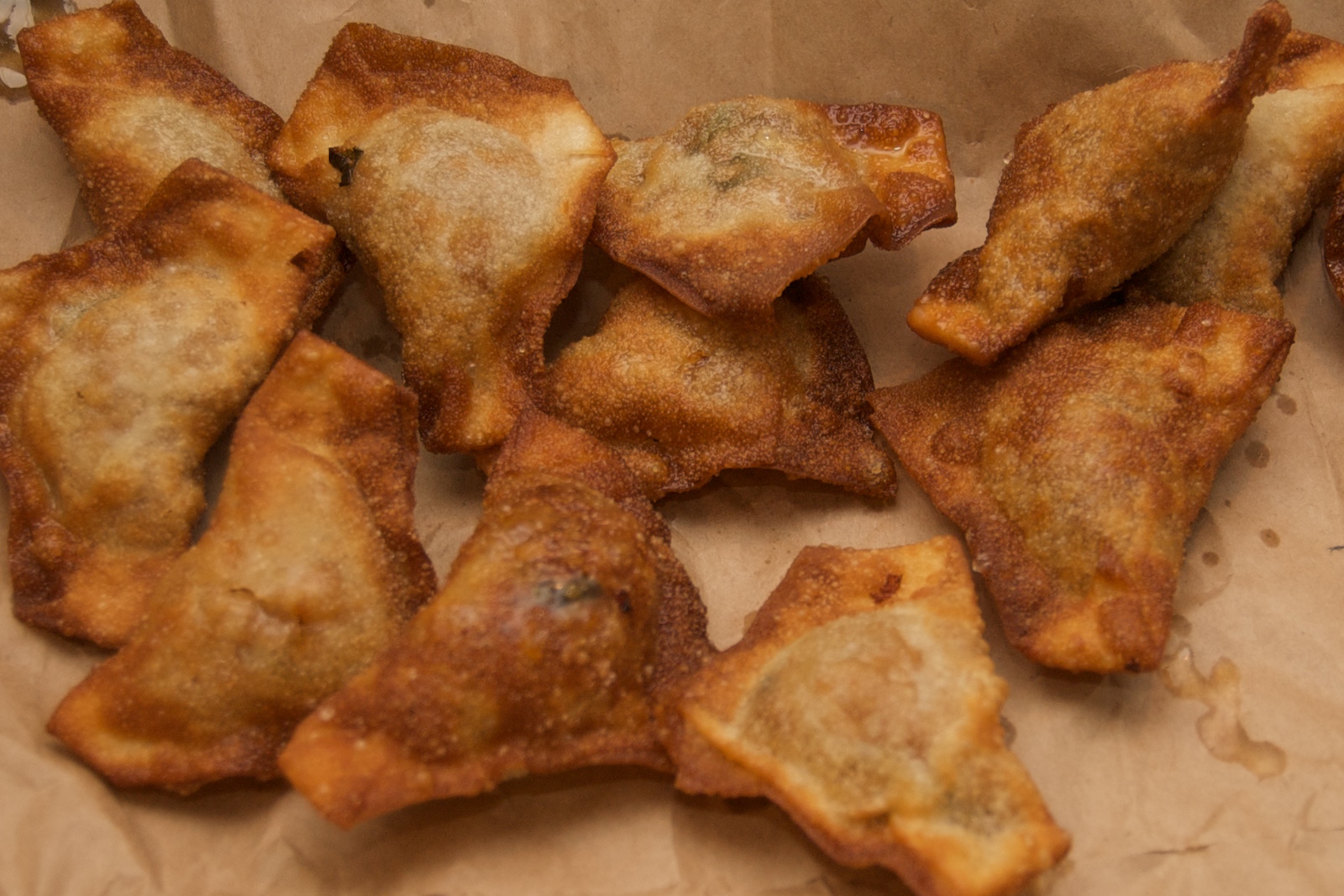 Since I was making egg rolls as well, I only bought egg roll wrappers and cut several egg roll wrappers into quarters for use with the wontons.
If I wasn't already making everything in the deep fryer I would probably have made these pan fried, also known as potstickers, and they would probably be nearly as delicious. Here's how: Heat a sauté pan over medium-high heat. Add a small amount of oil for frying to the pan and add the wontons in a single layer. Cook for 2 minutes, uncovered, without touching. The wontons will likely stick to the pan, hence the name potsticker. Add 1/3 c. vegetable broth or water, lower the heat to low, cover, and cook for 2 more minutes. Remove the potstickers from the pan and serve.
The filling can be frozen. Actually, the whole thing can be frozen, but it works best to freeze the filling and make the wontons fresh.
Update: I made it again, and it was excellent. Ten wontons made in a quarter of an egg roll wrapper (small), made a good lunch for me with some plain fried wonton strips.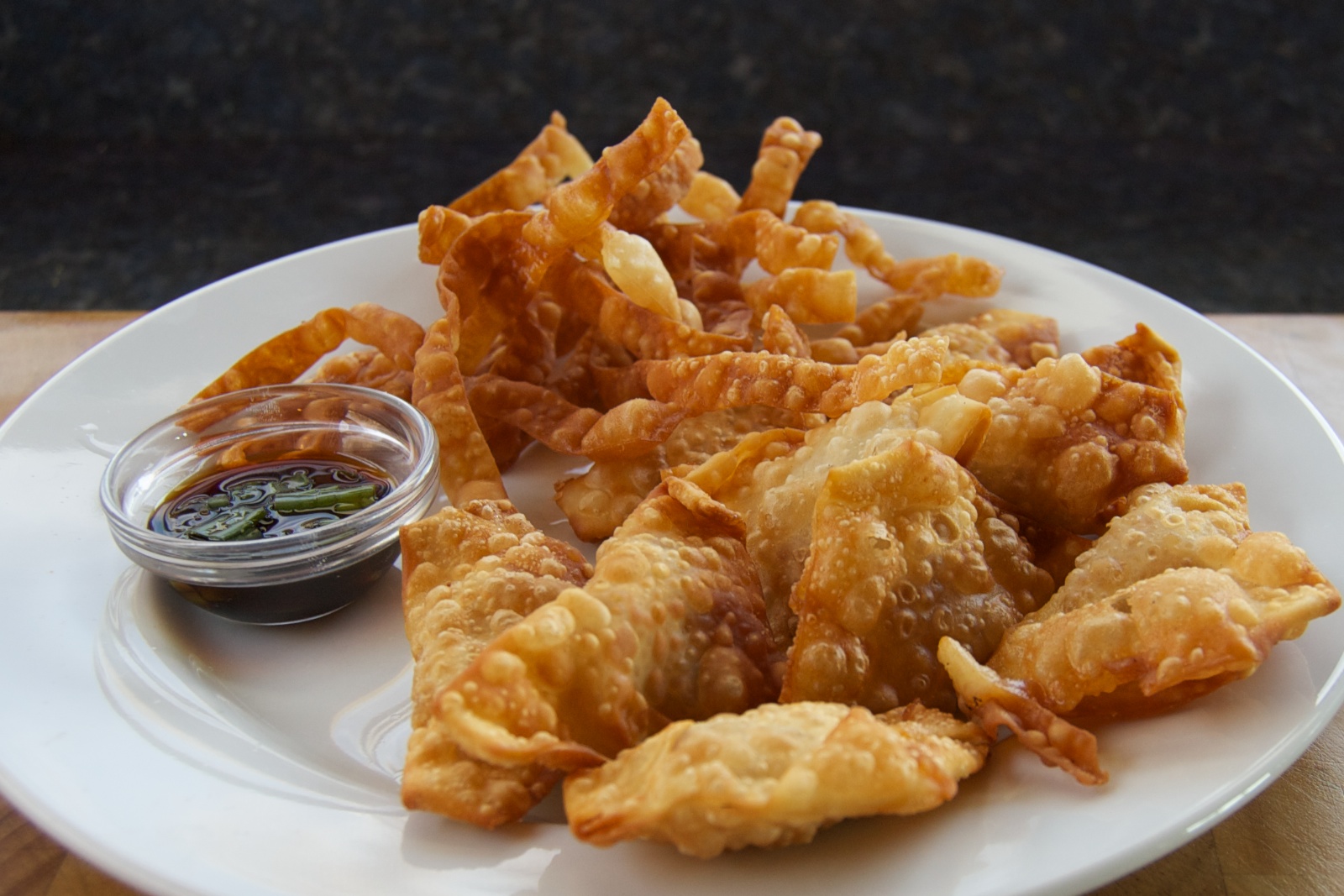 Here's another one, this time with a rice ball (omusbe), which is good because the previous is a little heavy on the fried food.