Basic tomato pasta sauce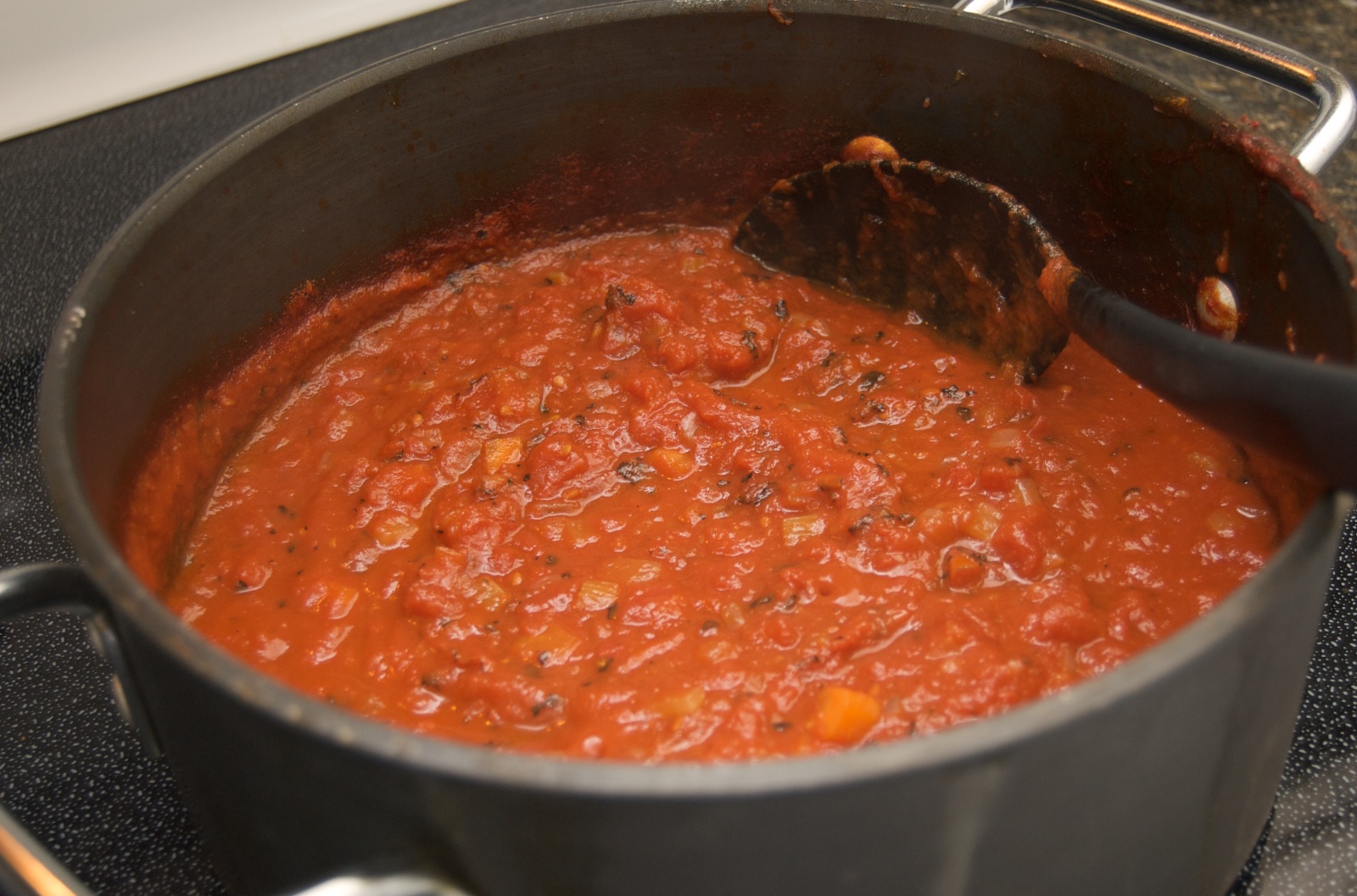 This is my basic red wine pasta sauce, which is based on Giada de Laurentiis' recipe , but with a little added red wine. It's the base for other things, so it doesn't have some common herbs like basil or oregano in it yet. Some of this sauce is going into my spinach and basil lasagna, for example, and putting the basil in the sauce too would be overkill. Plus, adding fresh herbs is best done closer to serving time.
olive oil 1 yellow onion, finely diced 4 cloves garlic, pressed 2 stalks celery, finely diced 1 carrot, finely diced 4 oz. red wine 2 cans crushed tomato (28 oz. each) dash of red pepper flakes (optional) 2 bay leaves 2-4 tbsp. unsalted butter
In a large pot over low to medium-low heat, add olive oil to coat the bottom of the pan.
Add the onion and garlic and sweat for 5 to 10 minutes, until translucent, making sure not to burn either.
Add the celery and carrots and continue to cook for 10 more minutes until softened.
Add the red wine and increase the heat to medium-high. Cook for 2 to 4 minutes or until most of the liquid has evaporated.
Add the canned tomato and bay leaf and continue to cook over medium-high heat until the sauce begins to bubble.
I like my pasta sauce with a little heat, so I add dash of red pepper flake here, though the sauce is also very good without it.
Lower the heat and simmer for 1 hour.
Remove bay leaf. Add salt and pepper.
Add a few tablespoons of butter; this will help reduce the acid taste in the sauce. Taste and add more butter as necessary. Some people use sugar, but I find that makes the sauce far too sweet. I've heard cinnamon works, but I've never tried it.
I wanted a slightly chunky sauce, but if you wanted it smooth you could put it through the food processor, blender, or a stick blender to smooth it out.
Make sure you used good canned tomatoes - I used Muir Glen fire roasted crushed tomatoes this time, but I would probably have chosen one of the other varieties had I thought about it some more. The fire roasted variety leaves little black specks in the sauce which I'm not really a fan of.
Makes one 26 oz. package (equivalent to a jar of sauce) and three 5 oz. packages (individual servings). Update: I now make it in 6 oz. single serving packages. While 5.0 oz. is enough, 6.0 oz. is a generous serving and I like lots of sauce.
Update 4/9/2012: My stove is incapable of producing low heat so I now make sauce on my induction hot plate, which is excellent for making sauce. Perfect low heat with no hot spots and no burning of the sauce!