Mushroom risotto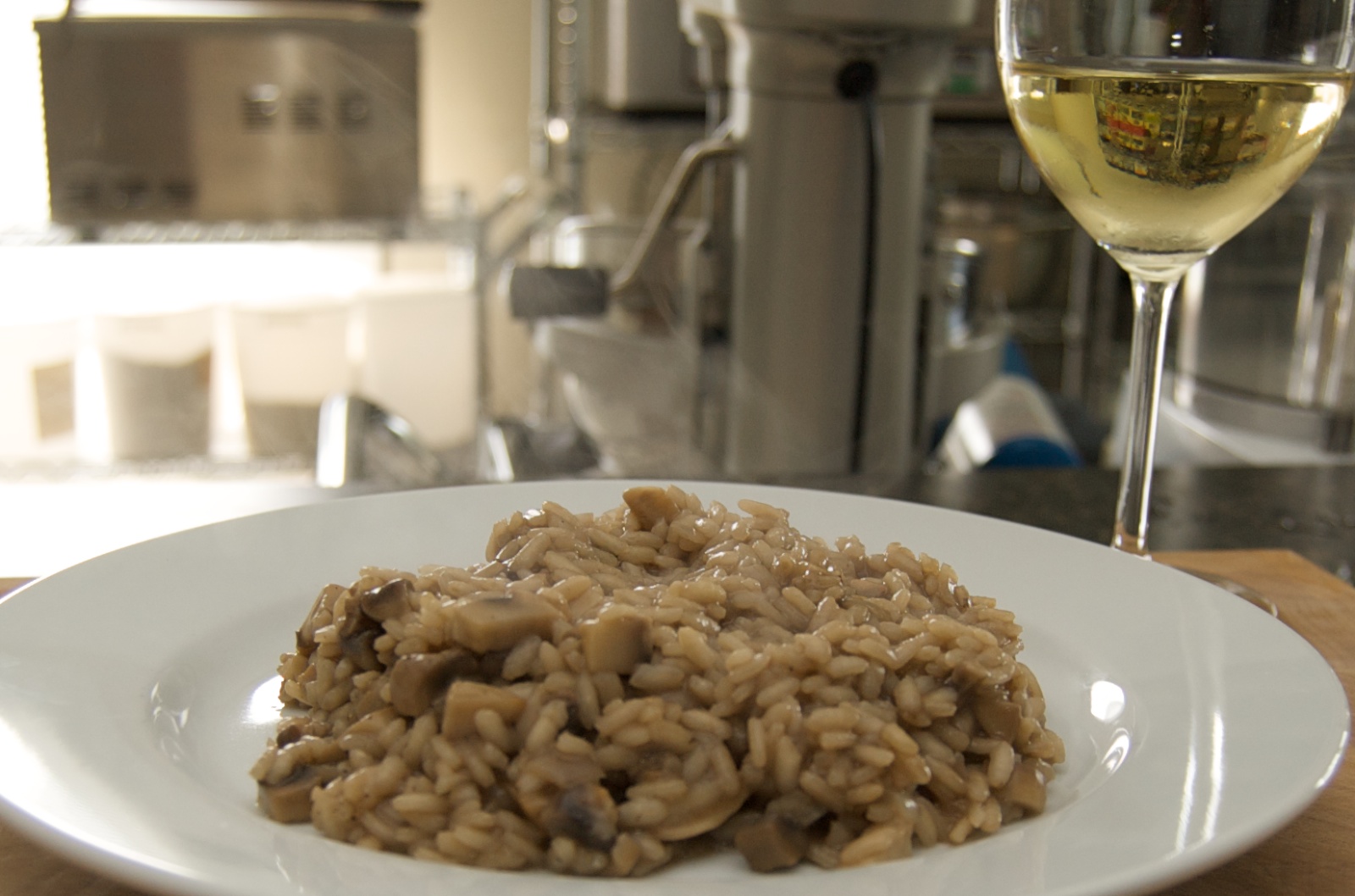 I had a bunch of white mushrooms to use up, so I decided to make a batch of delicious mushroom risotto. It would have been even better with fresh shiitake or chanterelle mushrooms, but that would have defeated the purpose of finding a recipe to use up some mushrooms I had on hand.
This recipe serves one for a dinner-sized serving, or two as a side dish, and multiplies easily. Just don't make more than you're going to eat immediately, because risotto does not reheat well at all.
3.5 oz. arborio rice (1/2 cup) 2 tbsp. butter mushrooms, diced 1 shallot, minced 4 oz. white wine (1/2 cup) 24 oz. mushroom stock black pepper, freshly ground parmesan cheese, freshly grated
Heat the mushroom stock in a saucepan.
Heat 1 tbsp. butter in a sauté pan over medium high heat. Add diced mushrooms of your choice and quantity. You can even make this without any added mushrooms, if you want. Cook the mushrooms for 3 to 4 minutes, then set them aside.
Wipe out the sauté pan or use a different one. Heat over medium-high heat ("8" on my stove). Add the other 1 tbsp. butter. Add the minced shallots. Cook for a minute.
Add 3.5 oz. arborio rice (1/2 cup) to the pan and make sure it gets thoroughly coated with the butter. Cook for a 2 to 3 minutes, stirring frequently.
Add 4 oz. (1/2 cup) of white wine and heat until most of the liquid is absorbed.
Add hot mushroom broth 4 oz. (1/2 cup) at a time. Stir. You don't need to stir constantly, but probably at least once between the time you add the broth until it's almost entirely absorbed.
Repeat adding broth and waiting for it to absorb until the rice is tender. This took 6 iterations for me, though it may vary.
When the last of the liquid is almost absorbed, reduce the heat. Add pepper to taste. Grate some Parmigiano Reggiano over the top, stir to incorporate. You probably won't need to add any salt, but if you do, add it now.
Serve.
Of course this dish is vegetarian. Substitute oil, such as olive oil, for the butter, and leave out the parmesan cheese and the dish is vegan.
Use a good quality mushroom broth - I use Pacific organic broth in the aseptic carton.
This recipe could be made with chicken broth, but it's not nearly as mushroom-y which I think defeats the purpose.