Hasenpfeffer
I decided to make hasenpfeffer, German peppered rabbit. I'd never made, nor eaten, it, but I remember it from a Bugs Bunny episode ("shishkabugs").
Serves 1 or 2:
0.65 lbs. rabbit 2 oz. bacon, diced 1 shallot, minced 1 clove garlic, minced 1 oz. cognac (or brandy) 6 oz. beef and veal stock 2 oz. red wine 1 tbsp. red wine vinegar 1/8 tsp. dried thyme 1/8 tsp. dried rosemary 2 juniper berries 1 whole clove 12 black peppercorns, crushed 1 bay leaf 1 tbsp. butter
Season the rabbit with salt and pepper. Dredge in flour.
In a pot large enough to hold the rabbit in one layer, sauté the bacon to render its fat for a few minutes, then add the shallots and garlic over medium heat and cook until translucent. Do not brown.
(I actually used olive oil to cook the shallots and garlic then added 0.75 oz. of frozen pre-cooked bacon since I didn't have any raw bacon.)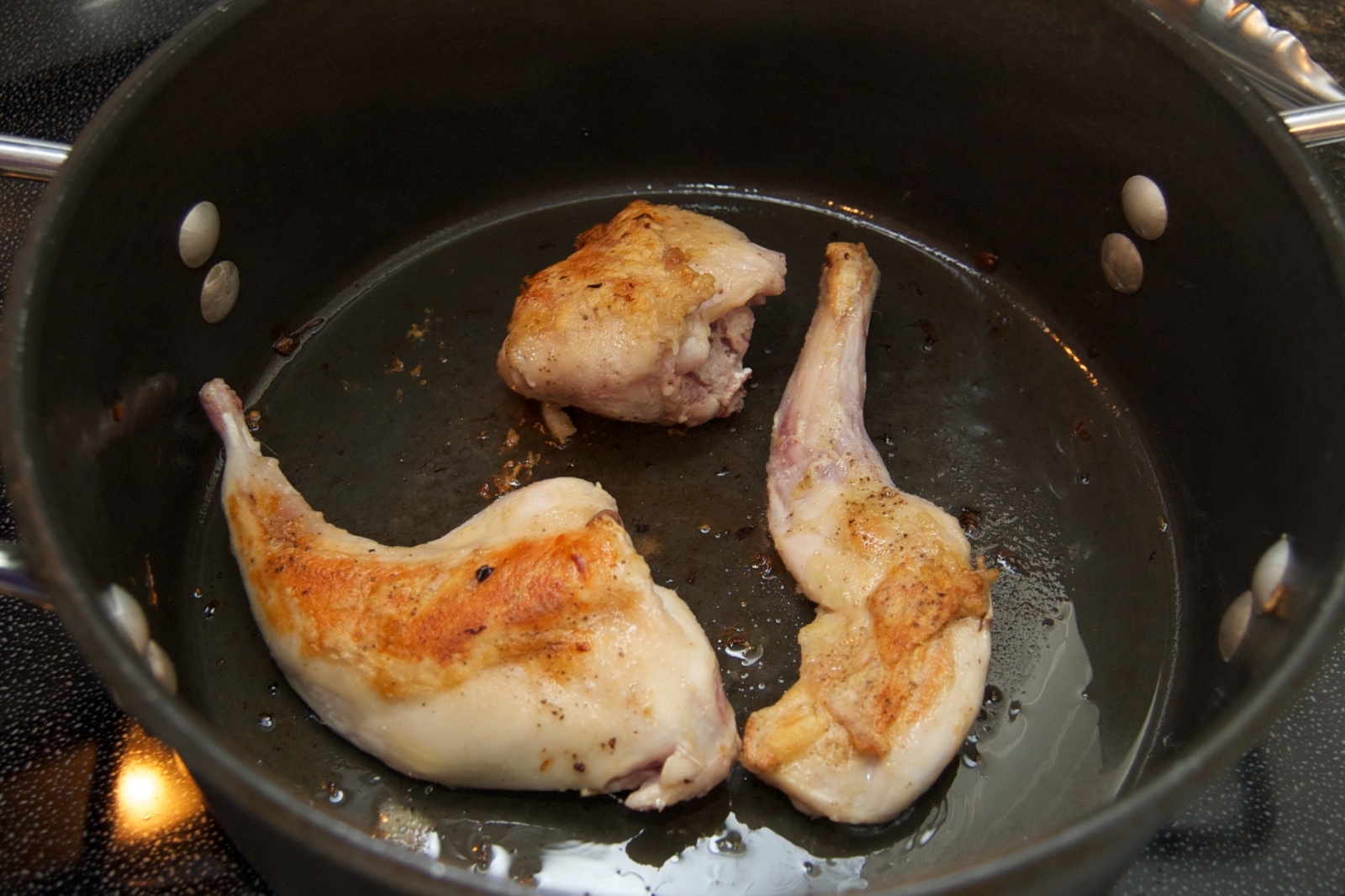 Remove the bacon, shallots, and garlic from the pan, leaving the rendered bacon fat. Add vegetable oil if necessary, increase the heat to medium-high and brown the rabbit on all sides. Remove the rabbit from the pan temporarily.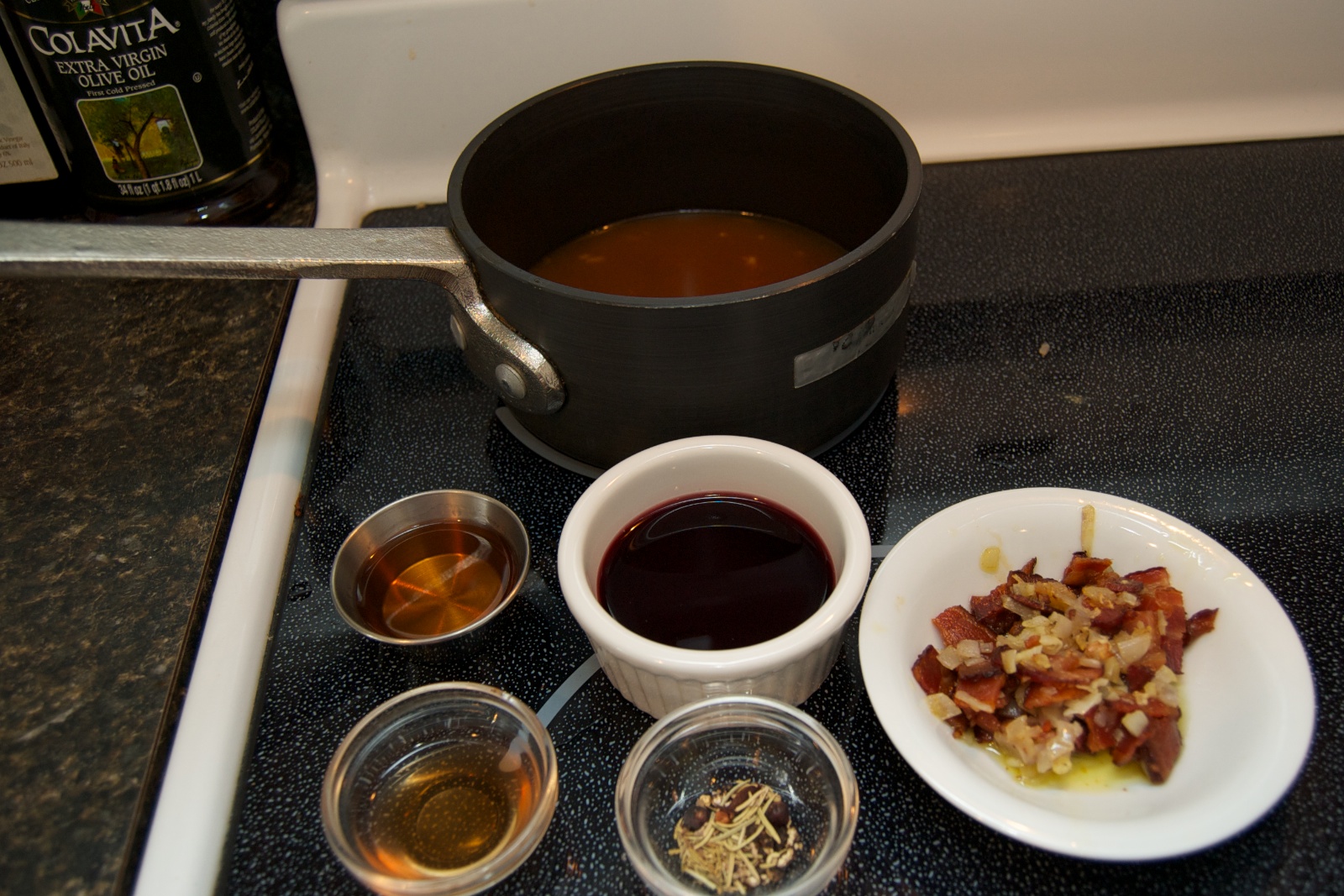 Reduce the heat to medium and add the cognac and reduce by half. Be a little careful, as it's possible that the cognac will catch on fire here.
For the stock I use More Than Gourmet Demi-Glace Gold at a ratio of 0.75 oz. (by weight, a little more than a tablespoon) to 6 oz. water.
To crush the peppercorns, I just set them on the cutting board, place the flat side of the knive over them, and whack the knife with the palm of my other hand.
Add the stock, red wine, vinegar, and spices to the pan. Add the rabbit back in, bring to a boil, then reduce the heat to simmer. Simmer for 1 hour. Turn the rabbit over occasionally. If the sauce like it's getting too thick, add some stock or water.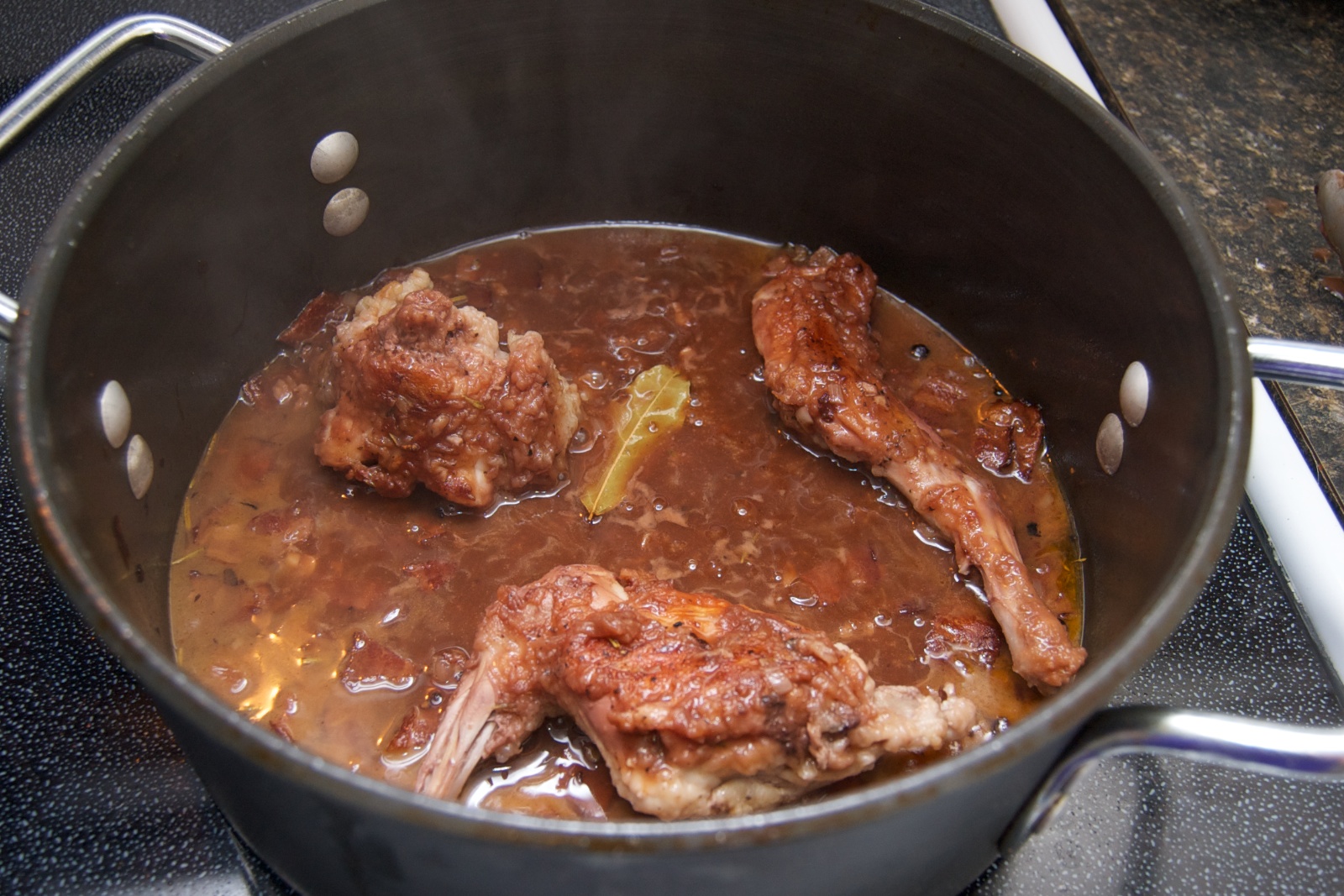 Remove the rabbit from the pan. Add a tablespoon of butter to finish the sauce. Remove the bay leaf. Serve with the rabbit.
Served with spätzle and fried green cabbage. Blaukraut (braised red cabbage) would be more authentic, but I didn't have any red cabbage. And I made the spätzle batter too thin so the pieces that came out of the colander were too small. But it tasted fine.