Jalapeños stuffed with goat cheese, shallots, and parsley; beer batter fried zucchini; and steak fries. With garlic aioli.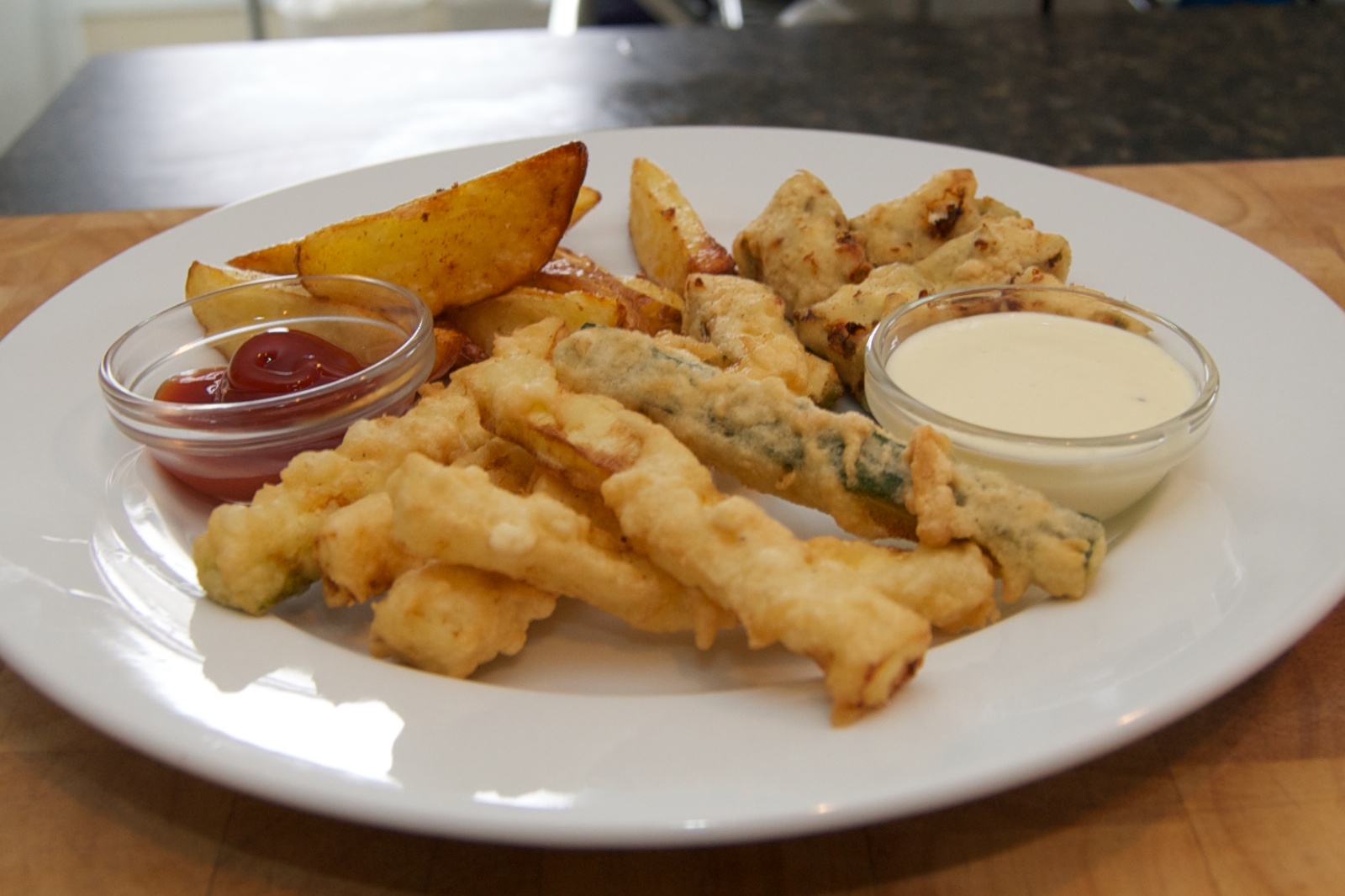 Okay, it's a big plate of fried food. And homemade mayonnaise. Healthy? Not really so much, but soooo delicious!
Prepare the garlic aioli ahead of time.
Beer Batter
The beer batter is used for both the jalapeños and the zucchini. It's also common to make jalapeño poppers with breadcrumbs, but since I thought I'd go with a beer batter since I was making it anyway for the zucchini.
3.7 oz. all-purpose flour (3/4 cup) 1 egg, beaten 8 oz. beer
If you're making a large amount of beer batter, you can stretch it to 1 cup of flour and 12 oz. of beer, which might make more sense if you're not drawing your beer from a keg of Switchback beer and are using a bottle or can. Or you could just drink the remainder.
Steak fries
I prepared the steak fries, seasoned, with salt, pepper, garlic powder, and cayenne pepper as I did previously . This must be done first because the potatoes require a two-step frying process, first at 270°F and then a 360°F. The second stage of cooking can be done with other things.
Jalapeño Poppers with goat cheese, shallots, and parsley
I really like this recipe for jalapeño poppers. But fair warning: they're spicy hot!
Take jalapeño peppers, stem them, and split them in half lengthwise. I made six very small jalapeños but you may want to use bigger ones. Or make more.
Remove the seeds with a spoon. In most recipes, the seeds and perhaps even some of the ribs are discarded, but in this recipe I mince the seeds and ribs, then put them back in. That's why they're so much hotter!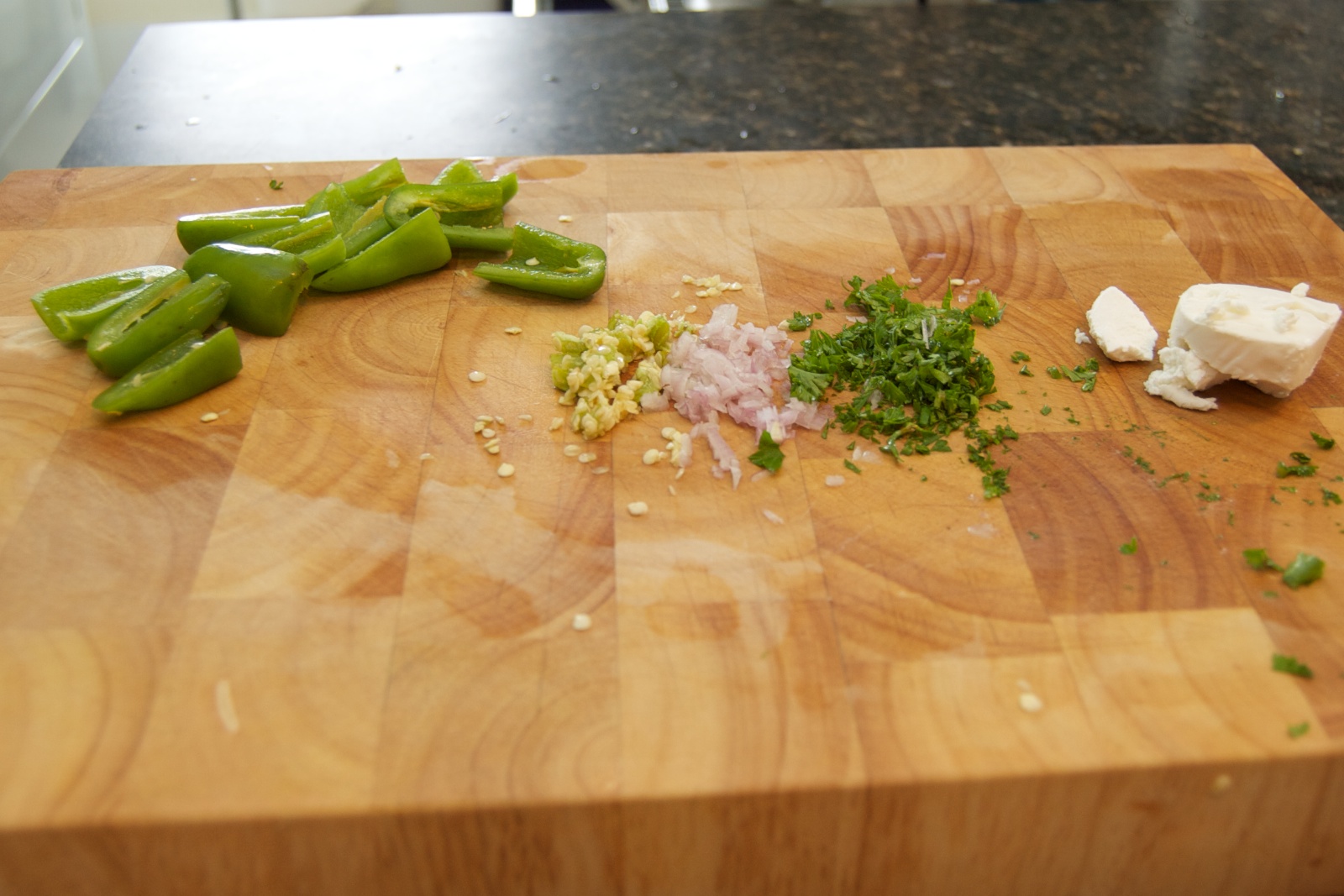 In a bowl, add the minced seeds and ribs, minced shallot, finely chopped parsley, and goat cheese (about 1.5 oz., though I had some left over). Season with salt and pepper. Mix together.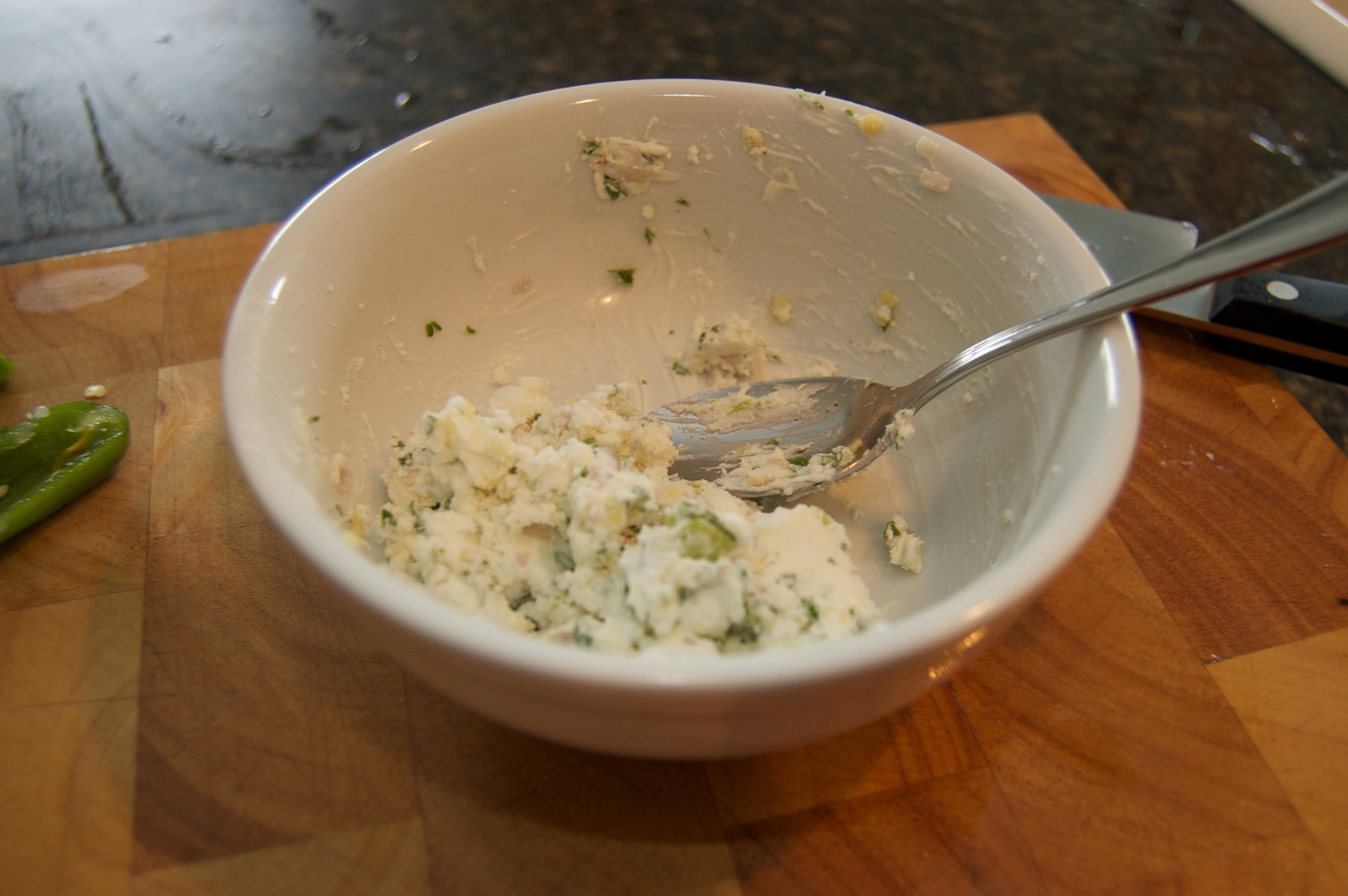 Fill the halved jalapeños with the filling.
Dredge in all-purpose flour then in the beer batter.
Deep fry for 2 to 3 minutes at 360°F.
Zucchini
I used half of a large zucchini, cutting into 1/4" by 4" pieces. I discarded some of the edge pieces that were oddly shaped.
Season the zucchini with salt, pepper, and garlic powder.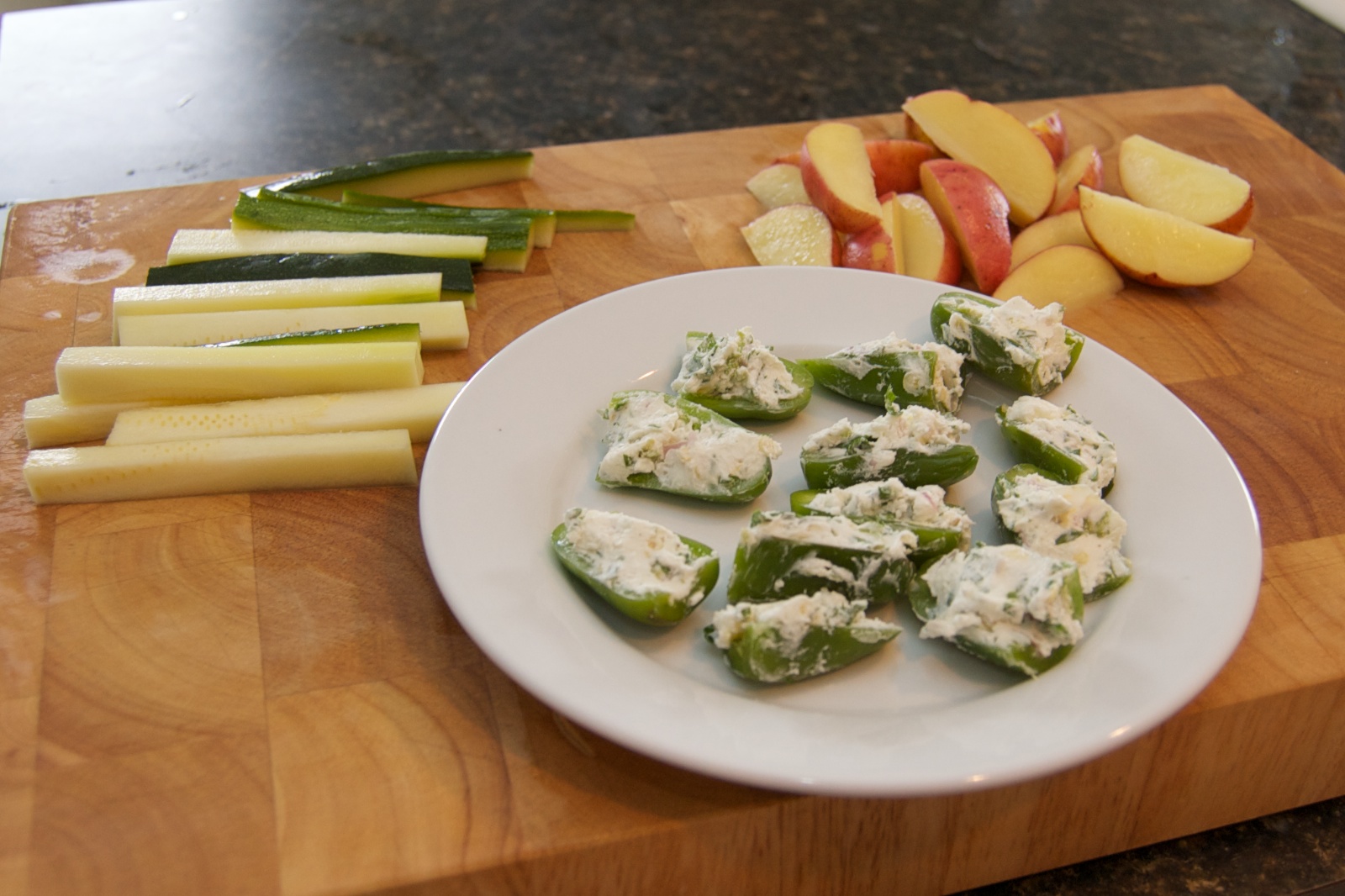 Dredge in flour and then the beer batter.
Deep fry for 2 minutes at 360°F.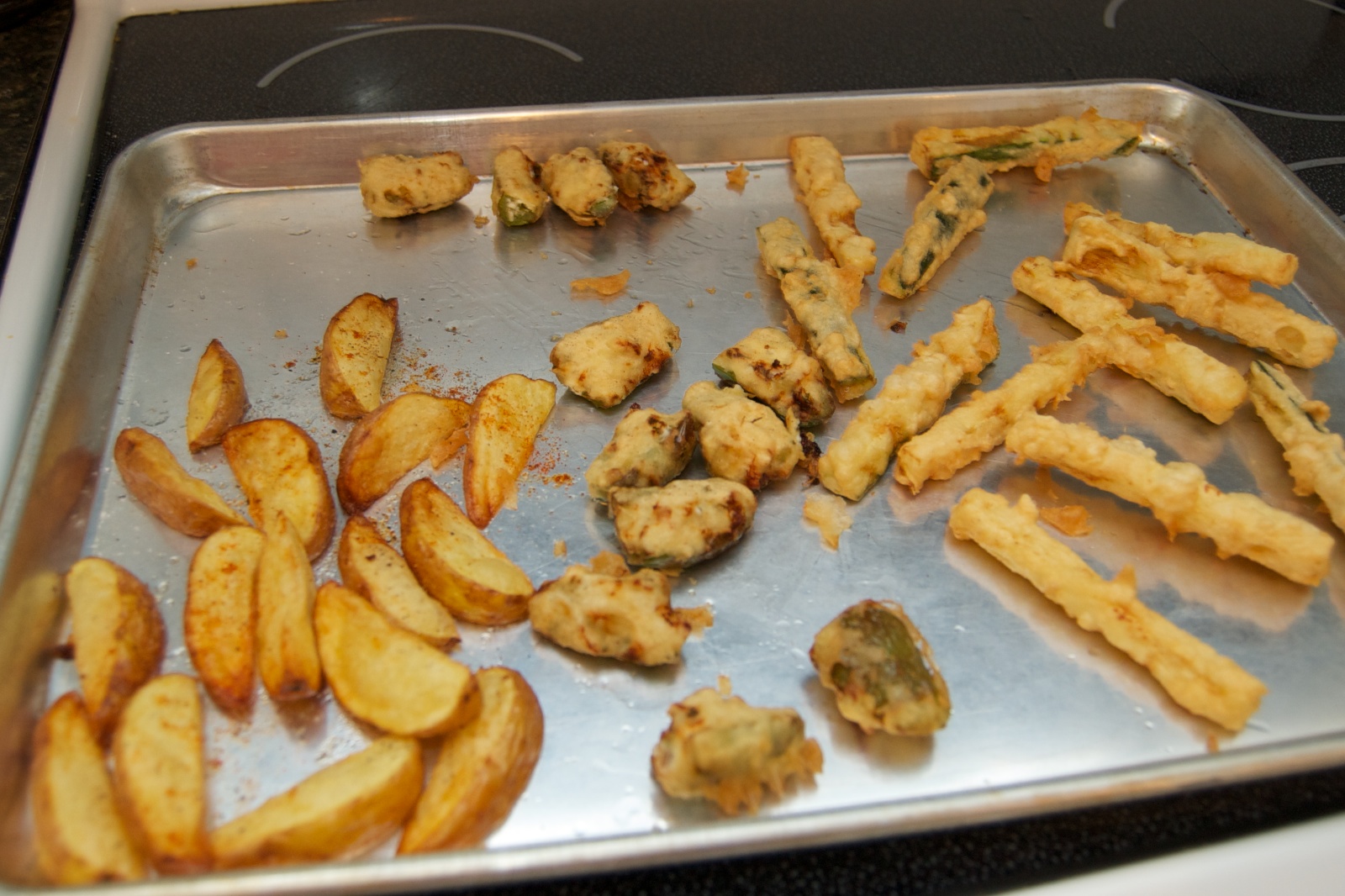 Makes two servings.
The potatoes and poppers freeze fairly well. I reheated them in the oven on a lightly greased sheet pan at 400°F for 12 minutes. The zucchini does not freeze well at all, which was not really a surprise. Aioli, like all mayonnaise, cannot be frozen.
The potatoes, zucchini, and parsley were from my CSA . The jalapeños were local from the farmers' market. The goat cheese is from Vermont Creamery. The beer is local, from Burlington, Vermont.