Homemade bagels with cream cheese, lox, red onion, and tomato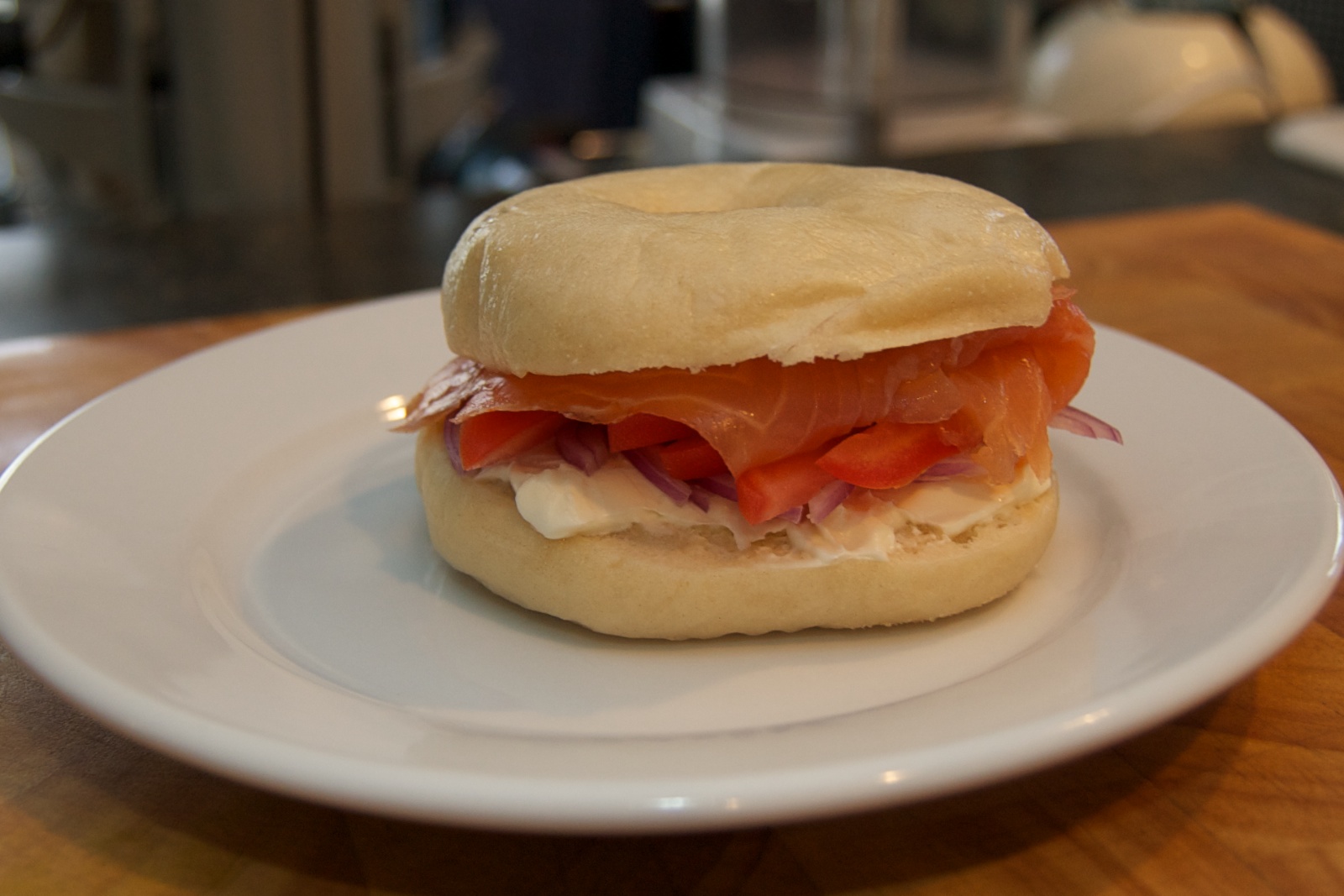 This is what happens around here: It's 6:30 PM and I'm doing tomorrow's menu planning. After going through a number of possible breakfast choices all of the sudden I think "bagel!"
Now of course any reasonable person would go to the store a buy a bagel but I instead decided to make my own, from scratch. The recipe I use is incredibly involved, requiring making a sponge (yeast, flour, and water) and letting that rise for 2 hours, then making the dough and kneading, dividing, relaxing.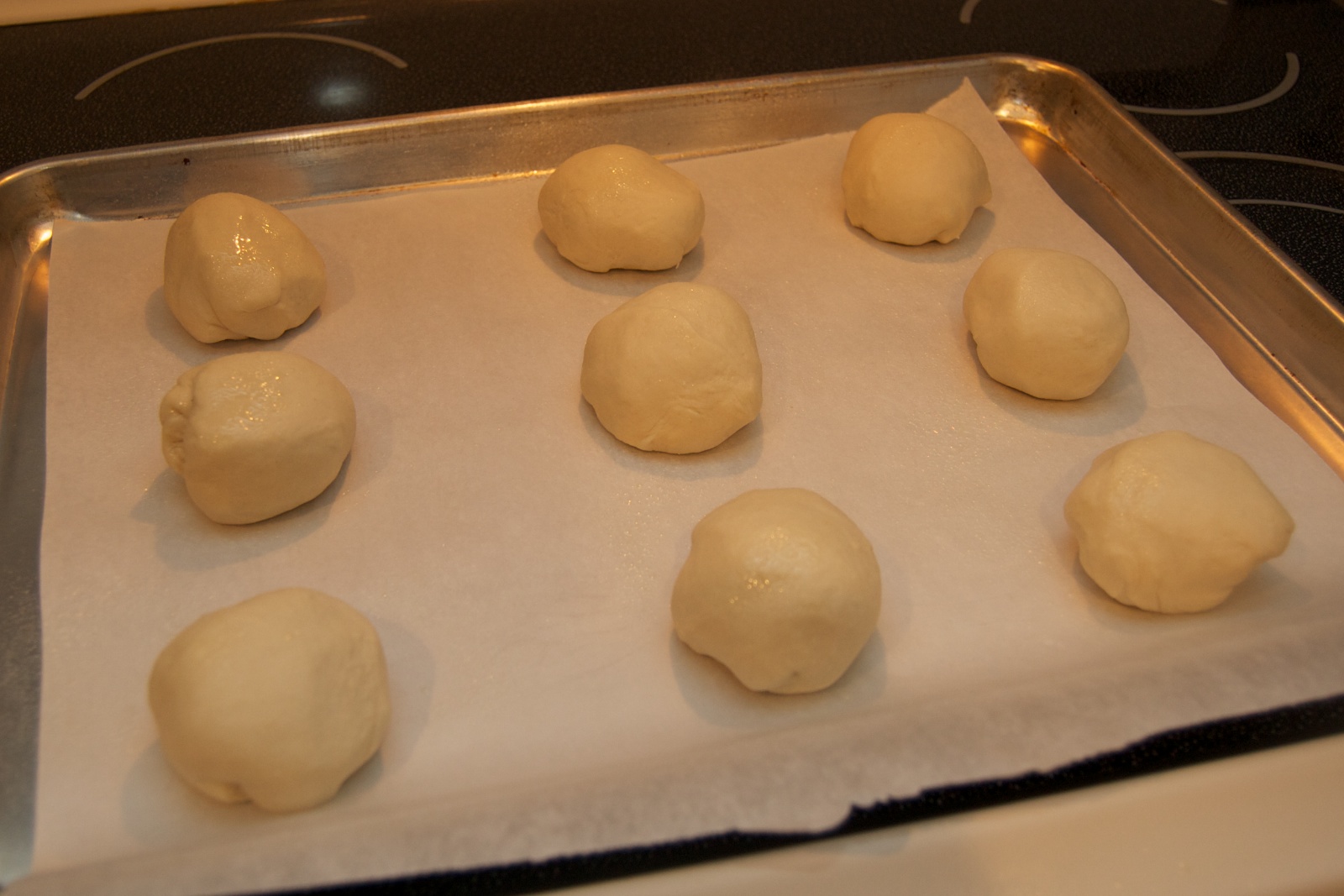 Then forming and float-testing. And then they have to go into the refrigerator overnight to retard.
And then, the next morning, they need to be boiled, then baked!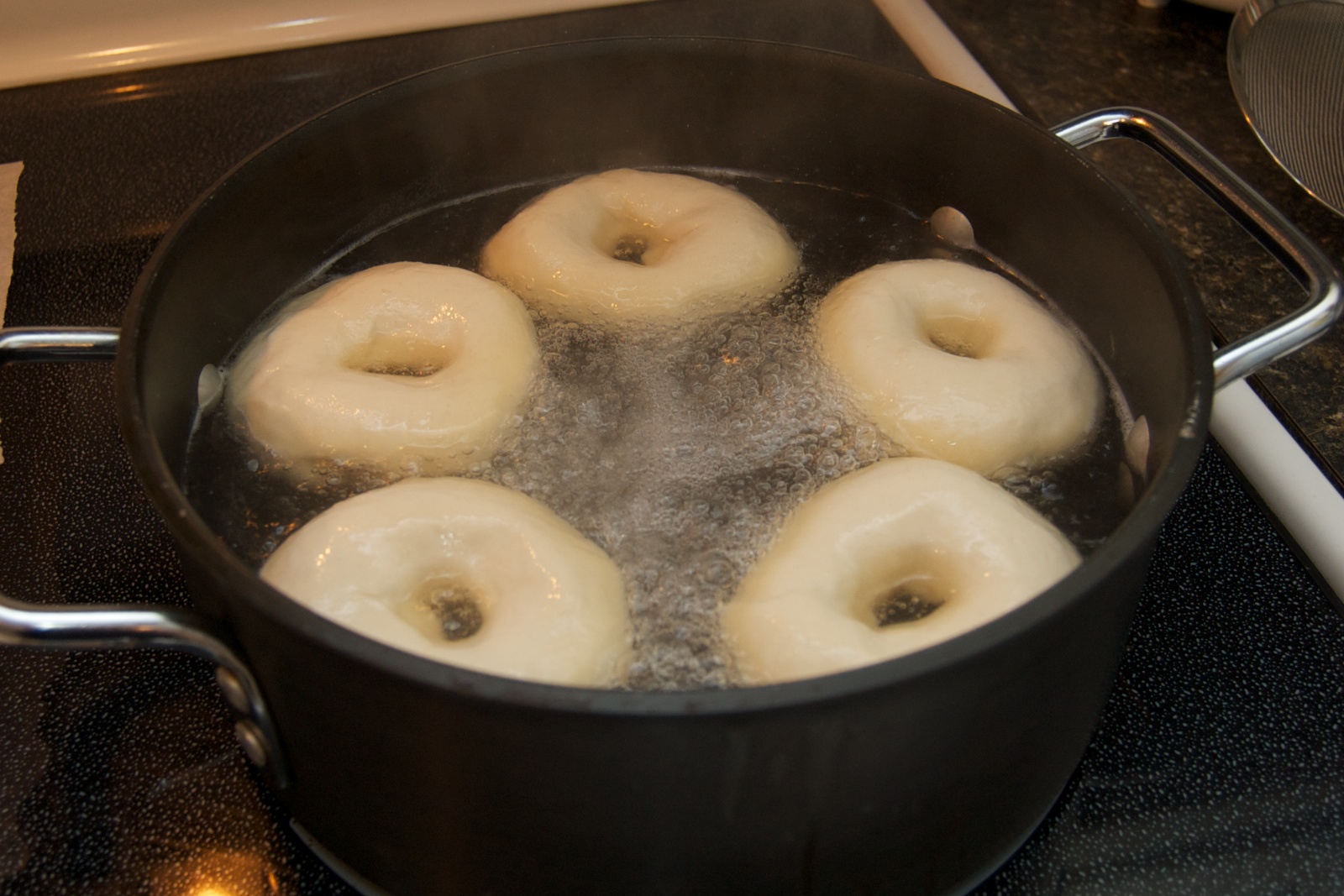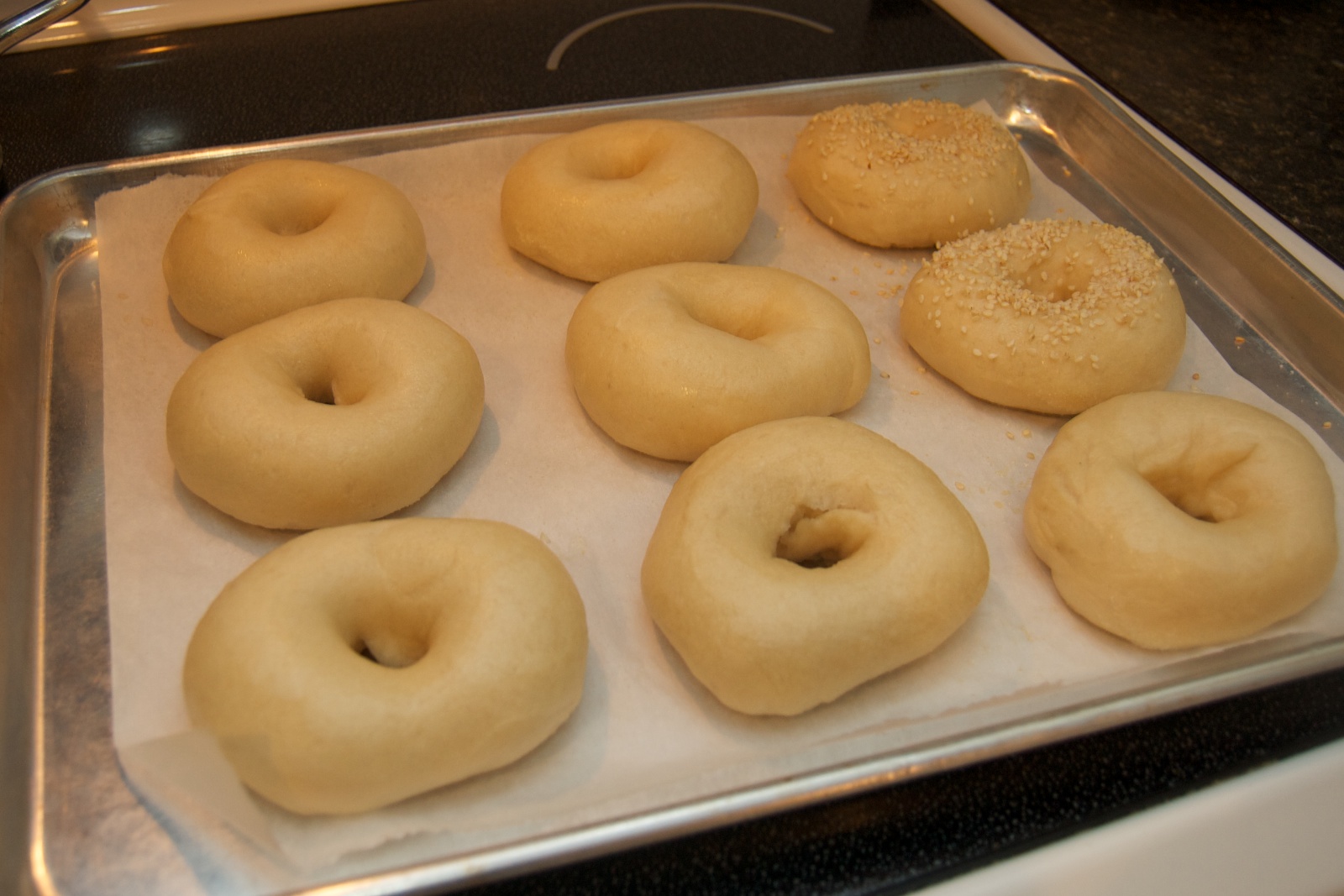 This is a serious recipe, but it does produce really, really good New York style chewy water bagels. And, because I make them myself, I can make them abnormally small to get the calorie counts in order.
The recipe comes from the excellent bread baking book, The Bread Baker's Apprentice (Mastering the art of extraordinary bread) by Peter Reinhart, pages 115-122. Yes, the discussion and recipe are eight pages in the book.
Since I can't possibly condense that much information into this post, I'll just include the ingredient list for a half recipe of bagels - this produces 9 small (3 oz.) bagels. This convenient amount fits on a single half sheet pan.
Sponge:
0.055 oz. instant yeast 9 oz. unbleached bread flour 10 oz. water at room temperature
Dough:
0.027 oz. instant yeast 8.5 oz. unbleached bread flour 0.35 oz. salt 0.25 oz. Barley malt syrup
The real recipe calls for high-gluten flour, but bread flour is a reasonable substitute.
The sponge is made two hours prior to making the dough. The dough kneading, relaxing, forming, etc. takes about an hour, and the dough must retard overnight in the refrigerator.
I scaled out 3.0 oz. of dough for each bagel; this produced a nice, somewhat small bagel that I think is a good portion size. It's roughly the size of a Lender's frozen bagel, not the size of bagel shop bagel. You could go up to 4.5 oz. per bagel.
The next day the bagels get boiled for 2 minutes, then baked for 5 minutes at 500°F.
While of course the bagels are best fresh, they actually do freeze quite well. I ate one immediately, put one in my 55°F cool storage , and froze the rest.
The book also lists variations for flavored bagels, too. I made two sesame seed and salt bagels.
For my breakfast I made a New York bagel:
bagel 201 calories 1.0 oz. cream cheese 100 calories thinly sliced red onion tomato 2.0 oz. lox (smoked salmon) 110 calories total: 420 calories
This was unbelievably delicious on my hot, fresh out of the oven, soft yet chewy bagel!
According to caloriecount.about.com my 3.0 oz. bagels are 201 calories, which is more than a slice of Vermont Bread Company whole wheat toast (70 calories) and not as healthy since it's not whole grain. But for a sandwich, it's more like two slices of bread, and that's 140 calories, so 201 is not that much more.
Let's see how some sample meals work out:
bagel 201 calories 1 tbsp. Earth balance buttery spread 100 calories 3 slices of bacon 125 calories total: 426 calories
bagel 201 calories egg 63 calories 1/2 tbsp. Earth Balance (to cook the egg) 50 calories 0.25 oz. Cheddar cheese 28 calories 3 slices of bacon 125 total: 467 calories
I'm not a big cream cheese person, but 1 oz. of cream cheese is 100 calories, so it's the same number of calories as 1 tbsp. of Earth Balance or even real butter.