I want this dishwasher
Anyone who's used a commercial (restaurant) dishwasher knows how great it is to be able to run through a rack of dishes, glasses, pans, whatever, in 1 to 2 minutes.
For those who haven't, that's not a typo. My home dishwasher churns away for an hour and 20 minutes for a load of dishes, without a heated drying cycle. With a 2 minute cycle dishwasher you throw stuff in, whatever doesn't come off you scrub off, then run it through again!
Unfortunately there have always been a number of impediments that made using a commercial dishwasher impractical for use in a home. Until now.
I want this dishwasher :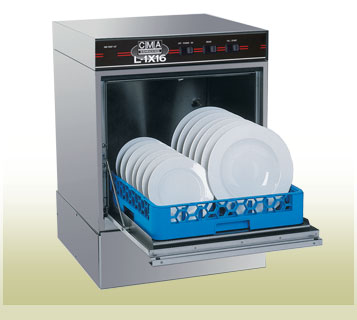 It's an undercounter unit that is the size of a regular household dishwasher. It's not huge.

It has a 2 minute cycle time. Not the more than an hour for a home dishwasher!

It takes normal 21 7/8" commercial dishwasher racks for easy running of glasses in glass racks, dishes, pans, etc.

It runs on normal household power (120V/20A). The really big commercial dishwashers require much higher voltage, current, and sometimes 3-phase.

It takes normal household water (1/2" water supply at 140°F). High temperature commercial dishwashers require 180°F water, which isn't practical in homes.

It has a pumped drain. Many commercial dishwashers assume floor drains which are typical in restaurants and not so much in homes. This unit has a 1" drain and pumps into a normal household sink drain.

It can start the first cycle after filling in less than 30 seconds. Most commercial dishwashers have to heat for 15 to 20 minutes.

It's a full water exchange machine. The rinse water from the previous cycle is used as the wash water for a cycle, then the water is discarded and 1.7 gallons of new water is used for rinsing. This is nice when you mix greasy pans and glassware in the same machine.

It's actually pretty energy efficient. It's energy star rated.
OK, it's not flawless. It's noisy. And it only holds one rack, so accumulating a few days worth of glasses, silverware, and plates is a little tricky. And technically it's not rated for home use, which sort of makes it illegal.
But on days like today, which is my semi-annual glass cleaning day, where I run every bit of glassware in the house through the dishwasher, it certainly would speed up the process. I hate grabbing a lesser-used glass and have it be filmy so every glass, cup, and mug gets washed every 6 months. This year it took three loads! This would have been significantly faster with this dishwasher!