Shrimp pad Thai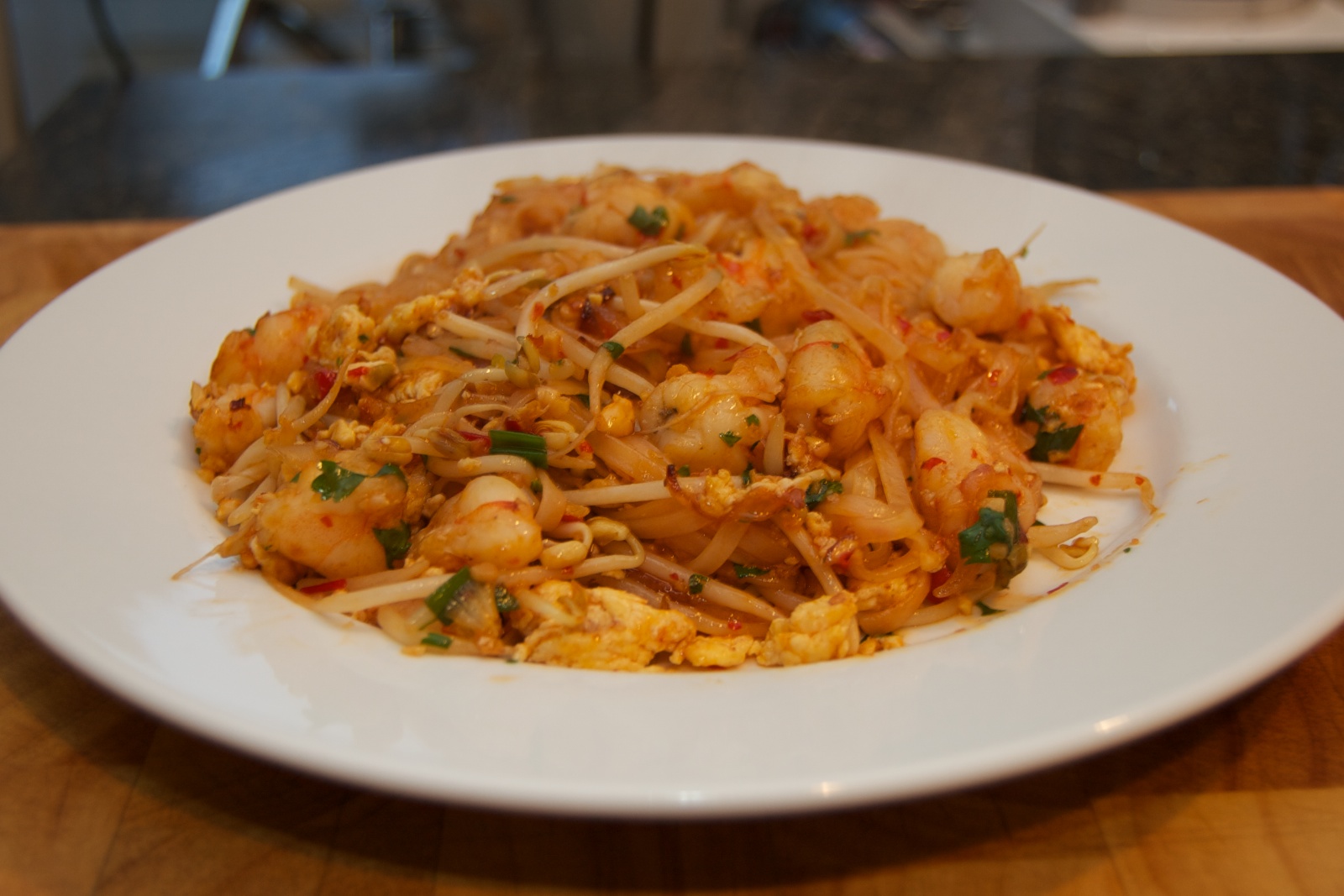 I'm not sure how authentic it is, but it's tasty! It's a modified version of the recipe on the back of a box of Annie Chung's Pad Thai noodles. I scaled it to make a serving for 1, adjusting some of the quantities a bit.
Sauce
1 tbsp. lime juice (juice of half a lime) 1/2 tbsp. fish sauce 1/2 tbsp. sugar [9/25/2014: previously 1 tbsp.] 1 tbsp. chili garlic sauce
Combine the ingredients for the sauce in a small bowl and set aside. I used Lee Kum Kee chili garlic sauce, and 1 tbsp. will make the pad Thai a little spicy.
This thing is great for juicing fresh lemons and limes. It has two different sized compartments for it, but in one handy tool. It's amazing how much juice you can get out compared to just trying to squeeze it with your hand!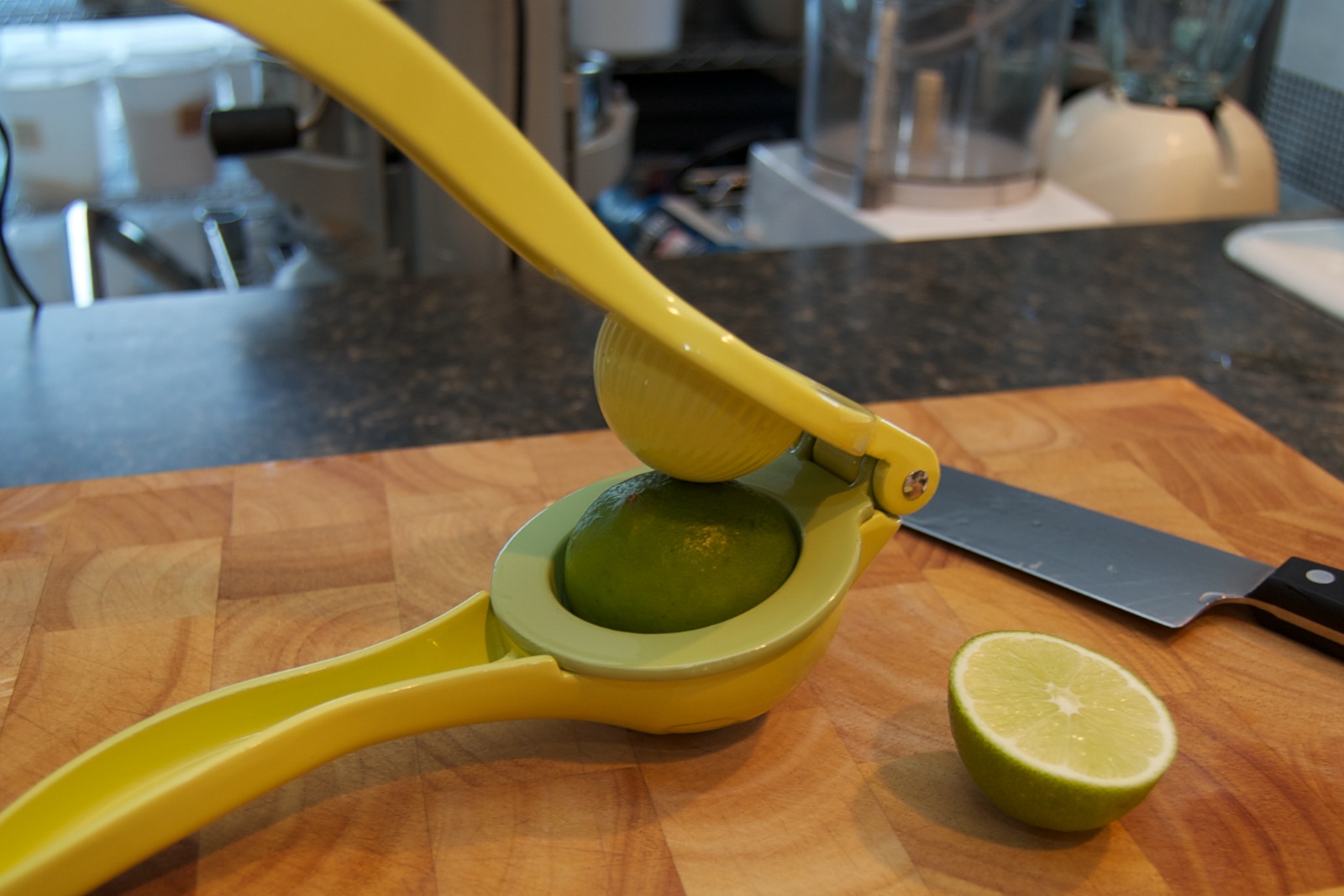 It's a good idea to include the fish sauce because it adds a nice flavor, but it could be omitted.
The completed sauce: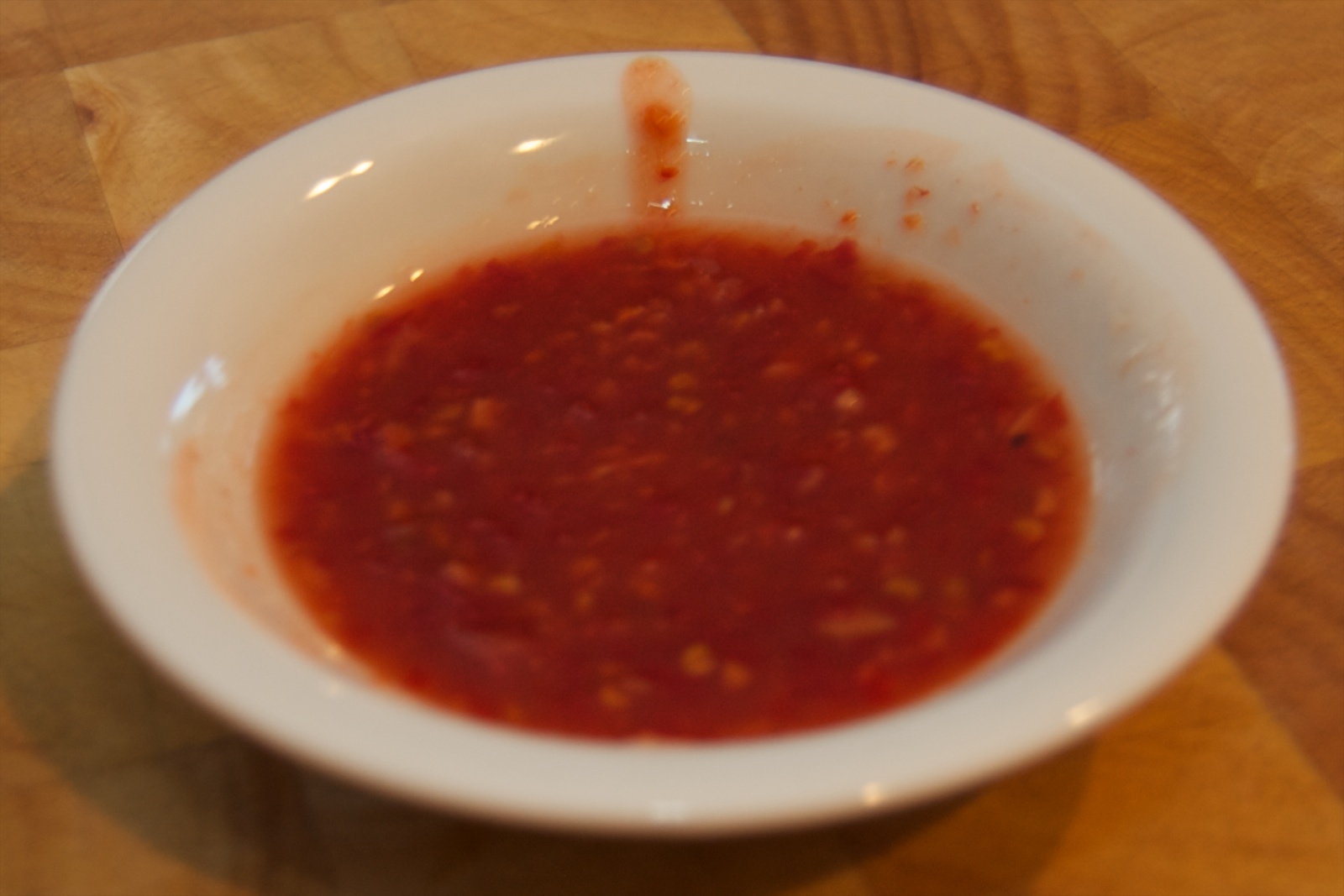 Pad Thai
1.4 oz. rice noodles (originally 2.0 oz, but that was a little too much)
toasted sesame oil 1 clove garlic, minced 1 shallot, thinly sliced 4.0 oz. shrimp, peeled and deveined, then chopped into half inch pieces 1/2 egg, lightly beaten (originally 1 egg, but that was a little too much) 1.6 oz. fresh bean sprouts (a little more than a half cup) 1 or 2 scallions, finely chopped, white and green parts separated hot pepper sesame oil 1 tbsp. fresh cilantro, finely chopped (can substitute basil, or just add more scallion) 1 tbsp. roasted peanuts, chopped soy sauce
I use large (U 20) shrimp, here they are cleaned and ready to be cut into 1/2" pieces: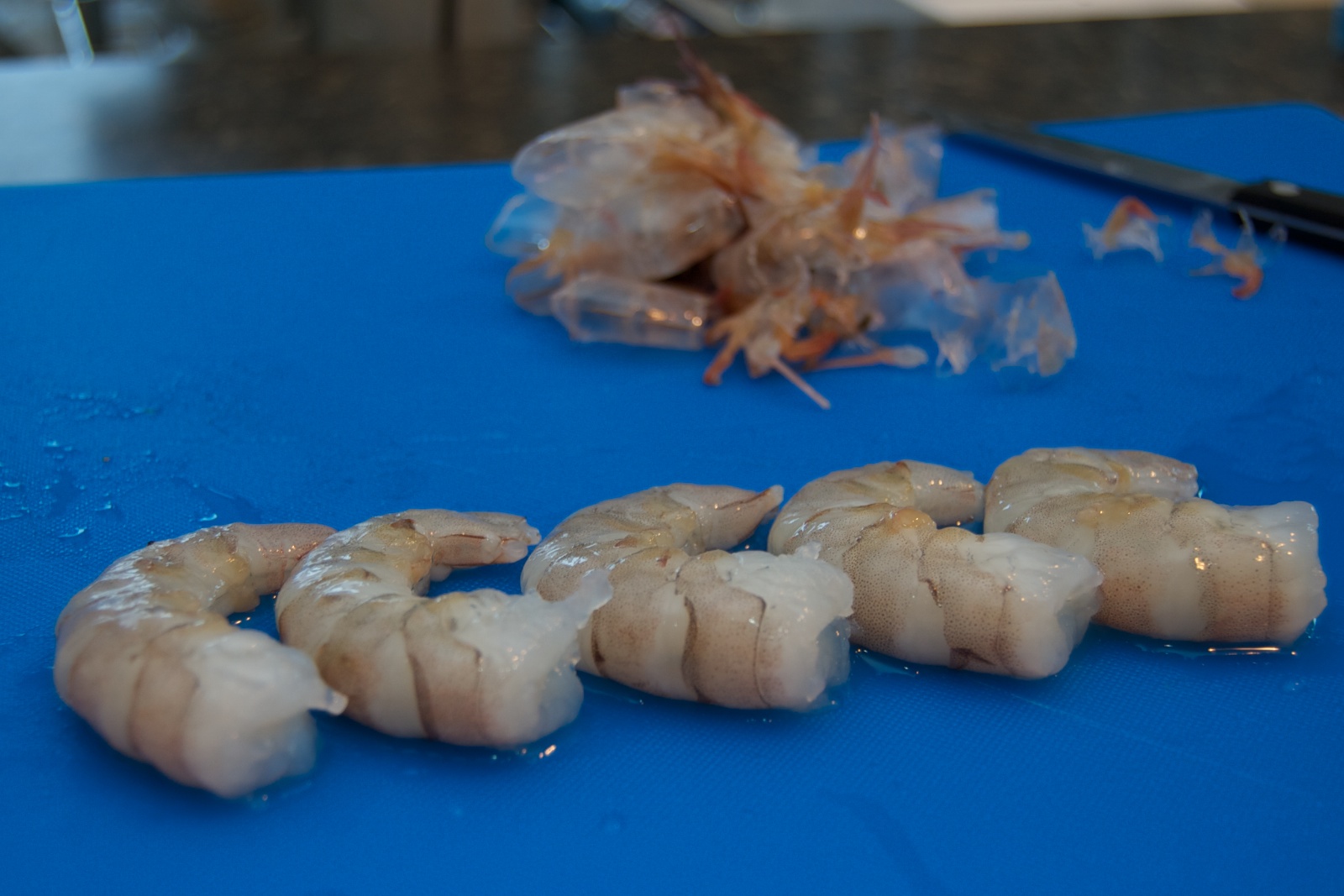 The rest of the mise en place: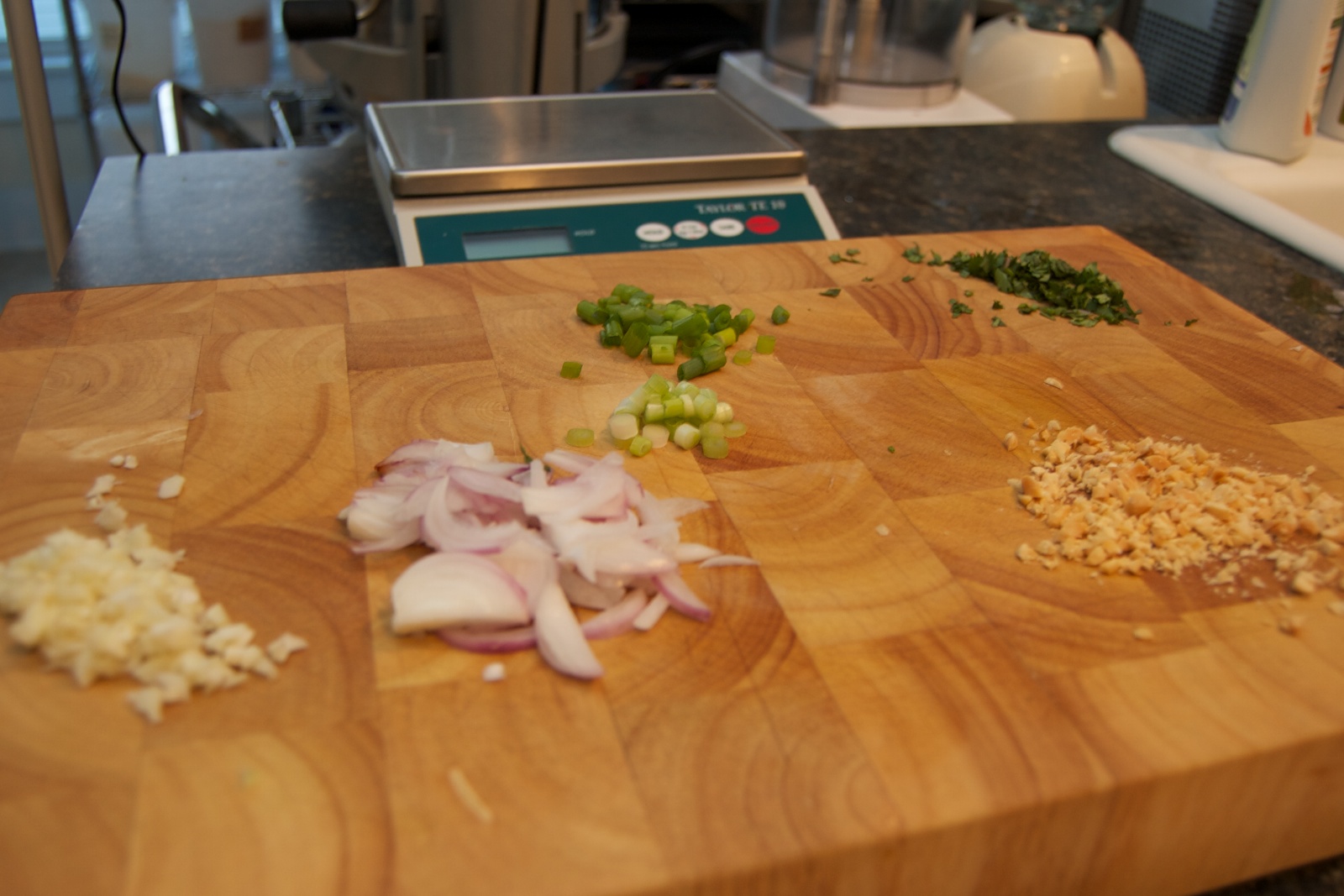 Cook the rice noodles according to package directions.
Heat a sauté pan over medium heat. Add the toasted sesame oil (or other oil).
Cook the garlic, shallots, and white part of the scallions for a few minutes. If you don't have shallots you could substitute yellow or red onion.
Add the shrimp and cook for a few more minutes.
Push the contents of the pan to the side and add add the beaten egg and scramble. When the egg is almost cooked, add the bean sprouts then stir all of the ingredients together. Cook for a few minutes.
Add the green parts of the scallions.
Add a few dashes of hot pepper sesame oil. Remove from the heat.
Add the noodles, cilantro, and peanuts and stir to combine.
Serve.
I served it with a glass of Starborough sauvignon blanc, New Zeland, 2009.
This dish is pescatarian.
It can be made gluten-free by using gluten-free soy sauce, or omitting it and adding a little salt.
It could be made vegetarian by using "vegetarian fish sauce" (it does exist) and substituting something like tofu for the shrimp.
It could be made vegan by using the vegetarian fish sauce, tofu, and leaving out the egg. But the dish is starting to veer pretty far from traditional Pad Thai by this point. But it probably would still be pretty good.
It's also good with pork instead of shrimp: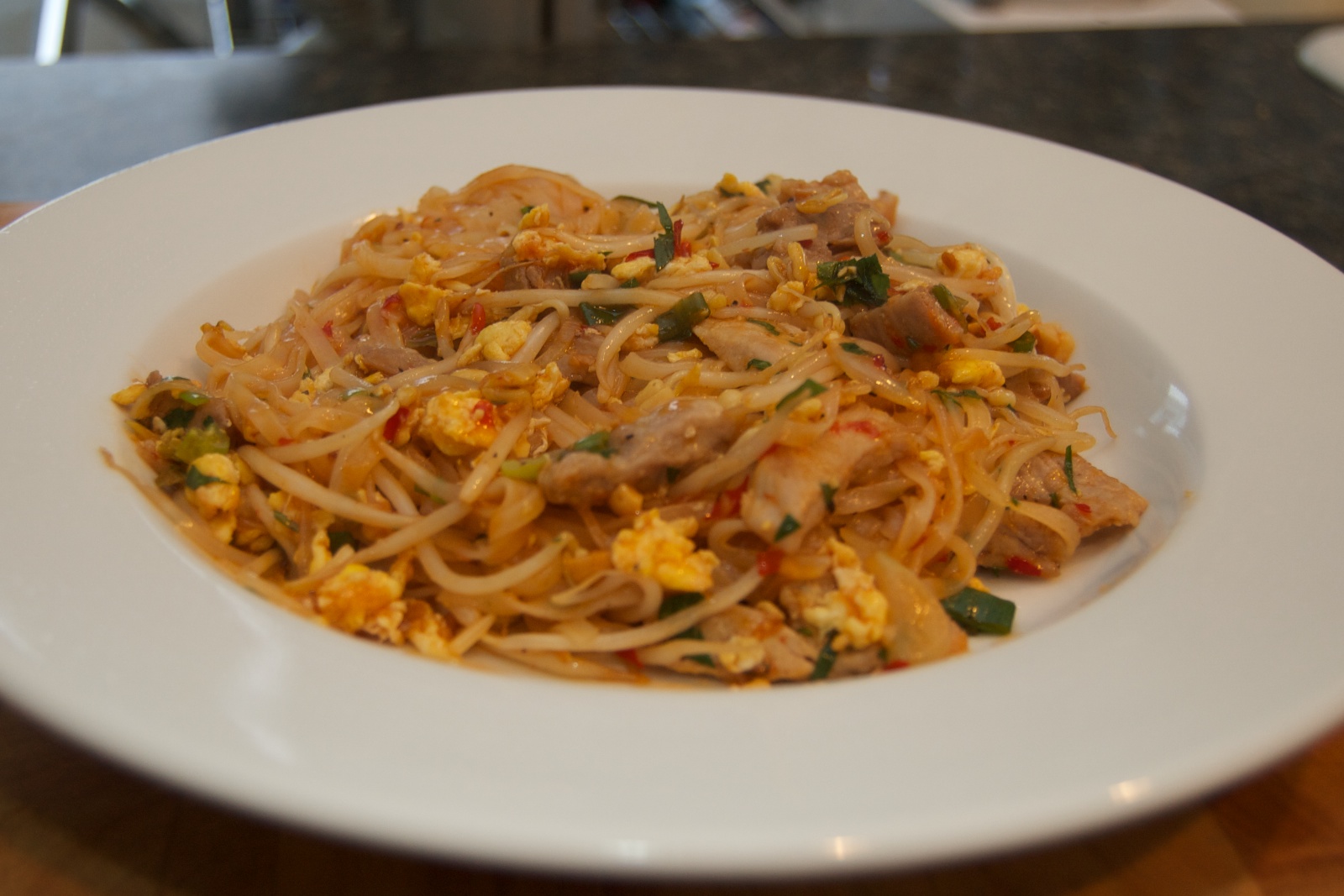 And here it is with the slightly smaller serving size: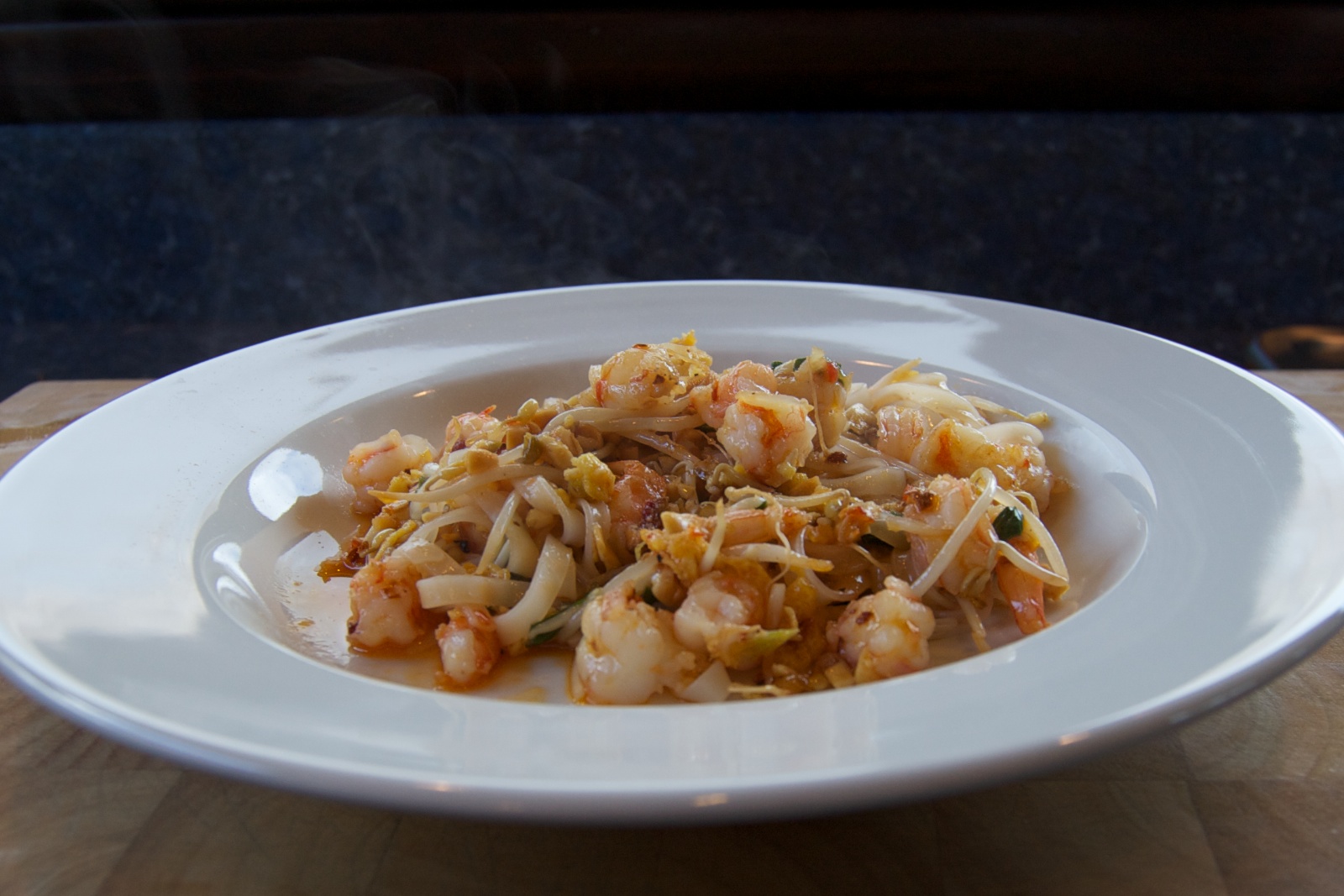 Updated September 25, 2014: Small edits, as noted.