Roast Beef #2
The last time I made roast beef I did so using the reverse sous vide preparation where you brown then sous vide. This time I thought I'd try the normal sous vide then brown preparation.
I started with 2.34 lb. Tangletown Farm local, organic beef round, top loin roast: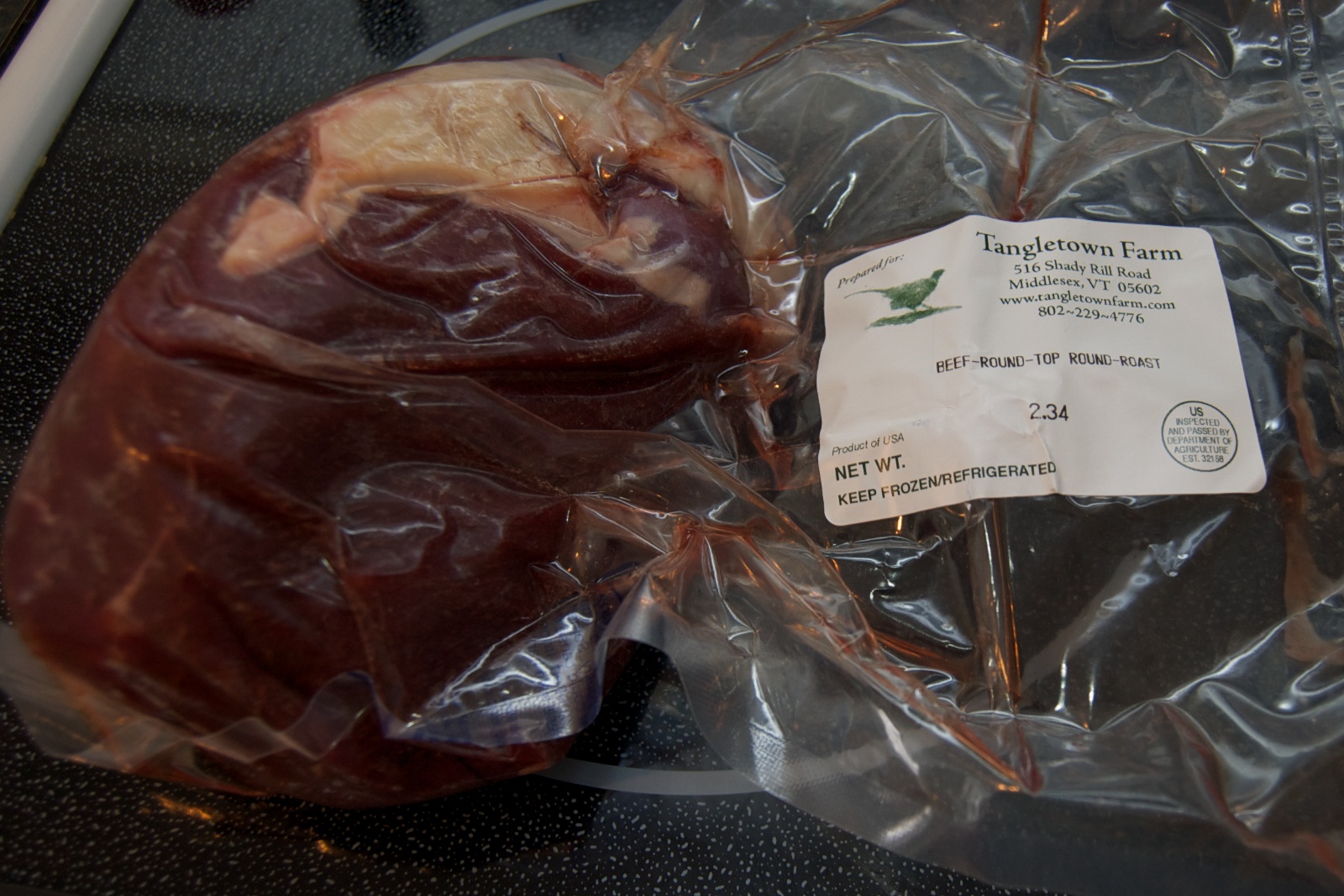 It was kind of fortunate that I was cooking in the sous vide because it was still a little frozen. The sous vide is very forgiving that way. I trimmed excess fat, seasoned with salt, pepper and granulated garlic, and sealed in a new vacuum sealer bag.
I cooked for 3 1/2 hours in the sous vide at 133°F, though probably anywhere between 2 and 4 hours would be fine.
Remove from the sous vide and let rest for 15 minutes.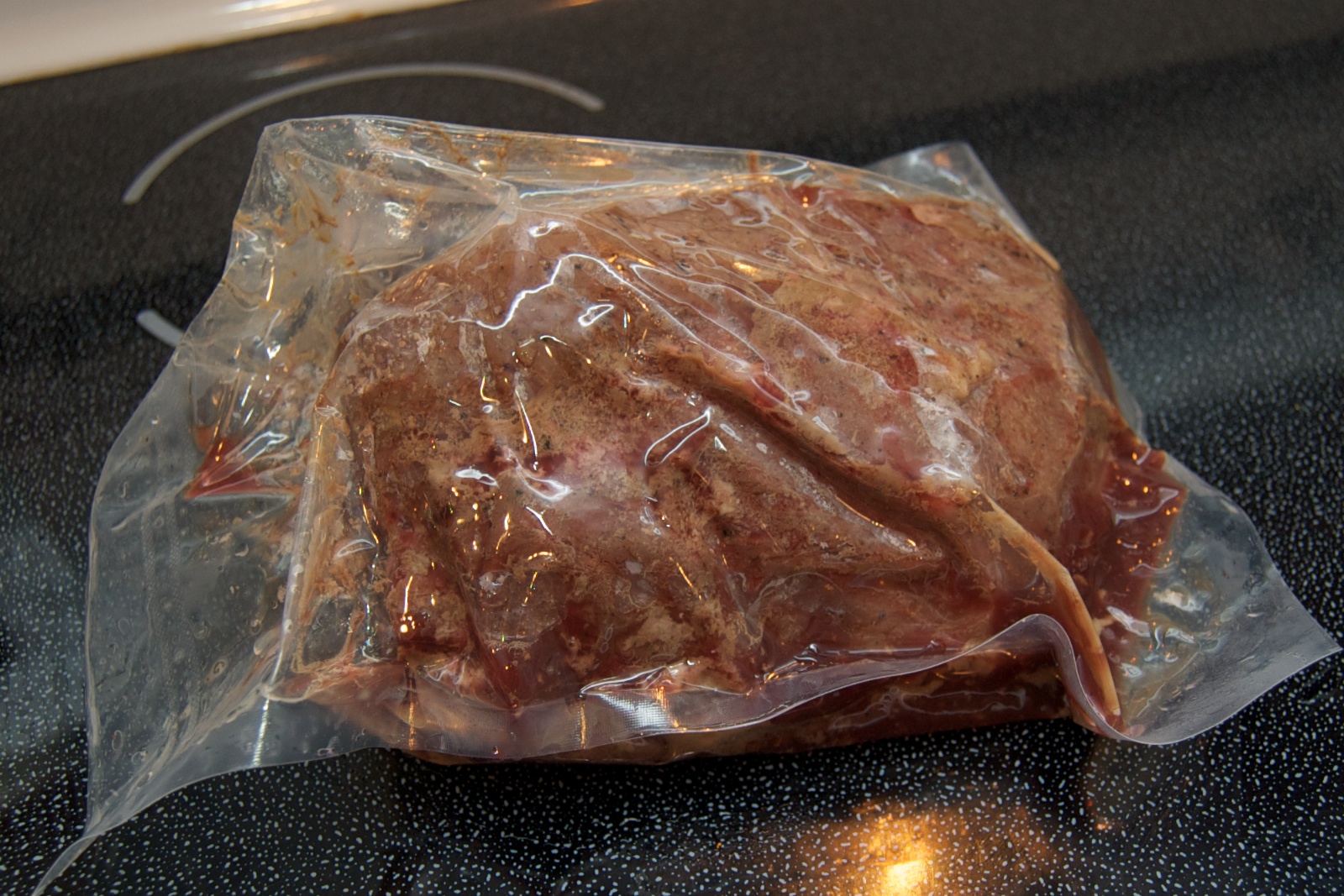 Heat the oven to 400°F.
Take the roast out of the vacuum bag and place in a lightly greased roasting pan. Reserve the juice from the bag. Add a small amount of the water to the pan. Season the roast with soy sauce. Roast 10 minutes, add more soy sauce to the roast, then roast for 10 more minutes.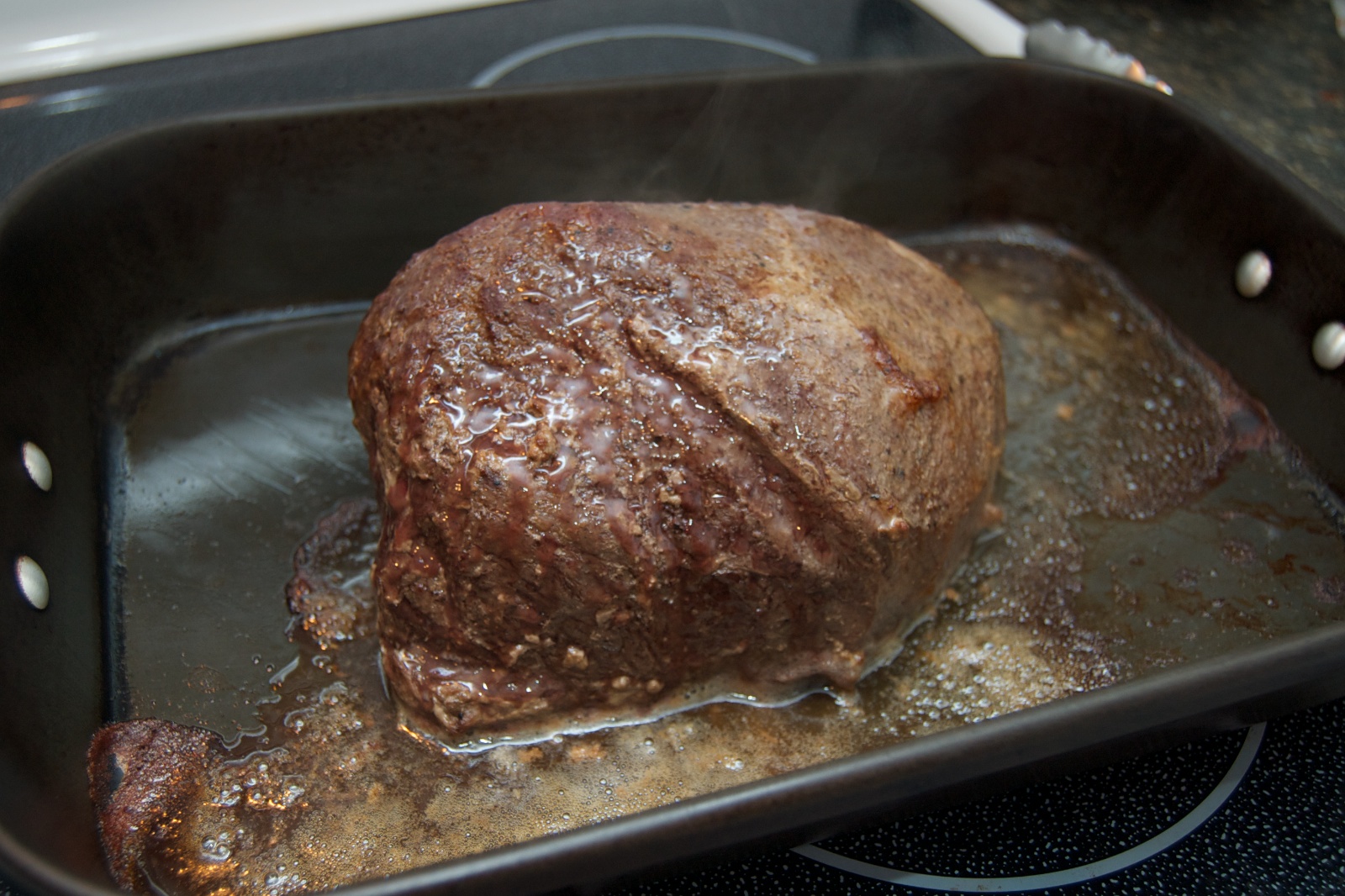 Remove the roast from the pan. Add the reserved juice from the soux vide bag.
Make a mixture of about 1/4 cup of all-purpose flour and water to make about 16 fluid oz.. Add to the roasting pan and bring to a simmer. Simmer for at least 5 minutes, stirring constantly. Add soy sauce and black pepper. Add any juice that drains from the resting roast.
Thinly slice the roast beef, which, thanks to the sous vide, is perfectly medium rare.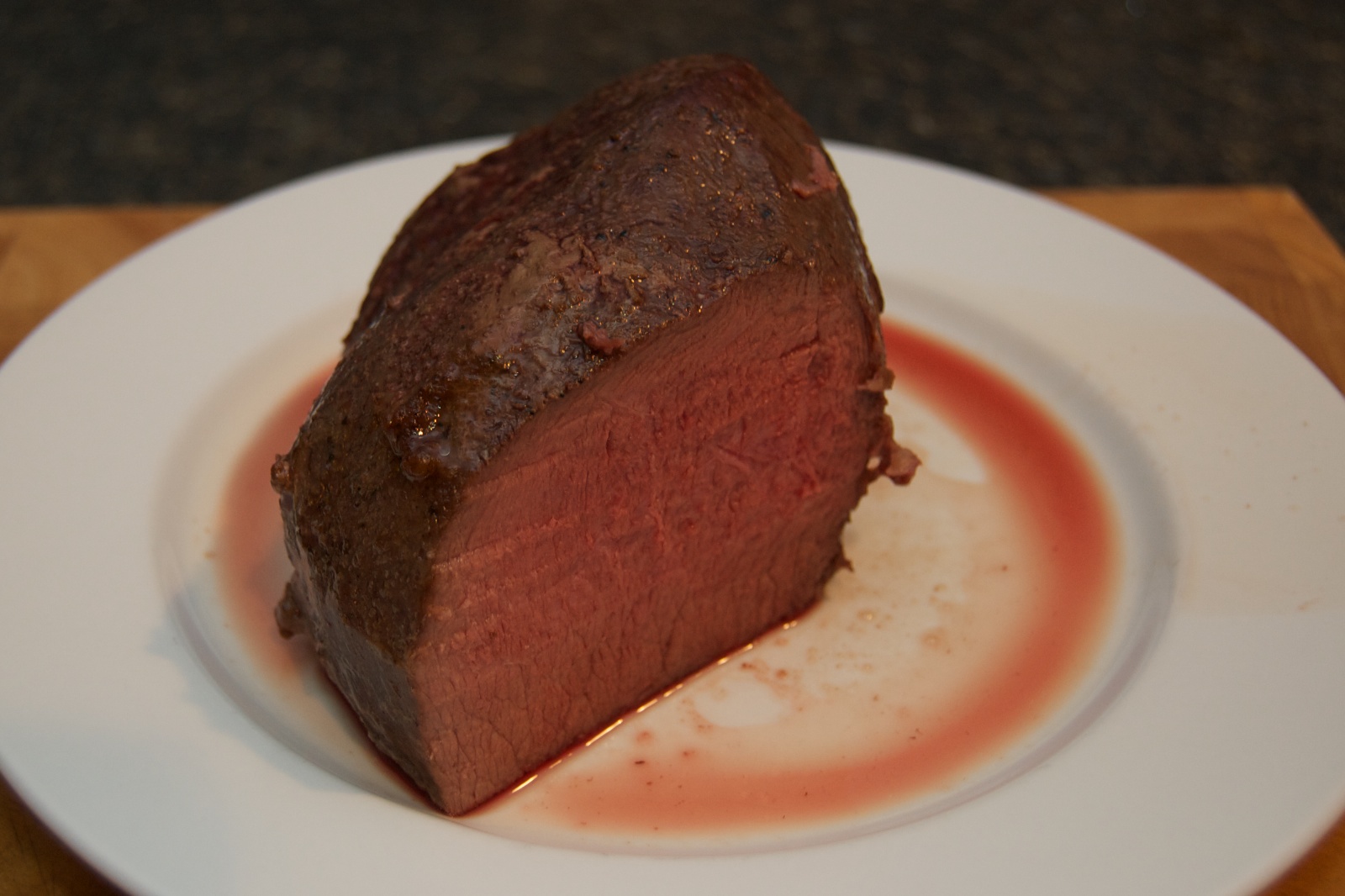 Serve with gravy, rice and steamed broccoli.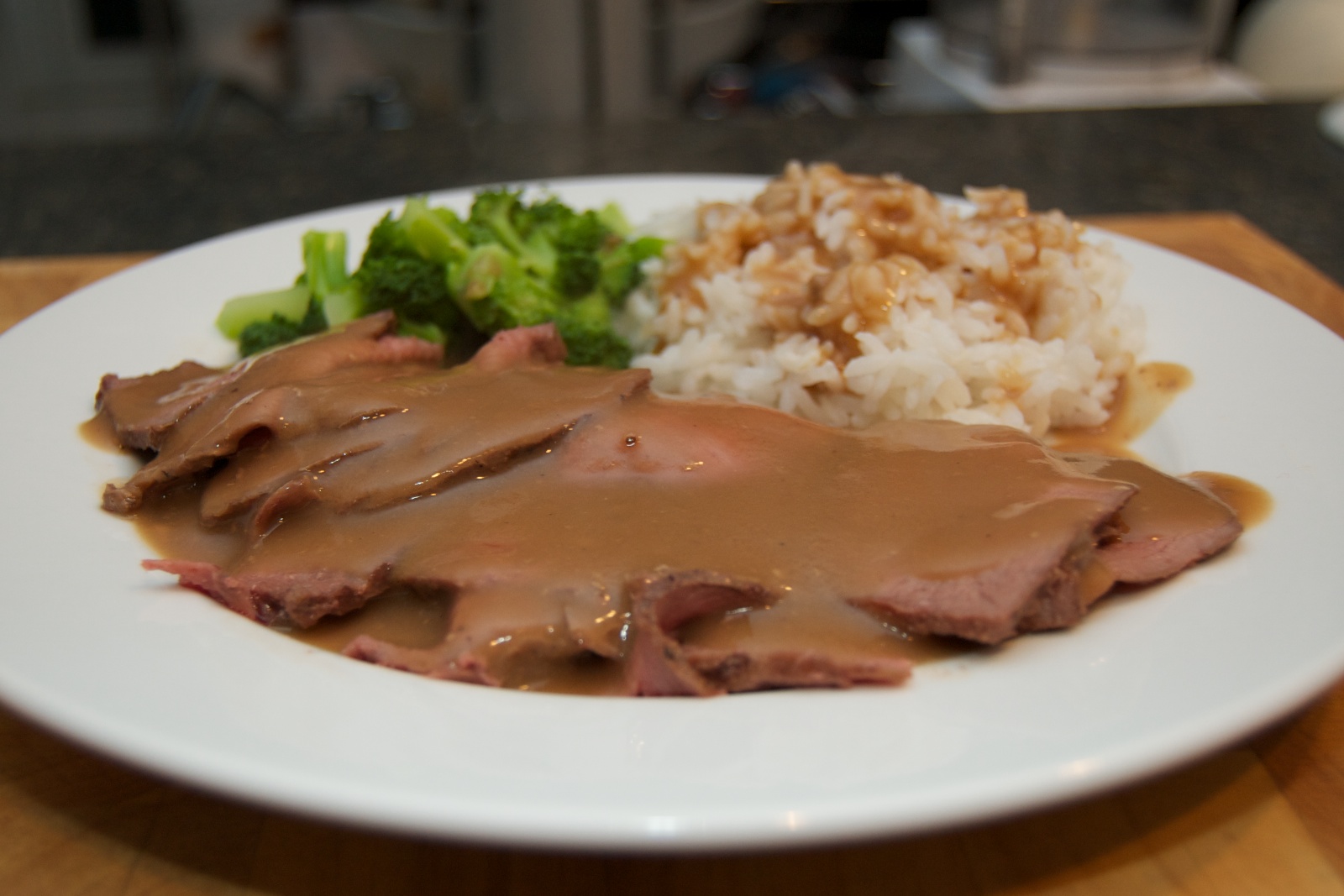 All vacuum sealed and prepared for freezing: 3 3.2 oz. packages for stir-fry, 2 5.0 oz. packages for roast beef and gravy and 2 6.0 oz. packages of gravy.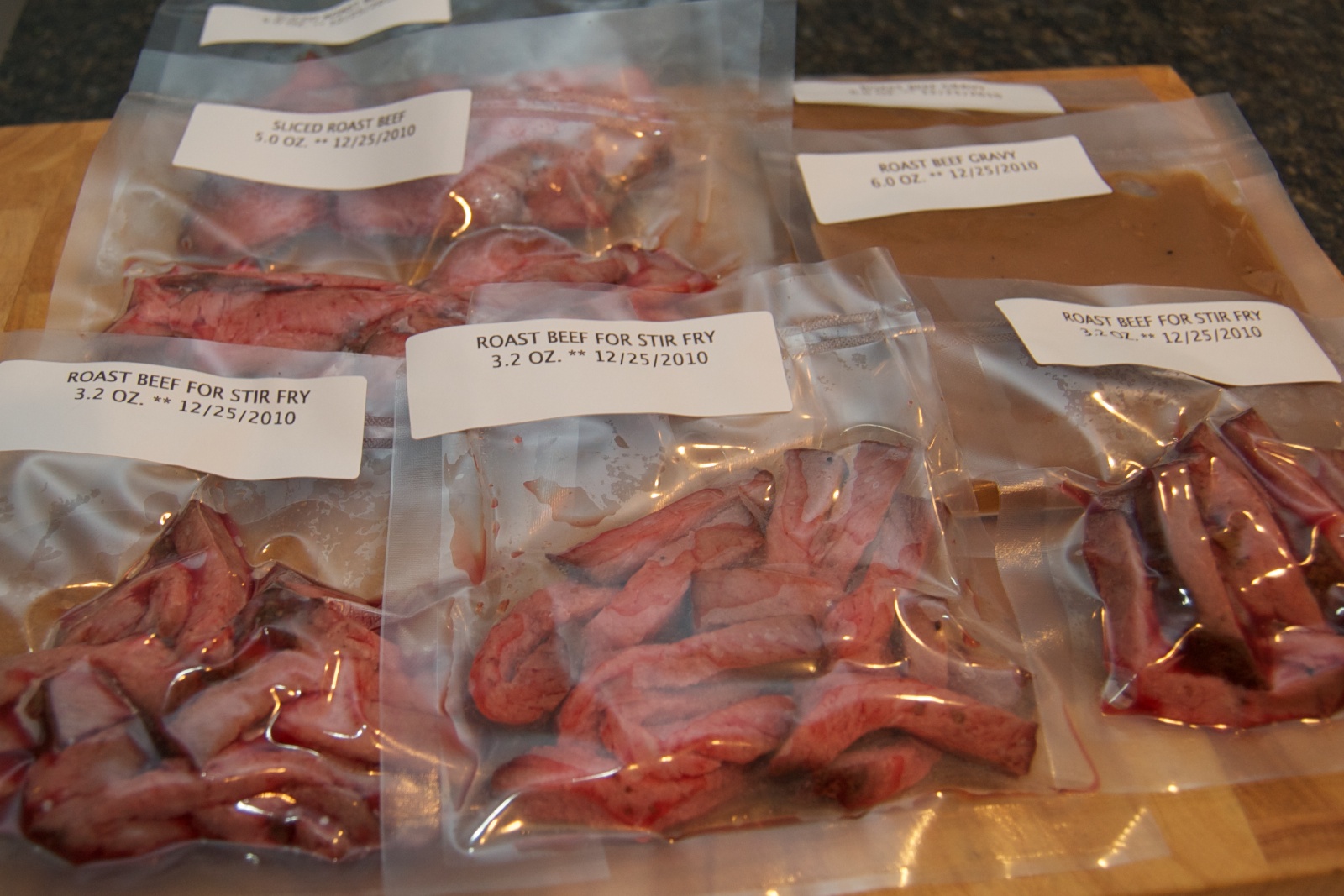 The verdict: If you have the equipment, sear then sous vide works better. The reason is that the roast is cold when in goes into the oven, so less of the insides get cooked as you're browning it, which is an issue if you're going for rare to medium-rare.
The problem is that this method requires rapid chilling and really works best with a chamber vacuum sealer. The external units like the FoodSaver will want to suck all of the juice out of your partially cooked roast, which isn't really helpful.
Plus, there's a lot more serving time flexibility when you end in the sous vide, since the roast can stay in there somewhat indefinitely, at least give or take an hour. I definitely wouldn't let the roast sit in the oven for an extra hour!