Sriracha Chex Mix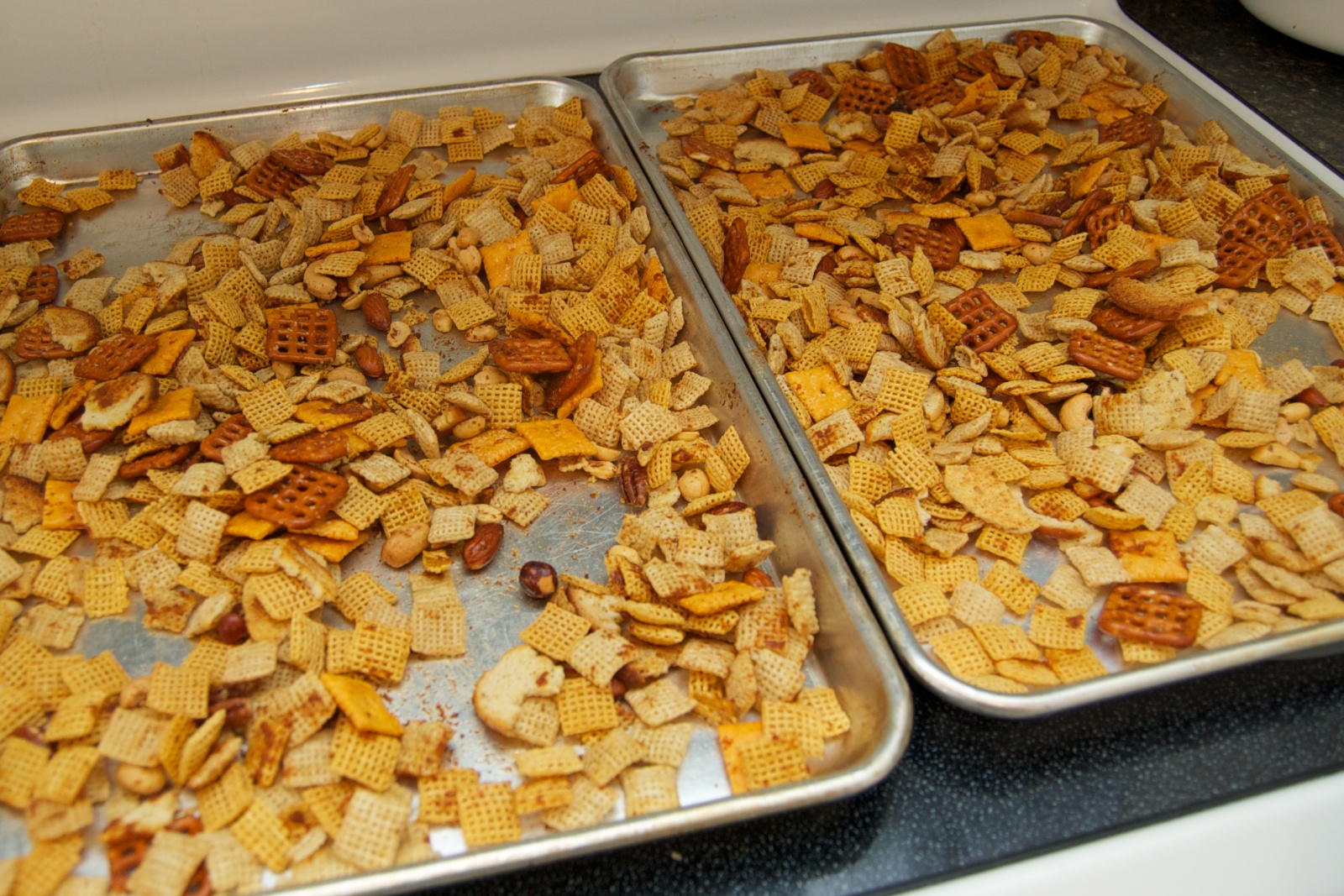 This is pretty much the normal Chex Mix recipe, but I added some sriracha to make it extra spicy. Delicious and terribly addictive.
3 cups corn Chex (3.1 oz.) 3 cups rice Chex (3.1 oz.) 3 cups wheat Chex (3.1 oz.) 1 cup mixed nuts (5 oz). 1 cup bite-sized pretzels (2 oz.) 1 cup bite-sized cheese crackers such as cheez-its (2 oz.) 1 cup bagel chips (2 oz.)
2 oz. butter (4 tbsp., half a stick) 2 tbsp. Worcestershire sauce 3 1/2 tbsp. sriracha (more for extra spicy) 1 tsp. garlic powder 1 tsp. onion powder 1 tsp. salt
spray oil (such as Pam)
Preheat oven to 250°F.
Combine the top dry ingredients in a large bowl, big enough to easily mix the ingredients together.
Melt butter in the microwave (about 40 seconds), then add in the other seasoning ingredients and stir to combine.
Drizzle some of the the seasoning liquid over the dry ingredients in the bowl and stir. Repeat several times until you've used all of the sauce and the pieces are all evenly coated.
Lightly spritz two sheet pans with spray oil (Pam).
Bake uncovered for 1 hour, stirring, flipping and making sure they're not sticking to the pan every 15 minutes. After each stirring, switch the top and bottom pans in the oven and rotate them 180°.
Remove from oven, let cool for 20 minutes and store in airtight containers or a gallon zip-lock bag.
Makes 22.1 oz. of completed Chex mix. That's a good-sized bowl or a full 1 gallon zip-lock bag.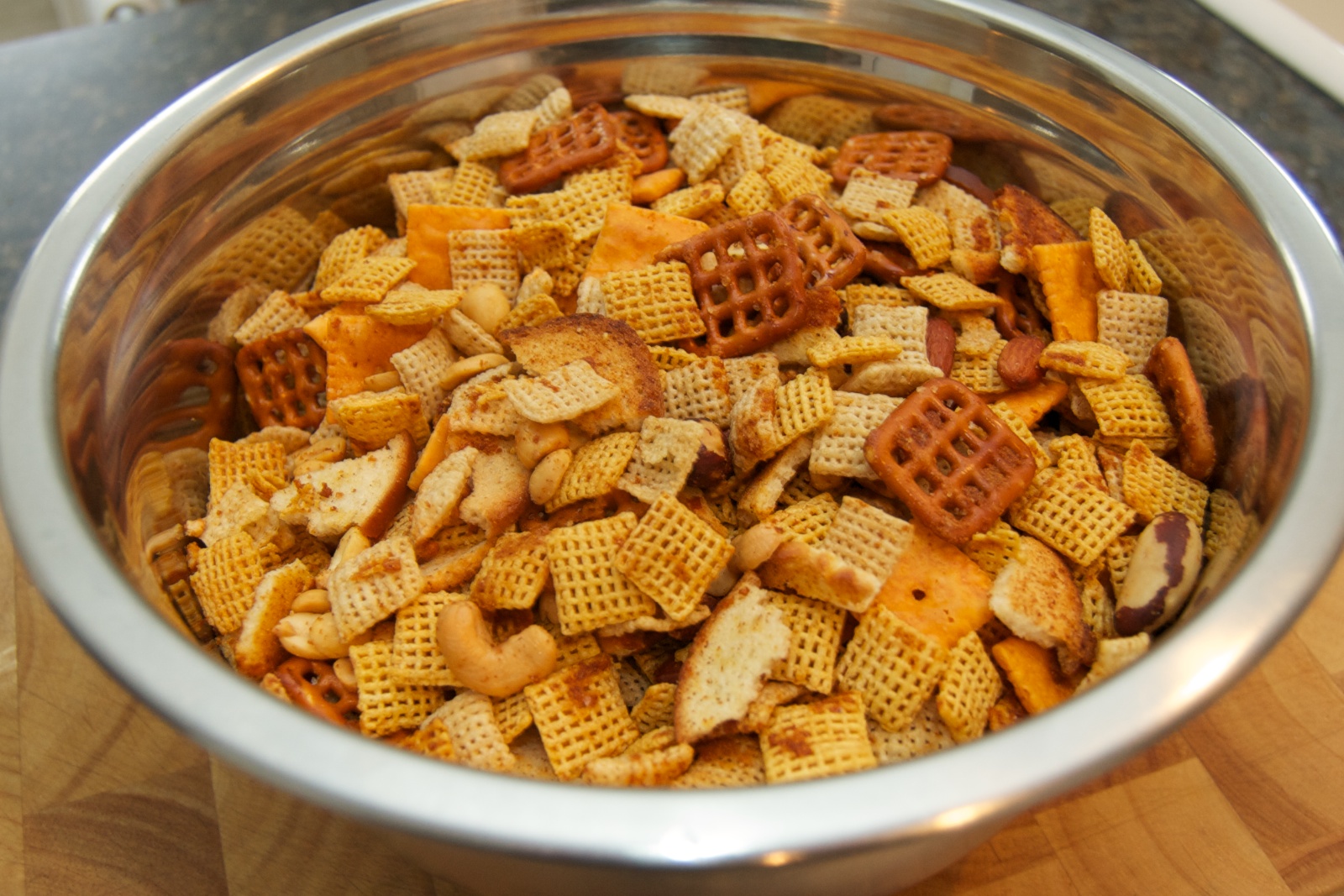 For a 1.0 oz. serving (approximately 22 servings per batch), from caloriecount.about.com:
Also, all of the cholesterol appears to be from the butter. If you substituted Earth Balance or some other buttery substitute, the recipe should be cholesterol-free. And if you also leave-out the Cheez-Its it should be dairy-free.
And vegan, I think, as long as you use vegetarian Worcestershire sauce - the regular stuff has a small amount of anchovy in it.
Since I only eat it 1.0 oz. per day, by the end of the month the last bit of the bag starts to get a little stale. The solution is not to vacuum seal it in a bag, which was a disaster even at low vacuum pressure. Chex is not as structurally sound as you'd think. This time I vacuum sealed it in jars, which I think will work much better. No breakage, at least.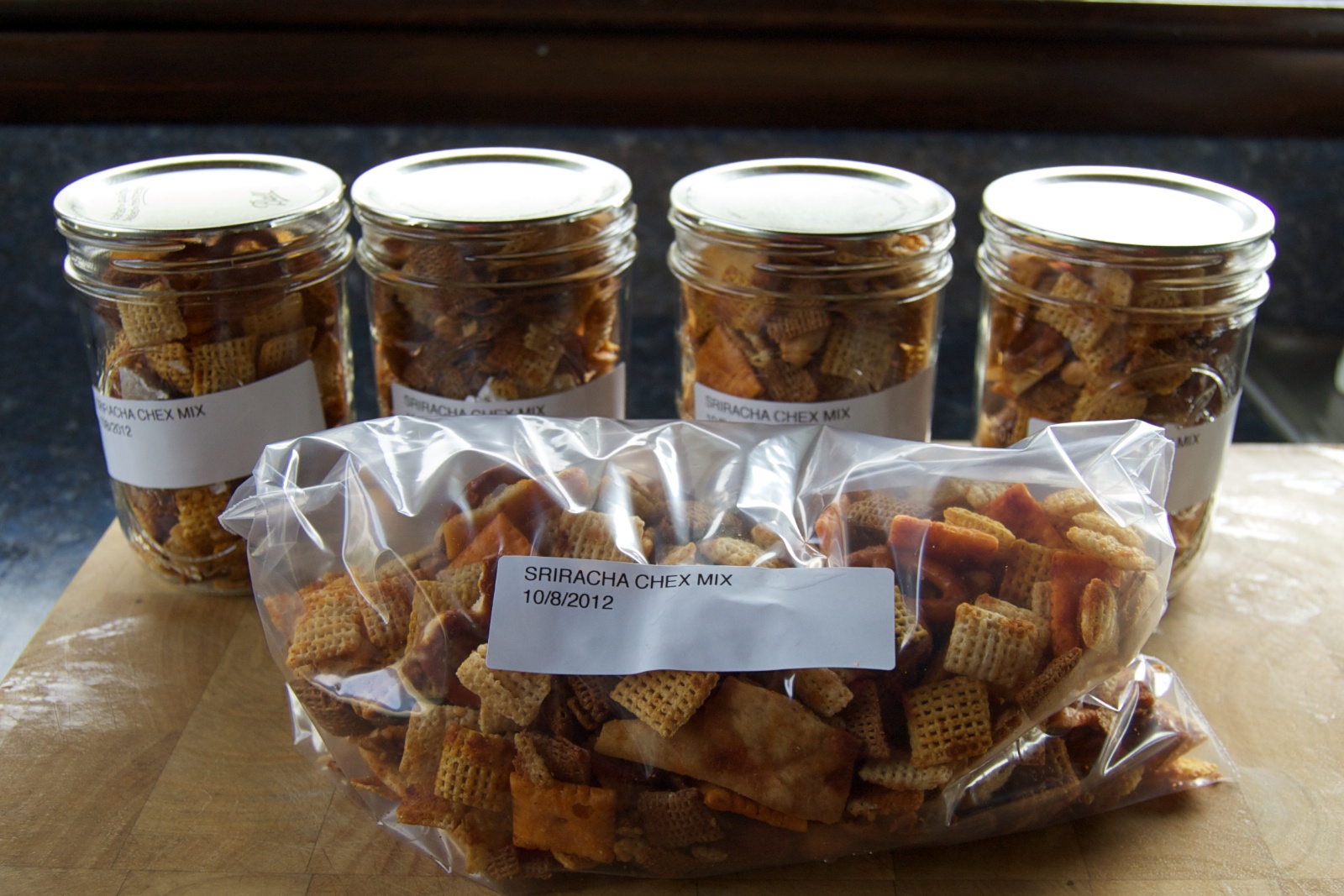 Update10/8/2012: Increased the amount of butter from 2 oz. to 2 1/2 oz. and sriracha from 2 tbsp. to 3 tbsp. The extra butter adds more liquid, which makes it easier to make sure each bite gets a little sauce.
Update1/25/2012: Reduced the butter back to 2 oz. and increased the Sriracha from 3 to 3 1/2 tbsp.
Update7/21/2013: I was noticing that the corn and rice Chex are gluten-free now. If you left out the wheat Chex, pita chips, and Cheez-its and substituted Snyder's gluten-free pretzels, it would be gluten-free, I think. Maybe throw in some more nuts, or maybe a GF cracker of some sort?
Update11/1/2013: I started giving the sheet pan a little spritz of spray oil (Pam, for example). It's not really necessary with all the butter, but it does make it easier to do the first flip and makes the pans easier to wash when you're done.
Update12/3/2013: I modified the steps. I used to spread the dry ingredients on the sheet pan and then drizzle the sauce over it. It works better to drizzle the sauce while the dry ingredients are still in the bowl. It coats more evenly and without the excess sauce on the sheet pan it doesn't stick as much and is easier to clean up.