Mb'atten (Libyan stuffed potato)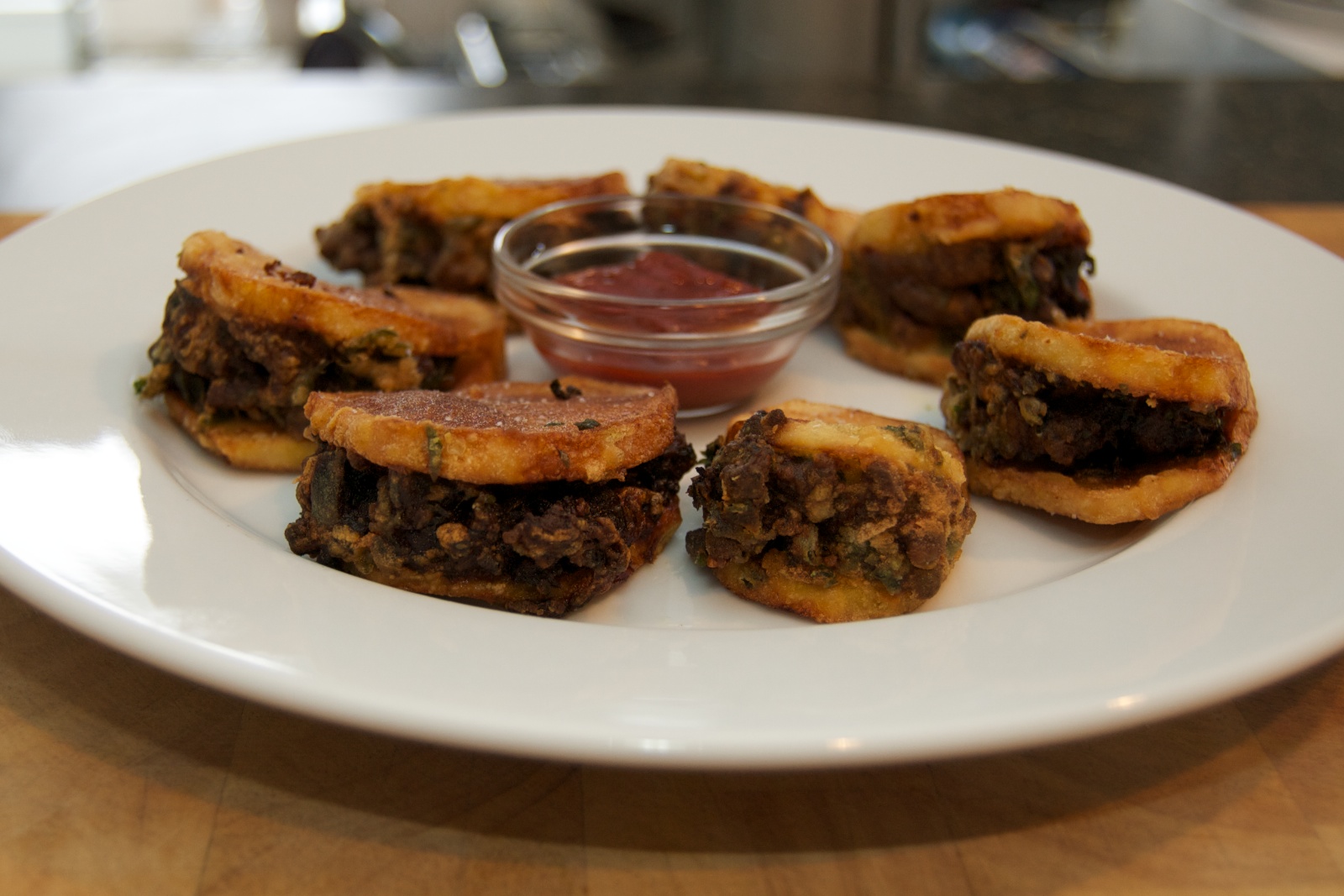 Every now and then I pick a random country and make a dish I've never had before. This is always a challenge, since, of course, I have no idea what it's supposed to taste like. The Ethiopian food experiment turned out okay (despite a possible near poisoning), but I wouldn't repeat it.
I decided to make Libyan food. I decided on Mb'atten which is a fried potato stuffed with herbs, hot peppers and lamb, which sounded pretty good to me. And, in fact, it was really delicious!
Serves 1. Multiply as necessary.
0.5 small onion, minced 1 clove garlic, minced 1 jalapeño, stemmed then minced 1 scallion (white part), minced 3.7 oz. lamb, minced (or ground) ⅛ tsp. red chili pepper flakes ⅛ tsp. turmeric a touch of cinnamon 1 tsp. tomato paste salt pepper
0.25 cup parsley, minced 0.25 cup cilantro, minced 1 scallion (green part), minced 1/4 egg
1 large potato, like a russet, peeled and sliced in a special way (see below) the rest of the egg all-purpose flour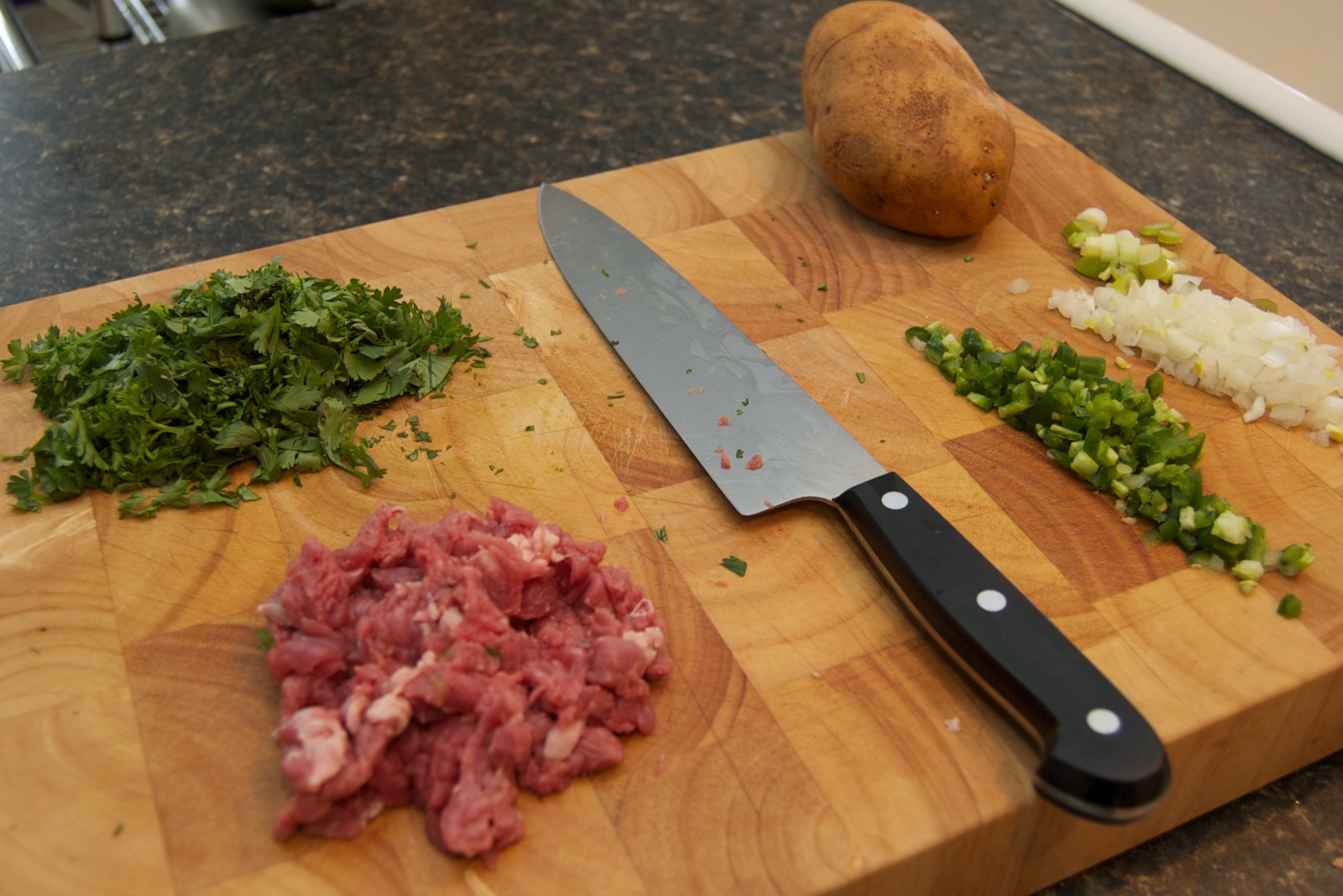 Heat a sauté pan over medium heat. When hot, add olive oil. Apparently olives and olive oil are common in Libyan food.
Add the onion, garlic, white part of the scallion and jalapeño and cook until softened. There is probably a hot pepper that is more authentic, but it's somewhat of a moot point because I don't see much other than jalapeños and the occasional serano and habanero here in the winter.
Add the lamb and cook until partially done. Add the red chili pepper flakes, tumeric and a dash of cinnamon and finish cooking the lamb. Add the tomato paste and salt and pepper to taste. Let cool slightly.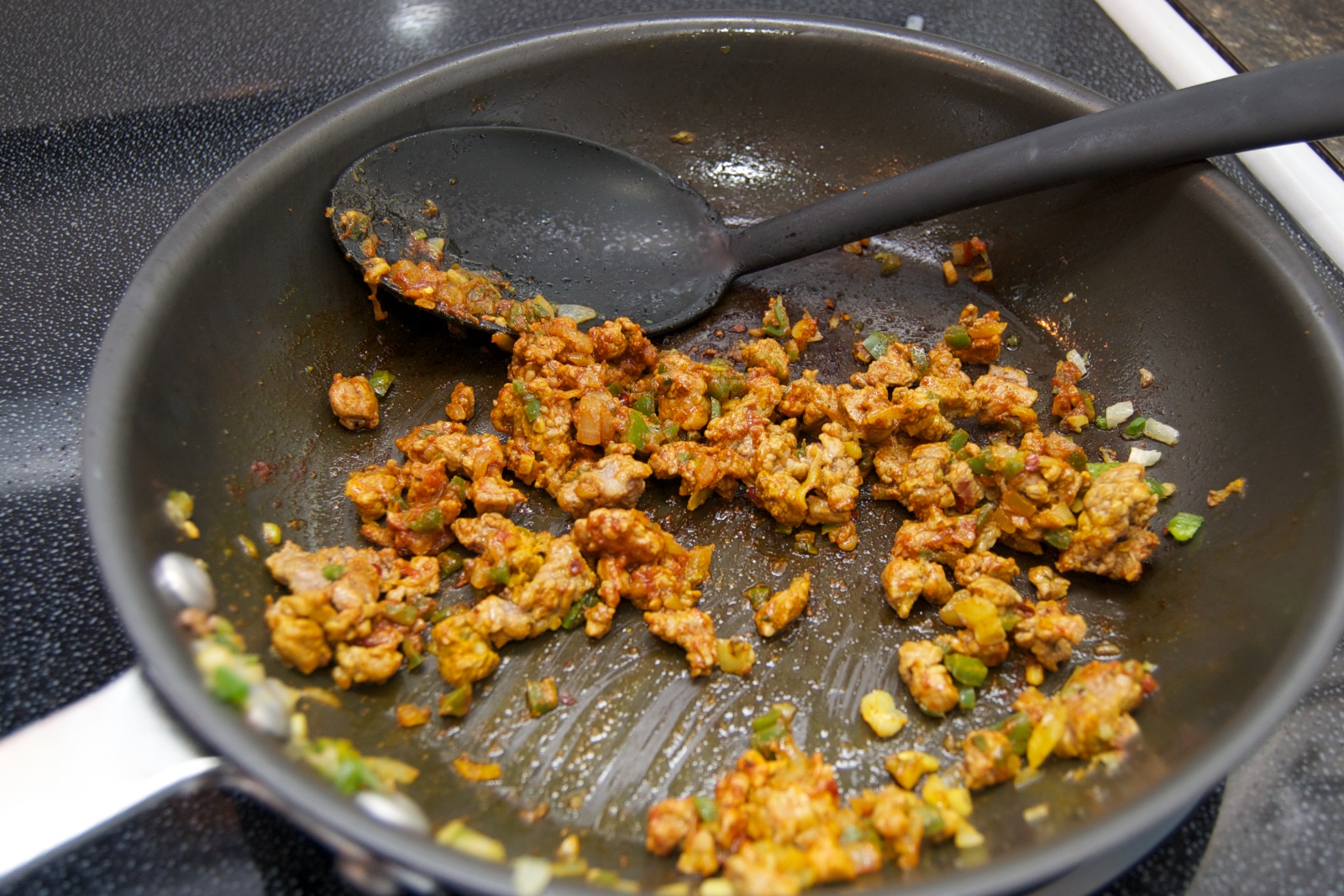 Mince the herbs including cilantro (coriander leaves), parsley and the green parts of the scallions.
In a bowl, add the minced herbs, some egg, and the lamb mixture and mix thoroughly.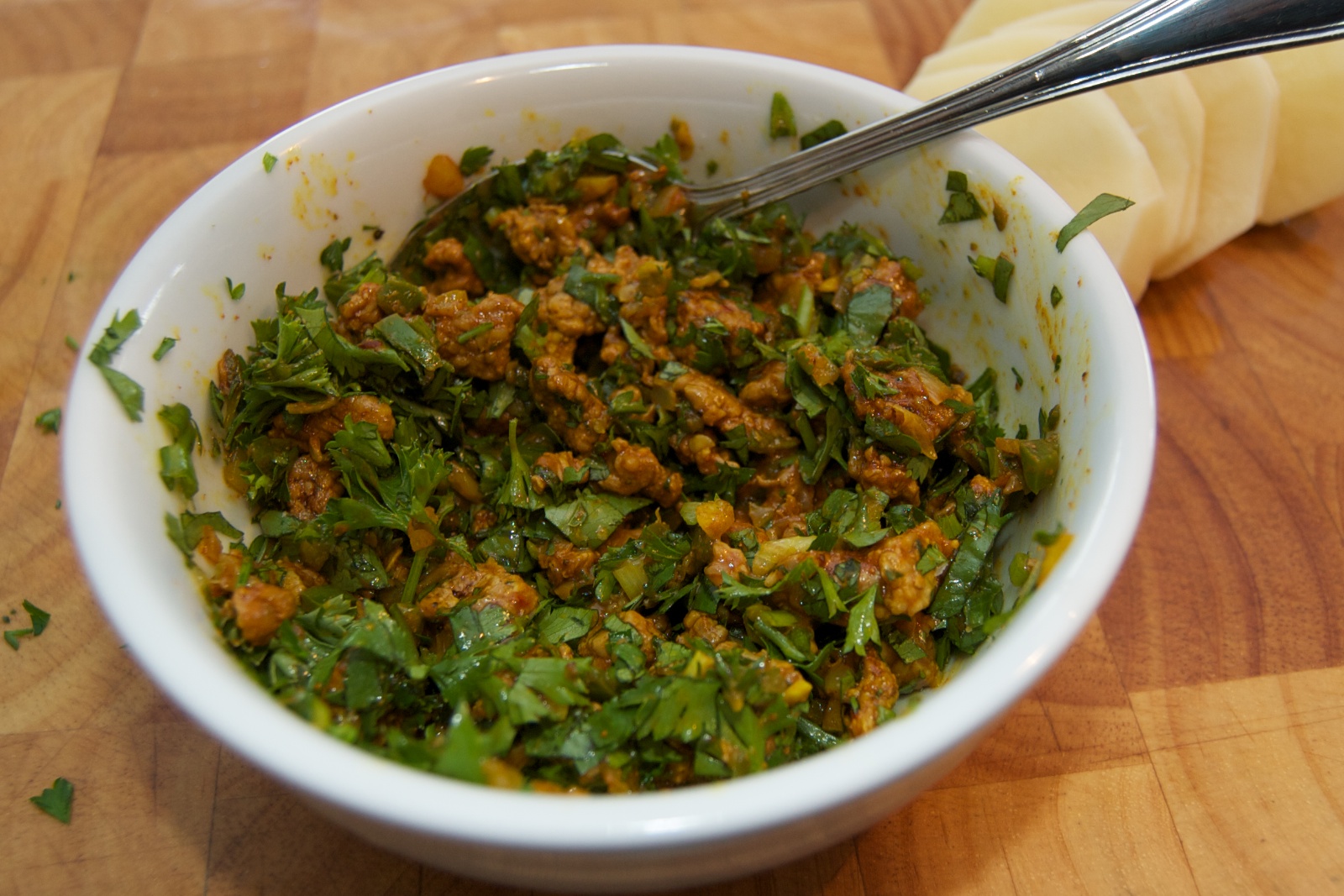 Peel the potato and cut to make little pockets. Or maybe it's sort of like a clam shell. In any case, you cut across the potato but only 3/4 of the way through, about 1/8" thick. Then you make another cut all the way across the potato. You want to have something with two 1/8" thick slices of potato connected by a hinge of potato.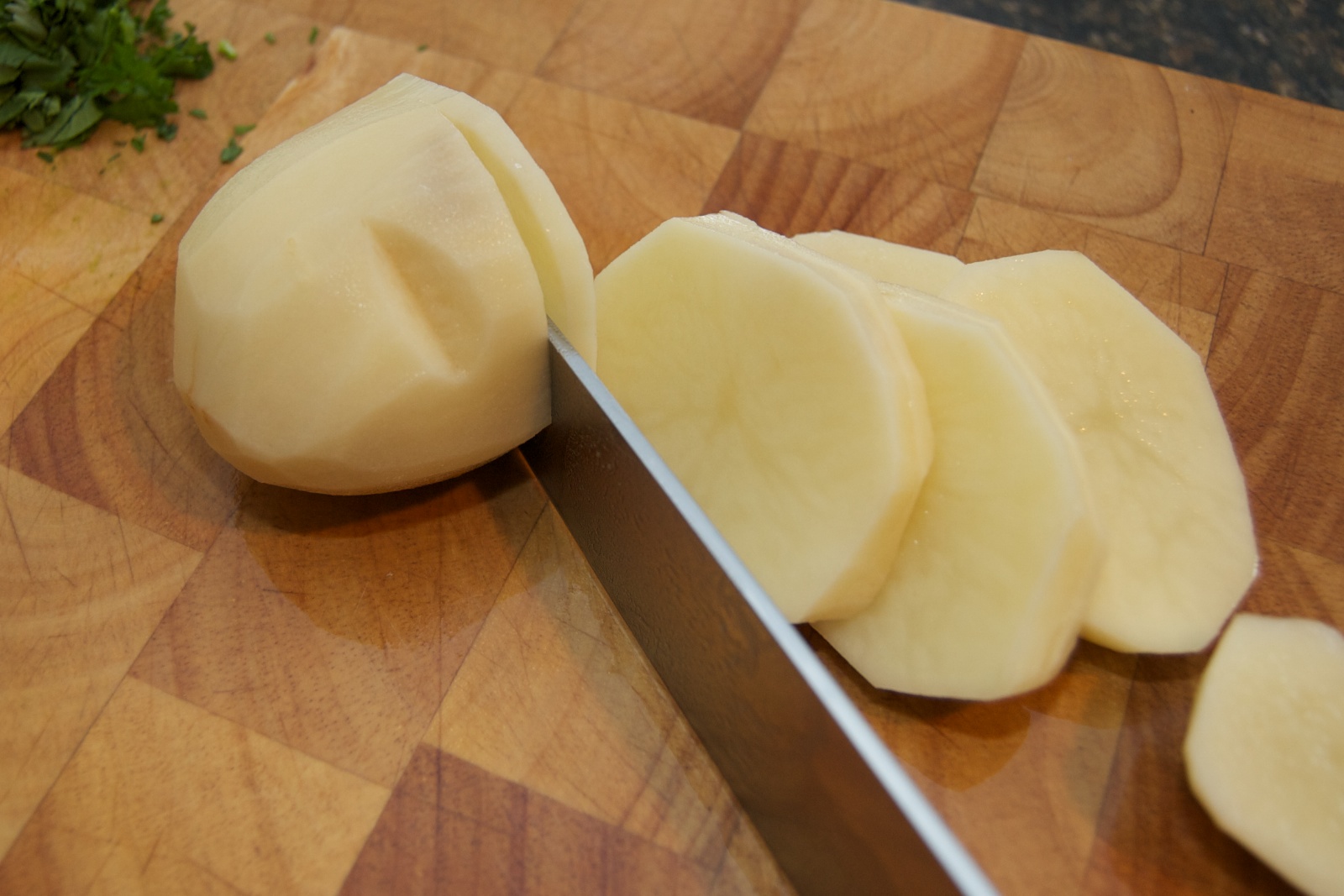 Stuff the potato with the lamb and herb mixture. Dip the open side of the potato only in the egg, then in flour.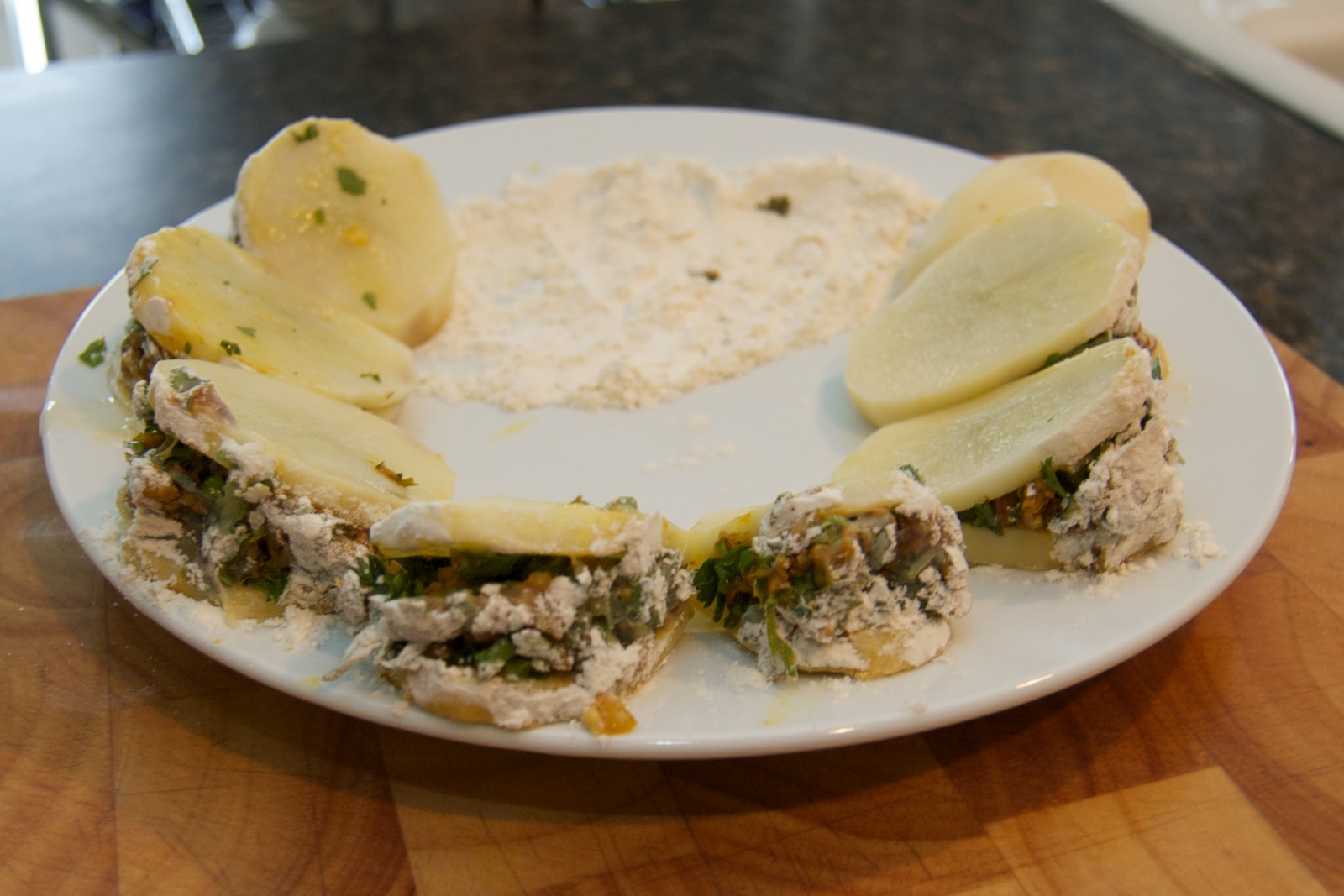 Deep fry for about 3 minutes at 360°F until golden brown and done. Remove from the fryer and salt.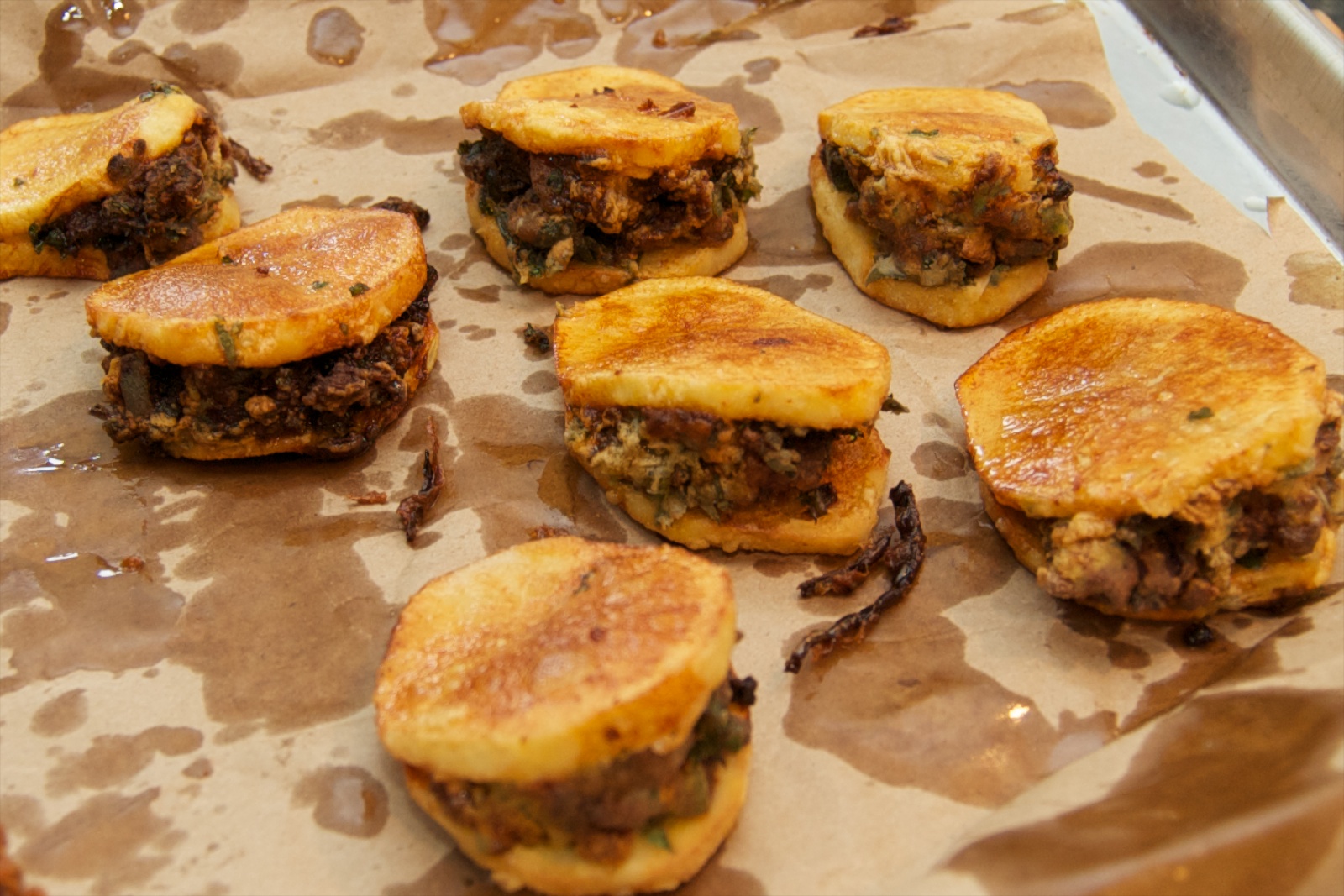 Cute! Little meat and herb-stuffed deep-fried potato sandwiches. And really quite tasty! I'd make them again.
There's a preparation that involves cooking them with tomato sauce, but it seemed like they would get all soggy so I just served mine with sriracha. Authentic? No. But quite tasty!
This recipe is sort of based on this recipe , but scaled smaller.