Whole grain anadama bread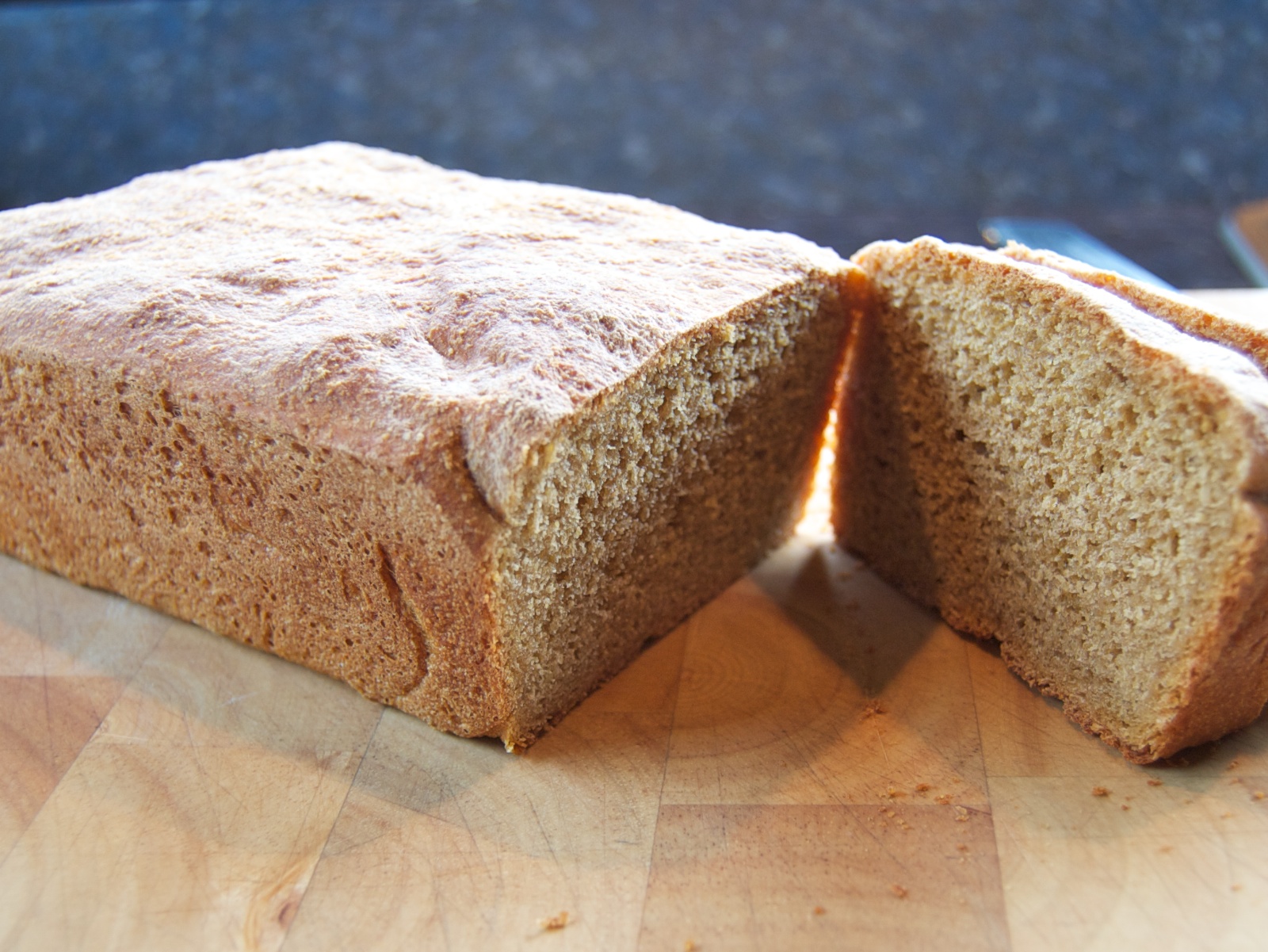 This is my variation of the anadama bread recipe from The Bread Baker's Apprentice (Peter Reinhart). It uses white whole wheat and 9-grain flour instead of regular bread flour. And it's half a recipe.
It's good, but not as good as my whole wheat and oat bread . But it's always fun to try something new.
The night before make the soaker:
3 oz. cornmeal 4 oz. water
Combine the cornmeal and water, cover and let sit overnight at room temperature.
Dough:
5 oz. white whole wheat flour 0.110 oz. instant yeast 4 oz. warm water (90°F to 100°F)
5 oz. 9-grain flour 0.2 oz. salt 2 oz. molasses 0.5 oz. coconut oil (or substitute shortening or unsalted butter)
Combine the white whole wheat flour, yeast, water and soaker in the electric mixer bowl and combine. Cover with plastic wrap and let ferment for an hour.
Add the remaining ingredients and combine. The dough should be a little sticky. Knead for 6 to 8 minutes in the electric mixer, adding water or flour as necessary so the dough is a little tacky.
Oil a bowl and transfer the dough ball to the bowl. Cover with plastic wrap and let rise for 90 minutes.
Shape the dough into loaf shape and place in an oiled 9x5 bread pan. Loosely cover with plastic wrap. Proof for 60 to 90 minutes until the bread rises above the edges of the pan.
Bake for 20 minutes at 350°F then rotate the pan. Bake another 20 to 30 minutes until golden brown and the interior temperature is 185°F to 190°F.
Remove from the pan and cool on a wire rack for at least an hour before slicing.
Update: It makes a very tasty French toast, too!