Tingua poblana - Pork with smoky tomato sauce and potatoes #2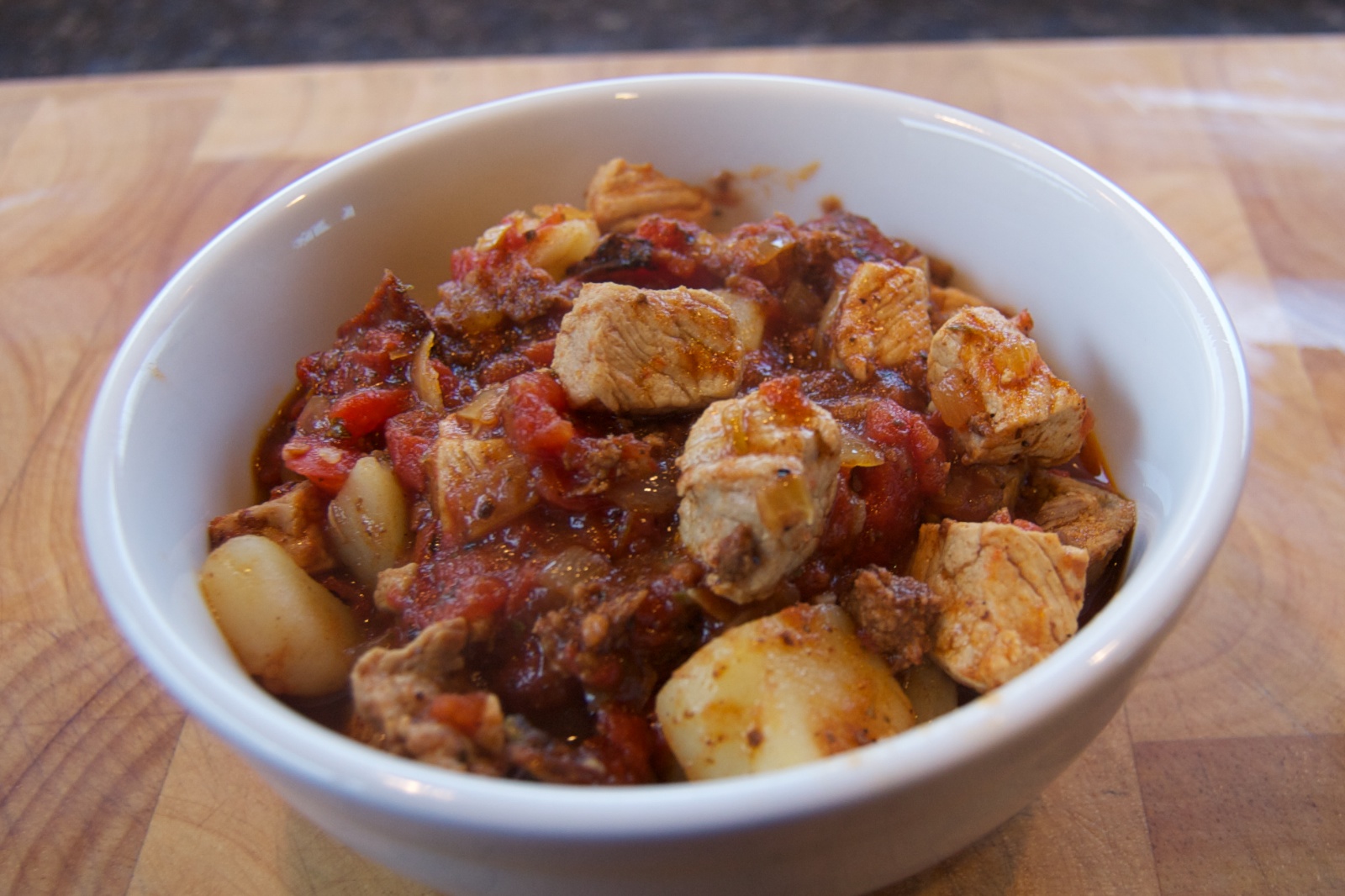 This is an excellent Mexican stew! The recipe is from Authentic Mexicanby Rick Bayless (p. 248) and it's a little bit of work to prepare but well worth it.
It takes almost an hour and a half to prepare but the flavors are so great that it's definitely worth it. This amount serves 4.
16 oz. boneless pork 1/4 tsp. dried marjoram 1/4 tsp. dried thyme 3 bay leaves 10 oz. potatoes (I used red boiling potatoes) 28 oz. can of fire-roasted diced tomatoes, drained 4 oz. chorizo sausage 1 tbsp. vegetable oil medium yellow onion, diced 1 clove garlic, peeled and minced 1/2 tsp. dried oregano 2 canned chipotles in adobo
I cut a section of pork sirloin roast into 1/2 to 3/4" cubes.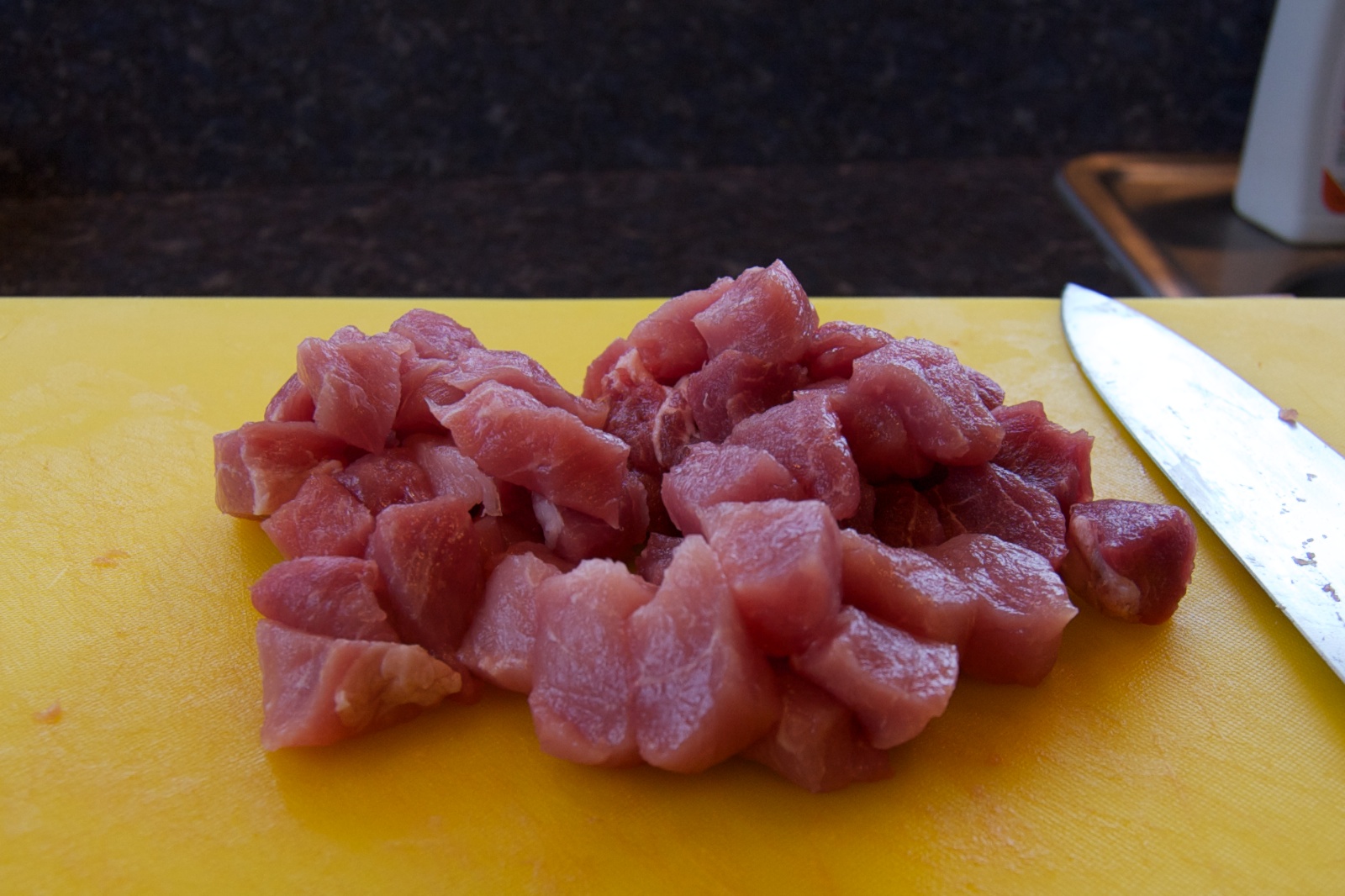 Bring water to boil in a saucepan large enough to hold the pork. Add salt. Add the pork. Skim off any foam that forms on the surface. Add the herbs and bay leaf. Lower the heat and simmer for 45 minutes. When done, remove the pork then strain the broth, reserving 1 cup.
I peeled the potatoes, diced them, and then boiled them in salted water for 15 minutes. The recipe calls for the reverse order - boil, peel, dice, but I suppose both work.
Here's the boiling in progress: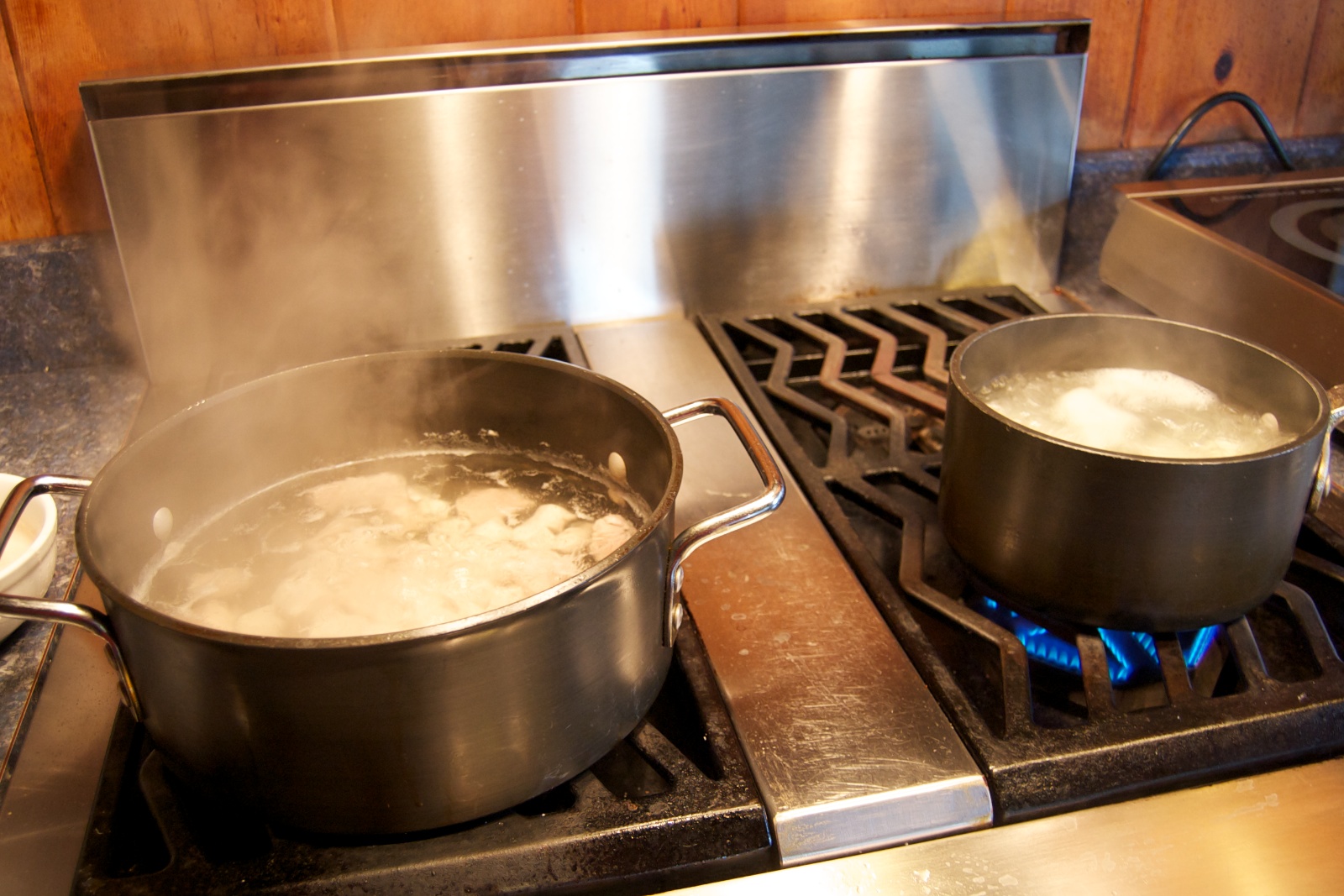 After draining the pork (and reserving 8 oz. of the liquid), I used the same pan to cook the chorizo. The first time I used regular store bought chorizo which became incredibly tough. This time I made my own homemade loose chorizo sausage which definitely worked better. You need to make the chorizo a day ahead, however.
Over medium heat add canola oil and cook the chorizo for 10 minutes. Remove the chorizo from the pan leaving the seasoned oil.
Add the onion and pork. Brown thoroughly, about 10 minutes.
Add the garlic and cook for a few minutes.
Add the drained canned chopped tomatoes, oregano, and the chorizo. Simmer for 5 minutes. Add the potatoes, 1 cup of reserved pork broth, chipotle pepper and adobo. Cook for 10 minutes.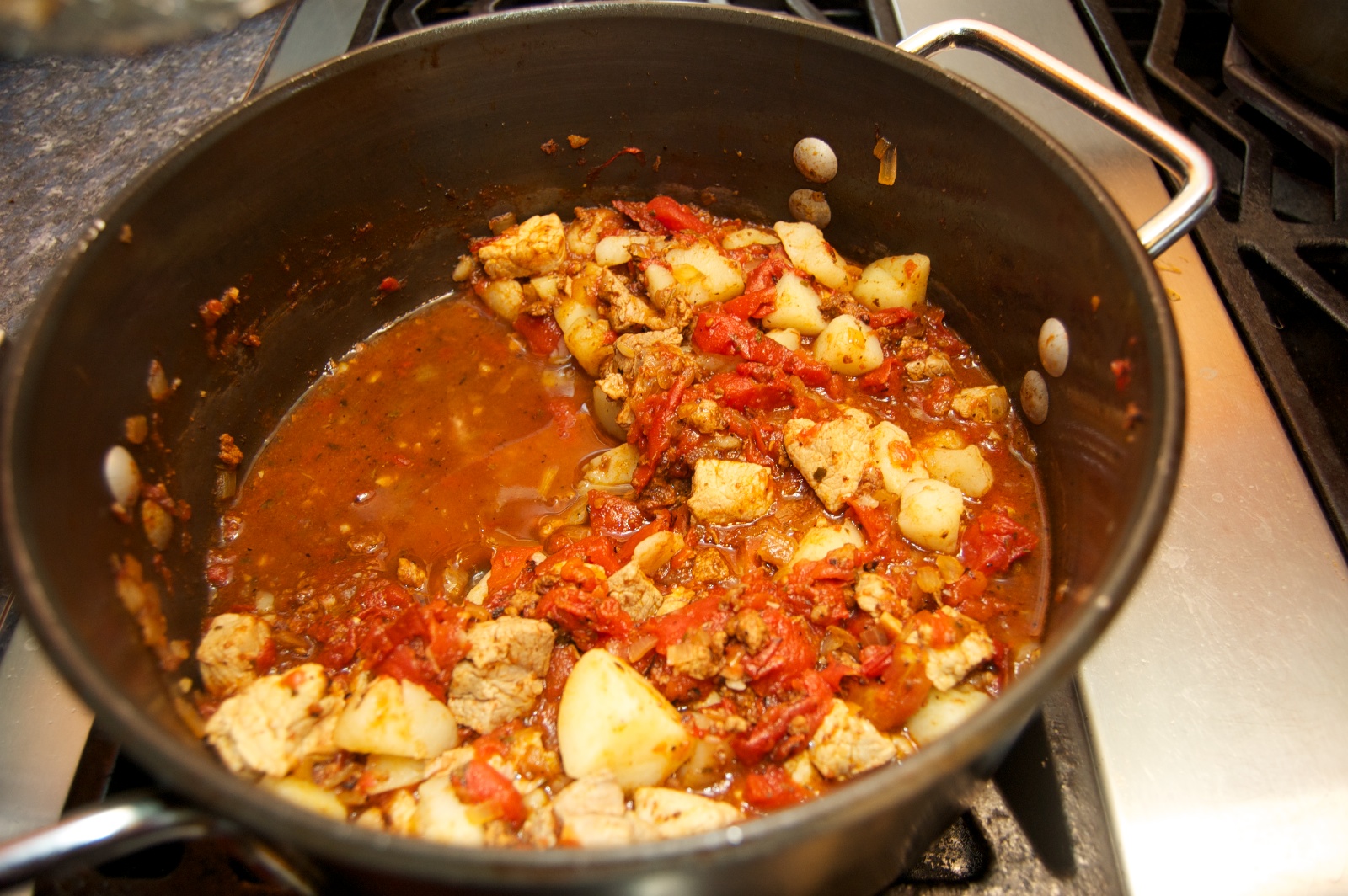 Season with salt and pepper.
I served about a 12 oz. serving in a bowl with a warm flour tortilla on the side. Ripping off a bit of the tortilla and wrapping a big of the pork and sauce is excellent. And the last bit of tortilla can be used to mop up the remainder of the sauce.
I ate one of the servings and vacuum sealed and froze the remaining 3. It reheats very well boil-in-bag. Take the frozen bag and place it in a pot of boiling water. Bring back to a boil, reduce the heat, and simmer for 22 minutes, flipping the bag over once.