Beef Stroganoff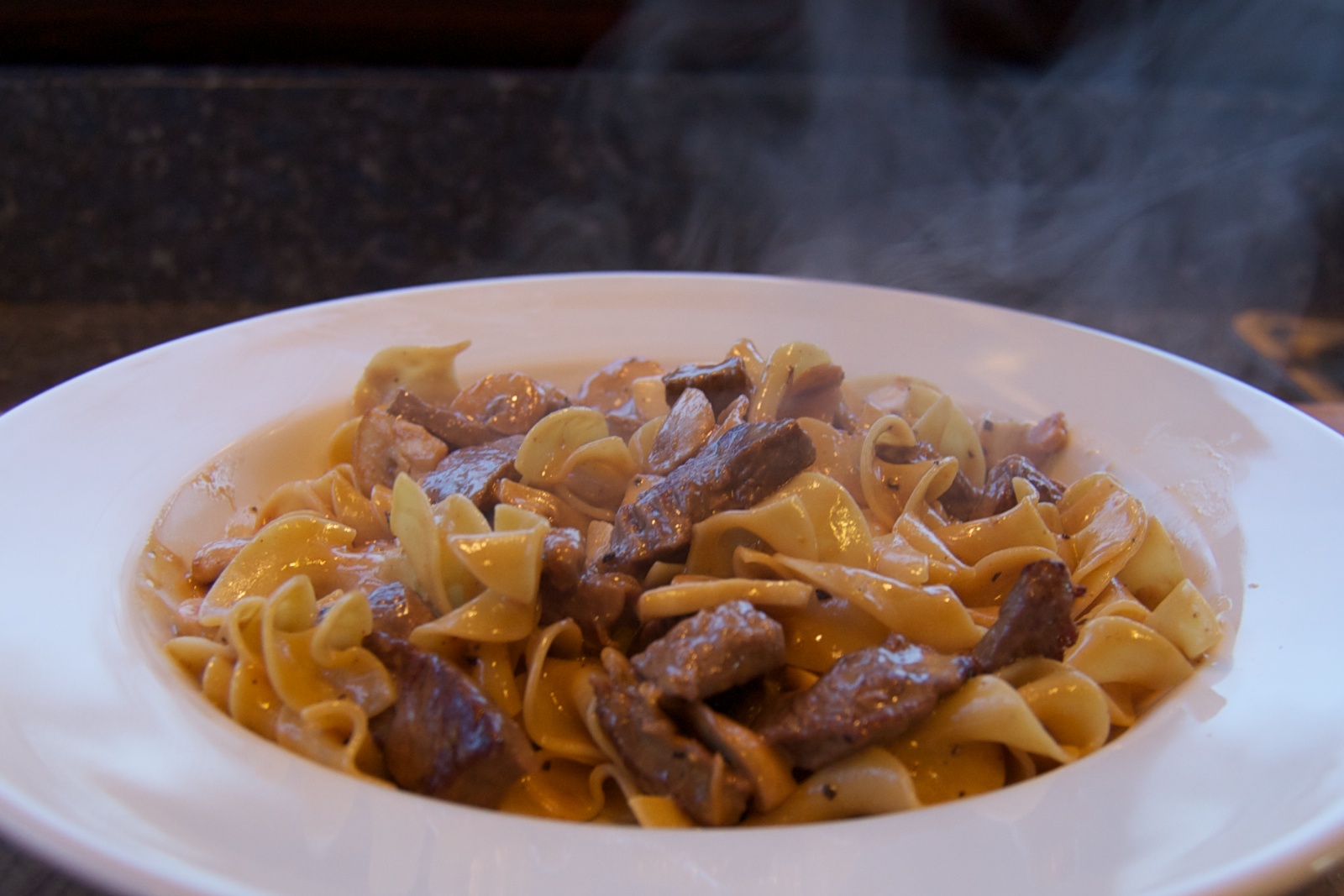 I haven't made this dish in years, but it seems like a good cold weather dish. This makes one serving with no leftovers. And it's delicious!
1.5 oz. egg noodles (dry weight) 3.0 to 6.0 oz. sliced beef
4 oz. white mushrooms (4 kind of large ones)
2.0 oz. water
1 tsp. More than Gourmet demi glace
1/8 cup sour cream
When I made this originally I used 6.0 oz. of sliced sirloin steak (pictured above). Now, I usually make it with 3.0 to 3.2 oz. of eye of round steak or a couple slices off a roast.
Heat a pot of salted water and prepare a 1.5 oz. serving of egg noodles.
Thinly slice the mushrooms (about 1/8" thick slices).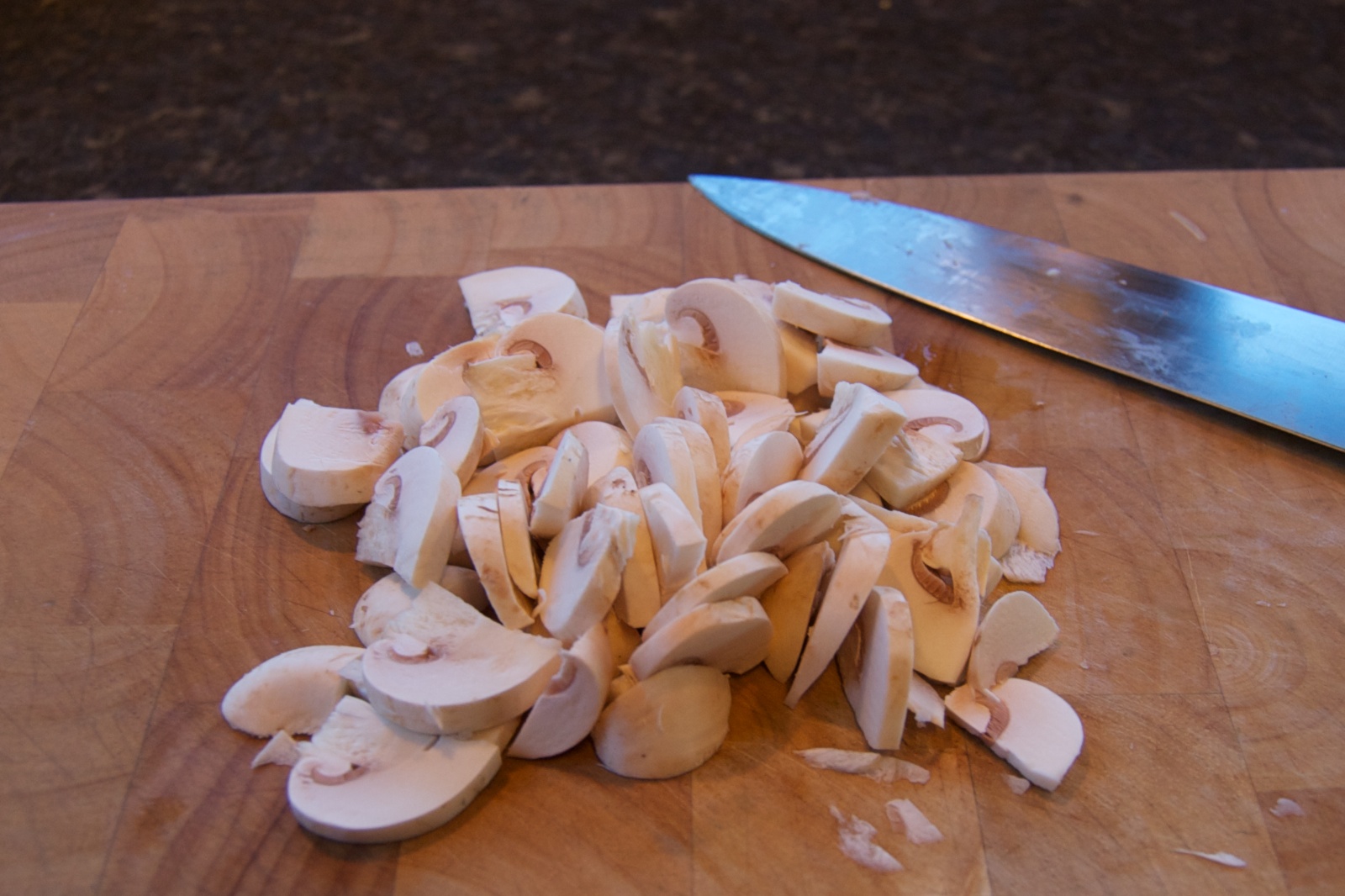 Trim the fat and thinly slice the steak. Season with salt and freshly ground black pepper.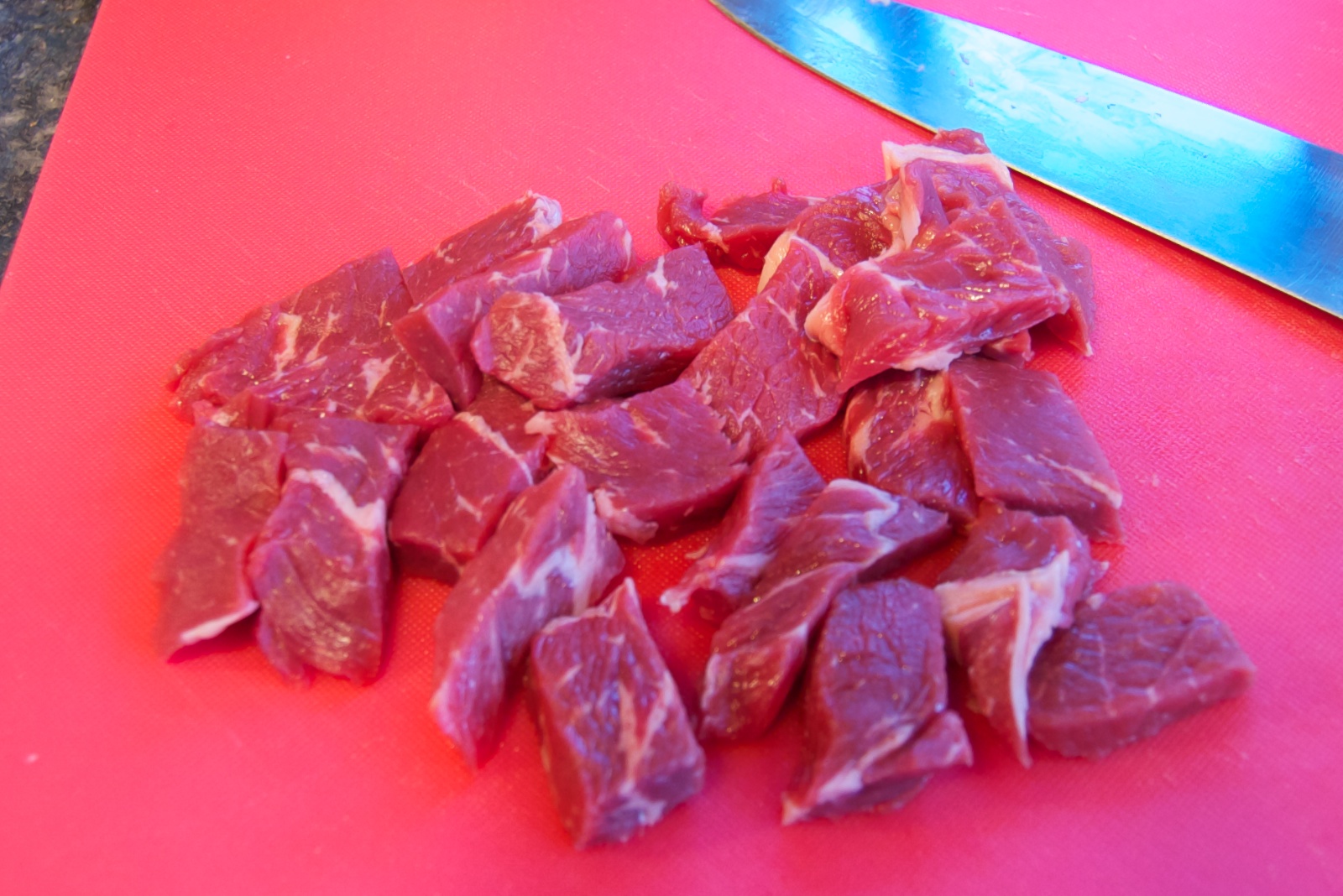 Heat a sauté pan and add clarified butter or oil. Cook the beef until just barely done, about a minute per side, then remove from the pan and set aside.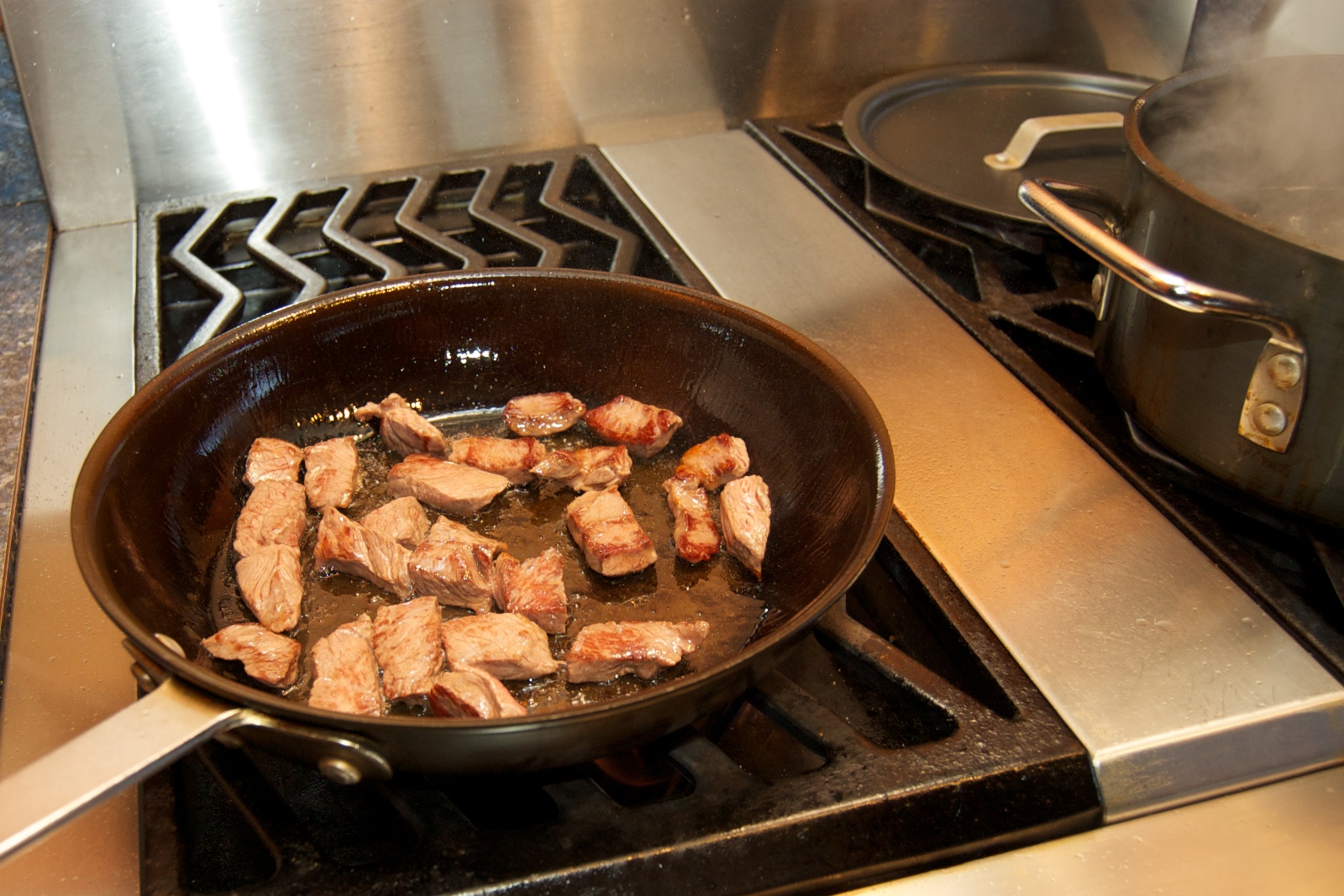 Add a little butter if the pan looks dry. Add the mushrooms to the sauté pan and cook for 2 minutes. Then remove the mushrooms and add to the beef that you set aside.
Deglaze the pan with a splash of white wine. Add 2 oz. water and 1 tsp. More than Gourmet demi glace concentrate. Dissolve the concentrate in the water and wine.
You could add 4 oz. of beef stock and reduce it, but the More than Gourmet concentrated stock gel is so much more convenient because it keeps basically forever in the refrigerator and contains no fillers, salt, etc.. Bring to a boil and reduce a bit.
Lower the heat and add 1/8 cup of sour cream.
Drain the pasta, then add the pasta, reserved beef and mushrooms to the pan. Season with salt and freshly ground black pepper.
Toss to combine then plate.
This recipe is roughly based on the recipe in The Professional Chef, the cookbook from The Culinary Institute of America. Their recipe serves 10, however.
It's also similar to my ancient copy of The Joy of Cooking, though that omits the stock (More than Gourmet demi glace + water). And it seems the meat seems would be way overcooked in their recipe. Update 9/19/2012:I reduced the amount of pasta from 2.0 oz. to 1.5 oz. and it was still enough. I also added the salt and pepper on the raw beef before cooking.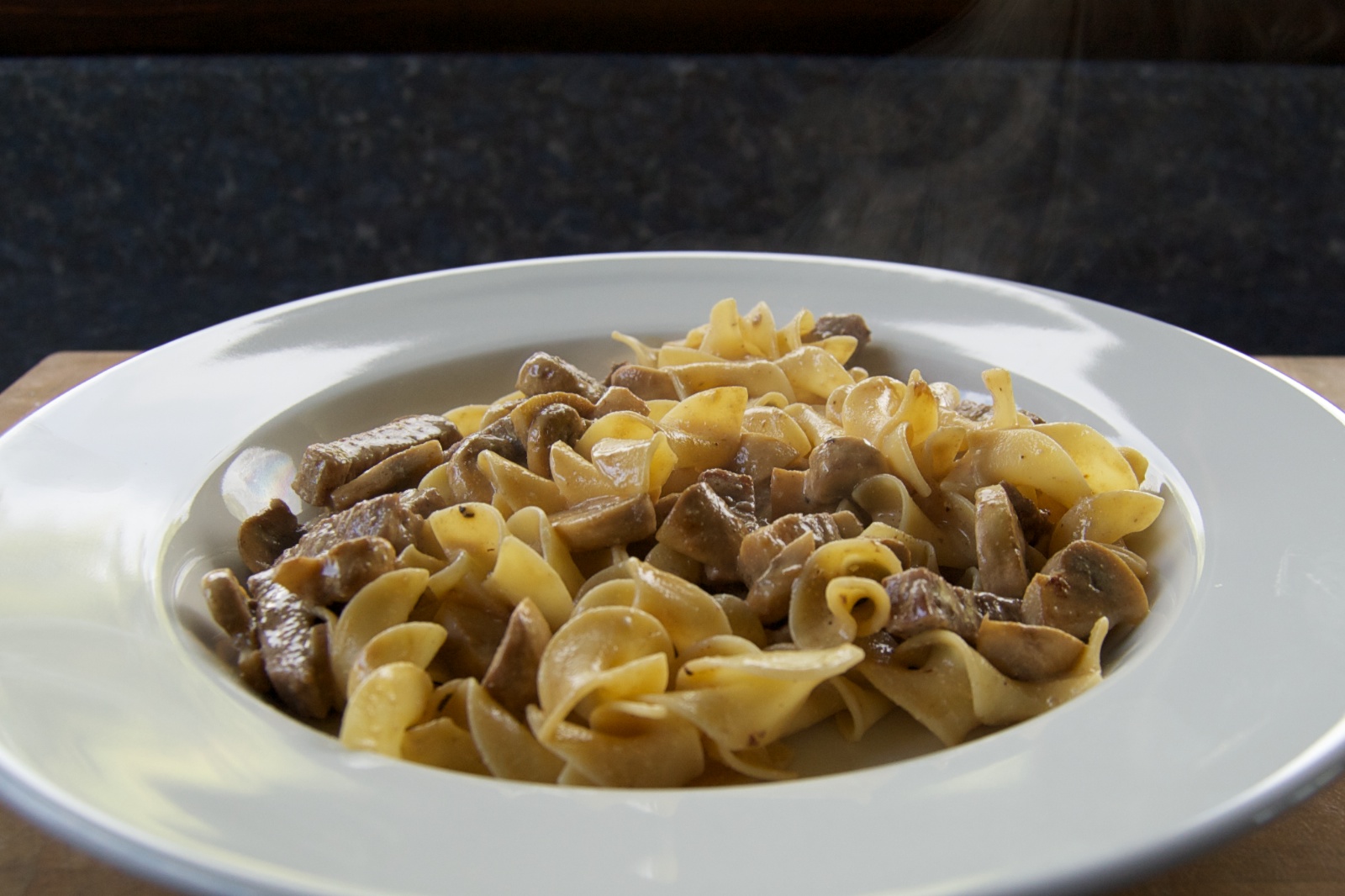 Updated 10/8/2014: Here is is with 3.1 oz. eye of round roast beef (weight before cooking), sliced and cooked as above.