Fried clams and coconut fried shrimp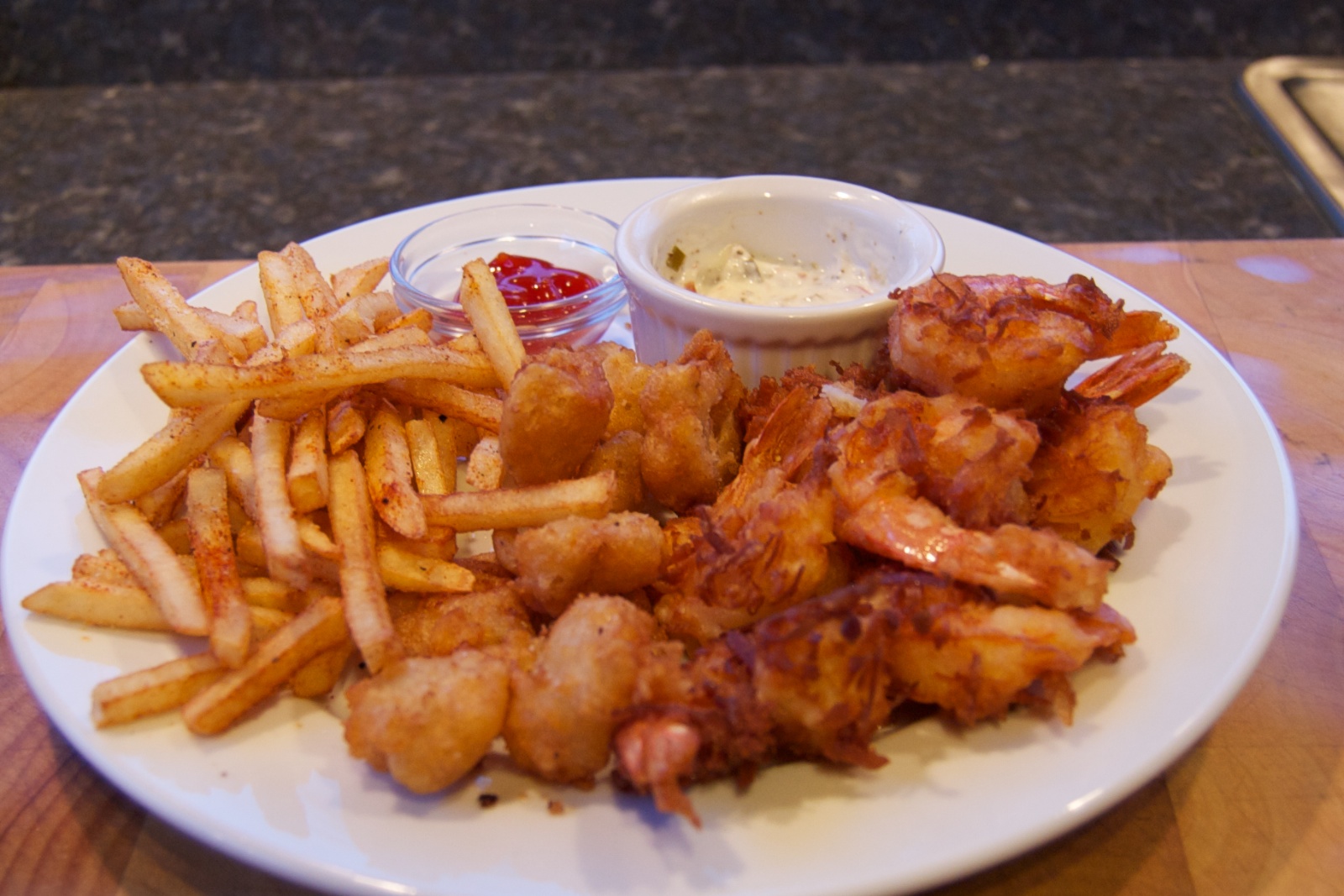 This isn't the healthiest meal, and it's actually an awful lot of work, but it's quite tasty.
Homemade tartar sauce minced shallot (can substitute onion)
1 tbsp. pickle relish
2-3 tbsp. mayonnaise
salt
pepper
It should probably have a little lemon juice in it, but I hate to juice a lemon for 1 tsp. of lemon juice, and I find that it makes it kind of watery. So I usually just leave it out.
Beer batter Prepare a batch of beer batter. Beat one egg in a bowl. Then discard half of the egg. This is kind of weird, but you really only need half an egg. Add 3 oz. of beer and beat lightly to combine. Then beat in 1/4 cup all-purpose flour. That's it!
Coconut shrimp Peel and devein 8 large shrimp.
Season with salt and pepper. Dredge in flour, then beer batter, then shredded coconut.
I used sweetened shredded coconut because that's what I had, but I'm not sure if unsweetened would have been better. It was quite good the way I made it.
Deep fry for 2 minutes at 360°F.
I used to make this with a spicy orange dipping sauce… I'll have to dig up the recipe, as it was pre-food blog.
Fried clams Shuck 10 clams. This is a ridiculous amount of work for the amount of meat you get.
Season with salt, pepper and granulated garlic. Dredge in flour, then beer batter.
Deep fry for 1:30 at 360°F.
I had never made fried clams from scratch. They were pretty good in the sense that you could tell they were clams, but I'm not sure the beer batter was right. I'm thinking something with cornmeal might be better.
French fries These are 3.6 oz. of Cascadian organic shoestring French fries. Deep fry for 2 minutes at 360°F. Drain, then season with salt, pepper, granulated garlic and cayenne pepper.