Steak, baked potato and broccoli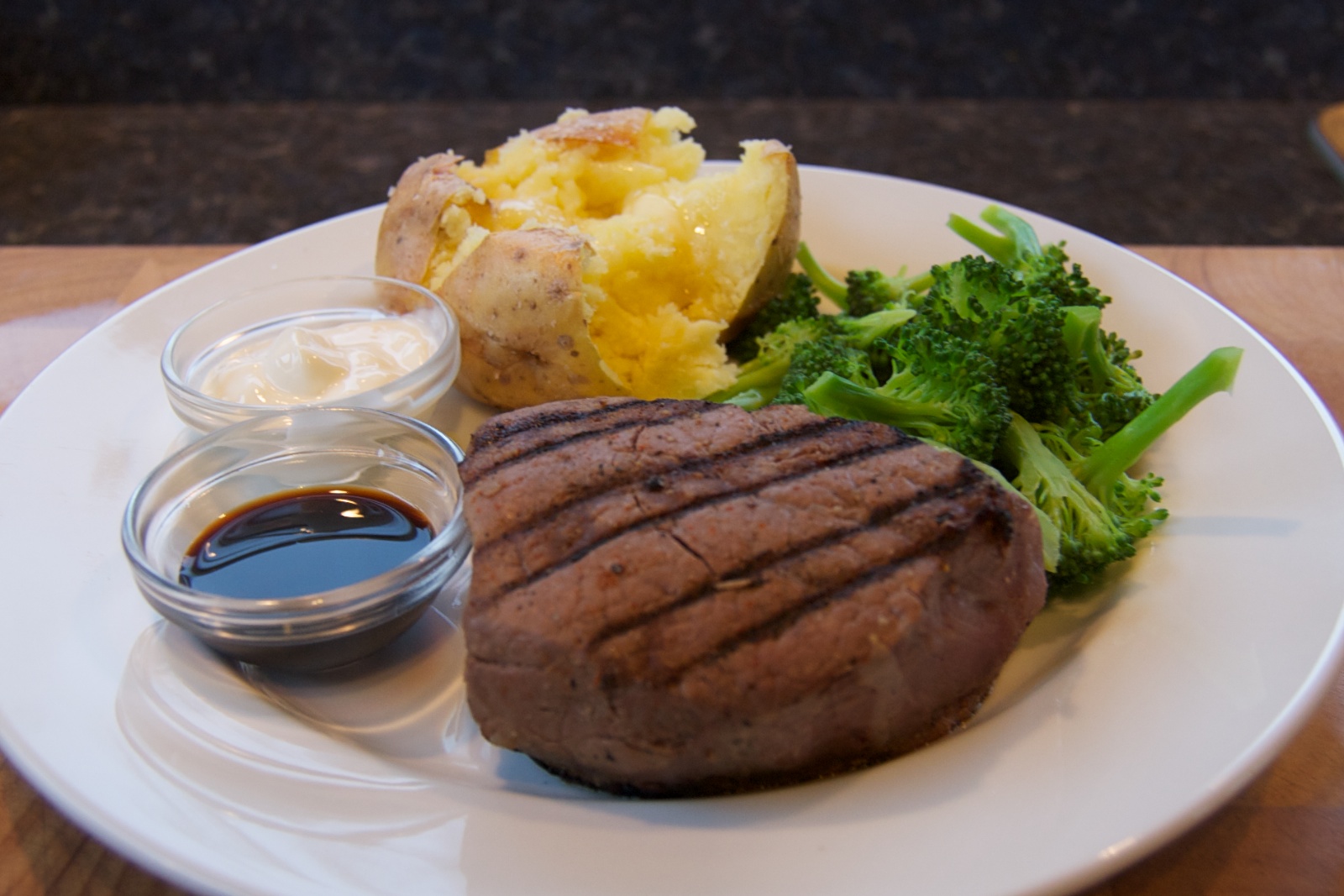 I love this meal!
Preheat the oven to 375°F. The baked potato is just so much better if you actually bake it. In the summer time sometimes I take a shortcut and use the microwave, but every fall I come to the realization that it's just so much better made in the oven.
The baked potato is a salt and olive oil rubbed Yukon Gold potato. Take the potato, remove any eyes or damaged parts, rub with olive oil then sprinkle with kosher salt. Place on a wire rack on a sheet pan.
Bake for one hour.
If you do use the microwave, make sure you poke some holes in the potato - I use a meat fork - so it doesn't explode.
Another good alternative is steak frites - French fries. Sometimes just frozen fries cooked for 2 minutes at 360°F in the deep fryer and sometimes the more involved homemade steak fries .
The steak is a filet mignon steak.
Season with salt, pepper, granulated garlic and a dash of cayenne pepper (optional). Coat lightly in olive oil.
I sear my steak on my portable infrared propane grill for 1:30 per side. While charcoal is great, infrared propane is the next best thing, and my grill only takes 3 minutes to heat to full temperature, and another 3 minutes to bake off anything on the burner when done, so the whole grilling process is done in less than 10 minutes!
I grill a number of steaks at once, then cool, vacuum seal and freeze them.
When I'm in the mood for steak, I grab a frozen package of pre-grilled steak and cook it, from frozen, in the sous vide machine for 45 minutes at 132°F, and it comes out perfectly rare to medium-rare every time.
Also note that this finishes the cooking, as 3 minutes on the grill probably won't fully cook through to the center.
The broccoli I cut into small pieces, put in a bowl, rinse, drain, and add a little water back into the bowl. Cover with plastic wrap and microwave for 1:20.
The rest are just condiment cups of sour cream (for the potato) and soy sauce (for the steak).
I've done some alternate sauces for the steak, including a horseradish sour cream and a demi glace made from More than Gourmet demi glace concentrate, but usually it's just soy sauce, but that's probably a personal preference because that's how we ate steak growing up.
This is also really good with asparagus instead of broccoli. Just boil the asparagus in salted water for 3 minutes for thin baby asparagus, longer if it's bigger.
Or a side salad.