Asparagus (or green beans) and prosciutto pasta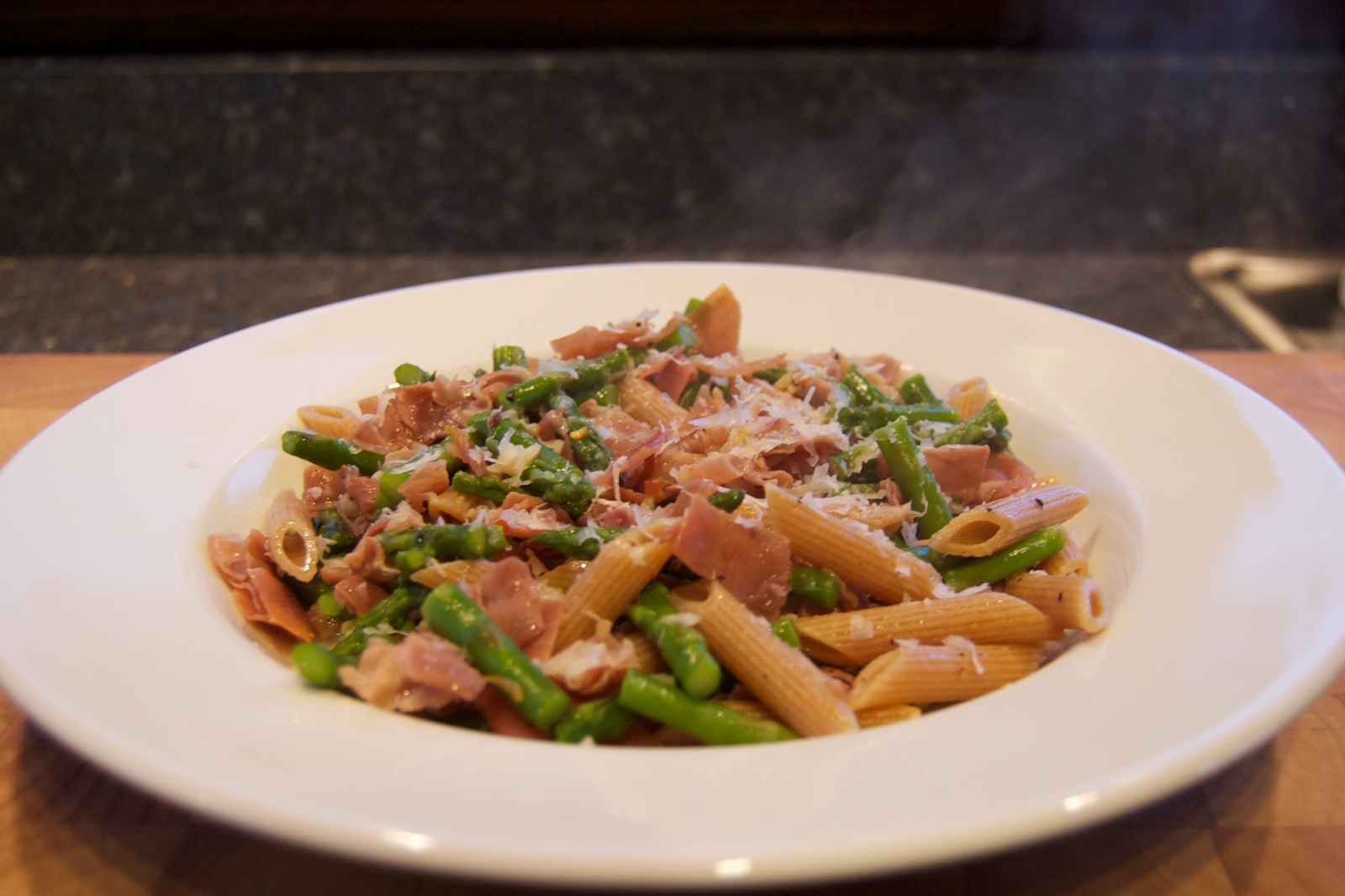 I made this dish up because I had some leftover asparagus and it was so delicious! It's definitely a keeper.
Makes one serving, multiply as necessary.
asparagus, preferably baby asparagus, cut into 1" long pieces, or substitute green beans
2.0 oz. whole wheat penne pasta
2.0 oz. prosciutto, thinly sliced, cut into strips
1 clove of garlic, finely minced
olive oil
crushed red pepper flakes
salt
freshly ground black pepper
Paremesano Reggiano cheese, grated
Cut a good amount of asparagus into 1" long pieces. Bring a pot of salted water to a boil and boil for 3 minutes. Update: See note at the bottom for slightly modified cooking method.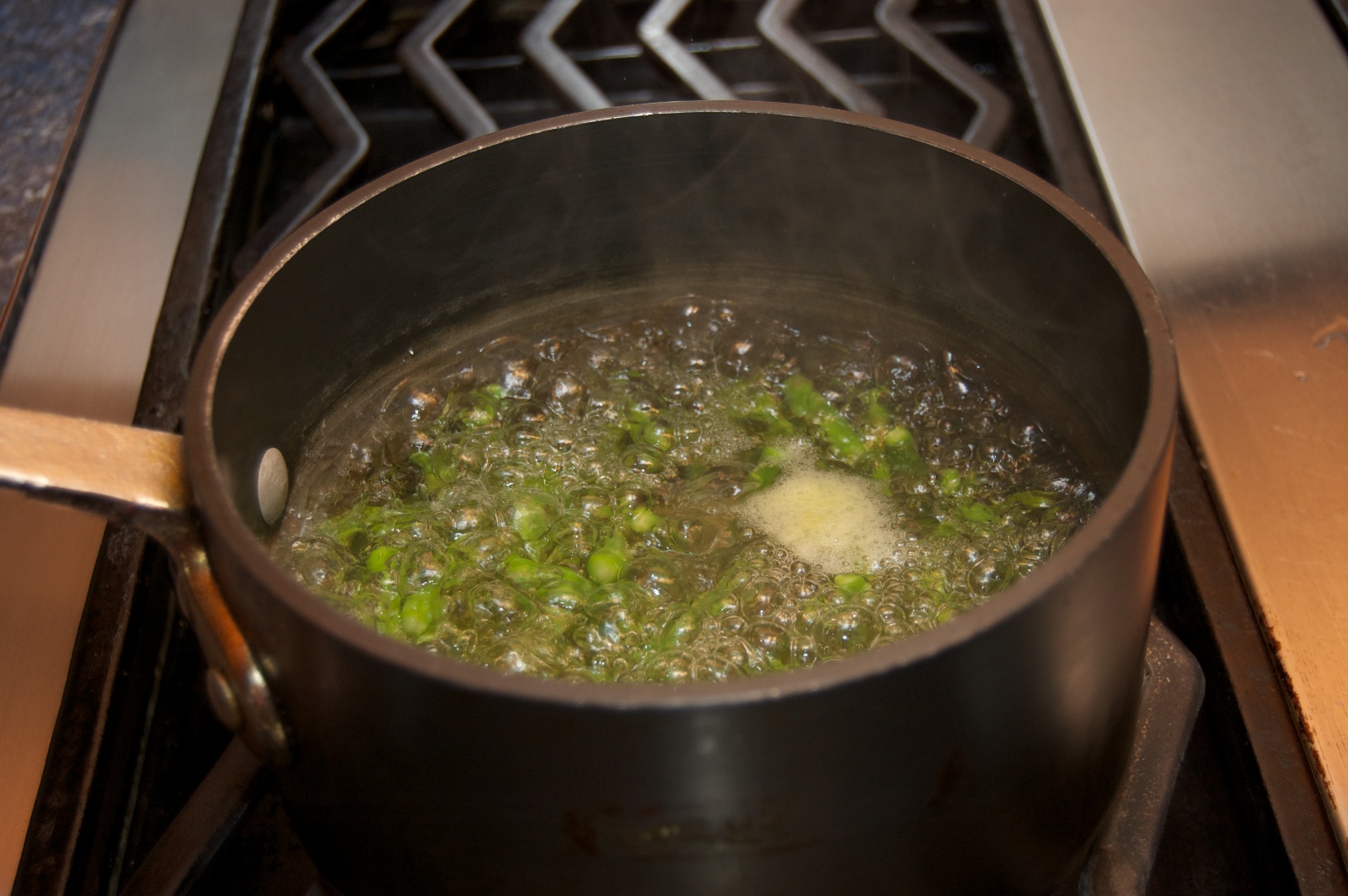 Drain and rinse under cold water and set aside.
Bring a fresh pot of water to a boil (can use the same pot), add salt and cook the pasta according to package directions. For my De Cecco #41 penne regate, whole wheat, that's 12 minutes.
When the pasta is about 6 to 7 minutes from being done, heat a sauté pan over medium-low heat. Add olive oil, the prosciutto and separate the strips. Add the minced garlic and cook for a few minutes. Add crushed red pepper flakes. Add the cooked asparagus.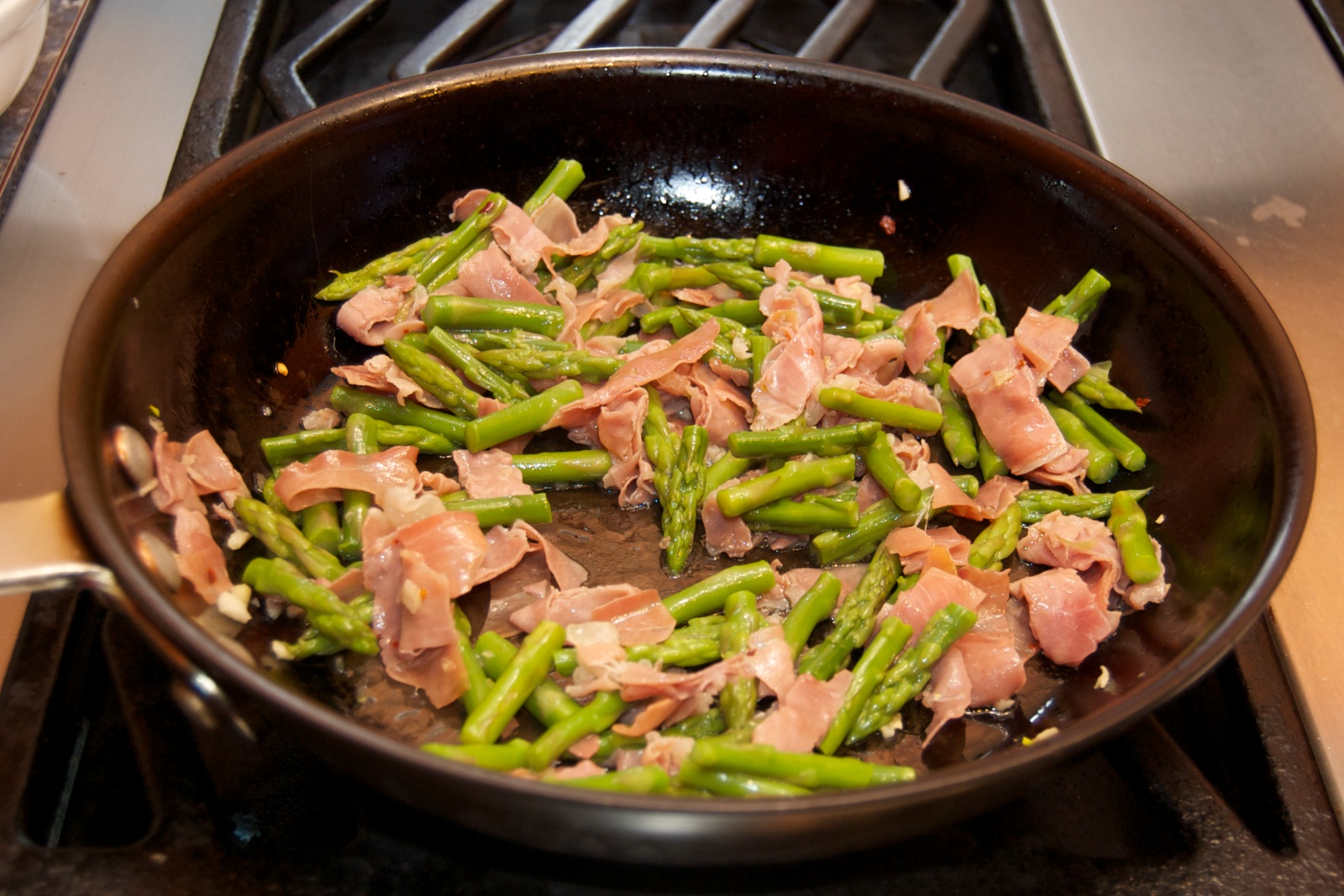 When the pasta is done, drain and add to the sauté pan with the other ingredients. Add salt, if desired. The prosciutto is salty as is everything else, but I added some more. But then again, I like salt. And freshly ground black pepper. And a little more olive oil. Stir or toss to combine.
Plate, then, with a microplane, shave a little Paremesano Reggiano cheese over the top. Serve.
I also had a glass of Valpolicella with it. Delicious!
Update 3/23/2012:
The timing works out better if you use three pans. I didn't do this initially to save washing a pan, but it really does work better this way: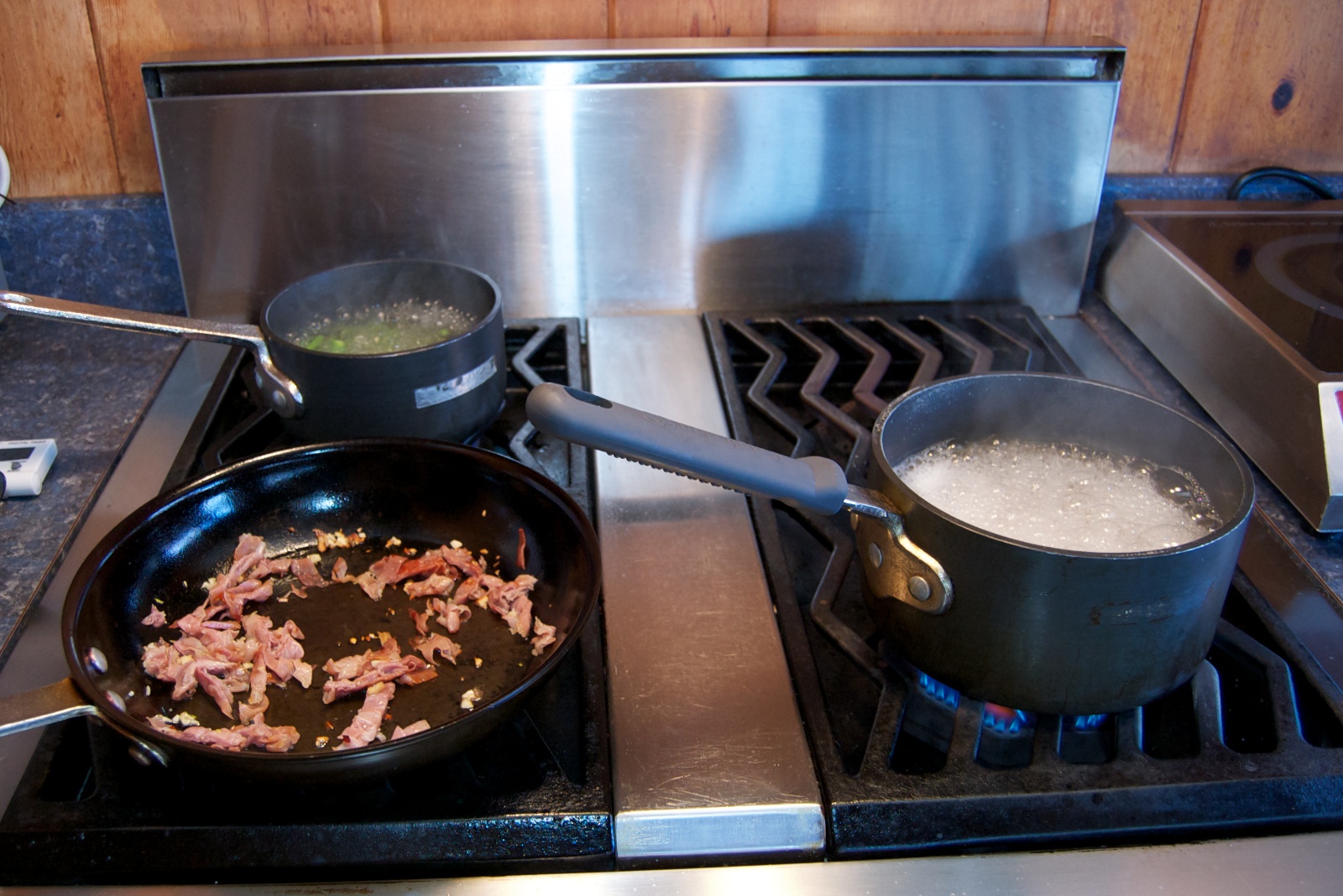 Bring two pots of salted water to a boil. The pasta takes 12 minutes to cook so that starts first.
-12:00 start pasta
-7:00 heat sauté pan over medium-low heat
-6:00 add the prosciutto, garlic and red pepper flakes
-4:00 if using frozen French-cut green beans, add them now
-3:30 start asparagus (cook for 3:00)
-0:30 drain asparagus, add to sauté pan
0:00 drain pasta, add to sauté pan
season with salt and pepper, plate, microplane some Paremesano Reggiano on top
I also browned the prosciutto a bit this time which worked out well.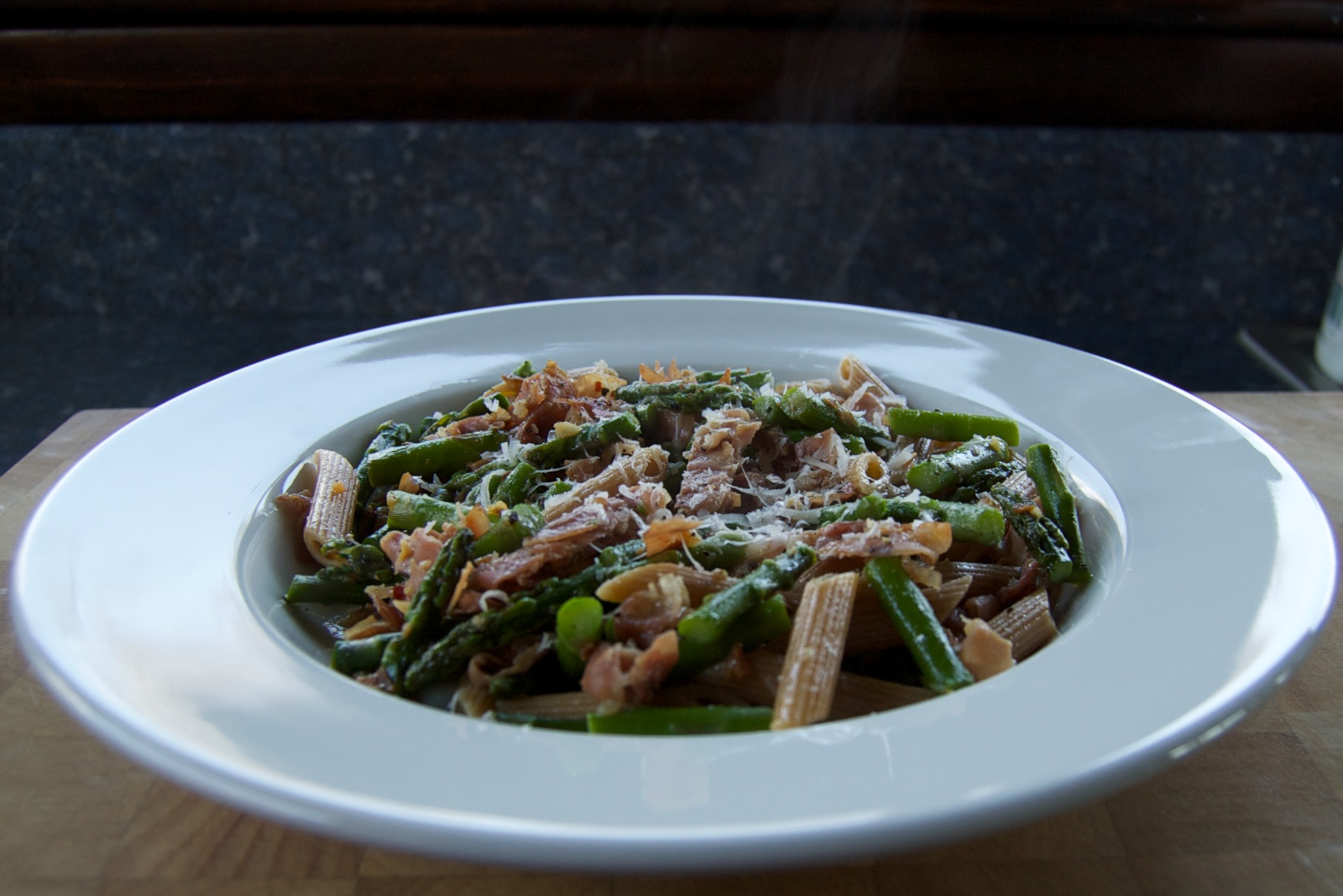 Update 5/5/2012: I made it with green beans instead of asparagus and it was equally delicious! The preparation was identical to the most recent update.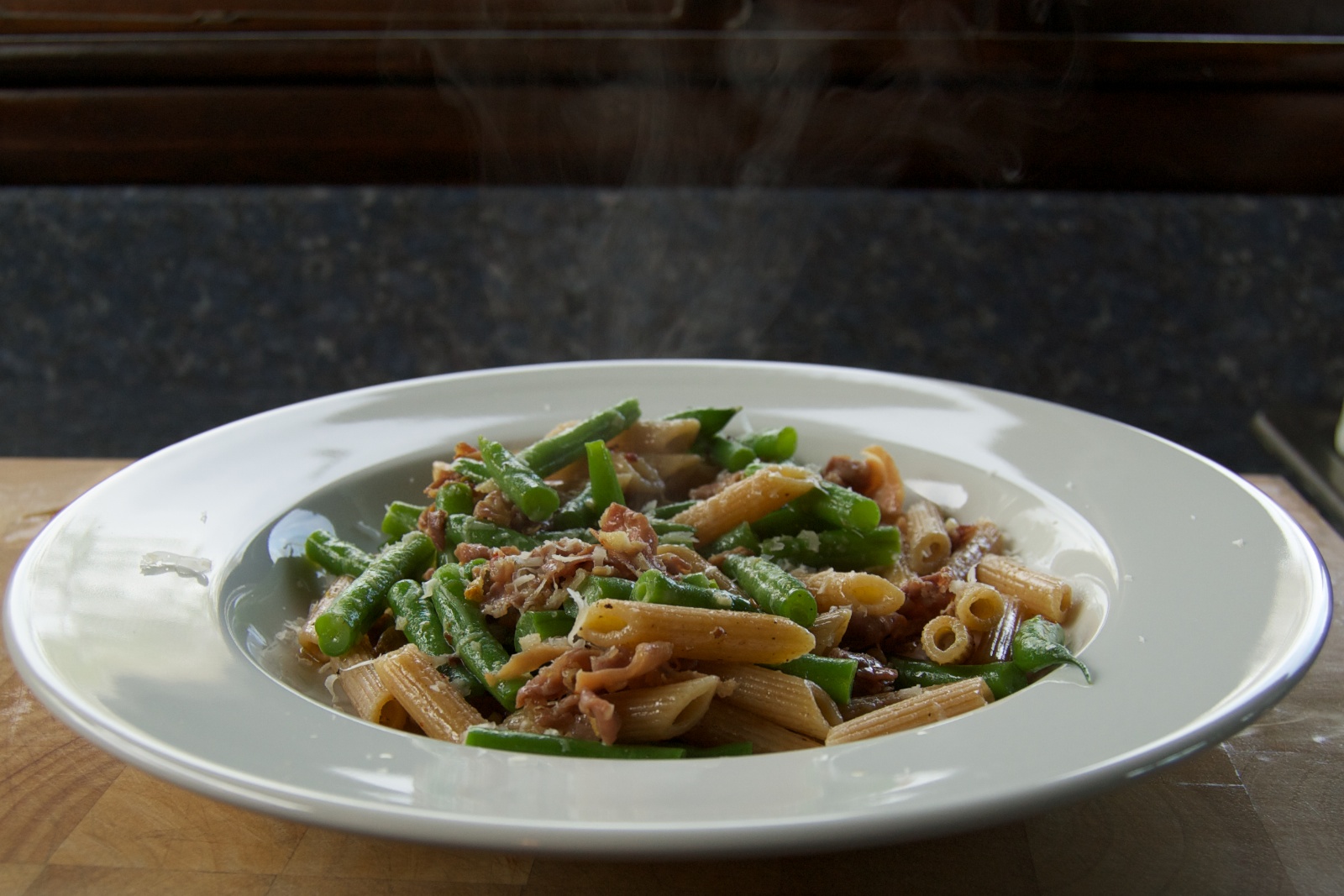 Update 10/26/12: I made it with frozen French cut green beans and it was excellent! Instead of boiling them separately, I just tossed them into the sauté pan for the last 4 minutes of cooking. With full green beans, I think I would still boil them first.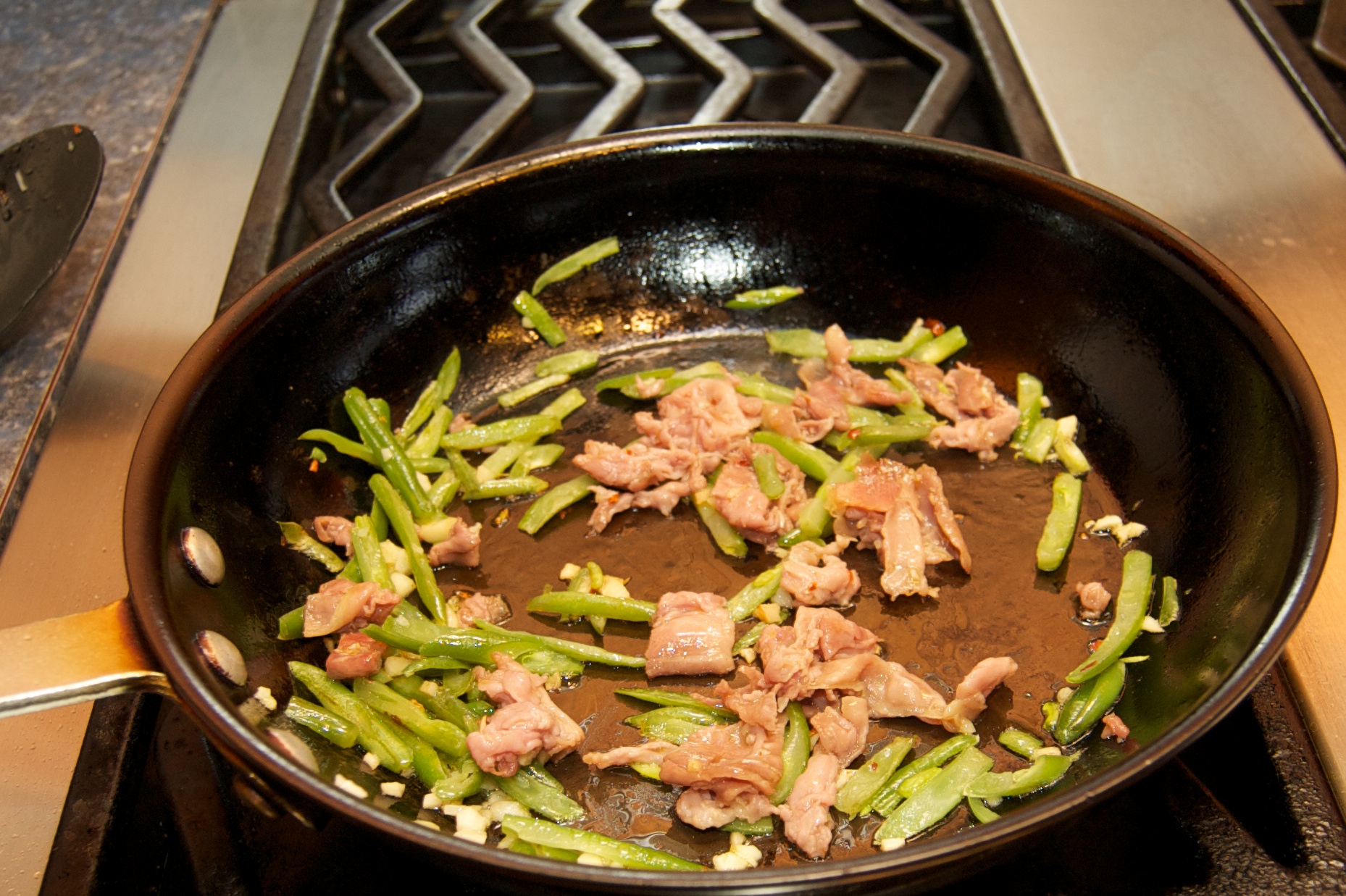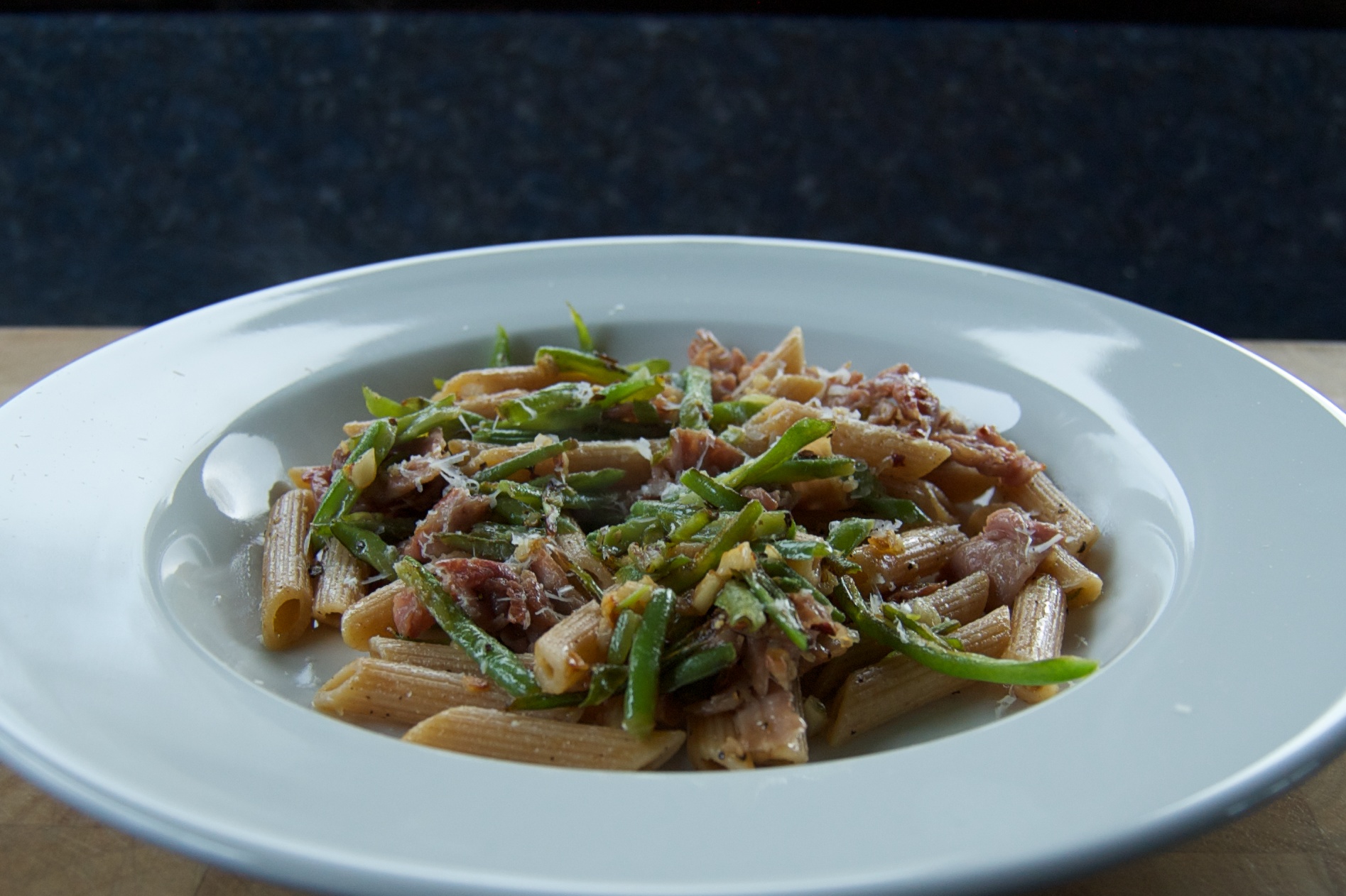 I increased the cooking time for the prosciutto from 5 to 6 minutes, above, as well.
Update September 9, 2014: I also made this with fresh, pre-blanched green beans and arugula and it was delicious!