Risotto - sous vide - attempt #1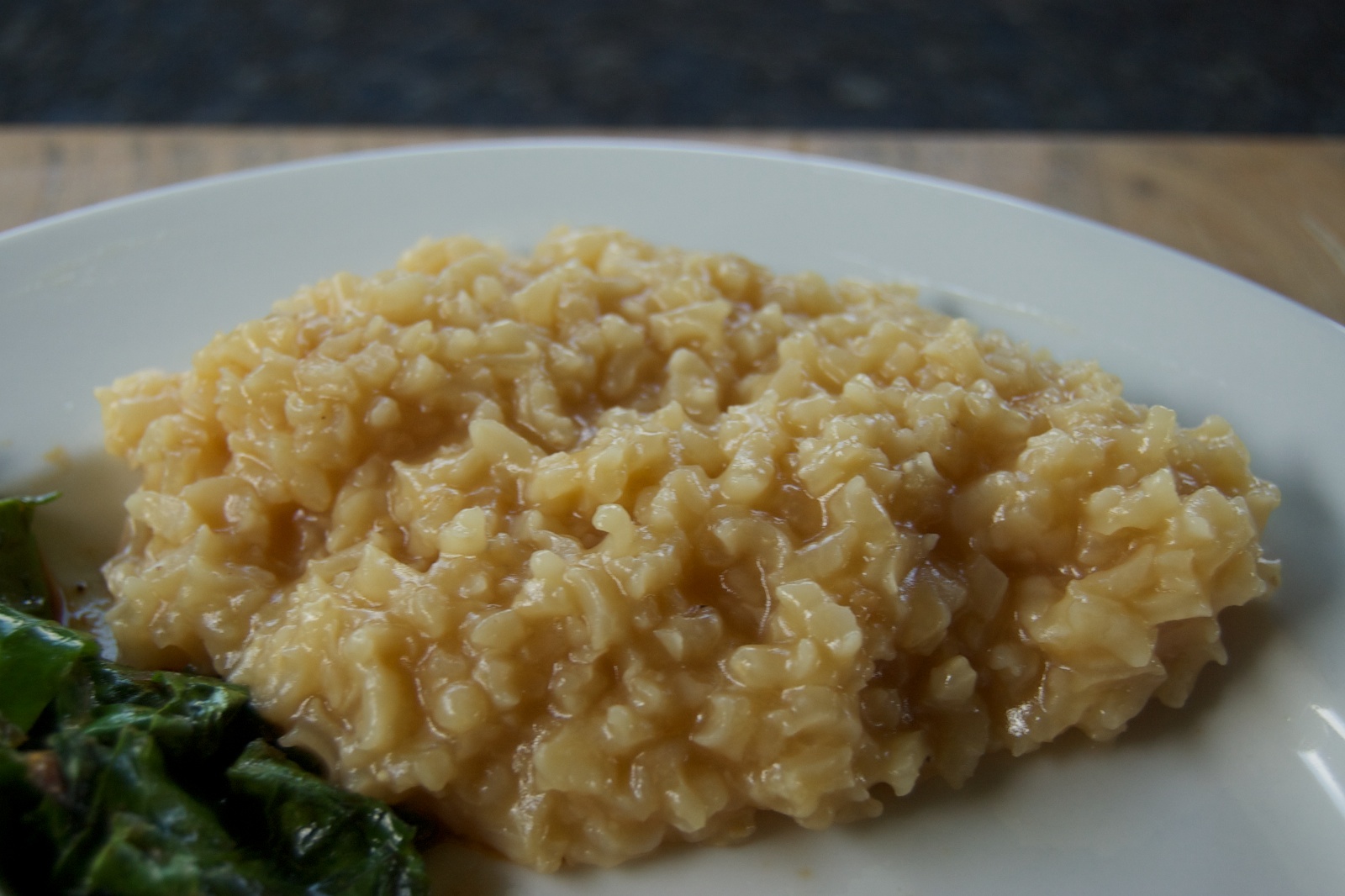 I had this crazy idea that it might be possible to make risotto in the sous vide, thereby eliminating a lot of fussy cooking. Results from searching the Internet were mixed, and I didn't have a lot of hope, but I thought I'd give it a try anyway.
Answer: Didn't work. It was edible, but the texture was a little off.
Makes 1 serving, adjust appropriately.
1/2 tbsp. butter 1 small shallot, minced 1/2 cup arborio rice 1/2 cup white wine 1 cup chicken stock salt freshly ground pepper Parmesan cheese, freshly grated
Preheat the sous vide machine to 182°F.
Melt the butter in a sauté pan and cook the shallots until softened but not browned.
Add the arborio rice and stir to coat with butter. Let cook for a minute.
Add the white wine and cook until absorbed into the rice.
I used More Than Gourmet roasted chicken stock concentrate, about 1 tsp. in 1 cup of water. The thing is that you need to boil the water to get the concentrate to dissolve, which slightly complicates the vacuum sealing process.
Remove the rice from to pan and add to a vacuum bag. Add the chicken stock.
Since the bag was now very hot I chilled it briefly in cold water to make sure that the stock didn't boil in the low pressure environment of the vacuum sealer. This also only works in a chamber vacuum sealer; an external vacuum sealer like a FoodSaver would obviously suck the liquid out of the bag, making a big mess.
Here's my vacuum sealed bag of rice and stock.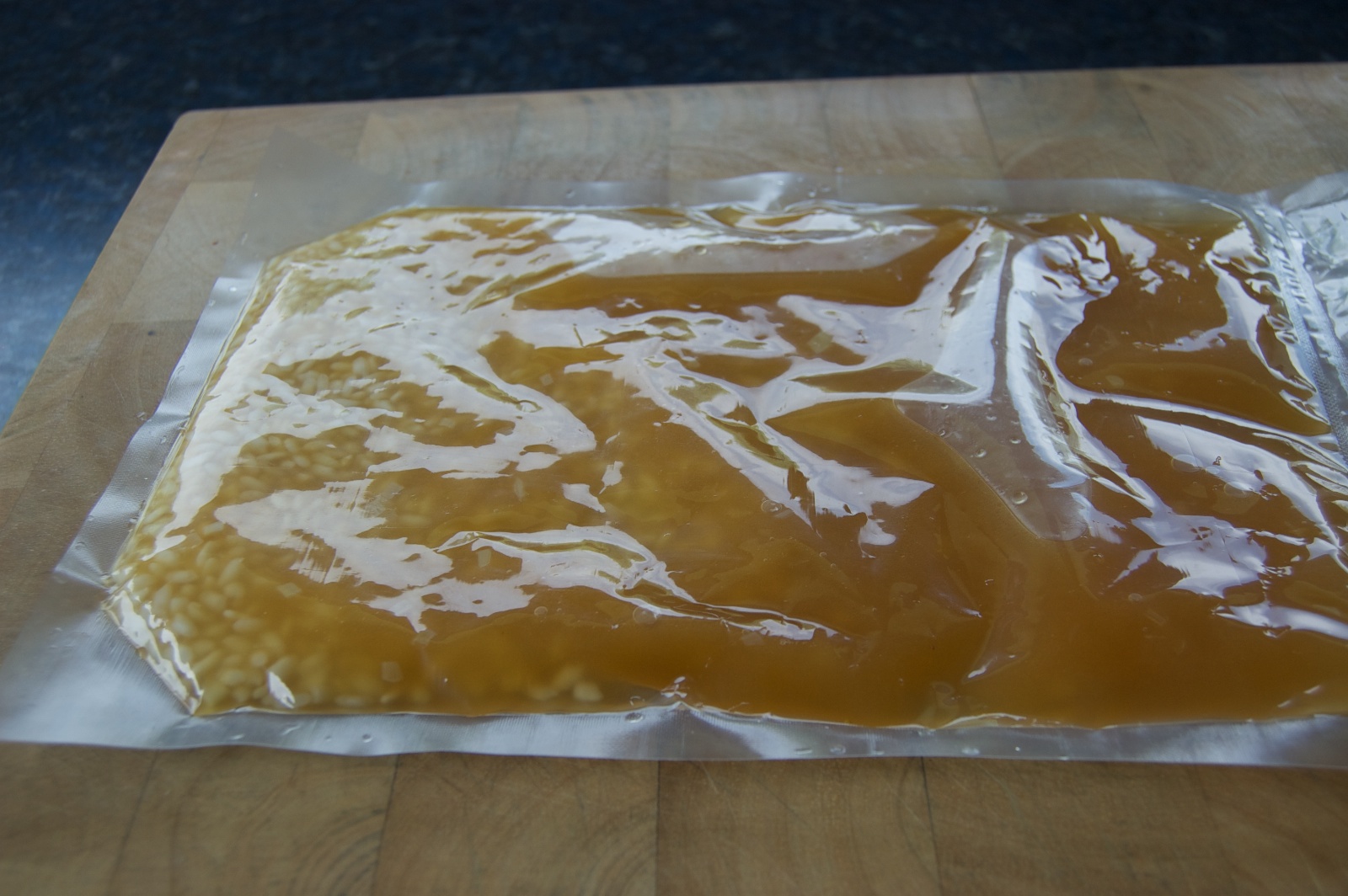 Cook in the sous vide for 40 minutes at 182°F. Though I regularly stick my hand in the 132°F sous vide, and even quickly pick things out at 155°F, it's probably best to not stick your hand in 182°F water. I used tongs.
Even though I used 50 % less liquid than one of the recipes I looked at, there was still an awful lot left after cooking sous vide!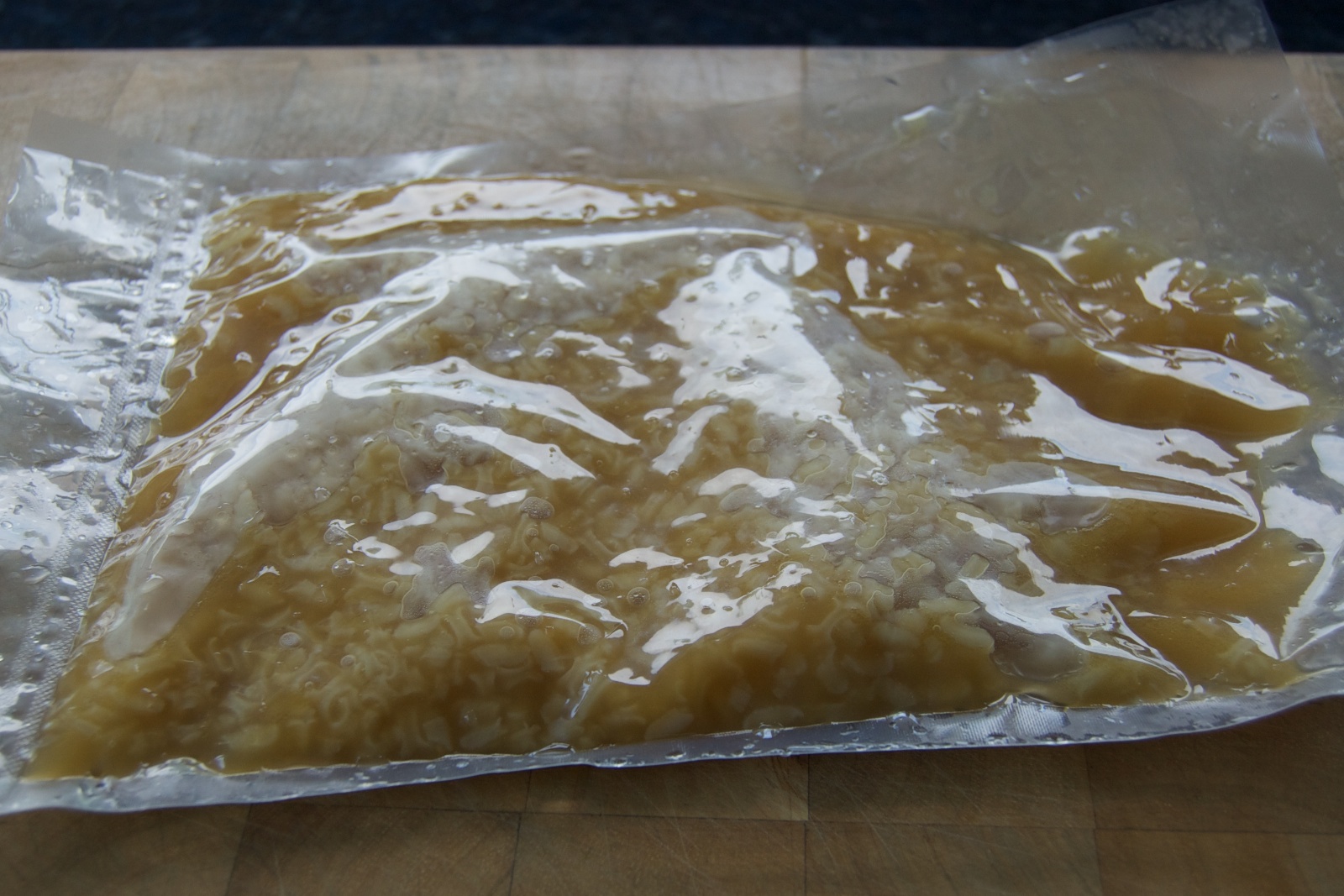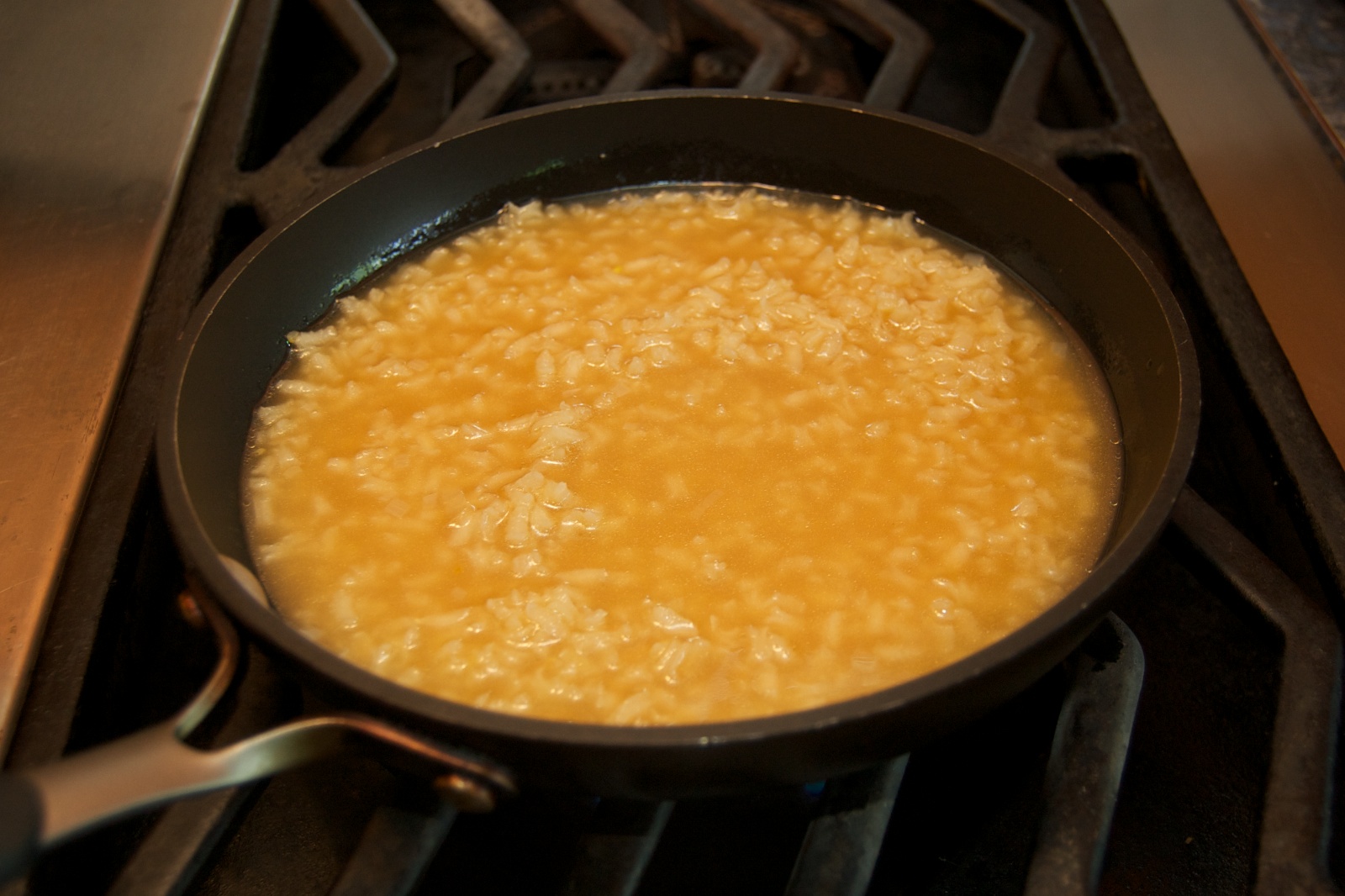 I cooked off the liquid in a sauté pan instead of attempting to drain it off, which seemed like weird method from one of the recipes. That also provided a convenient way to add the salt, pepper and Parmesan cheese.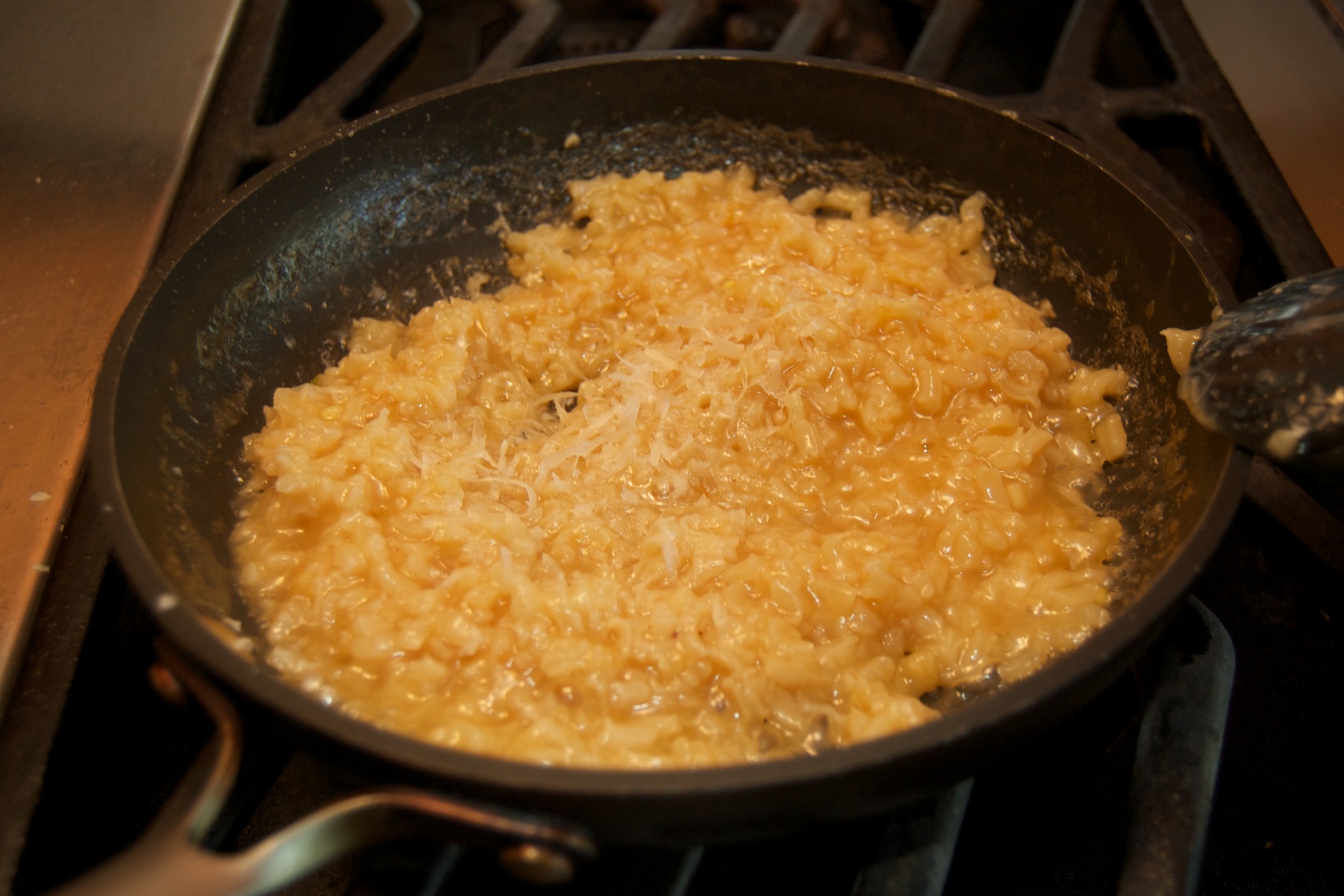 It wasn't bad, but it wasn't good, either. I can imagine that one might have worse risotto in a bad restaurant, but compared to my regular risotto made the normal way, this is not an acceptable substitute, yet.
Based off ideas from this recipe , this recipe and this recipe . And, of course, my regular risotto for one recipe that's cooked the normal way, on the stove.