Clam chowder #2
This is a new recipe for New England clam chower, based more on my recipe for corn chowder , which I like a lot. I previously made clam chowder with raw clams , too. I wasn't positive this would work out, so I made a small tester recipe for now.
Serves 2, multiply as necessary.
1 tbsp. butter 1 tbsp. olive oil 1/2 onion, chopped 1 stalk celery, chopped 1 small carrot, chopped 1 garlic clove, minced 1/2 slice cooked bacon, chopped (optional) 1/8 c. flour 12 oz. water 1 tbsp. More Than Gourmet roasted chicken stock concentrate small potato, peeled and diced 1 small can of clams (6.5 oz.) 4 oz. heavy cream salt freshly ground white pepper Tabasco or other hot sauce (optional)
Here are the veggies prepped and mostly ready to go. (Not pictured: the minced garlic.)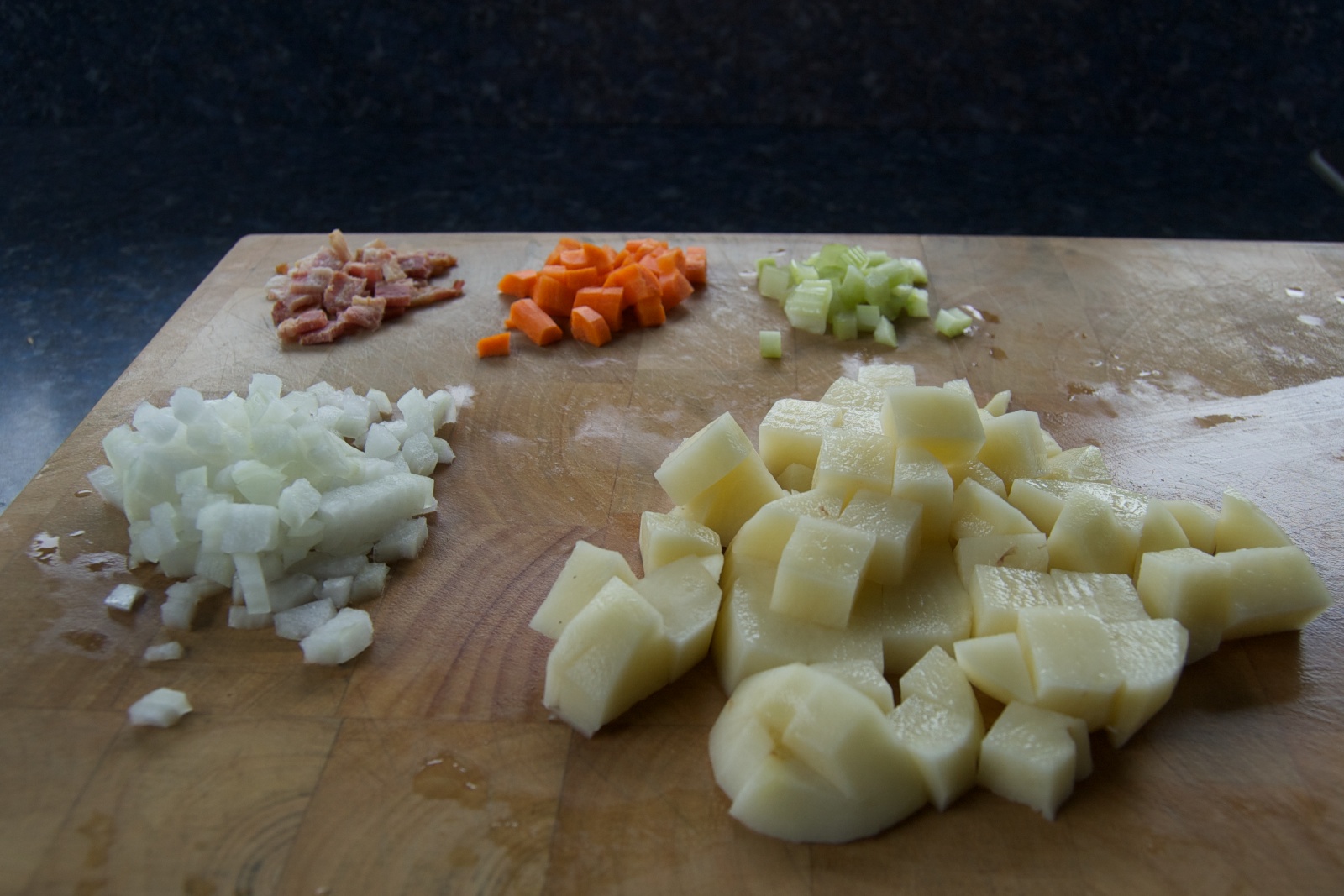 Add the butter and oil to a soup pan over medium-low heat. Add the onion and cook for a few minutes.
Add the celery, carrot, garlic and bacon and cook for a few more minutes.
Add the 1/8 c. flour and cook for 5 minutes, stirring periodically.
This was a spur of the moment thing so I walked to my very small local grocery store, which does not carry live clams, or even more than one canned variety. This will have to do.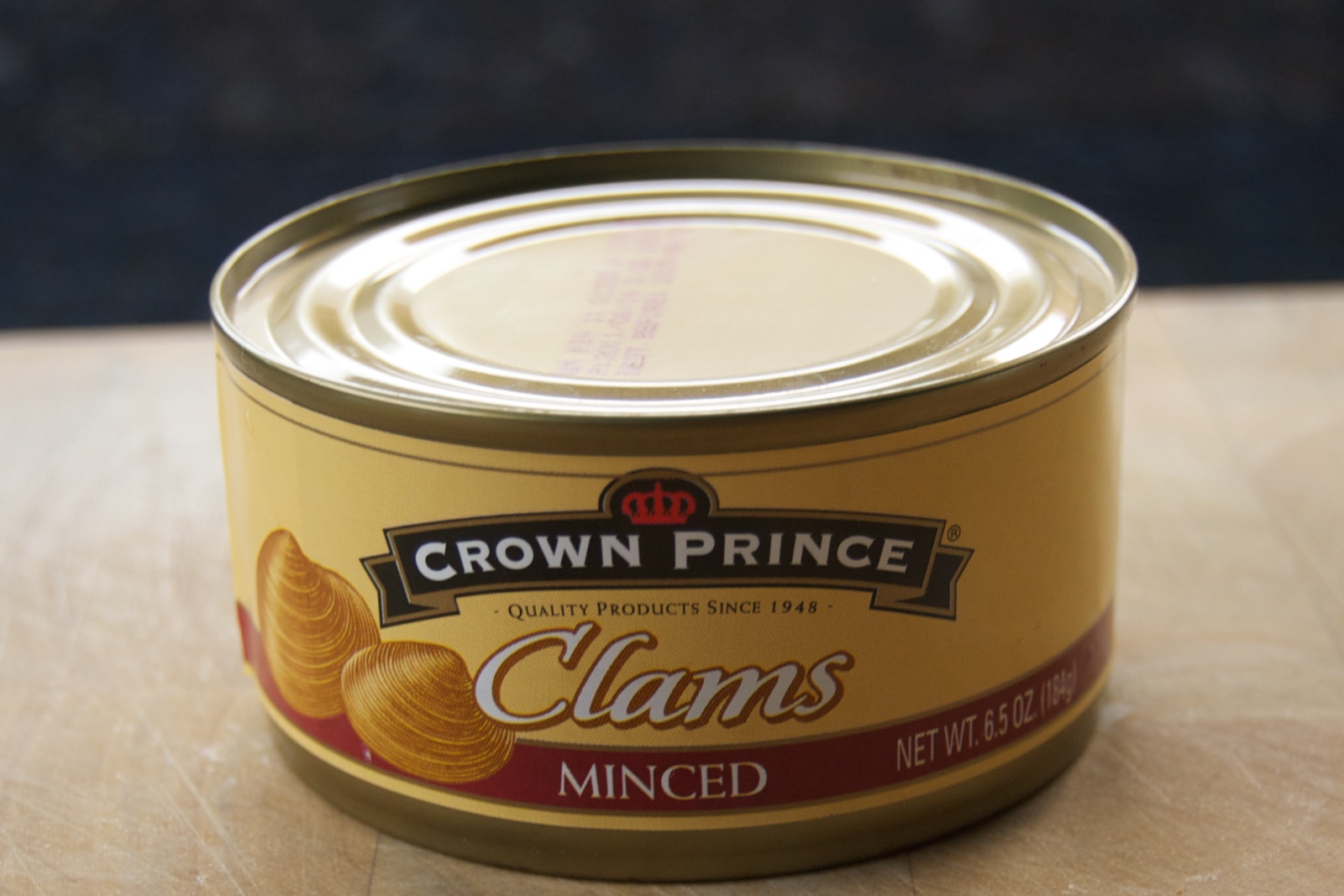 Incidentally, while minced clams work, they're kind of weird because they really are minced - miniscule clam bits. Probably chopped clams, or whole clams, chopped, would work much better!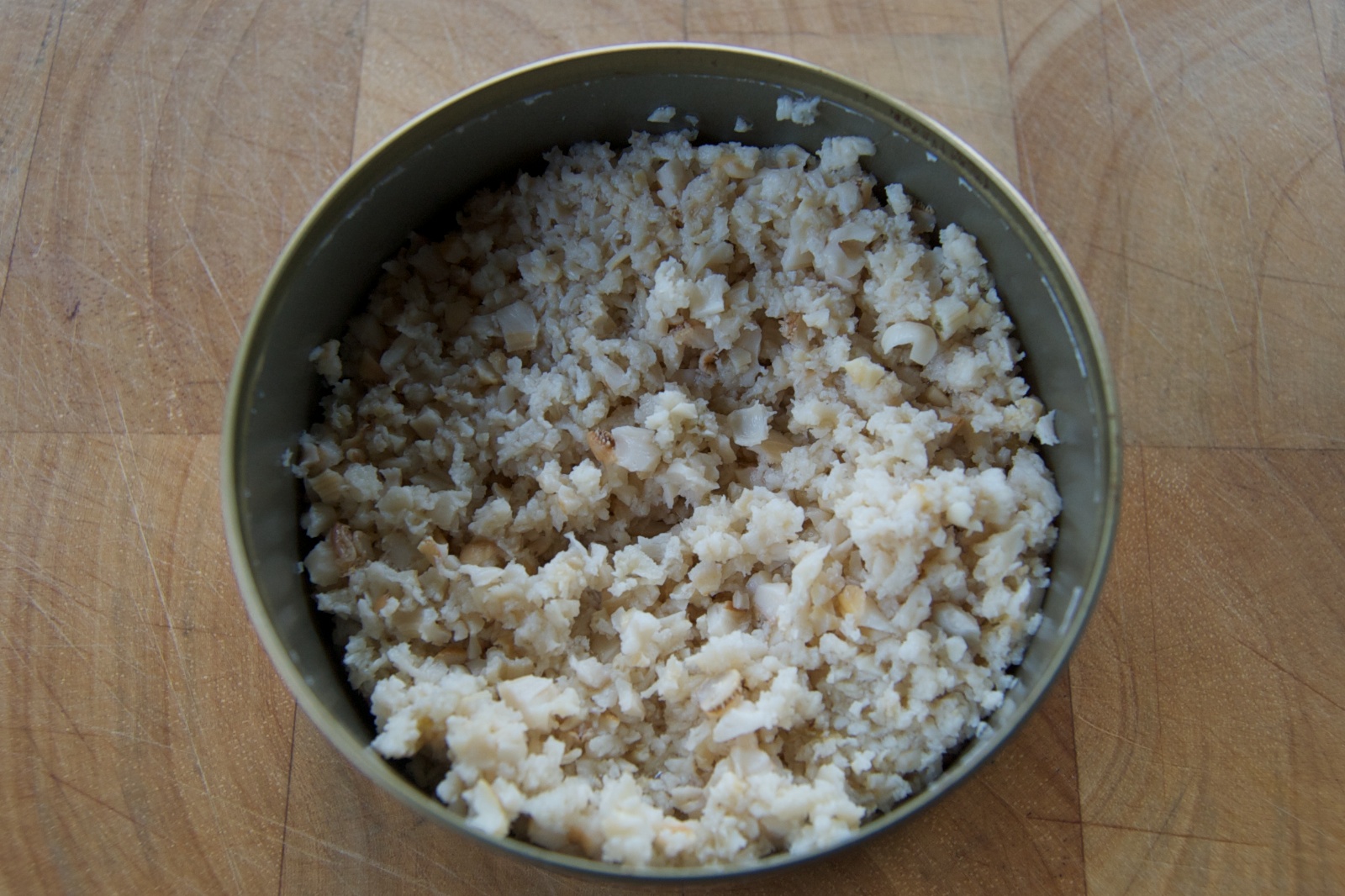 Update 10/27/2013: This time I made it with chopped, not minced, clams. Much better!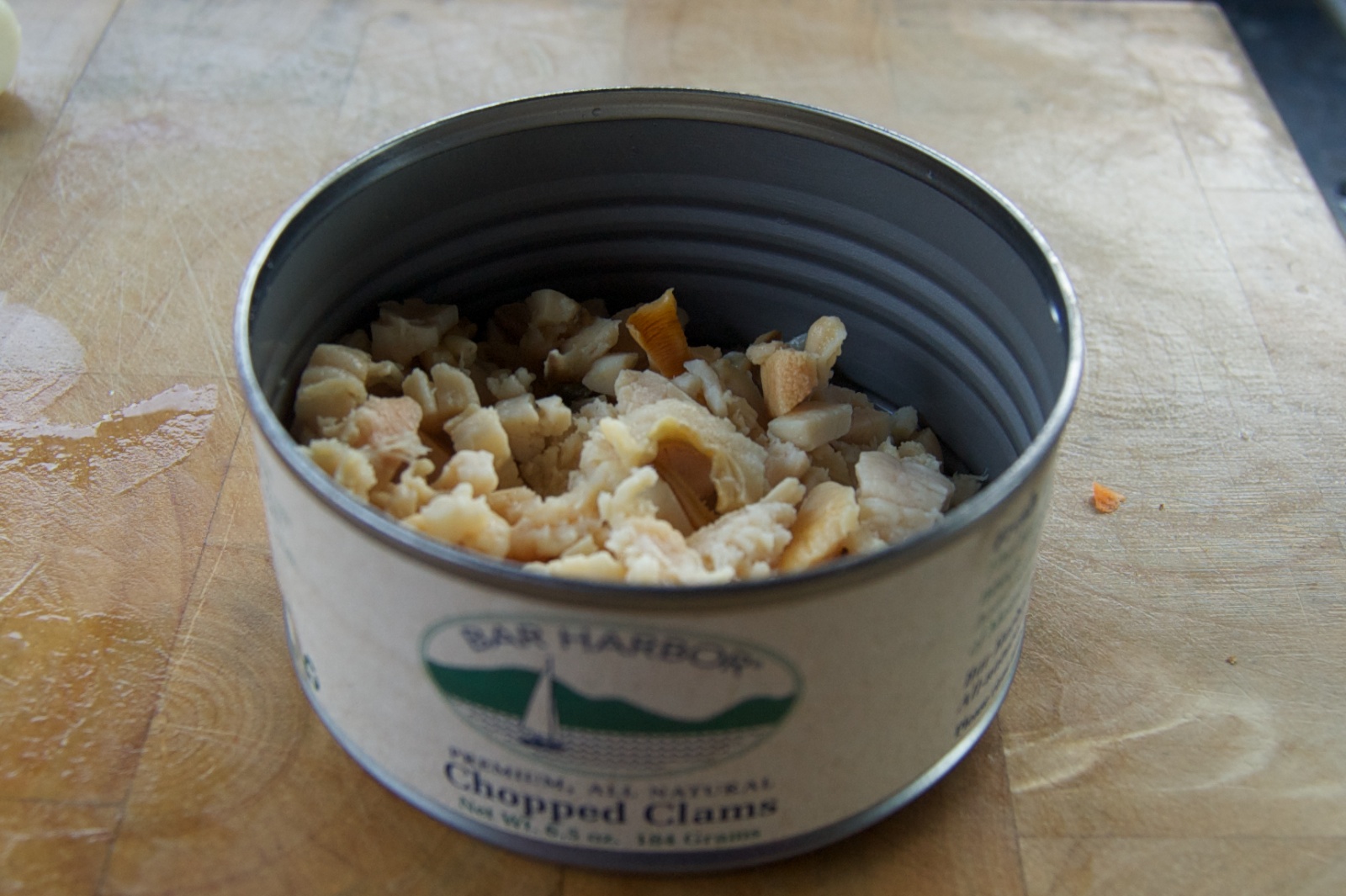 Drain the clams into a measuring cup. Add enough water to make 12 oz. of liquid.
Add the liquid and the 1 tbsp. More Than Gourmet roasted chicken stock concentrate to the pot. Or substitute vegetable broth, seafood broth, clam juice, or just plain water.
Add the potatoes and bring back to a boil, then reduce the heat to a very slow boil. Cook the potatoes for 10 minutes.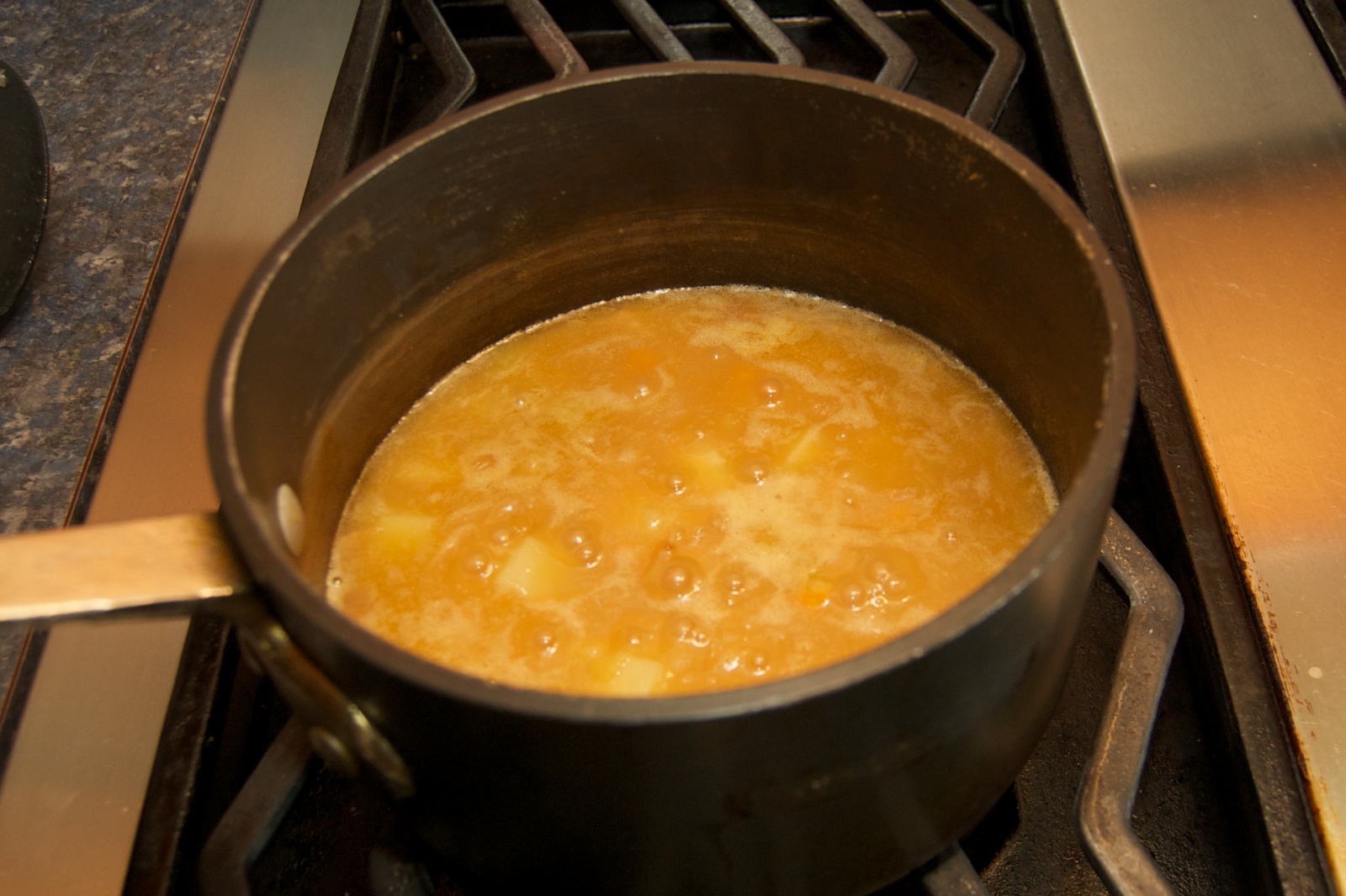 Add the clams and cook for 5 minutes.
Add the 4 oz. of cream and cook for 2 minutes.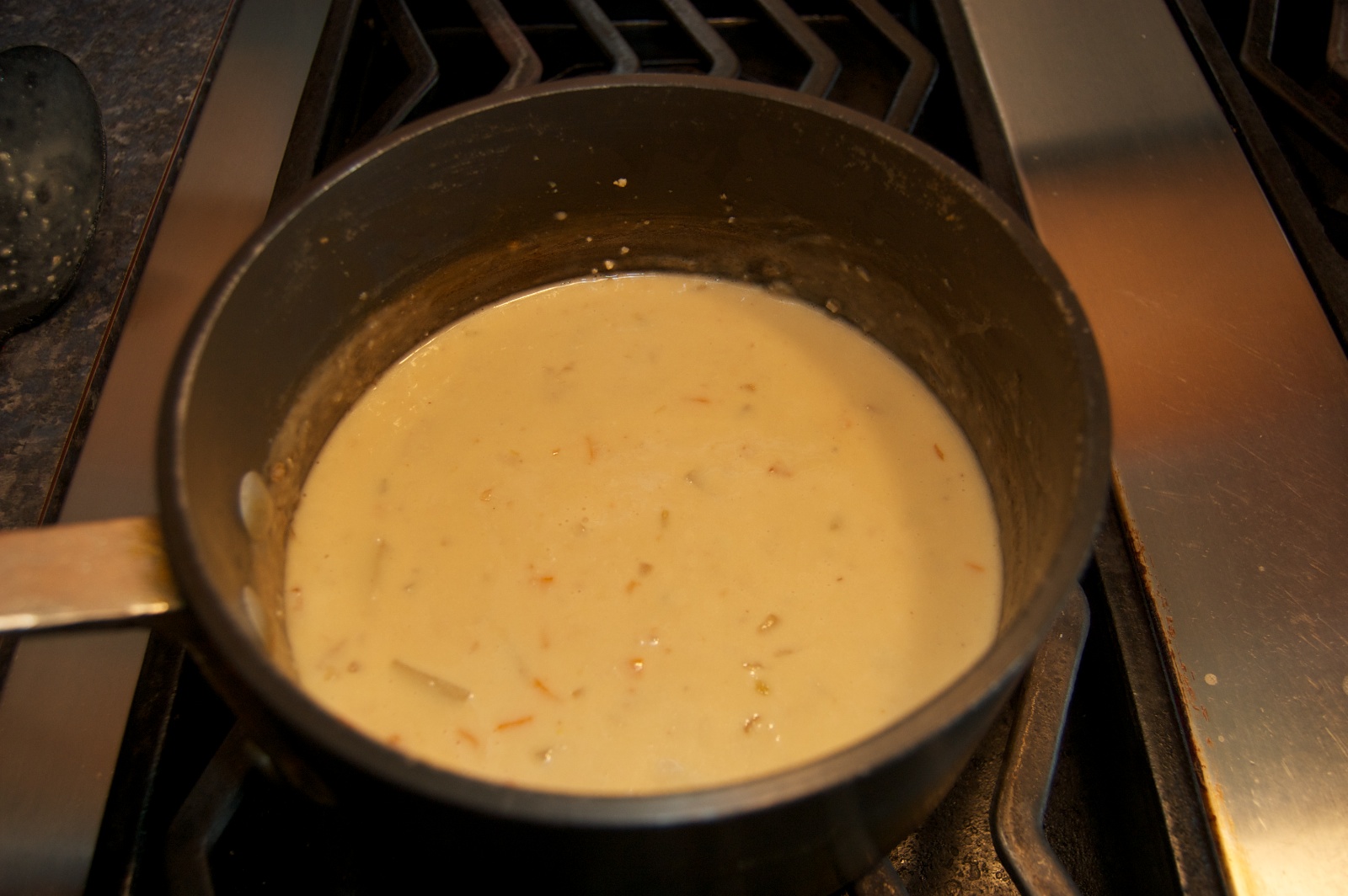 Season with salt and freshly ground white pepper. Optionally add a few dashes of hot sauce.
This was delicious!
There are few options, not as many as corn chowder , though.
Pescetarian: Omit the bacon and use vegetable broth.
Gluten-free: Substitute another thickener for the flour.