Crunchy chickpeas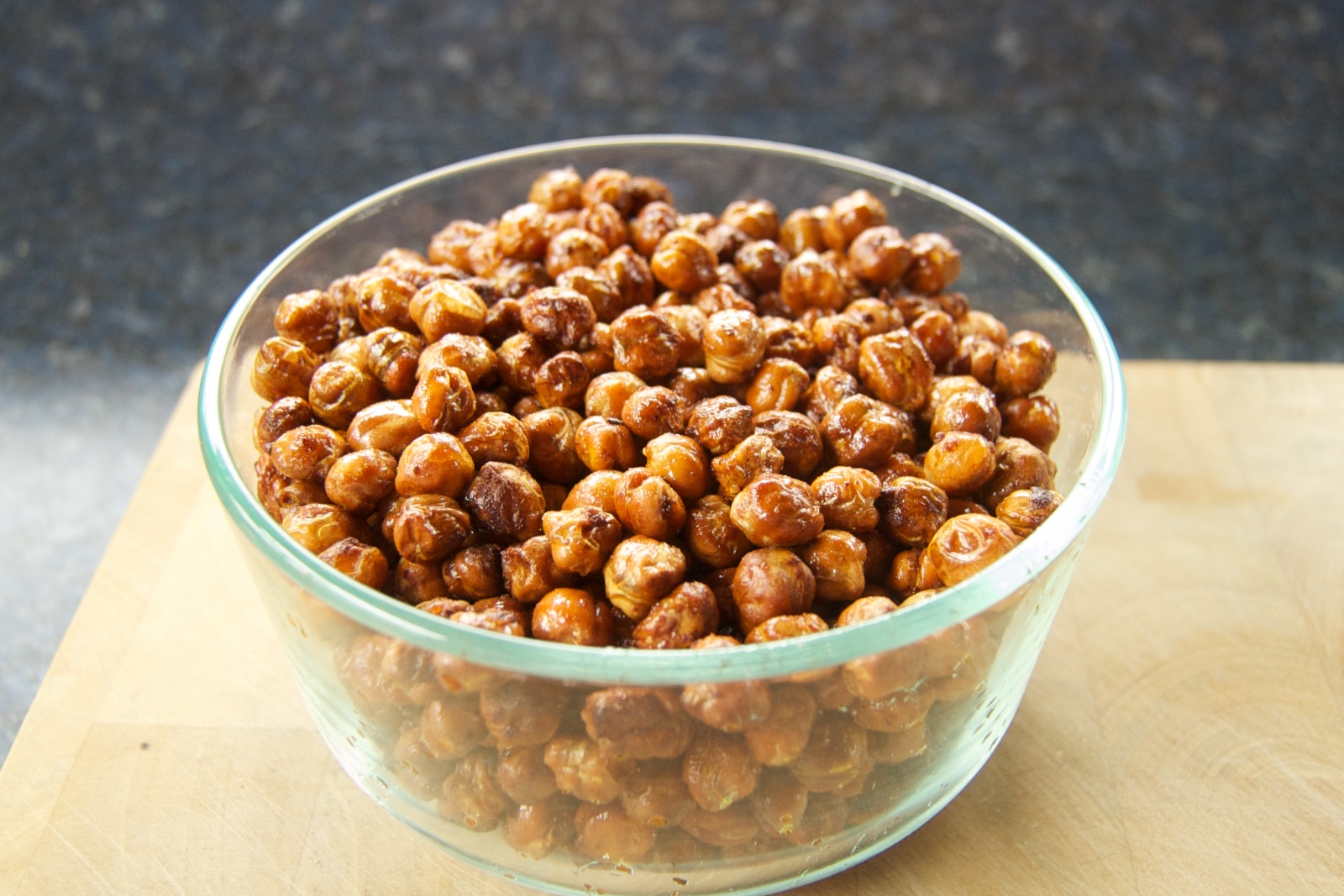 This is Alton Brown's recipe for crunchy chickpeas. They were okay, not as much salt and vinegar flavor as I'd hoped for, and kind of a lot of work for what you get. Update 4/19/2015: I've reclassified these as not good. They were pretty crunchy at first, but now they're insanely crunchy. One of the commenters to the original post said he broke a tooth and I'm not surprised. In the interest of not breaking a tooth I threw the rest out.
Here's what I did:
1 pound dried chickpeas 1 cup red wine vinegar 2 tsp. salt water
1/4 cup red wine vinegar 1 tsp. Dijon mustard 2 tbsp. olive oil 1 tsp. salt
spray oil 2 tsp. salt
Soak the chickpeas for 24 hours before roasting. I used a 1.75 qt. glass bowl with a Rubbermaid lid, but using a larger bowl covered with plastic wrap might make sense, for reasons explained below.
Add the chickpeas to the bowl. Add the 8 oz. red wine vinegar and 2 tsp. salt. Add water to cover at least an inch. With the 1.75 qt. bowl I could have used more water, almost filling it.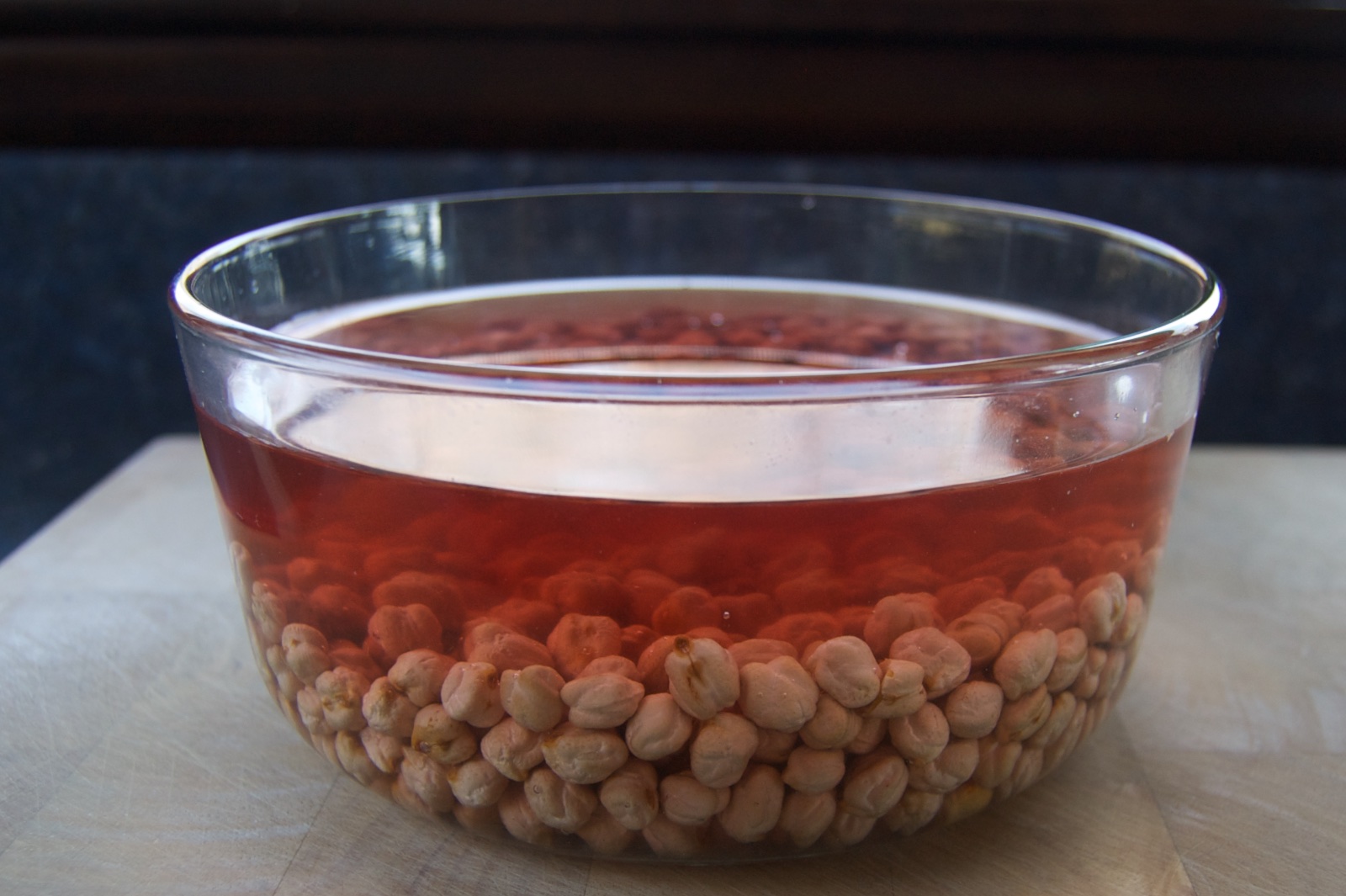 After about 12 hours, stir, and add more water to cover, if necessary.
Preheat the oven to 400°F.
When ready to roast, drain the chickpeas. I used a colander.
Mix the dressing ingredients. I used a 1 cup Pyrex glass bowl with a Rubbermaid lid, because it works great for shaking the dressing. Add 2 oz. red wine vinegar and 1 tsp. Dijon mustard and shake. Add 2 tbsp. olive oil and 1 tsp. salt (my addition) and shake again.
The reason for using a larger bowl is that the next step is to mix the chickpeas and the dressing. This is impossible in a container as small as the 1.75 qt. glass one, so I ended up having to use a large bowl as well.
Spray a half sheet pan with spray oil, such as Pam.
Spread the chickpea mixture onto the sheet pan. Don't just dump the whole bowl onto the pan, as there will probably be some leftover dressing at the bottom of the bowl, and you really don't need it on the sheet pan.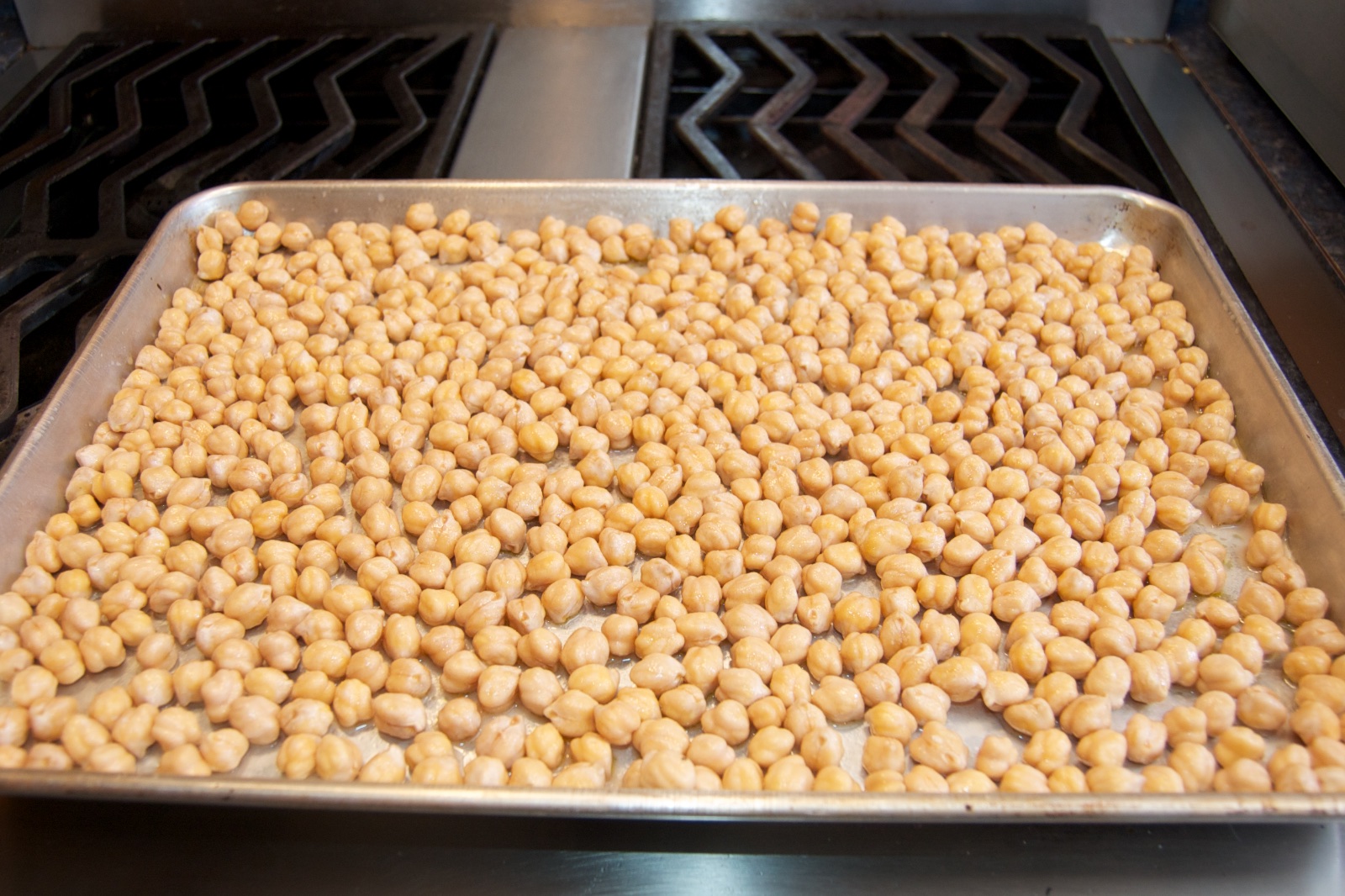 Salt with 2 tsp. salt and mix on the sheet pan. Shake it so they're basically in a single layer.
Bake for a total of 60 to 65 minutes at 400°F, stirring and rotating the pan 180° every 15 minutes.
Add more salt if desired. I did.
Let cool before serving. Note that hot out of the oven they won't be that crunchy yet, but they will be when they cool.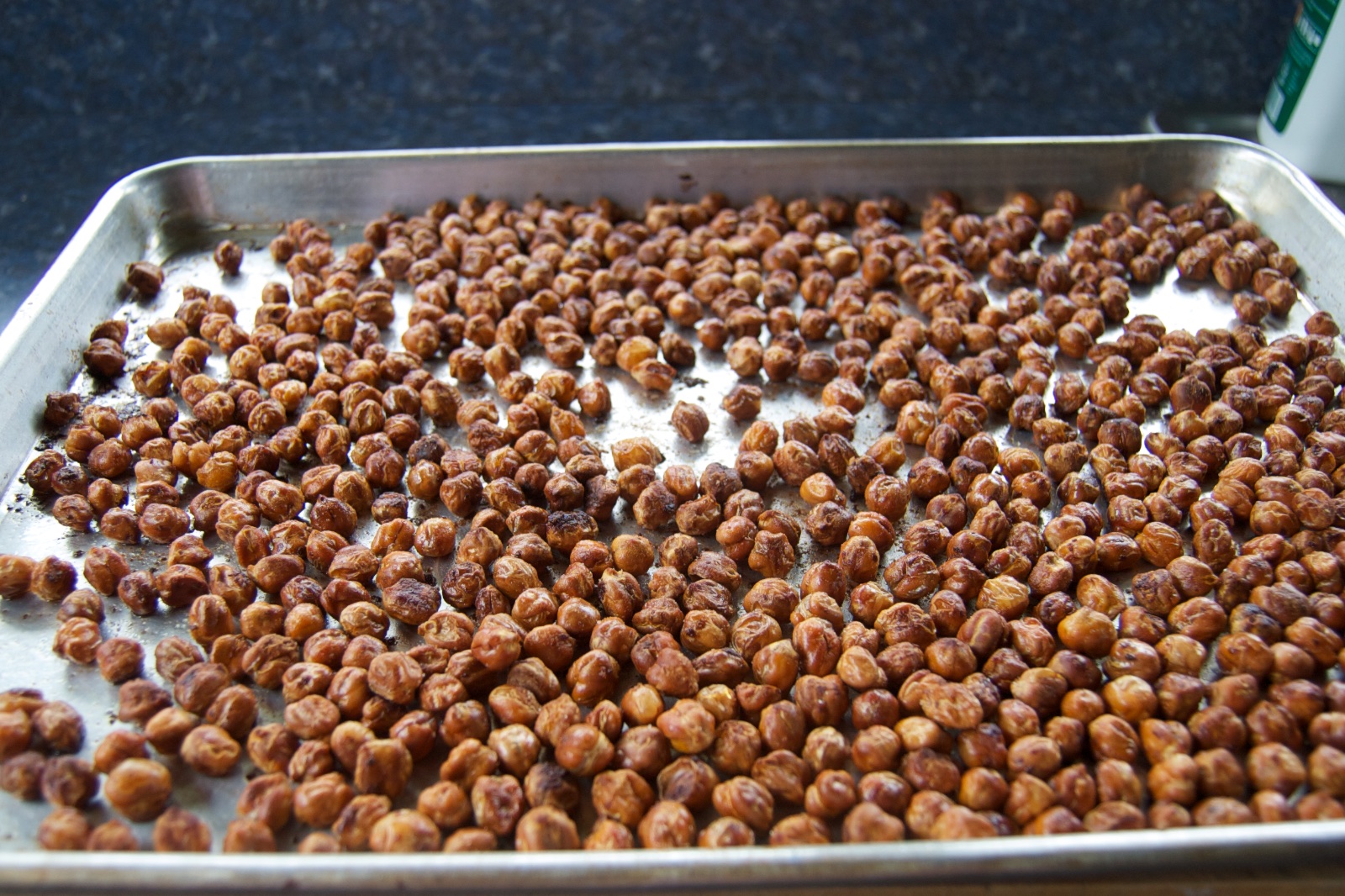 The comments on the original recipe were decidedly mixed, but I didn't have nearly the troubles that several of the commenters did. I did a longer soak and added a little more salt as comments suggested. But some of the failures others reported were quite spectacular!