Whole wheat and oat bread 2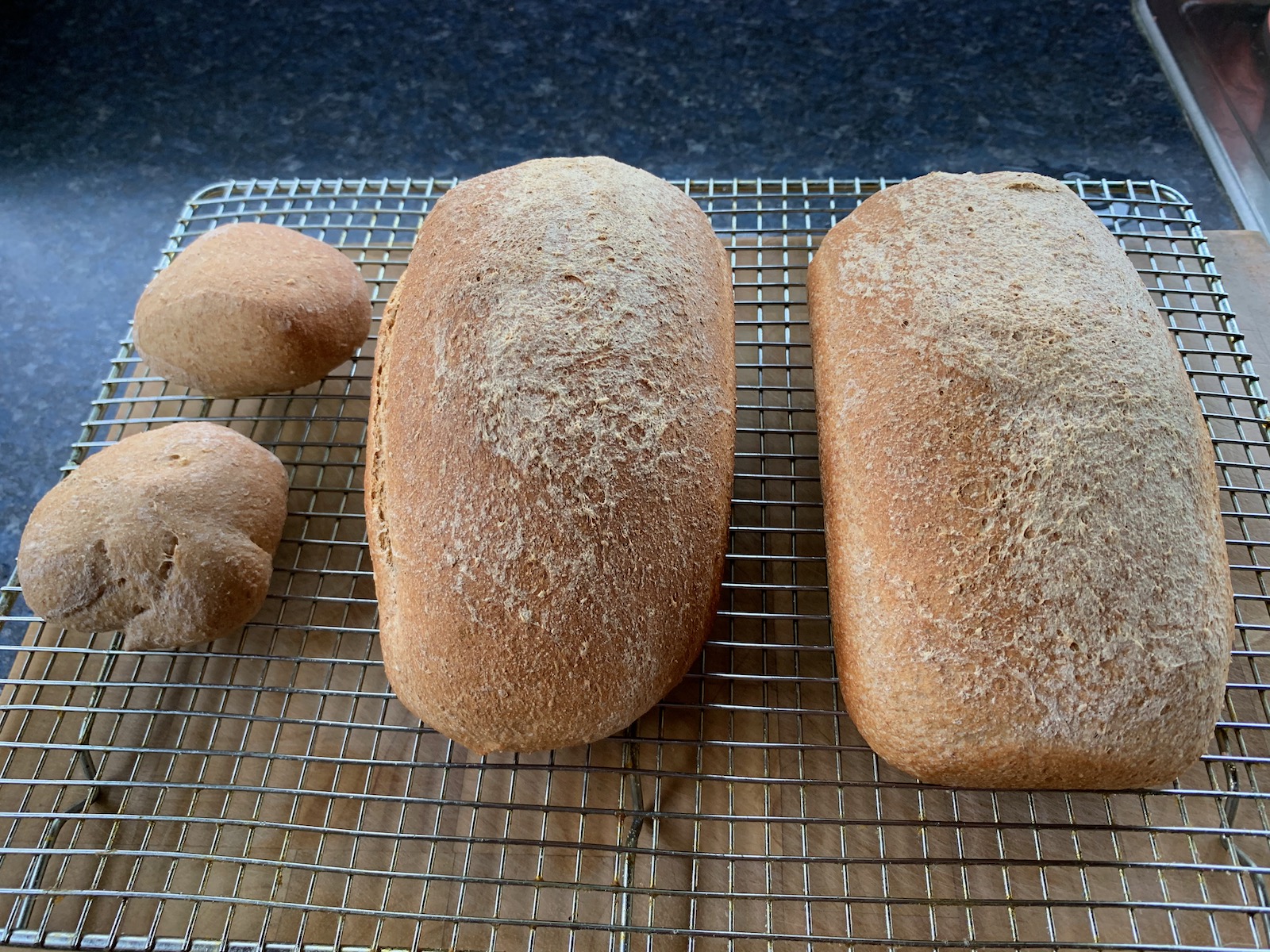 This is one of my favorite whole-ish wheat bread recipes. It's a good sandwich, toast, or French toast bread. It's surprisingly soft because of the oats and the preparation using a soaker and poolish, too.
There's a lot of preparation involved, but it's worth it. The recipe is for two 1 lb. loaves since there's so much preparation involved it makes sense to make an extra loaf and freeze it. You need to start preparing a day before baking!
This a minor update to Whole wheat and oat bread.
Soaker
4.25 oz. oats, coarsely ground 6.0 oz. water @ 70°F
Use regular (not instant or quick) oats. I ground them for about 30 seconds in the food processor until coarsely ground. Add the water in a small bowl, cover with plastic wrap and let sit at room temperature until the next day.
Poolish
6.75 oz. whole wheat flour 1/4 tsp. instant yeast (0.028 oz.) 6.0 oz. water @ 70°F
Mix together the yeast, water, and whole wheat flour until a paste forms and all of the flour is hydrated, but not longer. Cover with plastic wrap and let sit at room temperature for 2 to 4 hours. Then put into the refrigerator overnight.
Dough
3.0 oz. whole wheat flour 3.0 oz. white whole wheat flour 3.0 oz. unbleached all-purpose white flour (or bread flour) 0.3 oz. salt 1 tsp. instant yeast (0.11 oz.) 1 tbsp. honey 1 tbsp. olive oil 1 egg lightly beaten
Remove the poolish from the refrigerator 1 hour before preparing the dough.
In the mixer bowl combine the flour, salt, and yeast. Add the poolish, soaker, honey, oil, and egg. Mix at low speed with the paddle attachment for 1 minute or until dough forms. Adjust consistency adding more water or flour.
Switch the mixer to the the dough hook and knead for 8 to 10 minutes. Form the dough into a ball.
Lightly oil a bowl and a ball of dough to the bowl and roll to coat the dough lightly with oil. Cover with plastic wrap and let rest for 2 hours until it doubles in size.
I accidentally made it with 1/2 tsp. instant yeast instead of 1 tsp. and it turned out fine.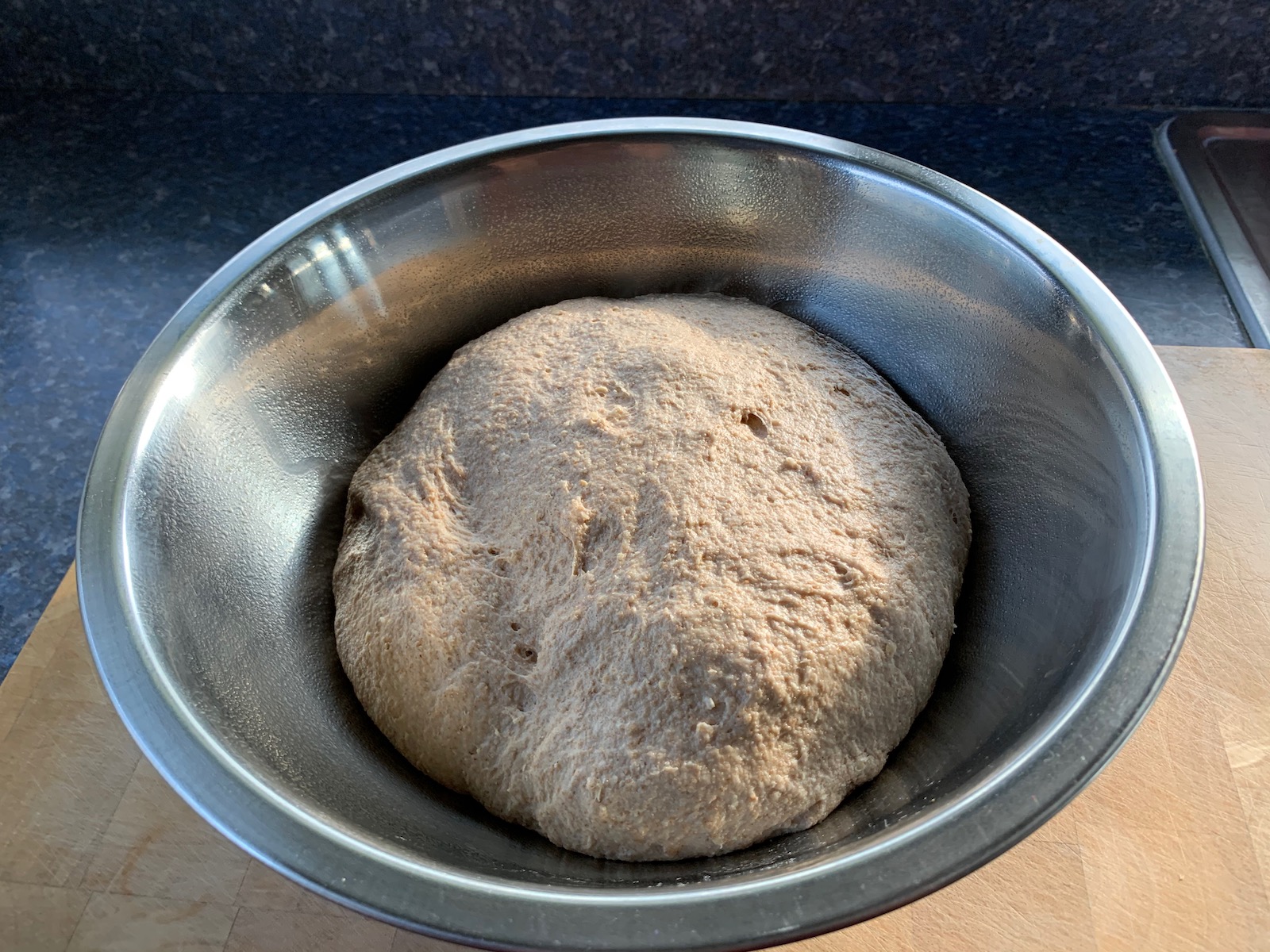 Punch down the dough and divide into 2 1-pound balls of dough. You could just divide the dough in half, though I made two 1-pound loaves and two 2.0 oz. dinner rolls, instead. I've made the rolls from 1.8 oz. to 2.6 oz. each and 2.0 oz. seems about right.
Lightly grease two loaf pans and place the dough balls into the pans. Spritz with oil, loosely cover with plastic wrap, and let proof for 90 minutes at room temperature.
Bake
Preheat oven to 350°F. When hot, add the loaf pans cook for 30 minutes, rotate the loaf pans and cook 15 to 30 minutes longer, until the center of the loaf reaches 190°F. Dinner rolls cook in about 20 minutes.
Remove from the loaf pans and cool on a rack for 2 hours before slicing.
This recipe is from The Bread Baker's Apprentice by Peter Reinhart, from the Whole Wheat Bread recipe pp. 270-272. The book has considerably more details on the preparation. This is also the same recipe as my whole wheat and oat dinner rolls , but that recipe is scaled to a different quantity.