Beef Bourguignon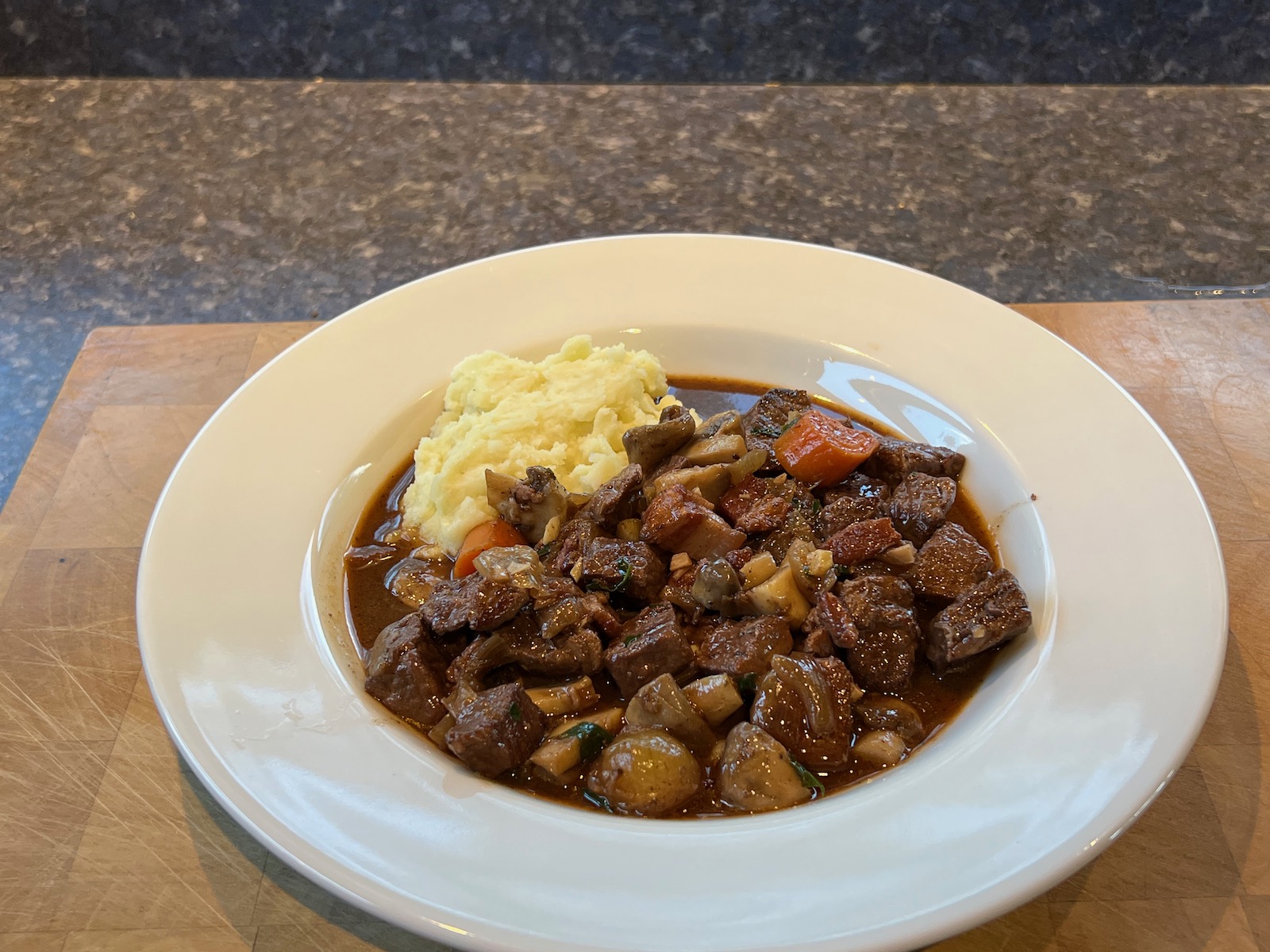 I opened a bottle of pinot noir yesterday and it wasn't great. It was still technically drinkable, but I didn't really like it, so I decided to make a batch of Beef Bourguignon. Wines from Burgundy, France, are made from pinor noir grapes, so even though my wine was from California, it was close enough.
I basically followed this recipe though I also looked at the NY Times recipe, which is pretty similar. I think both started with Julia Child's recipe. The first recipe has a bunch of different ways to prepare it (stove top, oven, instant pot, and slow cooker) so it's worth checking out.
Here's the recipe as I prepared it.
6 ounces salt pork, diced into 1/2" cubes
3 pounds stewing beef, cut into chunks
1 large or 2 medium carrots sliced 1/2-inch thick rounds
1 large white onion, diced 1/2"
6 cloves garlic, minced (divided)
salt and freshly ground pepper
2 tbsp. flour
pearl onions (12 - 15, fresh or frozen)
1 bottle (750 mL) pinor noir or Burgundy wine
16 oz. beef stock
2 tablespoons tomato paste
2 bay leaves
8 oz. white button mushrooms, quartered. Cremini mushrooms would also be good.
1 tsp. fresh thyme, finely chopped
2 tbsp. fresh parsley, finely chopped
2 tbsp. butter
The original recipe called for 6 oz. bacon, and NYT called for 5 ounces lardons, pancetta, or bacon, diced. I went with half of a 12 oz. package of meaty salt pork, diced to 1/2" cubes.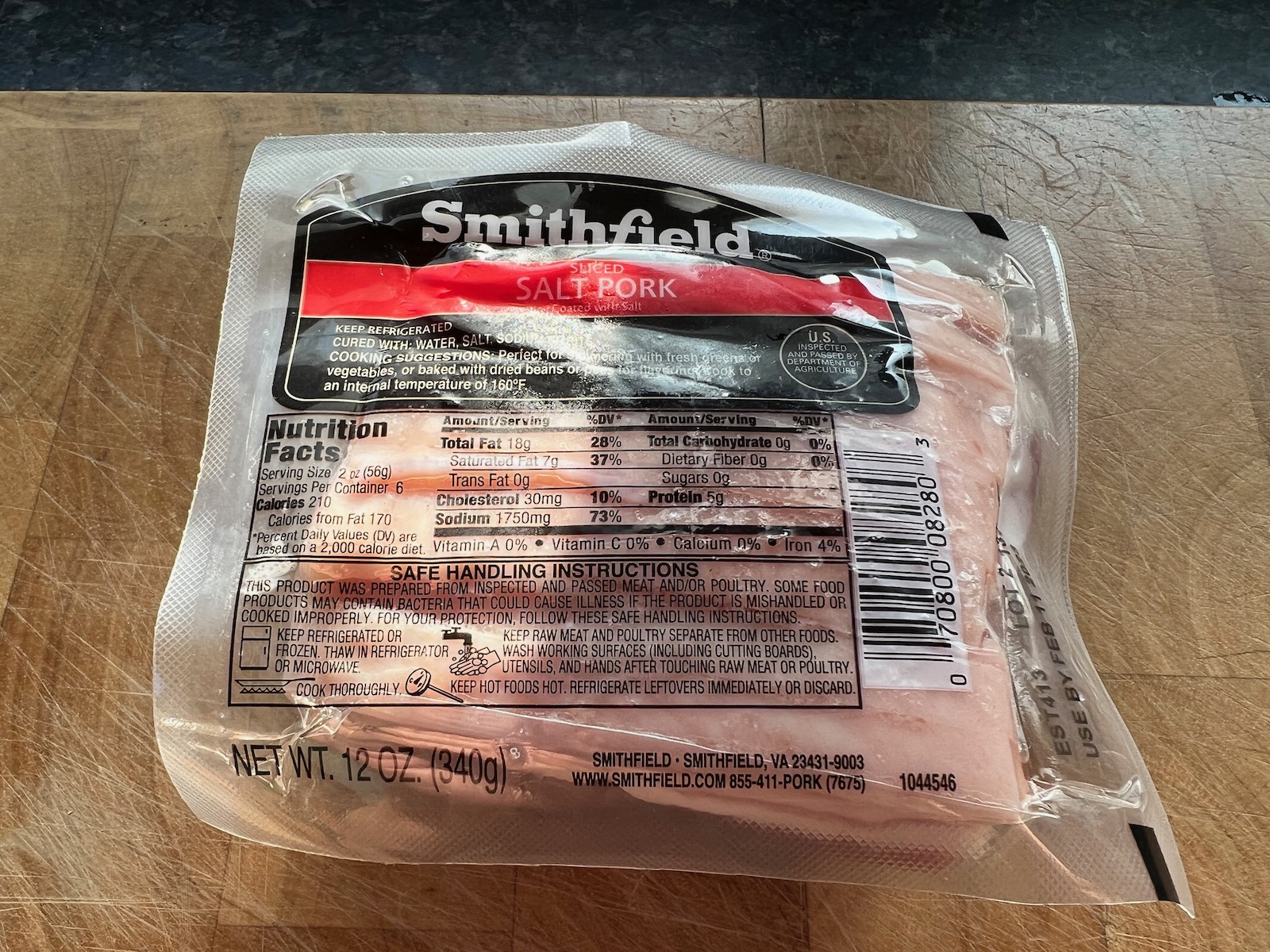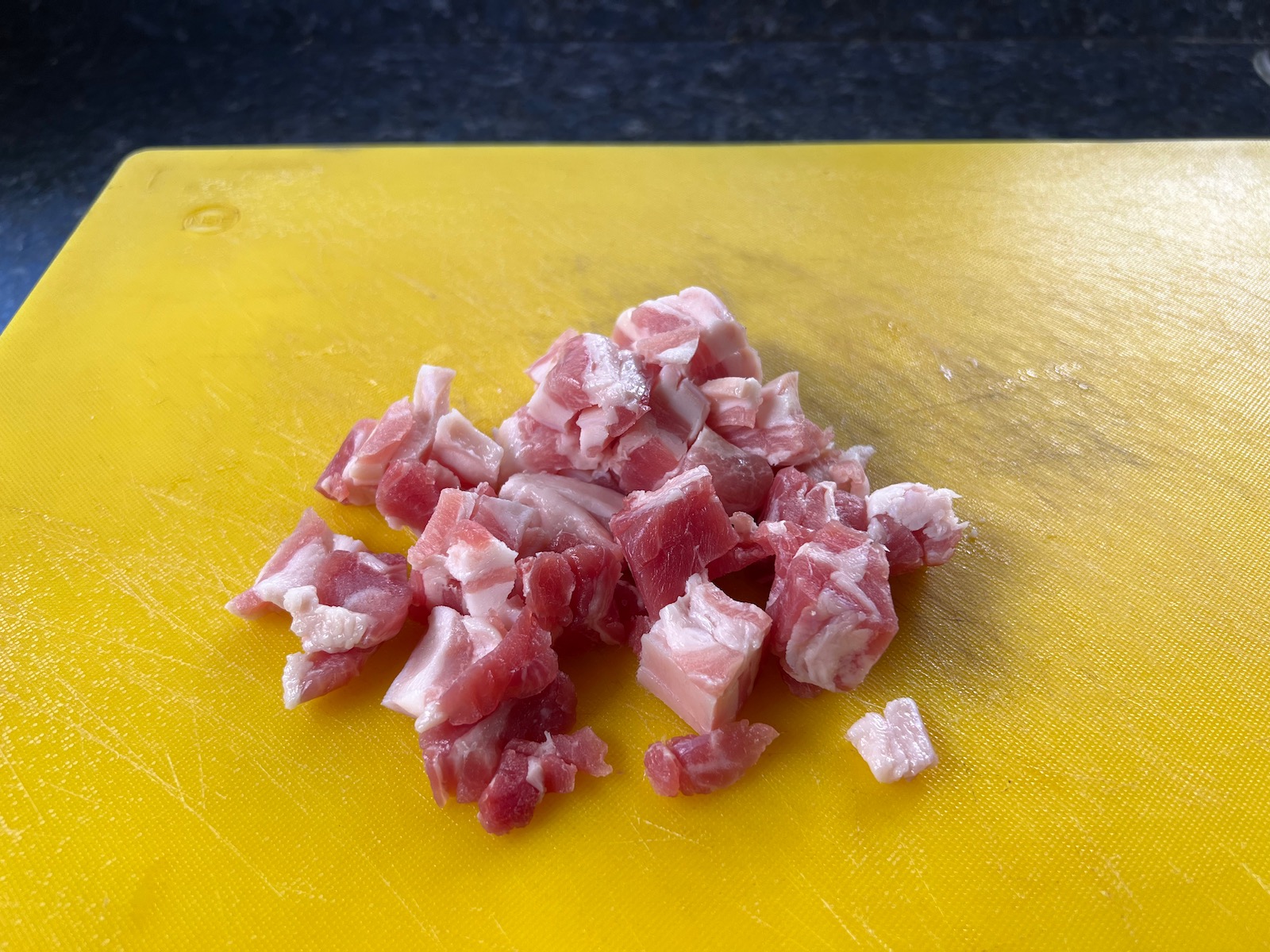 I used my exceptionally large sauté pan because it's much better for browning meat. A large stock pot or Dutch oven would also work.
Sauté the salt pork (or bacon) and set aside. Leave the fat in the pan.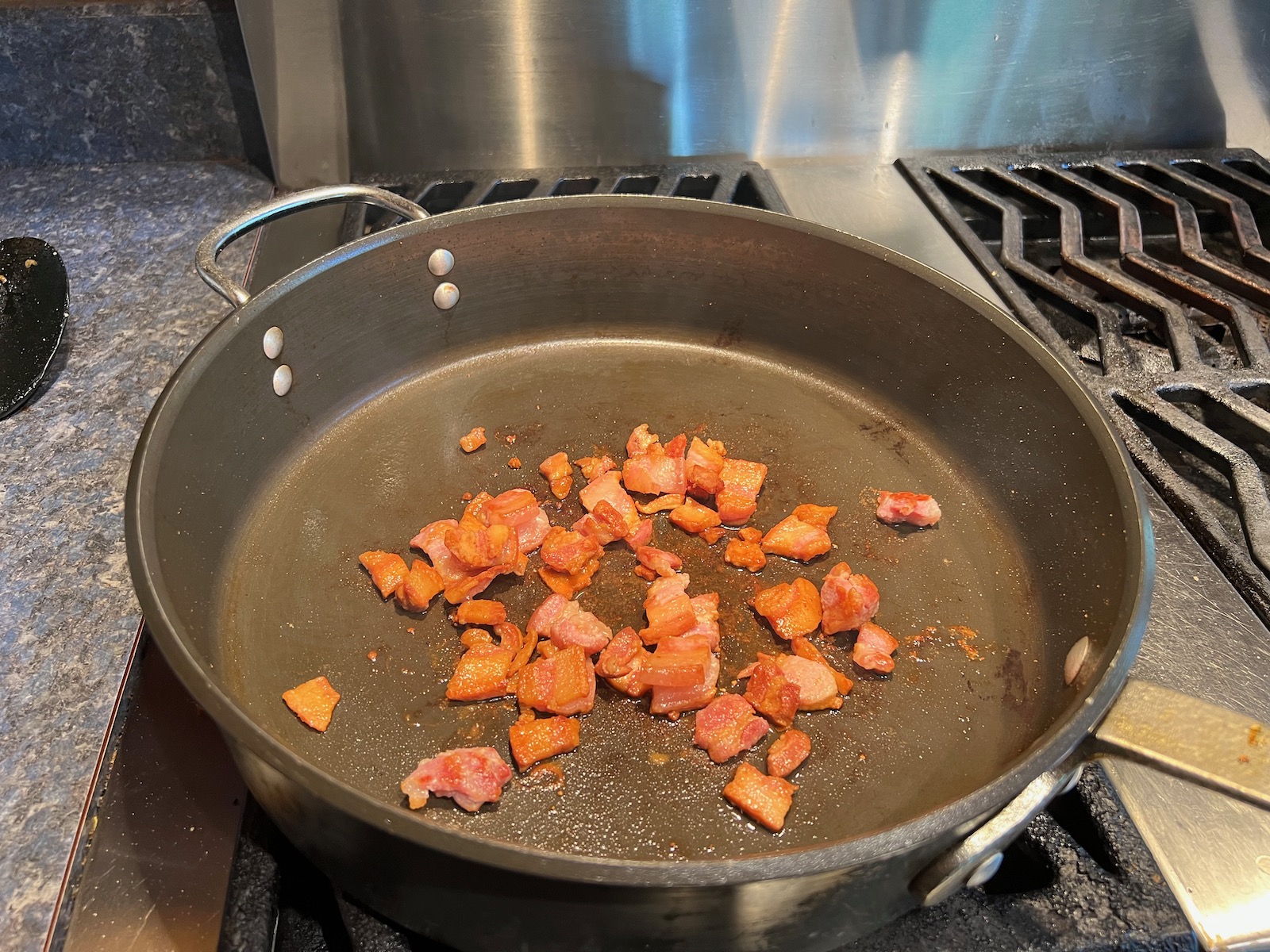 Cut the beef into cubes if using chuck steak. I bought 3 pounds already cubed. Season with salt and freshly ground black pepper.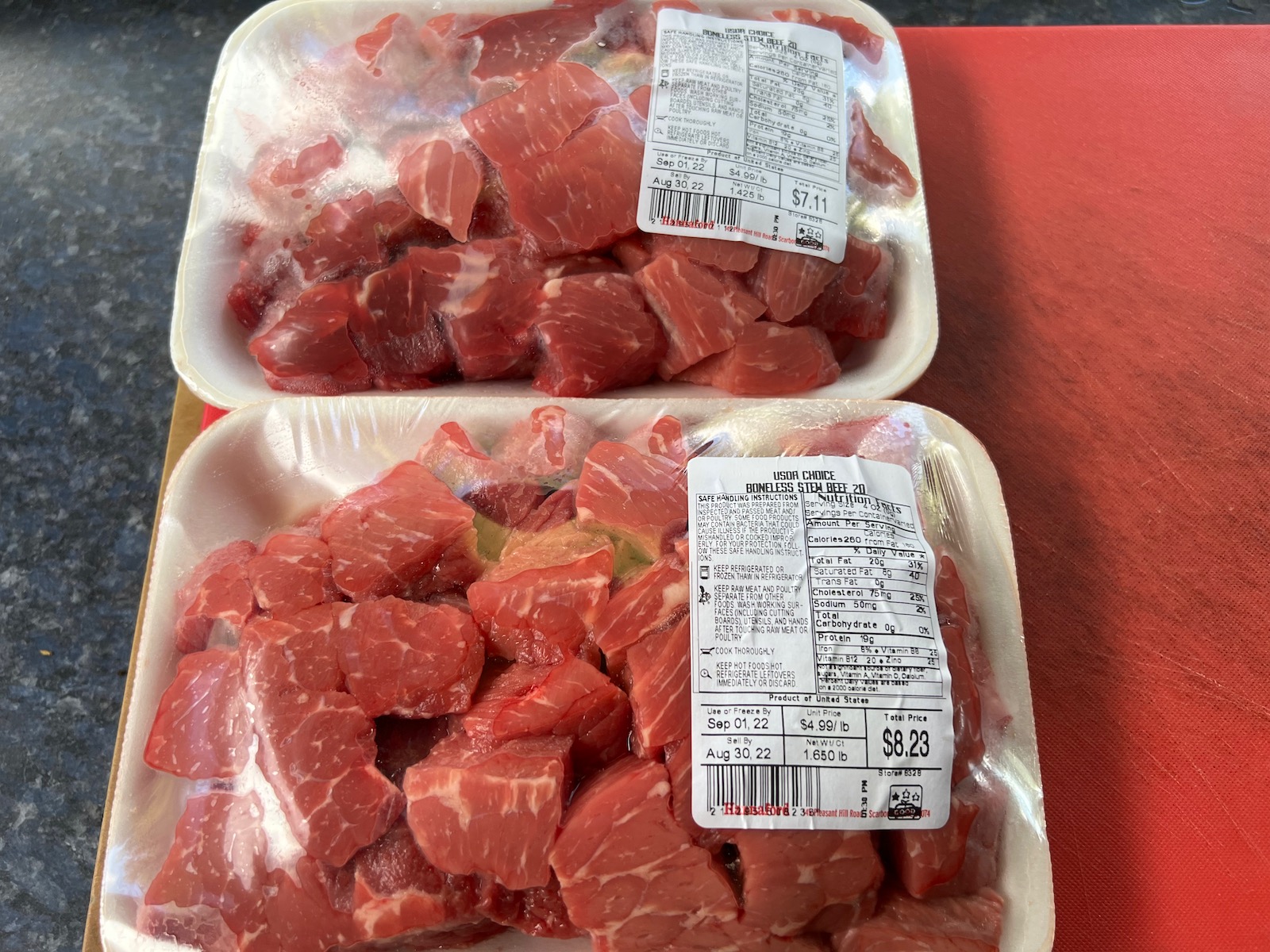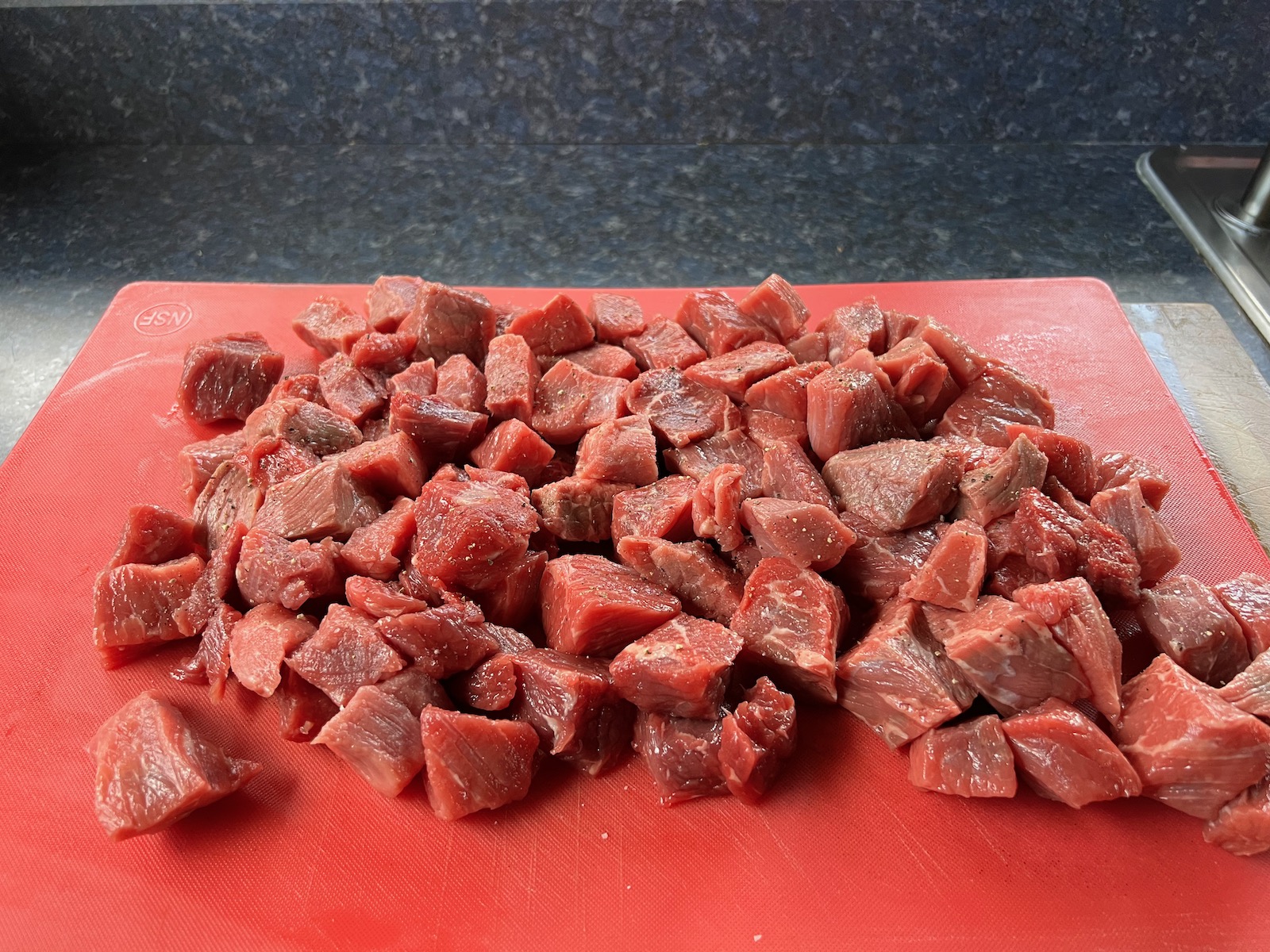 Brown the beef in the pan on all sides. If there is a lot of liquid in the pan, drain it so the meat browns instead of boiling. Remove the beef and set aside with the salt pork.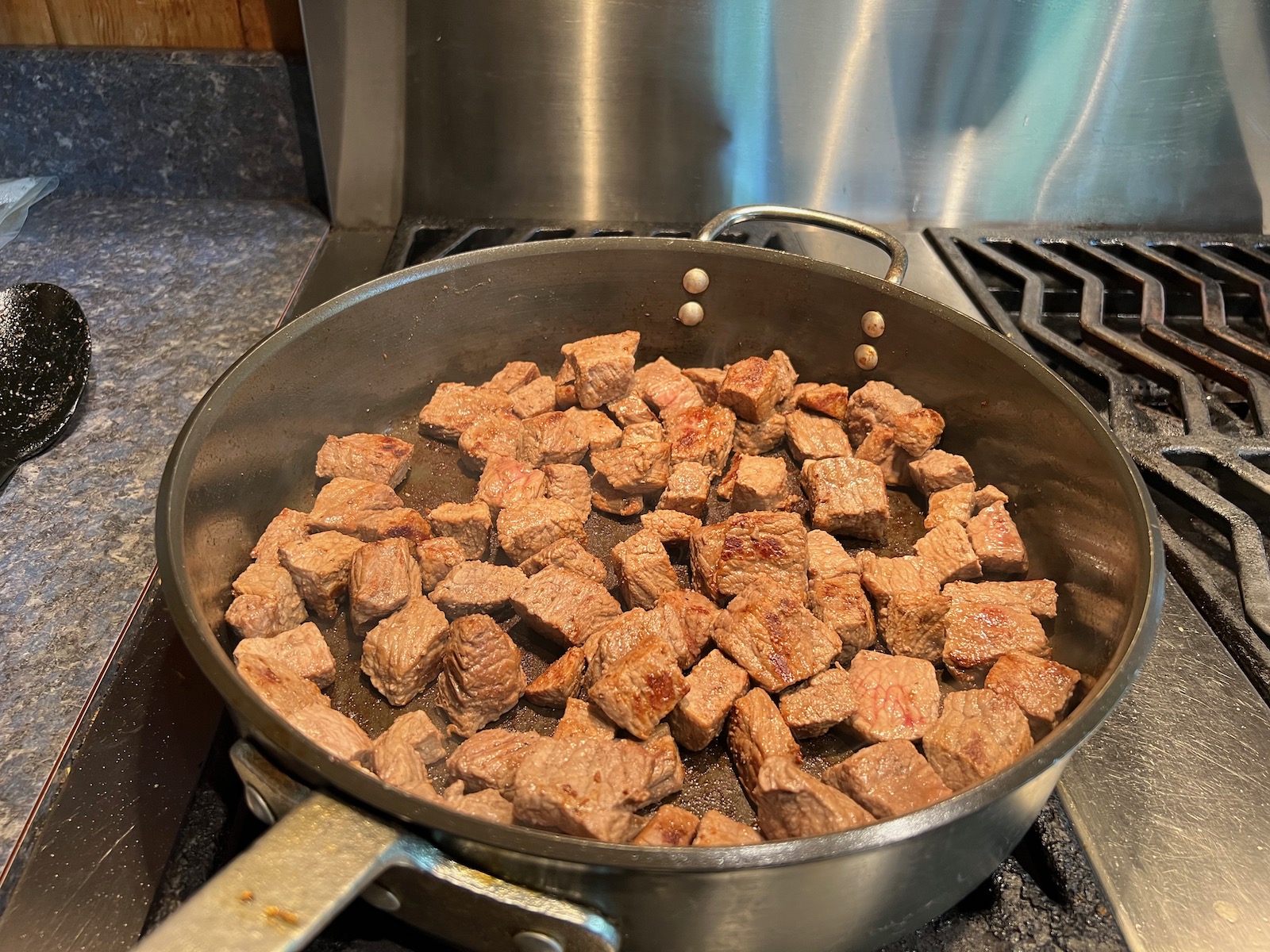 Cut the 1 or 2 carrots into 1/2" thick rounds. Cut the large white onion into 1/2" dice. Mince 6 cloves of garlic, separating out 2 cloves for later. The other little bowl is 2 tbsp. flour.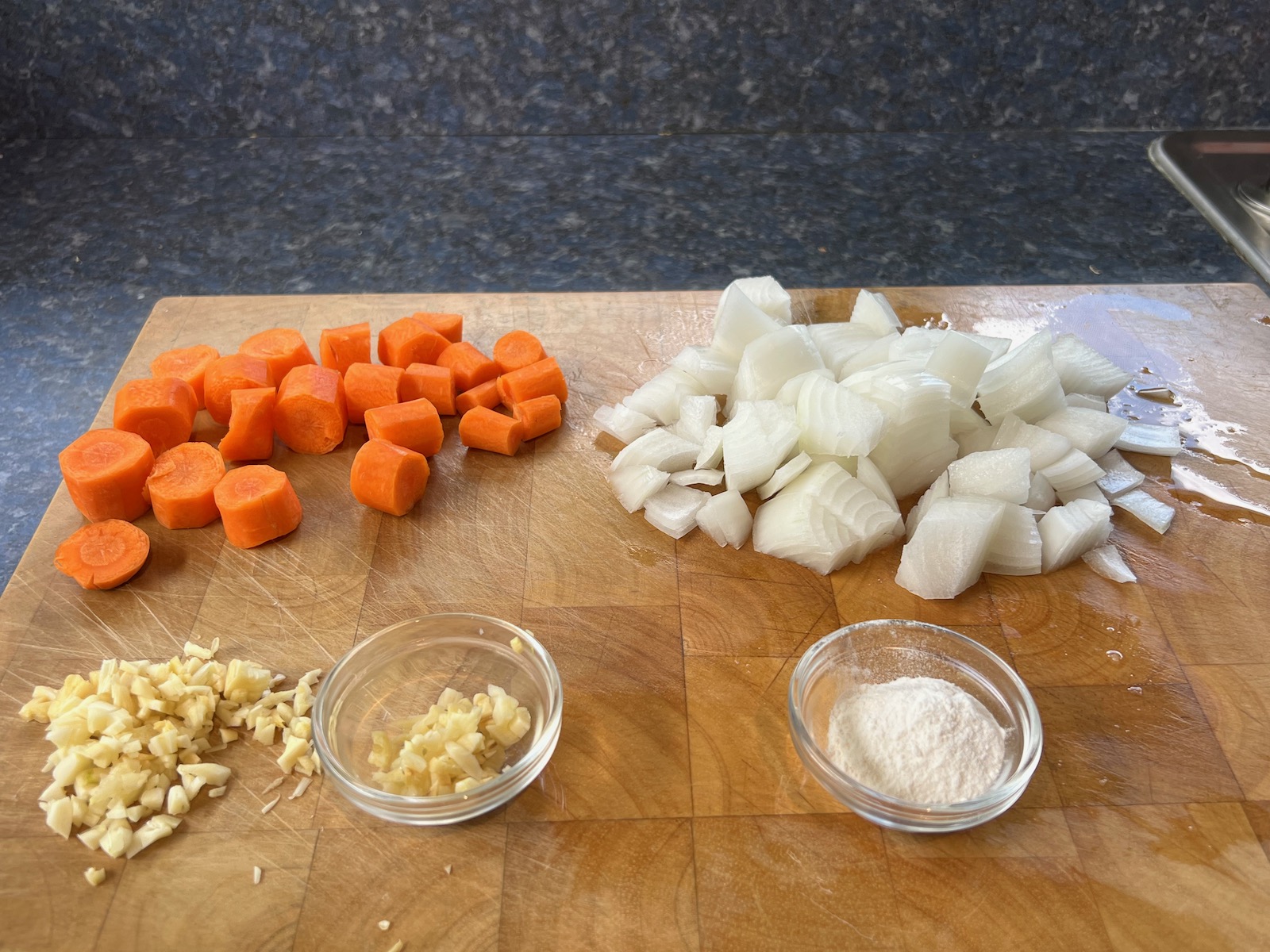 Instead of opening a package of beef stock, I used More Than Gourmet demi glace concentrate. It keeps forever in the refrigerator and you can make any size you need. That's a little more than 1 tbsp. concentrate in 16 oz. boiling water.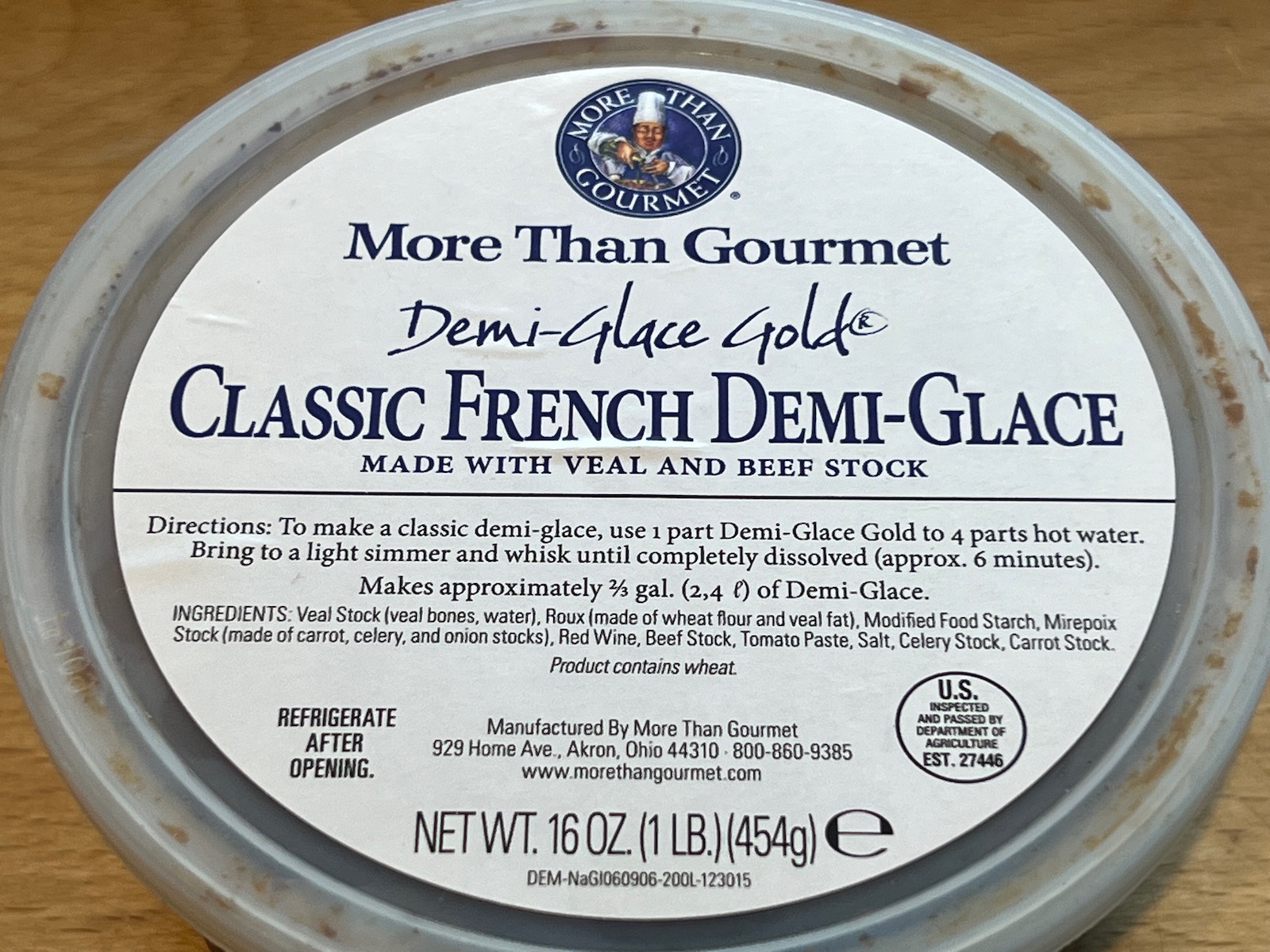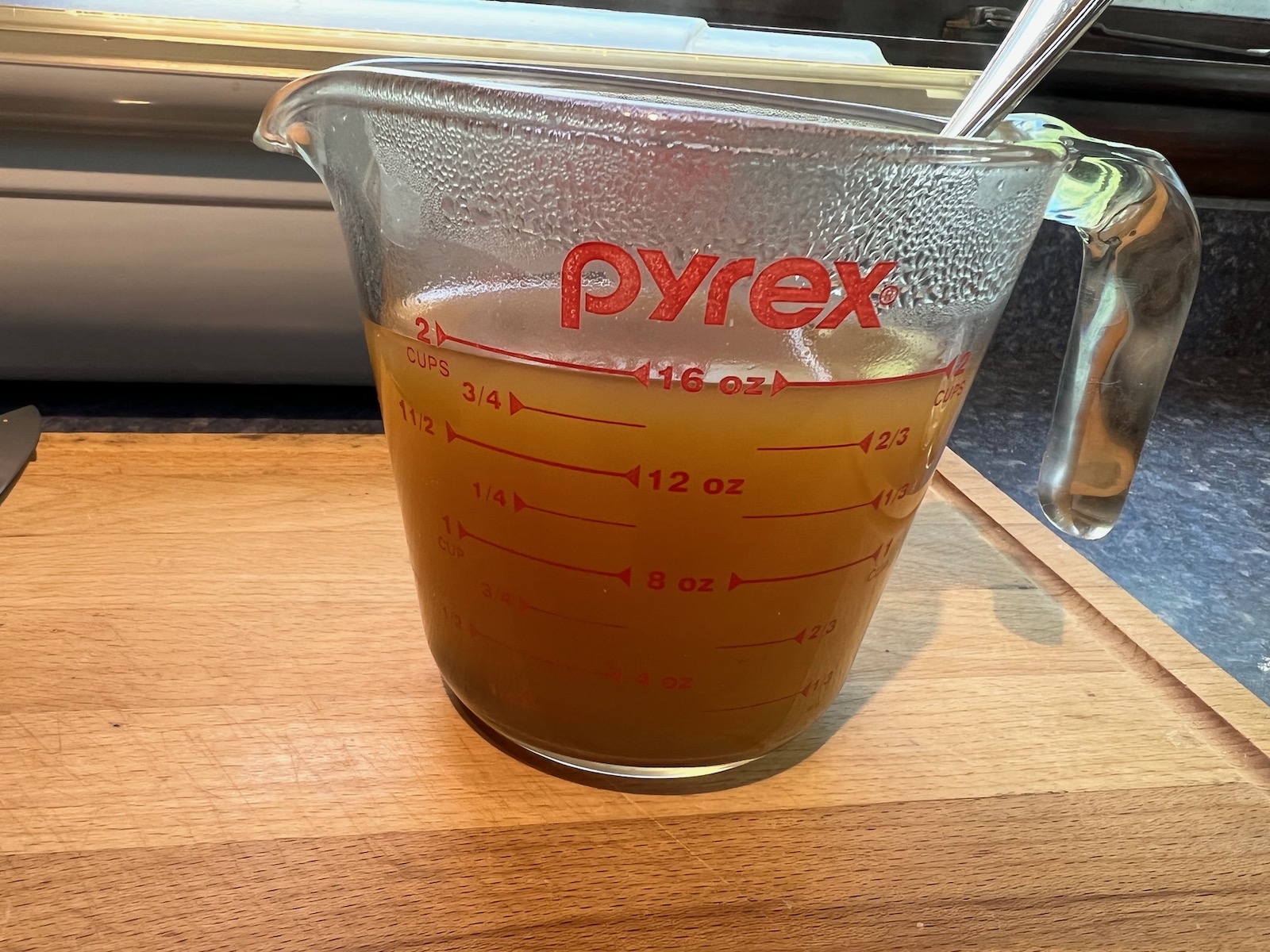 My grocery store didn't have pearl onions, and they're kind of a pain to peel because you need so many because they're tiny, so I just got frozen ones. I'm using the preparation step from Cafe Delites instead of the NY Times/Julia Child and cooking the pearl onions with the stew so they get very soft instead of adding them at they end so they stay firm and whole so you can eat them separately, so frozen is fine. That's 15 pearl onions, about 2.8 oz. frozen.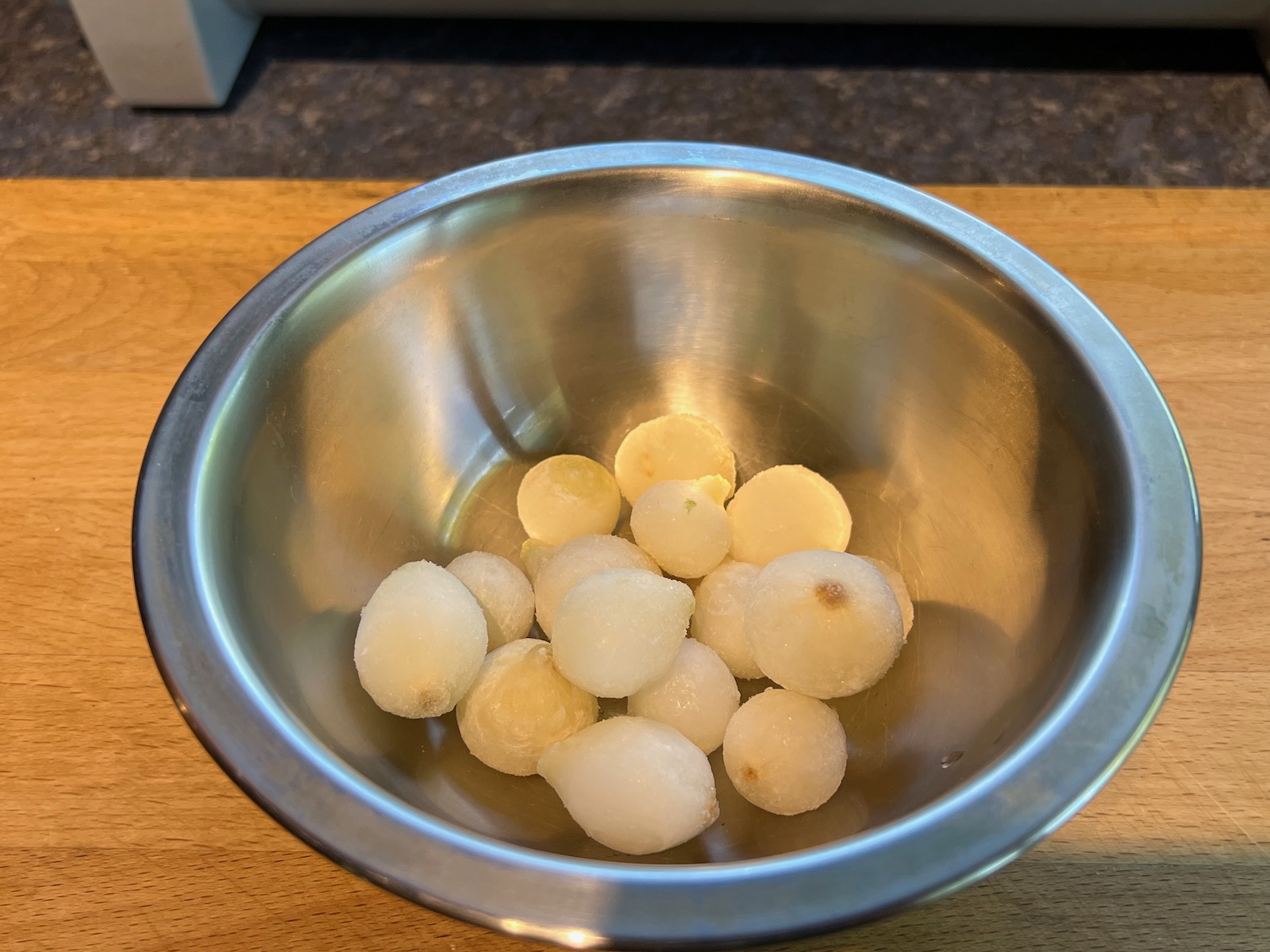 If the pan is dry, add some olive oil. Sauté the carrots and onions for 3 minutes.
Add 4 of the 6 cloves of garlic and cook for a few more minutes.
Add the beef and pork back to the pan. Add the 2 tbsp. all-purpose flour, stir and cook for a few minutes.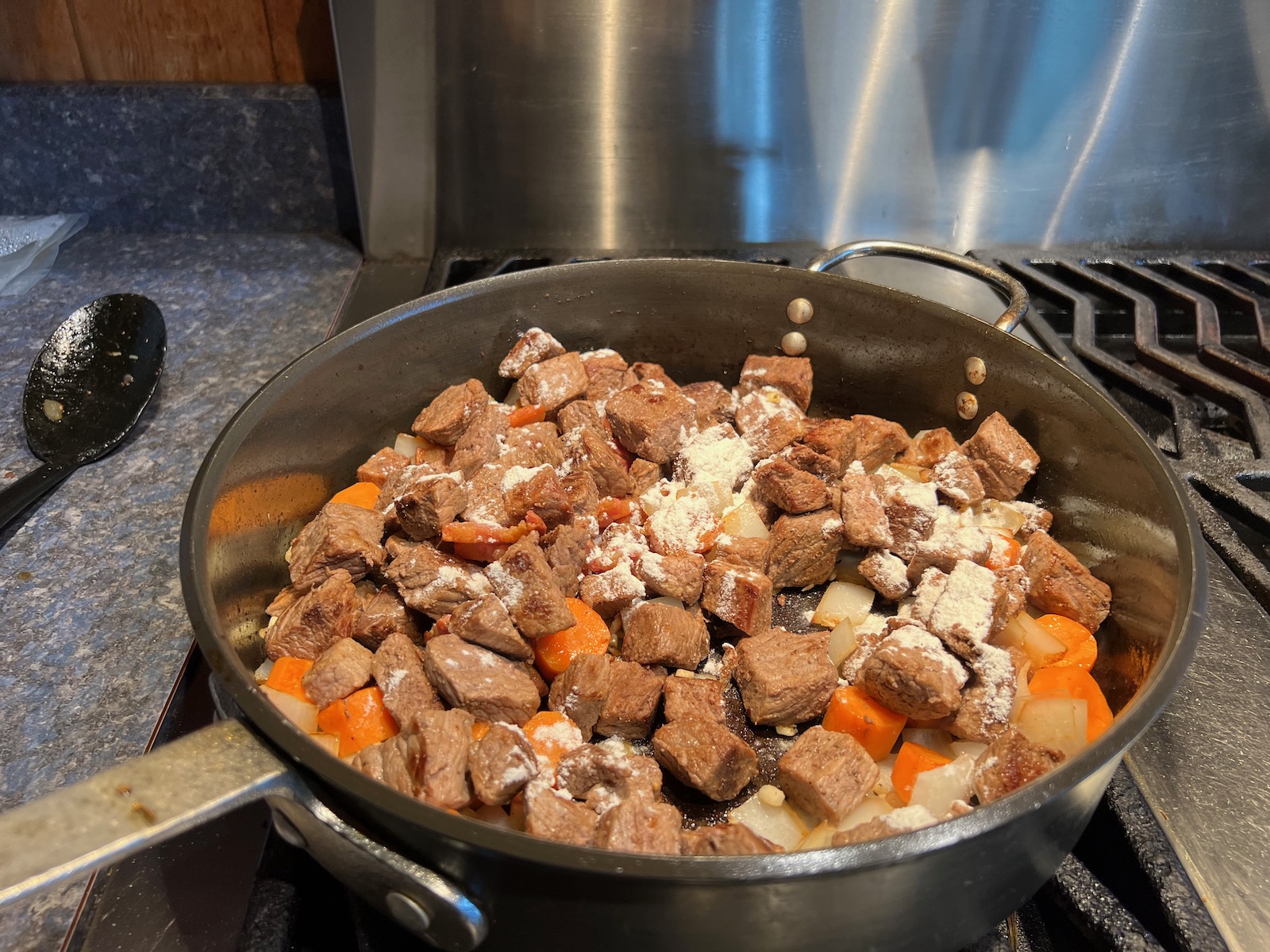 Add the bottle of wine, and enough stock to cover the meat. I only used about 12 oz. of the stock. Save it for later in case it dries out too much.
Add the tomato paste, bay leaves, and pearl onions.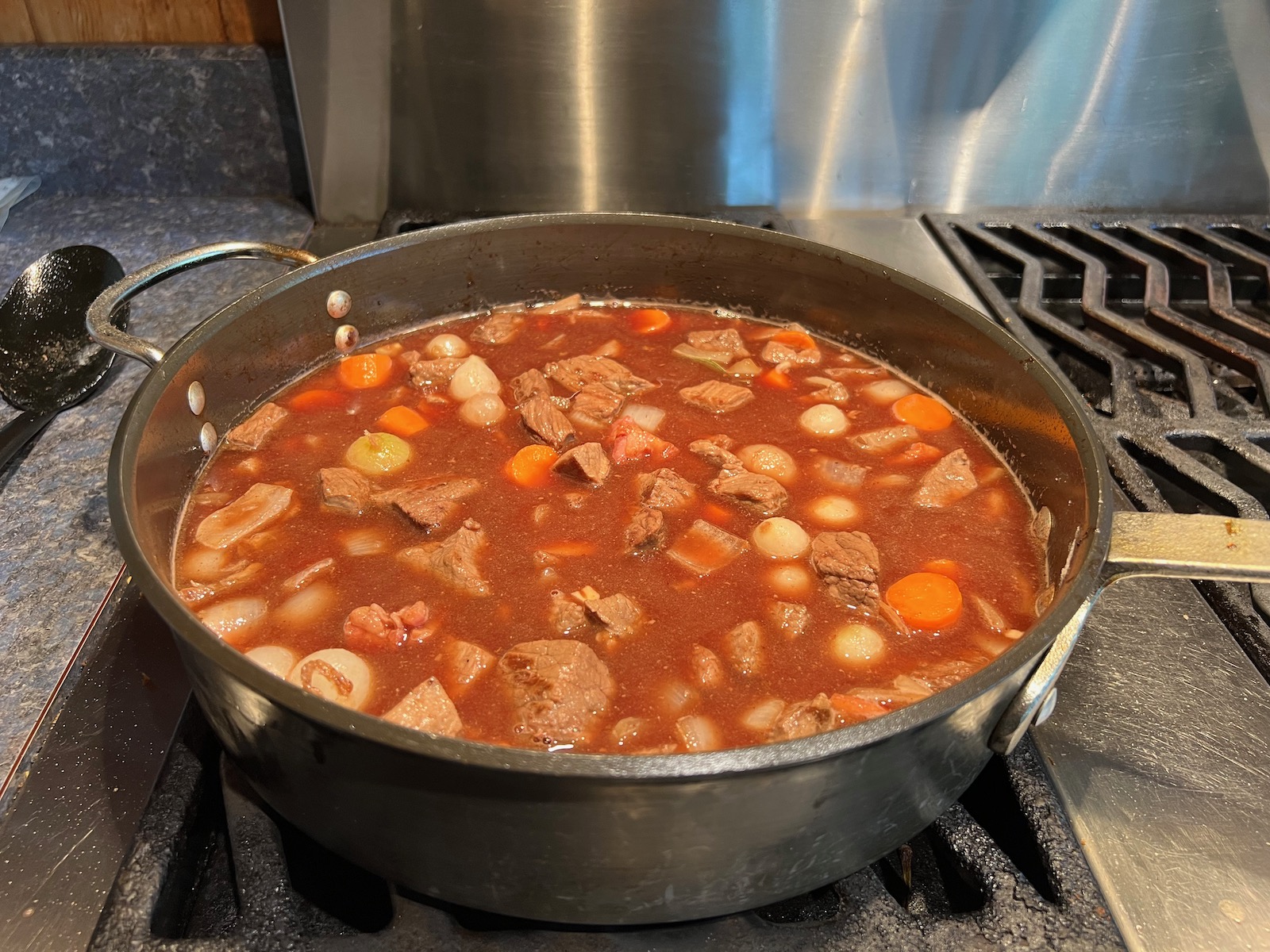 Bring to a boil and skim off any foam.
Lower the heat to low simmer and cook for 90 minutes uncovered, stirring occasionally. If it looks like it will dry out, or the sauce is getting too thick, cover it for the rest of the cooking time.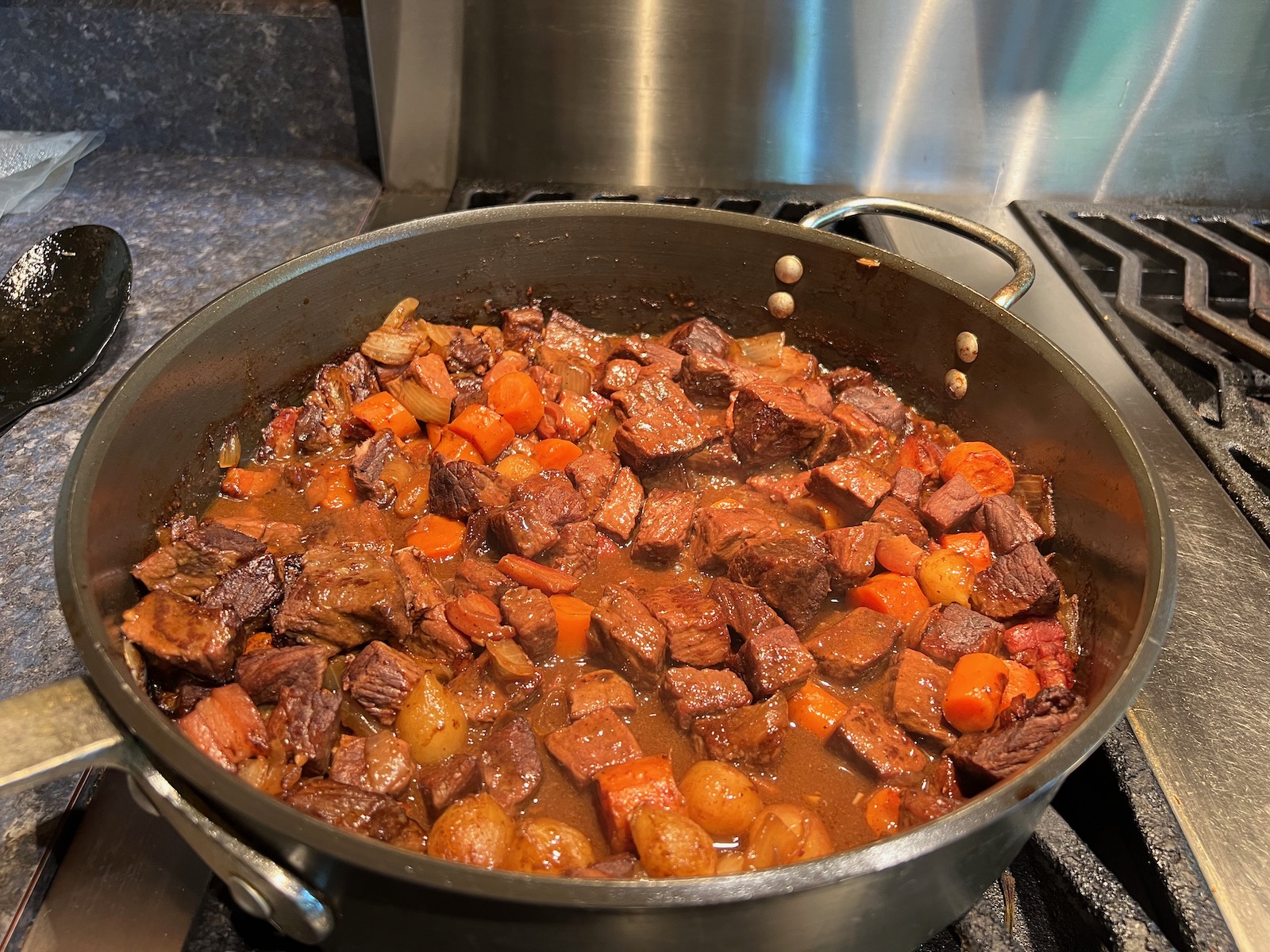 Wash and dry 8 oz. white or cremini mushrooms, 1 small package. Halve the small ones and quarter the large ones.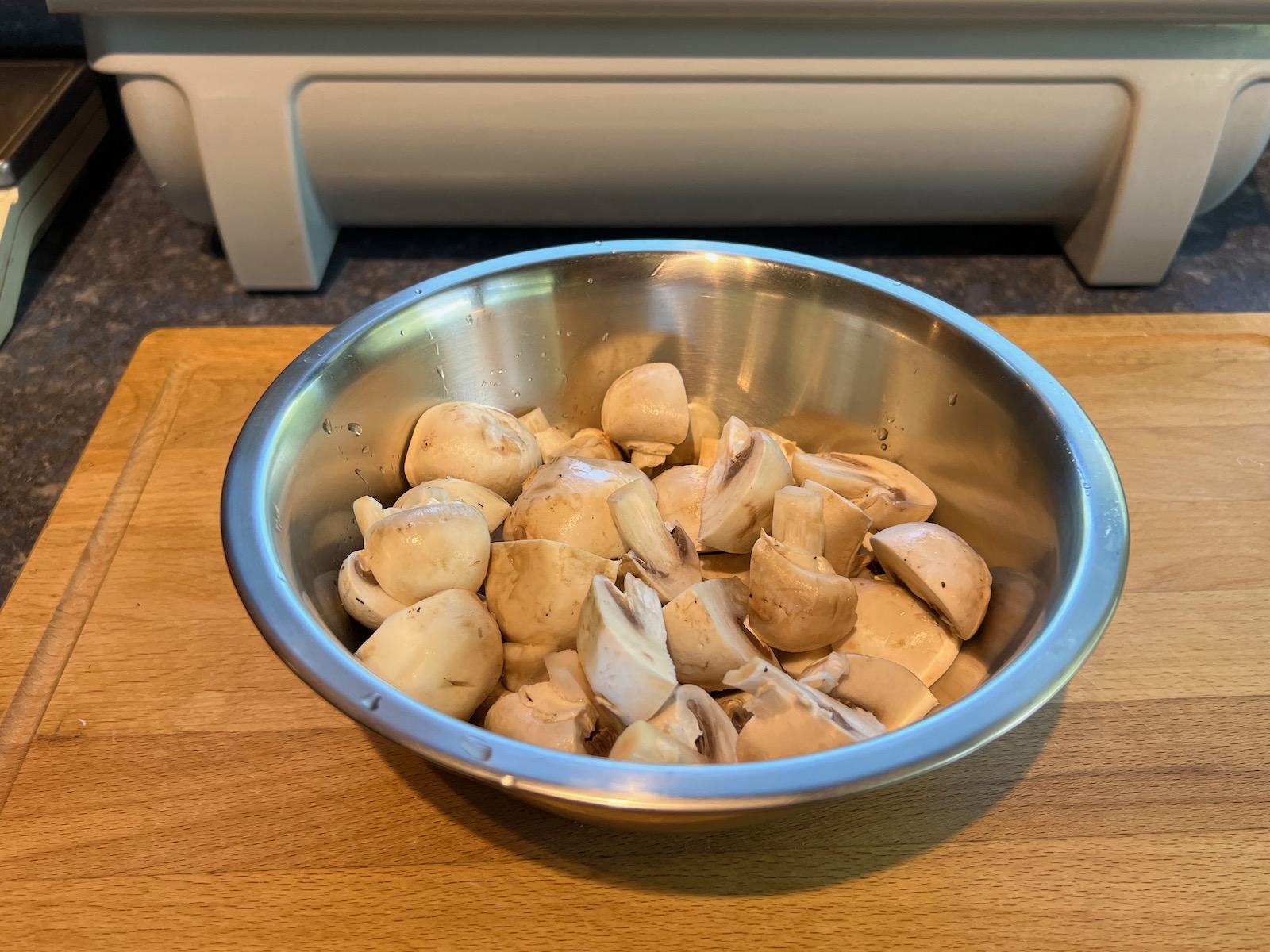 Mince the 2 tbsp. fresh flat leaf parsley and 1 tsp. fresh thyme.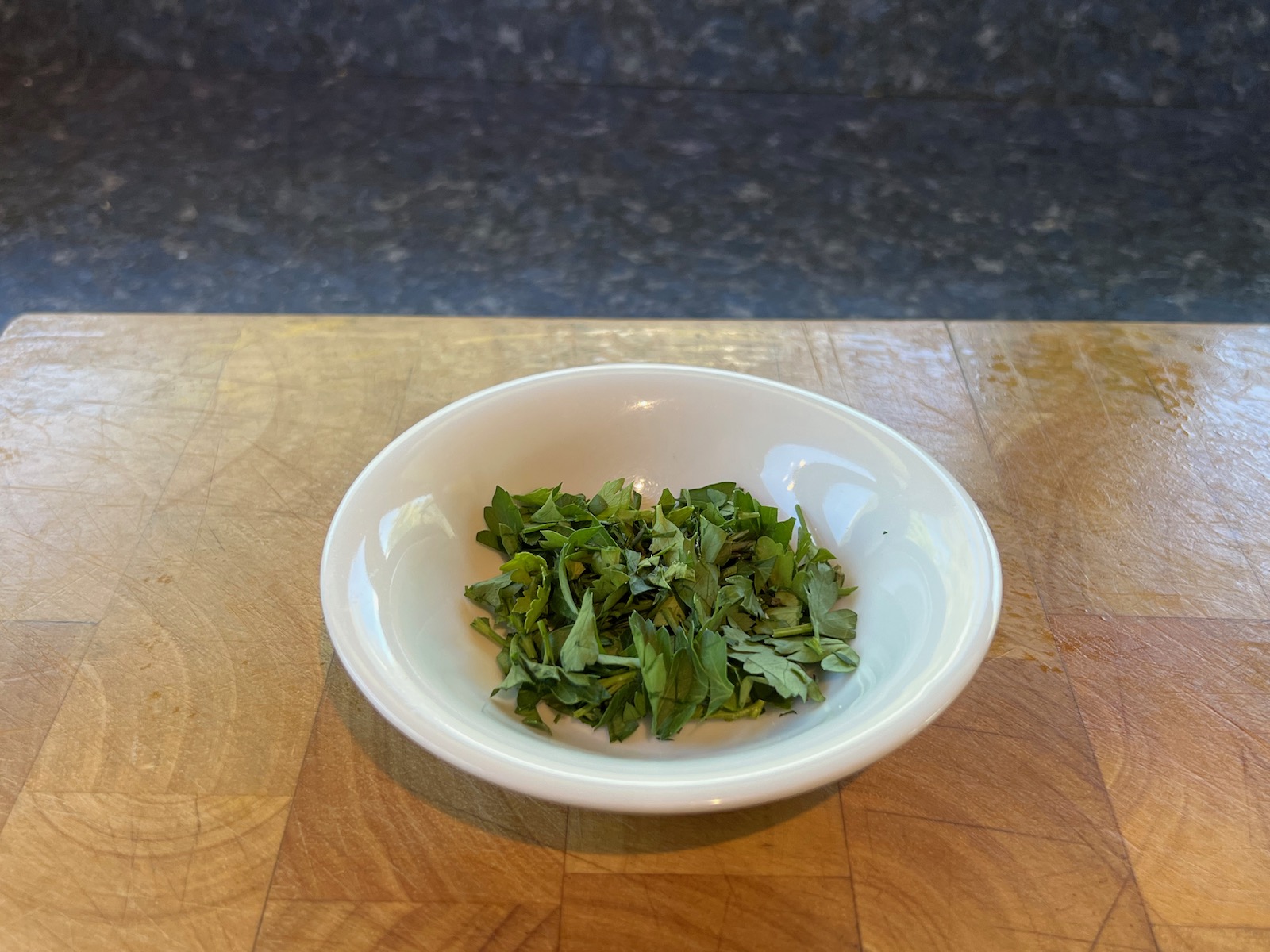 In a separate sauté pan heat 2 tbsp. of butter. Add the mushrooms and the remaining 2 cloves of garlic and cook for a few minutes until softened, being careful to not burn the garlic or butter.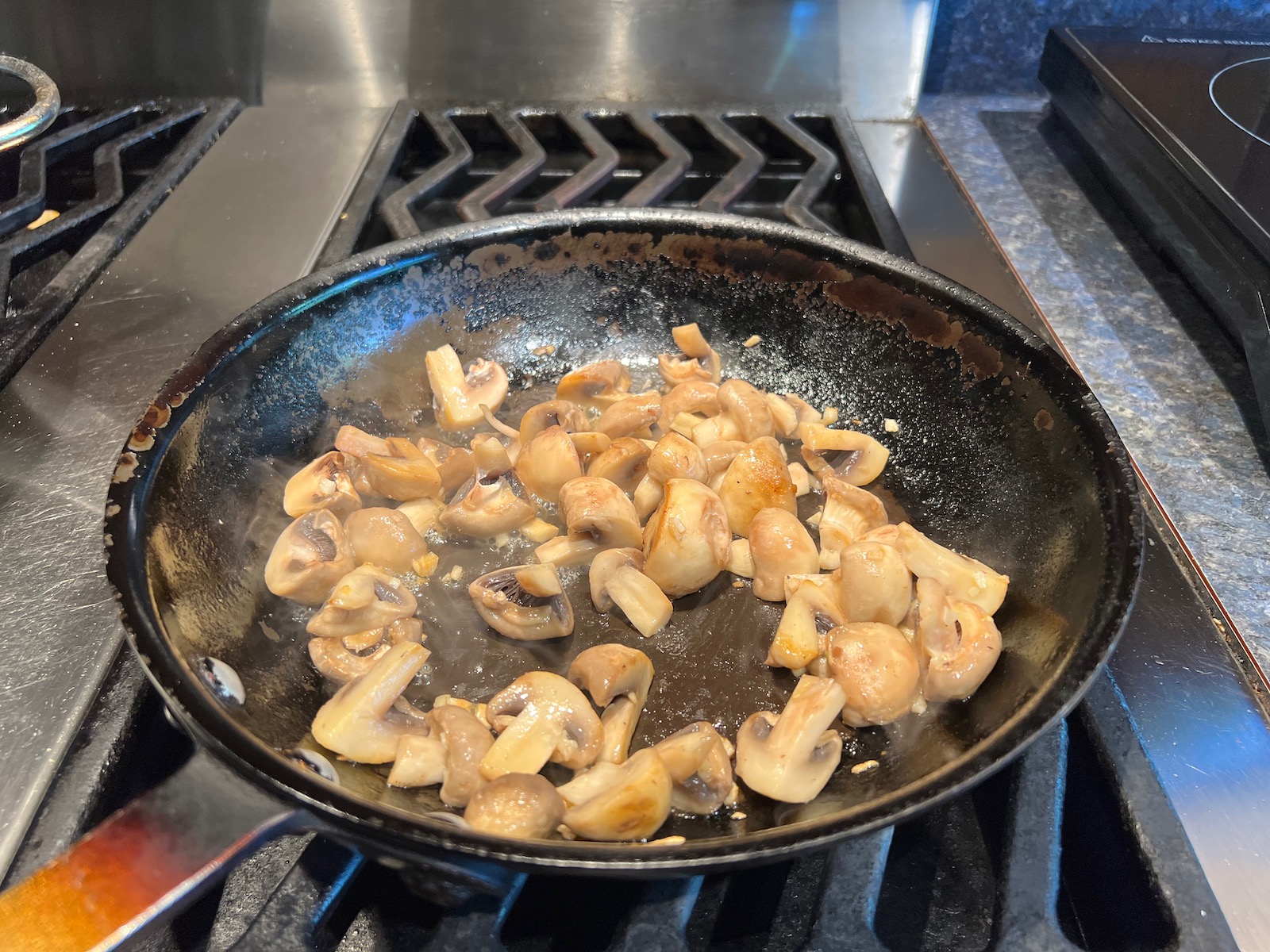 Add the mushrooms and garlic to the pot.
Add the fresh herbs to the pot.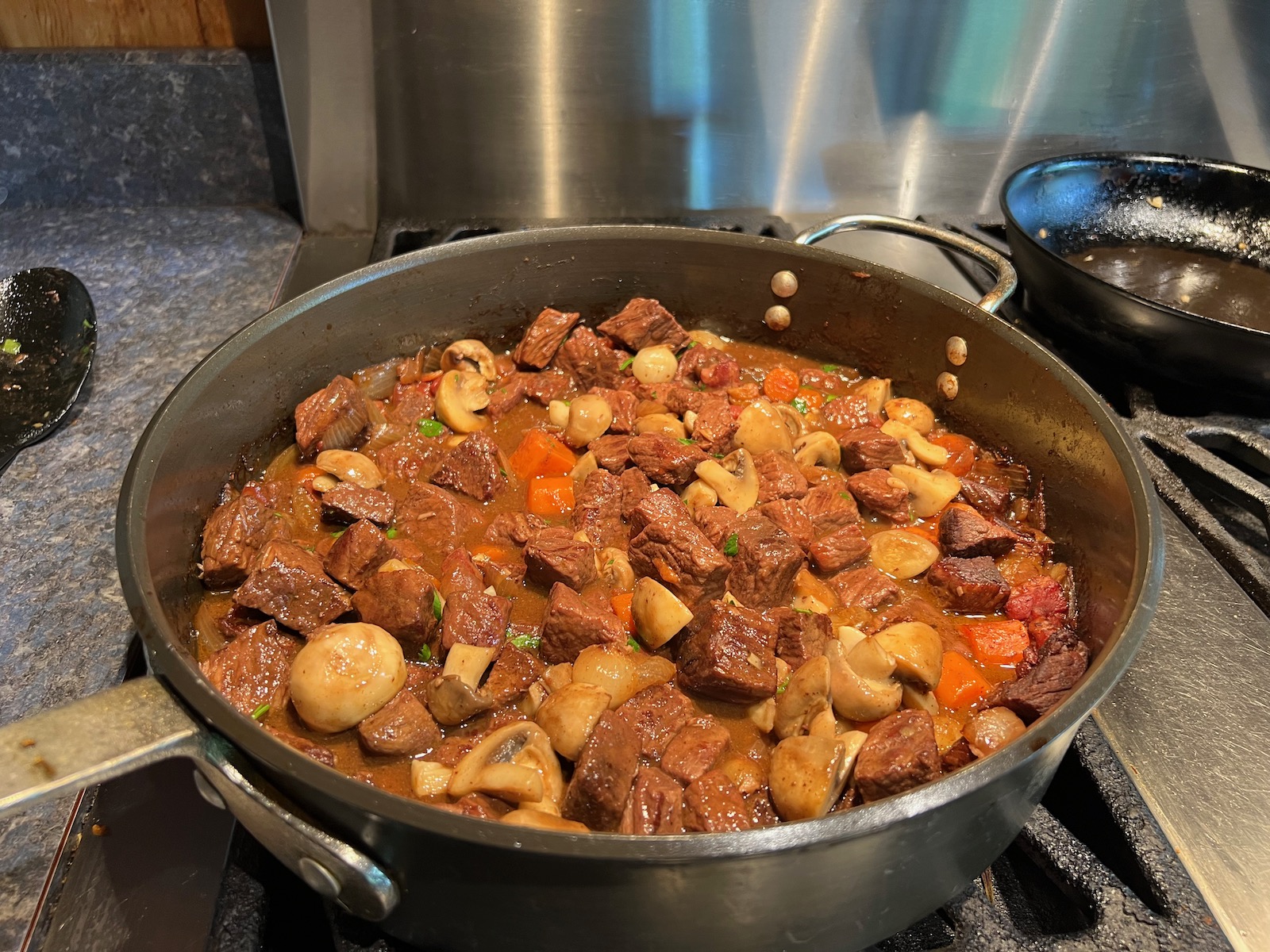 Cook for 5 more minutes.
Strain the liquid out of the pan using a large colander, reserving the liquid. I use a large Pyrex measuring cup. Skim fat off the liquid if necessary. I didn't have to.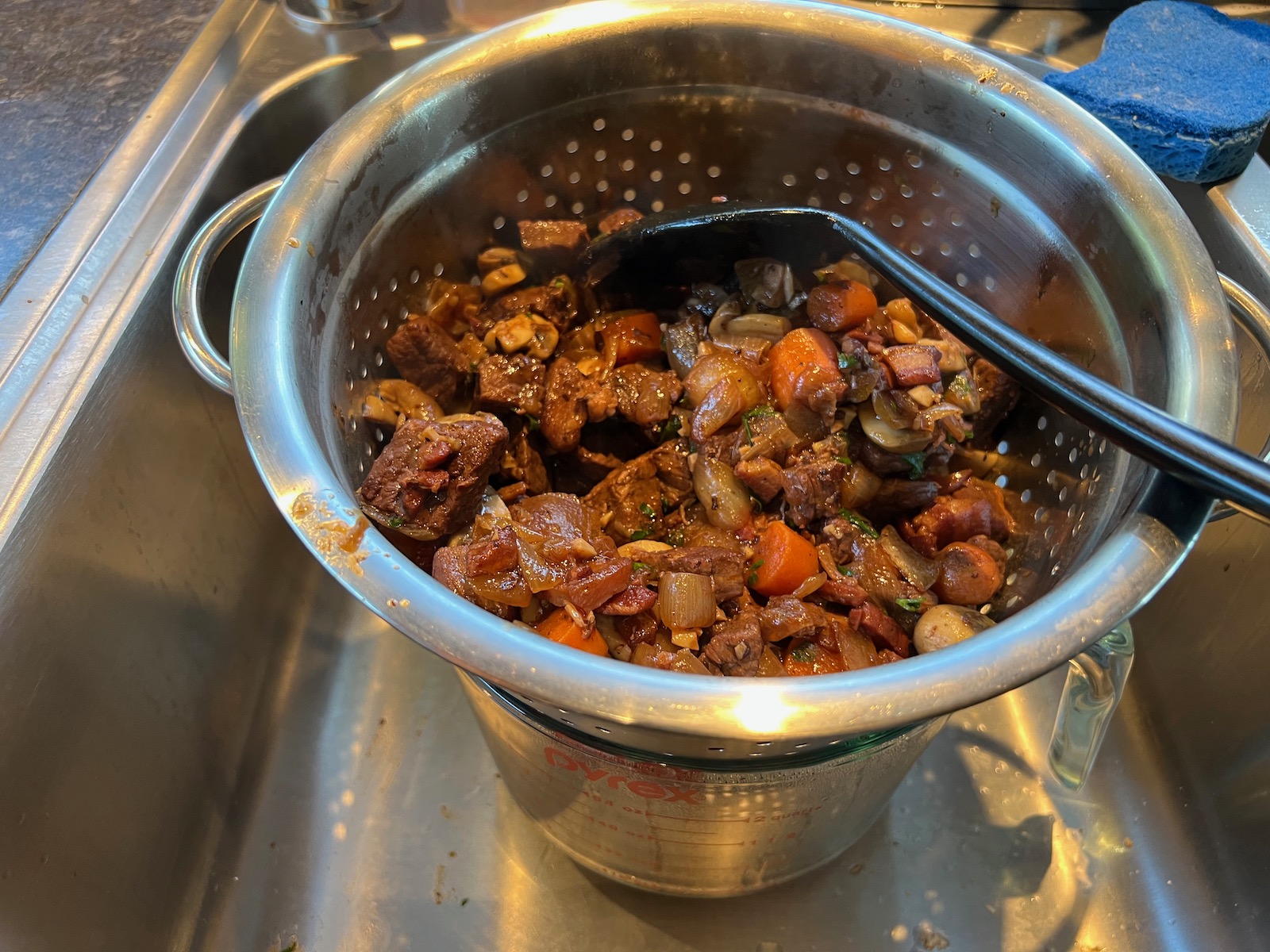 The original directions have you return the liquid to the pot and thicken. I find it easier to make the sauce too thick, then add additional stock or water to thin it. Add enough liquid to make 15 oz. of jus.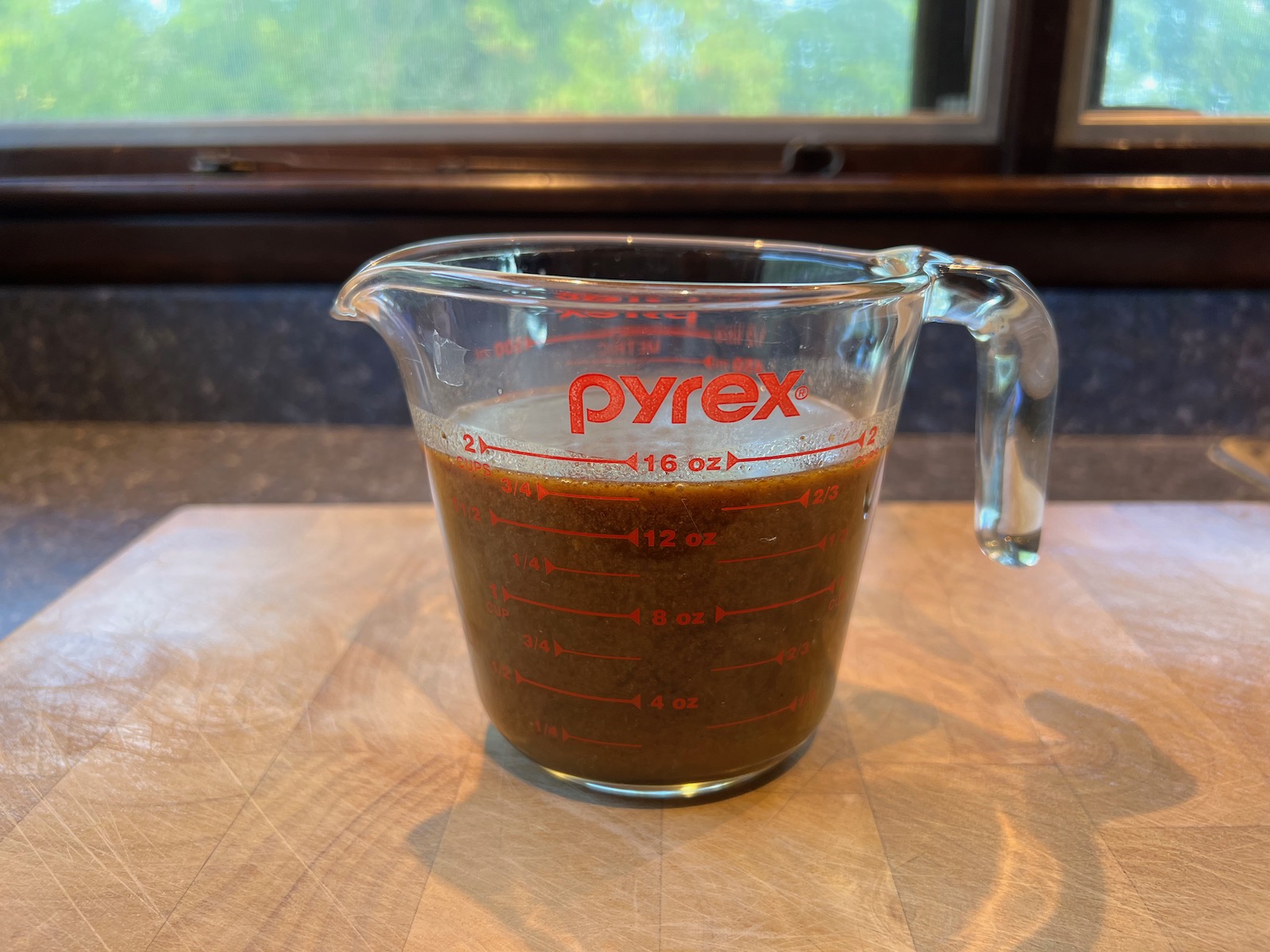 Divide into 5 servings of 9 oz. of beef, carrots, mushrooms, and onions each. Add 3 oz. of the jus to each package. I vacuum sealed and froze the servings, except for the one for dinner tonight. I probably could have made the servings smaller, 6 servings of 7.5 oz. would have been fine, I think.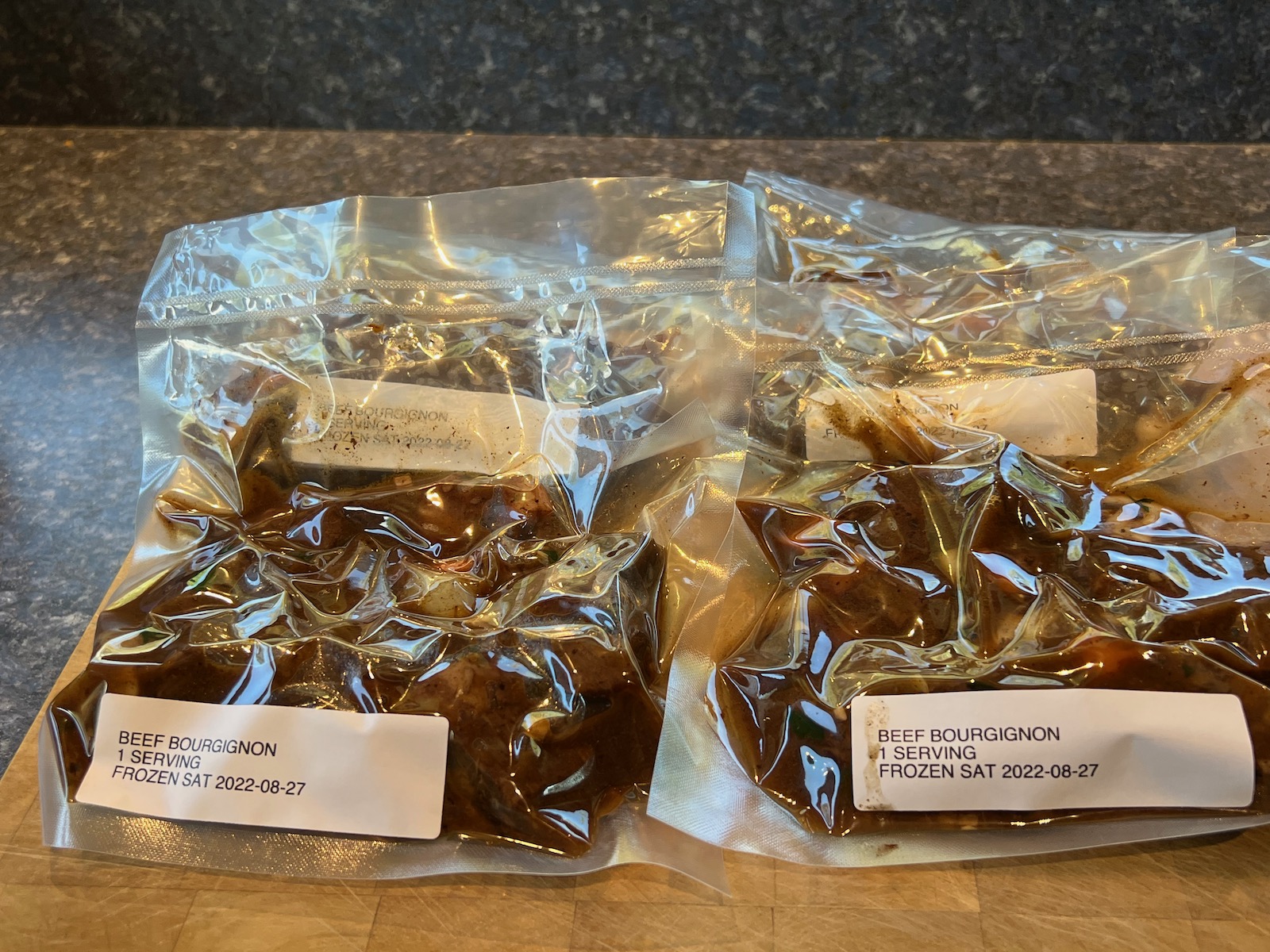 Serve with mashed potatoes.