Spaghetti and beet balls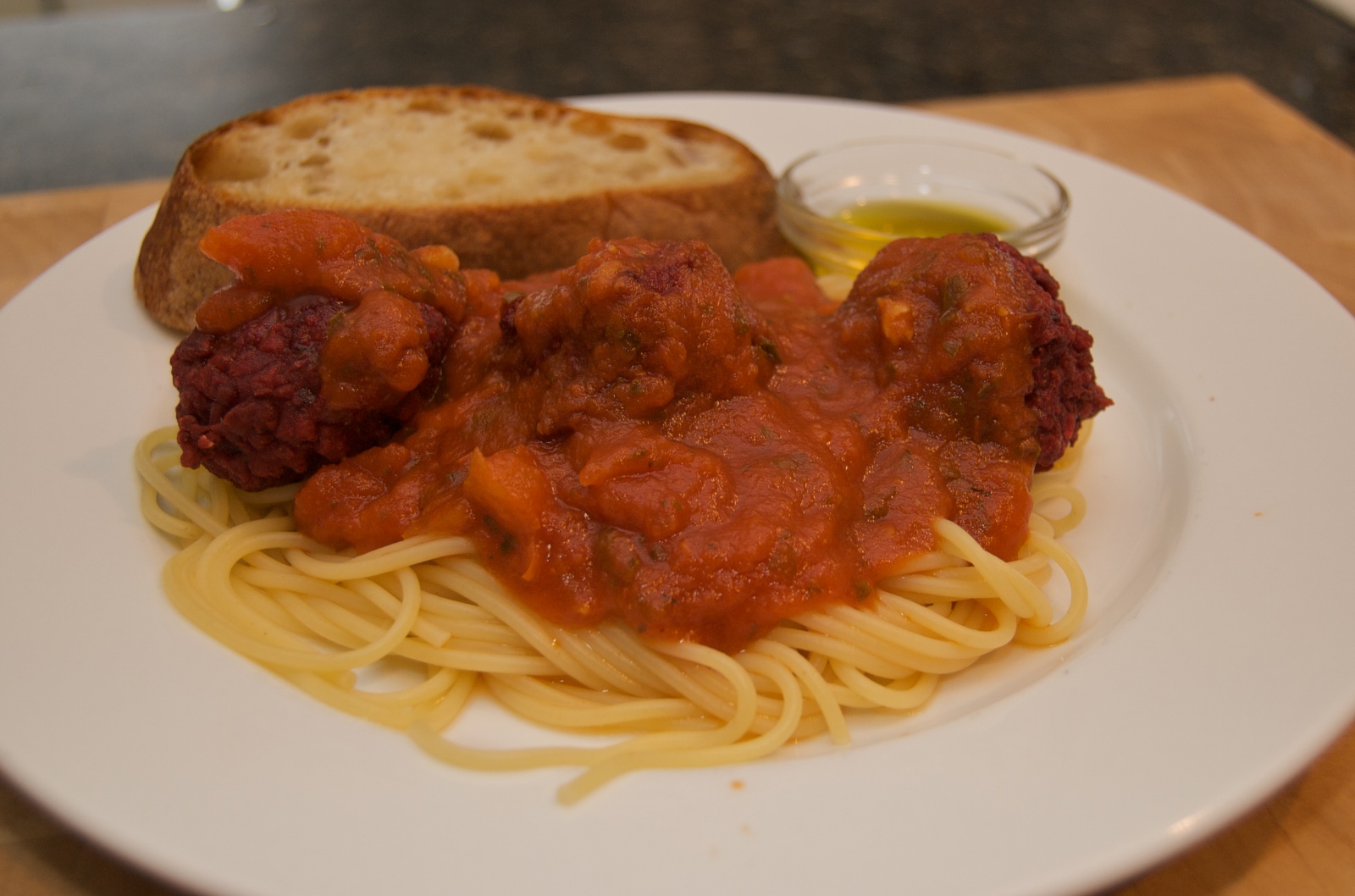 I was thinking of things I could make with the beets in my CSA and I thought up the bad play on words of the beet ball. Then it occurred to me that I might actually be able to make a 'meat' ball, out of beets!
After doing a little googling I found that "beet balls" is indeed a rare recipe, but, sadly, mine is not the first. But mine is better. OK, I don't really know that since I didn't make Sarah's recipe , but mine is deep fried, which by default makes it better. But I do thank Sarah for thinking of putting ricotta cheese in them, which I had not thought of but is an excellent idea.
Clean, peel, and dice about a half pound of beets. If you have normal-sized beets, this would probably be one beet, but since I had these crazy miniature beets, it was a number of them.
If you have a normal kitchen you could probably roast the beets at this point. I put the beets in a vacuum bag, added salt, pepper, and olive oil; vacuum sealed, and cooked for 45 minutes at 180°F in the sous vide.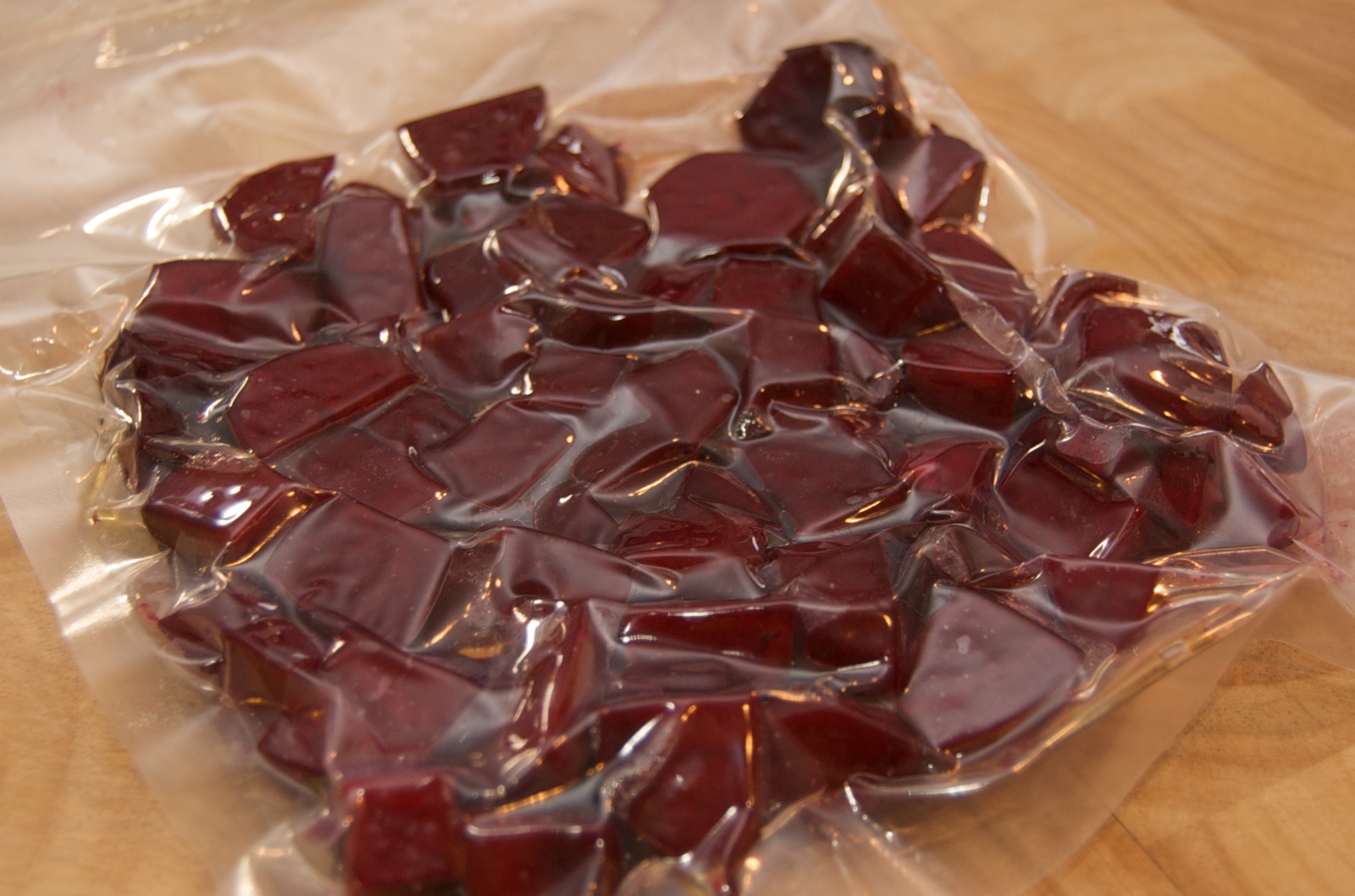 Remove the bag from the sous vide, chill, and refrigerate overnight.
I'm pretty sure the refrigerate overnight step is not required, but it was in Sarah's recipe, and I didn't start making the beet balls until 7 P.M. and had already had a few glasses of wine, so it seemed appropriate to stop at this point, well before hot oil was involved.
Put the beets in the food processor with two cloves of garlic (minced), bread crumbs, all-purpose flour, ricotta cheese (about 1.5 oz.), an egg, freshly grated Parmesan cheese, salt, pepper, a dash of cayenne pepper, and purée.
Preheat the deep fryer to 360°F.
Take beet mixture and form into balls. Even with the breadcrumbs and flour they'll be significantly softer than meatballs.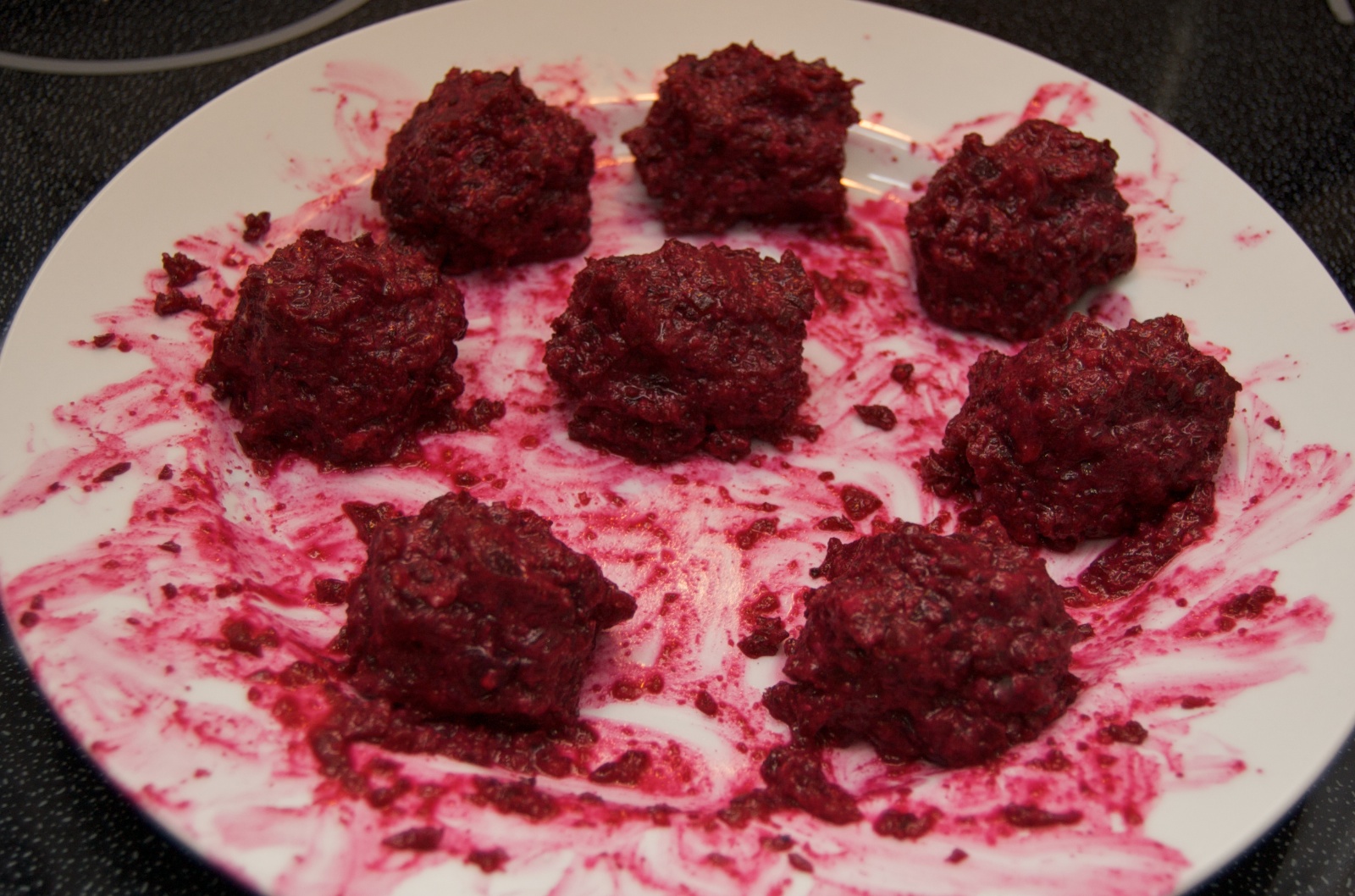 Dredge the balls in all-purpose flour.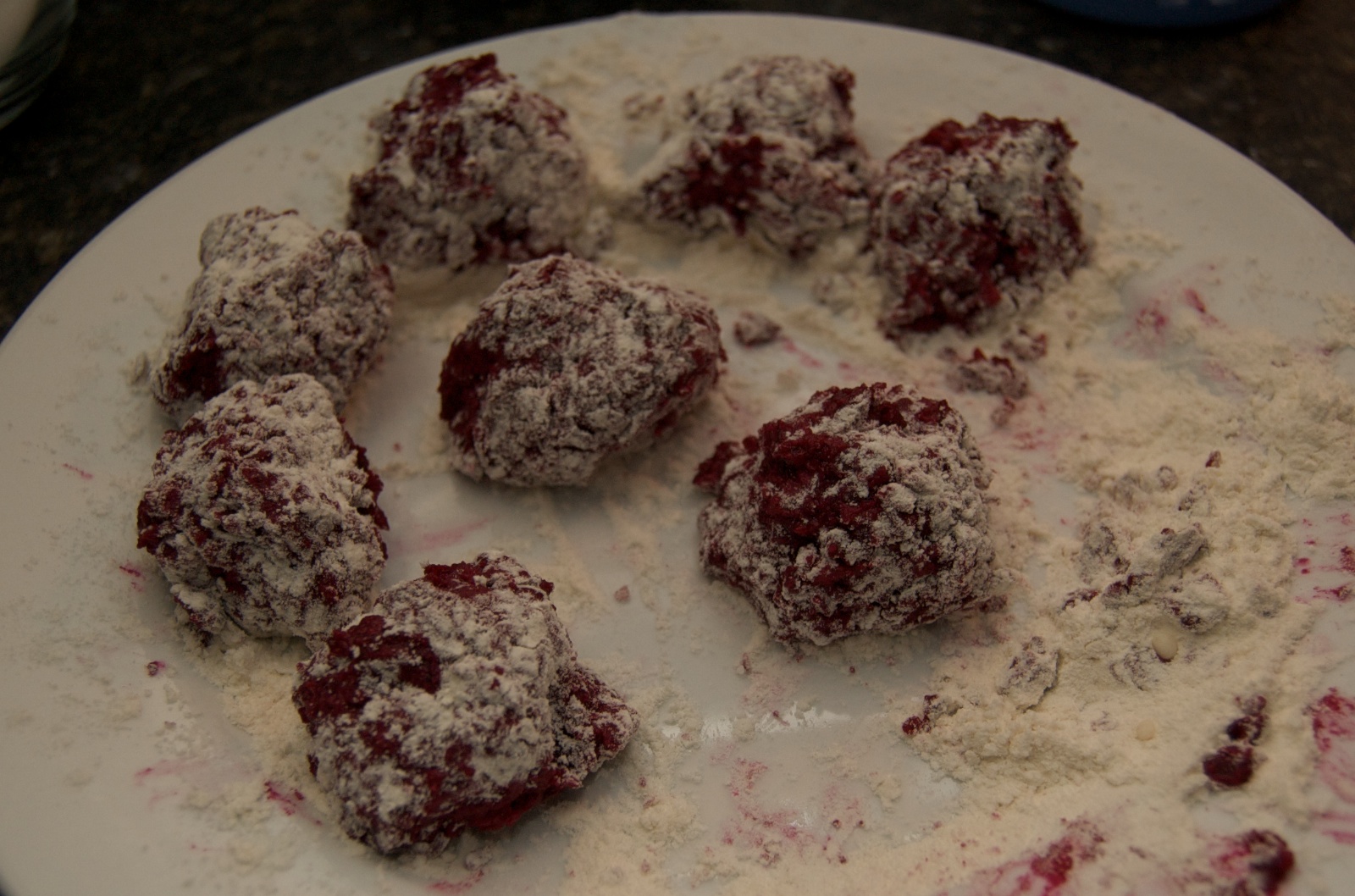 Deep fry for two to three minutes.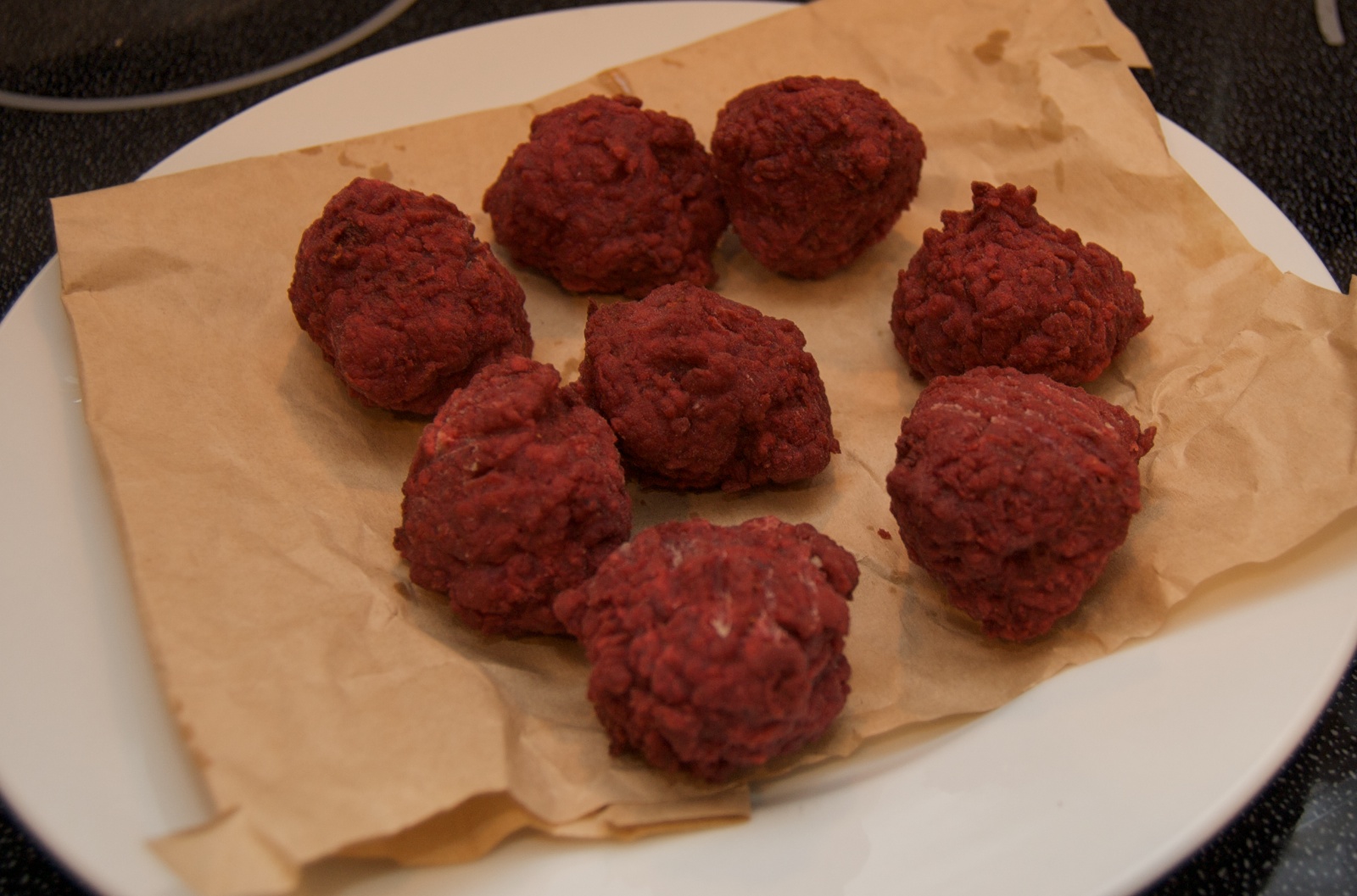 Serve as for meatballs. Beets and tomatoes are a pretty common combination, and it seems to work with a tomato pasta sauce in this recipe, too. They're fragile, however, so I wouldn't try to simmer them in the sauce - just pour the sauce over them when plating. They're very good plain, and I presume you could make a beetball sandwich and who knows what else.
While you wouldn't be able to fool a meat eater into believing they're meatballs, I'd bet you could easily trick people who think they don't like beets into eating these beet balls. OK, I probably lost some of the "healthy" credentials by adding cheese, breadcrumbs, and deep frying but, hey, it sure is tasty!