Meatloaf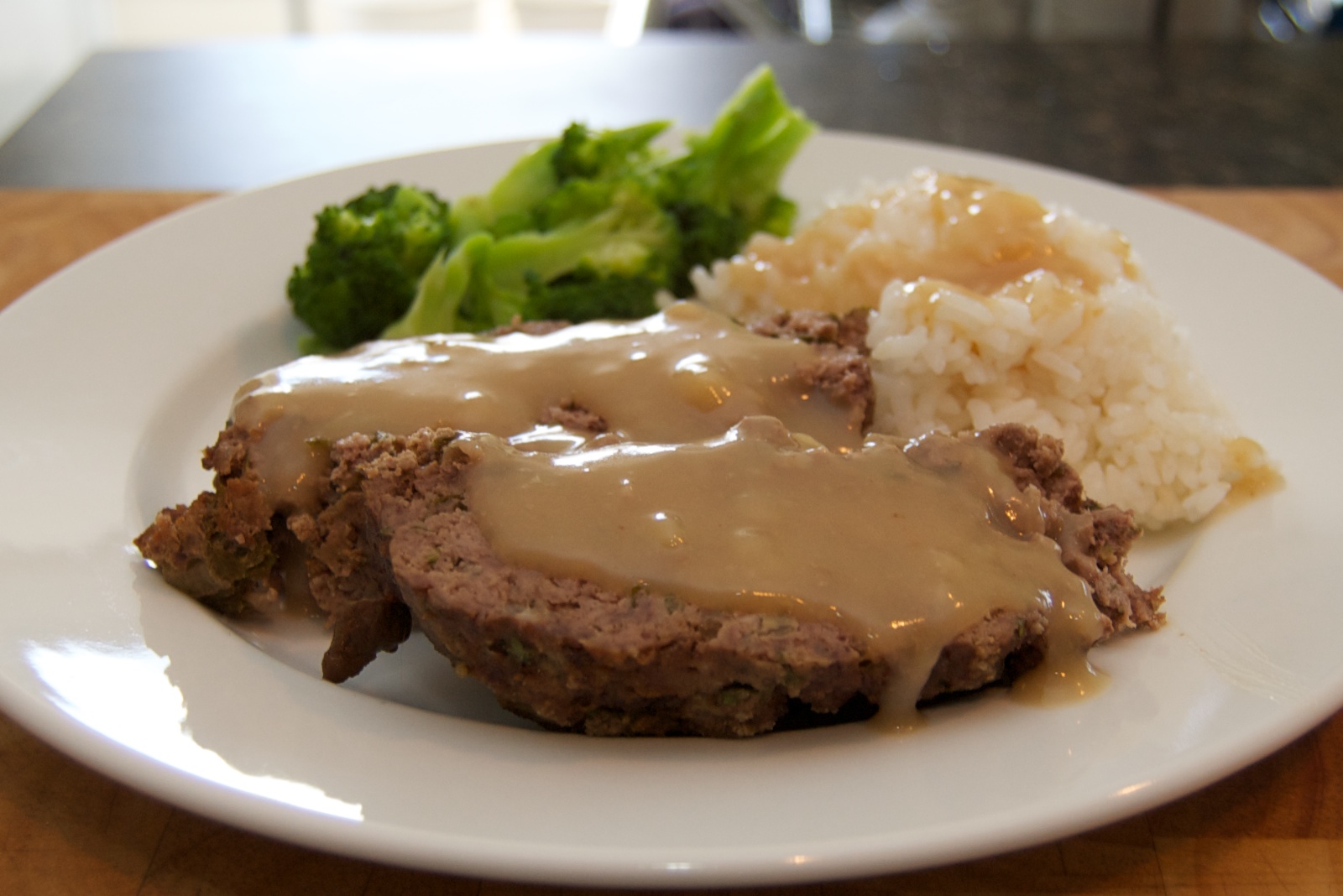 Brandi made a meatloaf, and posted on Facebook that she and her friend sang Meat Loaf's " I would do anything for love " in anticipation of eating meatloaf. That got me thinking, "I'm hungry for meatloaf." Also, I had a 1.3 pound package from Meat CSA installment #2 and the next installment is due tomorrow and it's time to make space in the freezer. So meatloaf it is!
This is pretty much like Mom's meatloaf, though I hers doesn't have fresh garlic or fresh parsley in it. It doesn't have any ketchup or tomato in it; I presume this is the Japanese influence. Though I do eat it with ketchup.
1.3 lbs. ground beef (what I happened to have, and will make a small-to-medium meatloaf)
1 yellow onion, finely diced
2 cloves garlic, minced
1 handful of parsley, minced
1 egg
Worcestershire sauce
Freshly ground black pepper
Salt
Cayenne pepper
breadcrumbs
Heat the onions and garlic in a little olive oil over medium heat in a small sauté pan until softened.
Combine the ground beef, onion mixture, and the rest of the ingredients. Add breadcrumbs as necessary so the meatloaf isn't too moist. Form into loaf shape and place in a small, lightly greased roasting pan.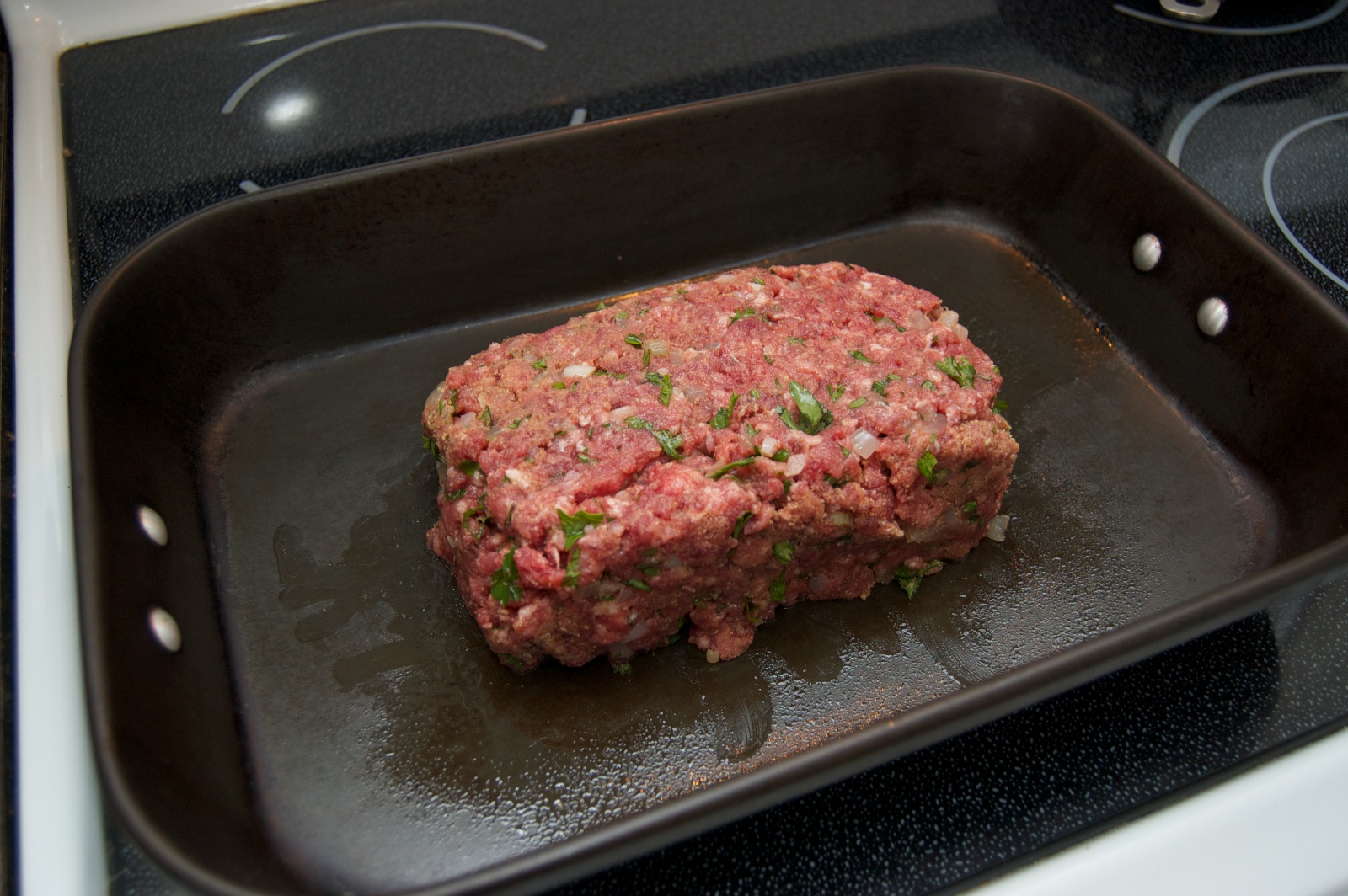 Cook at 350°F.
After 20 minutes, add a small amount of water to the roasting pan and drizzle a little soy sauce over the top of the meatloaf. The water is there to prevent the juices from burning and will be the base for the gravy.
Check again after 20 more minutes. Add more water if necessary.
My meat loaf took a total of 50 minutes to be fully cooked; you can cook to an internal temperature from 125°F to 150°F depending on how done you want your meatloaf. I like it very slightly pink, more done than I'd make a burger, around 130°F.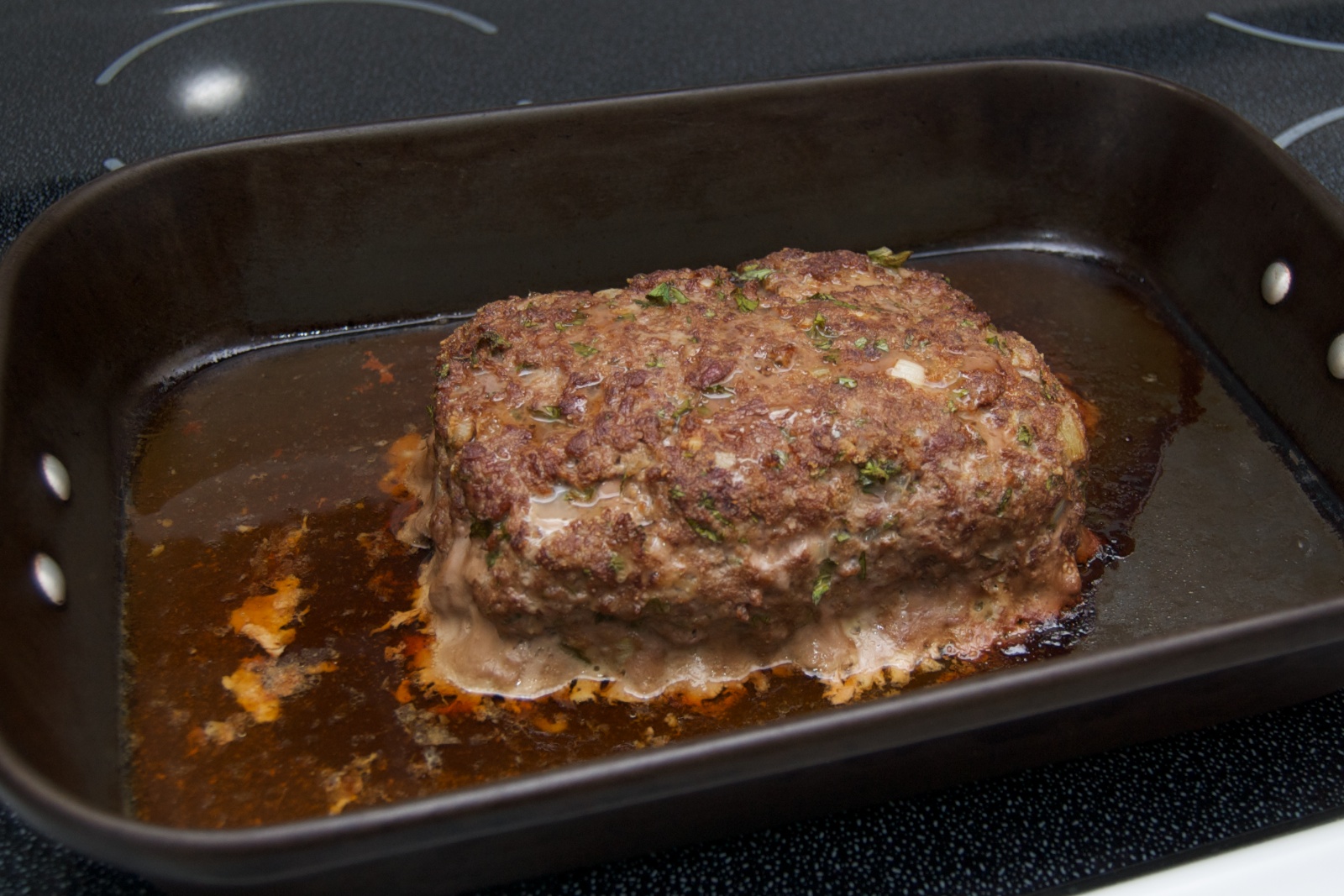 Remove the meatloaf from the roasting pan.
Prepare a slurry of approximately 1/4 cup all-purpose flour and water to make 2 cups.
Put the roasting pan on the stove and add the slurry to the pan juices to make a gravy. Add a little soy sauce. Cook for at least 4 minutes, stirring constantly. If the gravy gets too thick, add water. Strain.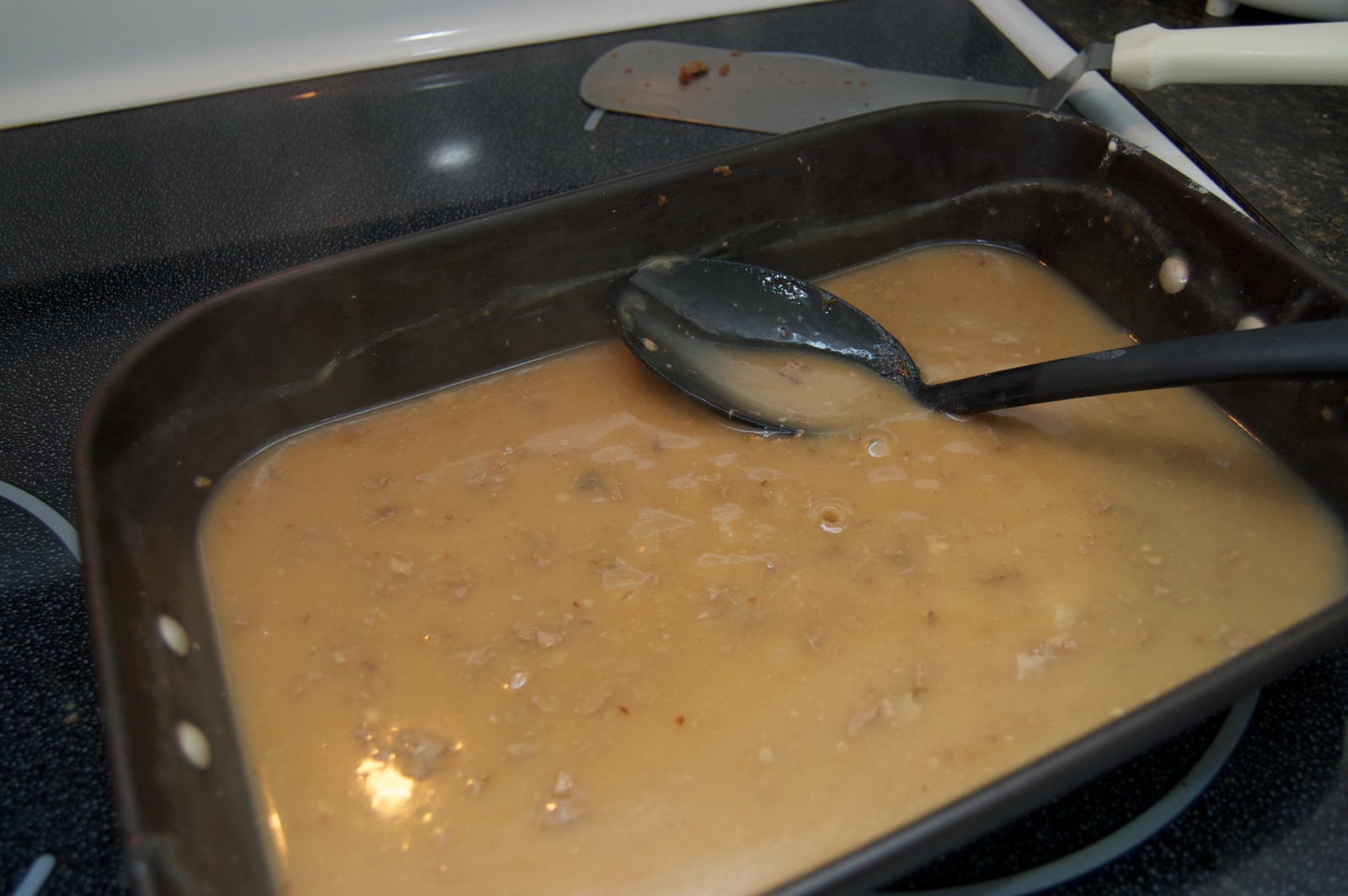 I ended up with 15 oz. of gravy and a meatloaf that I cut into six slices, two slices per serving, so each serving gets 5 oz. of gravy (by volume).
Served with broccoli from CSA Week #9 .
I eventually discovered that a proper serving of about 5.0 oz. is one and a half slices of meat loaf, which is kind of an inconvenient quantity.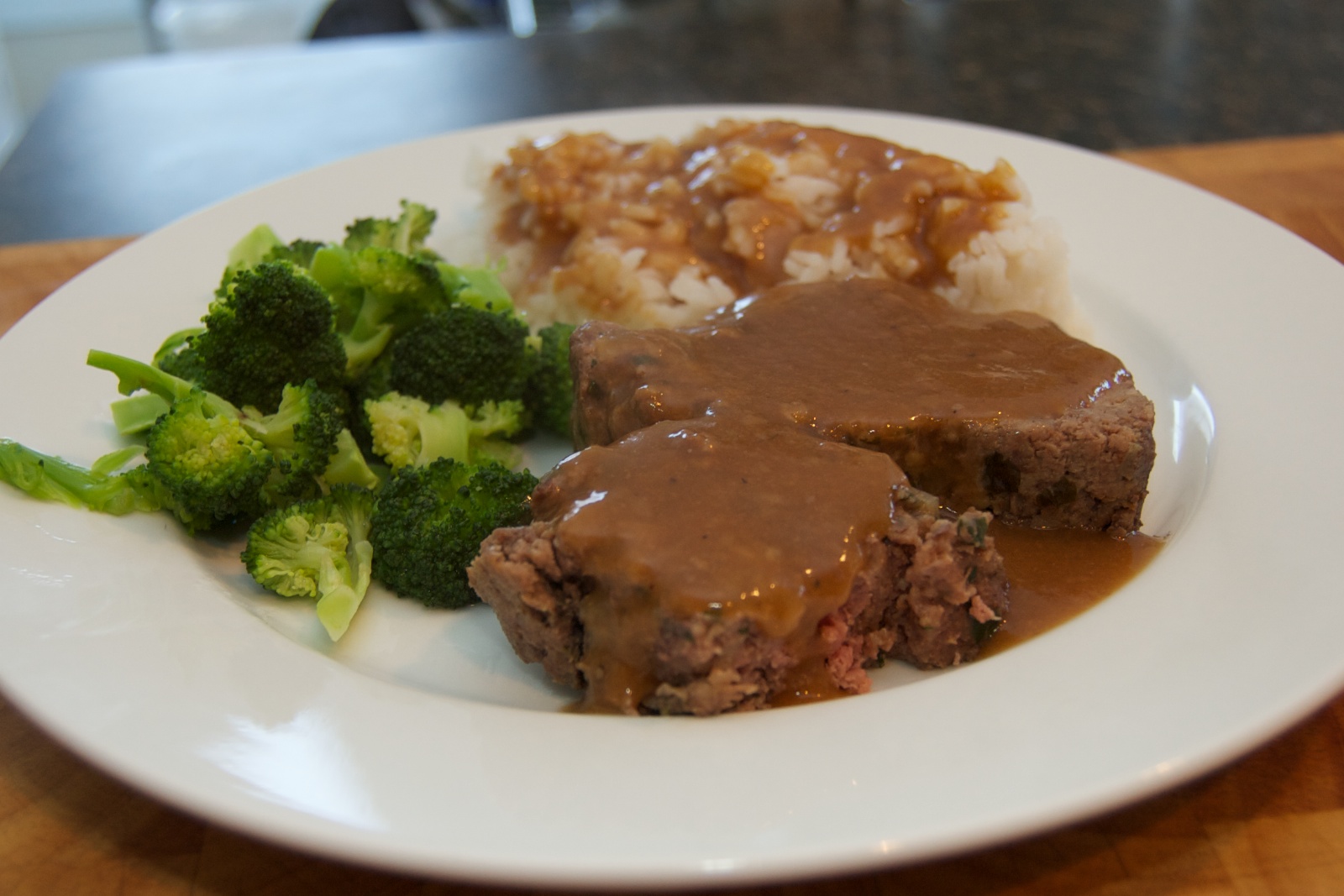 Update 2013-11-23
I discovered that a meatloaf made with 1.5 lb. of 90/10 ground beef (before cooking) divides well into 4 servings, each about 5.6 oz. (after cooking), and consisting of 1 1/2 slices. The trick is to cut two end slices, then cut the interior into 4 slices. Thus each package gets an interior slice and half of an end slice. Works perfectly!
Update 2021-12-23
I switched to using a little bit smaller package of beef, 1.1 lb., since I've been eating smaller portions of meat now. It will still be four servings.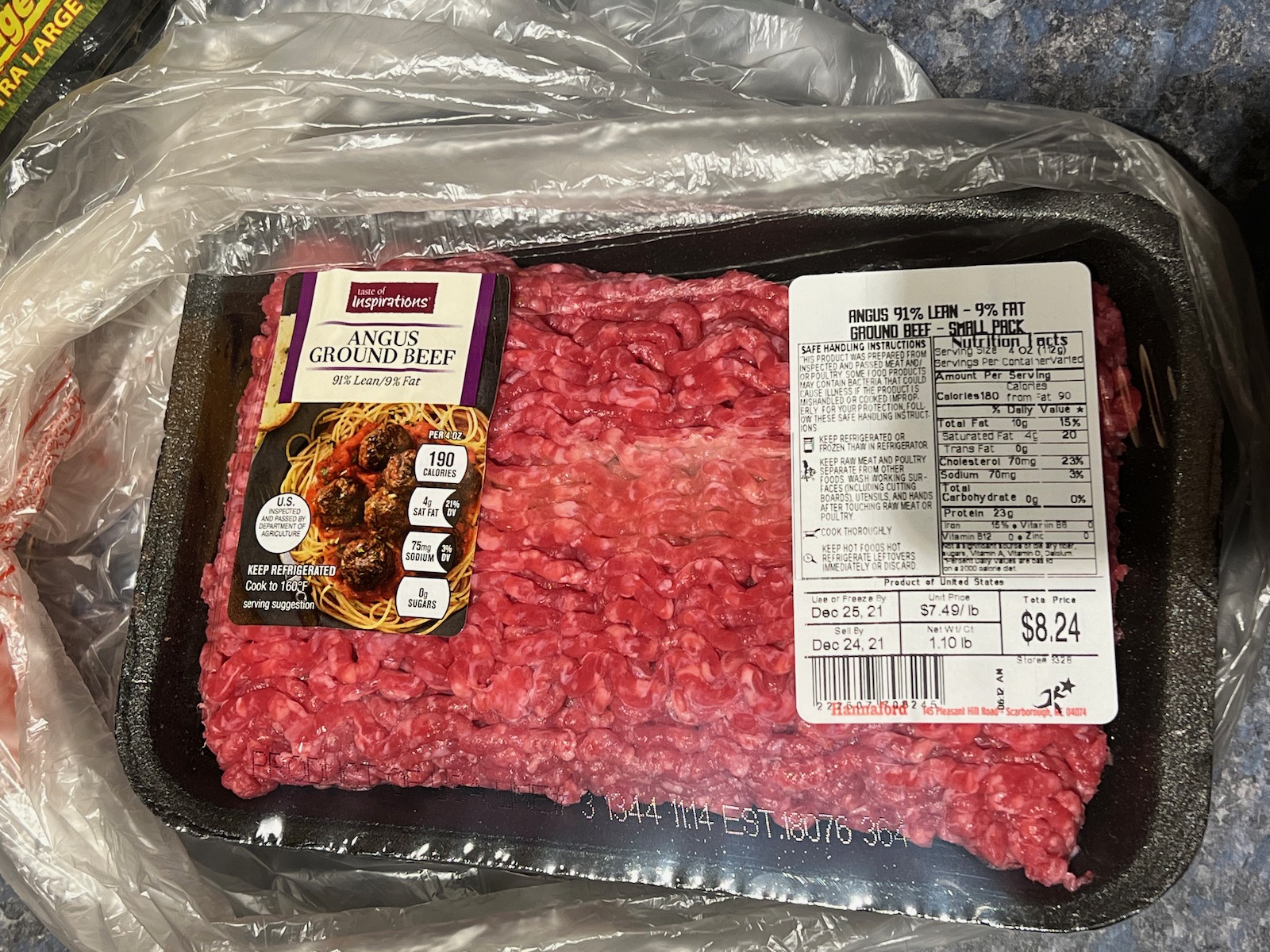 Add one egg to the bowl and beat. Add the ground beef.
Onions, parsley, and garlic.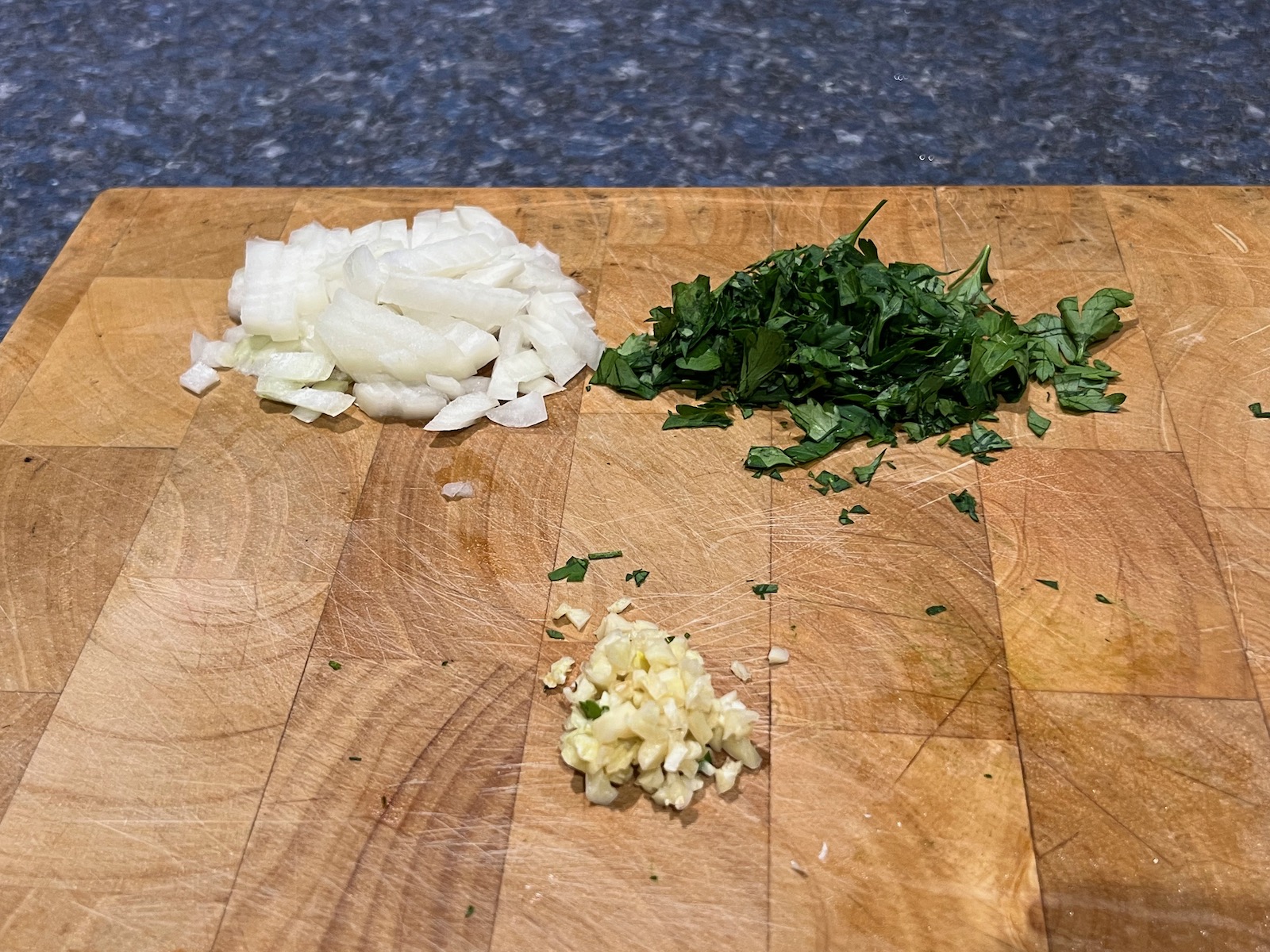 Season with salt, freshly ground pepper, and cayenne pepper.
Normally I use seasoned Italian-style breadcrumbs, but I was out, so I used panko.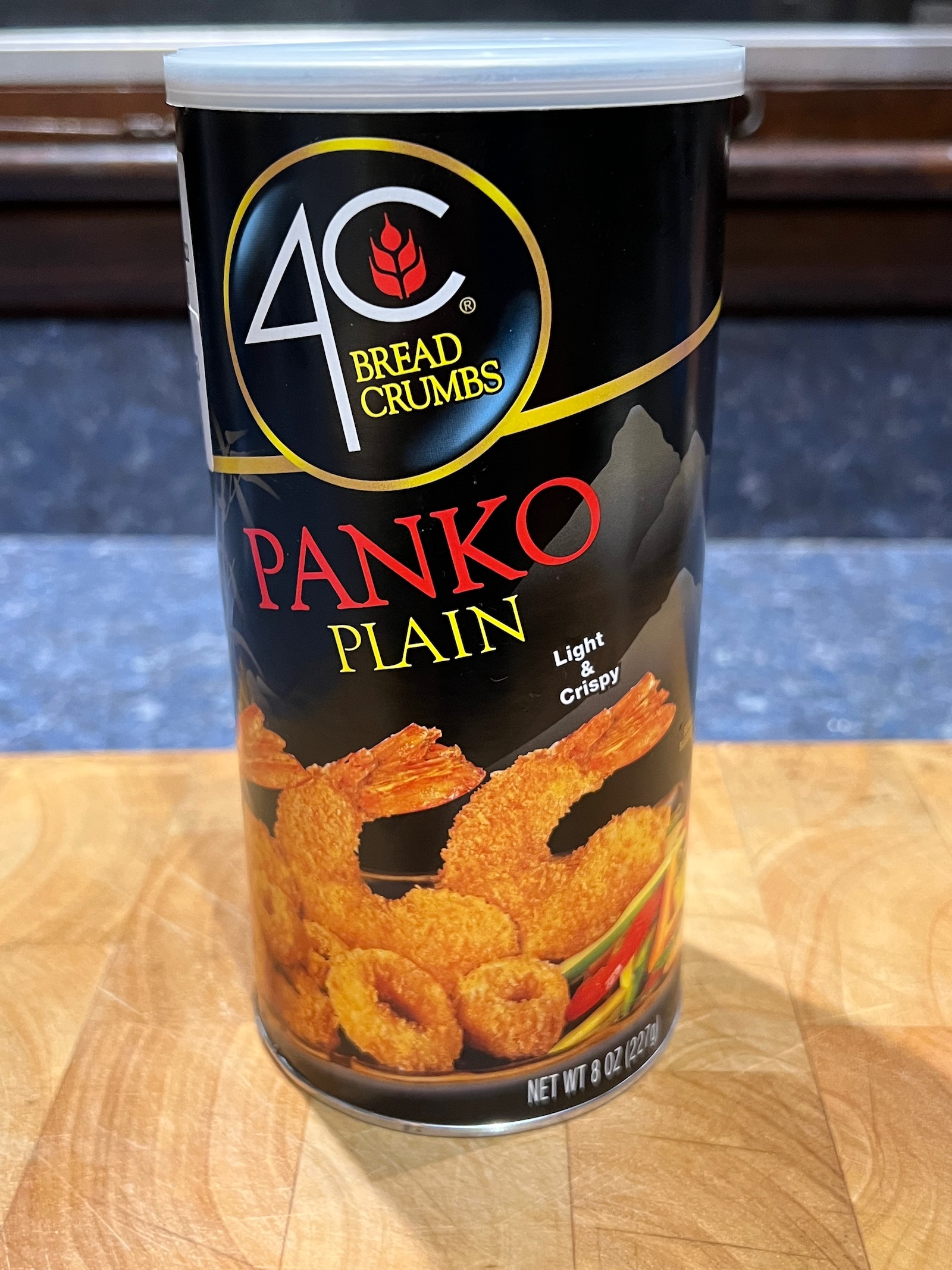 Make into a loaf. Pick off any excess onion and parsley on the surface of the loaf.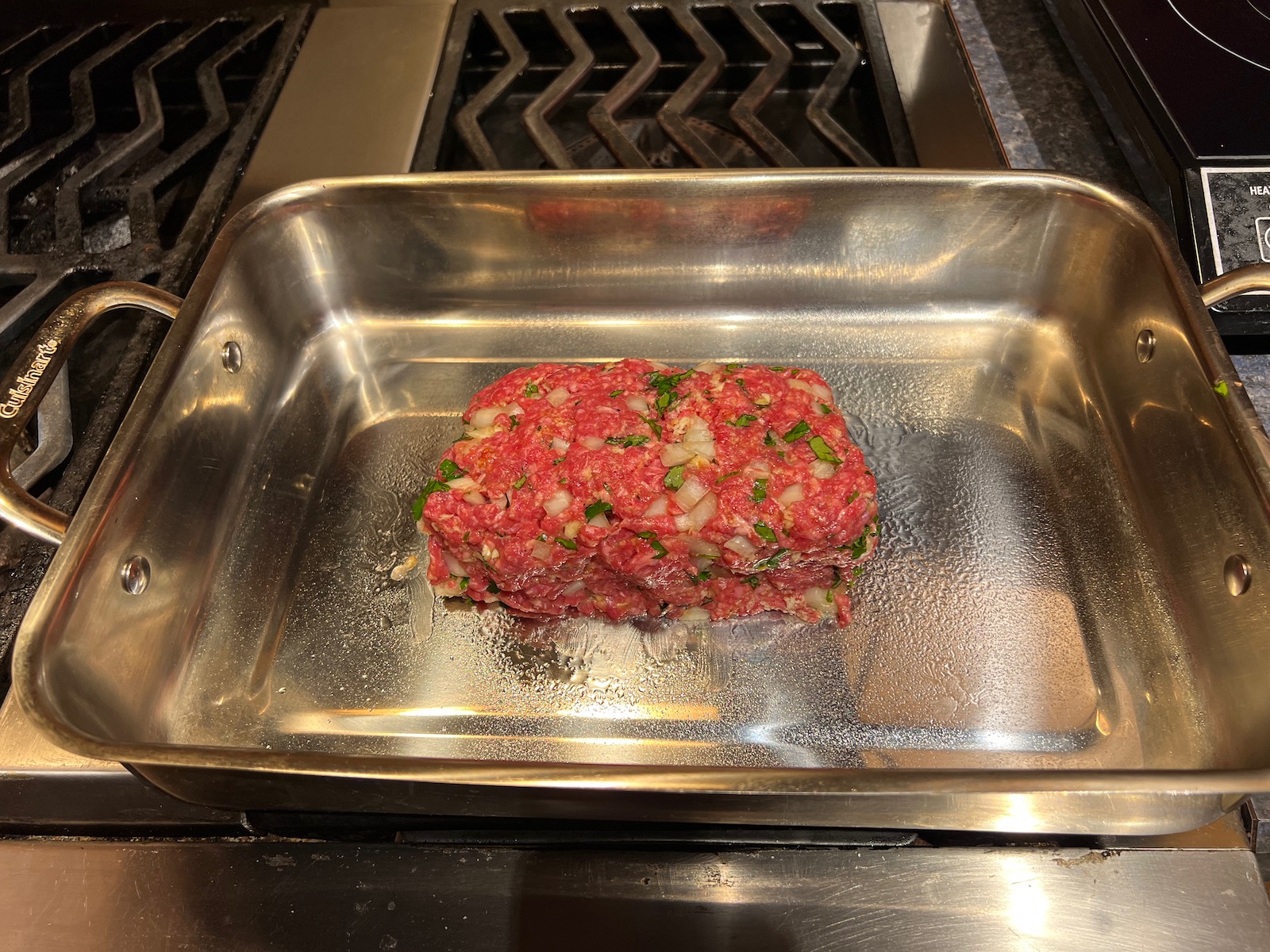 After cooking for 15 minutes at 350°F, I added 8 oz. of water and drizzled with soy sauce. Rotate the pan when putting it back in the oven.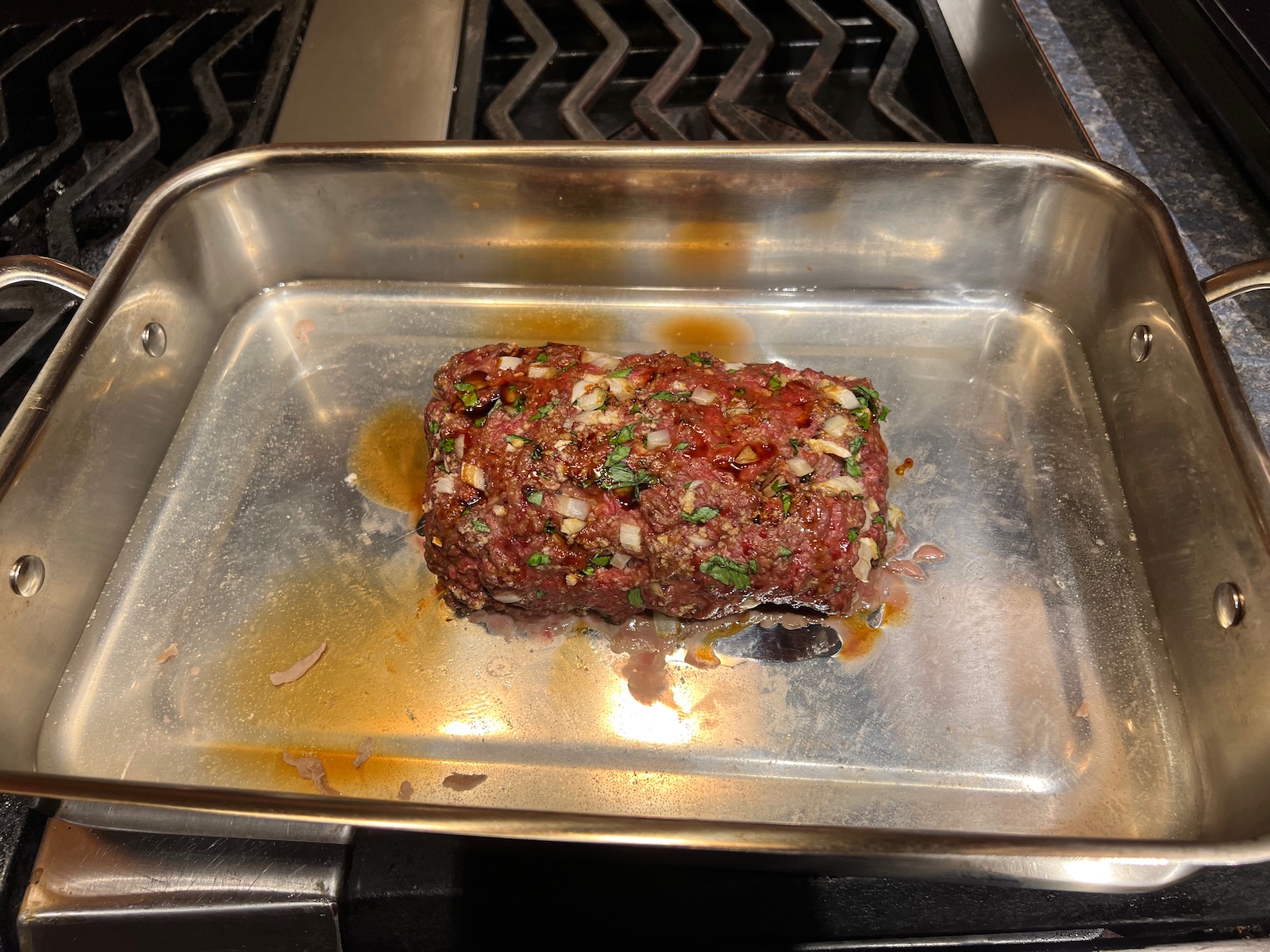 After cooking for 15 more minutes, drizzle with soy sauce again and add more water if necessary. Add a temperature probe. I cooked mine to 130°F but you may prefer yours more done.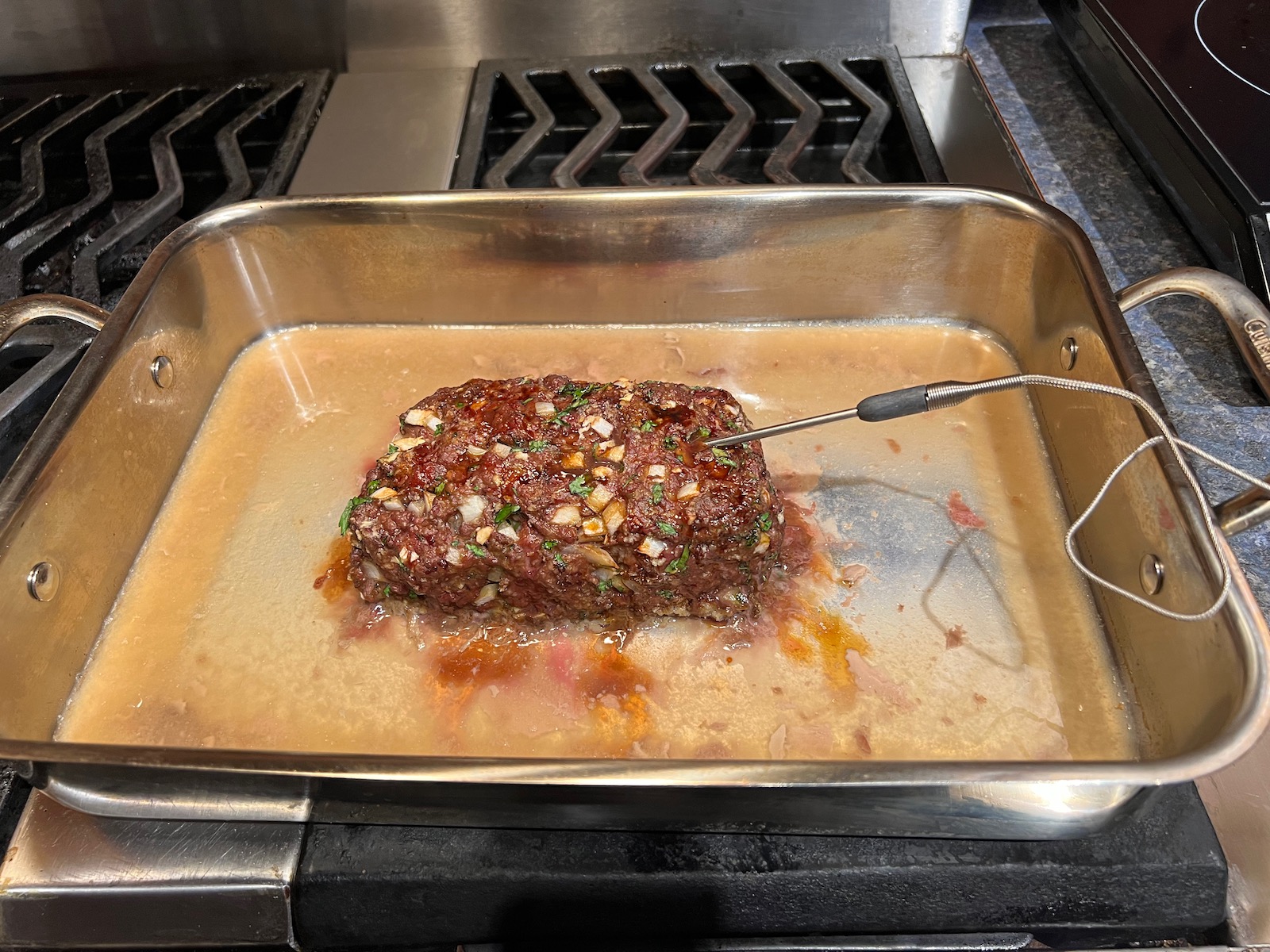 Add 1/4 cup of all-purpose flour to 12 oz. of water to make the gravy. Add soy sauce. Cook for 5 minutes after it starts bubbling.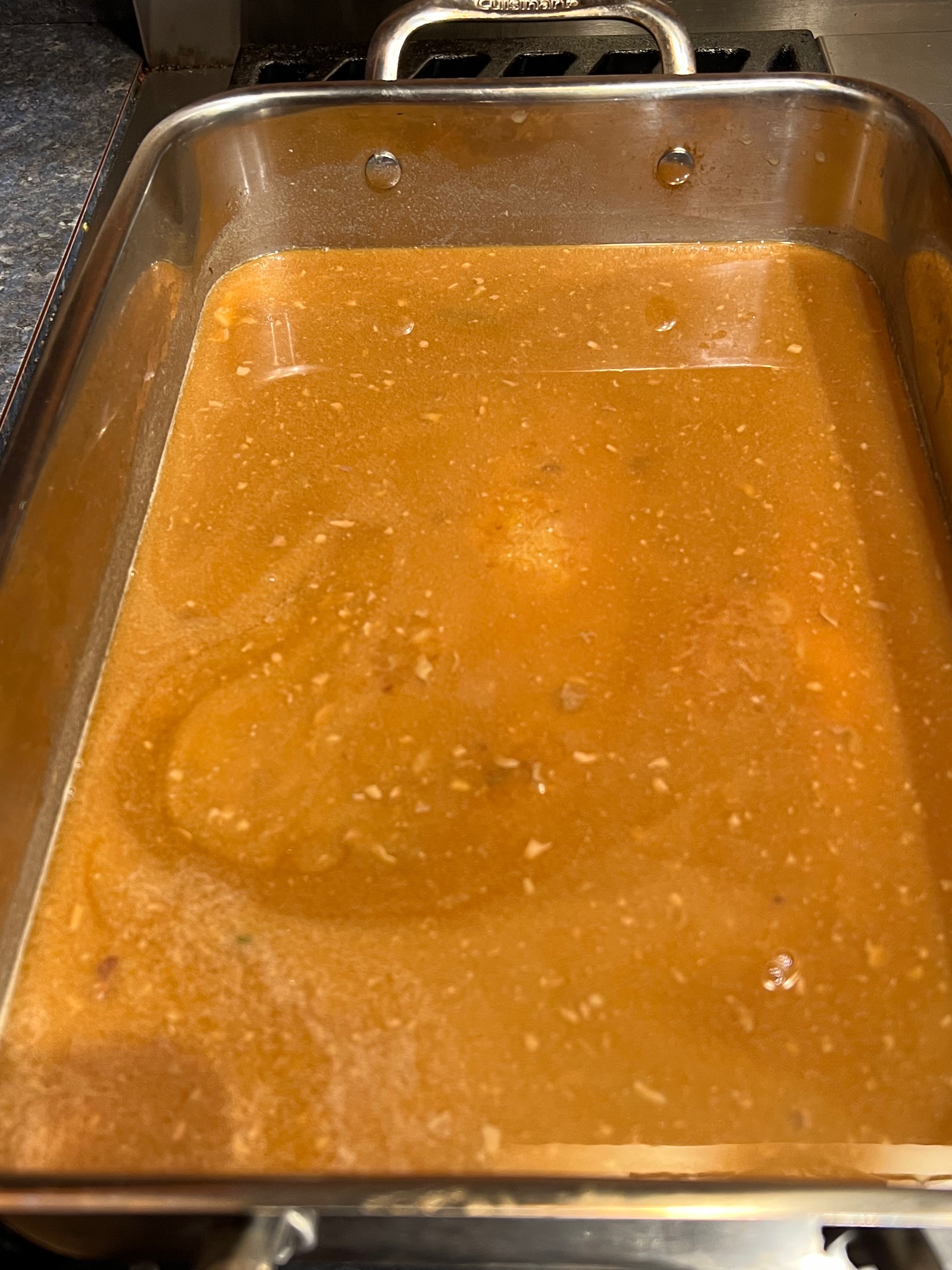 Strain and add water if necessary to make a little over 16 oz. gravy.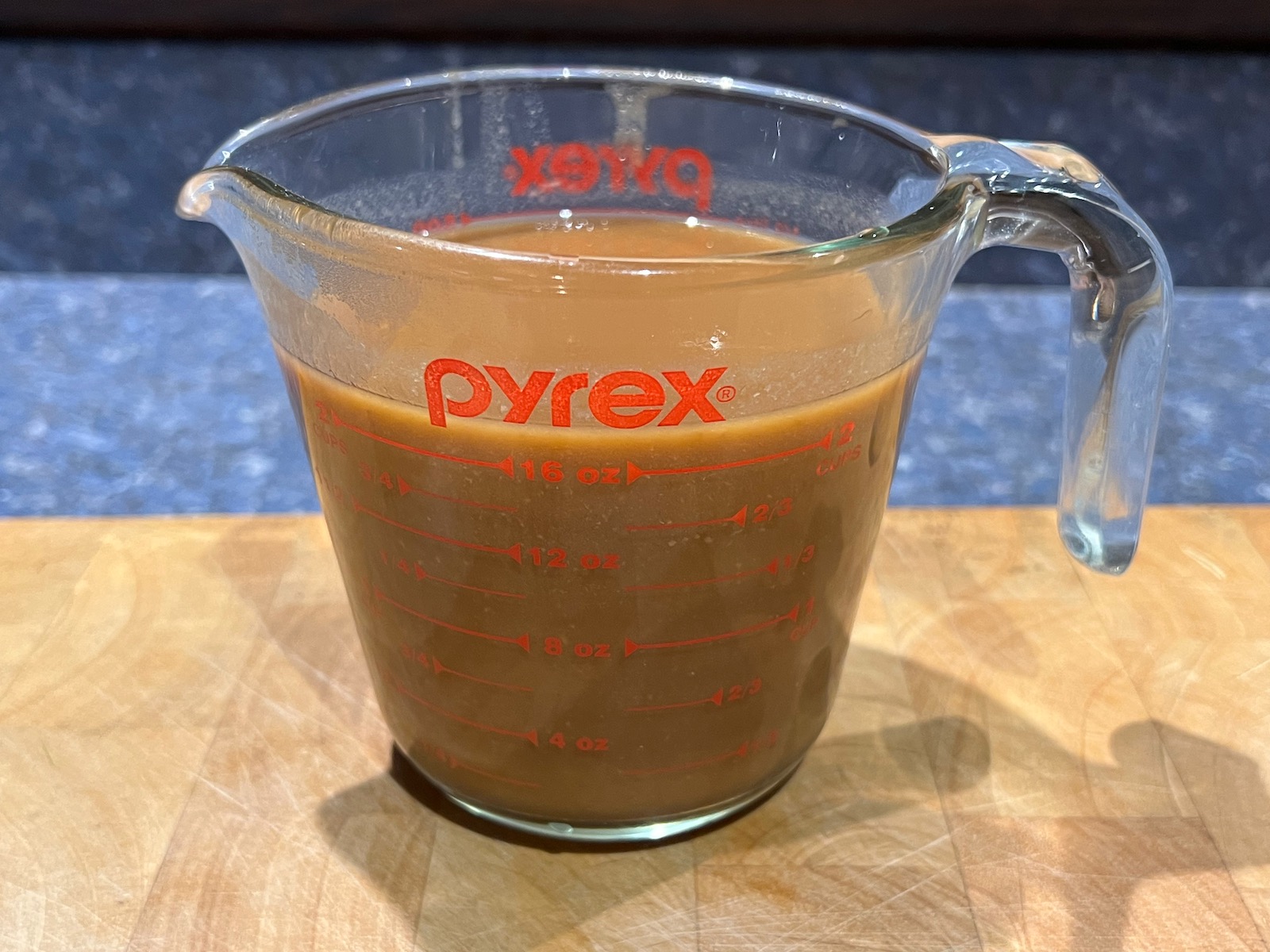 Cut in half. Then cuts the halves into thirds. Then cut the end pieces in half. This makes four servings, around 1" thick, and half of an end piece in 4 servings.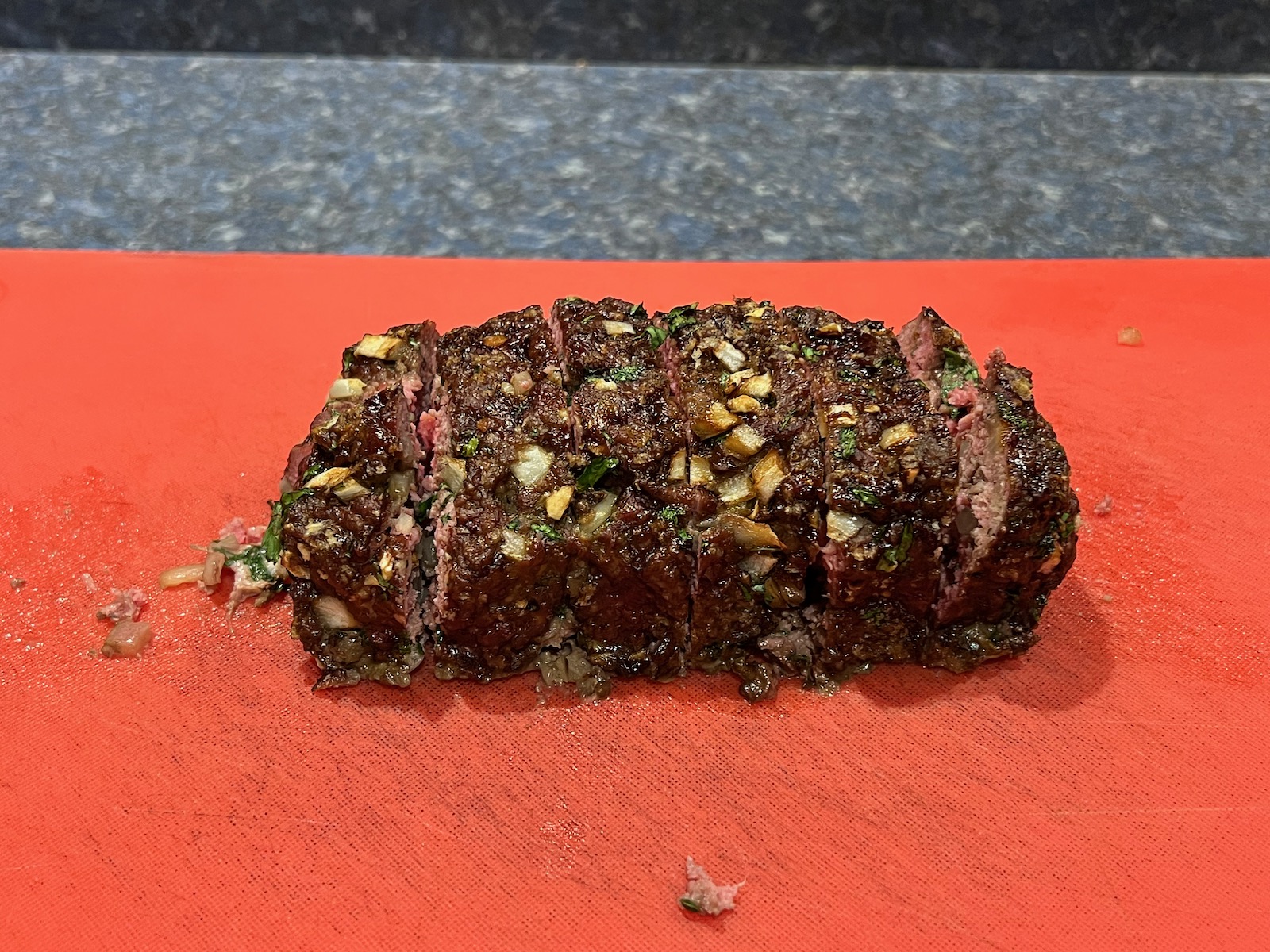 Vacuum sealed and frozen.