Clams three ways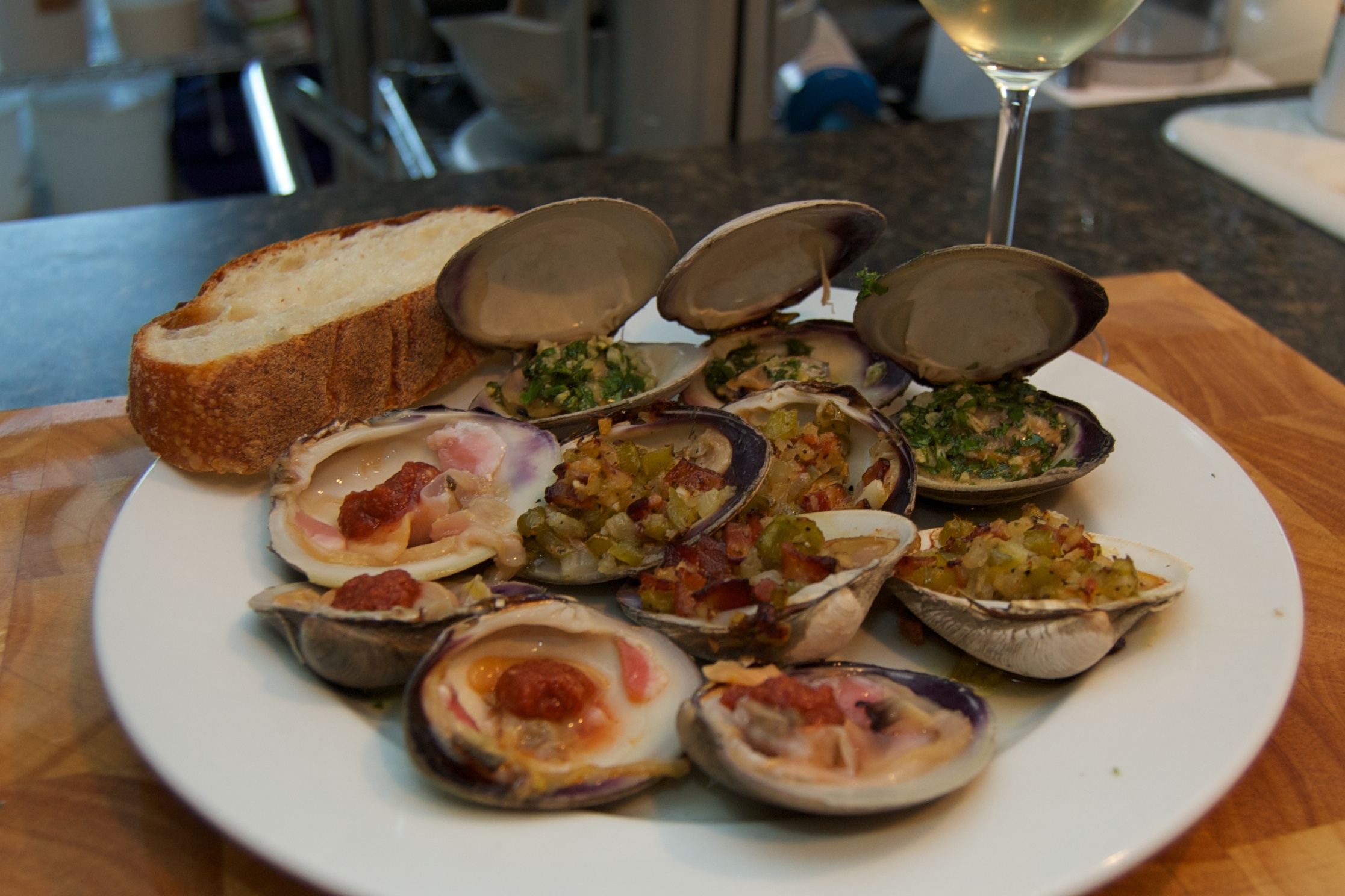 Dinner here is sometimes an unusually haphazard seat of the pants sort of thing. I had contemplated eggplant Parmesan most of the day because I had an eggplant from CSA Week #13 but was non-committal. Then at 5:00 PM oysters Rockefeller popped into my head. I went to the store and they only had 7 fairly sad looking oysters but nice, fresh, clams. So clams it was. Clams casino, which really is the breadcrumb-free cousin of oysters Rockefeller, anyway.
Actually, I decided on clams three ways, because, well, no reason really. It sounded good.
Clams casino (bacon, green peppers, onions, garlic) Raw clams with sriracha and horseradish sauce Beer steamed clams with garlic butter and parsley
I got a dozen clams, which is really a dinner serving for one. Put them in a container of cold water, a few ice cubes, salt, and a little corn meal. Put in the refrigerator and leave for 20 minutes.
The sriracha horseradish sauce is self-explanatory, and is mainly because I didn't have any of the traditional chili sauce that's based on ketchup that's often used with raw clams. Sriracha is just its spicier cousin, anyway.
Also prepare a saucepan with the garlic butter sauce. I was only making 4 clams I used 1 oz. butter (1/4 stick) and a clove of garlic. Once fully softened in a small saucepan over low heat I removed it from the heat, added a half handful of finely chopped flat leaf parsley, and added salt, pepper, and a dash of cayenne pepper.
The mini-recipe of clams casino is roughly based on this recipe though scaled much smaller.
1 slice of bacon, finely chopped 1/8 c. onion, finely chopped 1 clove garlic, minced 1/8 c. green pepper, finely diced 1/8 tsp. dried oregano 1 tsp. red wine vinegar 1 tbsp. freshly grated Parmesan 4 medium clams (2 1/2"), shucked with the bottom shell reserved.
I used frozen, pre-cooked bacon because cooking one slice of bacon is just silly.
Heat a small sauté pan over medium-low heat. Add a little olive oil and gently cook the onion, garlic, and green pepper until softened. Add the bacon and cook for a few minutes. Add the oregano and vinegar and cook for a minute. Remove from the heat and add the Parmesan. Salt and pepper to taste.
While that's cooking shuck some of the clams. In my little recipe for 1, that was 8 clams, 4 for the raw and 4 for the clams casino. I served both on the half shell, so clean and discard the top shell for these. The beer steamed clams are cooked whole, so don't shuck those.
Spoon some of the cooked onion, garlic, pepper mixture into four of the clams on the half shell. Place on a sheet pan and cook for 12 minutes in a 400°F oven.
While the clams casino are baking, heat several ounces of beer in a saucepan with a steamer basket over high heat. When boiling, add 4 whole clams and cook for 4 minutes.
I served it with crusty bread (Red Hen Bakery ciabatta) and a glass of Polka Dot Riesling.