Tuna salad salad #2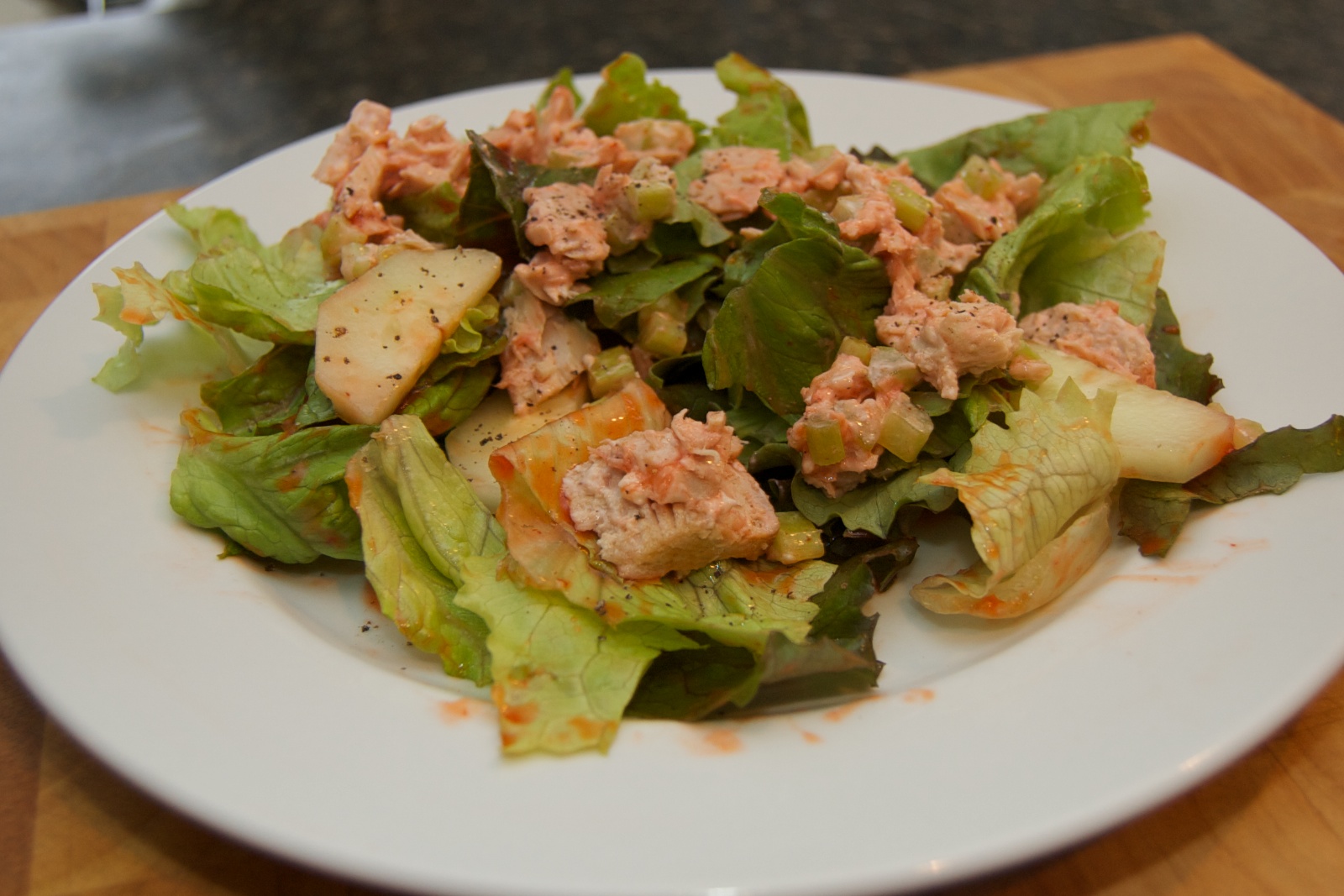 I've blogged about my tuna salad , which is really Mom's tuna salad, made with Kraft Catalina dressing and mayo, which gives it a vaguely Thousand Island dressing quality to it.
As it turns out, this is also not a bad thing for dieting, because mayo (at least full-fat mayo) has twice the calories as the salad dressing, so you can cut back on some of the mayo and still get something with nice texture.
Albacore tuna: 300 calories Mayo 2 tbsp. 180 calories Catalina dressing: 2 tbsp. 90 calories Celery, 1 stalk: 10 calories Total (2 servings): 580 calories One Serving: 290 calories
I used to always make it as a sandwich with potato chips. Here's where the diet problem begins:
Two slices of Vermont Bread Company whole wheat bread: 140 calories 1 oz. Kettle brand spicy Thai potato chips: 150 calories Total w/tuna salad: 580 calories
That's kind of a lot, especially compared to spinach, sardines, and rice (221 calories).
I do love a good tuna sandwich, but it's also good on a bed of lettuce with a little more Catalina dressing, and, in this case, tomato and croutons.
Lettuce: 20 calories Kraft Catalina salad dressing, 2 tbsp. 90 calories 4 Olivia's organic croutons: 30 calories Total w/tuna salad: 430 calories
What was kind of interesting is that if you leave out the potato chips, the two slices of bread are equal in calories to the lettuce, additional dressing, and croutons. And two slices of whole wheat bread is arguably a lot more filling than a pile of lettuce. I might start doing that occasionally.
And, while I usually eat natural salad dressings, I haven't found a substitute for Catalina, and actually it's pretty low in calories (90 for 2 tbsp.). Annie's organic Asian sesame is 120 calories, for example.
I do miss the crunch of the potato chips, so I toss is some extra celery. And I do occasionally eat potato chips as a snack.
If you really wanted to cut down on calories, Hellmann's light mayo is 90 calories for 2 tbsp. and Kraft fat-free Catalina is 50 calories for 2 tbsp. but I prefer to stick with the normal fat versions and just eat less.
Also, I have to throw in a plug for the best tuna: Wild Planet albacore tuna in water. It's sustainably caught, low in mercury, packed in BPA-free tins, and very delicious.