Whole wheat cinnamon raisin walnut bread #2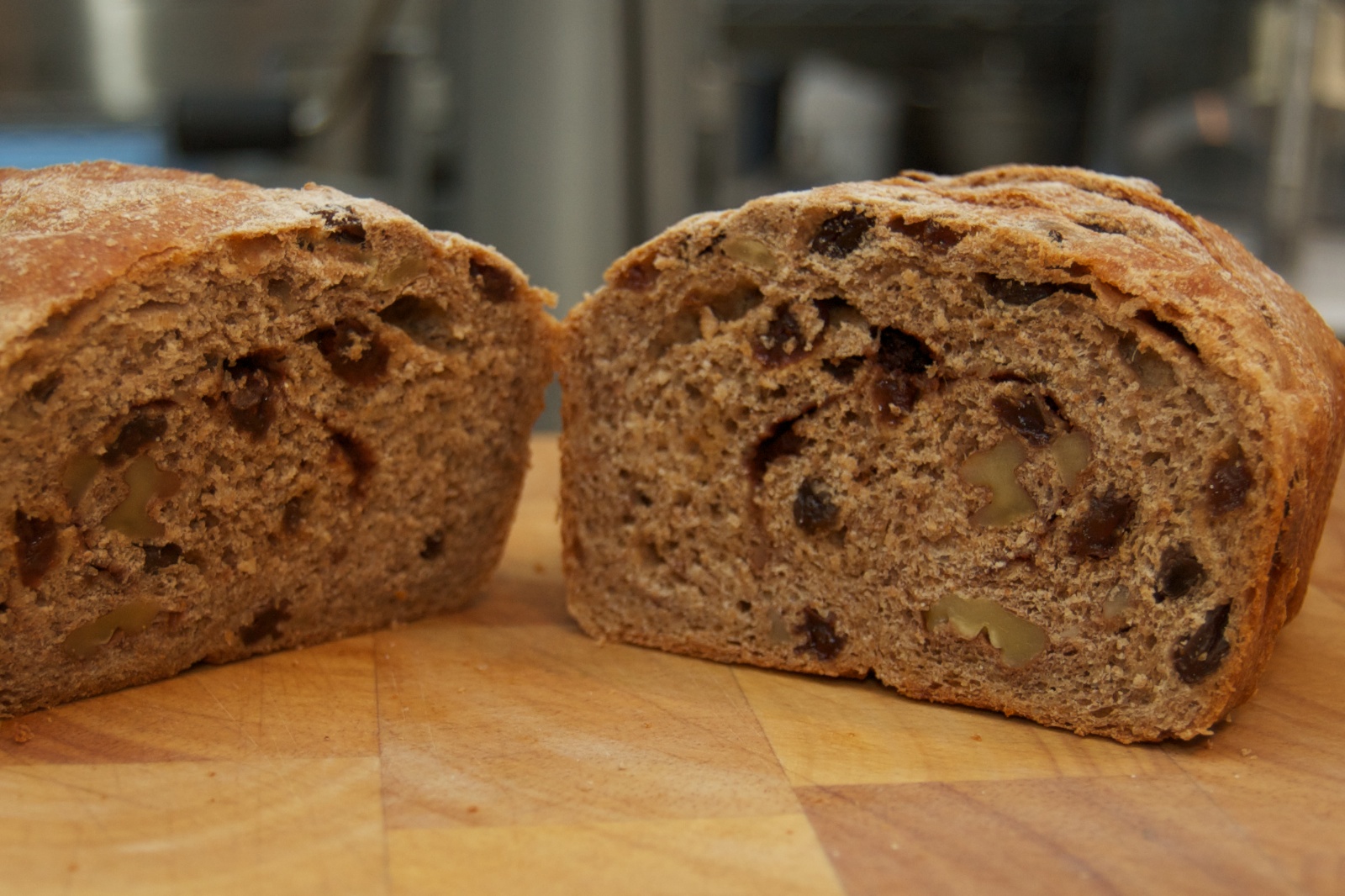 I updated the version I made earlier time and now it's even better! Though now you have to start the day before you want to make bread, which is pretty much the case with all of the bread that I make, so no big deal there.
4 oz. whole wheat flour 0.02 oz. instant yeast (1/8 tsp.) 3.5 oz. water at 70°F
Combine the whole wheat flour, 0.02 oz. instant yeast and the water. Let sit at room temperature for 3 hours, then refrigerate overnight. This is the poolish and the spending the night in the refrigerator brings out more of the flavor in the whole wheat.
4 oz. King Arthur white whole wheat flour (or substitute bread flour) 0.33 oz. granulated sugar 0.16 oz. salt 0.09 oz. instant yeast 0.08 oz. ground cinnamon 0.83 oz. egg (half a large egg, though I used the whole thing, 1.9 oz.) 1.5 oz. water, milk or buttermilk (I used water, and I think this might be too much liquid) 0.5 oz. refined coconut oil (can substitute shortening)
4.0 oz. raisins 2.0 oz. chopped walnuts
0.5 oz. sugar 0.05 oz. ground cinnamon
The King Arthur white whole wheat flour is a high-gluten spring wheat flour and is 100 % whole grain. You could also just use regular bread flour.
Stir together the dry ingredients (through cinnamon) in the mixer bowl. Add the ingredients through the coconut oil and mix with the paddle attachment until a ball of dough forms. Switch to the dough hook and knead for 6 minutes. Adjust the texture of the dough by adding flour or water as necessary.
Transfer the dough to a floured surface and knead in the raisins and walnuts by hand for a few minutes to evenly distribute them in the dough. Form into a ball and place in an oiled bowl. Let rise for 2 to 3 hours until doubled.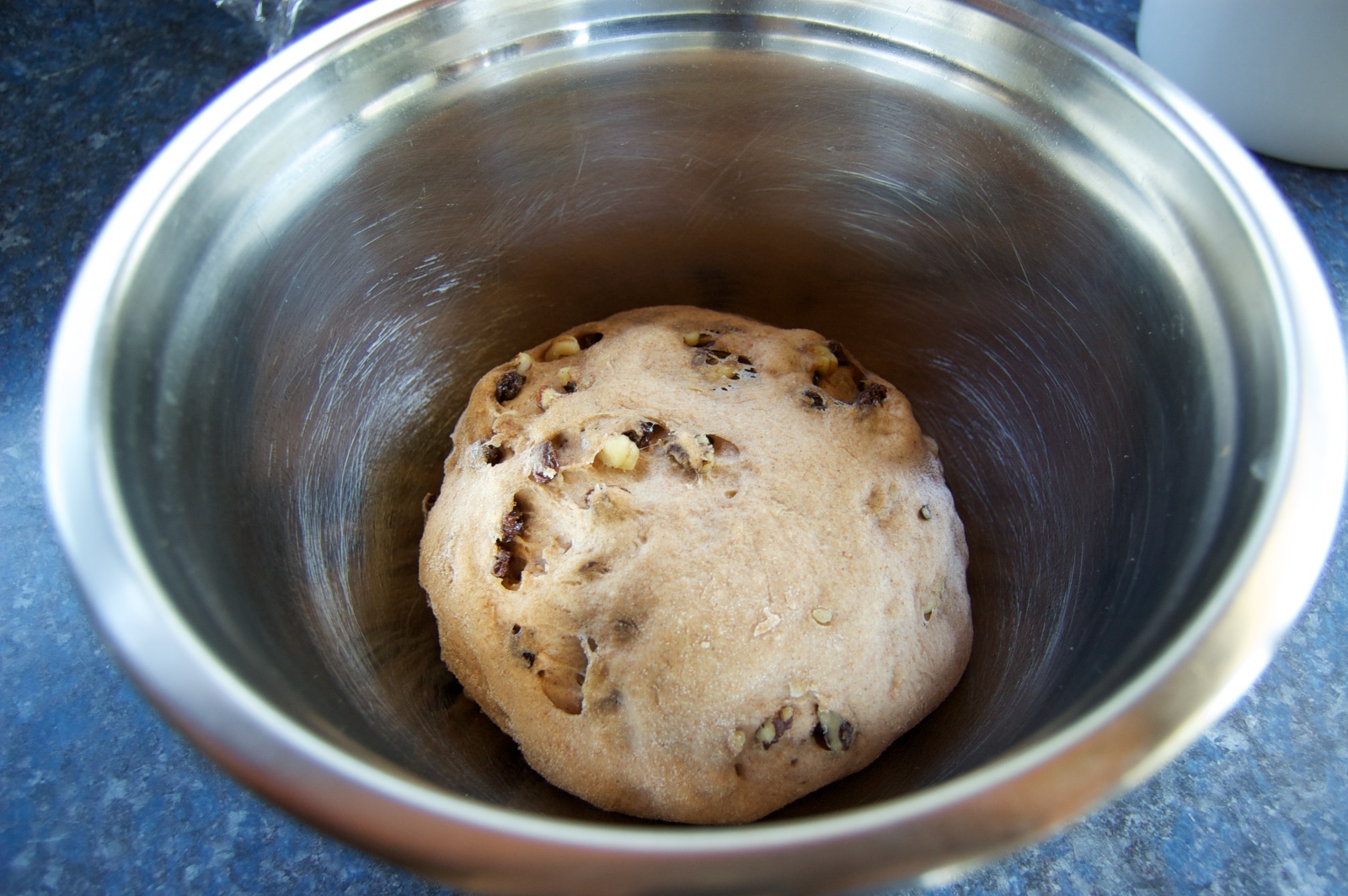 Transfer back to a floured surface and form a 5" x 7" rectangle.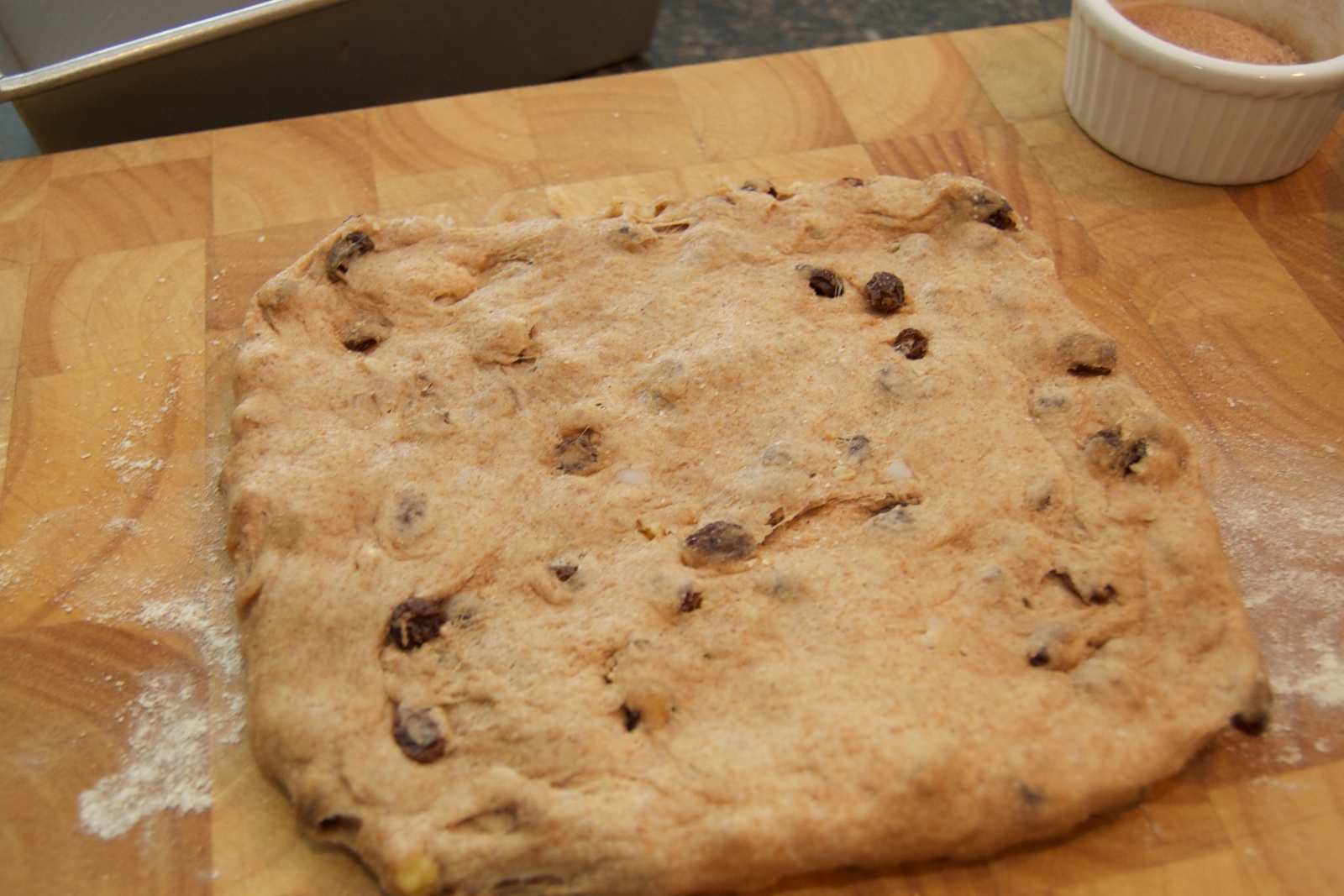 Combine the second group of sugar and cinnamon and coat the rectangle with the cinnamon sugar mixture, except for a small strip along the edge where the roll will be sealed up
Roll starting from the short side. Roll somewhat loosely. It should fill the length of a 4 1/2" x 8 1/2" loaf pan when done, as it will spread out as you roll it. Pick off any raisins or nuts on the surface of the loaf.
Transfer to a lightly oiled loaf pan, seam side down.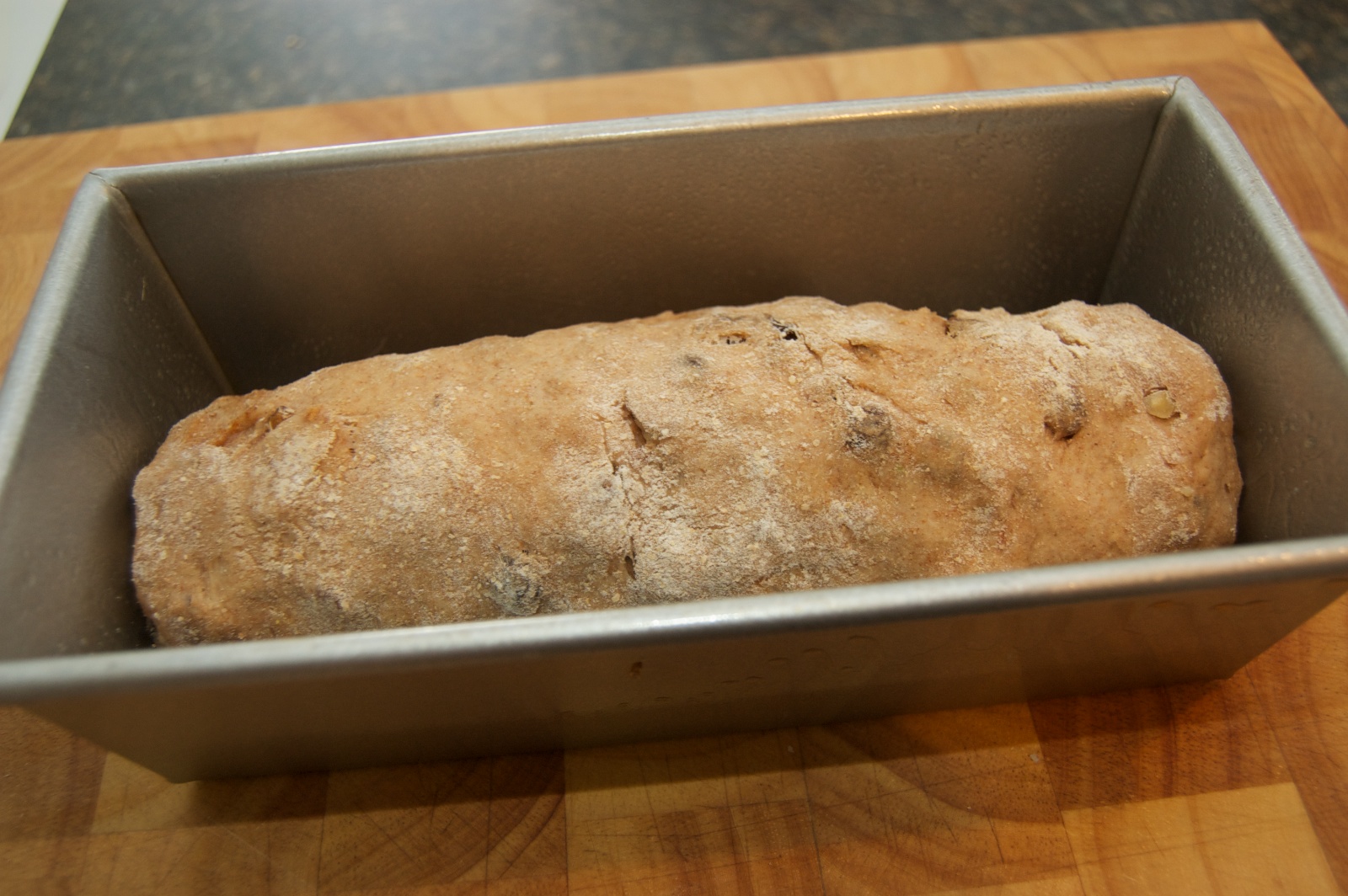 Proof for 90 minutes.
Bake for 20 minutes at 350°F, rotate the loaf pan 180° and bake for another 20 minutes until the center temperature is 190°F.
Remove from the oven, immediately remove the loaf from the pan and cook on a wire rack for 1 to 2 hours.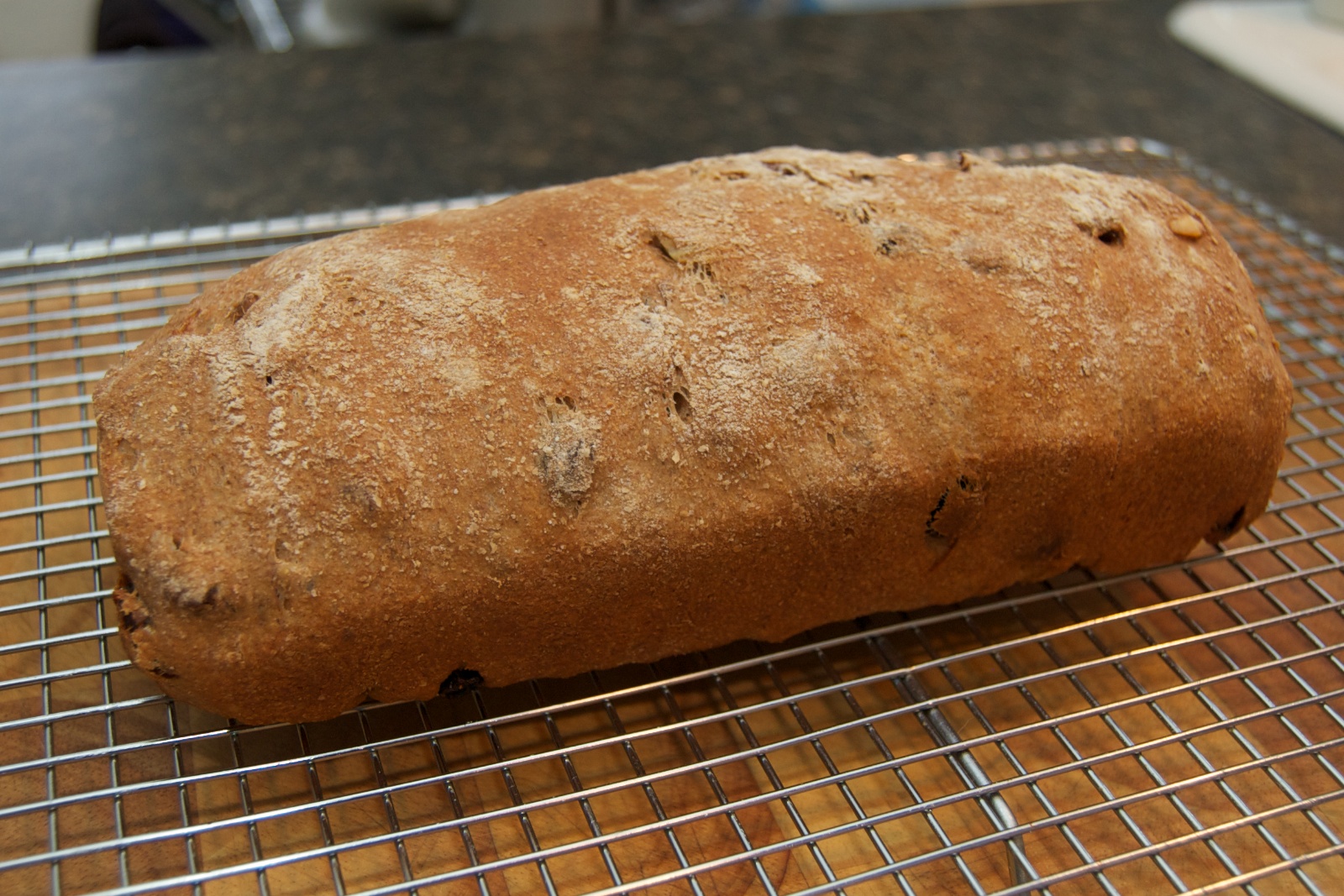 This version was quite delicious!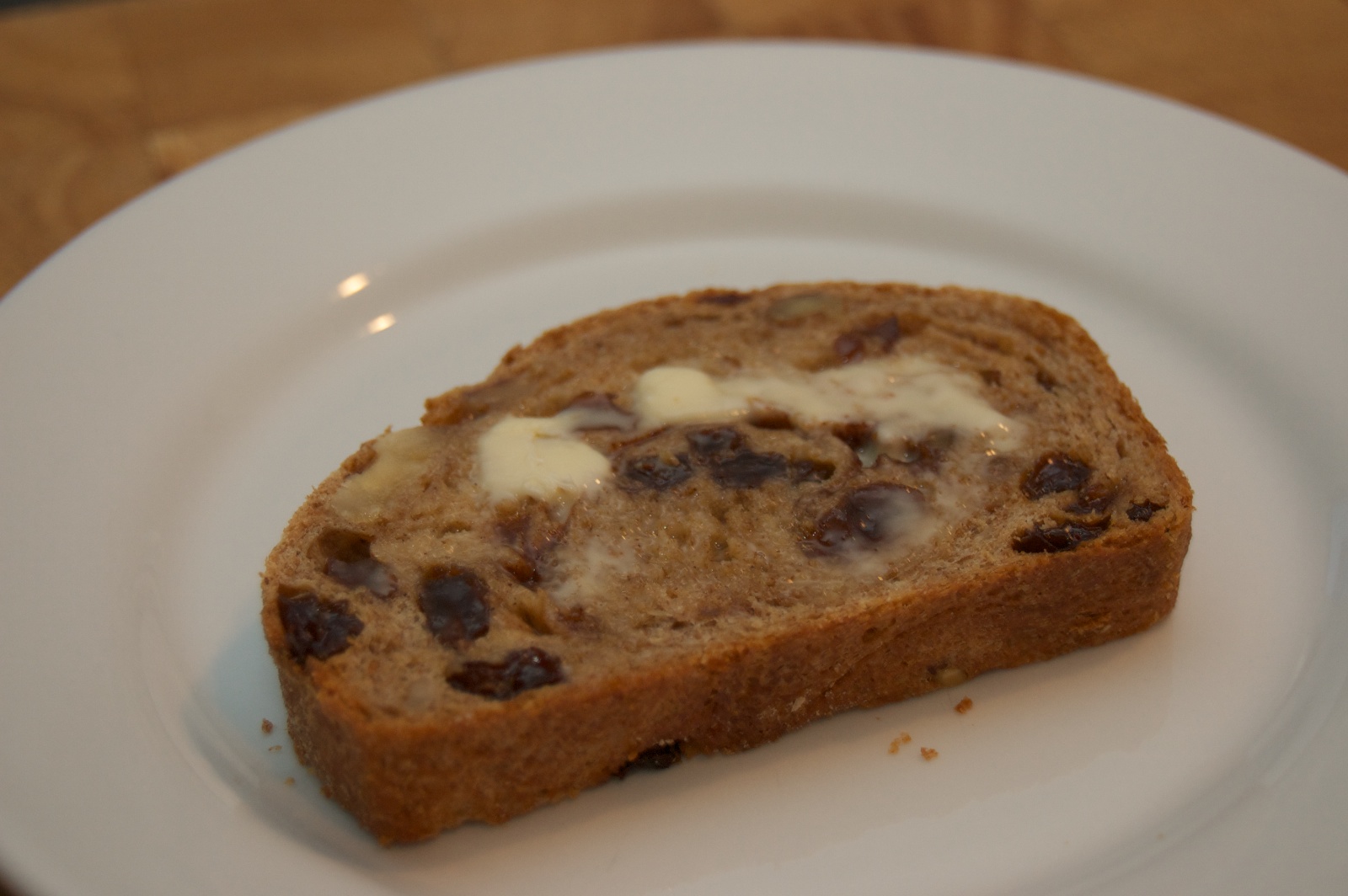 The recipe is fairly significantly modified from The Bread Baker's Apprentice by Peter Reinhart, pp. 147 - 149. It has a much better explanation and tips. And the recipe in the book is double this recipe, which explains the half an egg thing. In case you're keeping track: I switched to using whole wheat poolish, from shortening to coconut oil, and added the layer of cinnamon sugar in the rolling process. Here's another loaf: