Whole wheat cinnamon raisin walnut bread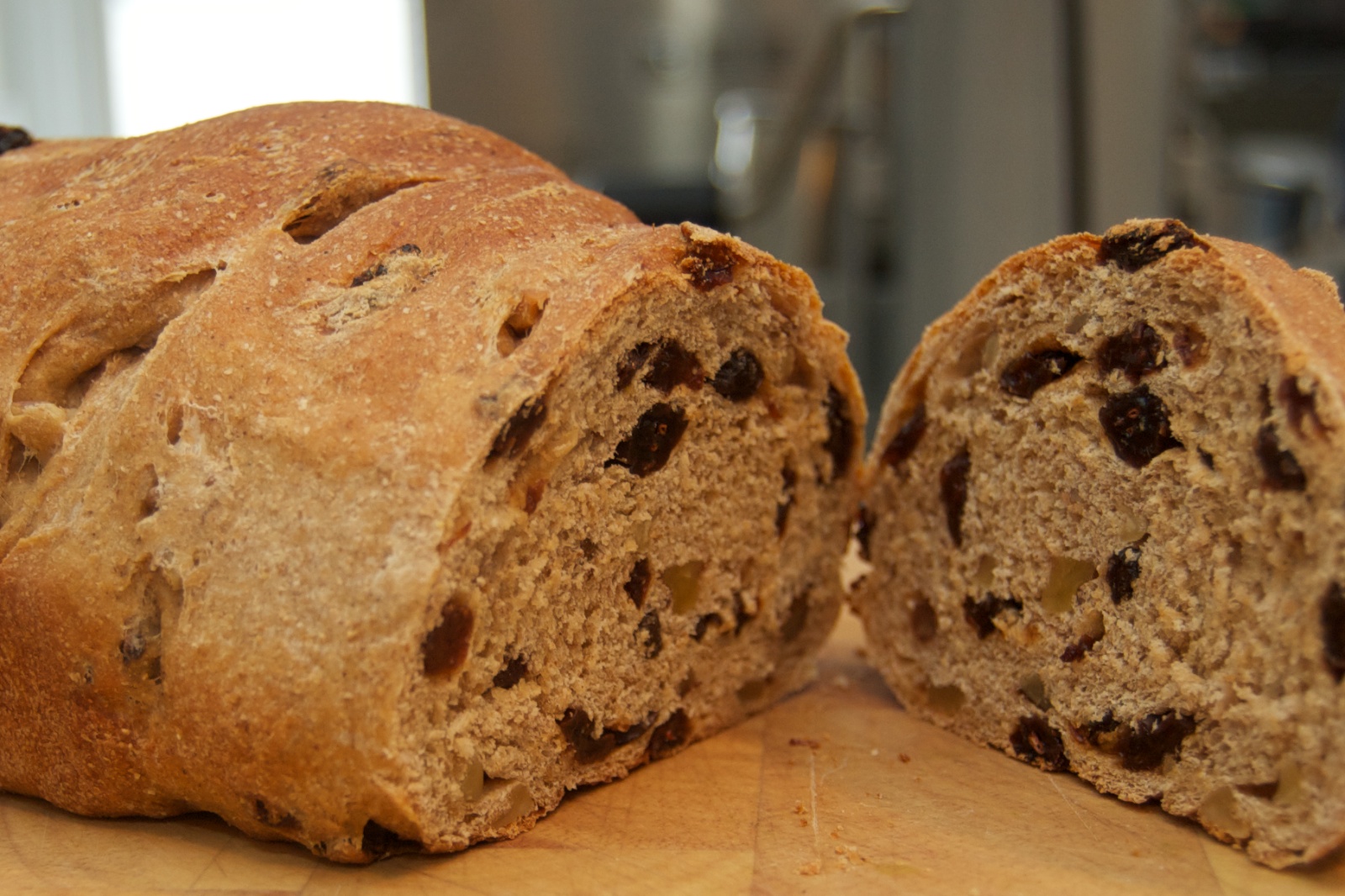 Update: I made a new version of this recipe that I like much better. I'd suggest the new recipe.
This is a great recipe for whole wheat raisin bread. There's very little added sugar unlike many mass-produced raisin breads.
8 oz. King Arthur white whole wheat flour 0.33 oz. granulated sugar (you may want to add more) 0.16 oz. salt 0.11 oz. instant yeast 0.08 oz. ground cinnamon 0.83 oz. egg (half a large egg, though I used the whole thing) 0.5 oz. shortening 2 oz. whole milk (or buttermilk) at 70°F 3 oz. water at 70°F 4.5 oz. raisins 2 oz. chopped walnuts
The King Arthur white whole wheat flour is a high-gluten spring wheat flour and is 100 % whole grain. It works well in this recipe. The original recipe uses unbleached bread flour, which would also work well, but wouldn't be whole grain.
Stir together the dry ingredients (through cinnamon) in the mixer bowl. Add the ingredients through the water and mix with the paddle attachment until a ball of dough forms. Switch to the dough hook and knead for 6 minutes.
Transfer the dough to a floured surface and knead in the raisins and walnuts by hand for a few minutes to evenly distribute them in the dough. Let rise for 2 hours until doubled.
Transfer back to a floured surface and form a 5" x 7" rectangle. Roll starting from the short side. It should fill the length of a 4 1/2" x 8 1/2" loaf pan when done, as it will spread out as you roll it. Transfer to a lightly oiled loaf pan and proof for 90 minutes.
Another option would be to sprinkle some cinnamon sugar on the rectangle before rolling. That would make that swirl effect inside the loaf.
Bake for 20 minutes at 350°F, rotate the loaf pan 180° and bake for another 20 to 30 minutes until the center temperature is 190°F.
Remove from the oven, immediately remove the loaf from the pan and cook on a wire rack for 1 to 2 hours.
This recipe could be made without the nuts with no other modifications. I considered substituting coconut oil for the shortening, which would remove the trans-fats but I was already changing the flour and I didn't want to change too many things at once.
The recipe is basically from The Bread Baker's Apprentice by Peter Reinhart, pp. 147 - 149. It has a much better explanation and tips. And the recipe in the book is double this recipe, which explains the half an egg thing.