Medianoche rolls
The Cuban medianoche ("midnight") sandwich , is in my opinion, the most amazingly delicious sandwich ever created. One essential part is the slightly sweet, soft, white medianoche roll. It's worth baking a batch.
When doing some other research on this sandwich I saw a mention that the medianoche roll is like challah. I never really thought about it that way, but it is. That would be a good substitute if you didn't want to bake your own bread.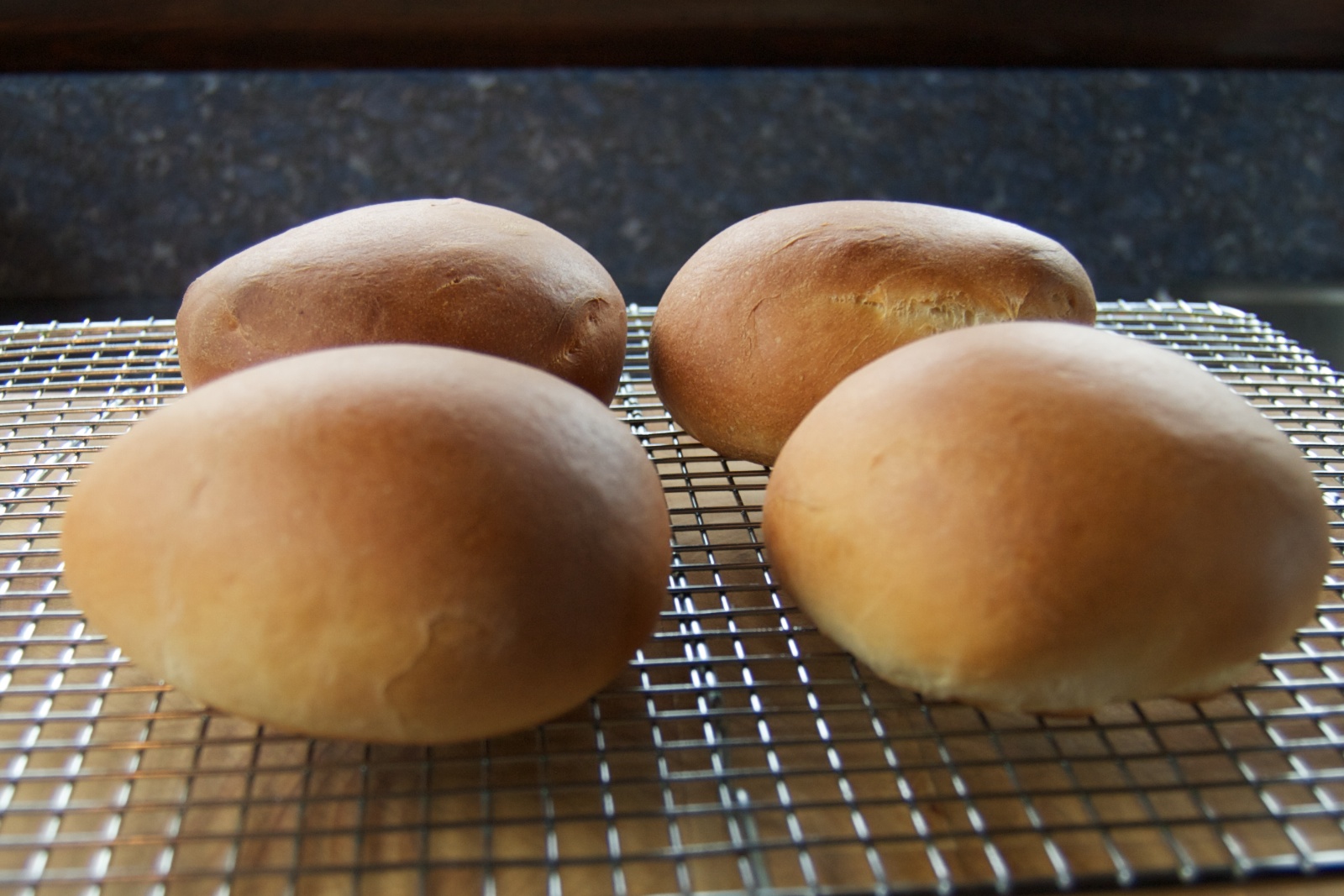 This is an unusually small batch of 4 rolls, but it can easily be scaled to make more.
1 egg 1.5 oz. sugar 3 oz. warm water (105°F to 115°F) 0.100 oz. instant yeast 6 oz. bread flour [actually, quite a bit more was necessary] 1/2 tsp. salt 1/8 c. coconut oil (or lard, or shortening, softened)
Beat the eggs in the mixer bowl. Add the sugar.
Add 3 oz. of warm water.
Add the yeast, bread flour, salt. I think the amount of flour required is probably closer to 8.0 oz. because the dough was way too soft and I kept adding flour. But the total amount of dough at the end was about right.
I used coconut oil, but you could also use softened lard or shortening.
Combine the ingredients then kneed with the dough hook in the mixer for 6 minutes. Add flour as necessary to make dough that's not too sticky and does not stick to the bottom of the mixer bowl. This required quite a bit of flour, so I clearly did not start out with enough flour.
Lightly grease a bowl with spray oil. Form the dough into a ball. Spritz with oil. Cover and let sit for 2 to 3 hours until it doubles in size.
Divide the dough into four 4 oz. servings and form into a ball then a slightly oblong shape. Place on a silpat on a sheet pan. Cover loosely with plastic wrap and let rise for 90 minutes.
Preheat oven to 350ºF.
Optionally make an egg glaze with one egg and a little water and brush the tops of the rolls. I did not for this batch.
Bake for about 20 minutes, maybe a little less.
Remove the rolls from the sheet pan and let cool on a wire rack.
This recipe is roughly based on the Three Guys from Miami Cuban Food With Attitude web site.