Bacon cheeseburger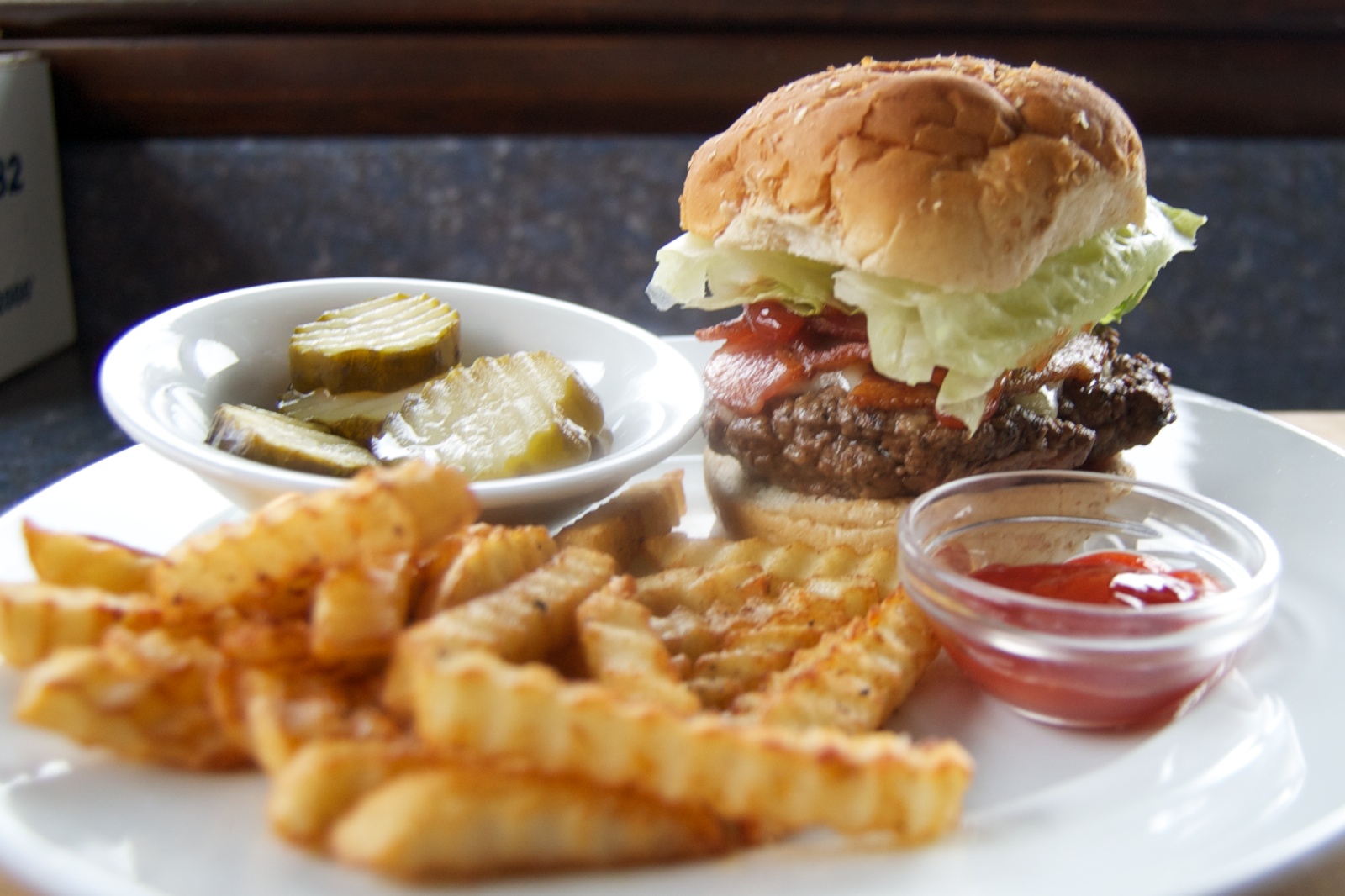 Due to the size of this meal I usually end up having it for dinner instead of lunch. It's very, very good. So good I can't really have a burger out anymore. I prepare the burgers ahead of time. I start with a 1.5 lbs. chuck steak and run it through the meat grinder with the fine plate. Season with salt, freshly ground black pepper, cayenne pepper, granulated garlic, onion powder, and Worcestershire sauce. Scale out ideally to 5 to 6 oz. depending on how much you ground, then flatted into burger shape in a 3 1/2" ring cutter.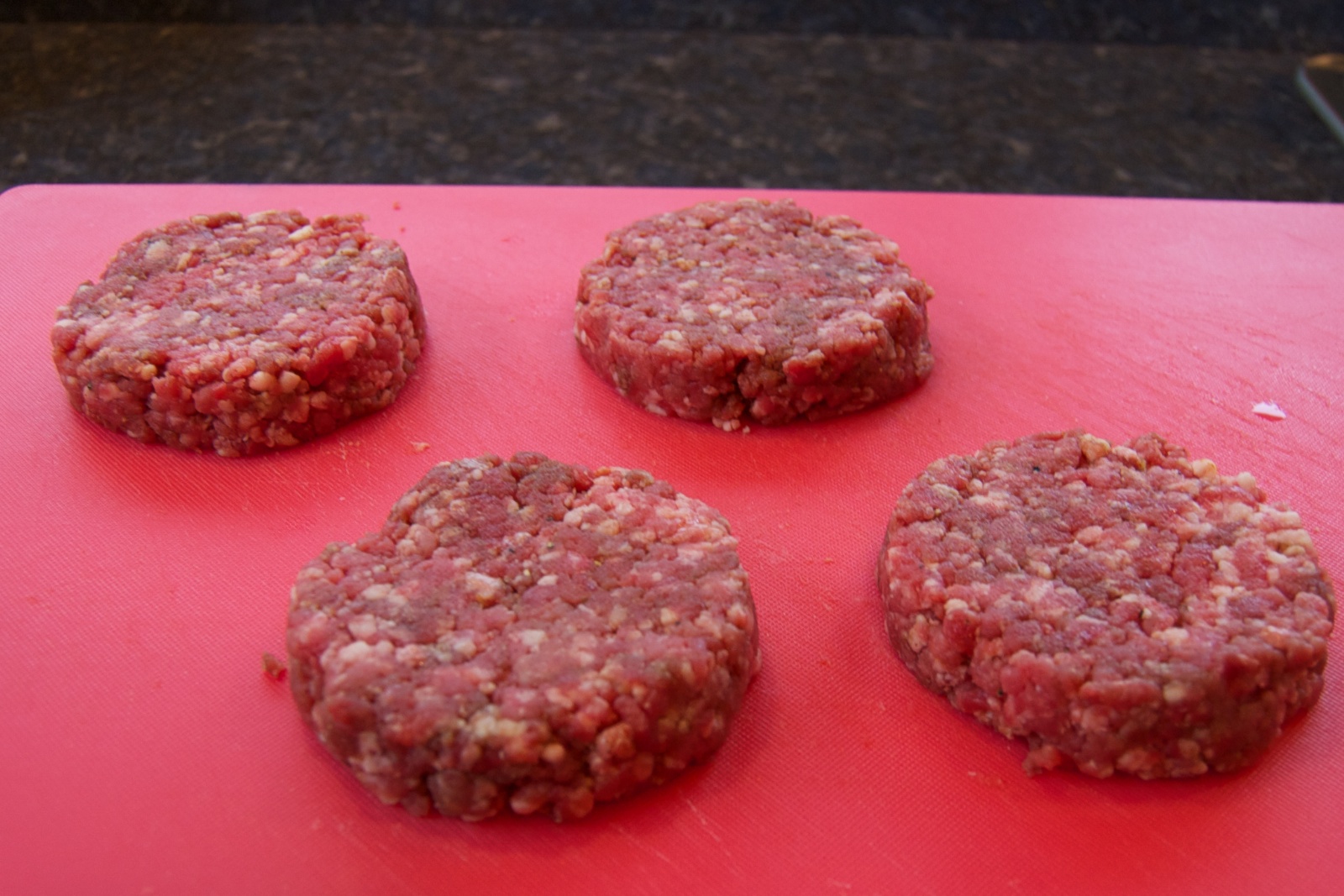 I like the larger burgers because I can grill them for 2 minutes per side on my high temperature infrared propane grill. With smaller 4.0 oz burgers I have to limit the grilling to about 1:30 per side and sometimes they're not sufficiently grilled to release from the grill and not break.
Let the burgers cool, vacuum seal and freeze.
When I want a burger I take a Barowski's wheat hamburger roll from the freezer, wrap in plastic wrap, and let sit on the counter for a few hours to defrost.
Meanwhile, I heat the sous vide to 132°F. When to temperature, add the hamburger patty and cook for 45 minutes.
When about 12 minutes from done heat the deep fryer to 160°F.
Meanwhile, break two slices of frozen pre-cooked bacon each into thirds and cook in a sauté pan over medium heat until done. Also plate a serving of sweet bread and butter pickles in a small bowl.
And slice two pieces of Cabot extra sharp cheddar cheese.
Plate the bottom bun, the burger and the cheese. Melt the cheese with a propane torch. Add the bacon, ketchup, lettuce and the top bun.
Cook frozen French fries for 2 minutes or until nicely browned. Remove from the oil, salt and season with freshly ground black pepper, granulated garlic and cayenne pepper. Serve immediately with the burger.
This is also great with the world's best potato salad but I don't make it very often because it can't be frozen and is hard to scale to really small quantities. It is very good, however.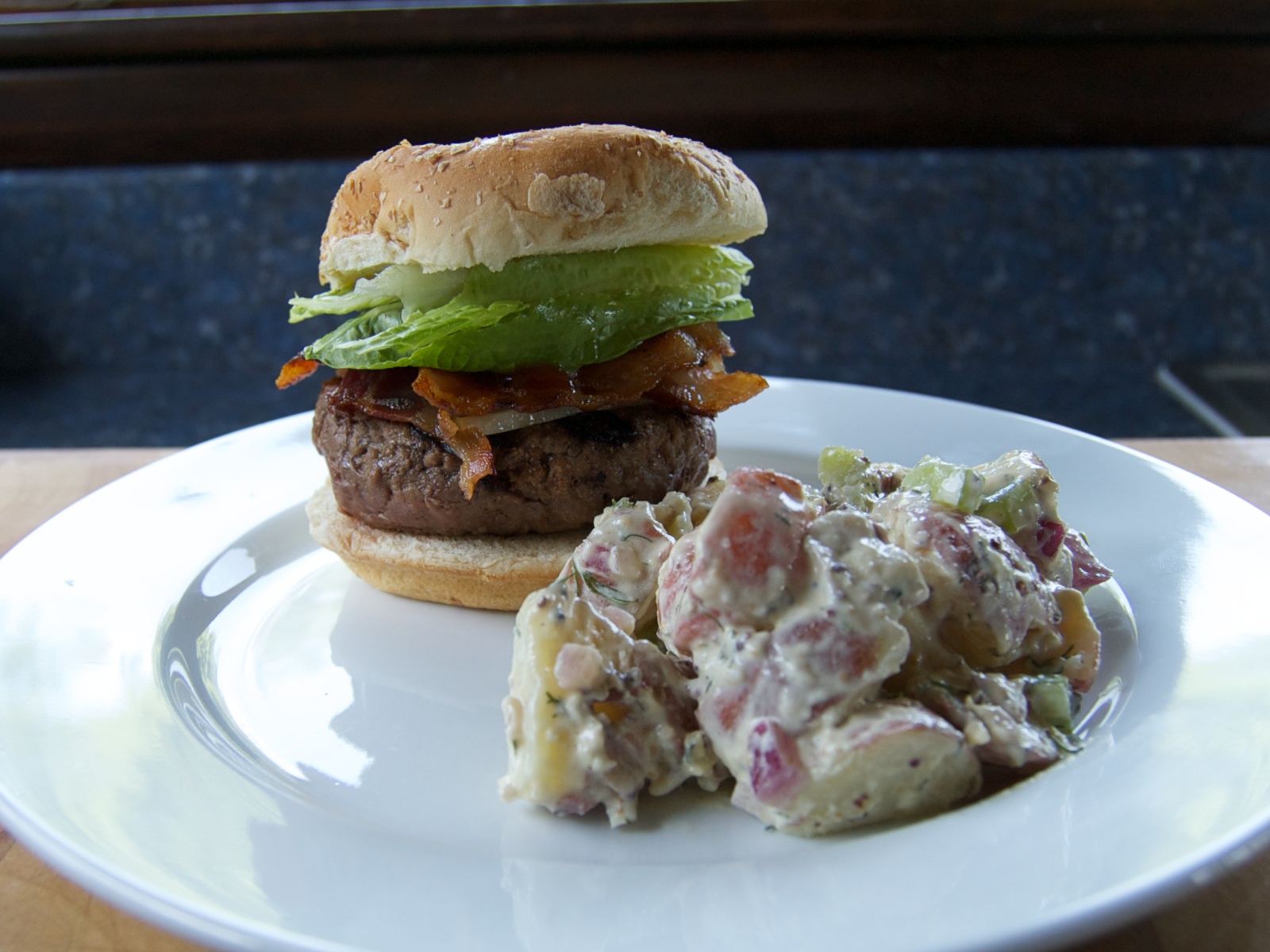 Update 4/9/2012: After removing the burger from the sous vide where it was defrosted and cooked for 45 minutes at 132°F, I found that the burger is made even more excellent by deep frying for 30 seconds at 360°F. This lightly browns the burger all over making it look and taste even better.