Roasted summer squash lasagna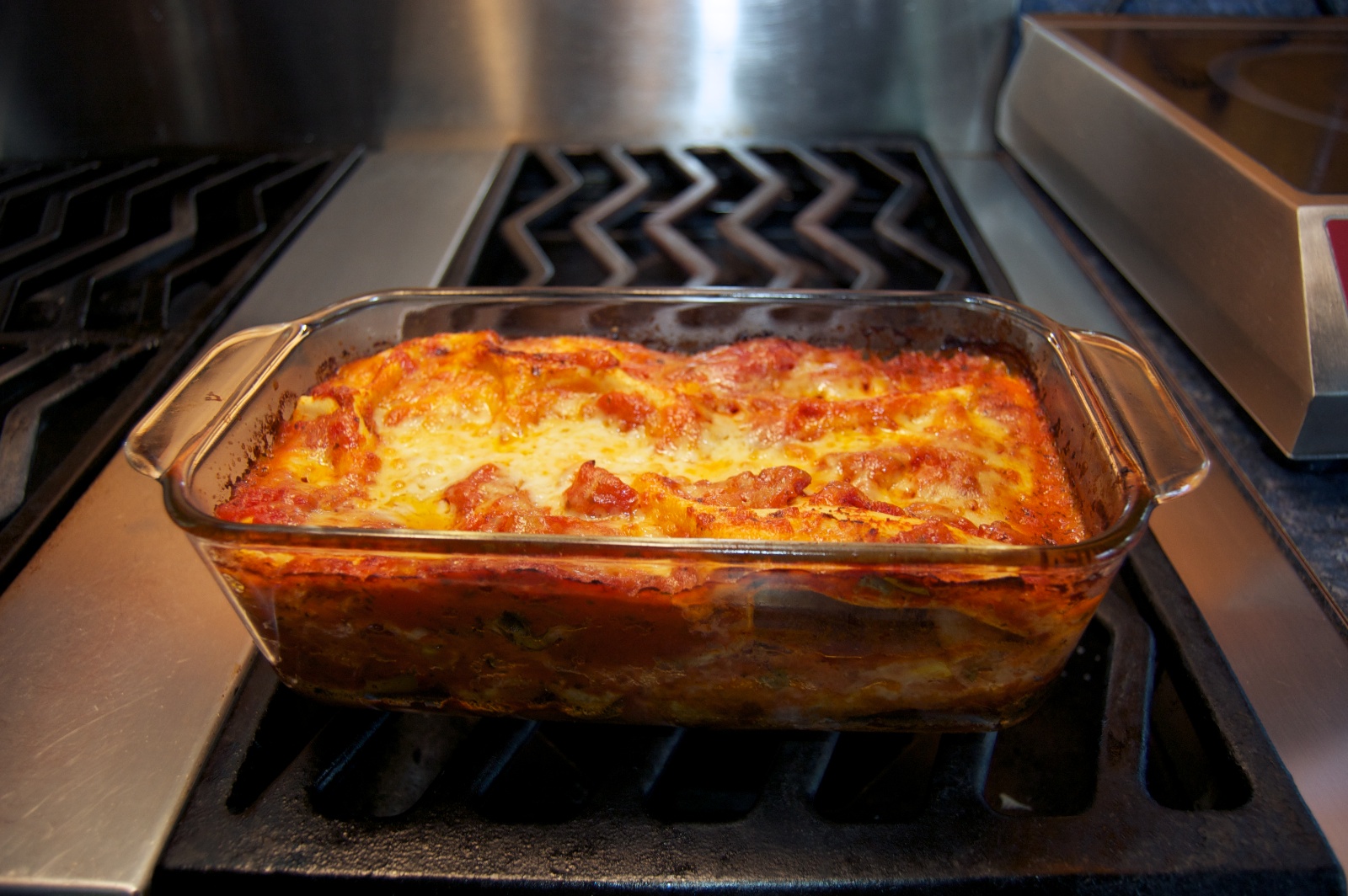 I had some summer squash from CSA Week #6 and decided to make it into a lasagna.
This is a "tester" lasagna made in a 4 1/2 x 8 1/2 glass loaf pan, so you'd need to scale it to make a normal 9x13 pan. Because of the thickness, I'd say it serves 2 or 3 in this little pan.
I also have a new version that has ground beef and zucchini that I like very much.
2 zucchini or summer squash
Cut two medium summer squash or zucchini into 1/4" thick slices, lengthwise. Make sure you have enough slices to fill a 4 1/2" x 8 1/2" glass loaf pan in with two complete layers. And they will shrink considerably when roasted, something I forgot about when I made up this recipe. There's only one pictured here, but I could have used two, easily.
Coat with olive oil on both sides and season with salt, pepper and granulated garlic on one side on a sheet pan. Roast for 15 minutes at 375°F.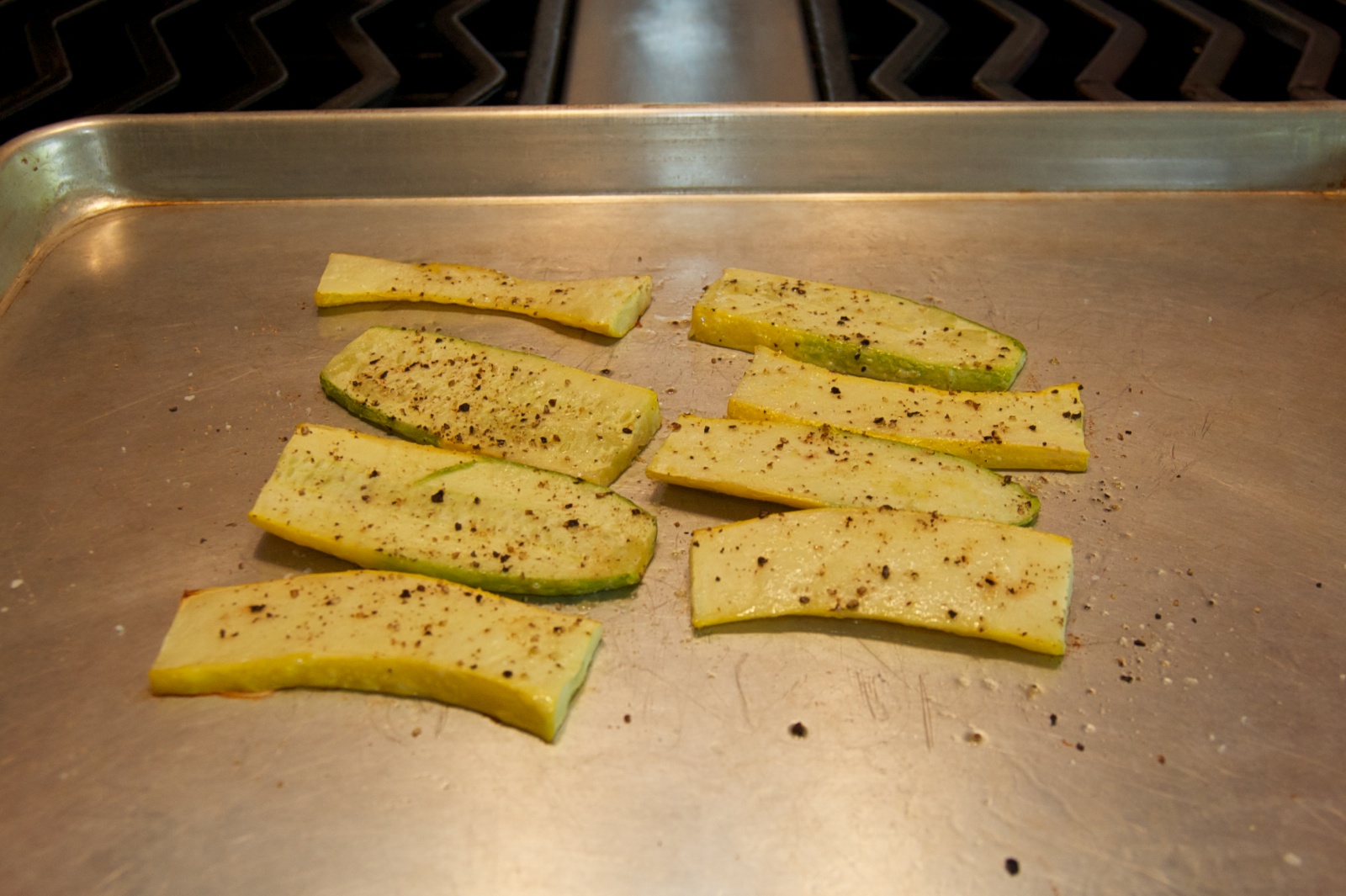 In a bowl prepare the ricotta cheese mixture:
1 egg, beaten 3 oz. (by weight) ricotta cheese a handful of micro-planed Parmesan cheese 1.5 oz. shredded mozzarella Red pepper flakes
Should make 6 to 7 oz.
And the rest of the ingredients for the layers:
3 sheets of no-boil lasagna 20 oz. (by weight) tomato sauce 2.5 oz. shredded mozzarella cheese another handful of micro-planed Parmesan cheese fresh basil
I like the Barilla "flat like homemade" no-boil noodles because they're perfectly sized for a 4 1/2" x 8 1/2" loaf pan.
I often use my own homemade tomato sauce, but it requires a lot of sauce and all of my sauce was packaged in individual serving size packages (6.0 oz.) so I just used jar sauce. Here's the mise en place.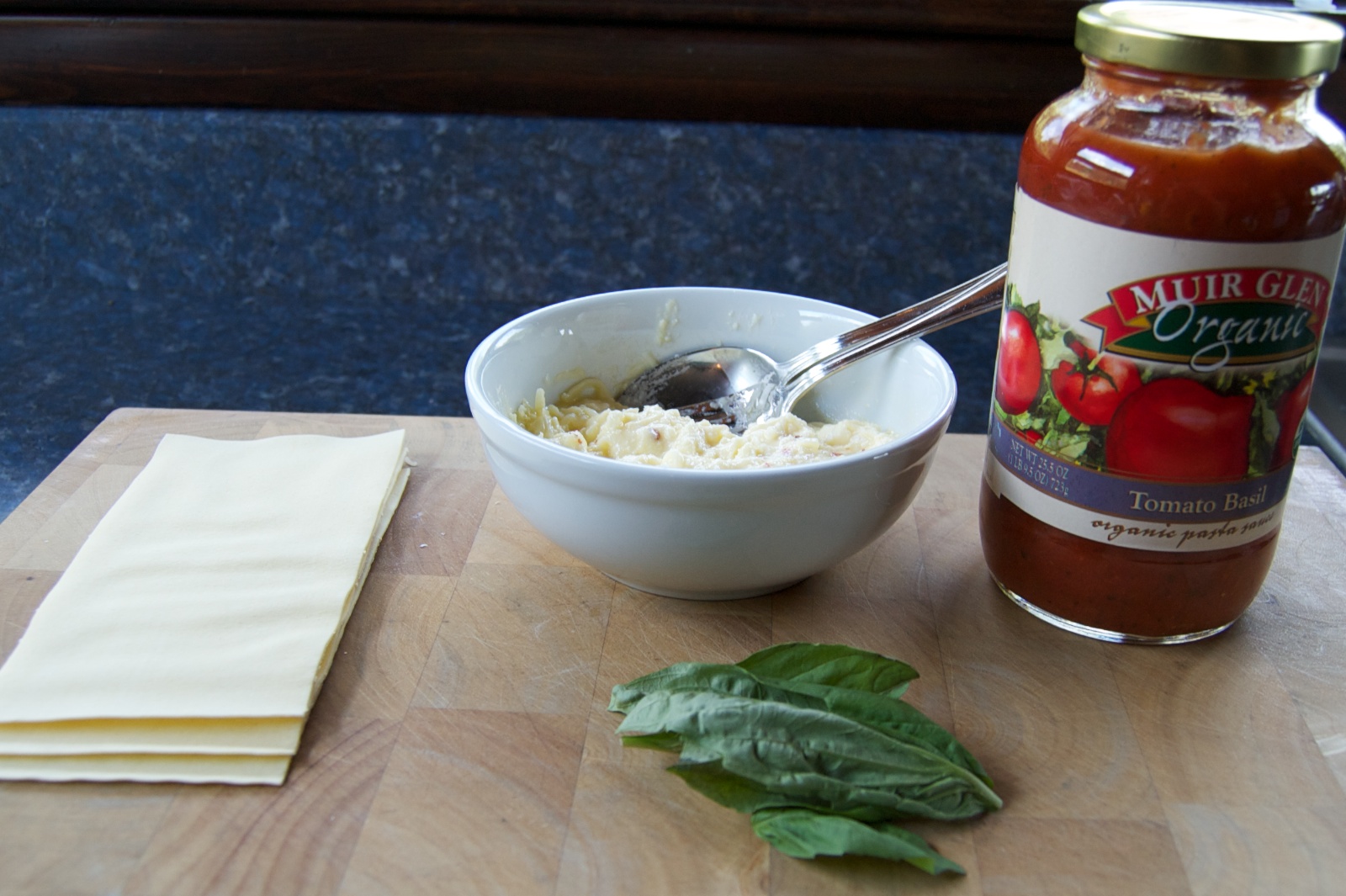 Coat the inside of a 4 1/2" x 8 1/2" glass loaf pan with spray oil. Add the following layers, starting from the bottom:
4.0 oz. sauce (this is the bottom layer) -- pasta 3.5 oz. ricotta mixture one layer of roasted squash 1.0 oz. mozzarella 4.0 oz. sauce -- pasta remainder of the ricotta mixture one layer of roasted squash chopped fresh basil 4.0 oz. sauce -- pasta 4.0 oz. sauce 1.5 oz. mozzarella more micro-planed Parmesan cheese (this is the top layer)
The crazy weights are because I build lasagna on a scale. After you add each layer, zero out the scale with the tare button and then you can weigh the next layer.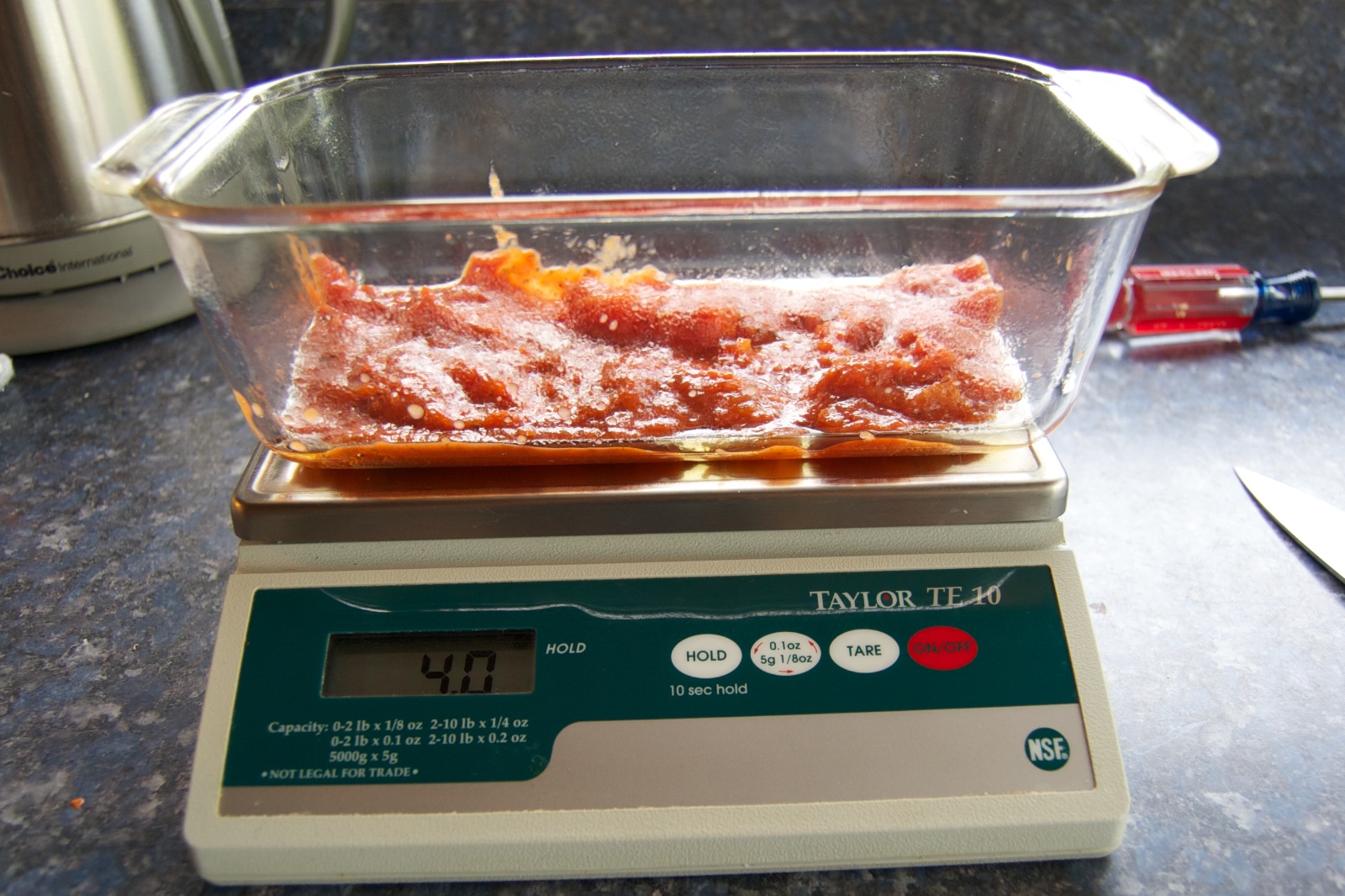 Here's the final uncooked lasagna.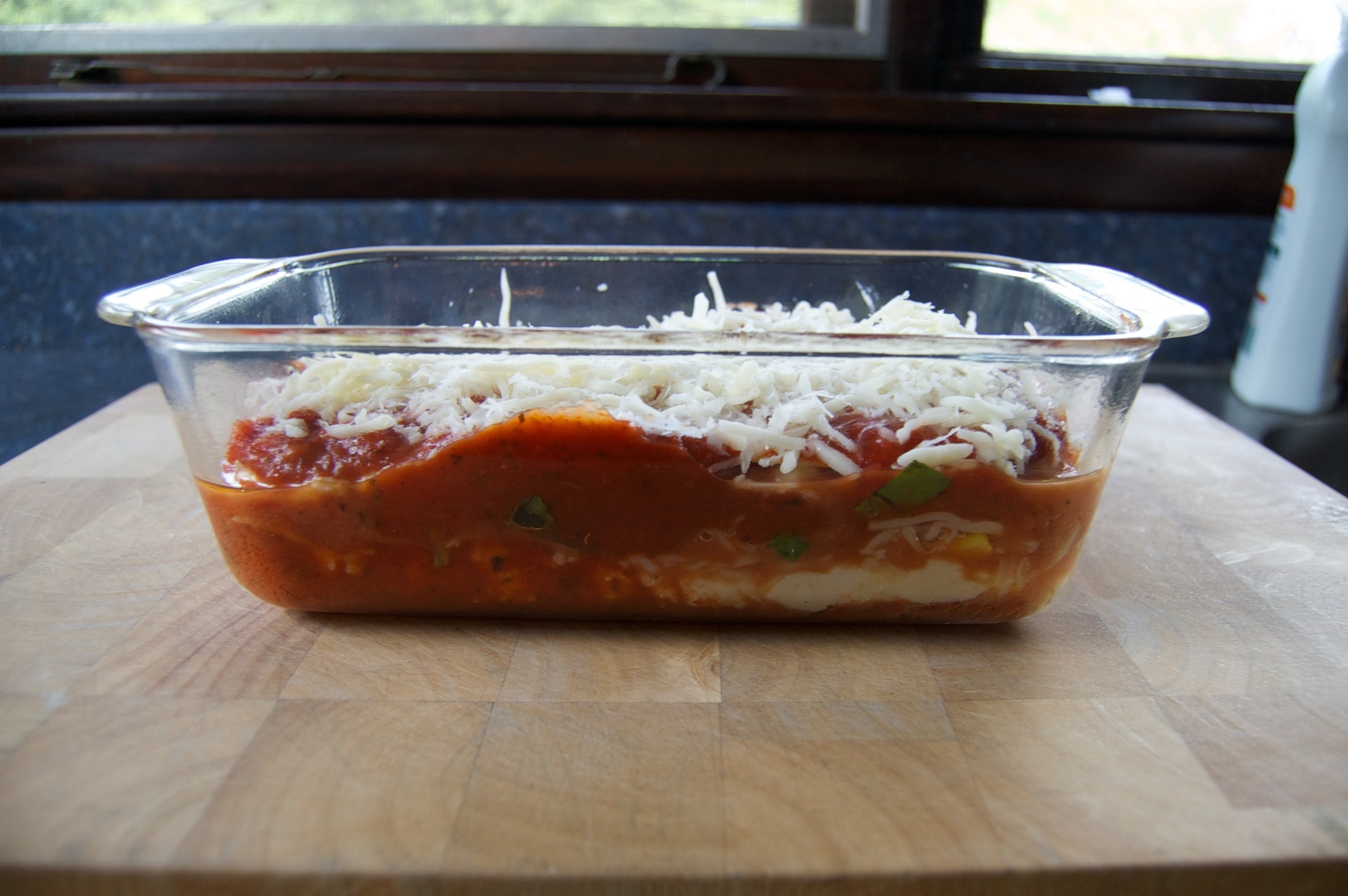 This is a variation on my Spinach and basil lasagna , but I removed a layer and adjusted some amounts to make it shorter so it wouldn't overflow the pan and make it more manageable to serve.
I let it cool for a short while, then put it in a sink with cold water a couple inches deep. Once cooled it was easy to remove from the pan and place in a vacuum bag, then freeze. Only once it was frozen solid did I vacuum seal it.
To reheat it I added the frozen vacuum sealed bag to a pot of boiling water, brought it back to a boil, then reduced the heat and simmered for 22 minutes, though 24 minutes would probably be better. I melted the cheese with the propane torch though the broiler would be faster for multiple slices. And it was DELICIOUS!