Potato salad #2 (experiment)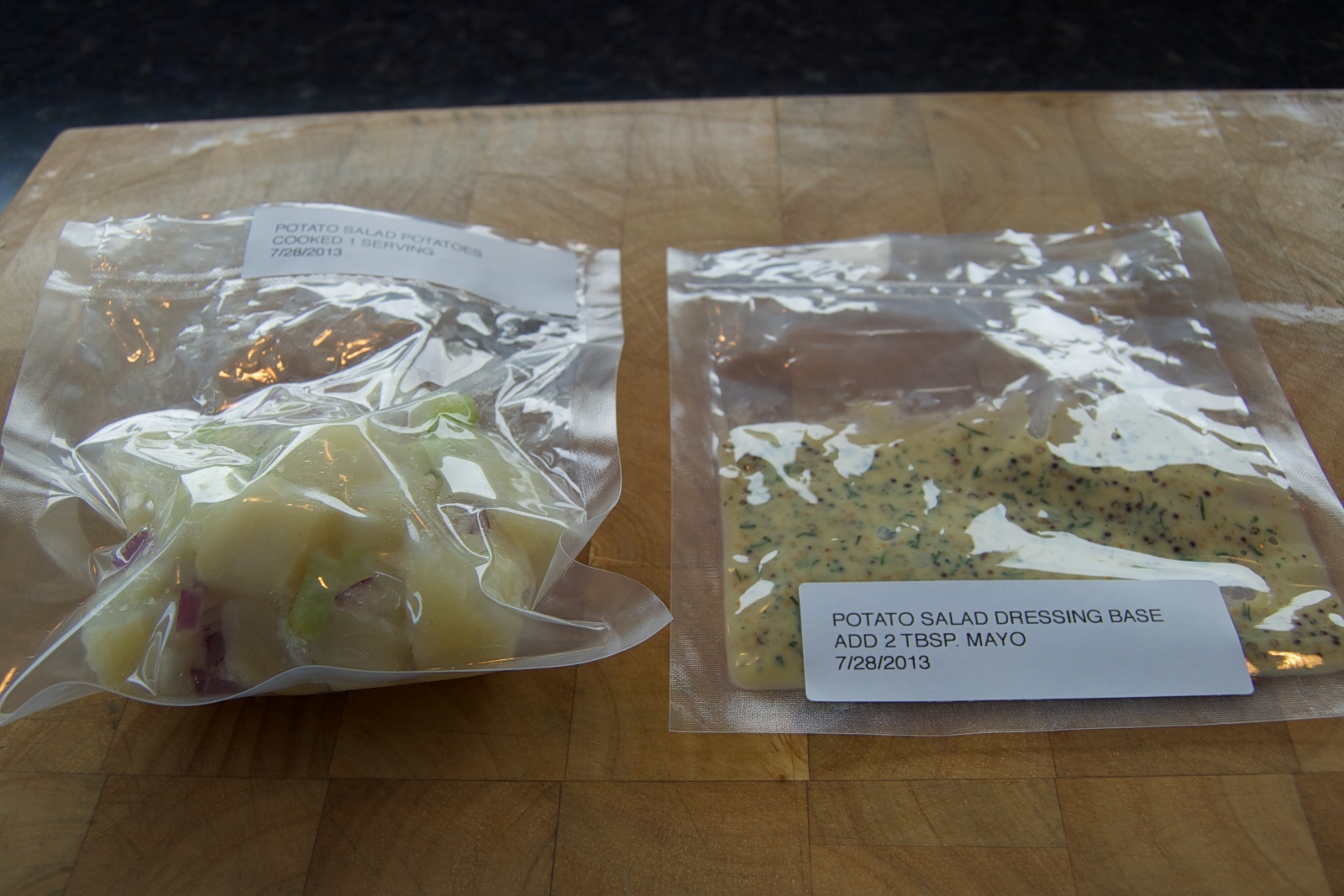 I like potato salad, but I never make it, because really who makes potato salad for one person? It can't be frozen because of the mayonnaise. And it's not all that healthy, so I don't want to eat it all week long.
But looking more closely at the recipe it occurred to me that it probably can be frozen, as long as you keep the dressing separate from the potatoes and leave out the mayo. Then, when you go to make it, you defrost the separate vacuum sealed bags of potato and dressing base. Whisk together the dressing and mayo, and add the potatoes. Voila!
Warning: This did not work. There are notes along the way that explain what I think went wrong.
Tester recipe, makes 3 servings.
1 lb. potatoes
1/8 c. buttermilk 1 tbsp. Dijon mustard 1 tbsp. whole-grain mustard 2 tbsp. fresh dill, finely chopped (measured after chopping)
1/4 c. celery, chopped (about 1 1/2 stalks) 1/4 c. red onion, chopped (about 1/4 onion)
1/3 c. mayonnaise or about 2 tbsp. per serving
Bring a pot of salted water to a boil.
Normally I'd use some small potatoes, but I have an abundance of these long white potatoes. This was about 1 pound: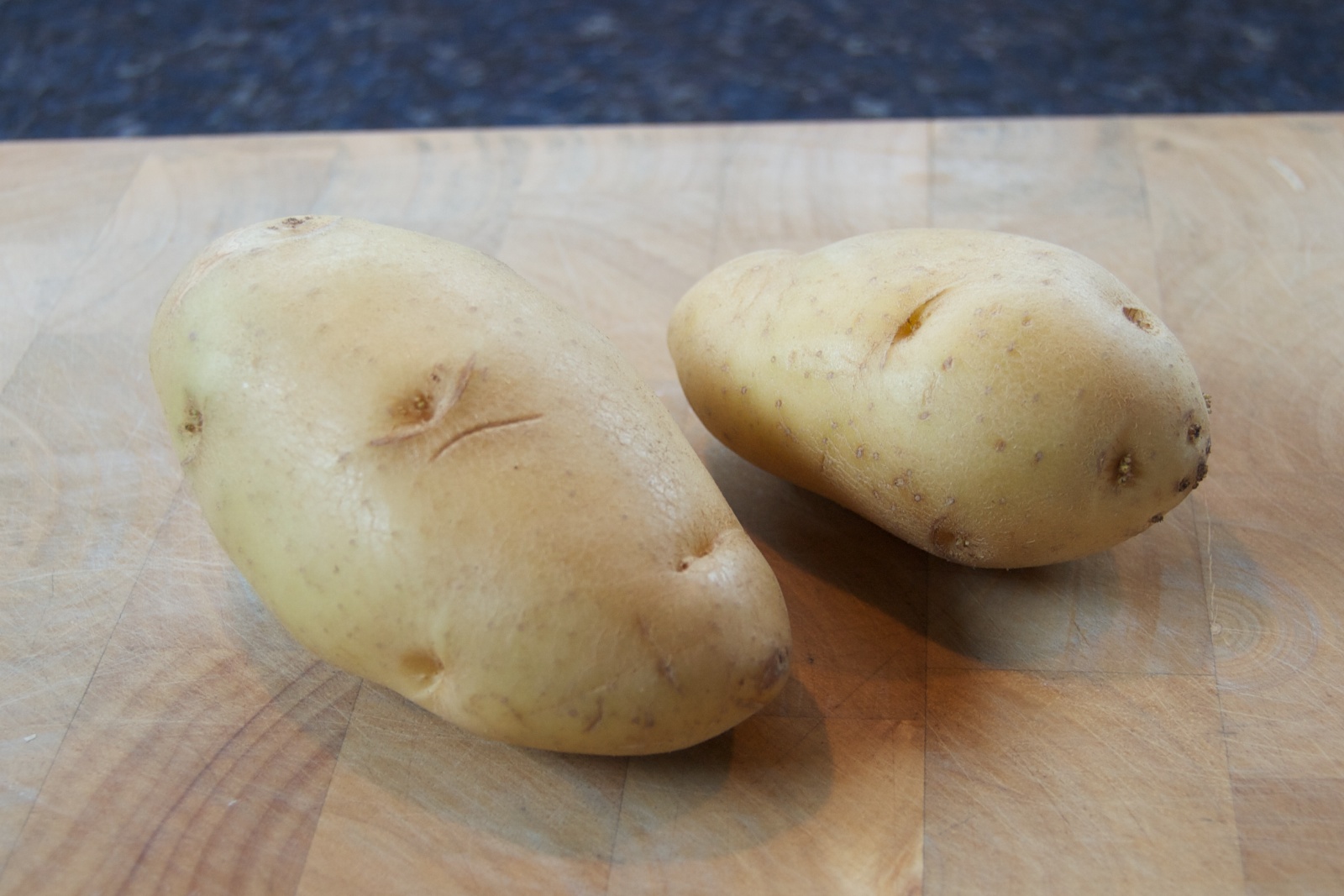 Peel and dice the potatoes. I think I probably should have cooked then diced the potatoes.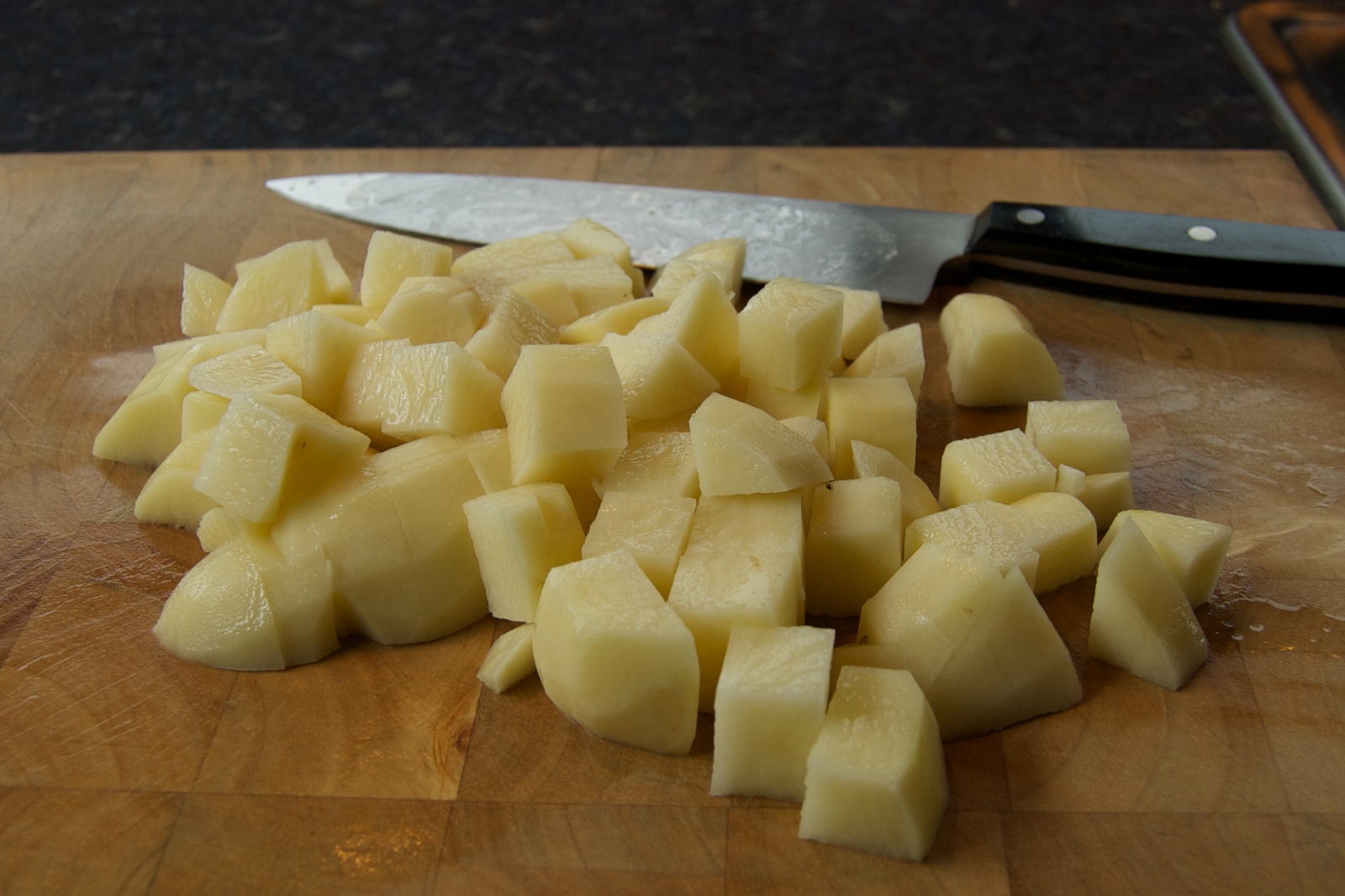 Boil for 12 - 18 minutes or until just tender. Drain, then immediately chill the potatoes in cold water. Drain again. I over-cooked mine slightly, which did not help at all when freezing.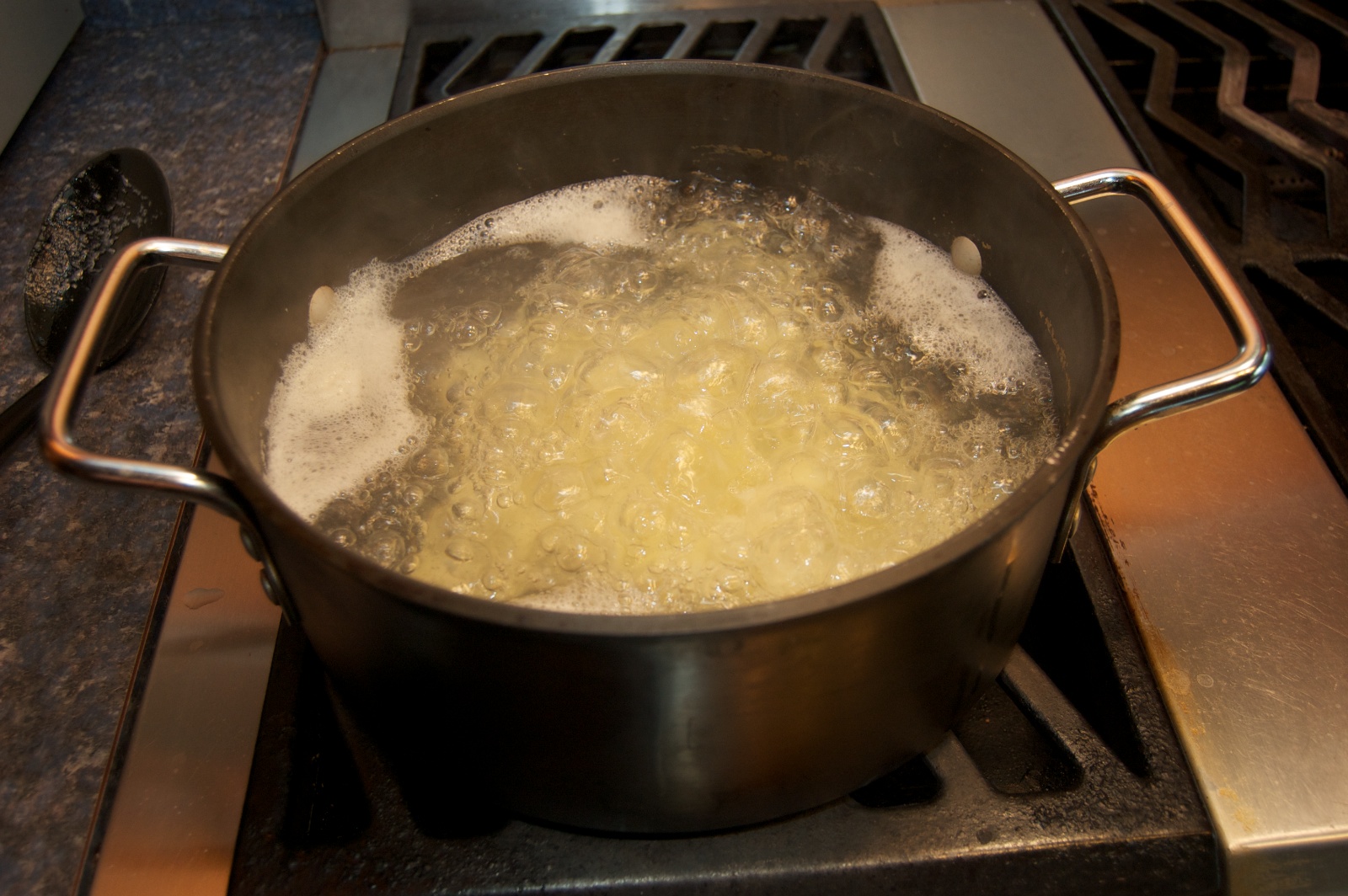 Here's the celery, red onion, and dill, chopped.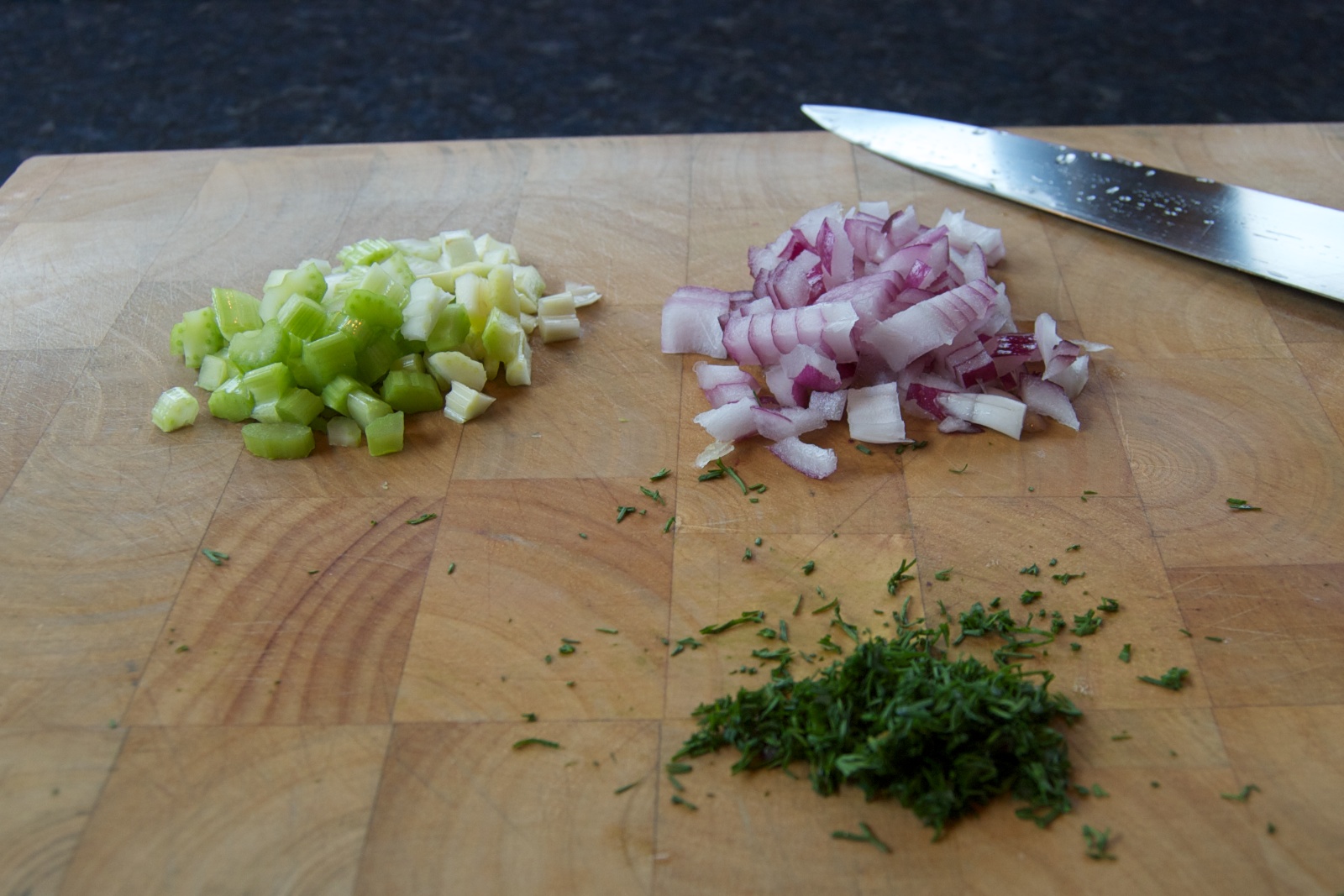 Make the dressing base: Mix together the buttermilk, two kinds of mustard and dill.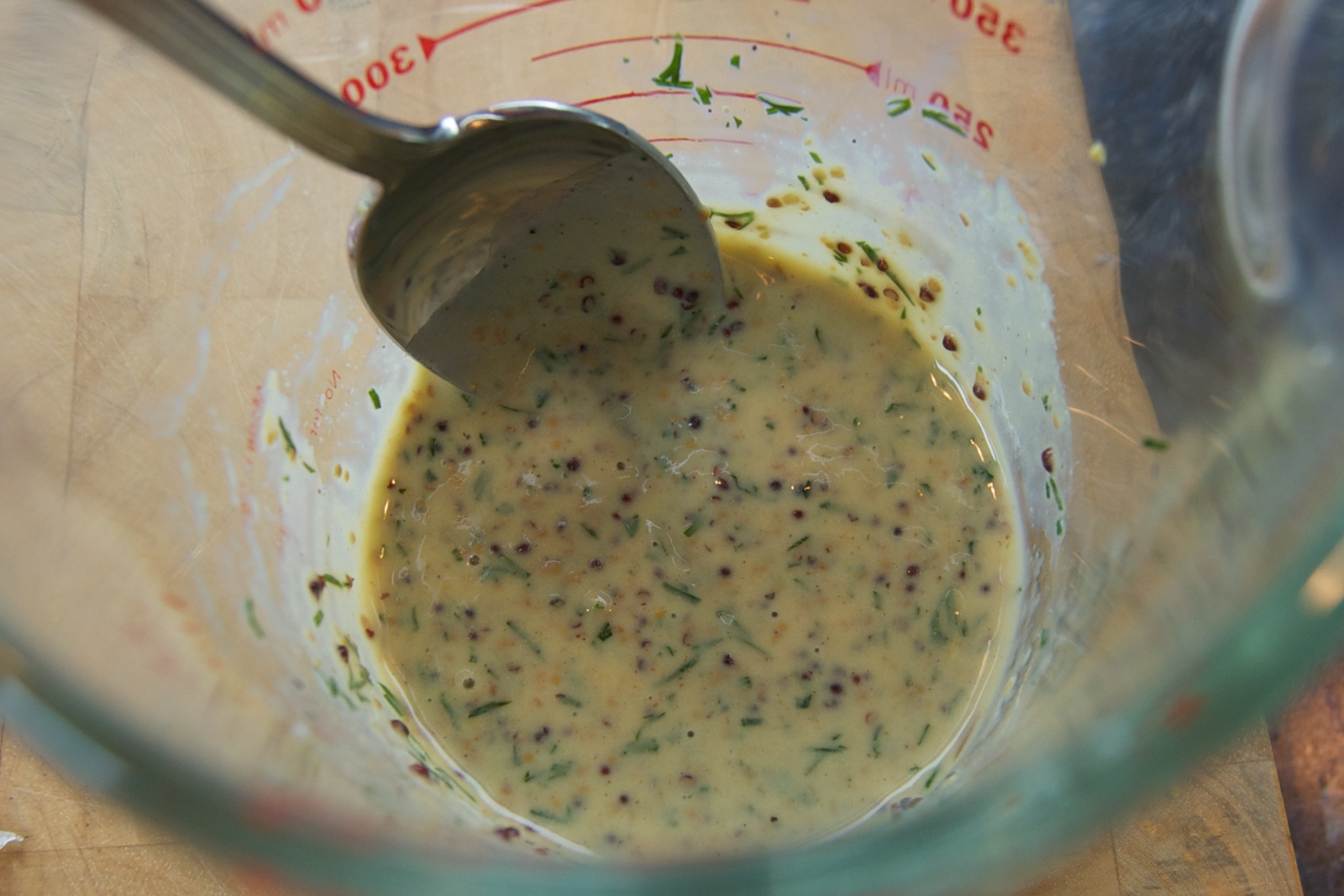 Divide it into 3 servings and vacuum seal. I did this by weighing my Pyrex measuring cup empty (21.6 oz.) and after making the dressing (23.8 oz.) and determining that I had 2.2 oz. of dressing or 0.7 oz. per serving.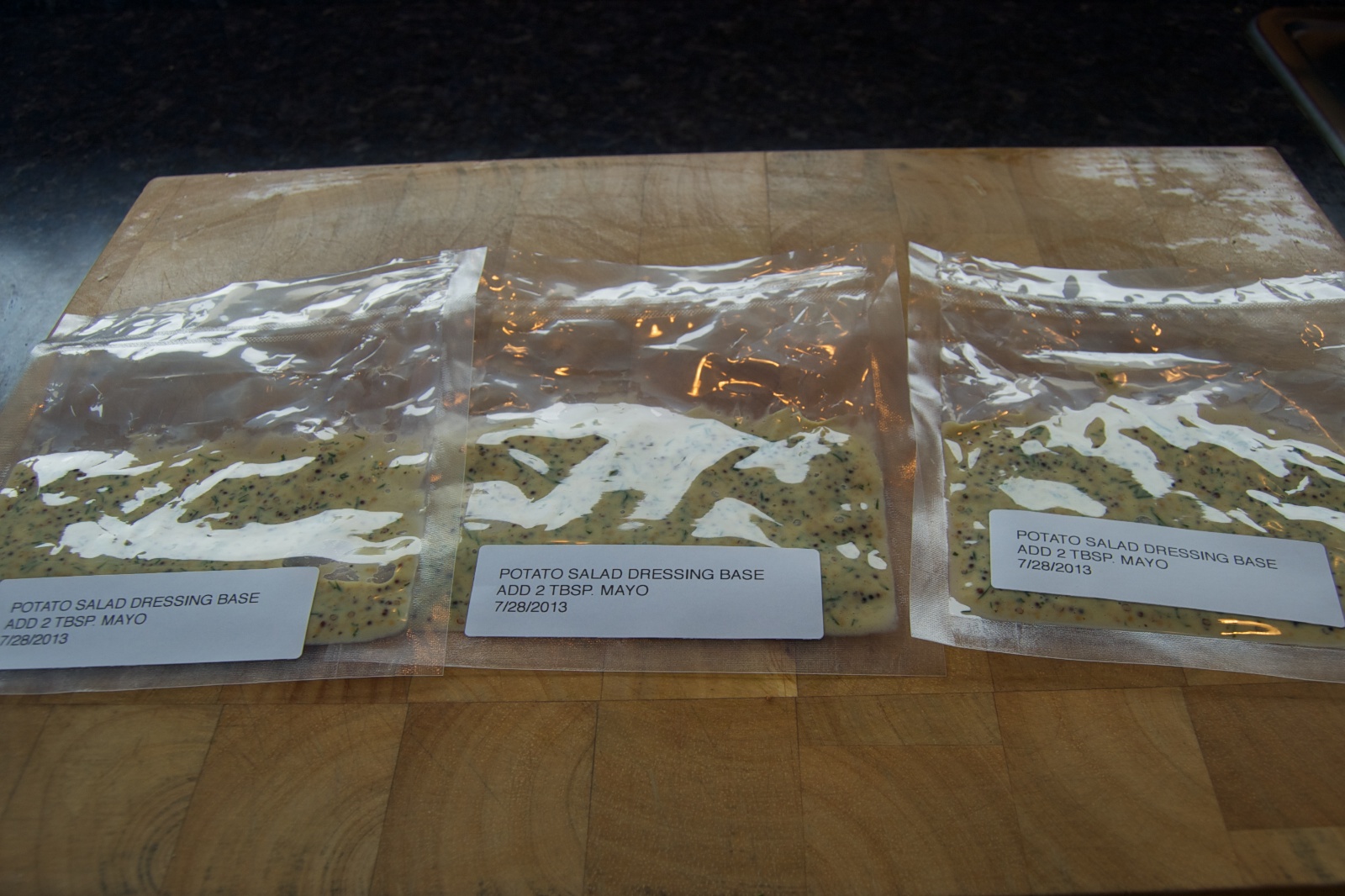 Here are the potatoes, celery and onion combined.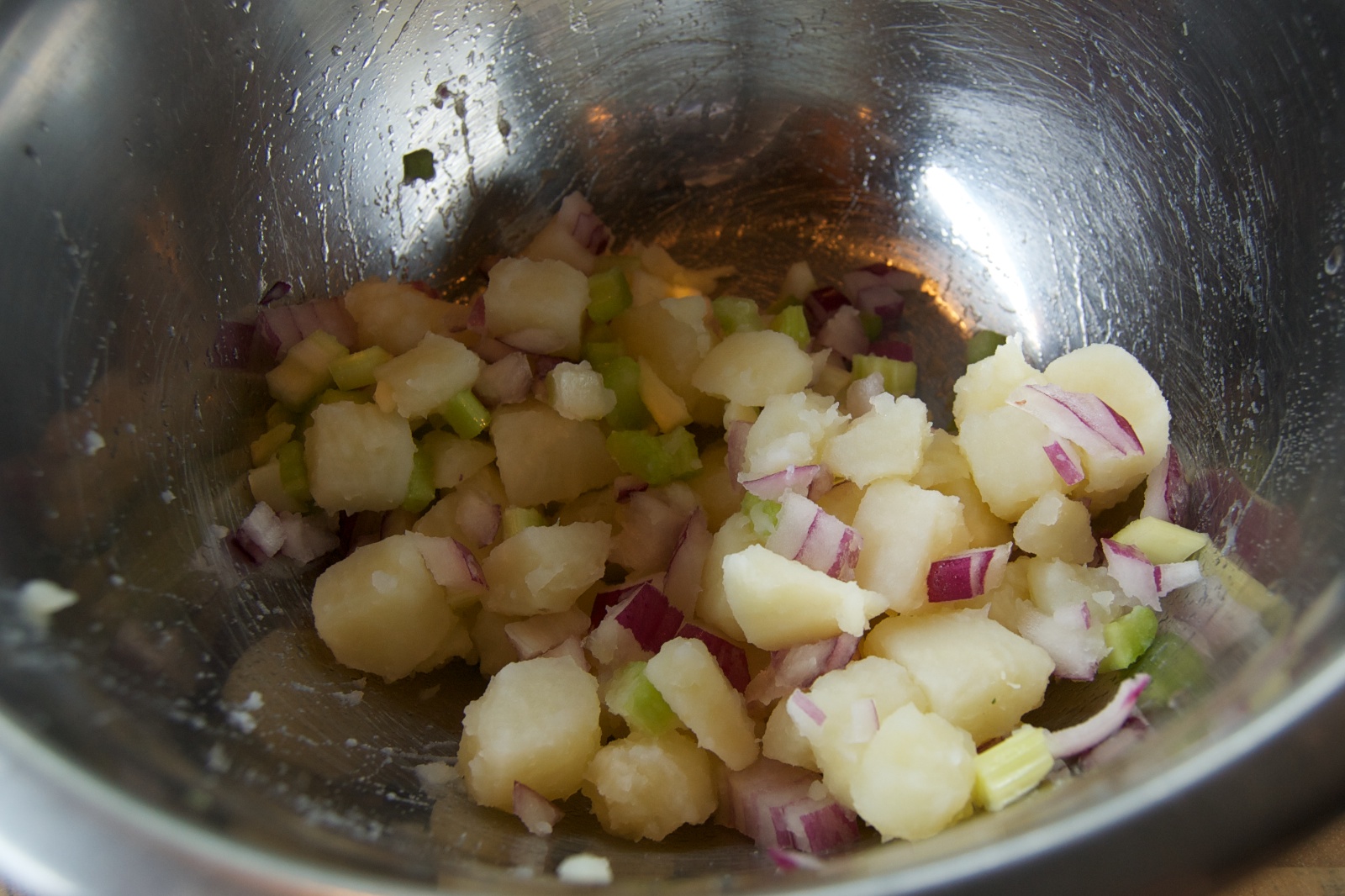 Divided into 3 servings (bowl = 13.6 oz., filled bowl = 26.9 oz., mixture = 13.3 oz., divided by 3 = 4.4 oz.) in vacuum bags.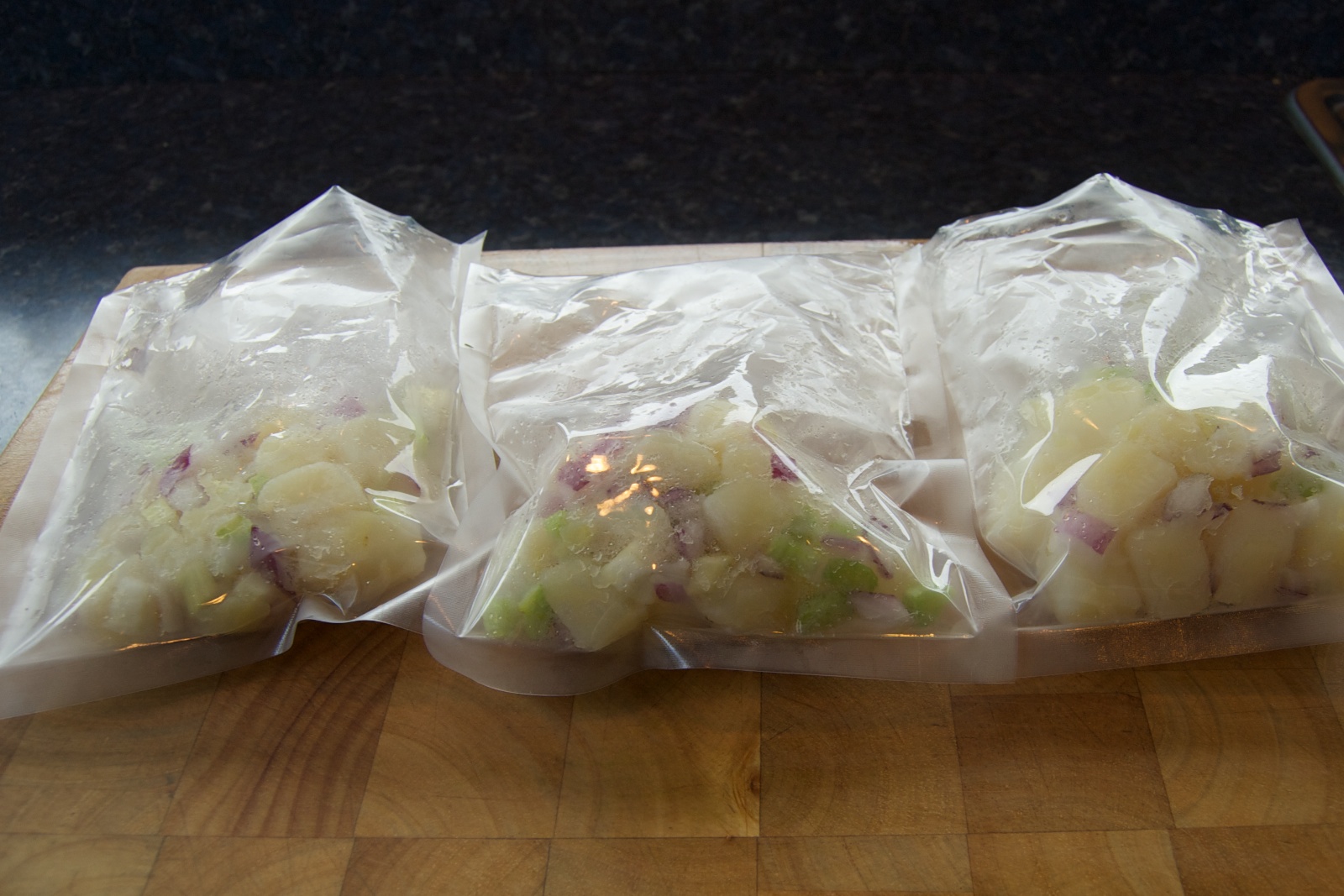 I froze 2 packages to vacuum seal later, since the potatoes were a little over-cooked and I didn't want to squish them. One package I lightly vacuum sealed for my refrigerator control.
A day later I defrosted the frozen packages to compare with the version I only refrigerated overnight.
Both dressing turned out great. The frozen was indistinguishable from the refrigerated, and because of the weird quantities and that I rarely have dill on hand, I'll definitely make extra dressing base (without mayo) and freeze it.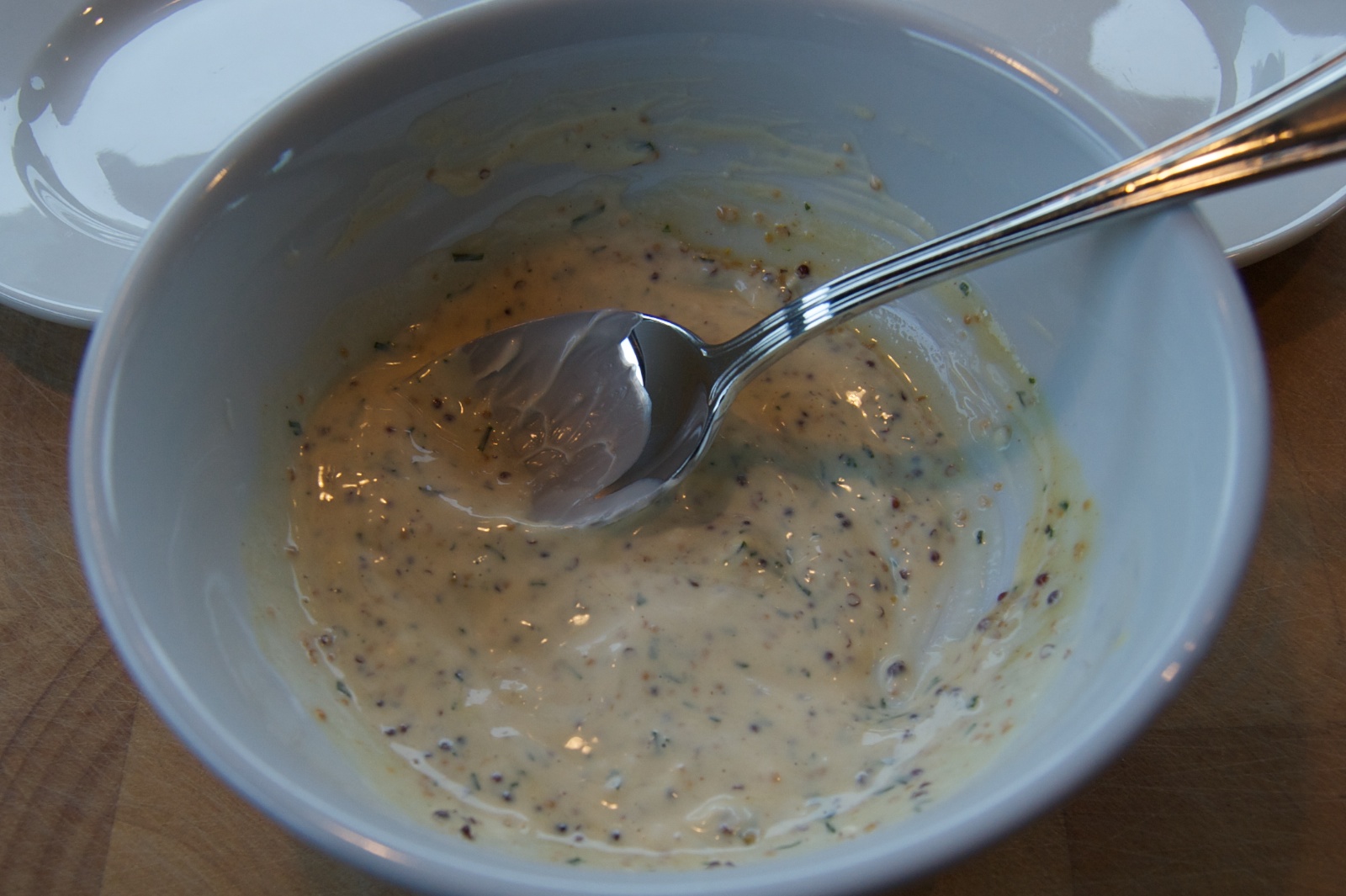 The refrigerated one was great!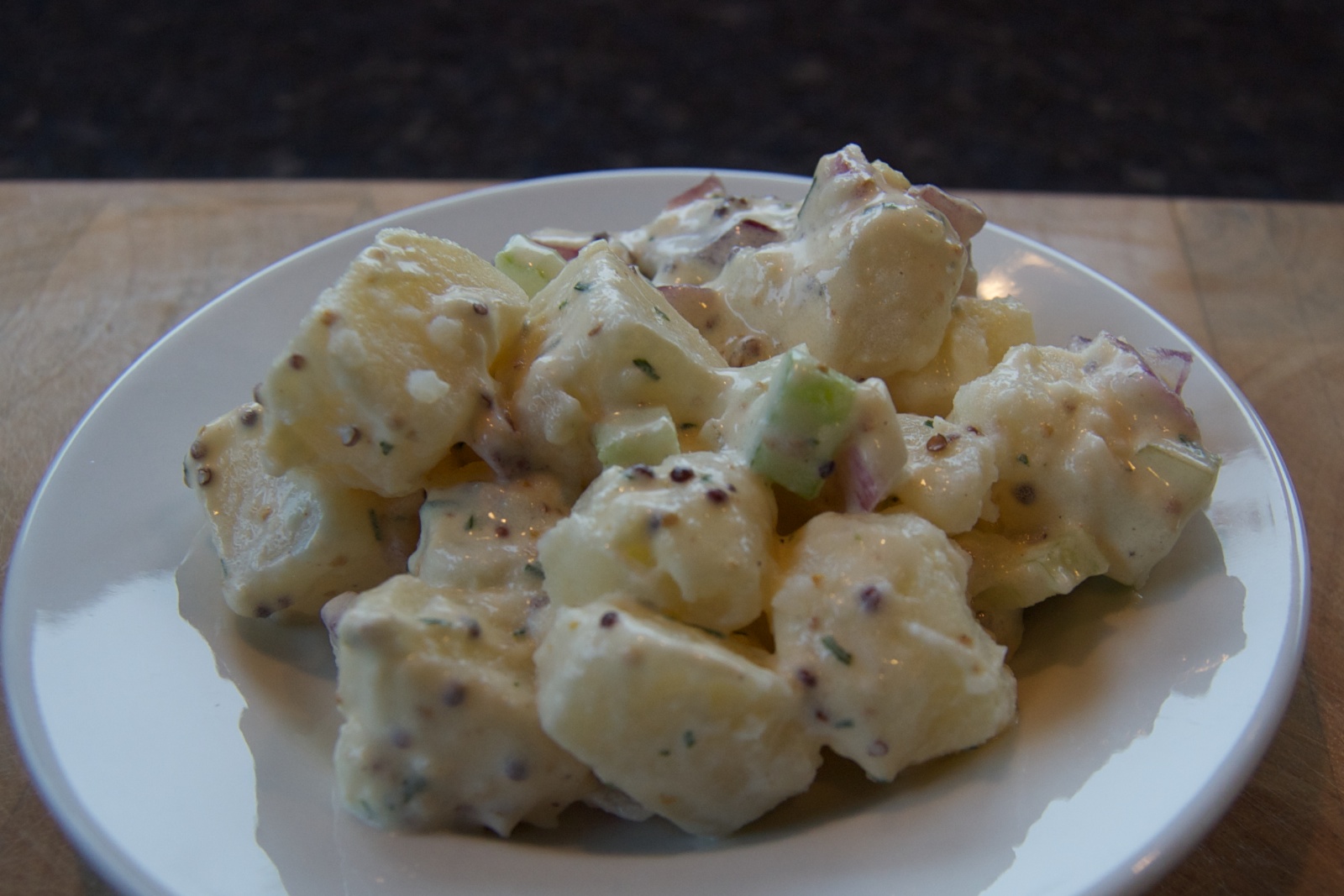 The frozen potatoes, not so much. Way too soft and mushy.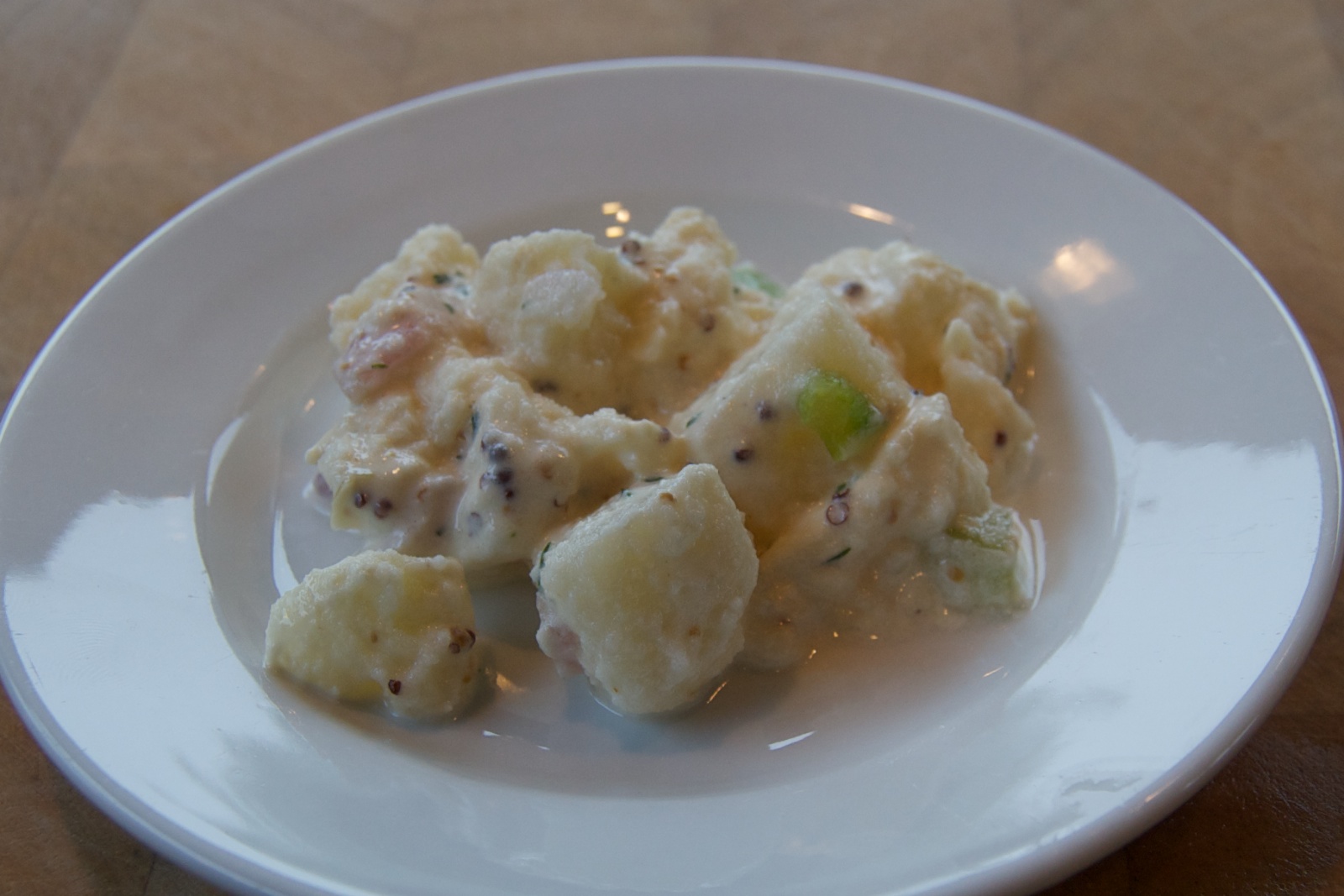 You can see the difference between the refrigerated (left) and previously frozen (left).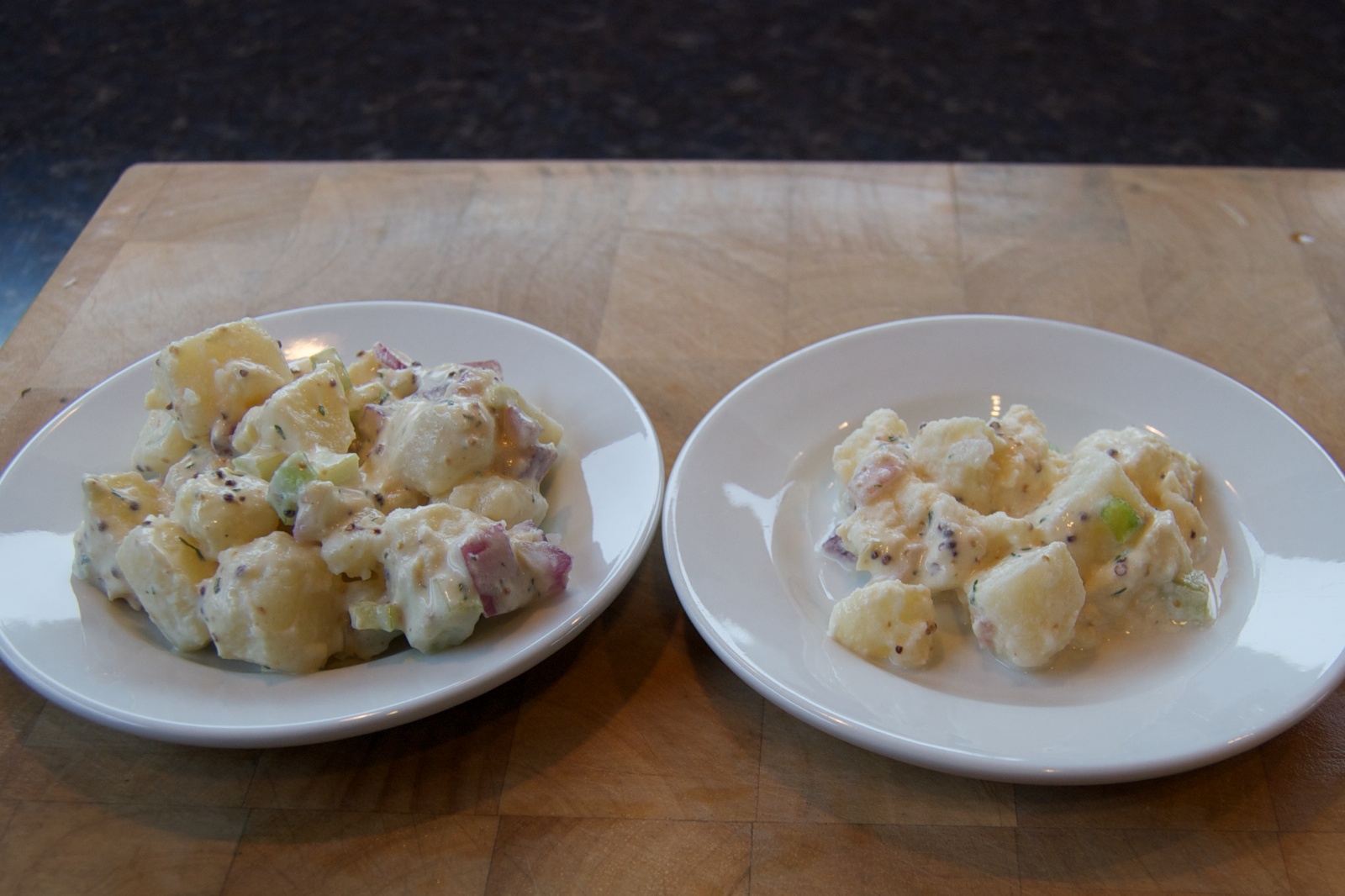 The reason the frozen one is so much smaller is that there was so much mashed potato in the freezer bag!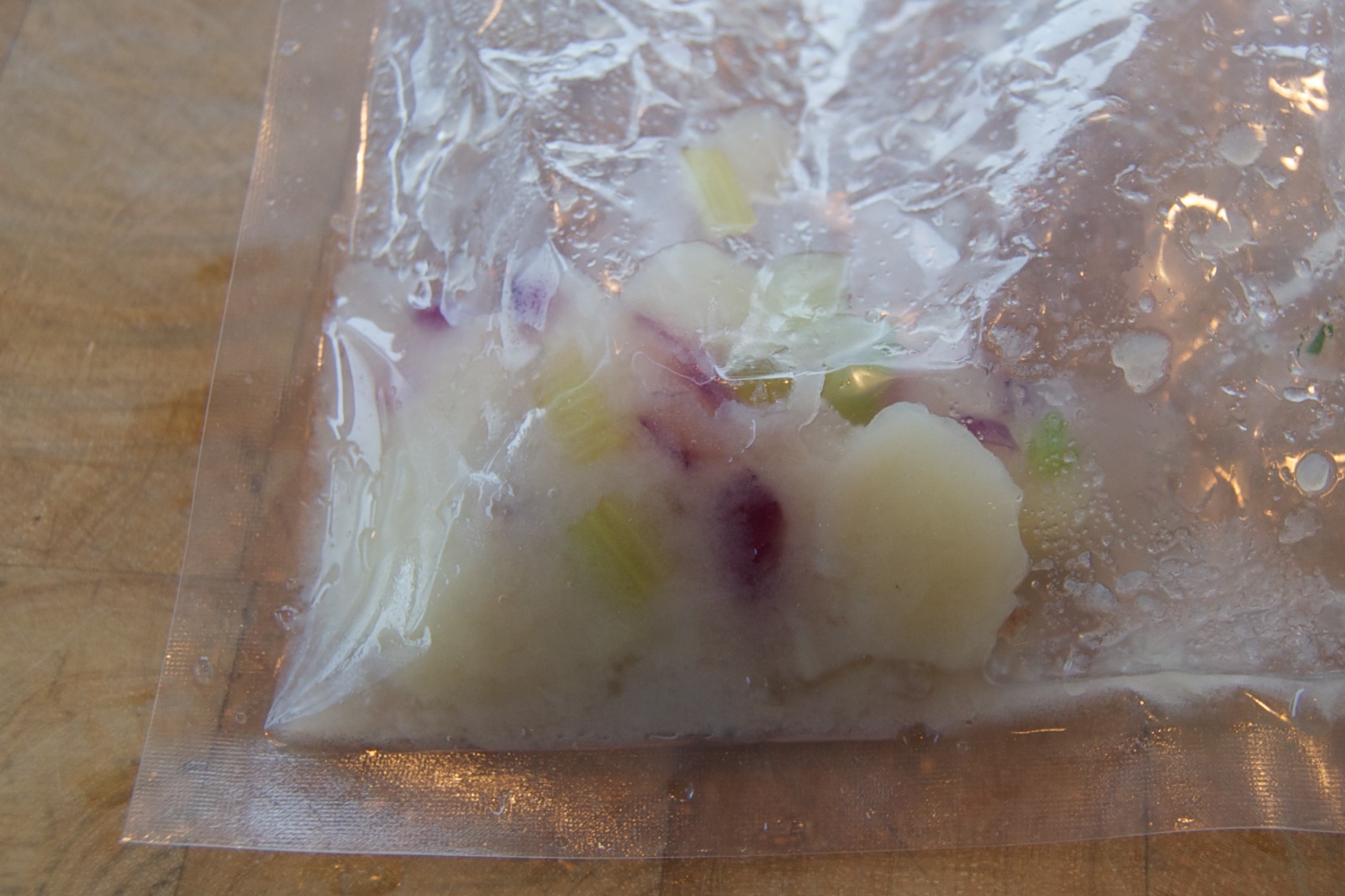 So the answer is: you can make the sauce ahead, minus the mayo, and it works great. Just don't make the potatoes ahead!