Beef and zucchini lasagana #2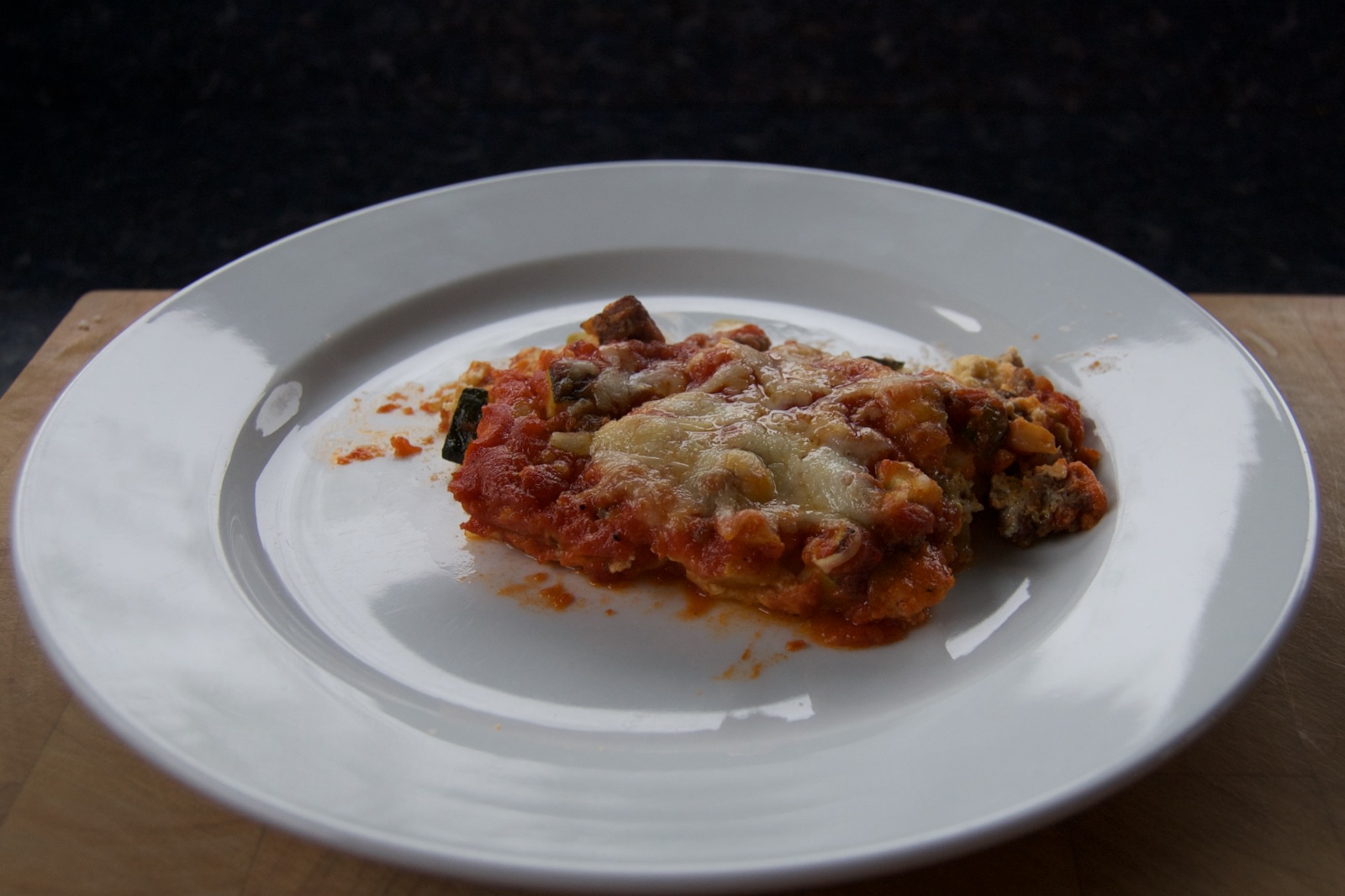 I combined my beef lasagna and roasted squash lasagna to come up with this recipe. This was really good; I like it better than the beef-only version. This is a modified version of the recipe #1 .
This is a really small lasagna, 3 servings made in 4 1/2" x 8 1/2" glass loaf pan.
1/2 medium yellow onion, finely diced
1 clove of garlic, minced
1 small to medium zucchini, diced.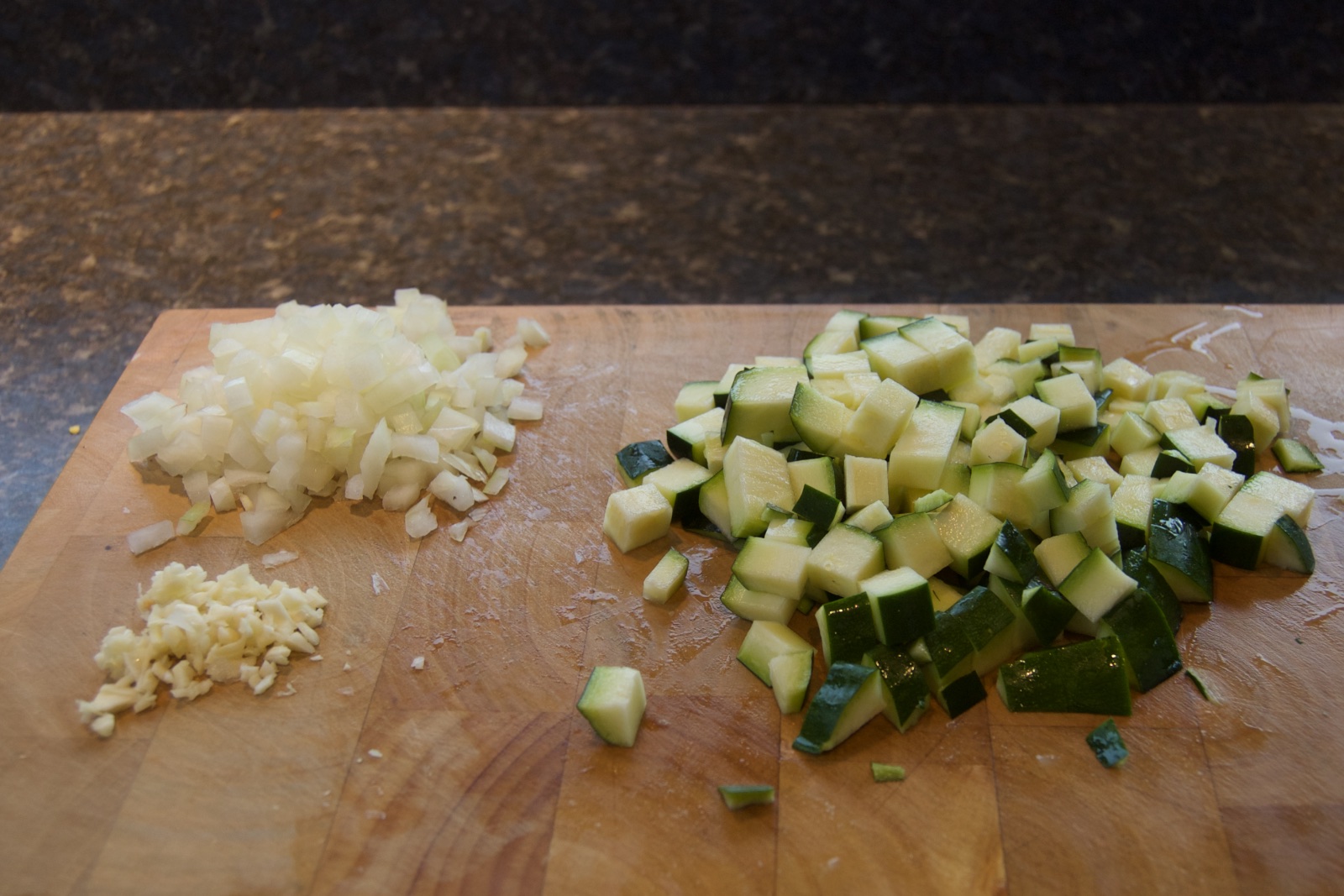 Add a little oil to a sauté pan and cook the onion, garlic and zucchini over medium-low heat. It will take a while for the zucchini to cook down and release its moisture. Season with salt and freshly ground black pepper.
5 oz. ground beef (91 % lean)
In a separate sauté pan, brown the ground beef. I used 91 % lean beef so there was nothing to drain, but if you're using higher fat beef, drain off the fat. Season with salt and freshly ground black pepper.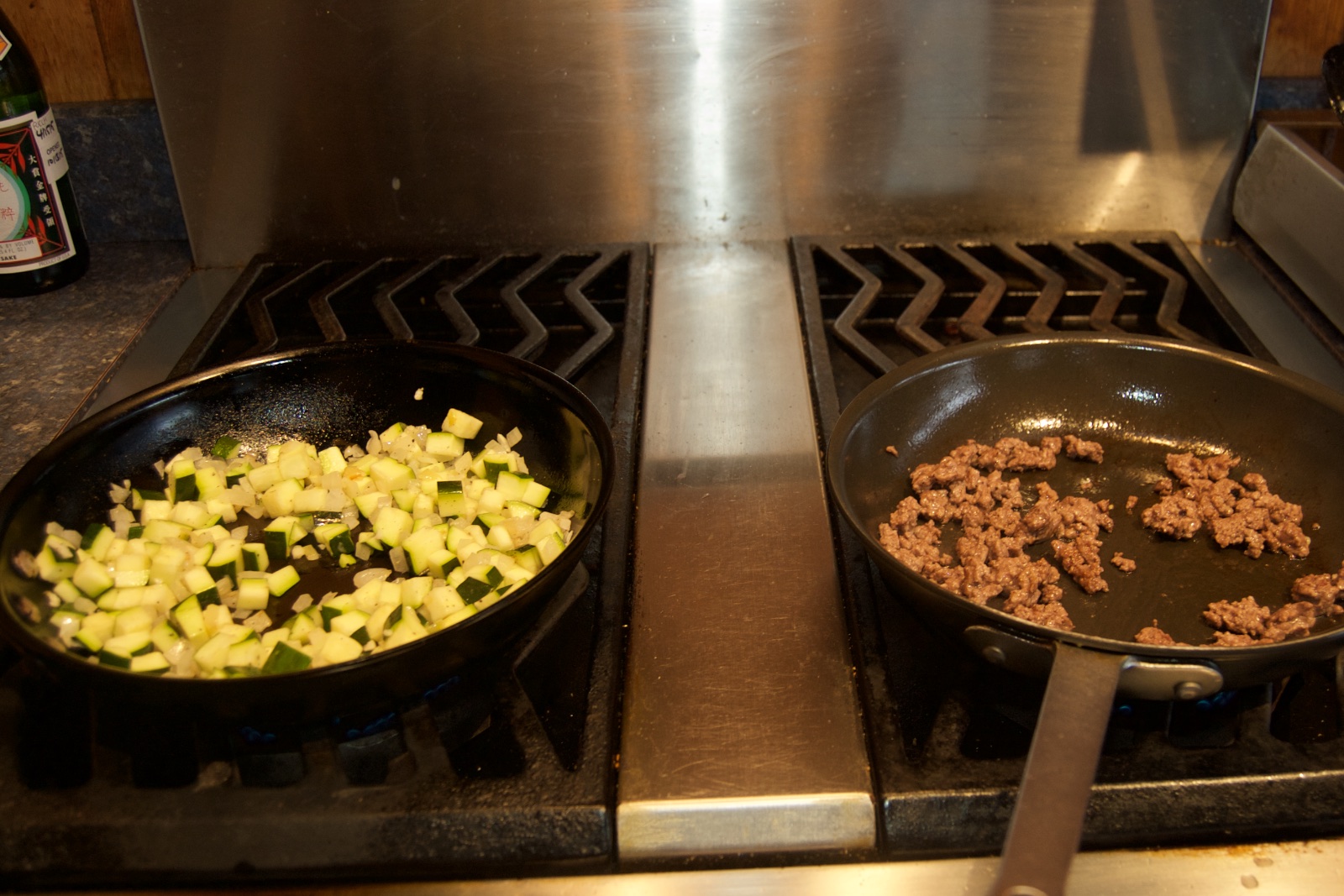 Then combine the beef and vegetables.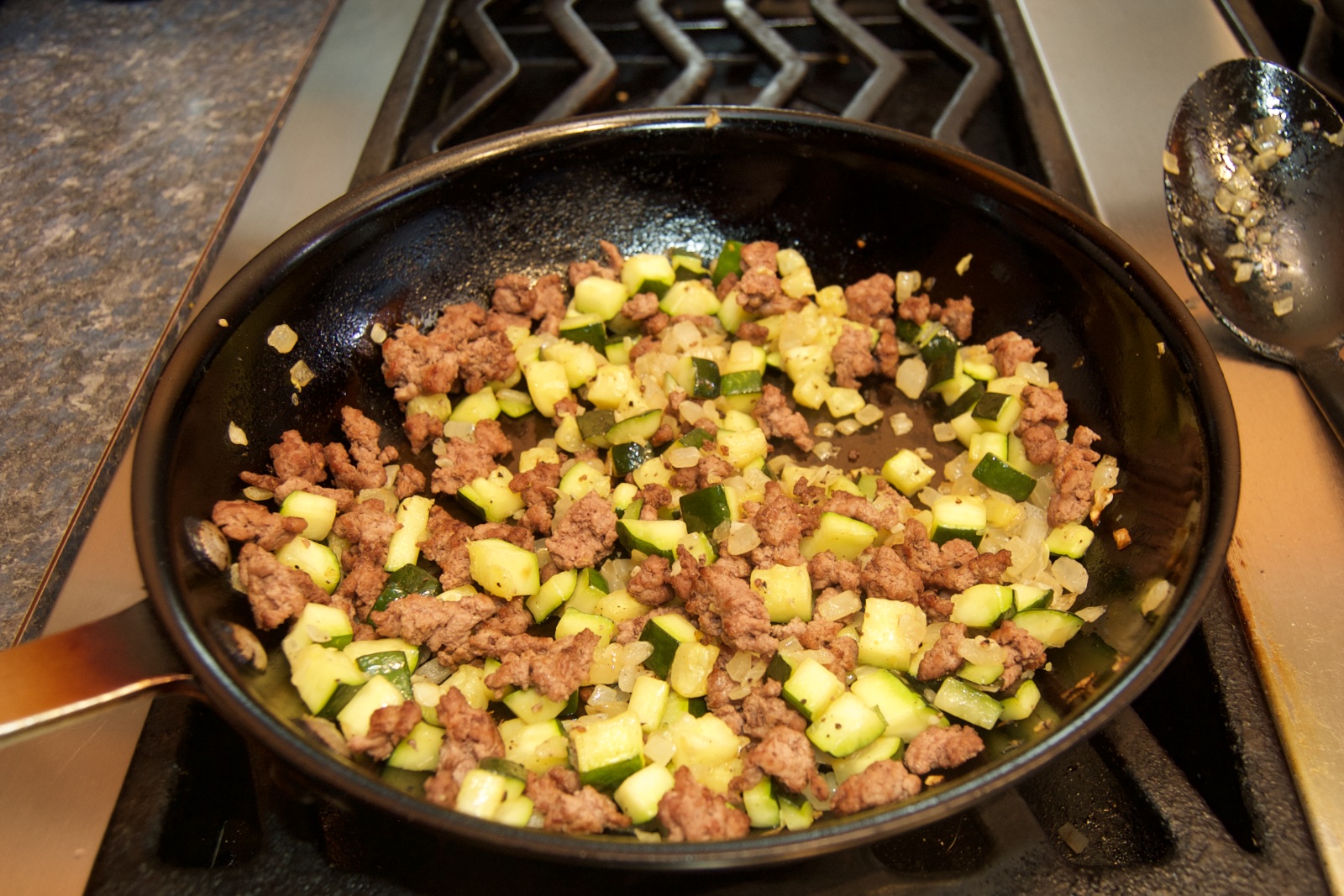 In a bowl prepare the ricotta cheese mixture:
1 egg, beaten
3 oz. (by weight) ricotta cheese
a handful of micro-planed Parmesan cheese
1.5 oz. shredded mozzarella
Red pepper flakes
Should make 6 to 7 oz.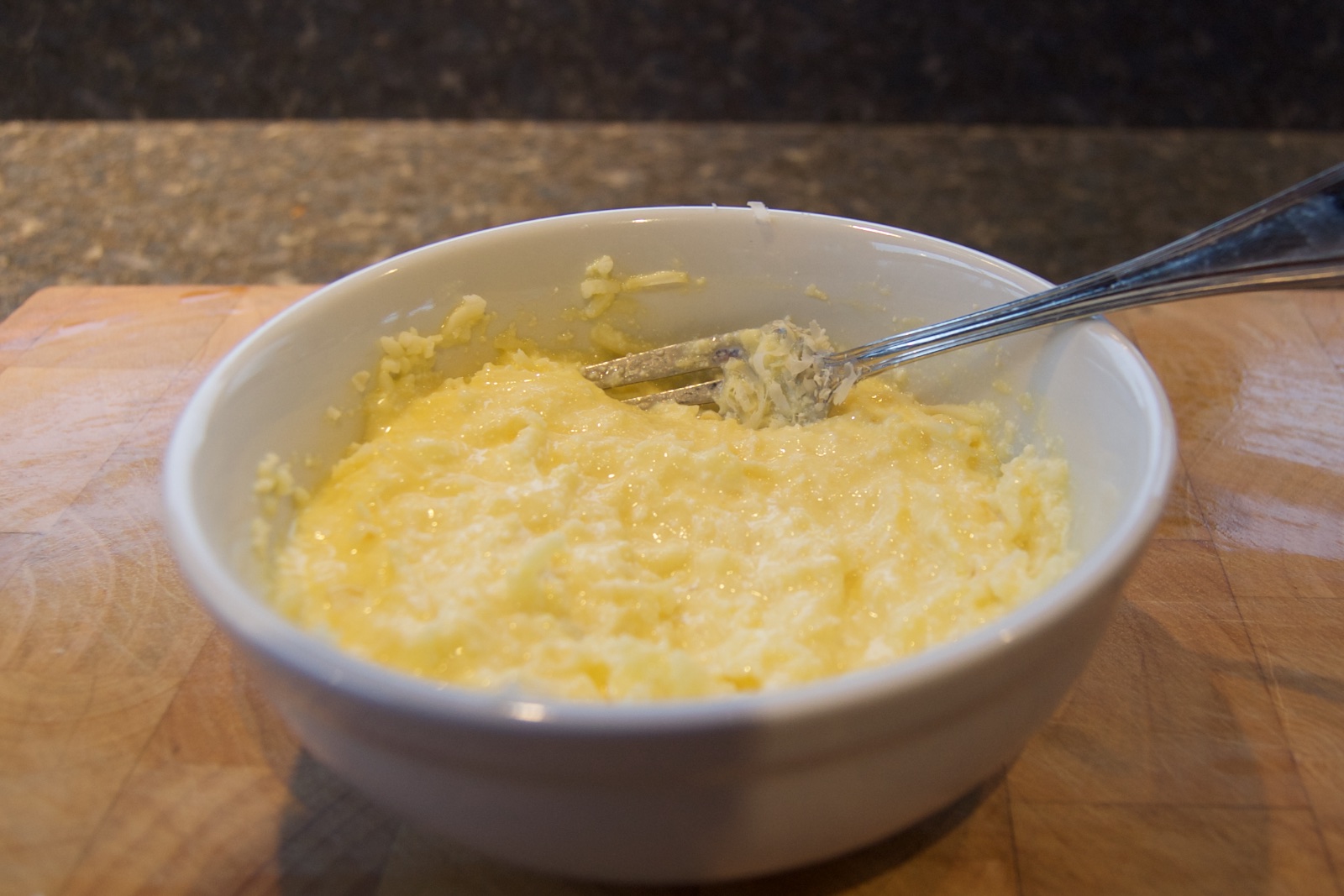 And the rest of the ingredients for the layers:
2 sheets of no-boil lasagna
7 oz. (by weight) marinara
1.0 oz. shredded mozzarella cheese
another handful of micro-planed Parmesan cheese
I like the DeCecco no-boil noodles because they're perfectly sized for a 4 1/2" x 8 1/2" loaf pan.
Coat the inside of a 4 1/2" x 8 1/2" glass loaf pan with spray oil. Add the following layers, starting from the bottom:
parchment paper sling (cut in 3 pieces)
-- pasta (this is the bottom layer)
3.0 oz. marinara
half of the ricotta mixture, about 3.5 oz.
half of the beef, onion and zucchini mixture, about 4.5 oz.
0.5 oz. mozzarella
-- pasta
remainder of the ricotta mixture
remainder of the beef, onion and zucchini mixture
4.0 oz. marinara
0.5 oz. mozzarella
more micro-planed Parmesan cheese (this is the top layer)
The parchment paper slings are because it's nearly impossible to cleanly remove slices of lasagna from such a deep pan. I cut them a little too short in the picture below, but you don't want them too long either because they'll flop over onto the top cheese.
The crazy weights are because I build lasagna on a scale. After you add each layer, zero out the scale with the tare button and then you can weigh the next layer.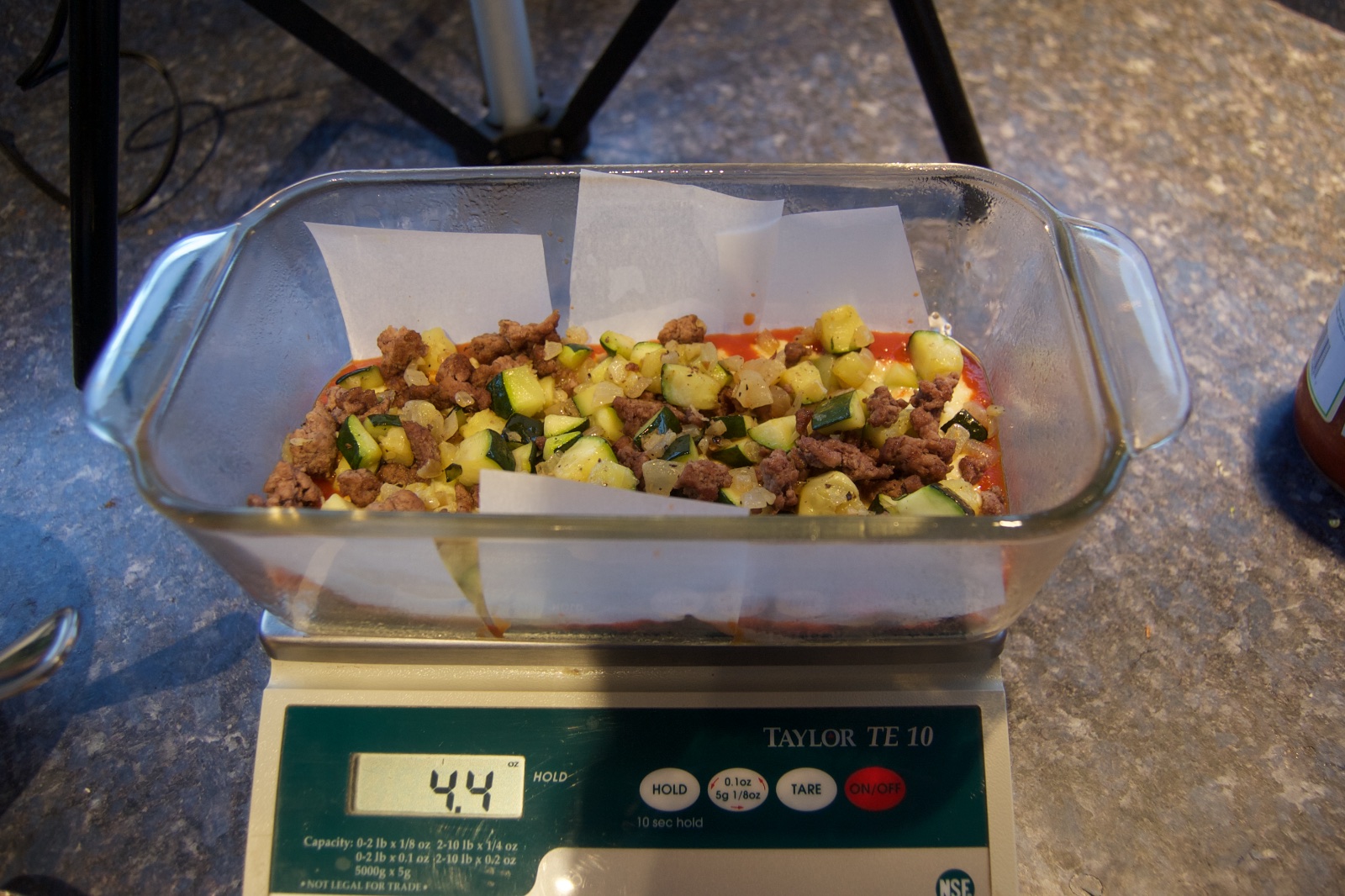 I prepared this early in the day to pop into the oven for dinner. Here is is before covering and refrigerating.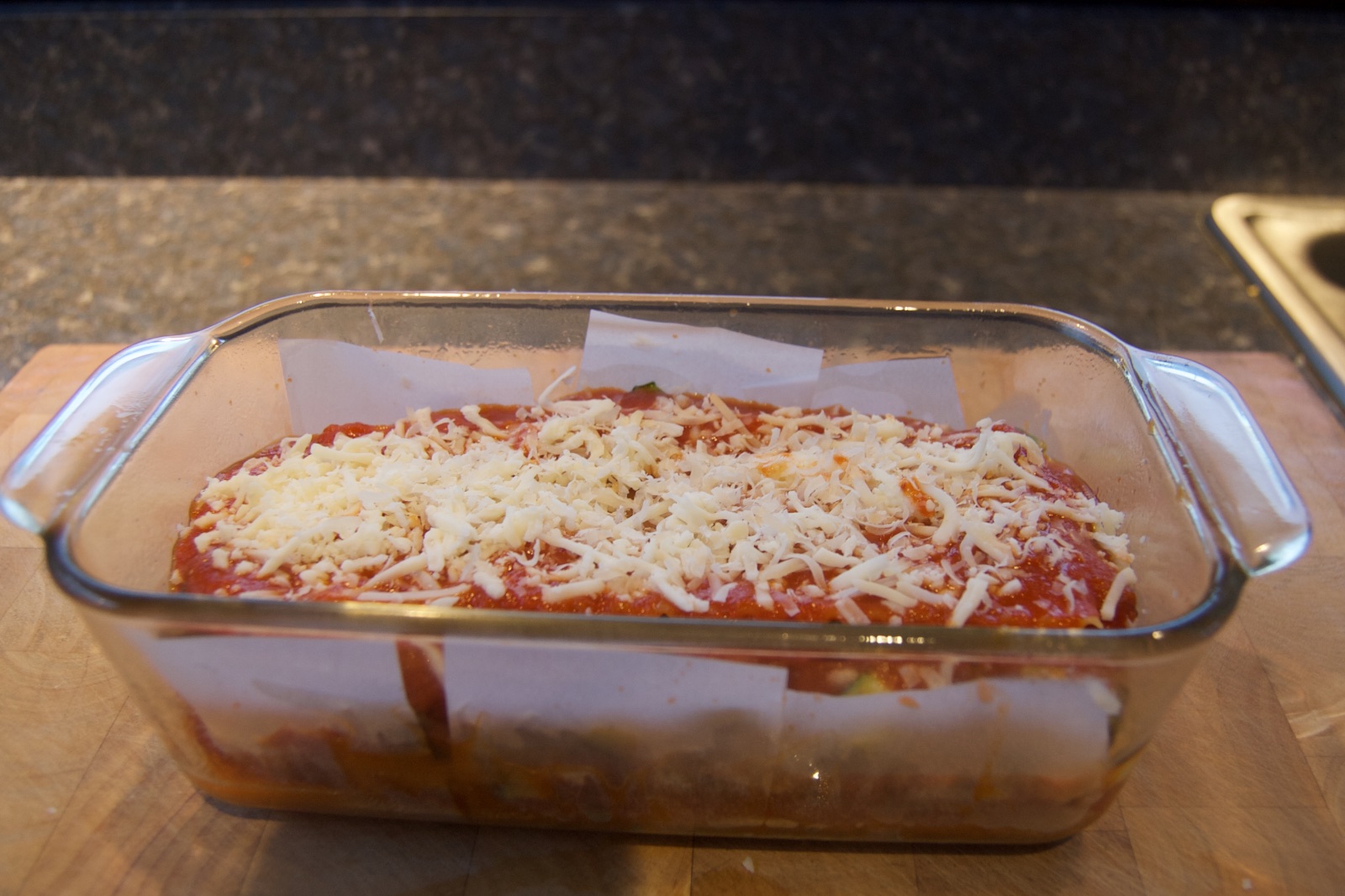 Cook for 35-45 minutes at 350°F, uncovered.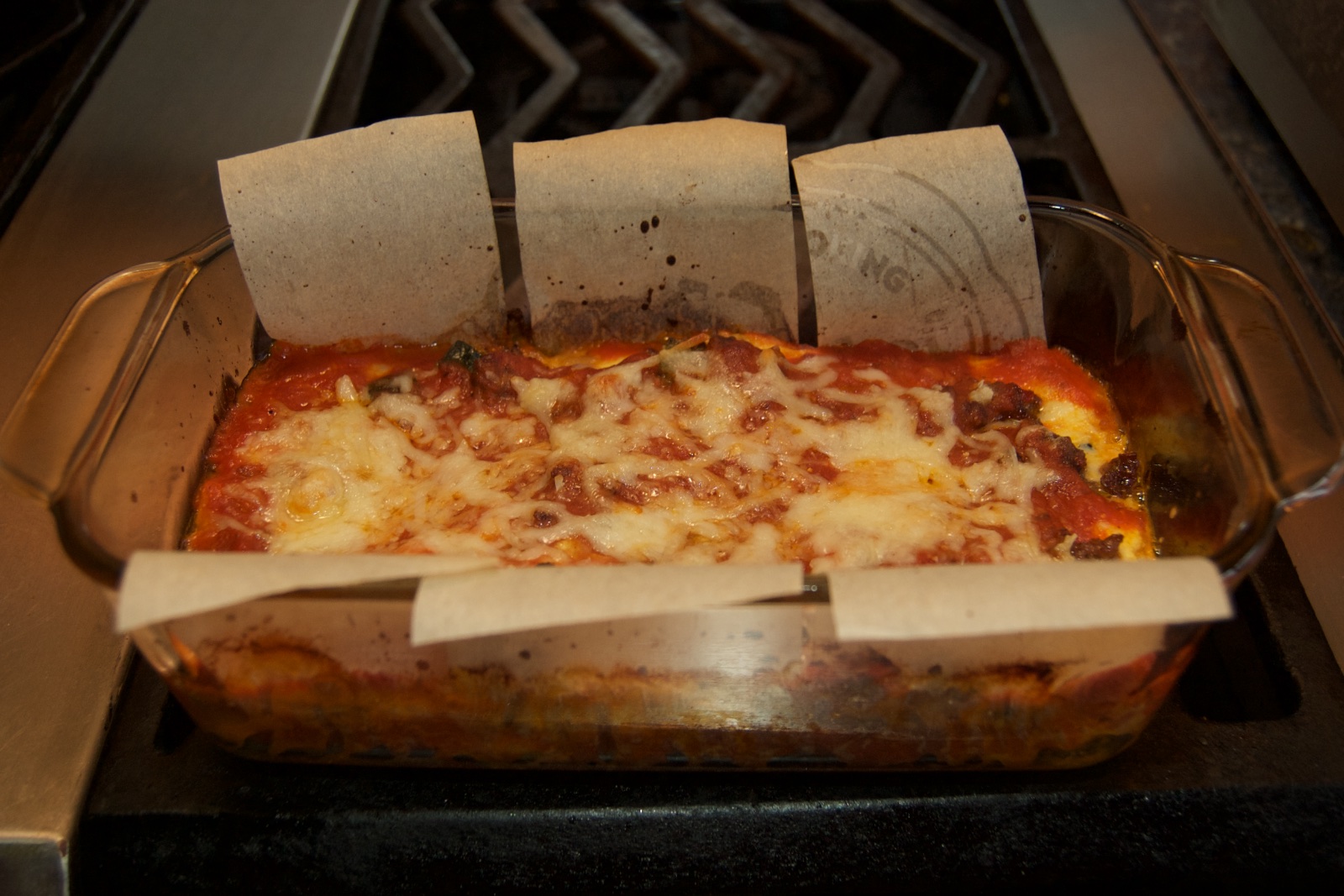 Let sit for 5 minutes before slicing. Use the parchment paper sling to lift the serving right out of the pan. Set on a plate, then use a spatula hold the lasagna while you pull the paper out from under the piece of lasagna.
I froze then vacuum sealed the two remaining servings.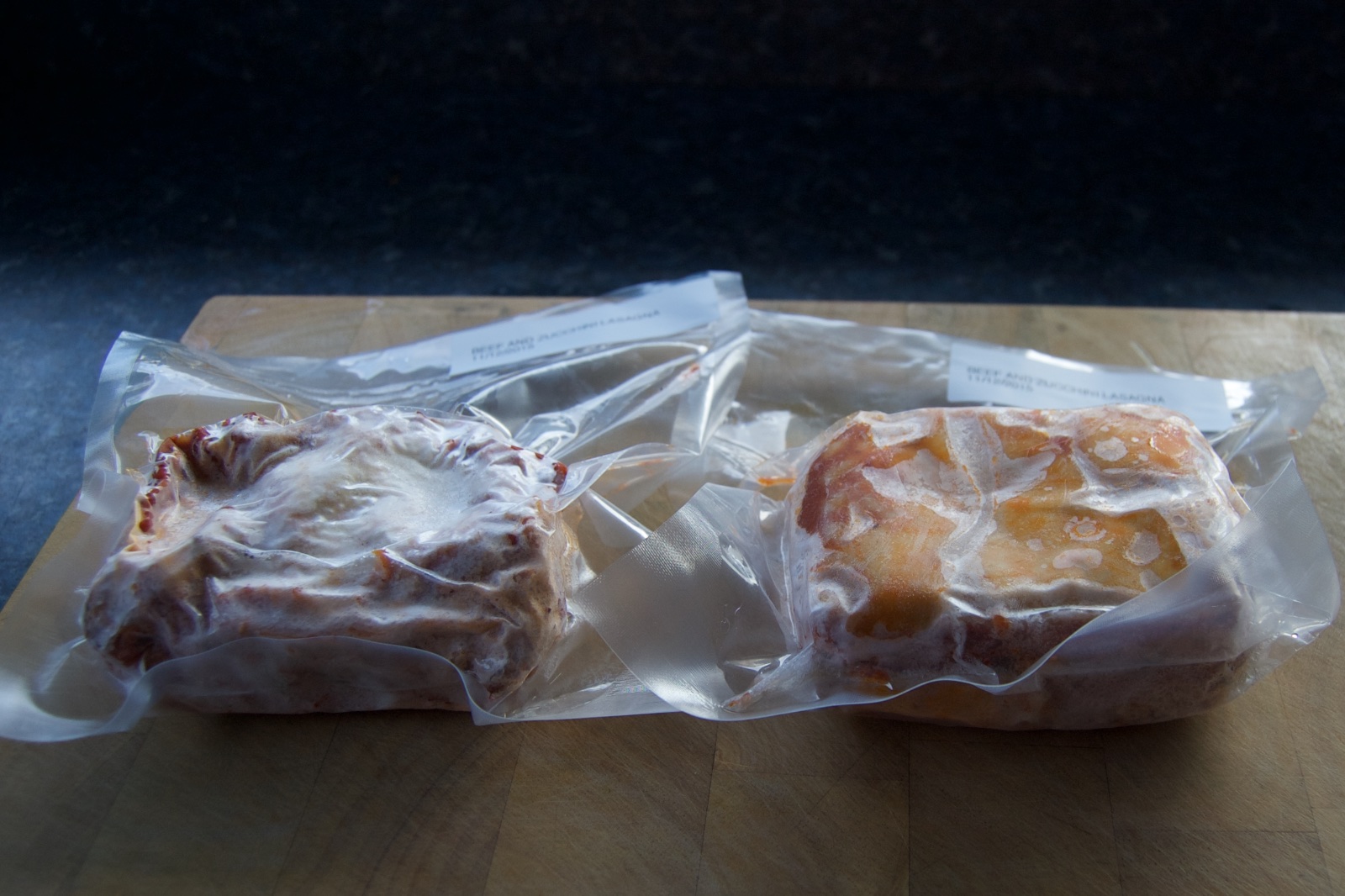 To reheat, I put the frozen lasagna in a room-temperature sous vide machine set at 150°F. It took maybe a half hour for the water to get to temperature with the frozen block in it. After 45 minutes in the sous vide, I removed the plastic bag and put the lasagna on a piece of parchment paper on a pie pan and baked it for 10 minutes at 350°F.