Turkey dinner 2022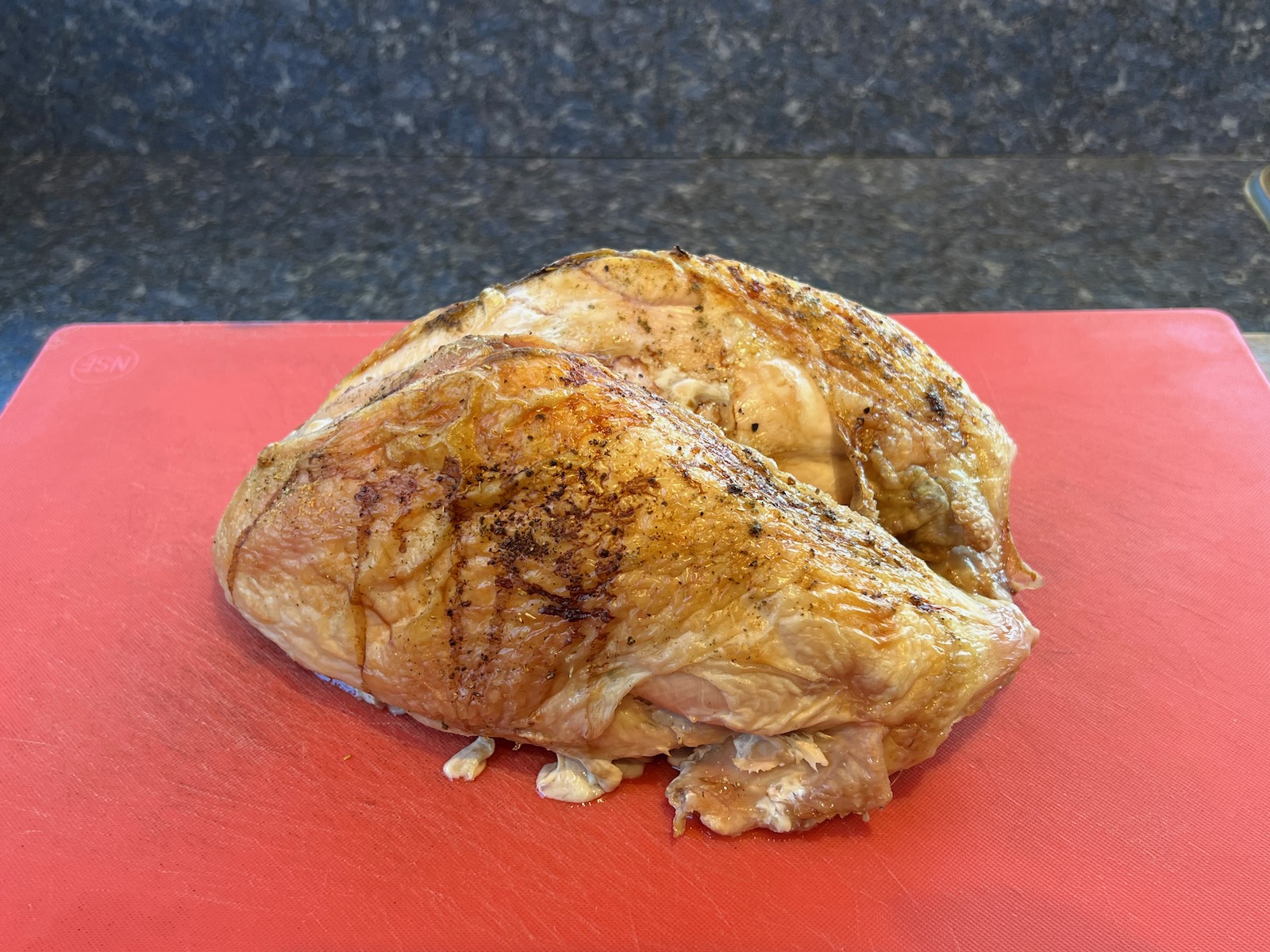 I'm going out to dinner for Thanksgiving, but I like to have leftover Thanksgiving dinners, vacuum sealed and frozen, ready for future meals. I made:
Turkey breast
Gravy
Mashed potatoes
Dressing
Turkey
I got a 6.07 lb. frozen turkey breast, since I definitely did not need a full turkey. Following this guide, defrosting using the cold water method seemed best for a small breast: 30 minutes per pound = 3 hours, changing the water every 30 minutes.
I started at 4:00 AM, using my dedicated turkey 5 gallon bucket, the one I normally use for refrigerator defrosting. This turned out to be insufficient as when I unwrapped it, there was a big block of ice the cavity still. I ran a slow stream of cold water into the cavity for another 30 minutes to melt it in the sink.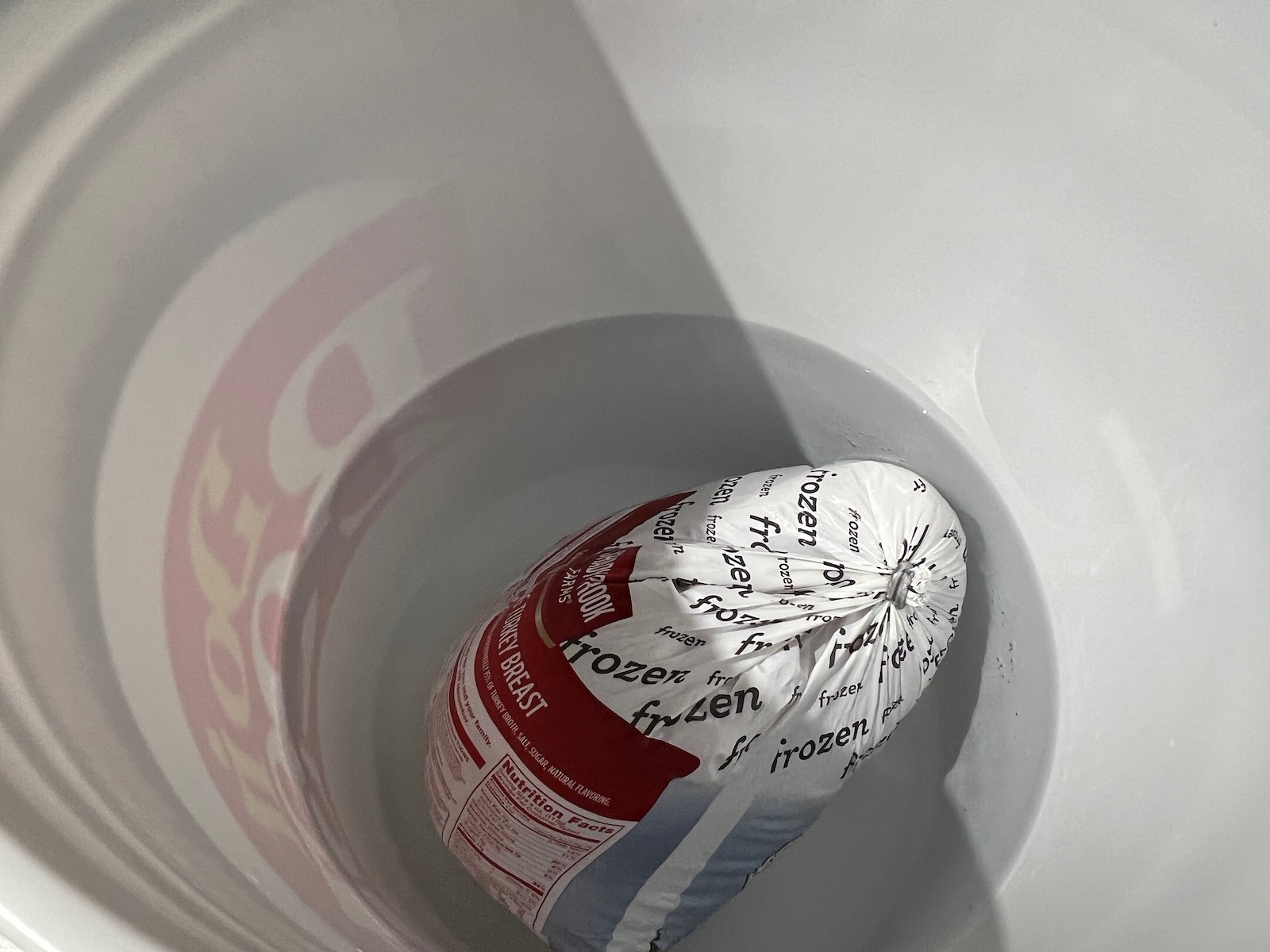 This was a full breast, not a split breast, and it would not have rested properly in the roasting pan right-side up.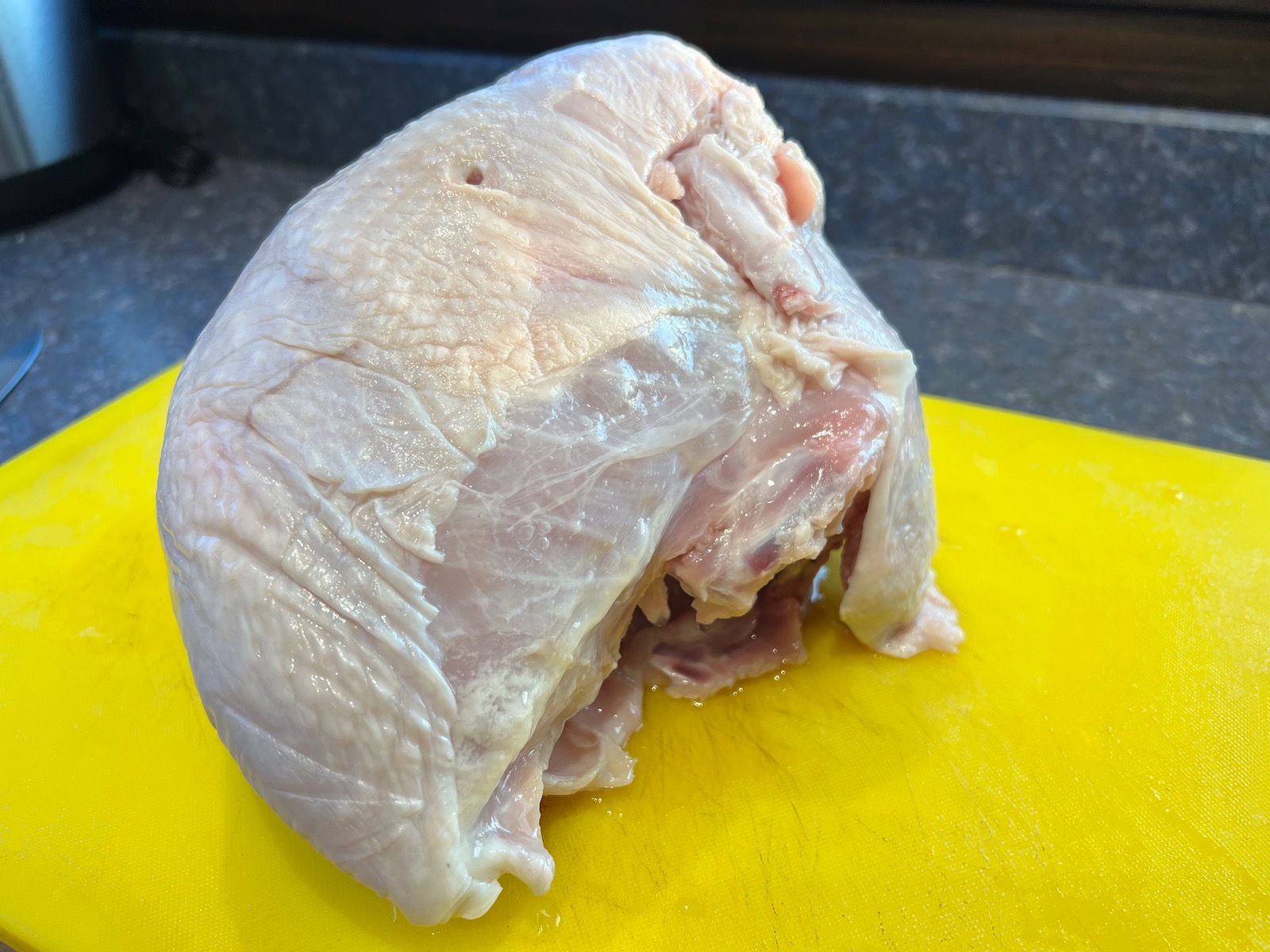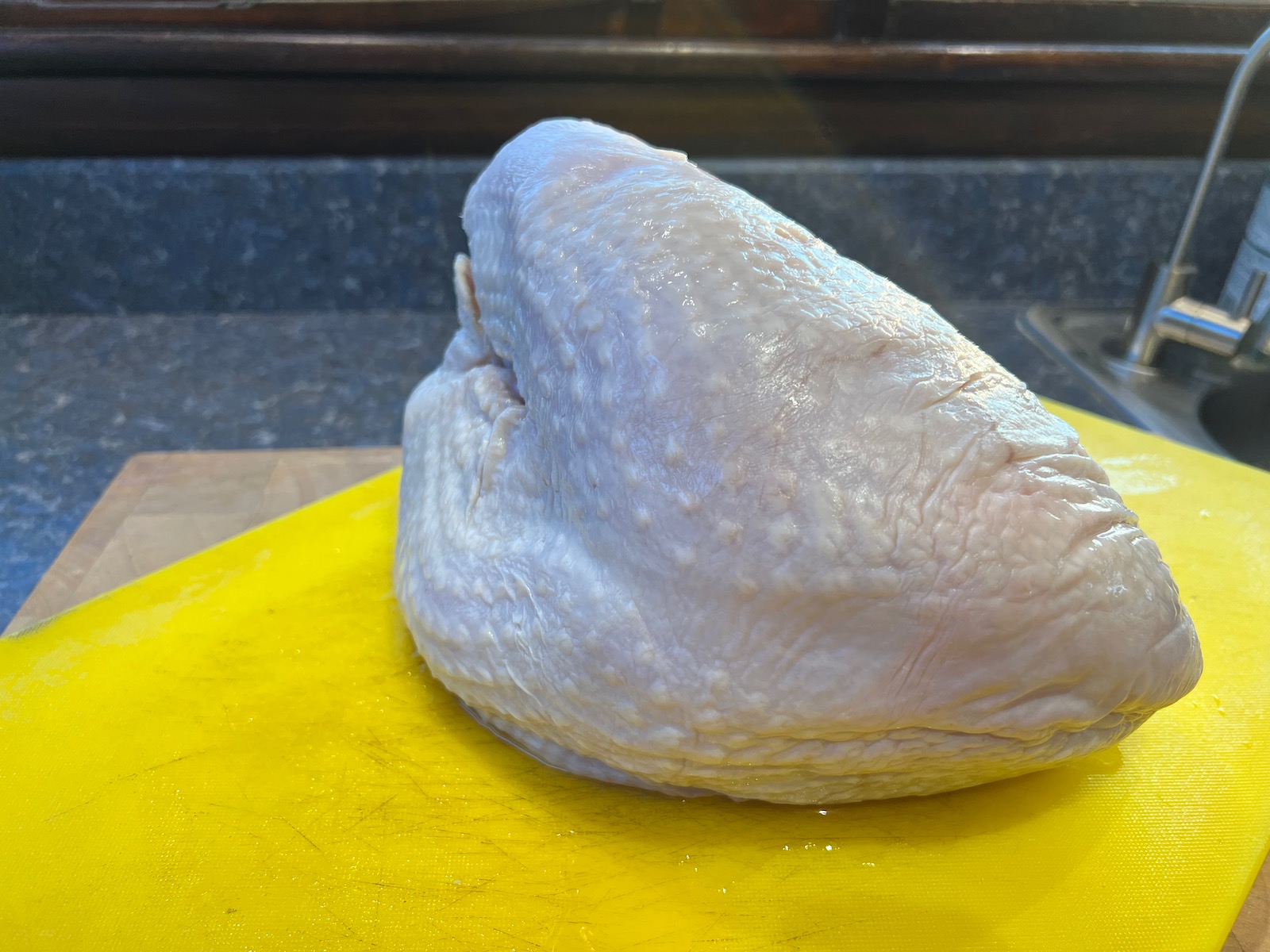 I opted for the spatchcock method, which should be better, anyway. From that link:
Pat the turkey dry and place it backbone side up on a cutting board.
Use poultry shears and cut on either side of the backbone starting from the bottom cutting up toward the neck. If you get to an area that you can't get through with the shears, use a knife to crack through. You have now removed the backbone.
Make a cut either down the center of the breastbone or one cut on either side of it. Turn the turkey breast side up.
Flatten bird out by pressing down on the breastbone with your palms, and break it (ribs will break too). You may need to stand on a stool for more leverage.
I put the cutting board on the floor and I still couldn't apply enough force to get it to completely flatten, but it still cooked evenly.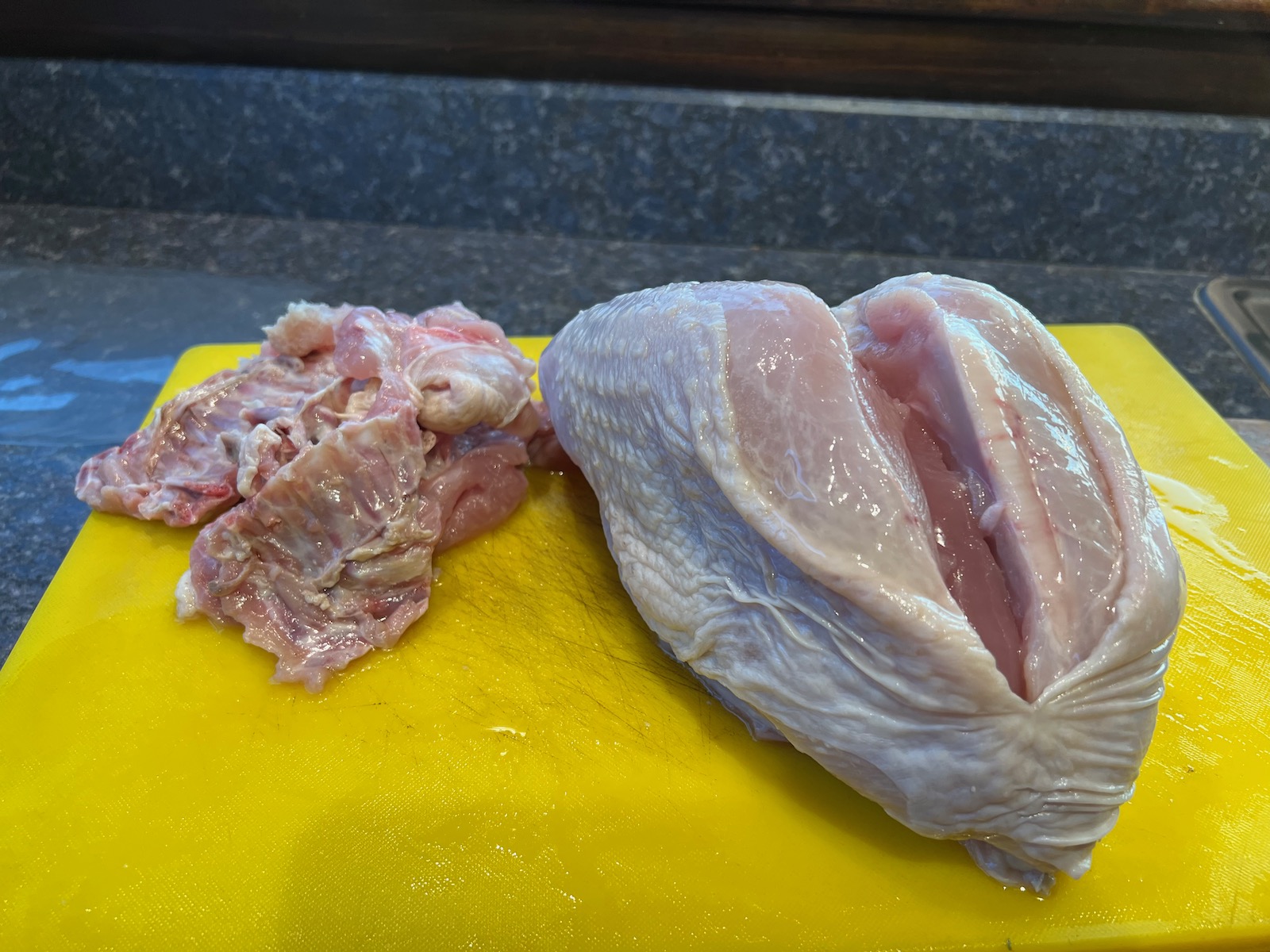 Season with salt, freshly ground black pepper, garlic powder, and ground sage.
Put in a roasting pan on a rack. Add a cup of water to the bottom of the pan. Add another half cup later if necessary.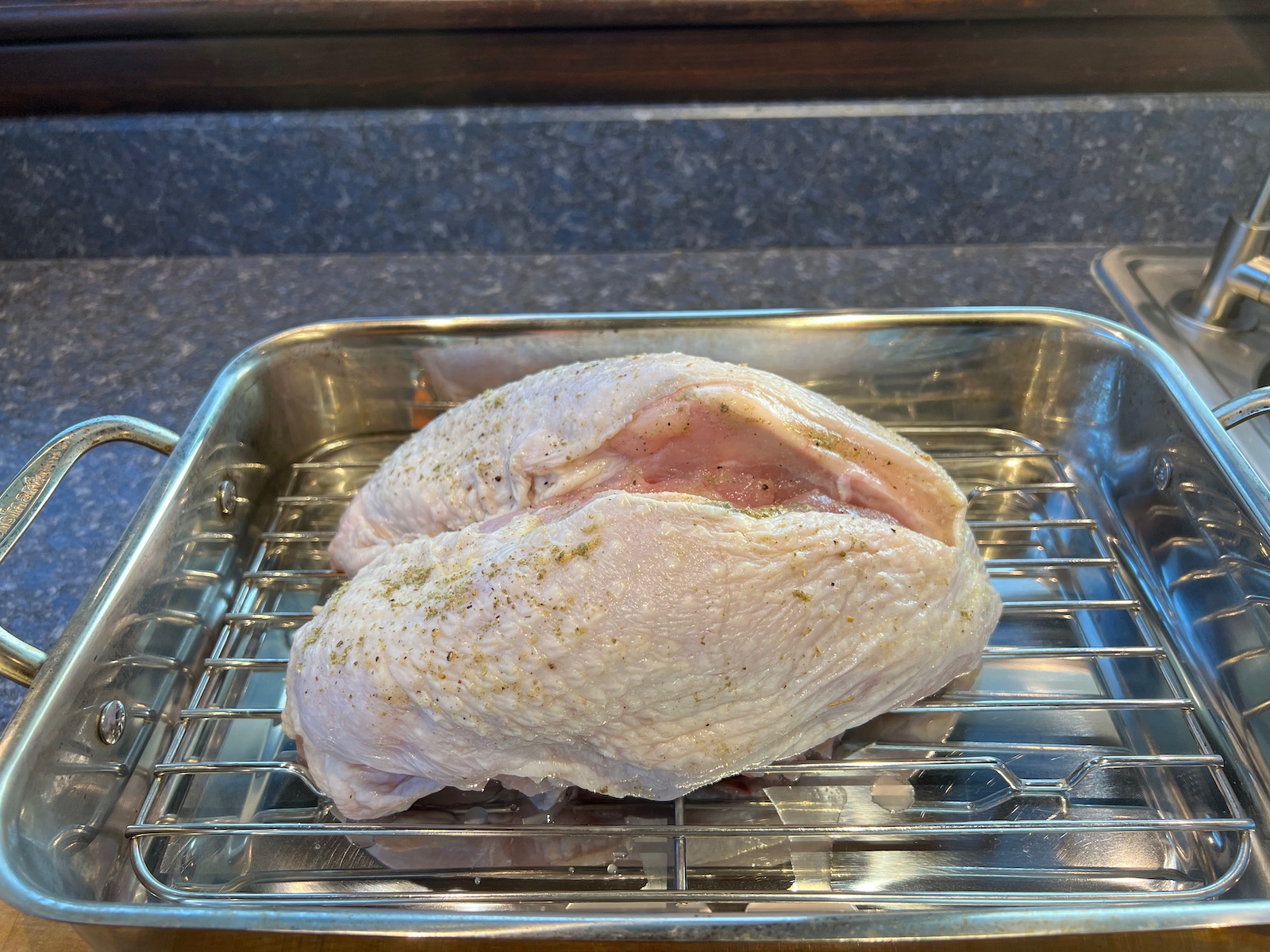 Cook at 350°F. Set a probe thermometer to 155°F. It will continue to cook after removing it.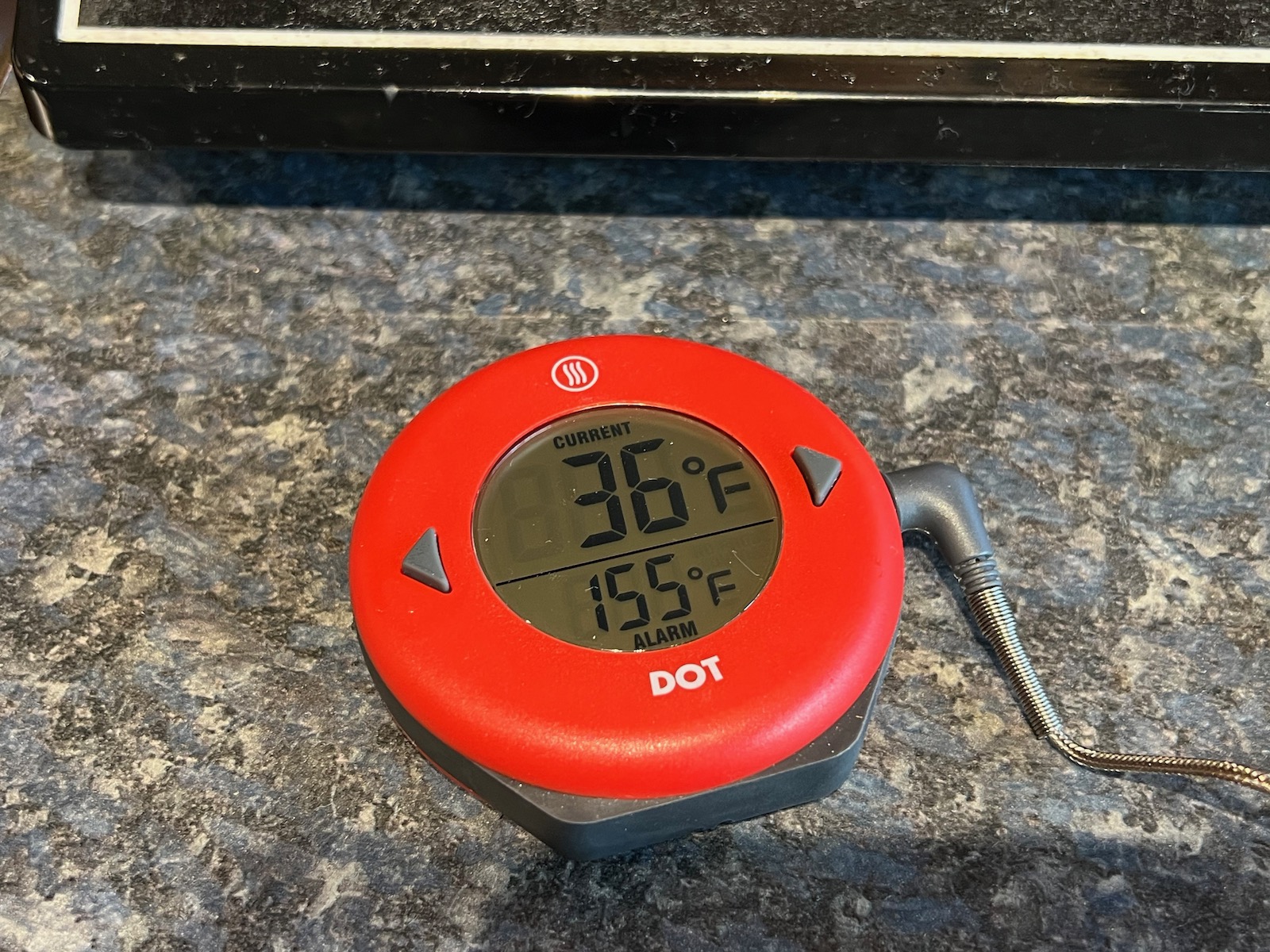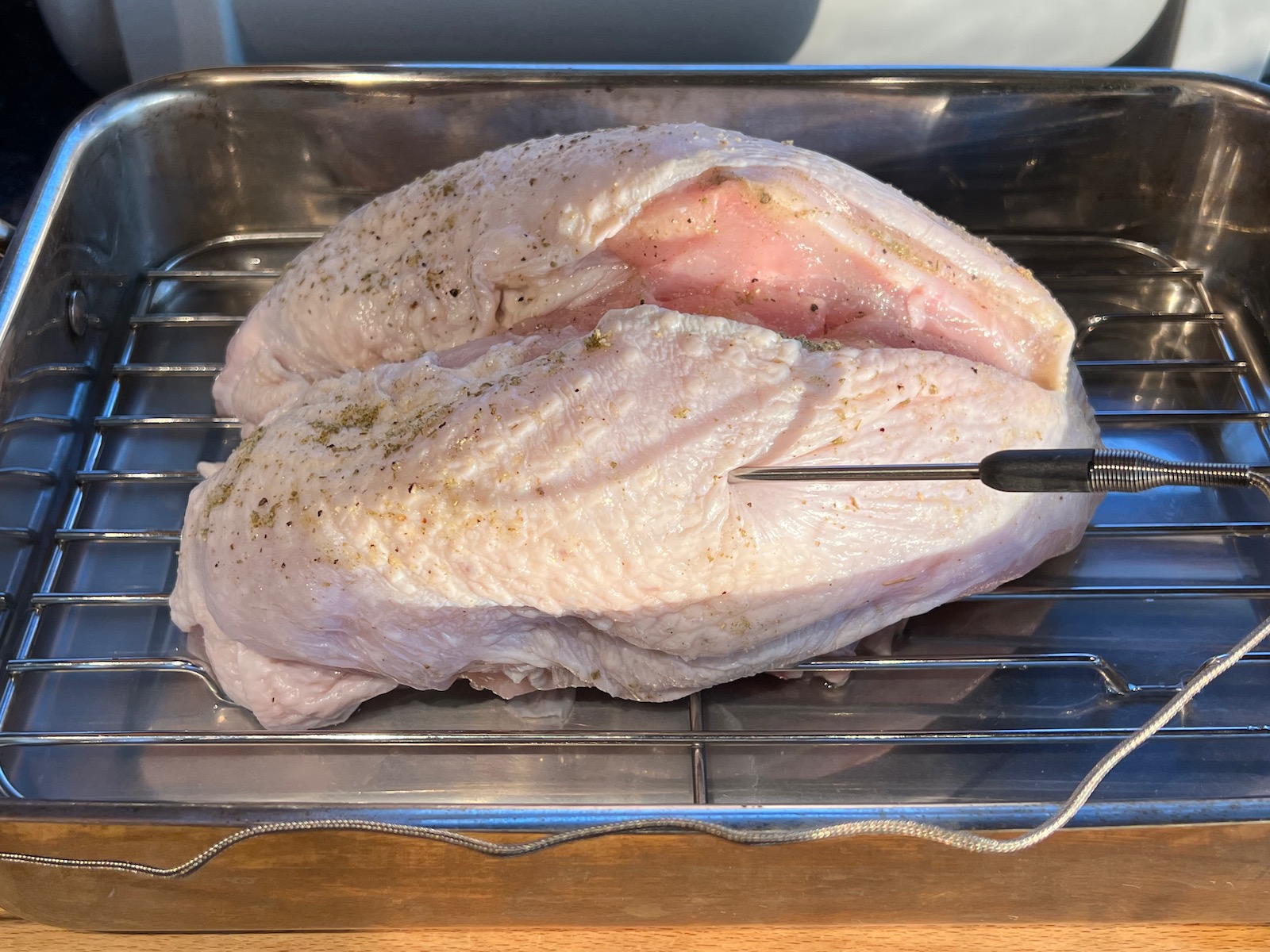 I temporarily vacuum sealed the backbone and other bits. I'll add those to the breast bone to make stock.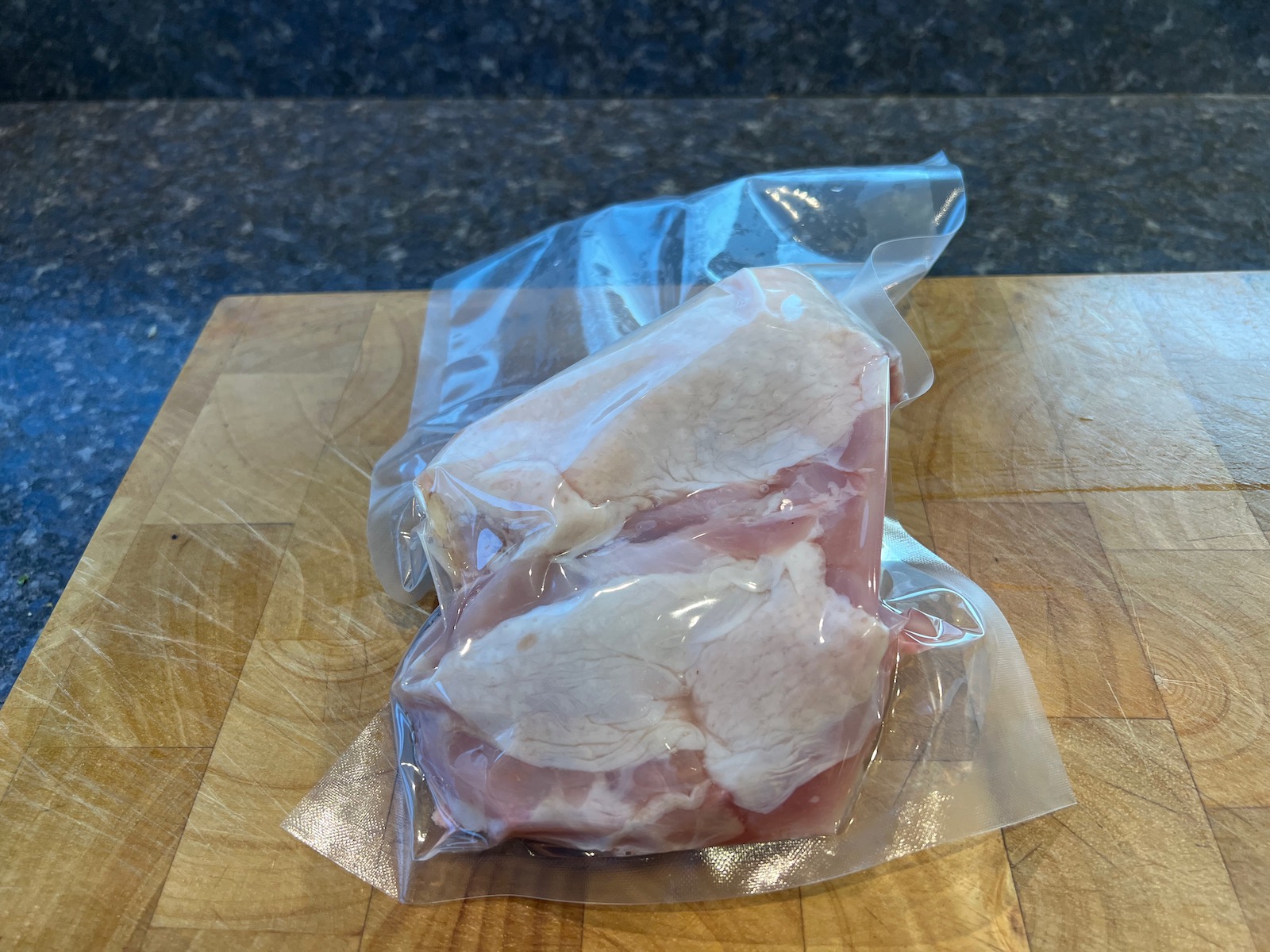 It took around 90 minutes to roast.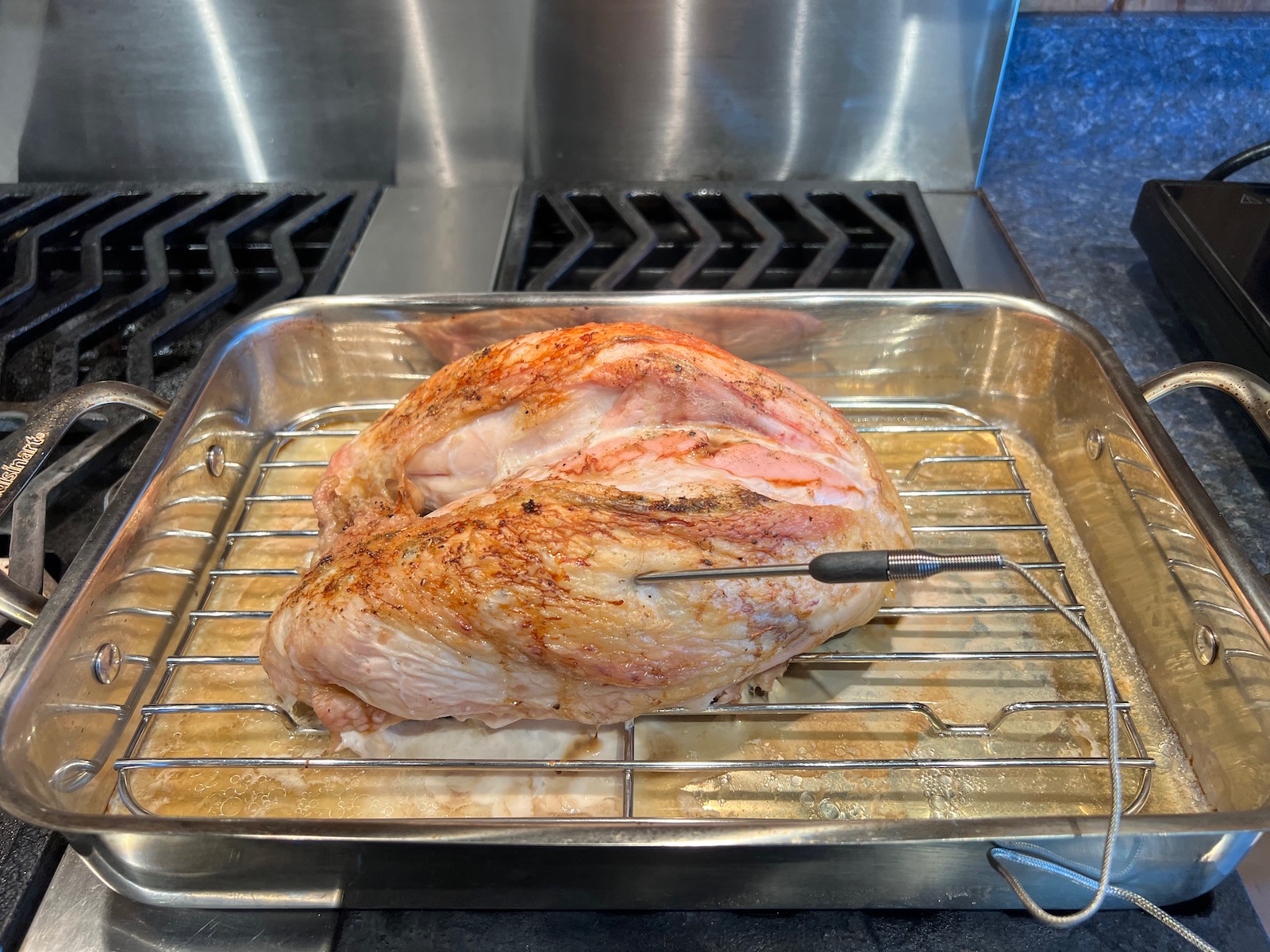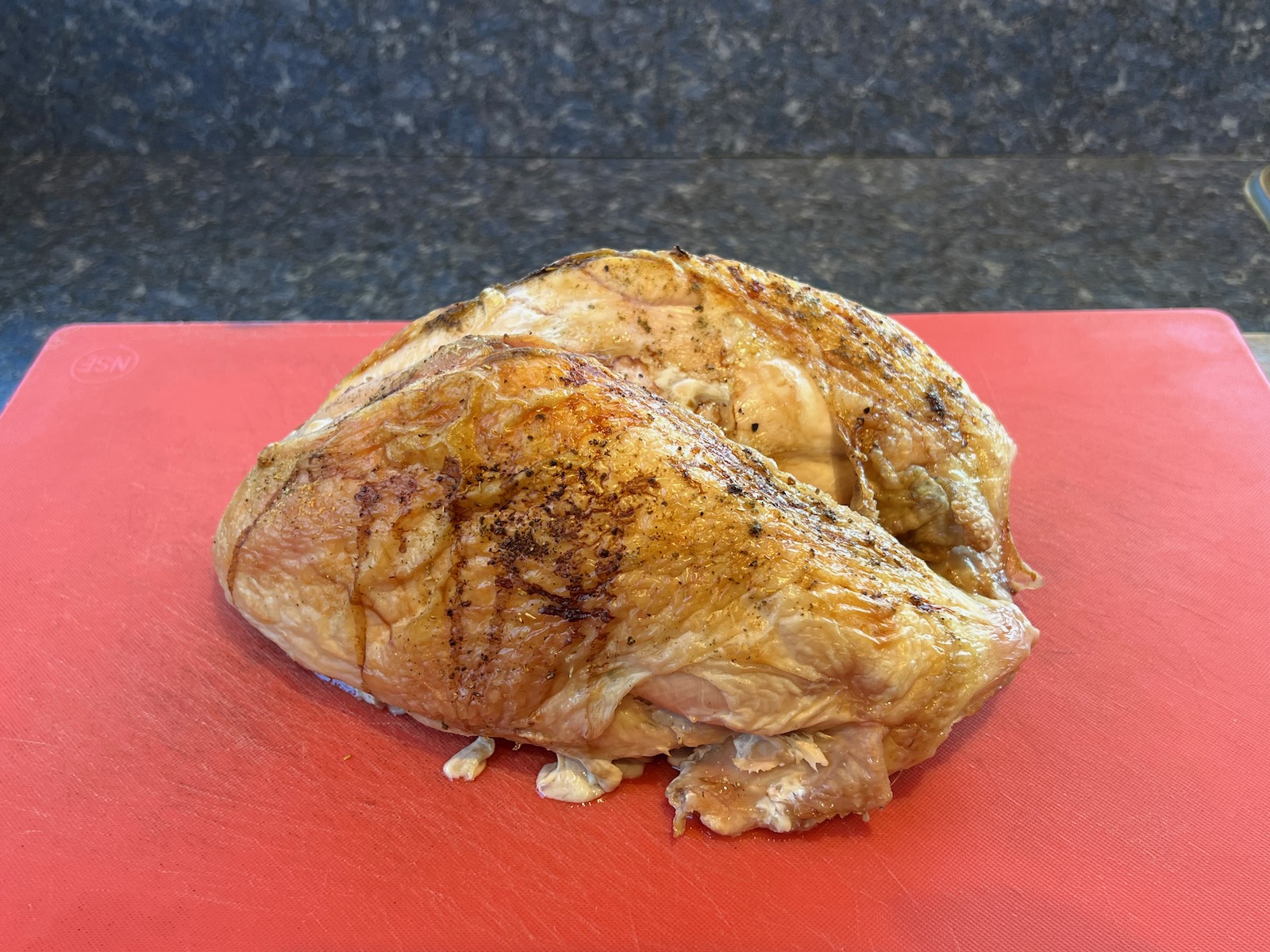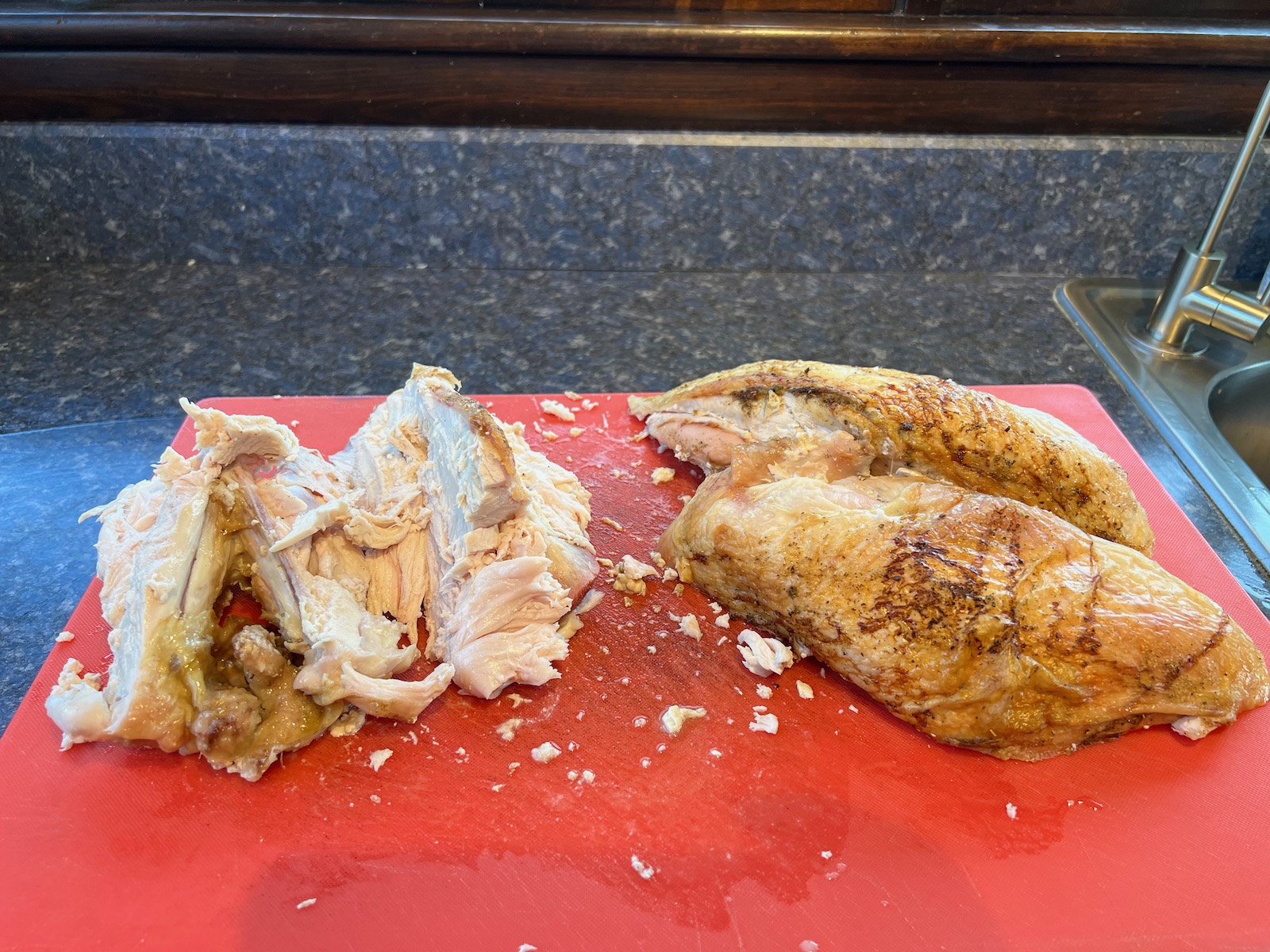 Sliced after resting for an hour.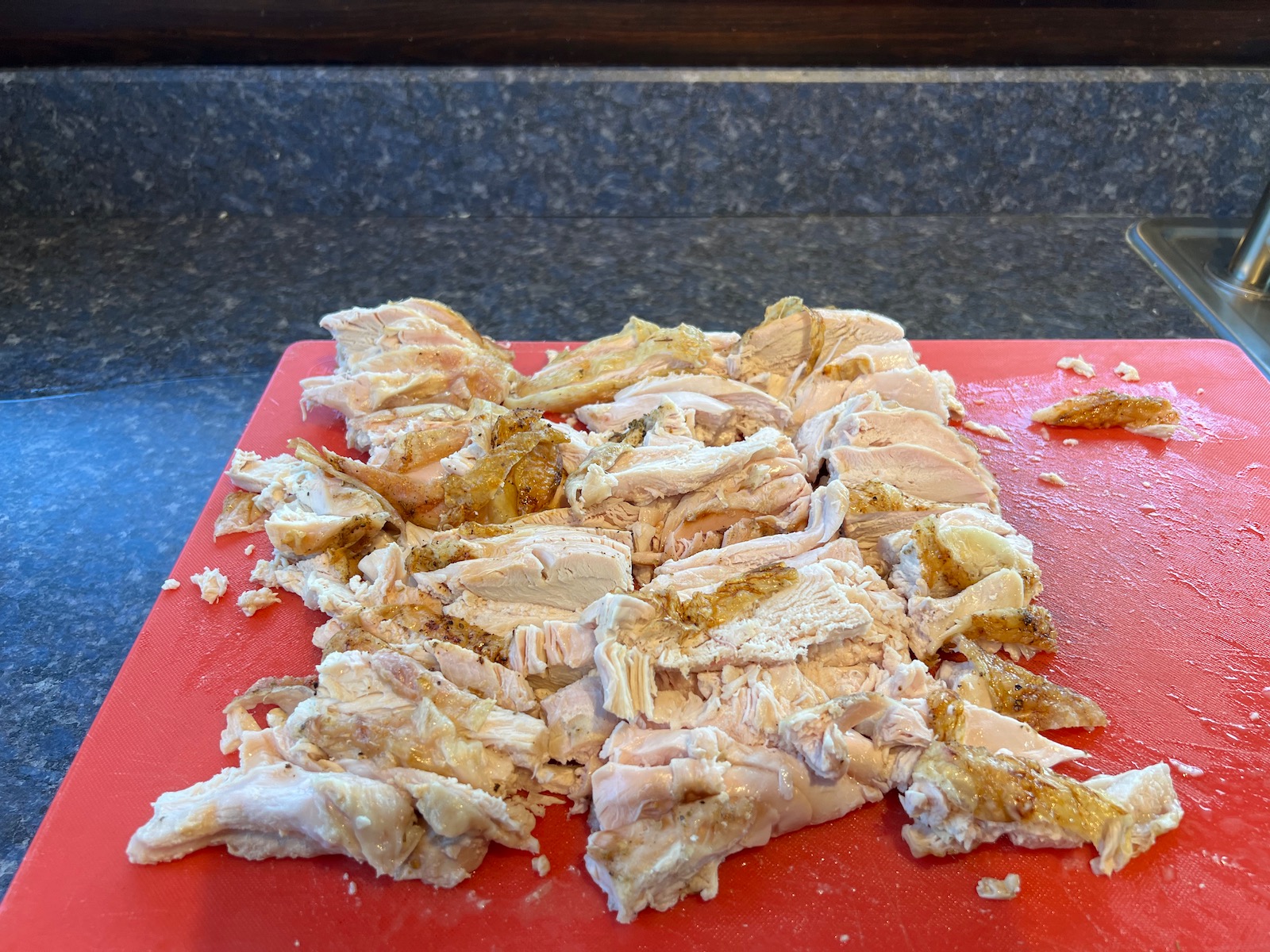 Dressing
I used Pepperidge Farm classic stuffing mix, which is what Mom used, but added several things.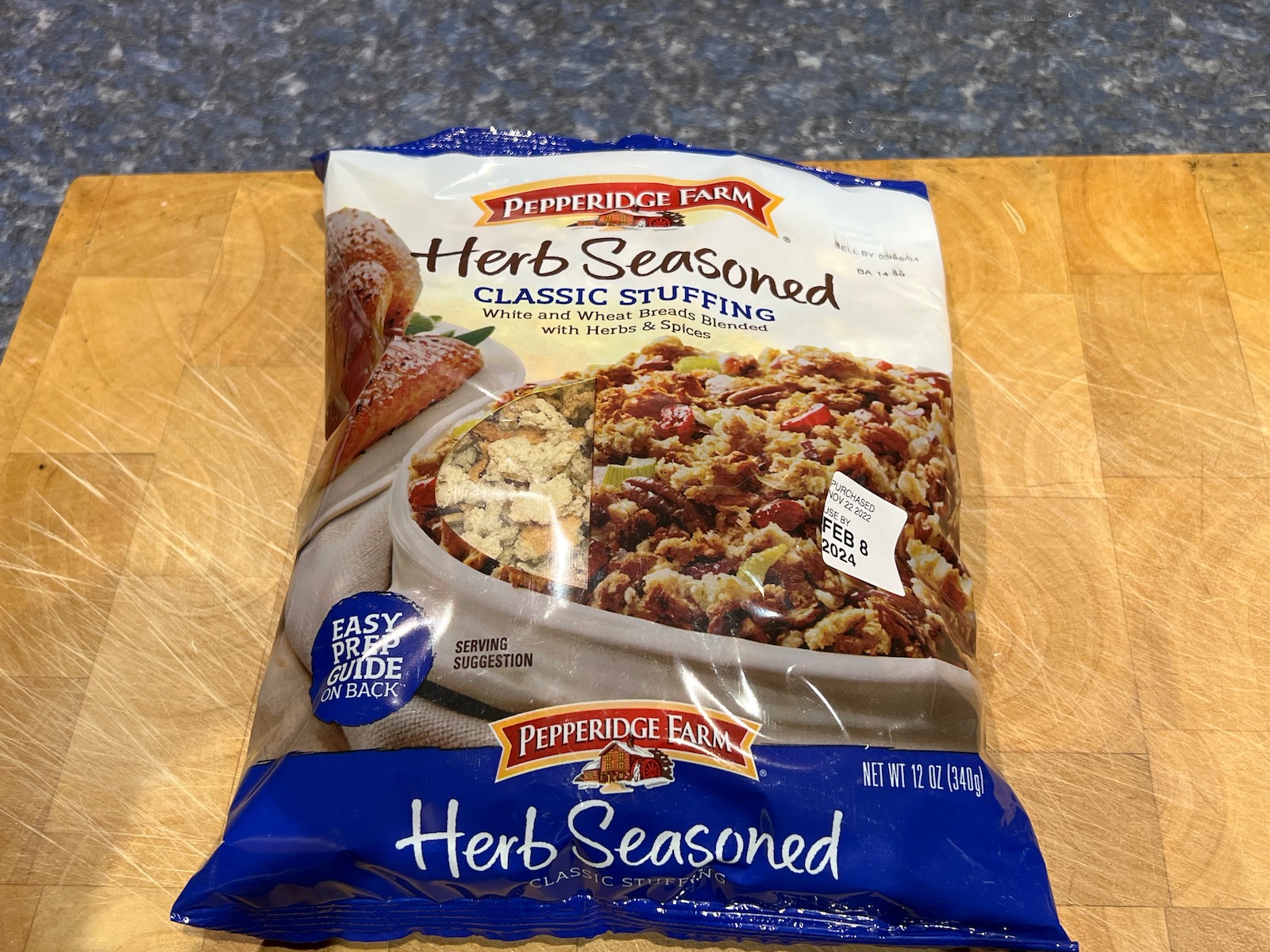 I used 4.0 oz. (1/4 package) of Jimmy Dean loose sage sausage. I also formed 2x 2.0 oz. patties in a 3 1/2 cutter and cooked those when I cooked the loose sausage. Those are for future sausage breakfast sandwiches. I vacuum sealed and froze 2 packages of 4.0 oz. raw each for future meals. Mom didn't add sausage to her stuffing, but I like it with it.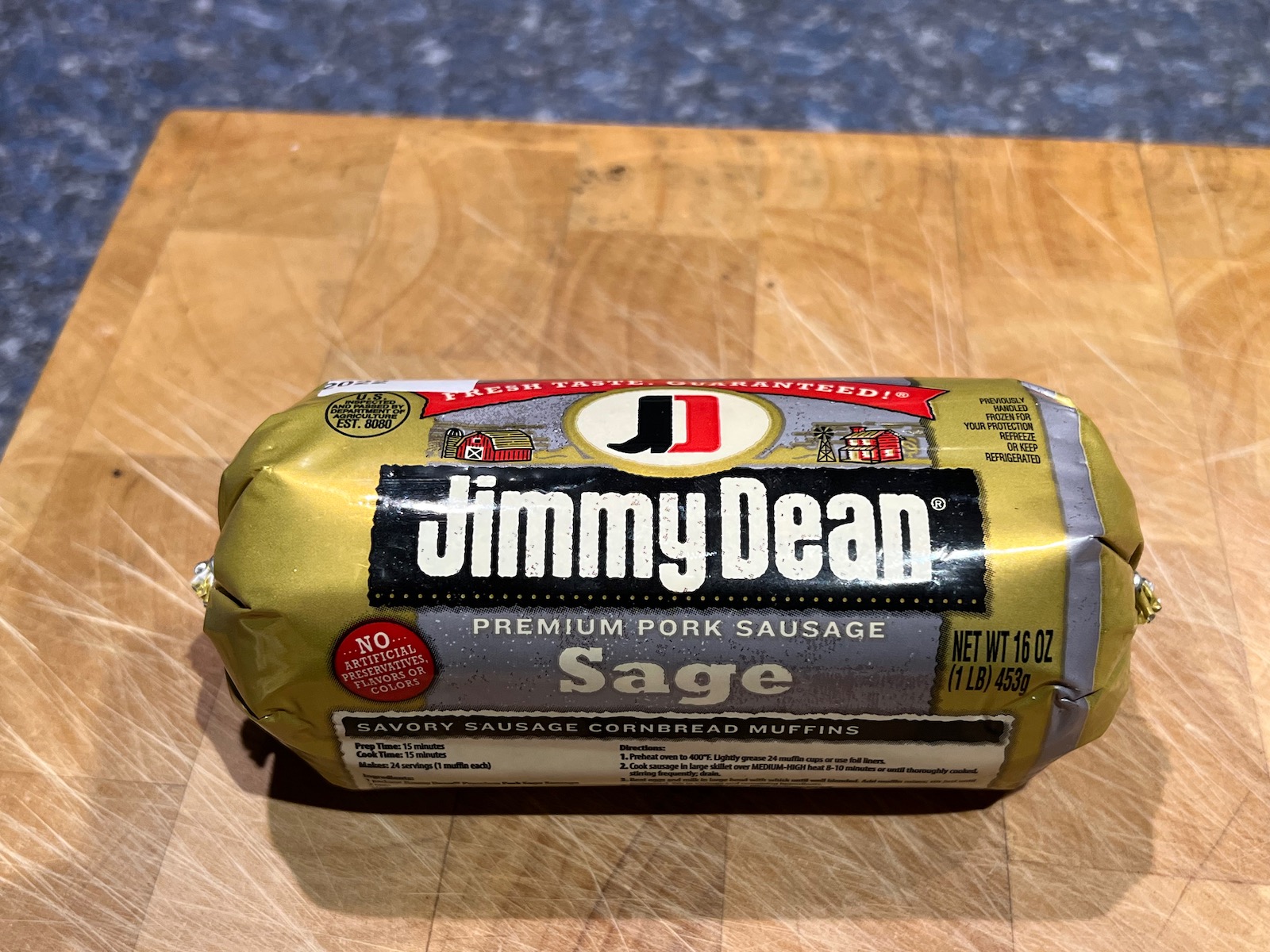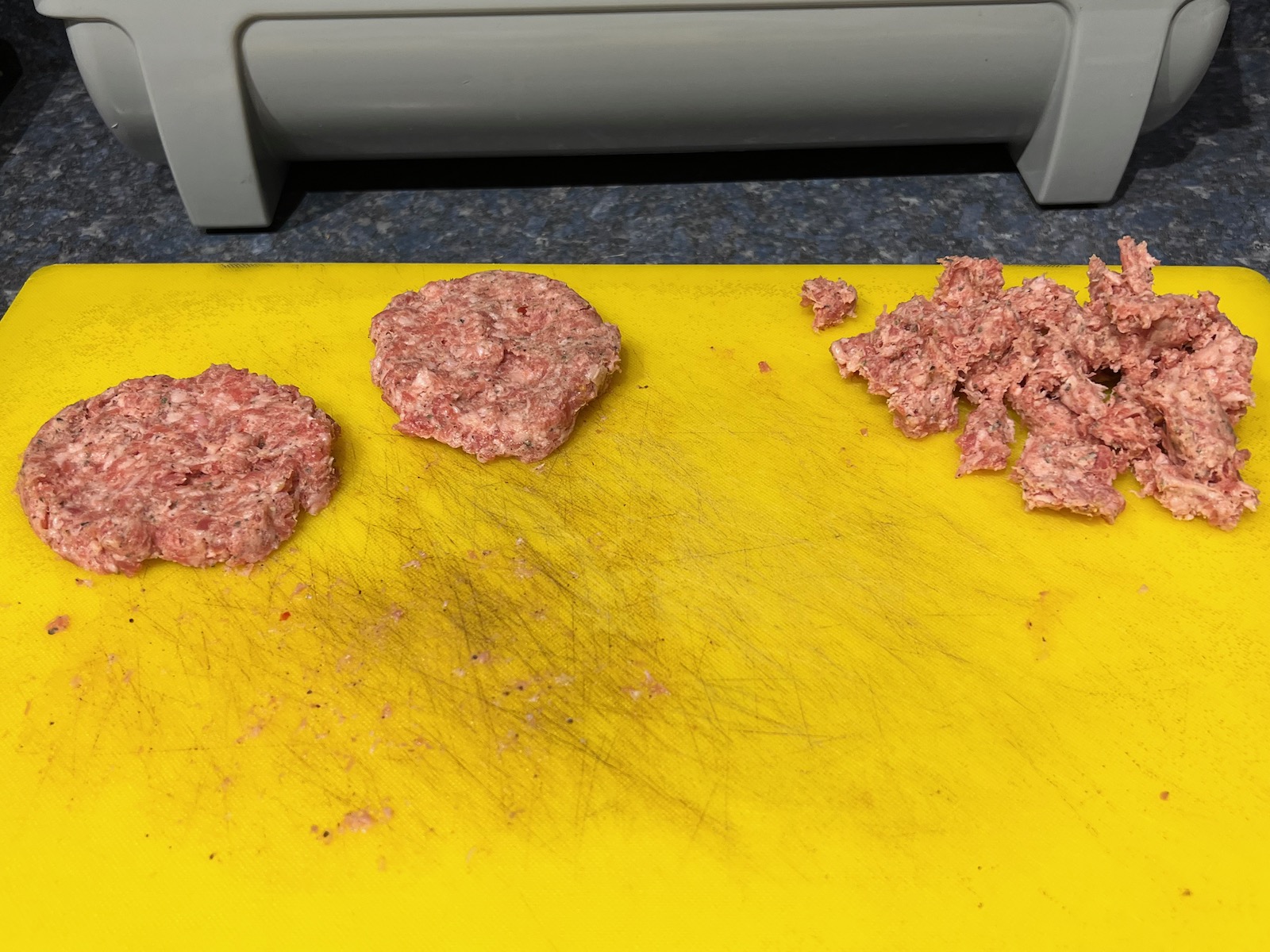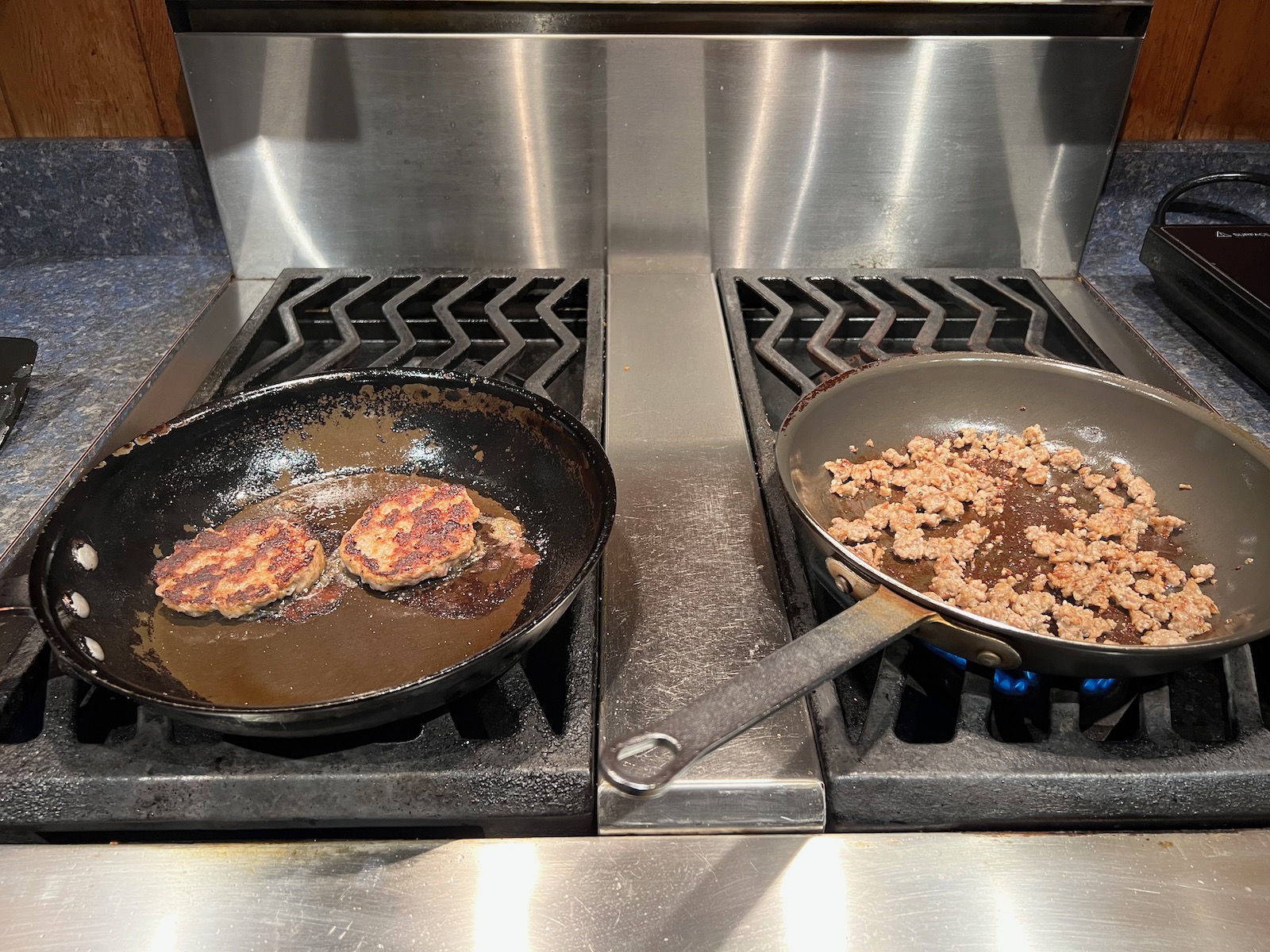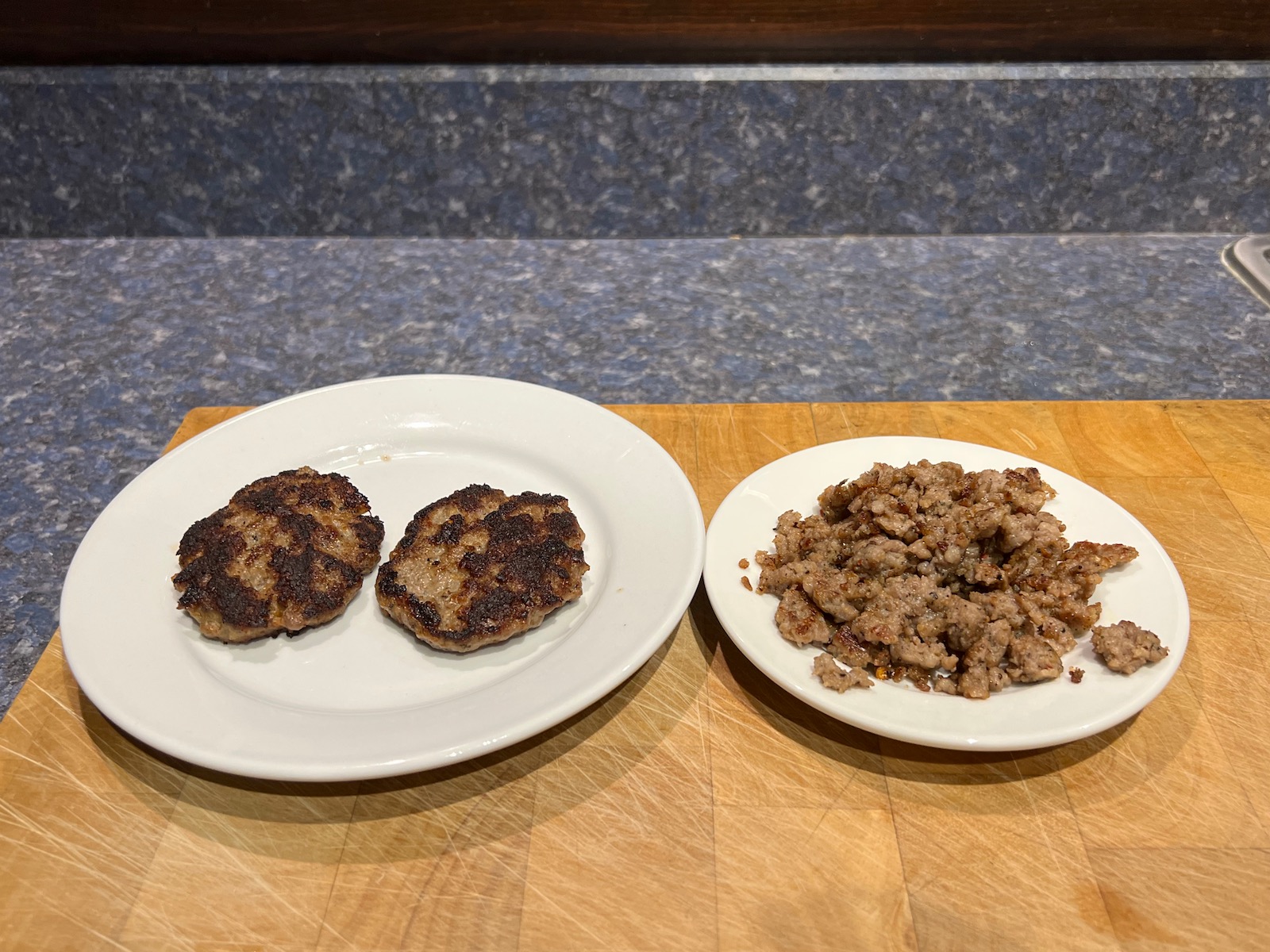 4.0 oz. Jimmy Dean sage sausage
2 tbsp. butter
1/2 cup diced onion (1/2 small onion)
1/2 cup diced celery
2 cups turkey stock (16 oz). This is twice the package amount, but this is more like Mom's.
6 oz. Pepperidge Farm classic stuffing mix (1/2 bag)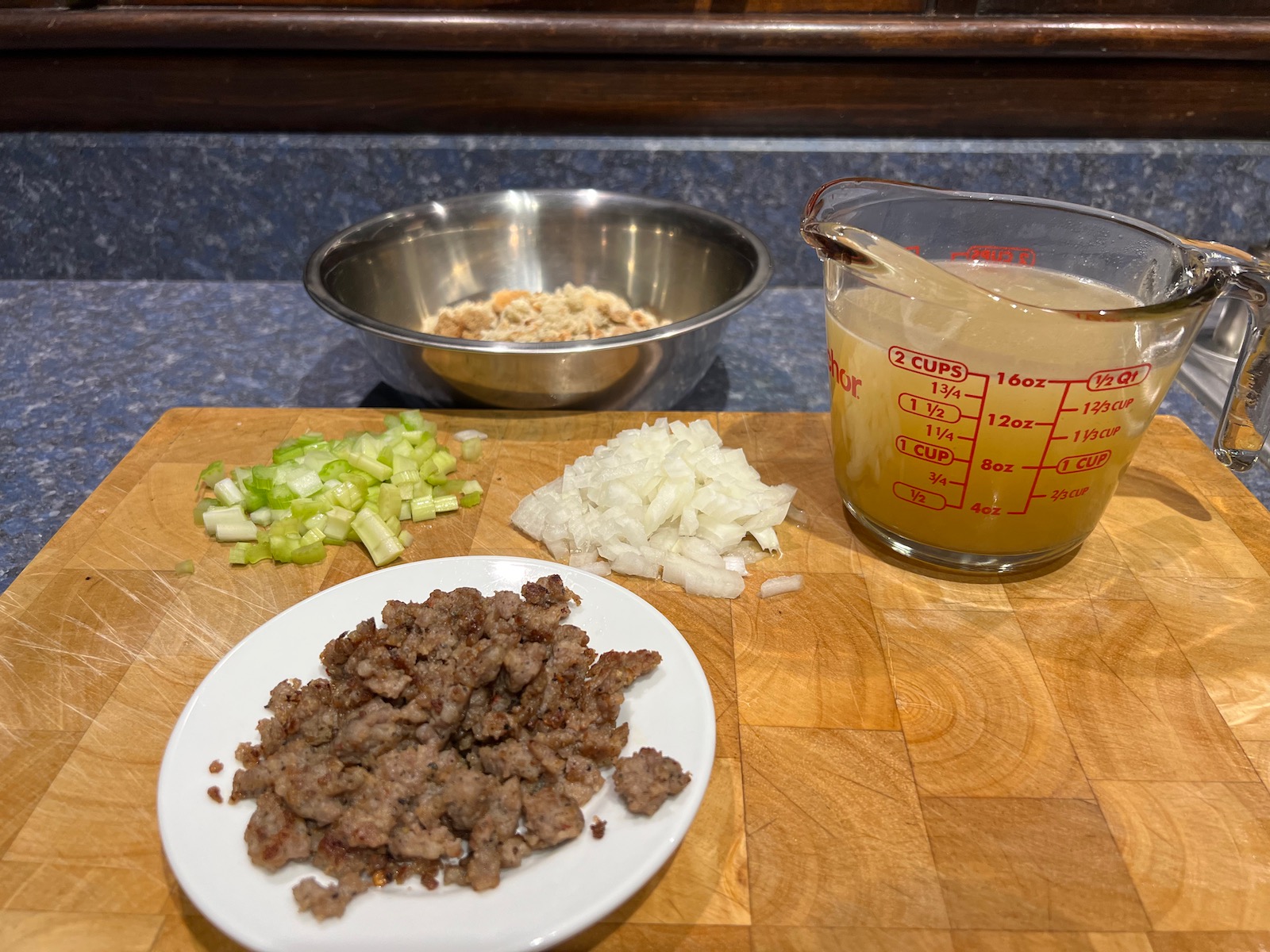 Cook the sausage in a sauté pan
Add the butter, onions, and celery and cook until slightly softened
Add the stock and bring to a boil
Add liquid and vegetables to the stuffing mix in a bowl and stir
Lightly oil a 9x9 Pyrex baking dish
Transfer to the 9x9 Pyrex baking dish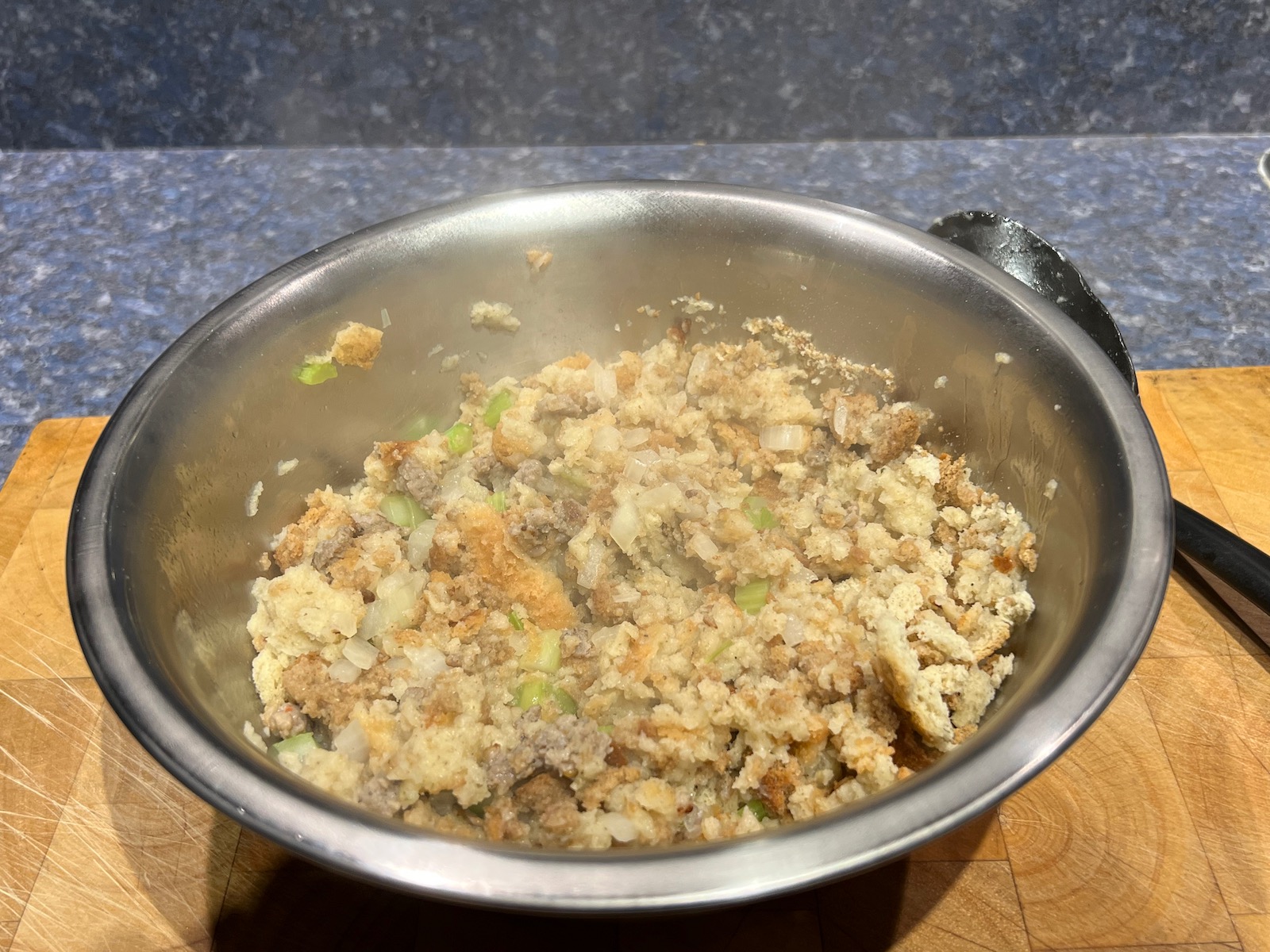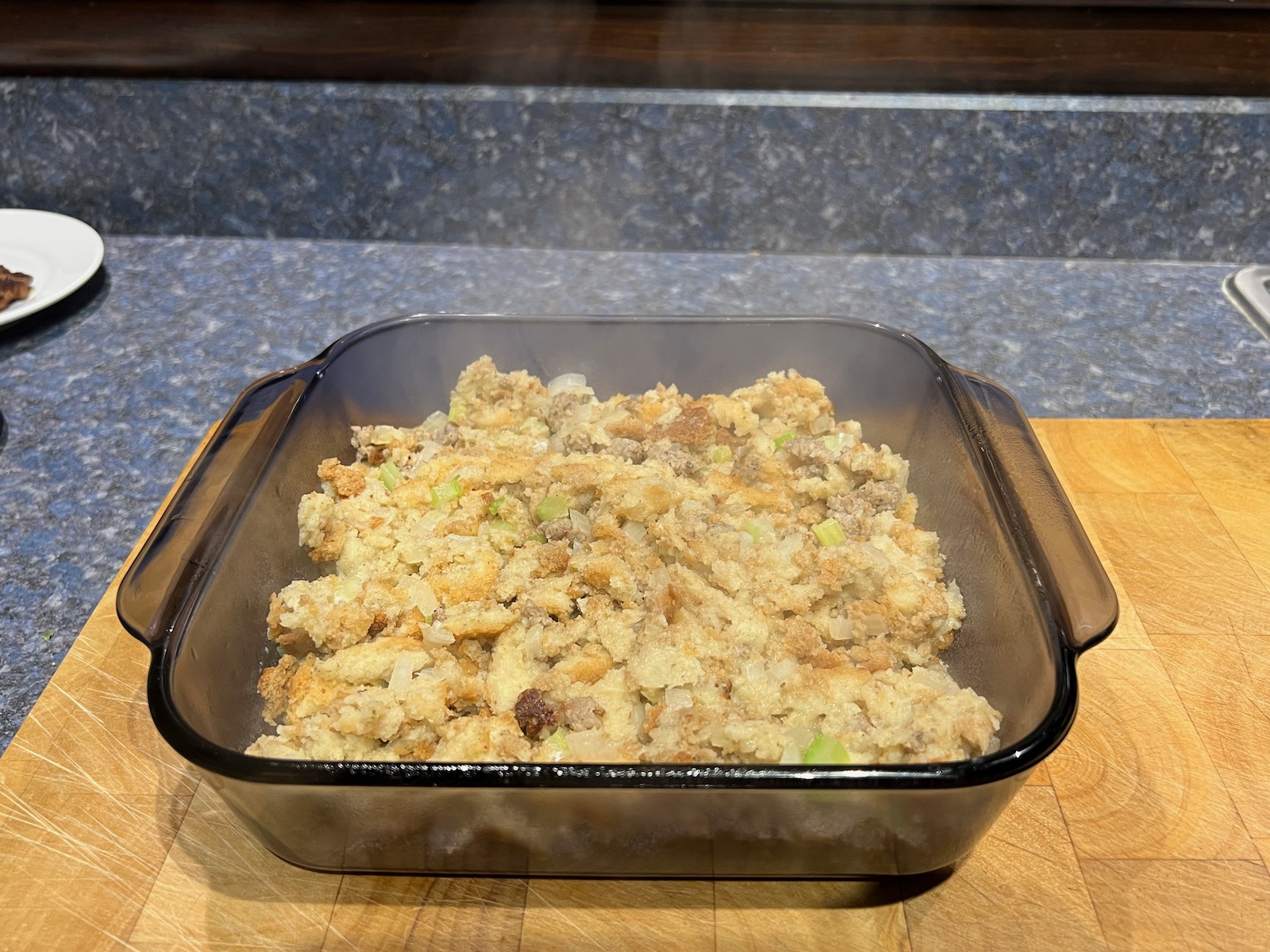 Bake 40 minutes uncovered at 350°F.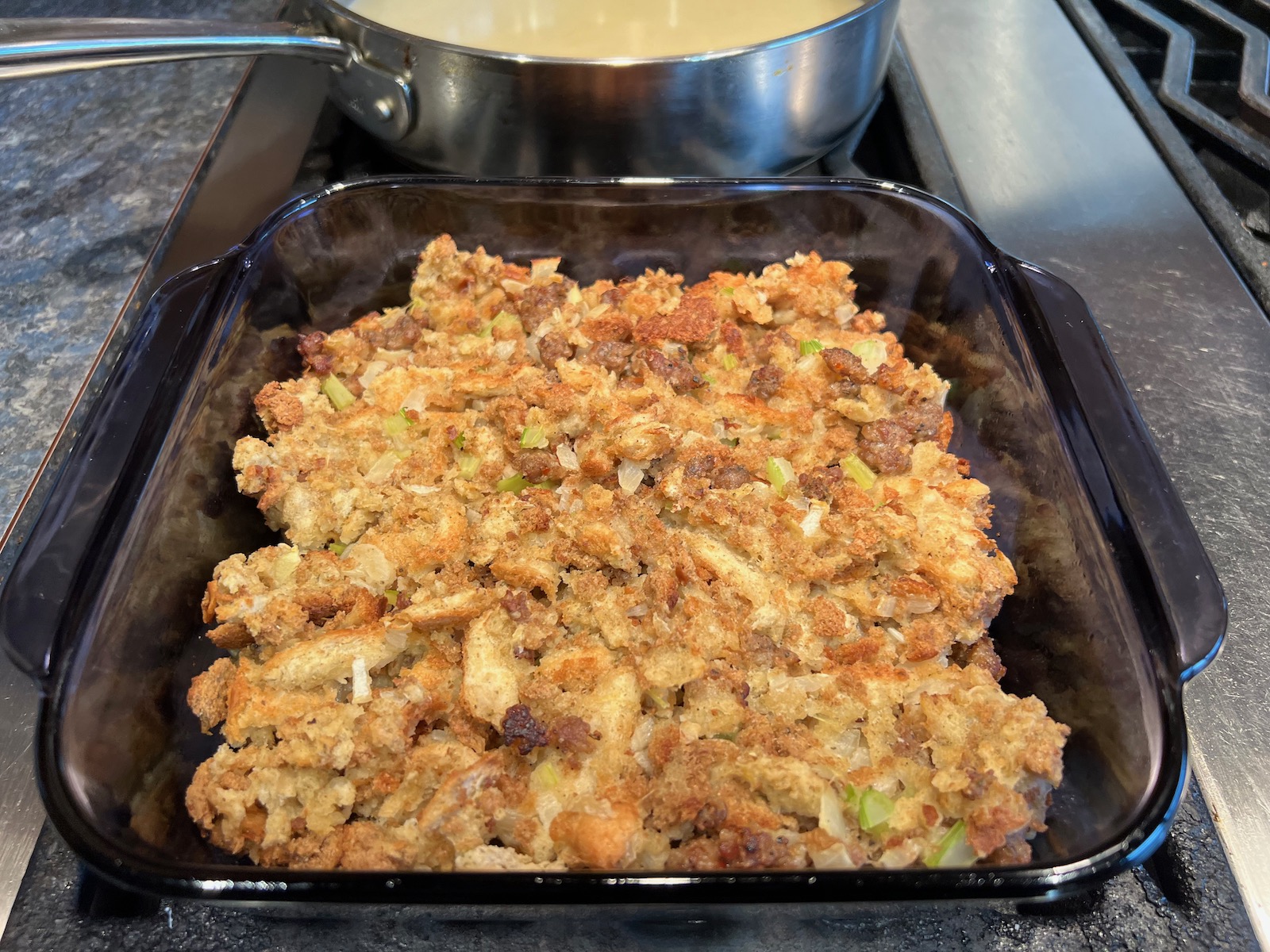 Gravy
Defrosted 40 oz. of turkey stock and used 24 oz. for the gravy and the remaining 16 oz. for dressing. I vacuum sealed and froze it last year. I put the frozen bags in the sous vide at 140°F which also had the advantage of making the stock warm to add to the roux.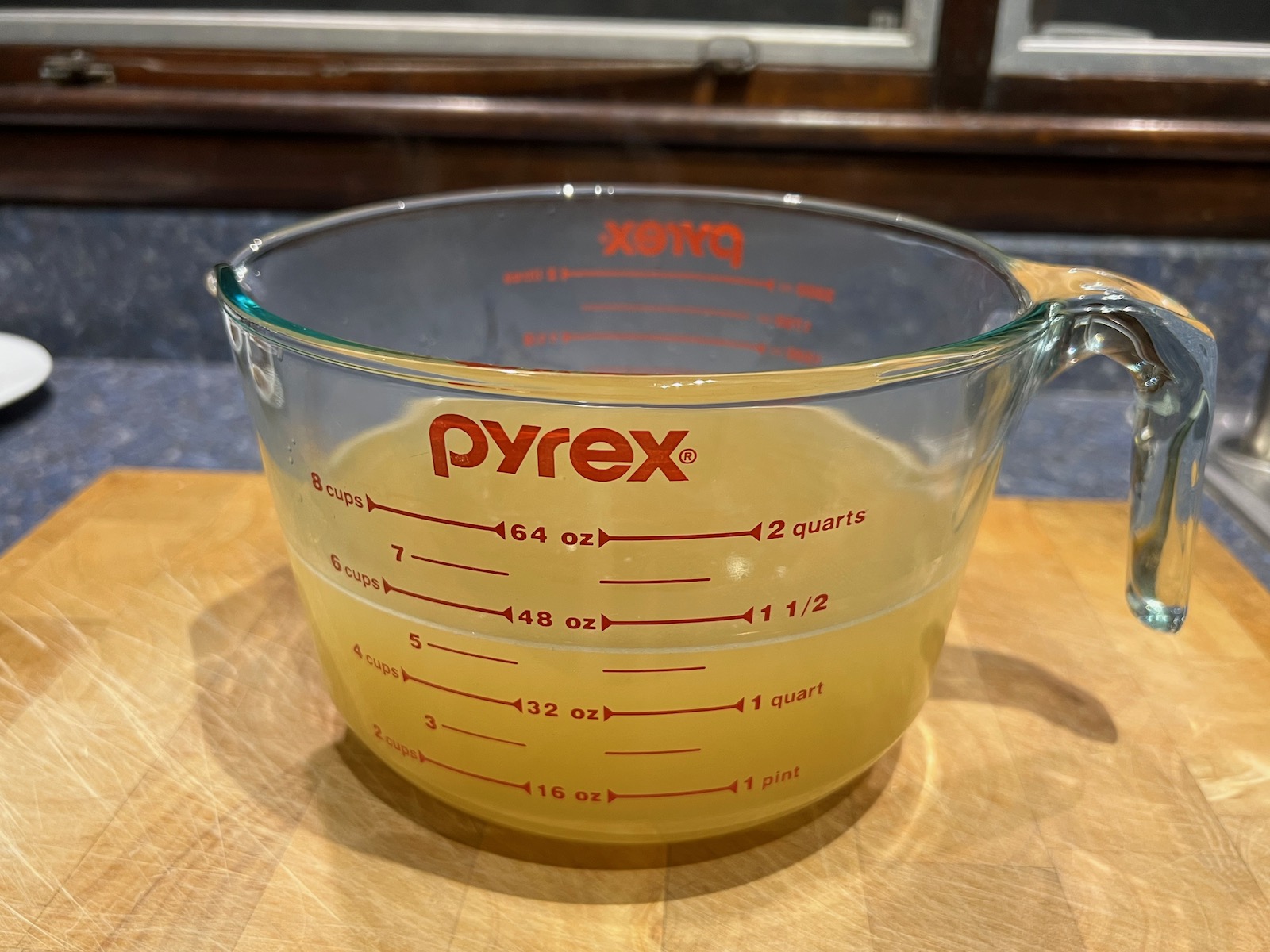 The gravy is based on this recipe and is:
1/4 cup butter (1/2 stick)

1/4 cup all-purpose flour

24 oz. turkey stock

drippings from the roasting pan

freshly ground black pepper (optional)

soy sauce (optional)
Add the butter to the pan and melt. And the flour and cook for 5 minutes or more to make a roux. It should smell slightly nutty, but not burnt.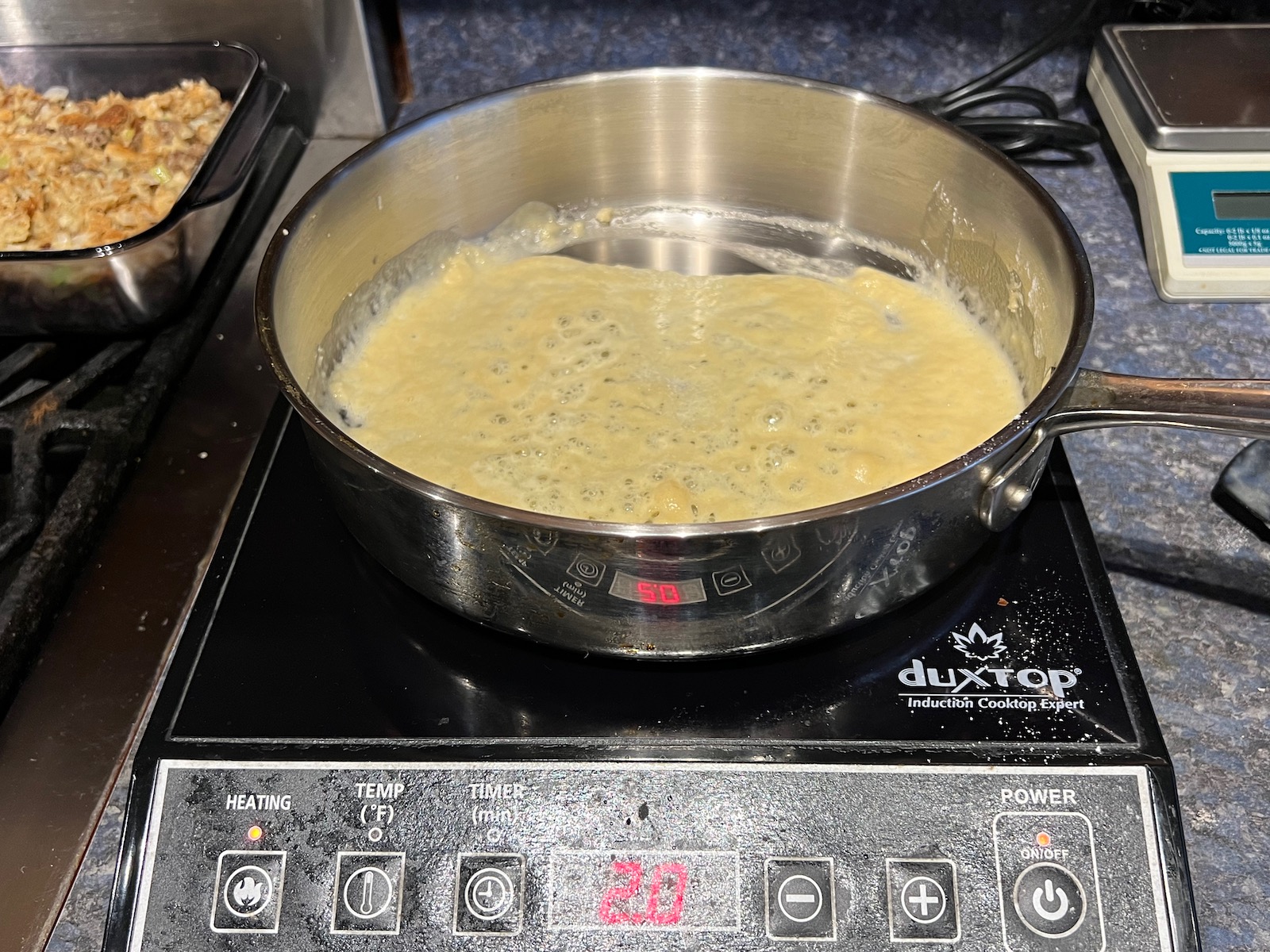 Add the turkey stock and combine. Stir for a several minutes until thickened. It will start out shockingly thin, but it thickens quickly.
With a whole turkey it's probably a good idea to use a fat separator on the pan drippings before adding them, but for the breast there's not much fat so I added it directly.
I'm used to having soy sauce in my gravy because Mom always made it that way, so I add that too, several ounces.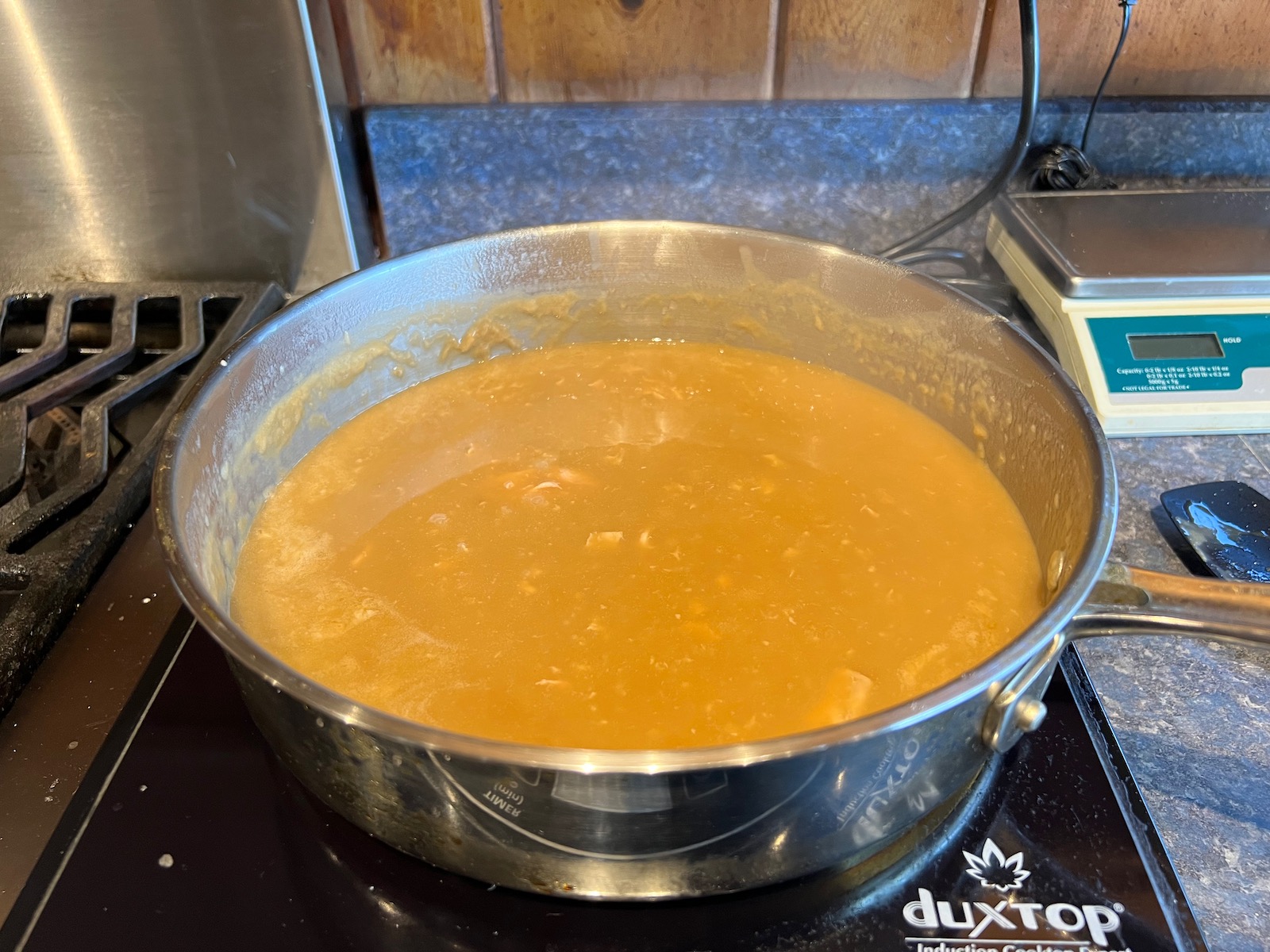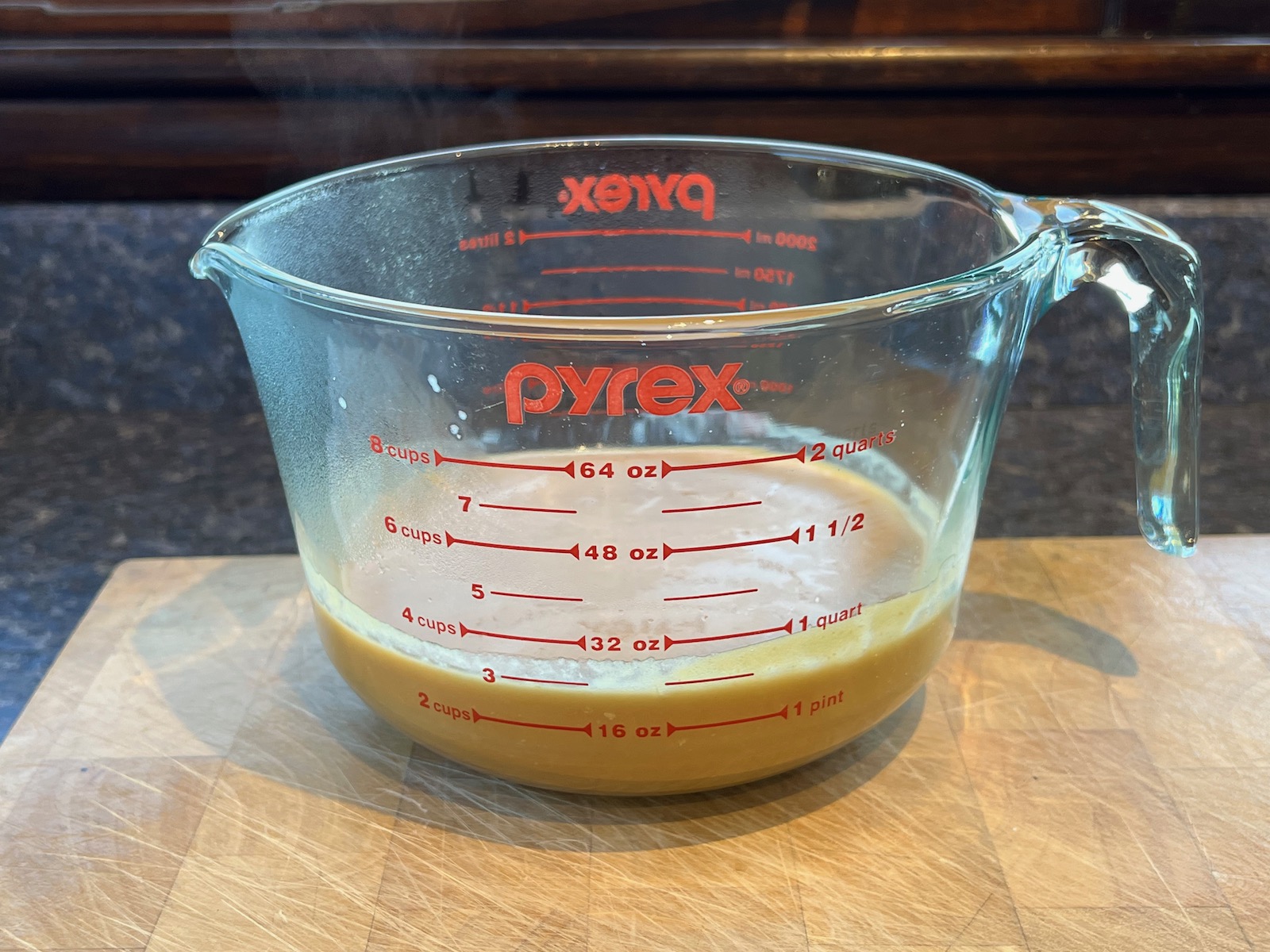 Mashed potatoes
I made 2 pounds of mashed potatoes using my regular garlic mashed potato recipe. Peel and dice the potatoes. There are yellow flesh potatoes (like Yukon Gold).
Add to a pot of boiling water and cook for 20 minutes or until soft.
Drain in a colander. I normally use a potato ricer to make mashed potatoes, but I used an electric hand mixer like Mom did. It makes really smooth whipped mashed potatoes, and is easier to clean than my gigantic potato ricer.
Add a stick of butter (4.0 oz.), diced.
Add a few ounces of heavy cream.
Season with salt and freshly ground white pepper.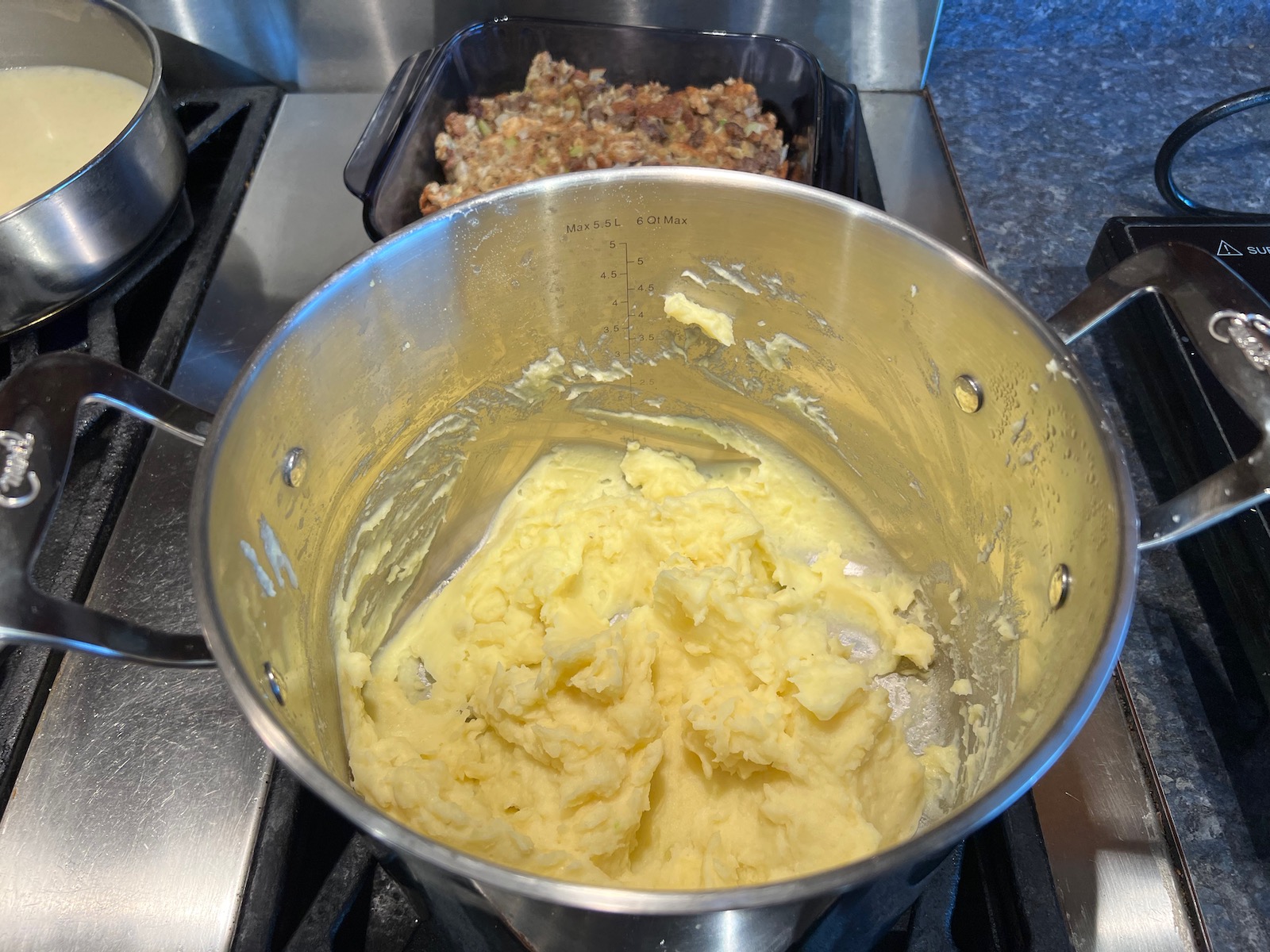 Package for future meals
I made five packages for future meals with:
5.0 oz. turkey
5.0 oz. gravy
5.0 oz. mashed potatoes
dressing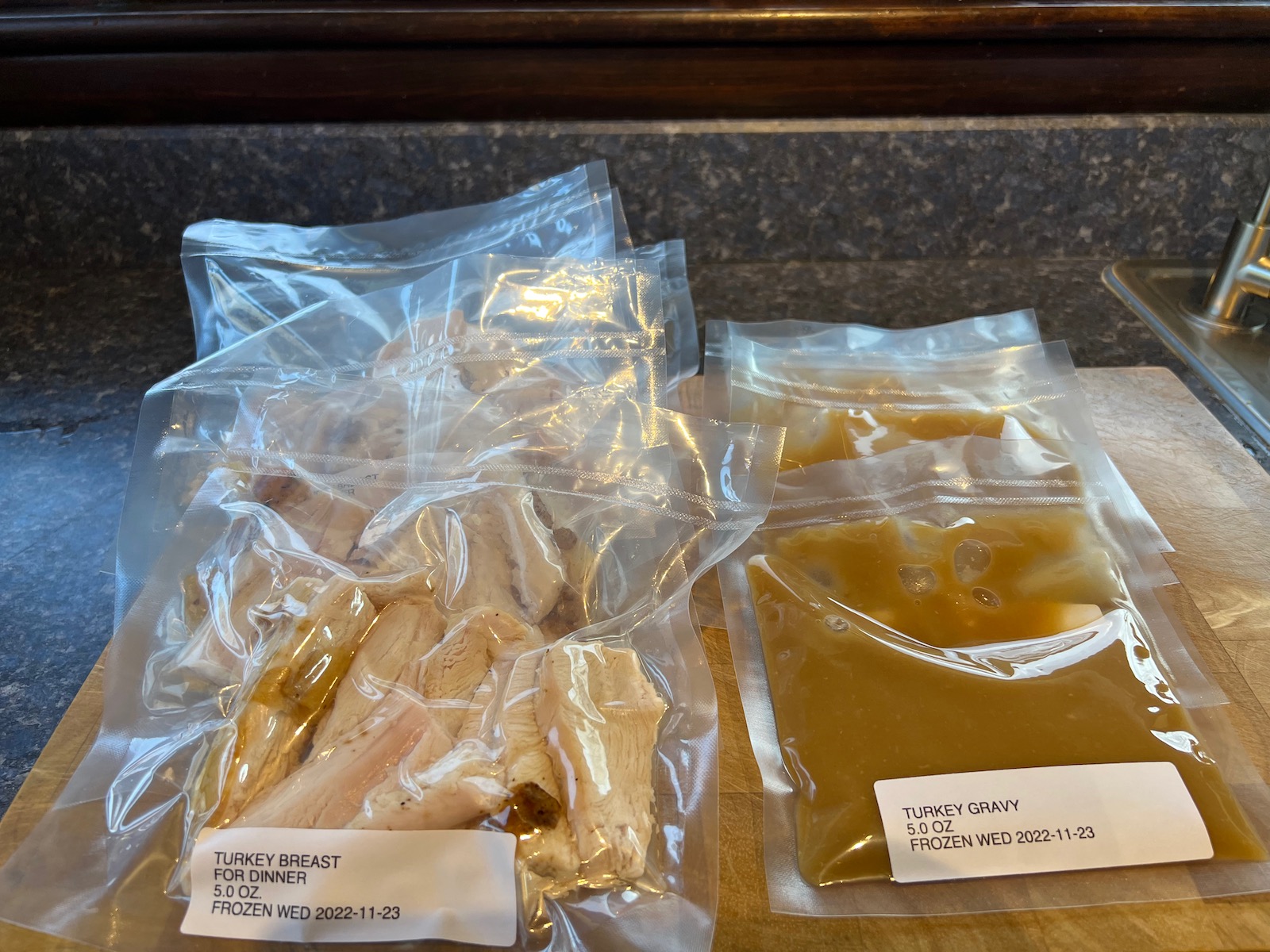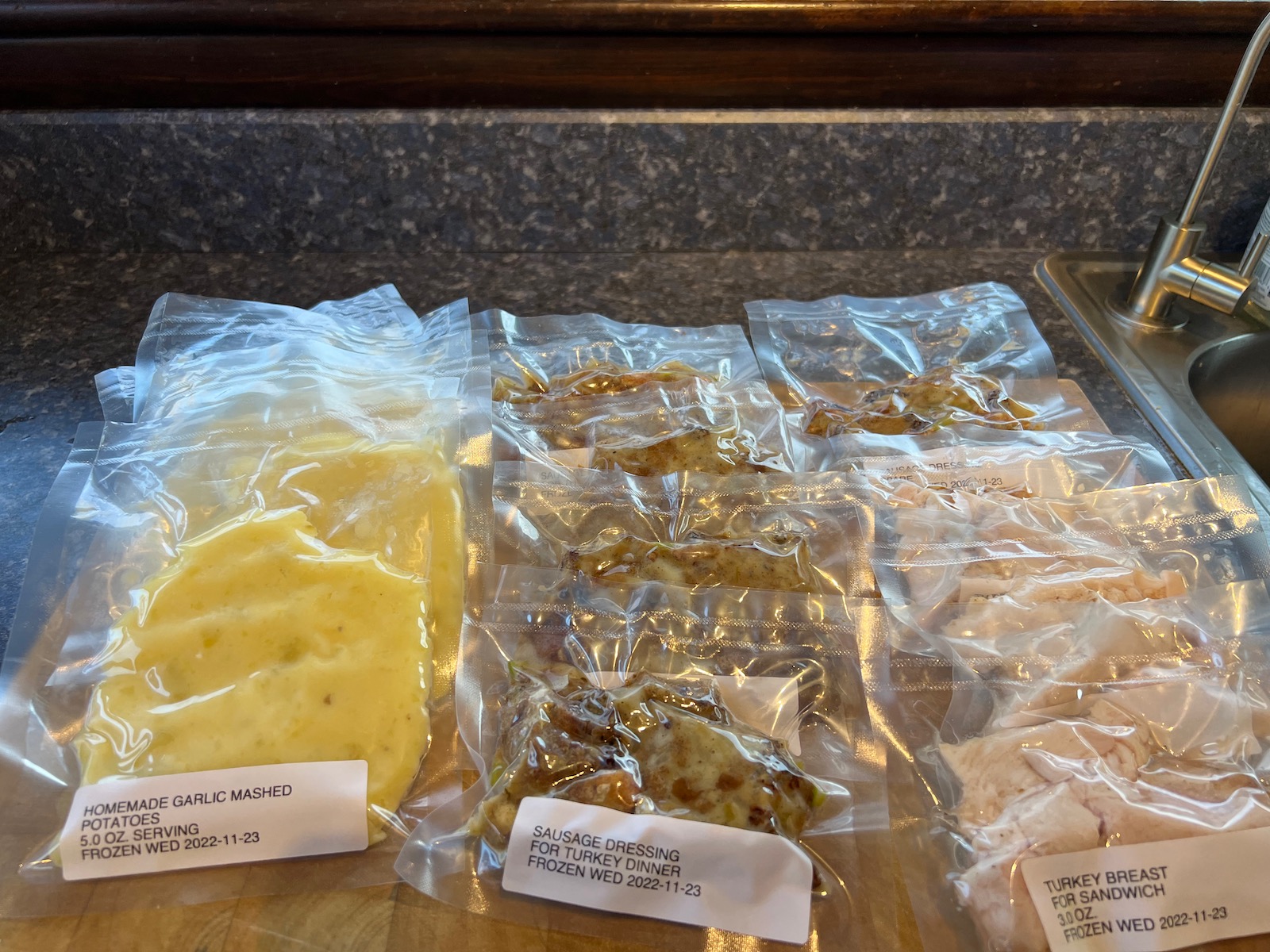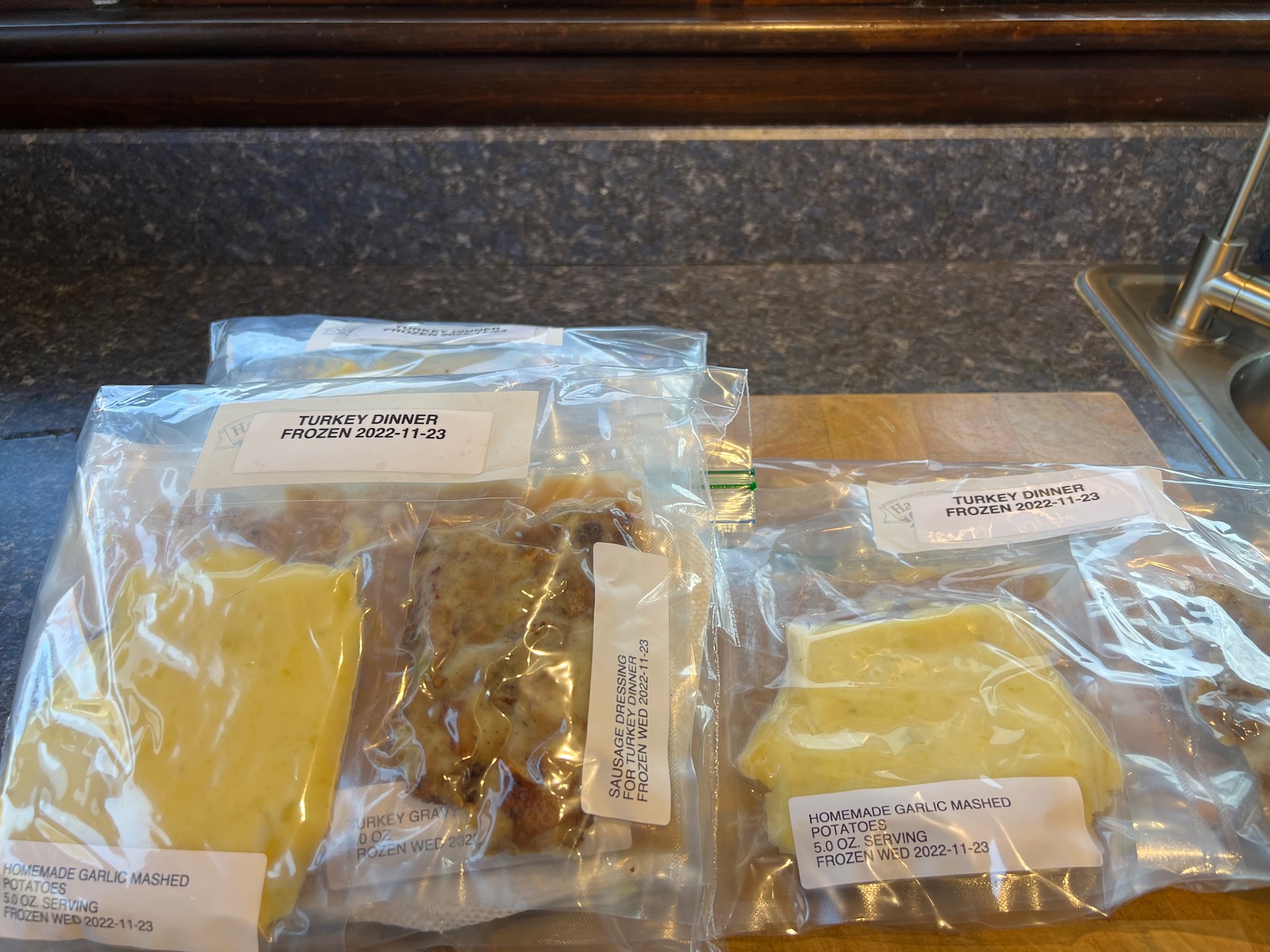 Also made one package of extra dressing, and 3x 3.0 turkey for sandwich.
Turkey stock
In the instant pot:
Leftover bones, cooked and uncooked, and meat
1/2 yellow onion
stalk celery
large carrot
black peppercorns
bay leaf
salt
48 oz. water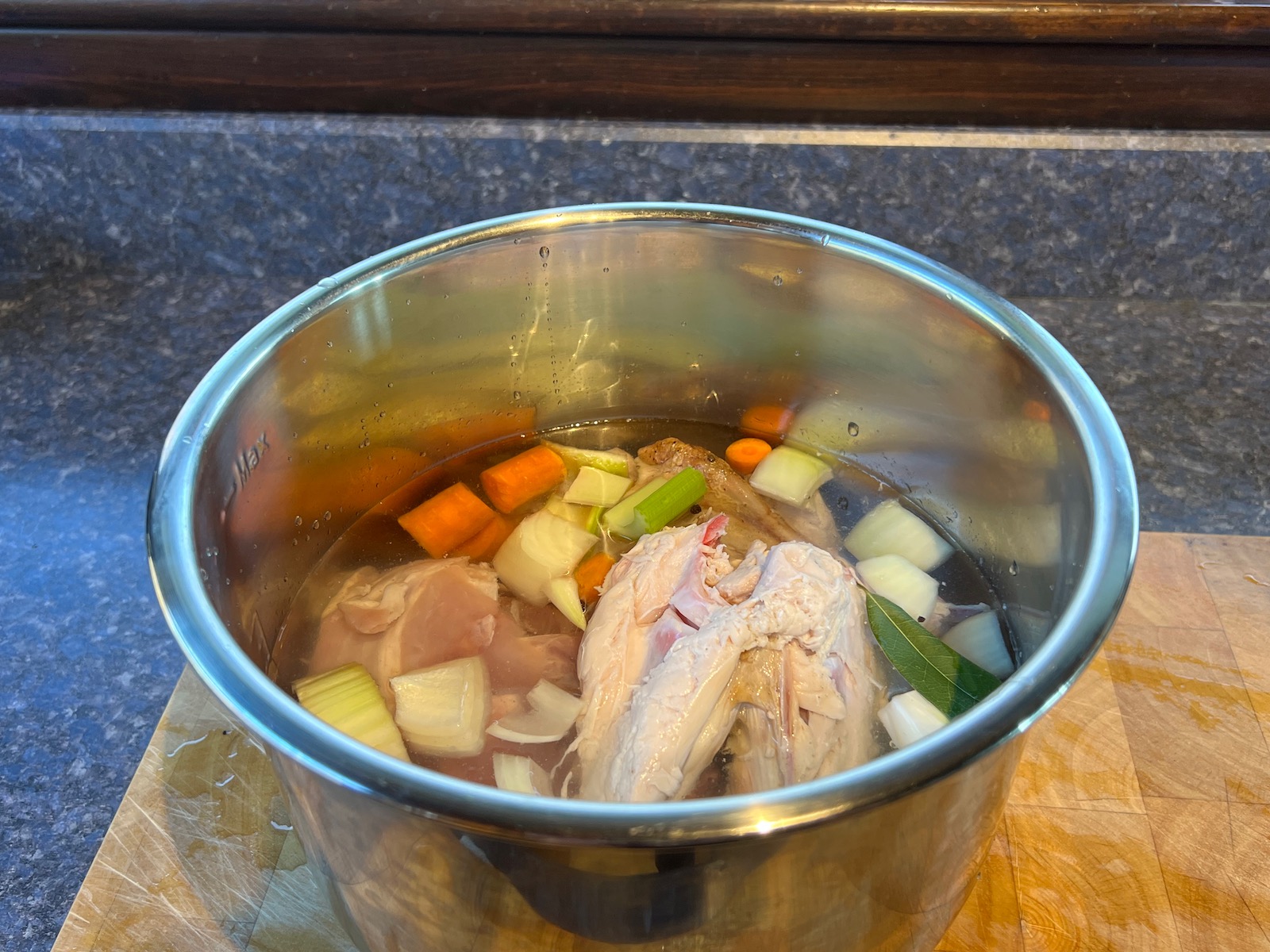 Cook on the soup setting. When done, let cool for 20 minutes, then release the pressure.
Remove and discard the solid parts. Strain the stock into 3x packages of 16 oz. each.
If I was making soup I would have picked the remainder of the meat off the bones, but I didn't need soup this time.