Pork stock experiment
I wanted to try to make a Japanese soup that Mom used to make, but this is complicated by the fact that I rarely, if ever, ate it.
I'm pretty sure the soup base is pork stock. I didn't make it the same way Mom did, which was just by boiling the pork. I used my Instant Pot to make it the same way I make turkey and chicken stock.
I started with a 1.71 lb. chef's prime boneless pork roast. Bones would have made for better stock, but my grocery store rarely has bone-in pork roasts.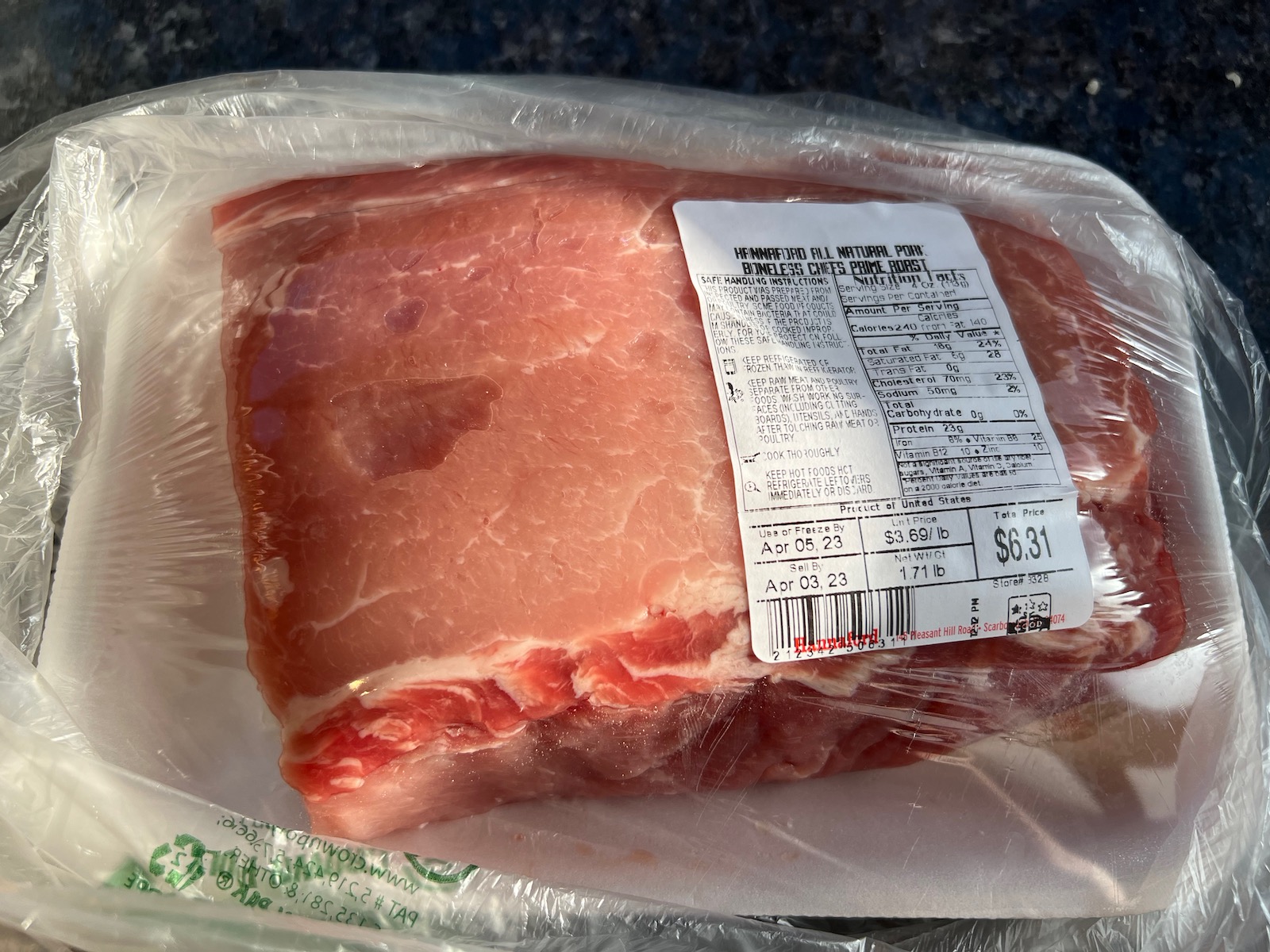 The chef's prime roast consists of a light meat roast, and a darker meat section, separate by a layer of fat and silverskin. I always separate the two layers, but since I'm making stock the stringy layer in the middle can go to good use instead of just being thrown out.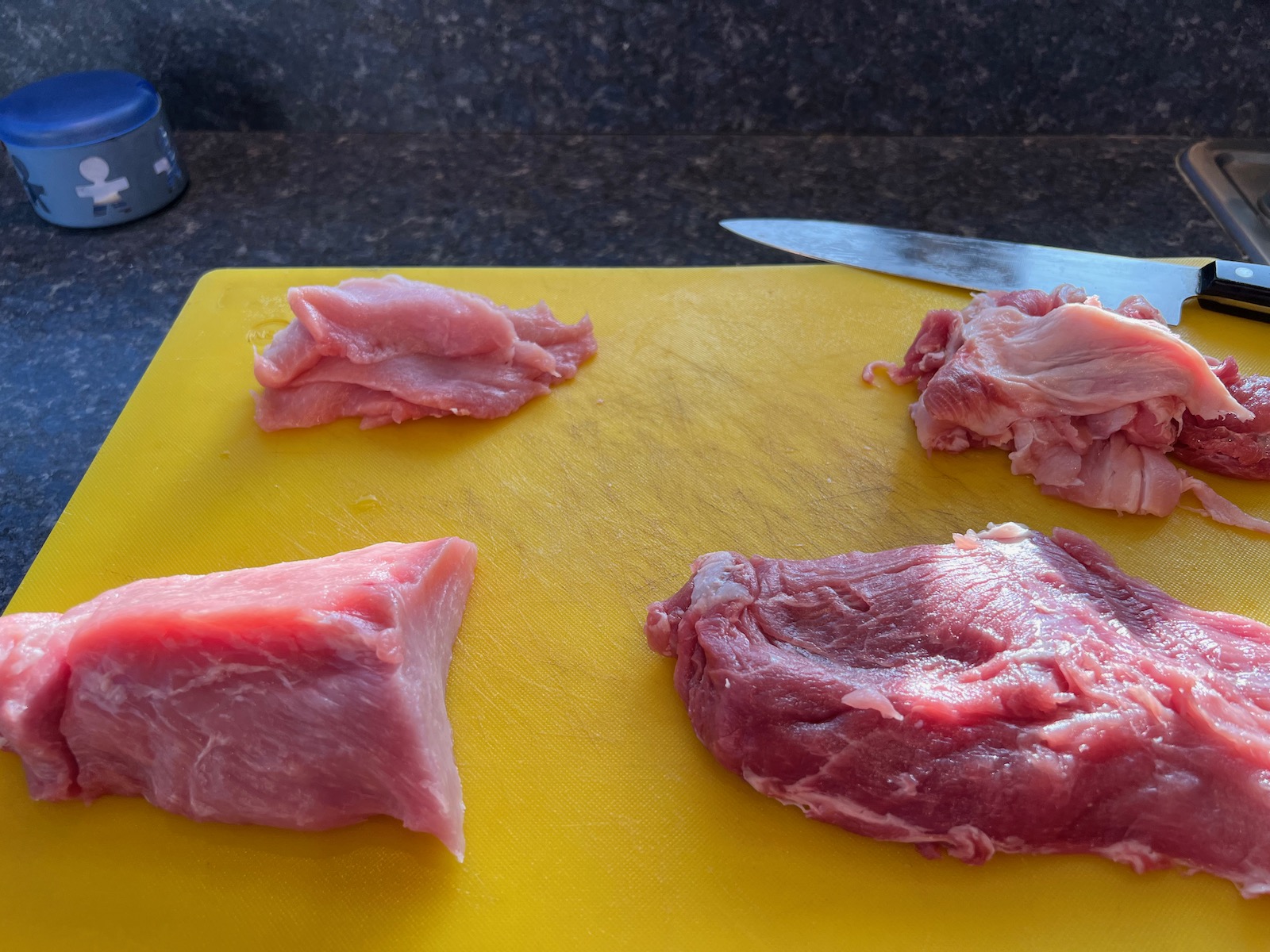 I separated out 3.5 oz. for miso marinated pork for dinner. I vacuum sealed it with the marinade and refrigerated.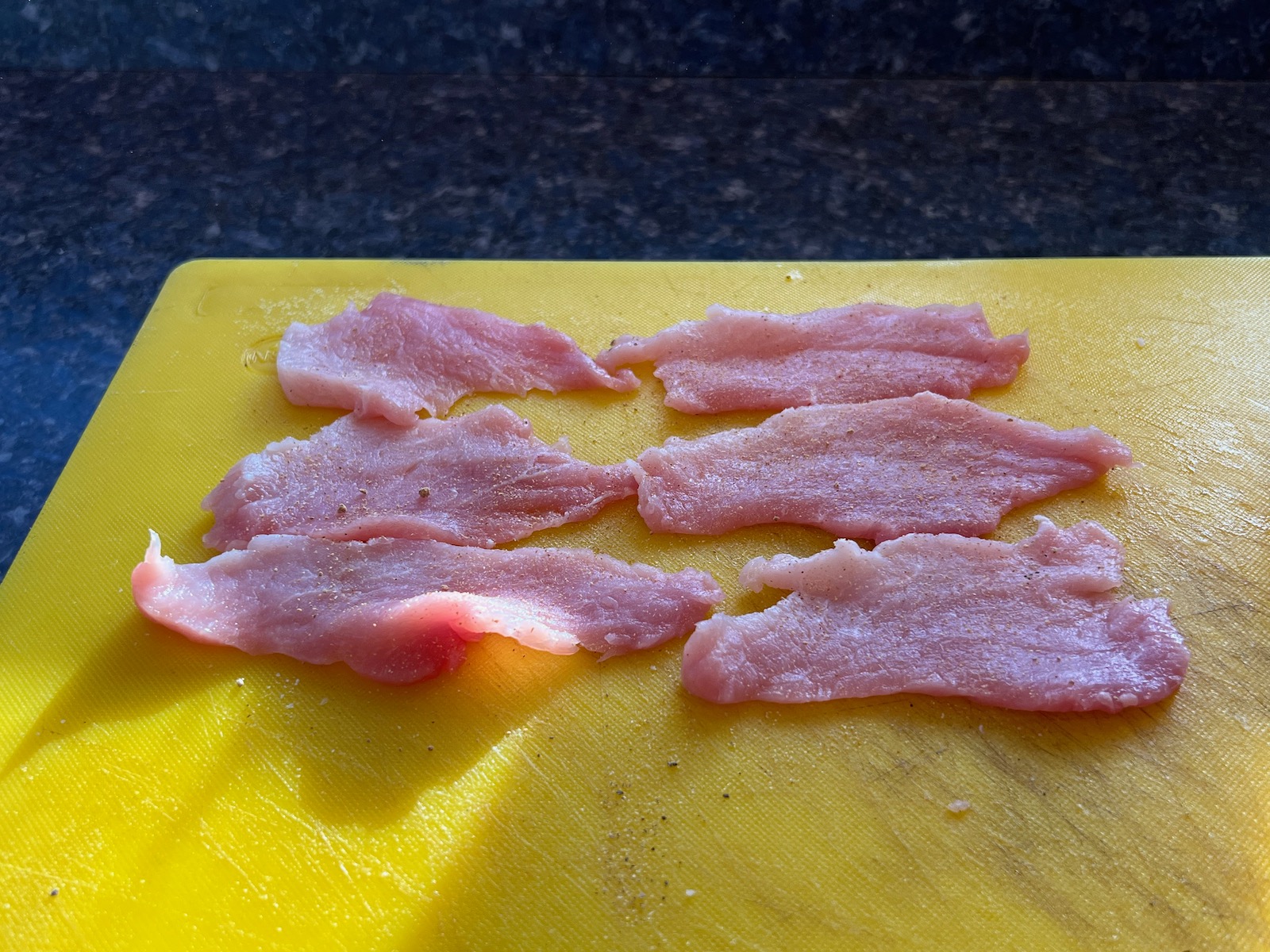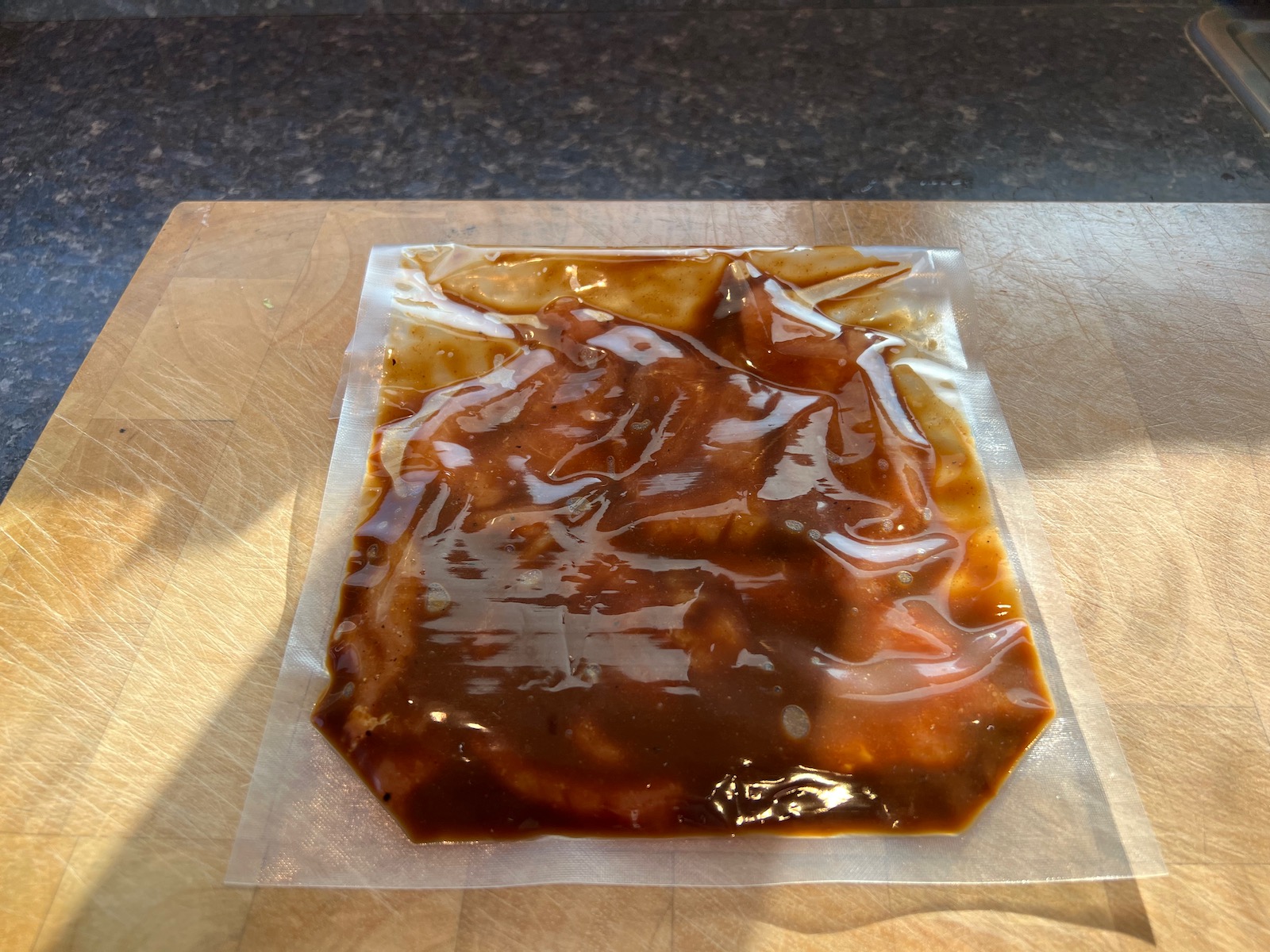 I also separated out 15.2 oz. of pork to put in the sous vide for pork for stir-fry. That is seasoned with salt, freshly ground pepper, and garlic powder. Vacuum sealed and cooked for 60 minutes at 152°F.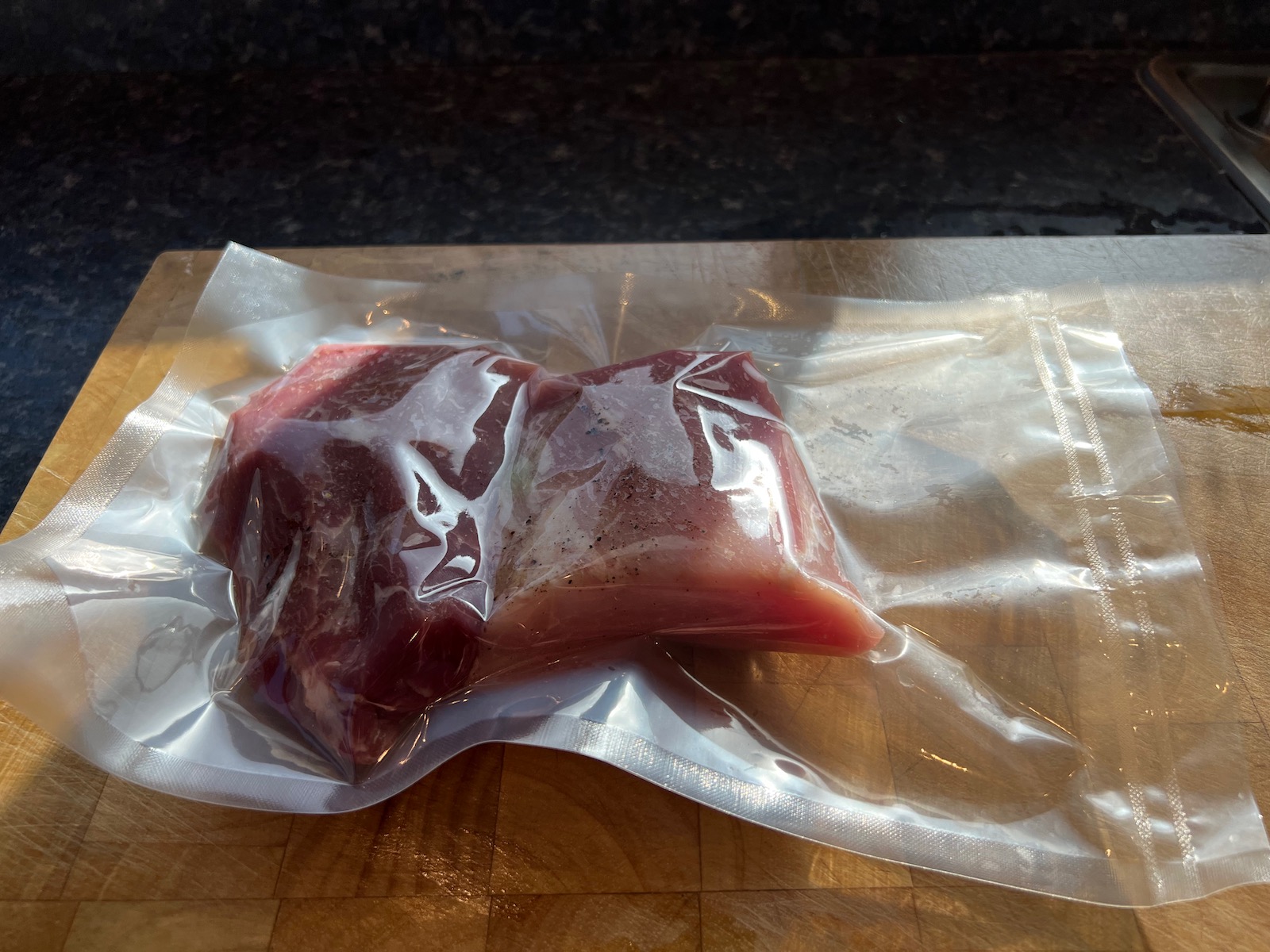 This left 8.3 oz. pork and trimmings to go into the Instant Pot.
8.3 oz. pork and trimmings
1/2 yellow onion
1 stalk celery
1 carrot
1 bay leaf
black peppercorns
24 oz. water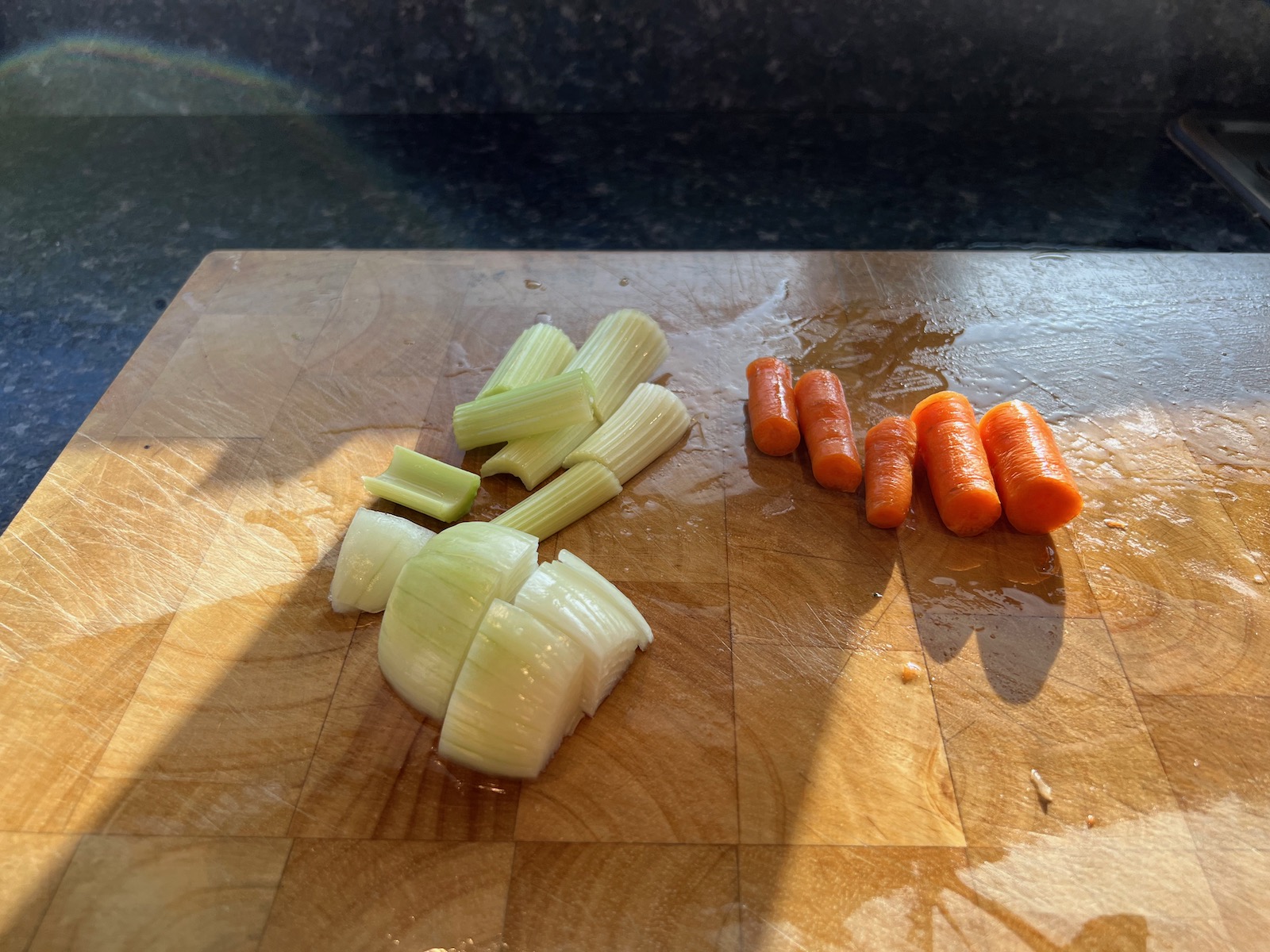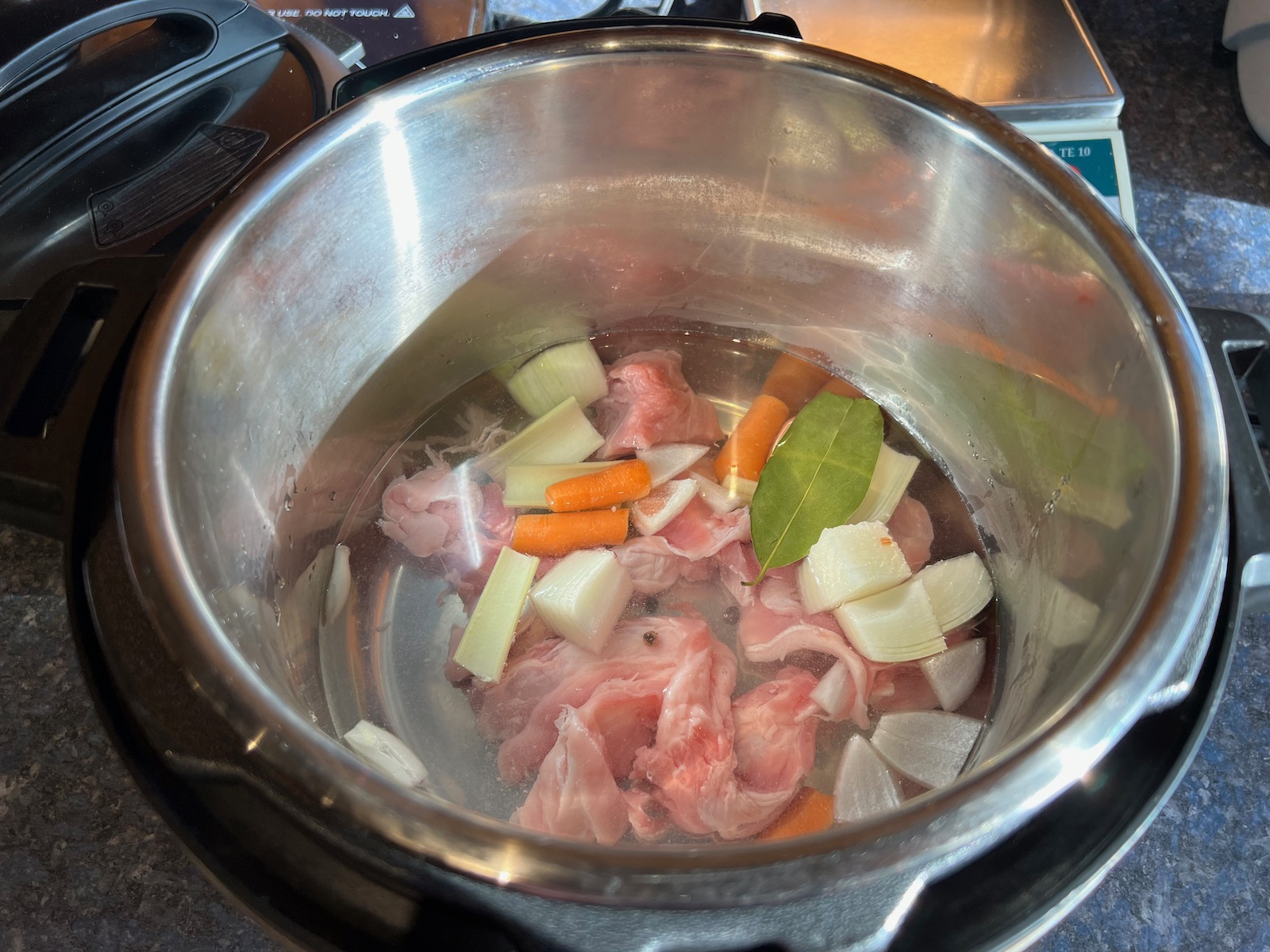 Cook on the soup setting on the Instant Pot. Let cool for 20 minutes, then release the remaining pressure. Cool in a sink of cold water.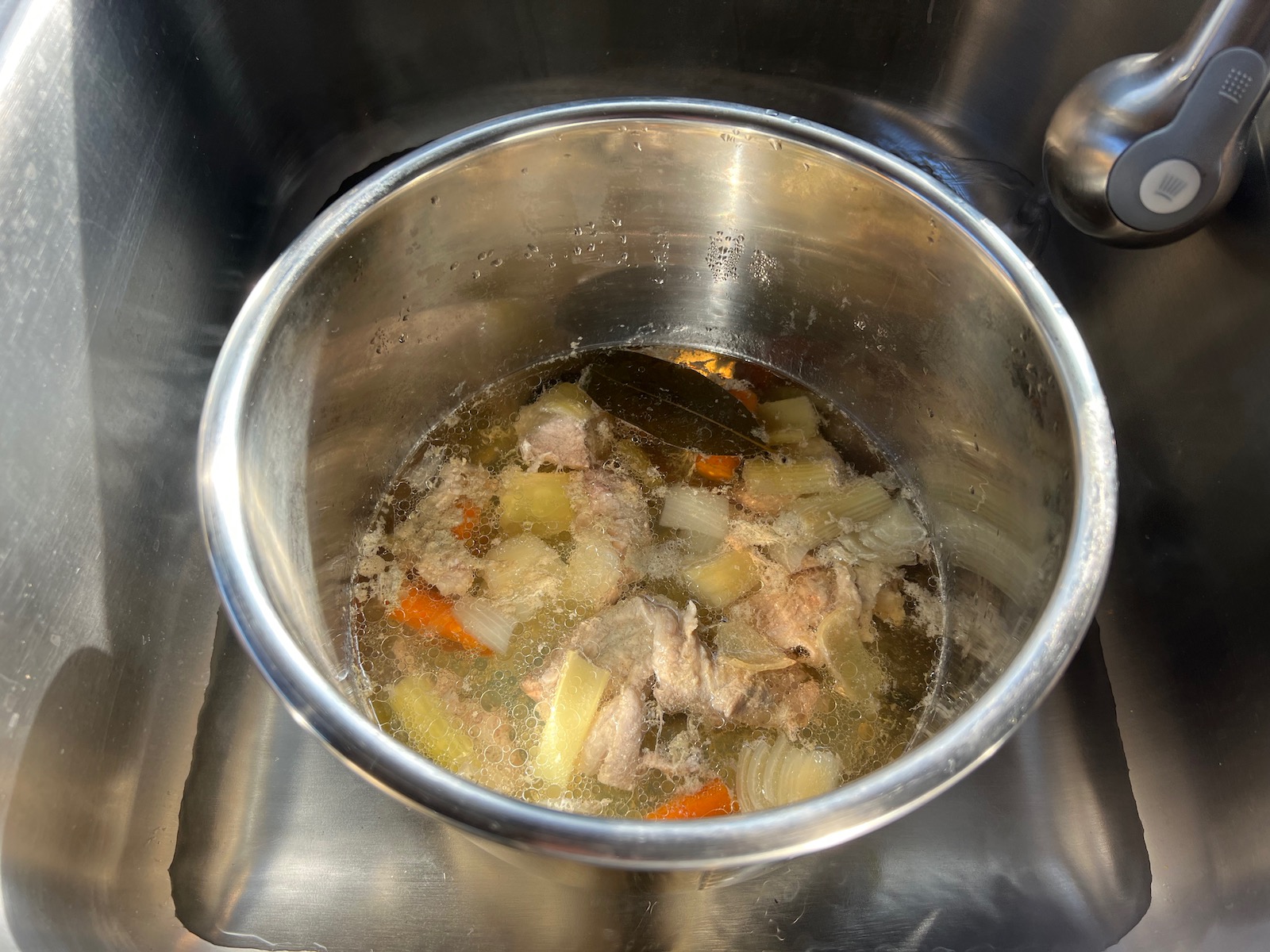 Remove and discard the solids, strain the stock, then cool. Put into the refrigerator, then remove the fat from the stock.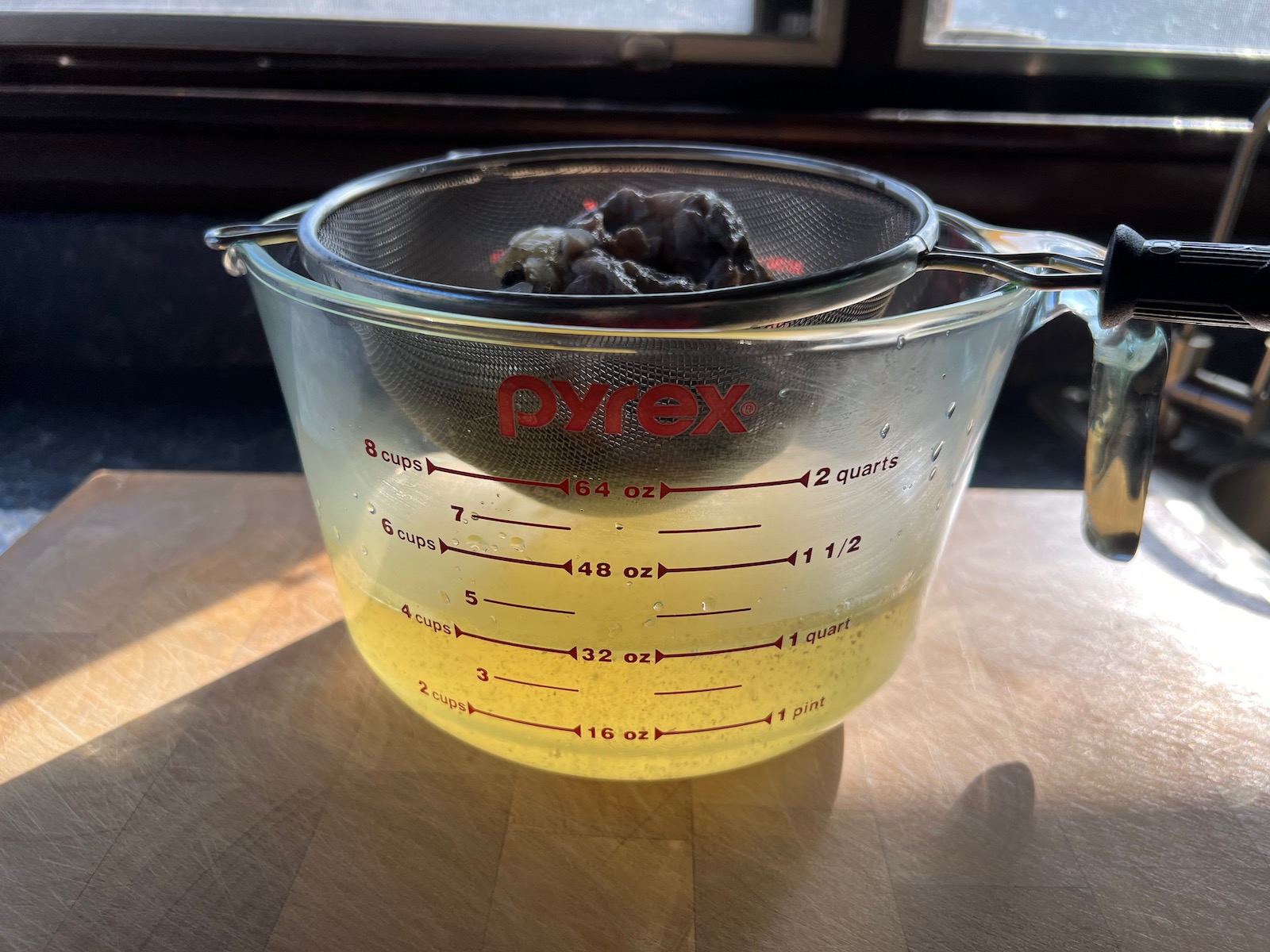 The flavor was pretty good. This is probably about the maximum amount of meat to water ratio that works (1 part meat to 3 parts water by weight). It probably would have been better with bones and/or roasting first, but this was a pretty good neutral soup base!
Makes two 12 oz. packages of stock for future soup experiments. I vacuum sealed and froze the stock.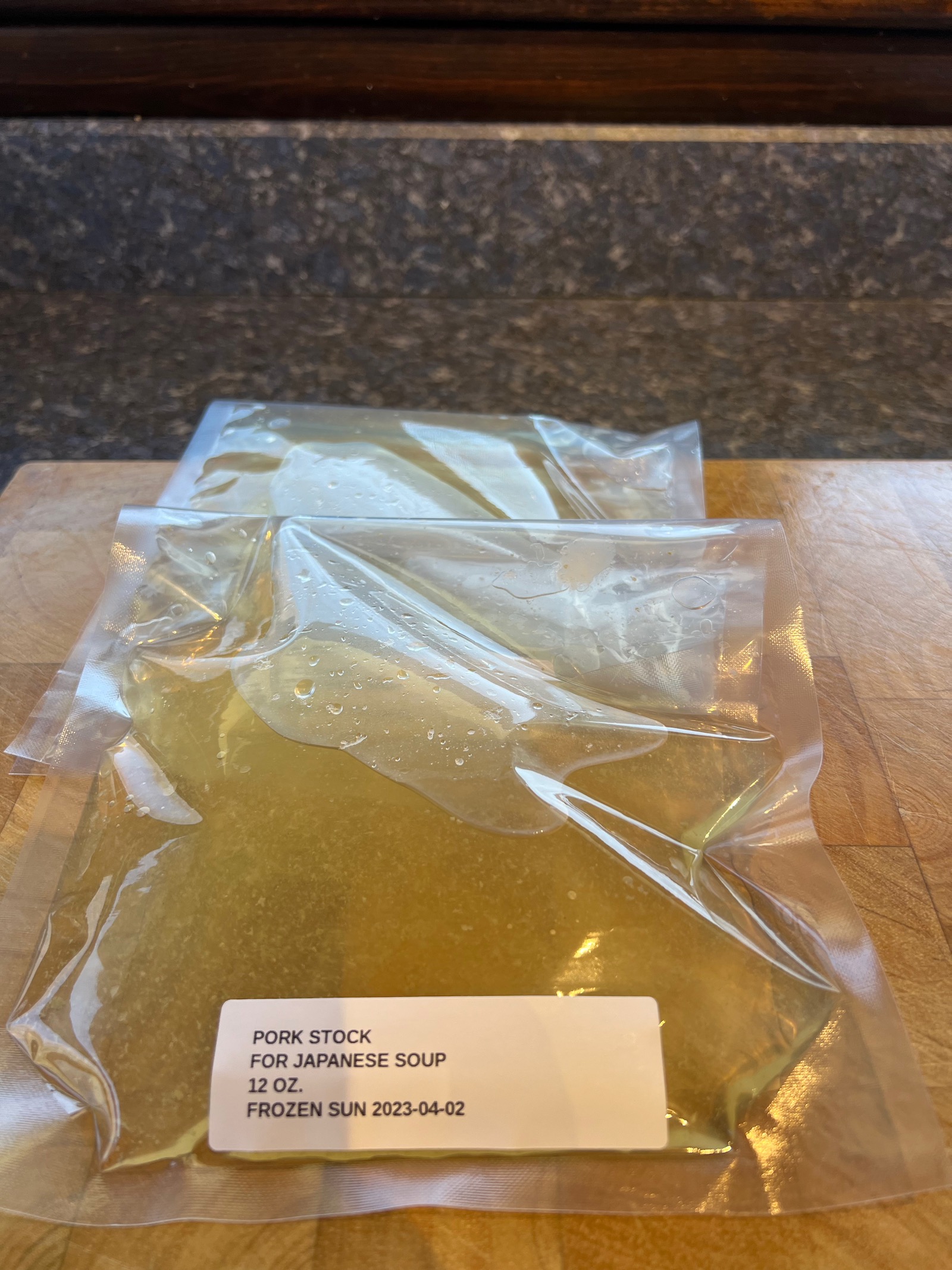 Diced, vacuum sealed, and froze the sous vide pork. 4x servings of 2.8 oz. and 1x 2.4 oz.. I think this pork with the pork stock is also what goes into Mom's cabbage rolls, which I've never made either. There's some other ingredient in the cabbage roll stock, but I'm not sure what.