Roasted chicken
I roasted a whole chicken. Really, in the oven. No sous vide, smoker, infrared grill, or anything!
I made a 5 lb. antibiotic and hormone-free, vegetarian feed-only chicken.
Remove anything from the cavity. I just discard the various bits. Rinse and pat dry. I removed the tips of the wings to the first joint because there's basically no meat and they sometimes will burn. I could have trussed it, but I wasn't going to carve it at a table so I didn't mind that it was a little floppy.
Season with salt, pepper, granulated garlic and ground sage.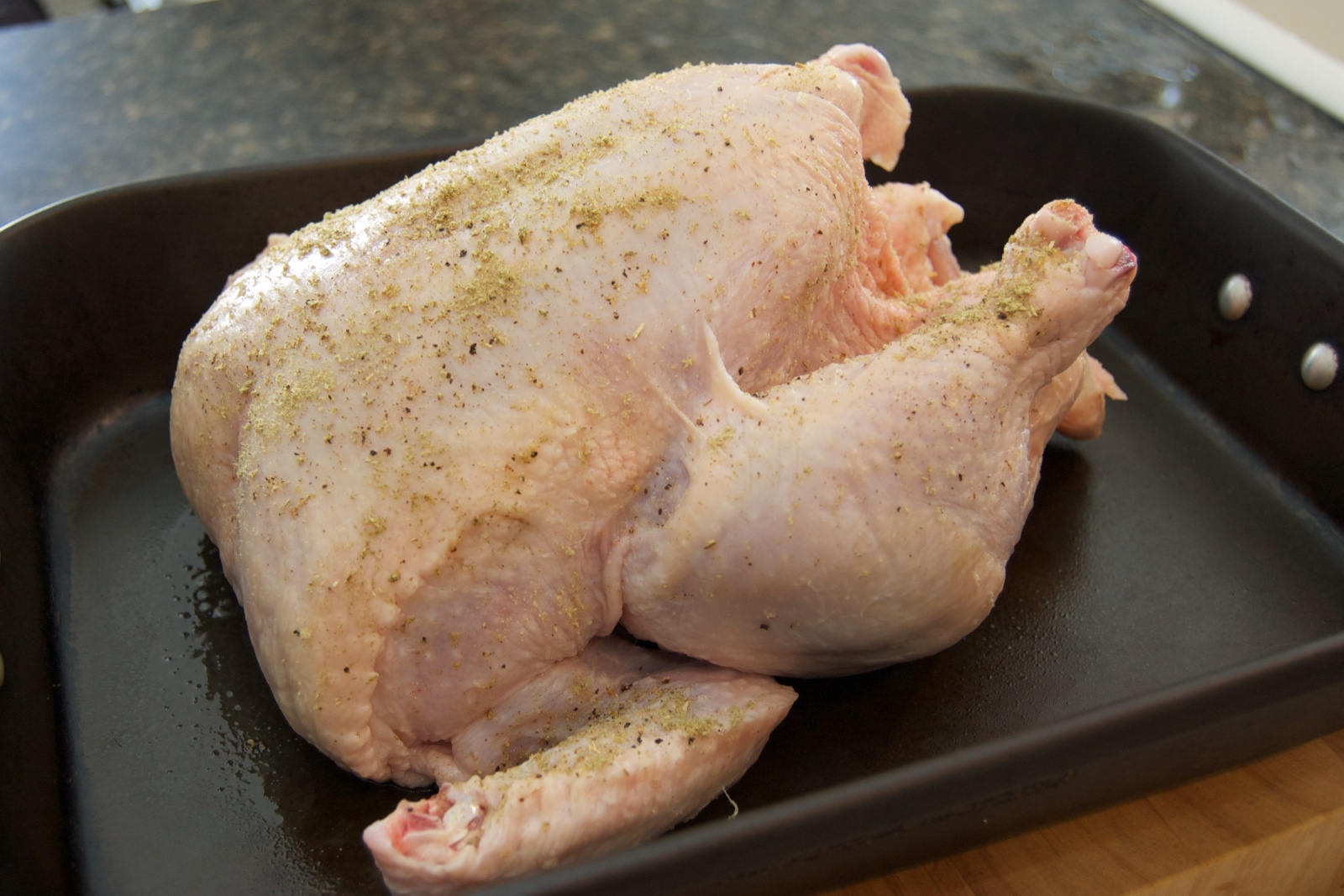 Roast in the oven at 400°F until the temperature deep in the thigh meat reaches 160°F. It took 45 minutes for my 5 lb. chicken. After 20 minutes, add 8 oz. of water to the pan.
I drizzled my chicken with soy sauce as well, which wasn't really intentional. I do it for pork roast, roast beef, etc. but only after I did it I thought, "Wait, I don't usually do that for chicken."
When done, remove the chicken from the pan, draining any juice in the cavity into the roasting pan. Set the chicken aside and let it rest for 15 to 30 minutes.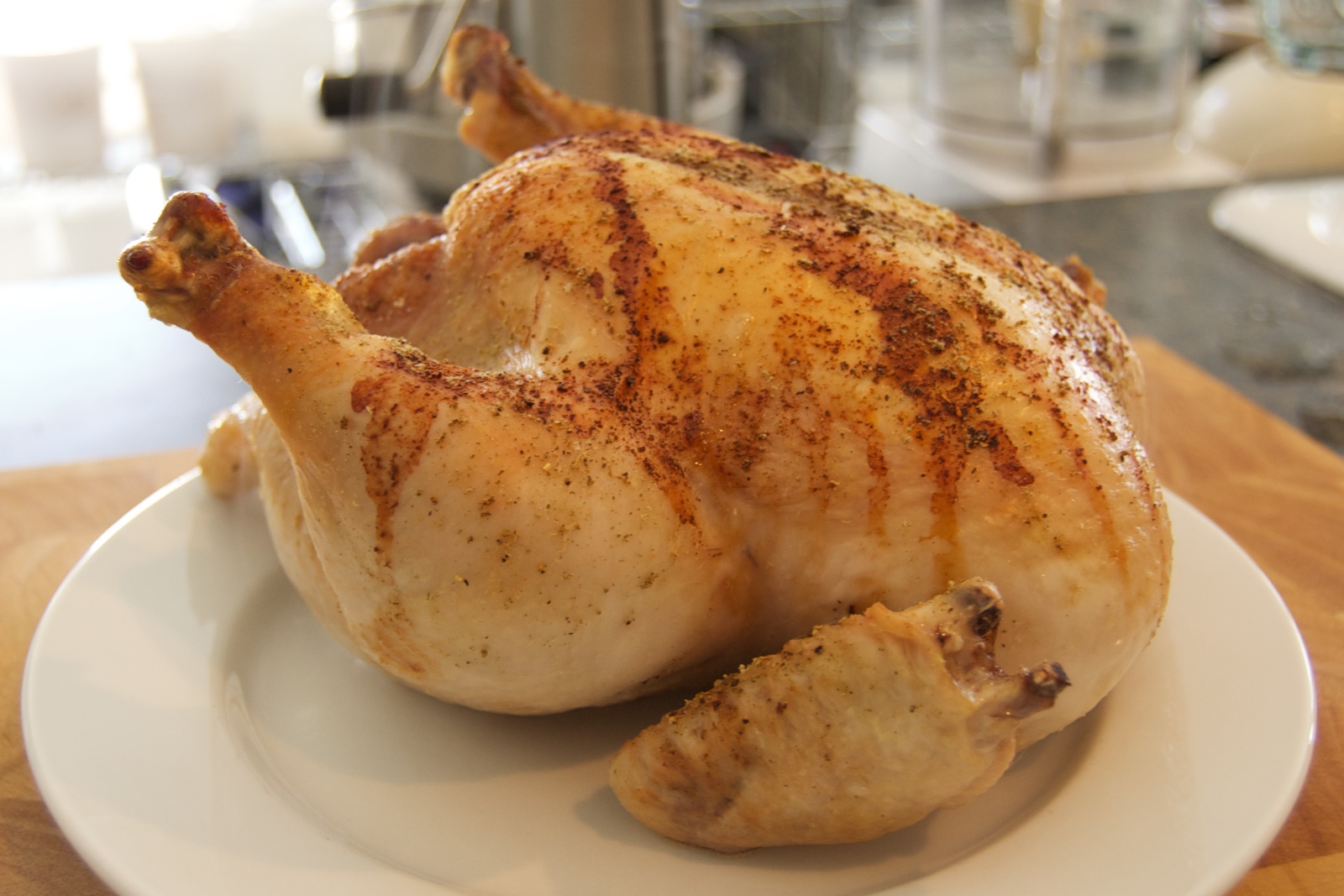 Add 12 oz. water to a bowl; I like to use a 16 oz. Pyrex measuring cup. Add 1/4 cup all-purpose flour and mix thoroughly.
Put the pan juices in the roasting pan on the stove top over high heat. Add the flour and water slurry. As soon as the gravy starts to bubble lower the heat to medium-low and cook for 3 to 5 minutes. Season with salt, pepper and soy sauce.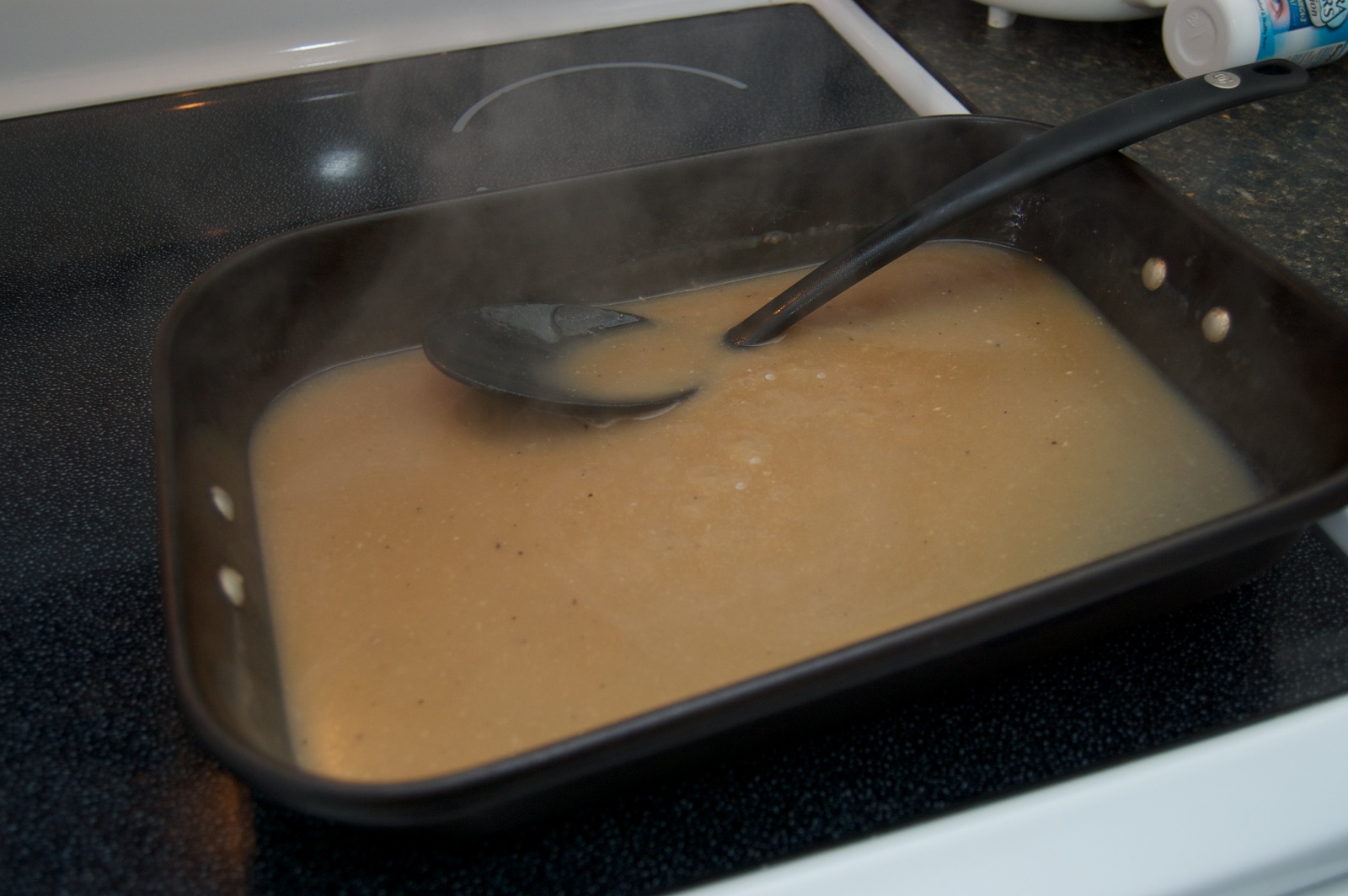 When the gravy is done, cut up the chicken.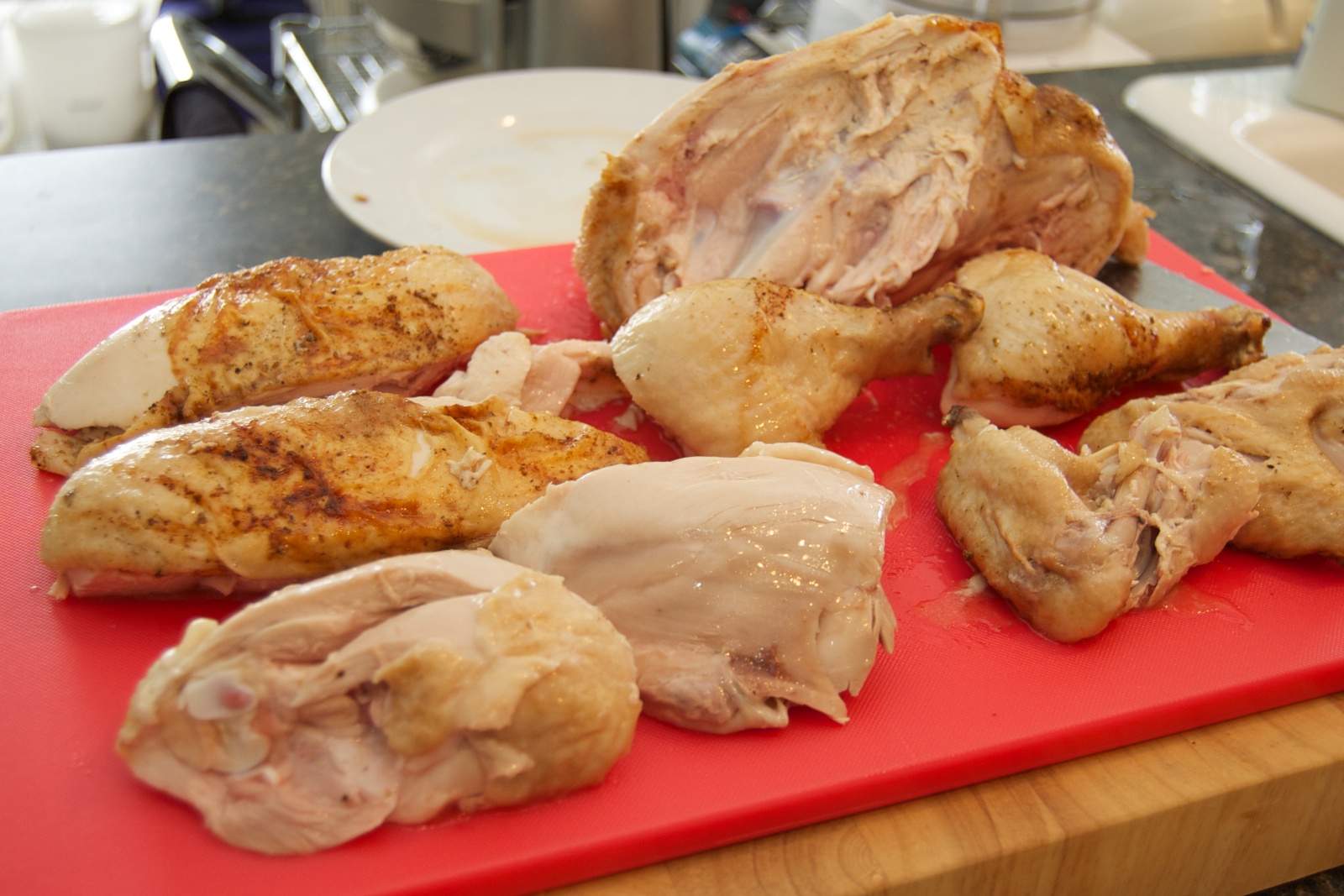 I further broke down the chicken:
2x 6.0 oz. sliced breast meat for chicken and gravy 1x 6.0 oz. sliced breast meat with some thigh meat for chicken and gravy 1x 3.1 oz. sliced leg and thigh meat for stir-fry or chicken salad 1x 3.0 oz. sliced leg and thigh meat for soup some left over bits for Roscoe
Most of it I vacuum sealed.
I then used the chicken carcass, wings and bones to make chicken stock and the base for chicken soup . There was quite a bit of meat and bones, so I added the full 64 oz. of water (along with a carrot, onions and two stalks of celery) and simmered for 3 hours.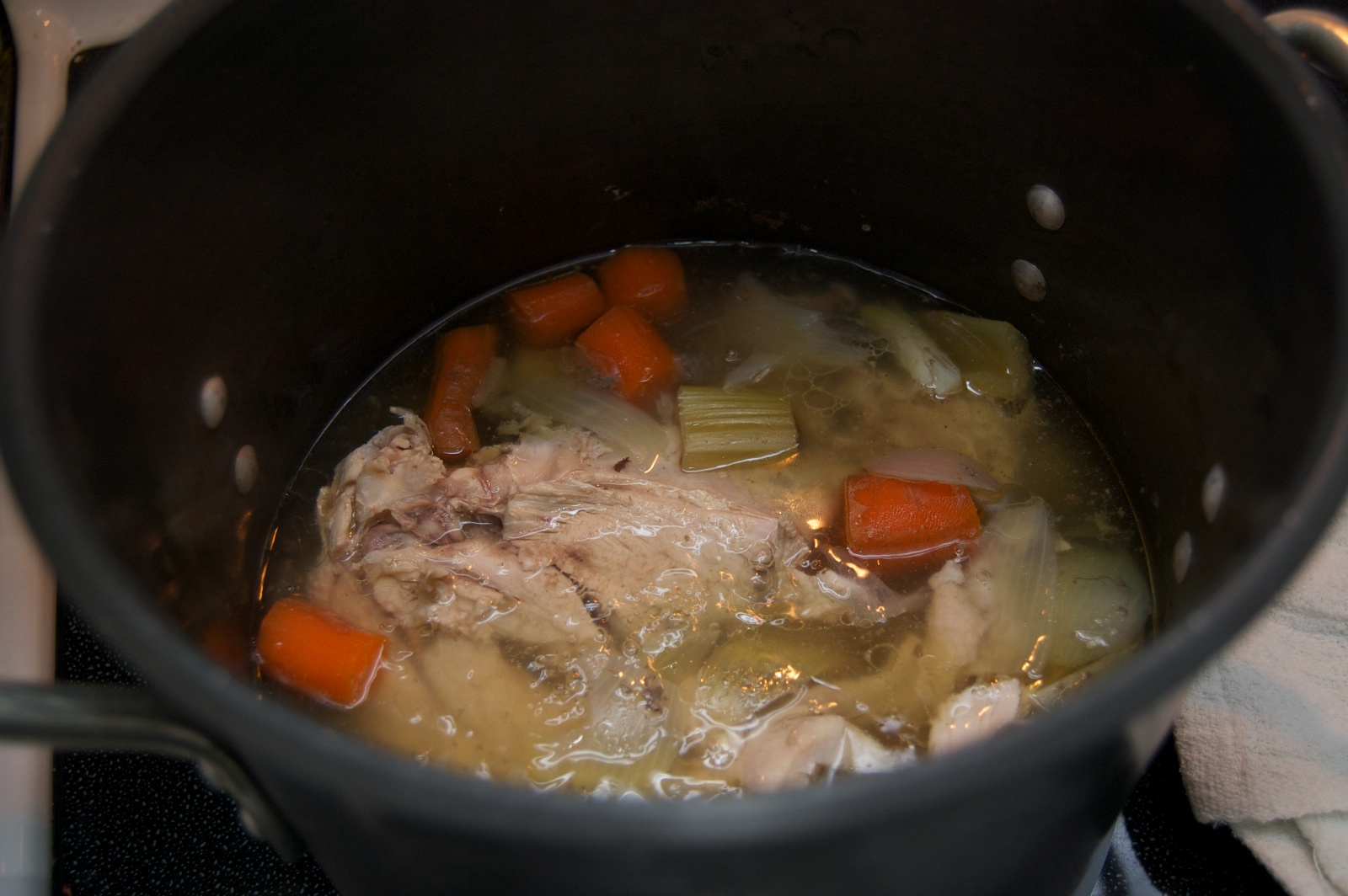 That produced 48 oz. of nice chicken stock and 6 oz. of chicken bits. Instead of making plain broth, I used that chicken and 3 oz. of the leg and thigh to make three servings of chicken soup: 16 fl. oz. broth and 3 oz. chicken each. I vacuum sealed and froze them.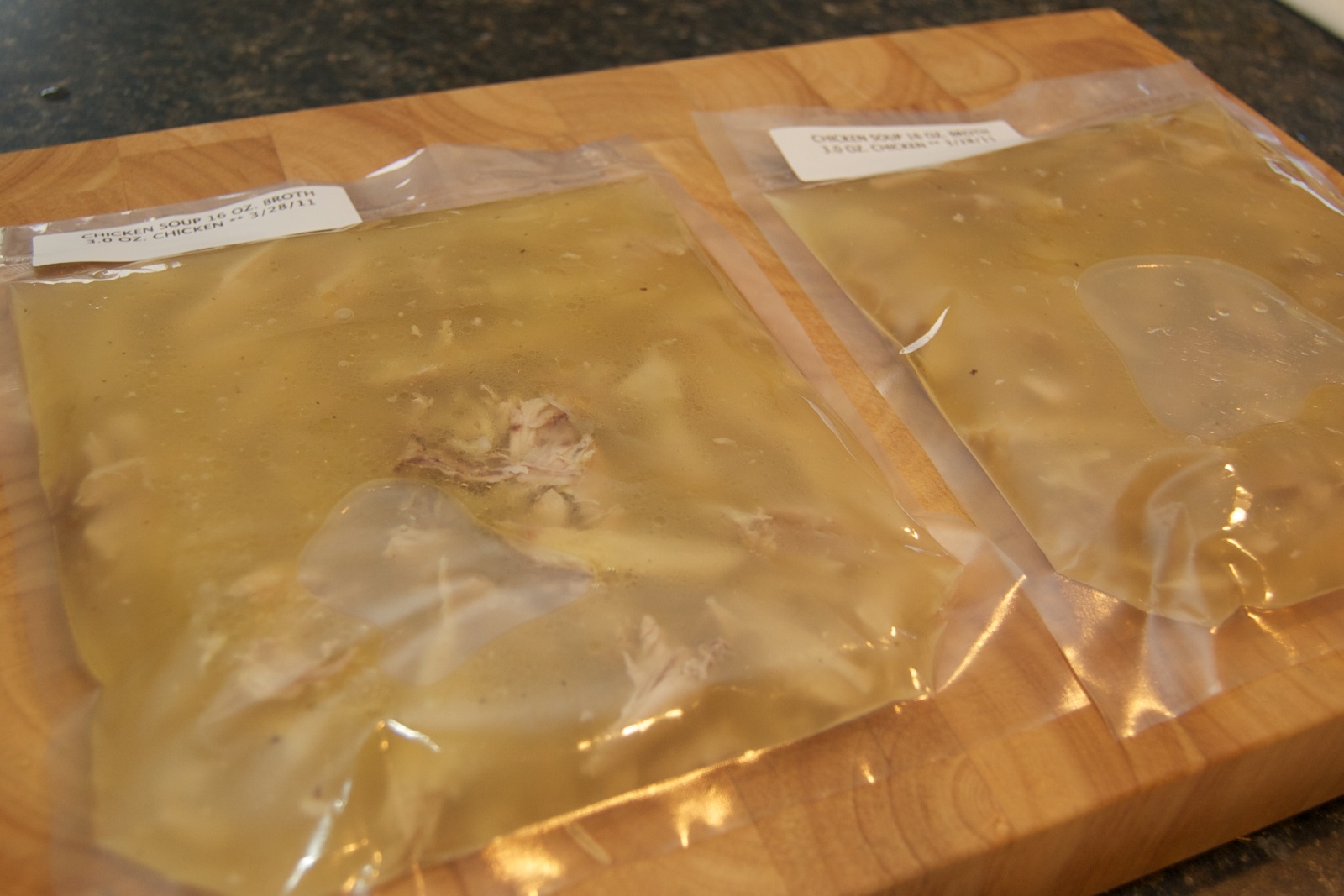 I started the chicken at 12:30 PM. Even though it was done way before dinner, it didn't matter anyway because I had a completely different dinner and Roasted Chicken is Wednesday night's dinner. It was nice to have everything completely cleaned up in one day, which is really only possible starting that early. The soup package still didn't go into the freezer until 7 PM!