Chicken Parmesan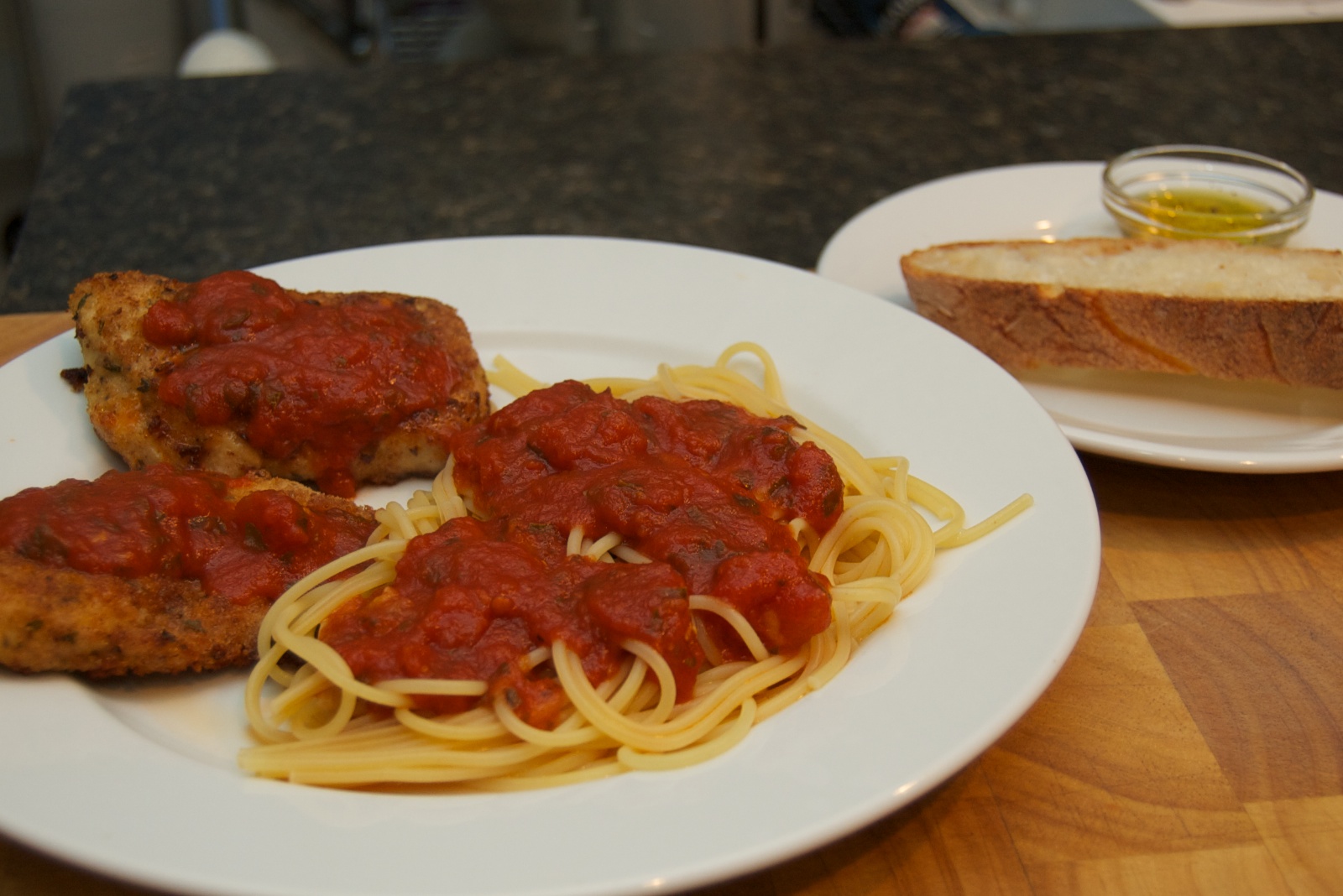 Most of the time I have my pasta with Italian sausage or meatballs . But once in a while I'll make Chicken Parmesan. Bring a pot of salted water to a boil for the pasta and prepare according to package directions. For the 2.0 oz. of Barilla spaghetti here, 9 minutes.
Start with 5.0 to 6.0 oz. of chicken breast or chicken breast tenders. If the breast is thick I find it works best to slice it into two thin slices to make it easier to cook.
Season with salt, freshly ground pepper and granulated garlic.
Set up a breading station with a plate of all-purpose flour, a bowl with an egg, beaten, and finally seasoned breadcrumbs with freshly grated Parmesan cheese in it.
Dredge the chicken in flour, then egg, then the bread crumb and cheese mixture.
Heat a sauté pan over medium-low heat. Add olive oil and cook the chicken until browned and cooked through (160°F in the center), 5 to 10 minutes. Update 3/12/2012:See note below for alternate cooking method.
Since I don't use enough tomato sauce to consume an entire 26 oz. jar of sauce before it goes bad, I vacuum seal and freeze 5 oz. packages of my homemade sauce , or sometimes sauce from a jar. I defrost the sauce ahead of time - the vacuum sealed bags can go into a bowl of cold water for 1 to 2 hours, about the amount of time a slice of frozen bread, wrapped in plastic wrap, will defrost at room temperature.
Pour the sauce into a bowl, add some seasonings (I like red pepper flakes and oregano), cover, and microwave for 1:20.
Plate the chicken, the pasta, and add sauce. Serve!
The chicken can be frozen, but like many breaded foods, it really is best fresh.
Update 3/27/2012:
Instead of cooking in a sauté pan, it really is much easier to deep fry it. 3 minutes at 360°F for boneless chicken breast tenders works great. The chicken is perfectly browned, moist and juicy, and you don't have to worry about the cheese and breading sticking to the pan!