Chicken and cheese enchiladas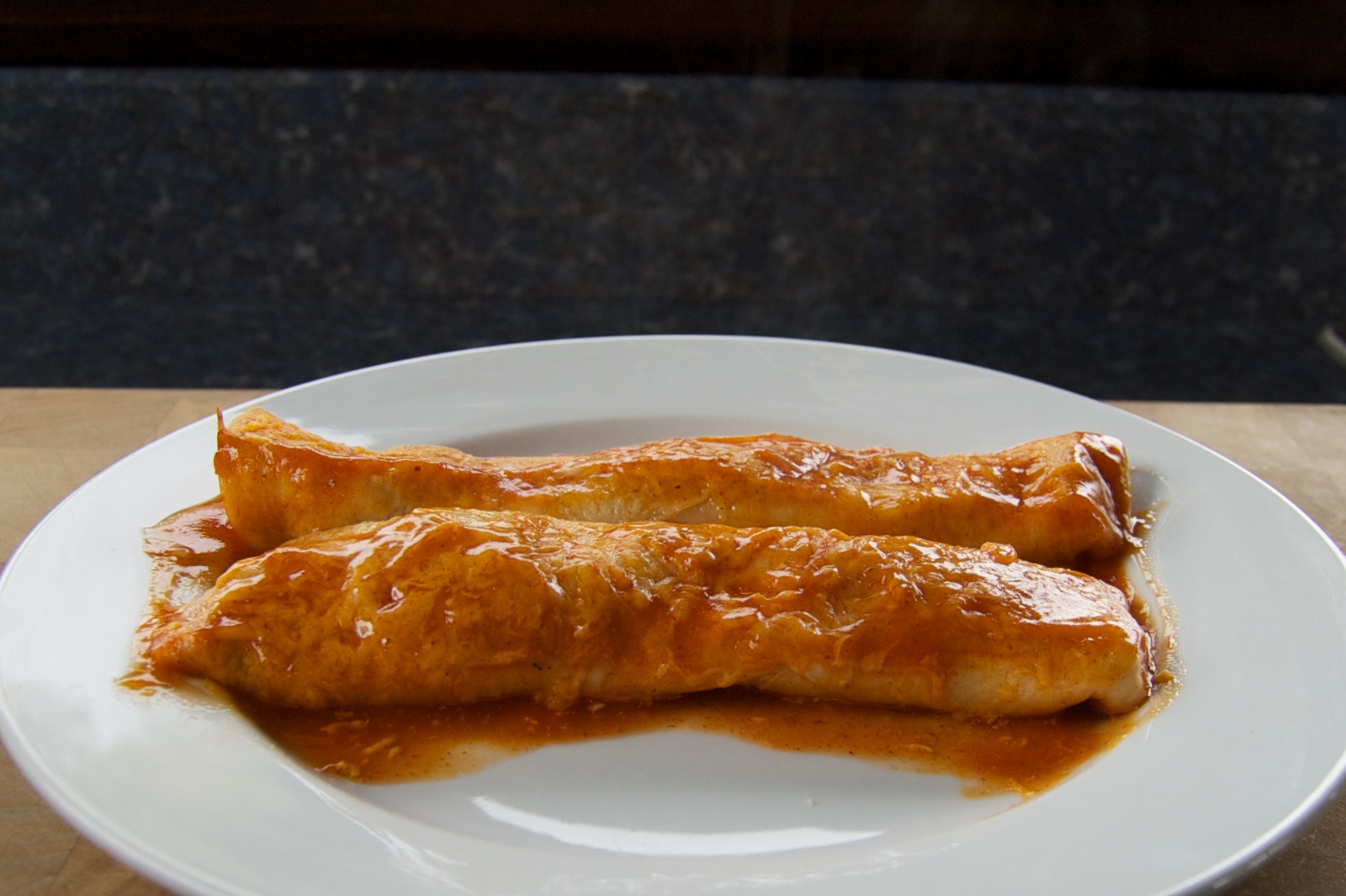 This doesn't really need a recipe since it's not really from scratch, but I wrote up a post so I can remember how much stuff I put into a serving for one.
Preheat the oven to 375°F.
3.4 oz. of chicken breast tenders, cut into thin strips and seasoned with salt and freshly ground black pepper.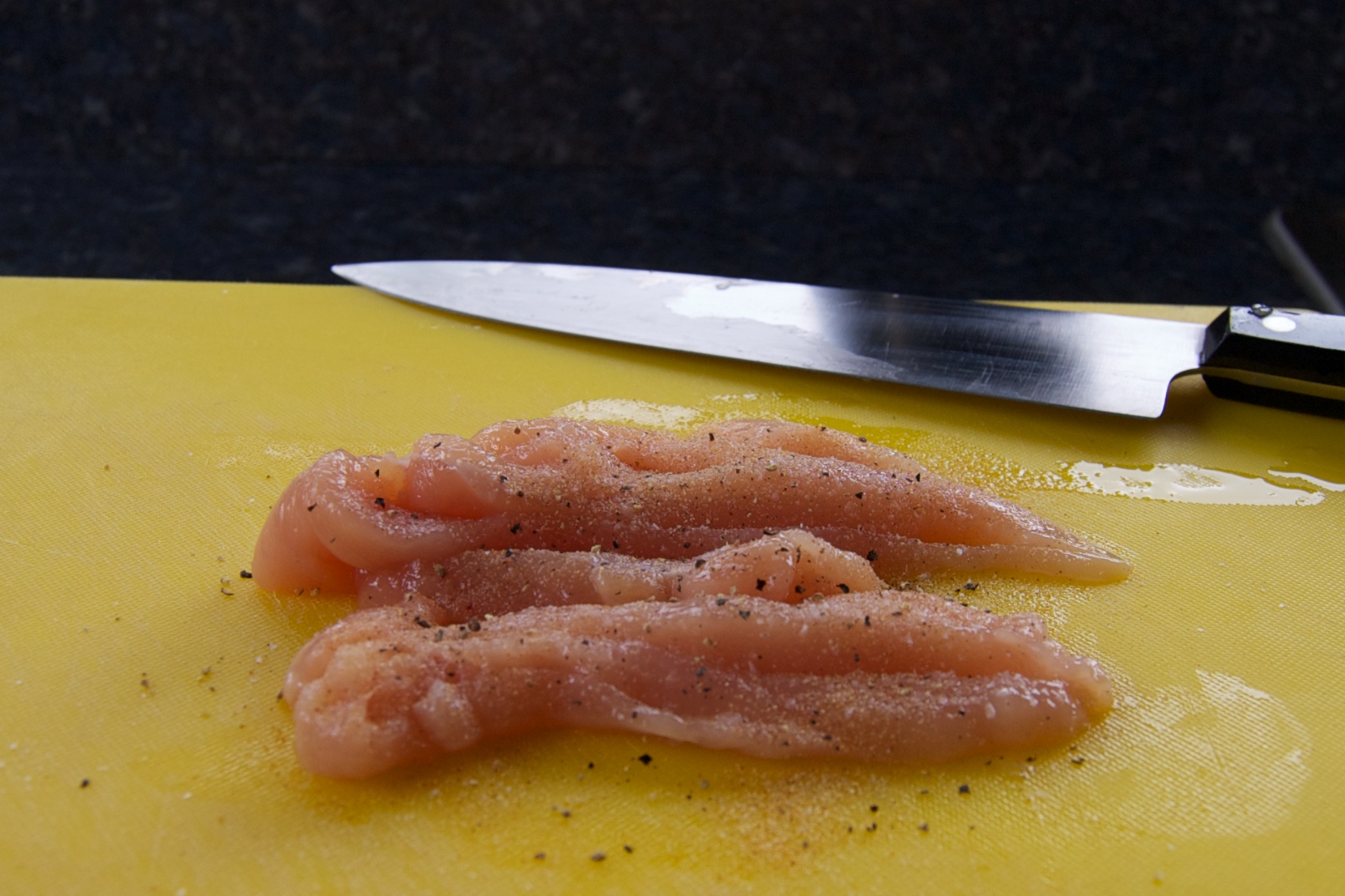 Lightly brown in a sauté pan. When fully cooked, season with a little cayenne pepper, about 1.0 oz. of canned enchilada sauce (I used Old El Paso, hot), and a tablespoon or two of hot diced fire-roasted green chiles.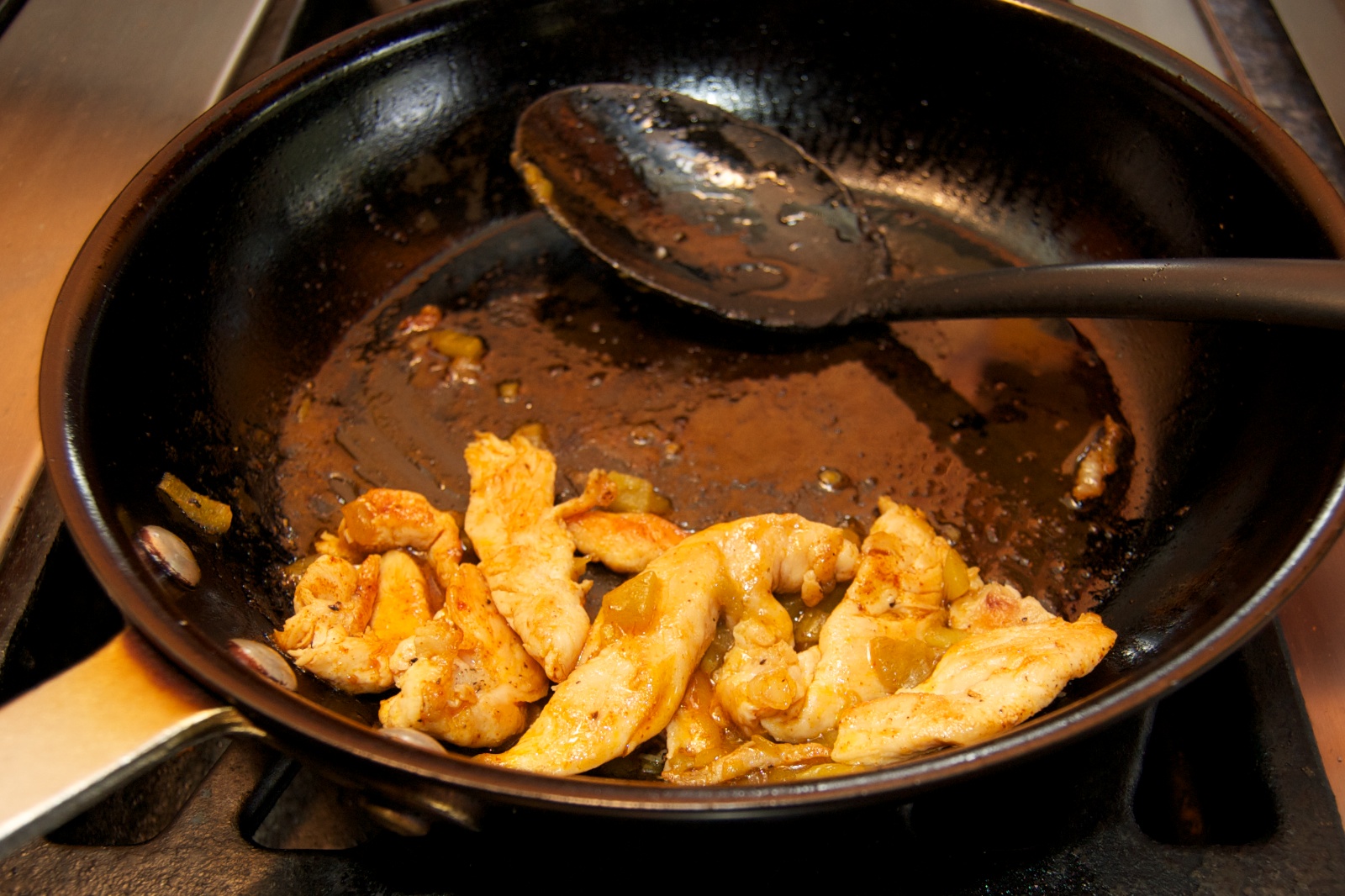 To make the tortillas softer I heated them in a damp kitchen towel in the microwave for 40 seconds. This prevents cracking, especially with refrigerated tortillas. These are medium-sized. Enchiladas are supposed to be made with corn tortillas, but I rarely have them on hand so I usually use flour tortillas.
Add the filling and some cheese. I used a nacho/taco cheese grated cheese mixture.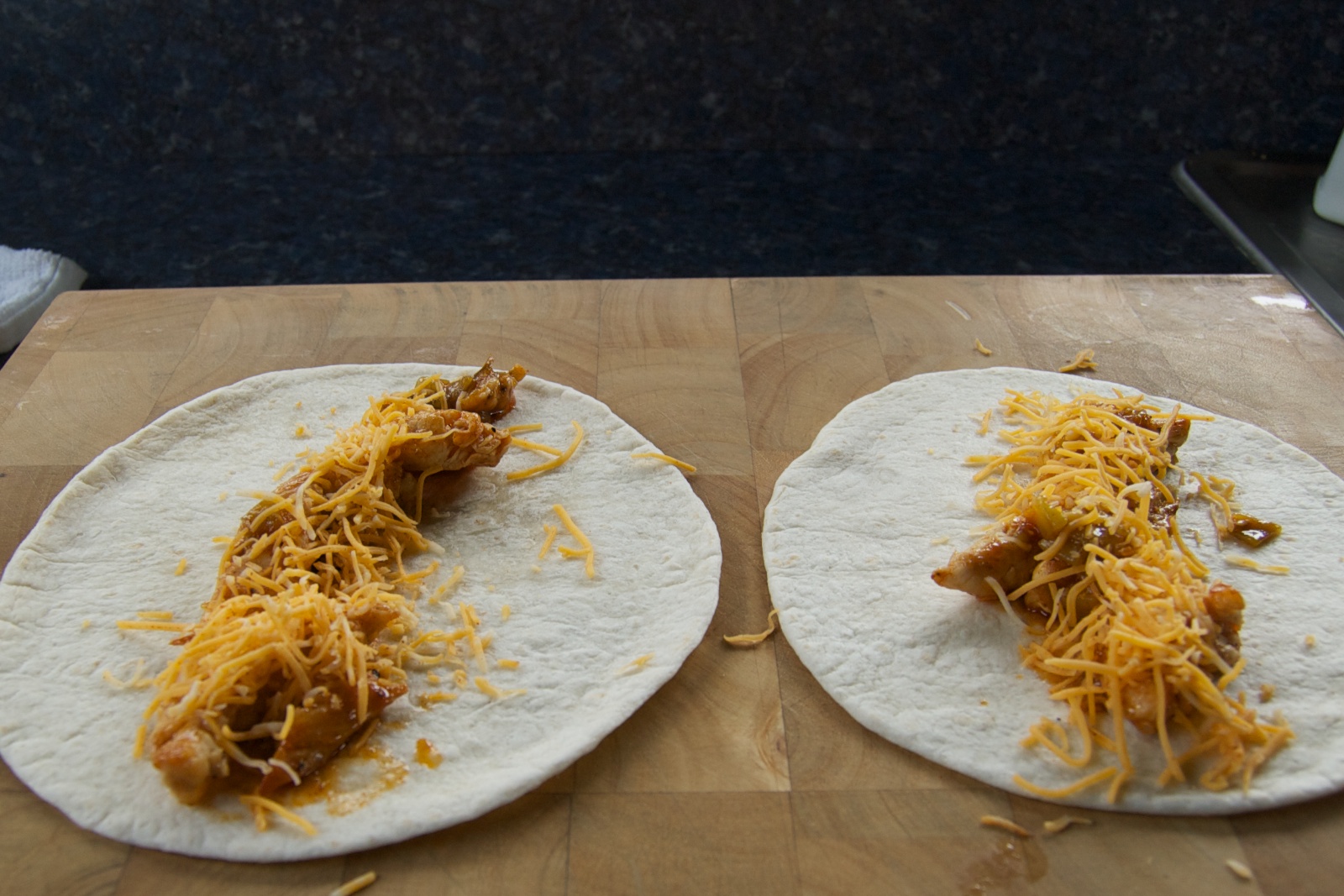 Lightly oil a 4x8" glass loaf pan. Roll the enchiladas and place in the pan, seam side down. Add more sauce and top with cheese. I ended up using about half of a 10 oz. can of sauce.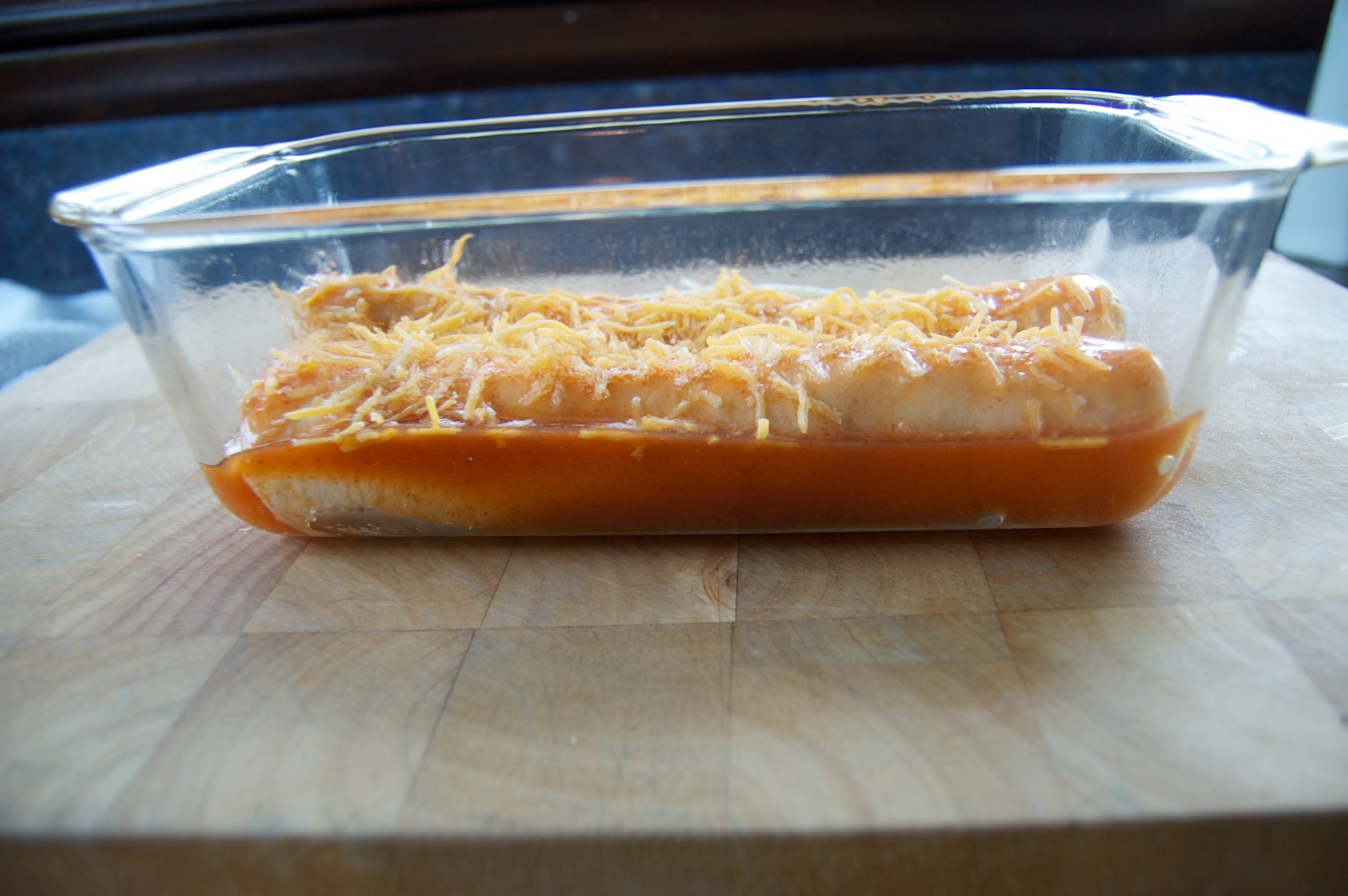 Bake uncovered for 15 minutes at 375°F until the sauce is hot and the cheese melted.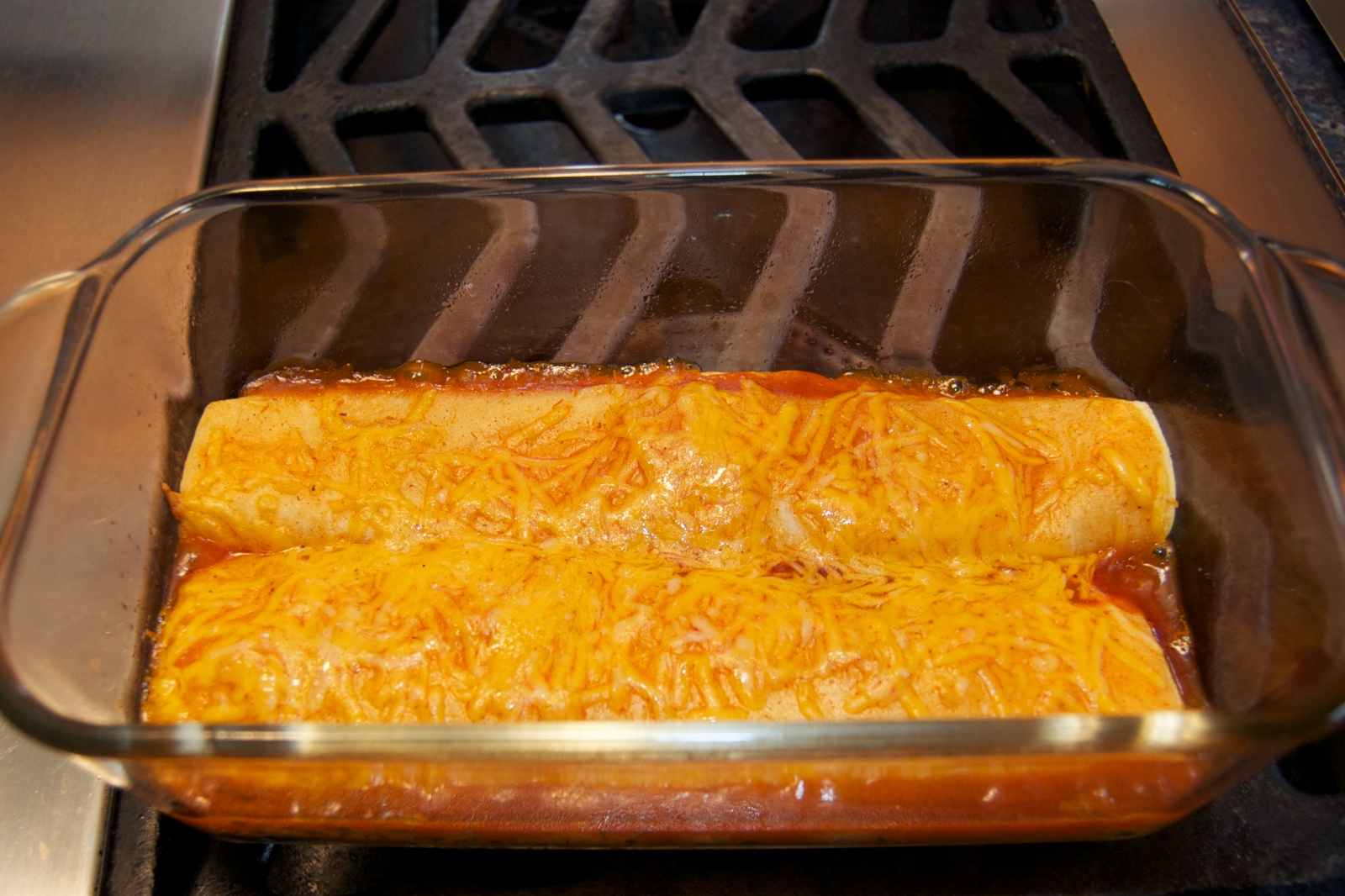 The trickiest thing is getting them out of the pan! I ended up tilting the pan over my serving plate and attempted to slide them out, which was only partially successful.
Update 11/3/2012: I tried putting the enchiladas in parchment paper slings. It works great!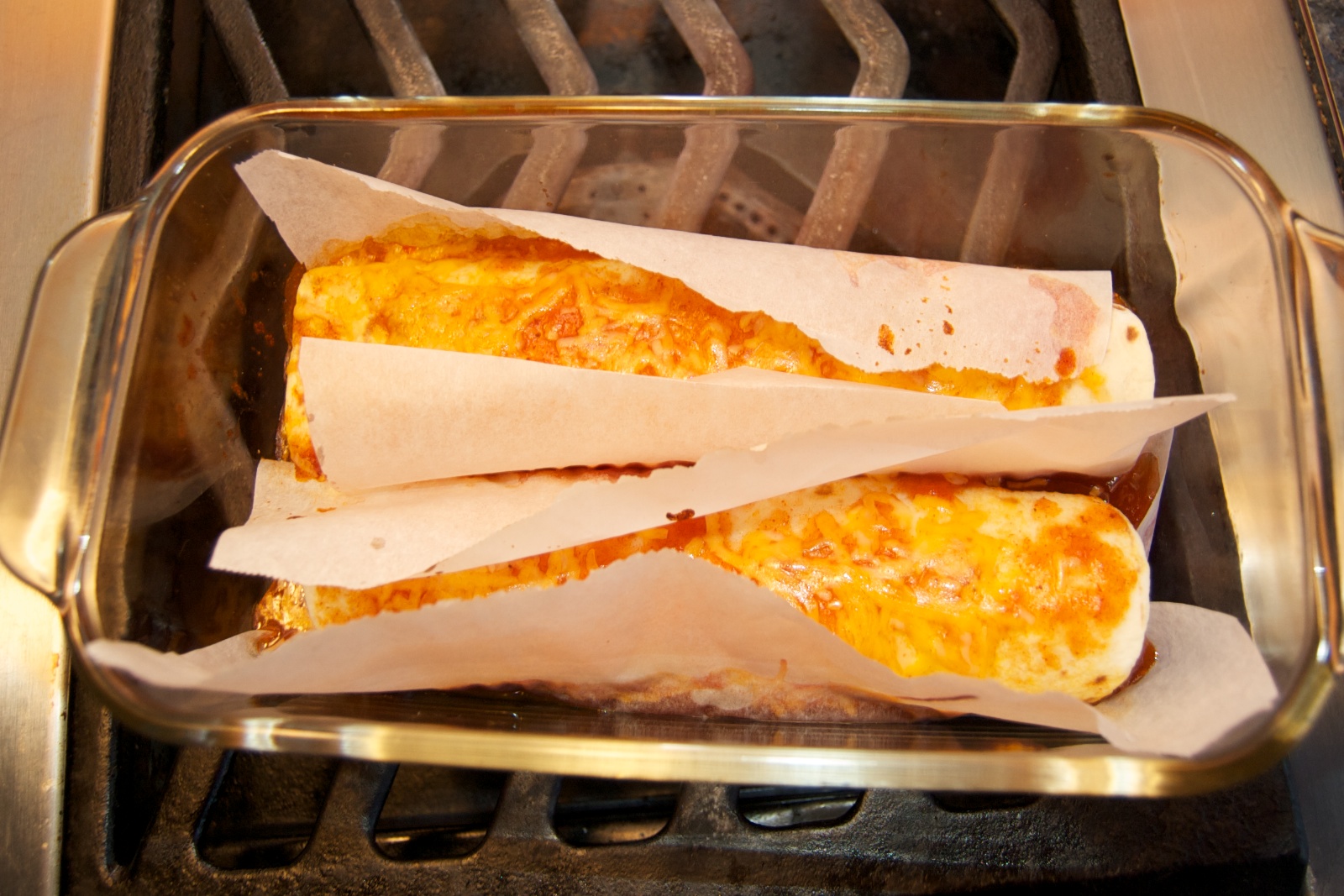 Put the plate close by and lift the enchilada by its sling and put it on the plate. The only problem is that the sauce will want to run out the ends of the sling so do it quickly, and level.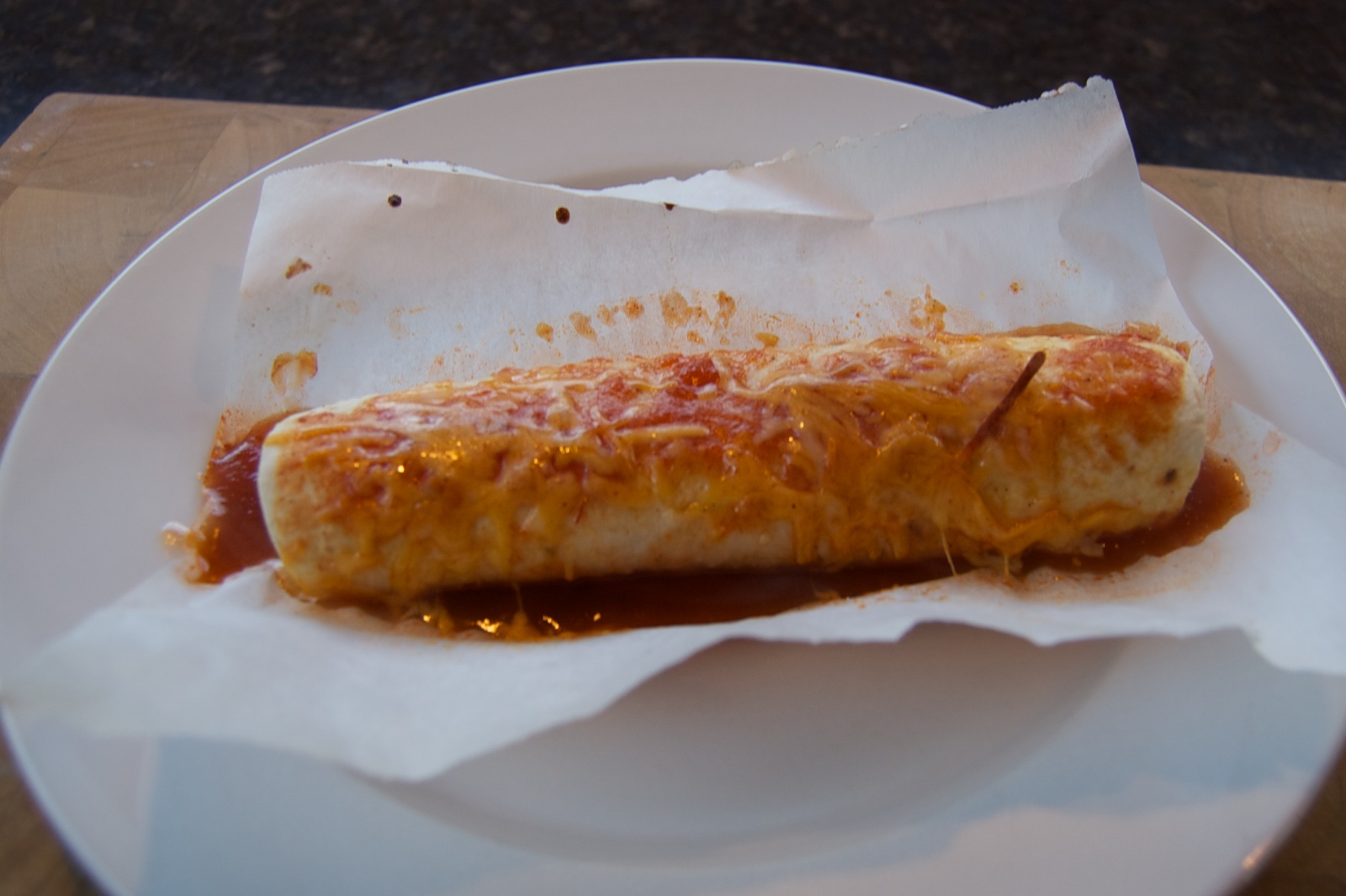 Then just use a big spatula to slide it off the parchment paper. Since you're just sliding it, as opposed to slipping the spatula underneath it to lift it, the enchilada doesn't want to flip over when you plate it. Perfect!
Also, I reduced the serving size from 2 enchiladas to 1, since 2 seemed like too much.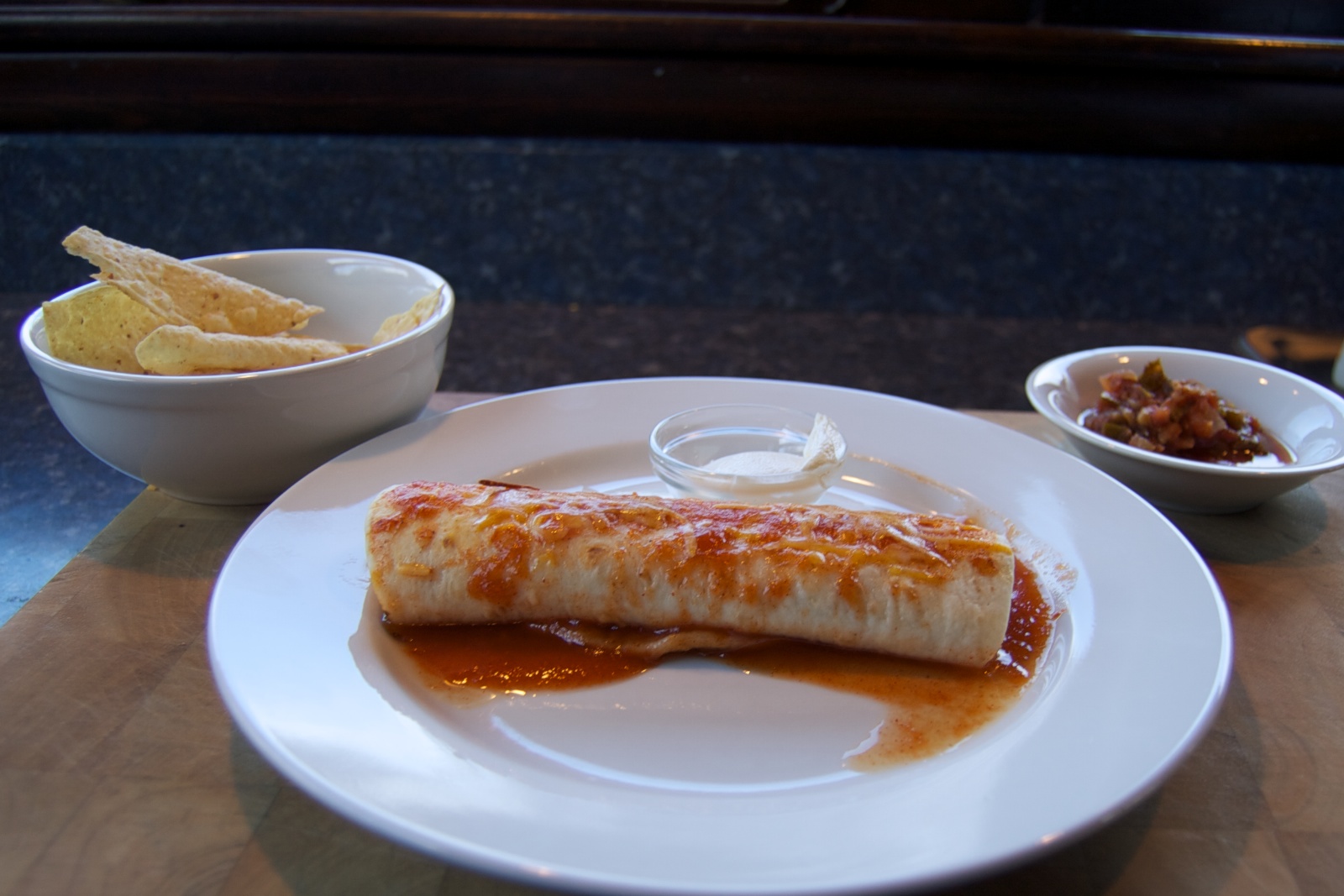 Update 1/4/2013: I made this again with grilled chicken and a batch of salsa fresca . I put a little salsa fresca inside the enchilada.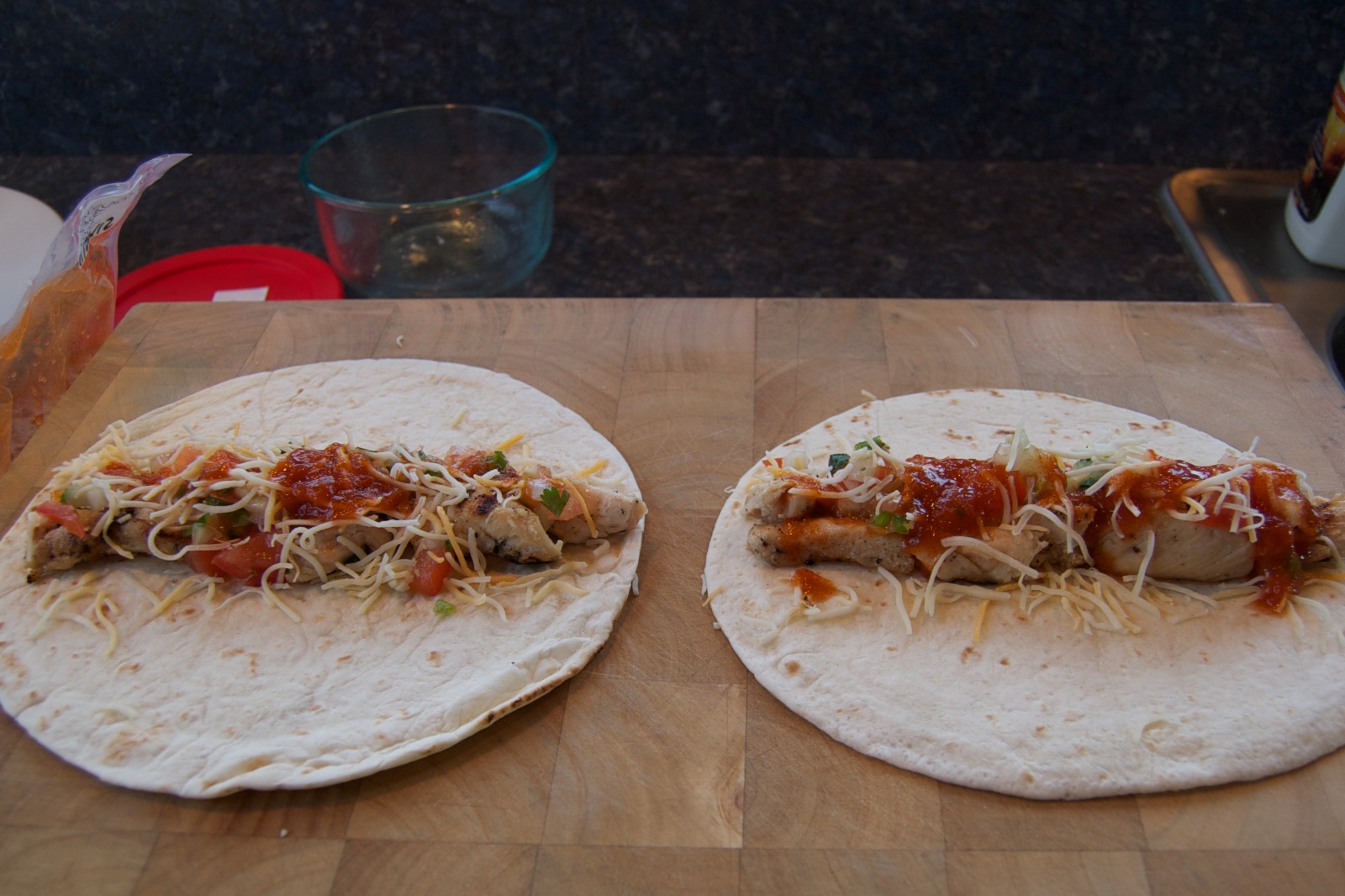 And put a little on top after plating: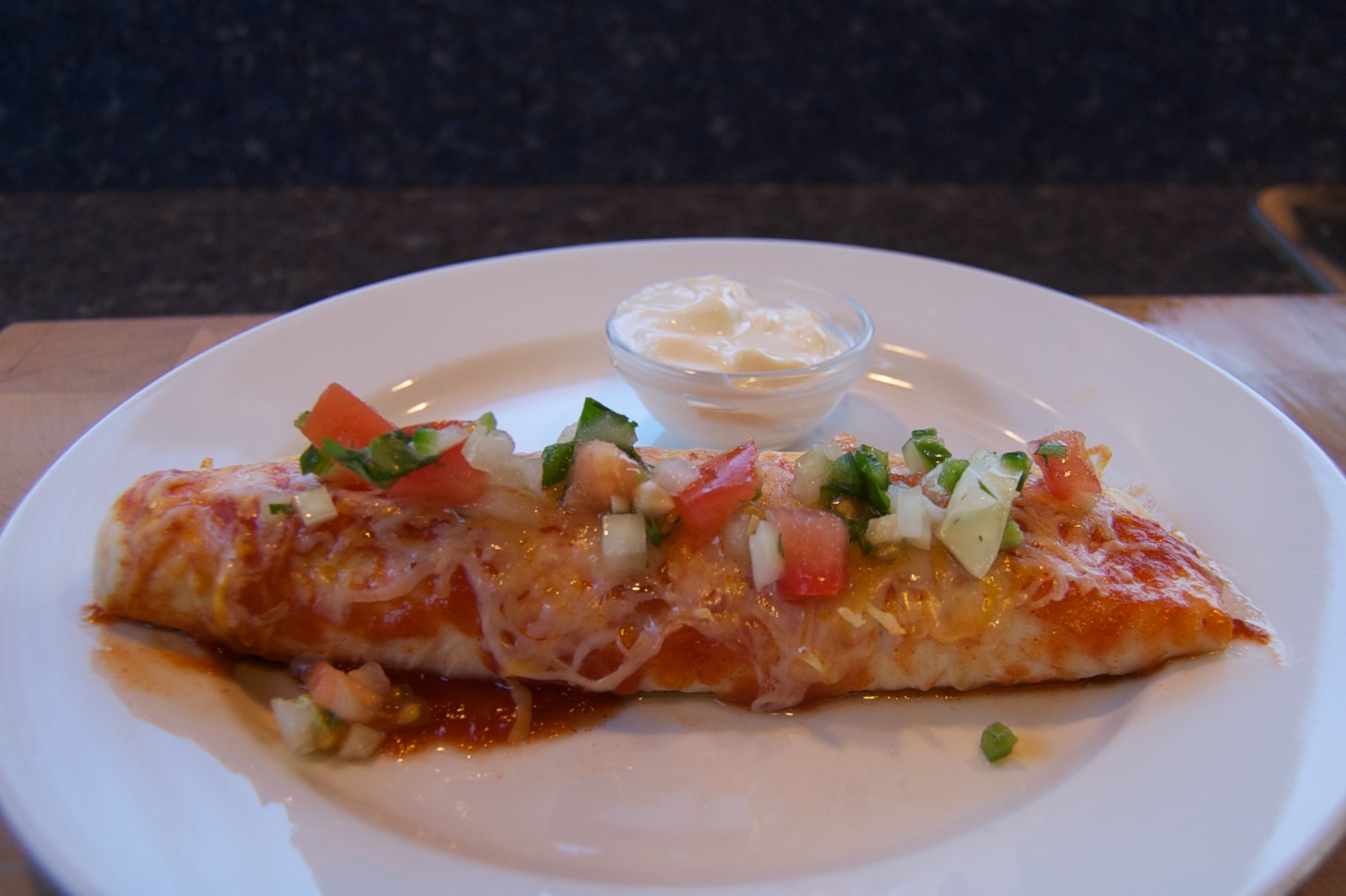 The rest I served with tortilla chips. It was delicious!
Update 5/16/2013: Instead of messing with the separate pan and/or parchment paper sling, this time I just baked it on my plate, 10 minutes at 375°F. Obviously this should only be done with an oven-safe plate! To serve it, I set the hot plate on a not hot plate; the two layers make it possible to carry and not damage the table. I do the same for nachos . This works, but I prefer the parchment paper sling method.
Also, I measured the shredded cheese and I used 0.5 oz., with about half inside and half on top. And I used the whole 3.0 oz. package of grilled chicken to make one big enchilada instead of two smaller ones.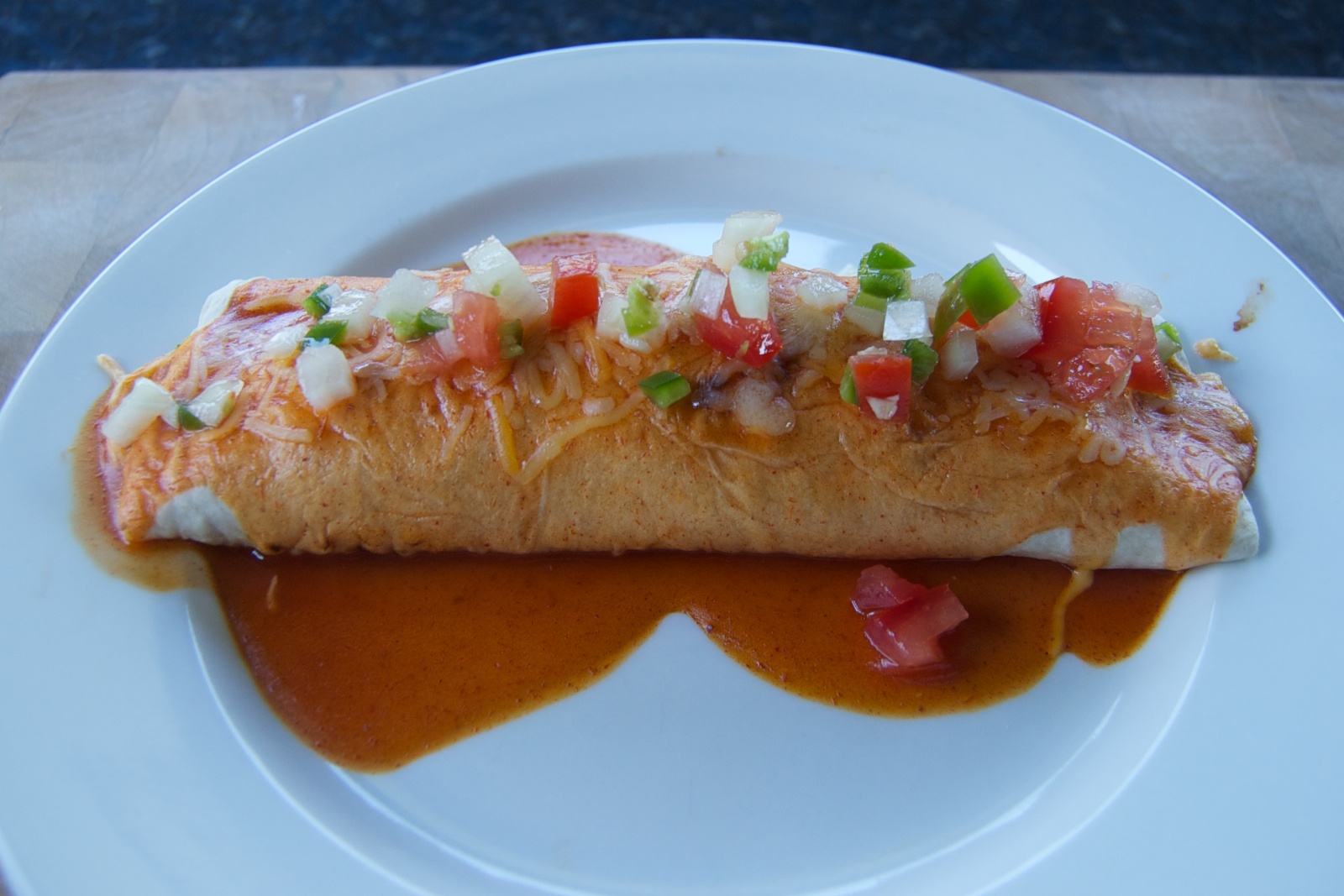 Update 12/9/2013: You can freeze leftover enchilada sauce, and I do so in a vacuum sealed bag. I find it to be a little runny after freezing, however. I've been defrosting then reheating it in a saucepan over low heat to evaporate some of the excess moisture and return it to the correct consistency. It works right out of the bag, but it's better cooked down a bit.
Update 4/22/2014:I stopped using the deep glass loaf pan, because parchment sling keep blowing over when I put it in the oven and gets stuck to the cheese. A pie pan works much better: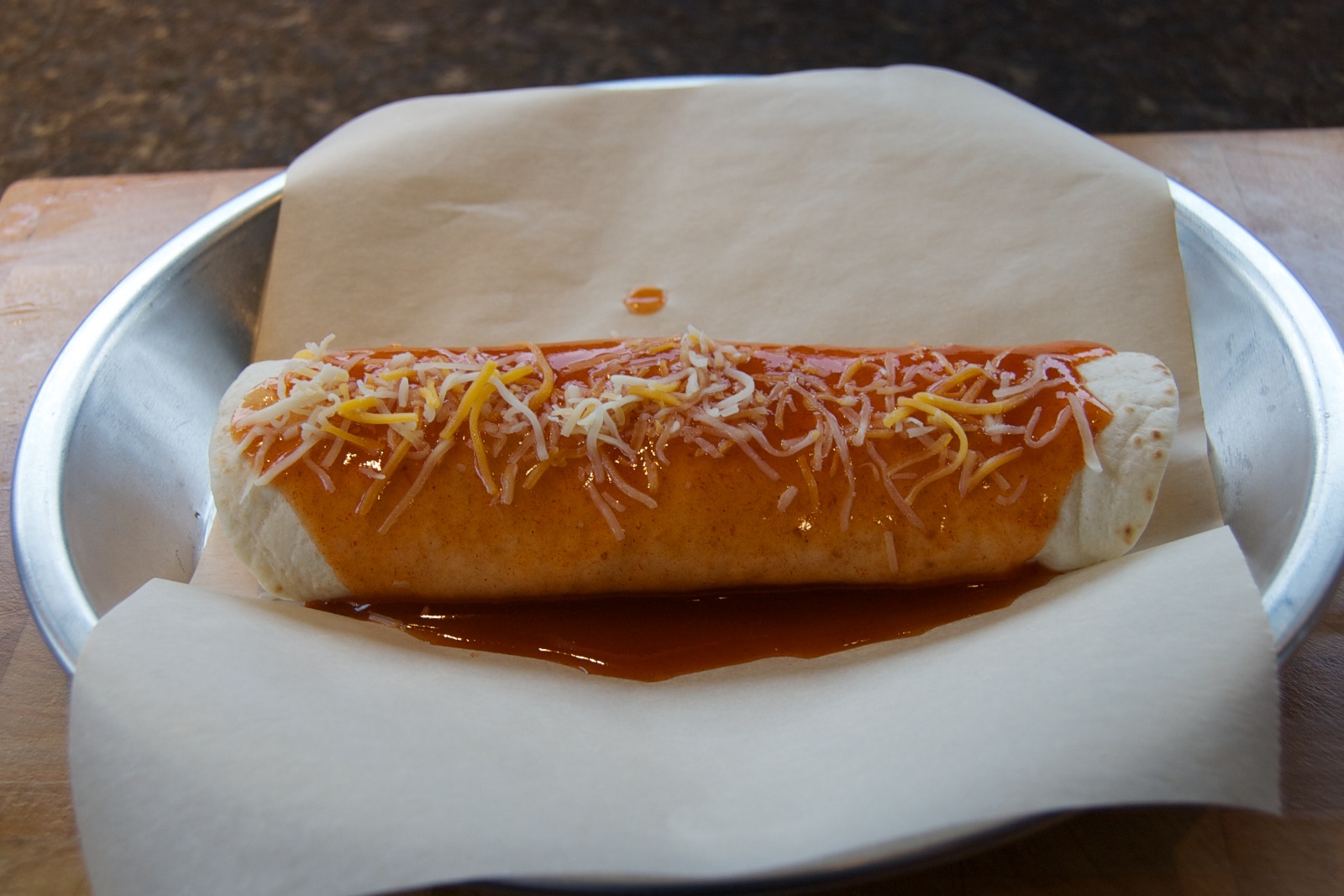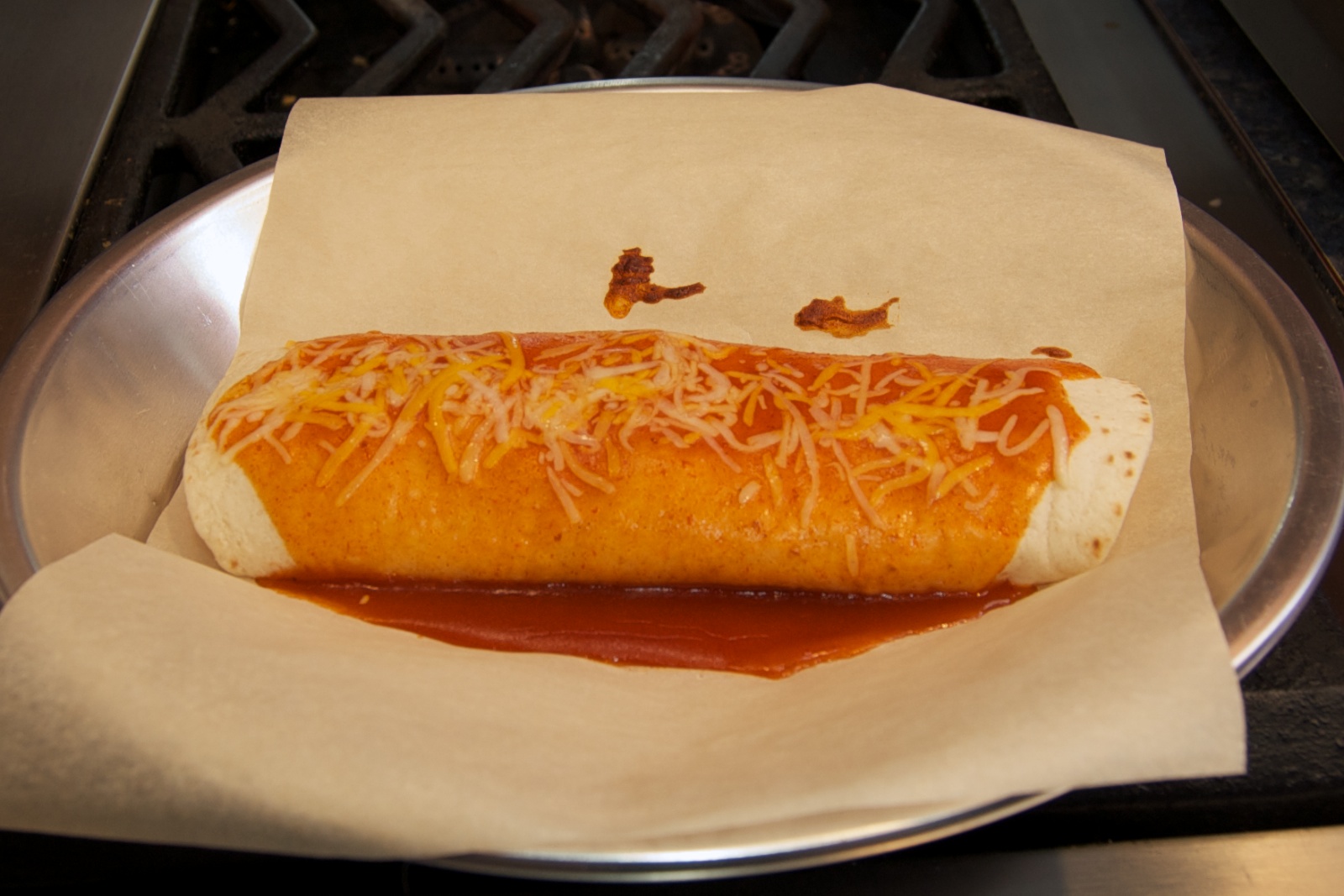 Update September 22, 2015: It's still best with salsa fresca, but since I wasn't going to have chips today, it was too much work to make it. I added some Green Mountain Gringo spicy salsa and some chopped canned jalapeños instead, and it was still good!
I spread the salsa and jalapeños on a paper towel to soak up some of the excess liquid, and to also form it into the appropriate shape. Then I put the chicken on the tortilla and used the paper towel to pick up the salsa and flip it right on top of the chicken. Perfect!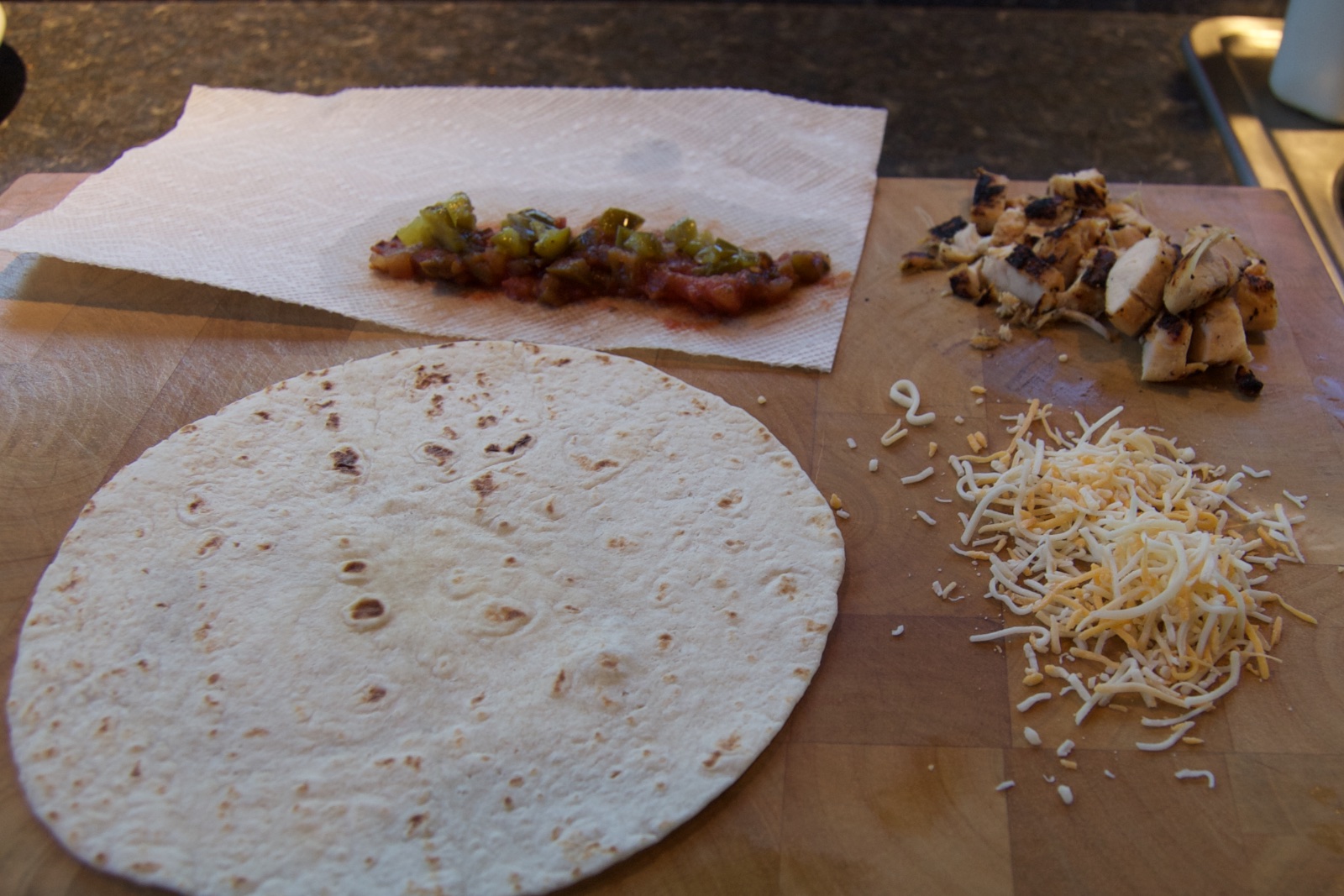 Here it is assembled with enchilada sauce and cheese.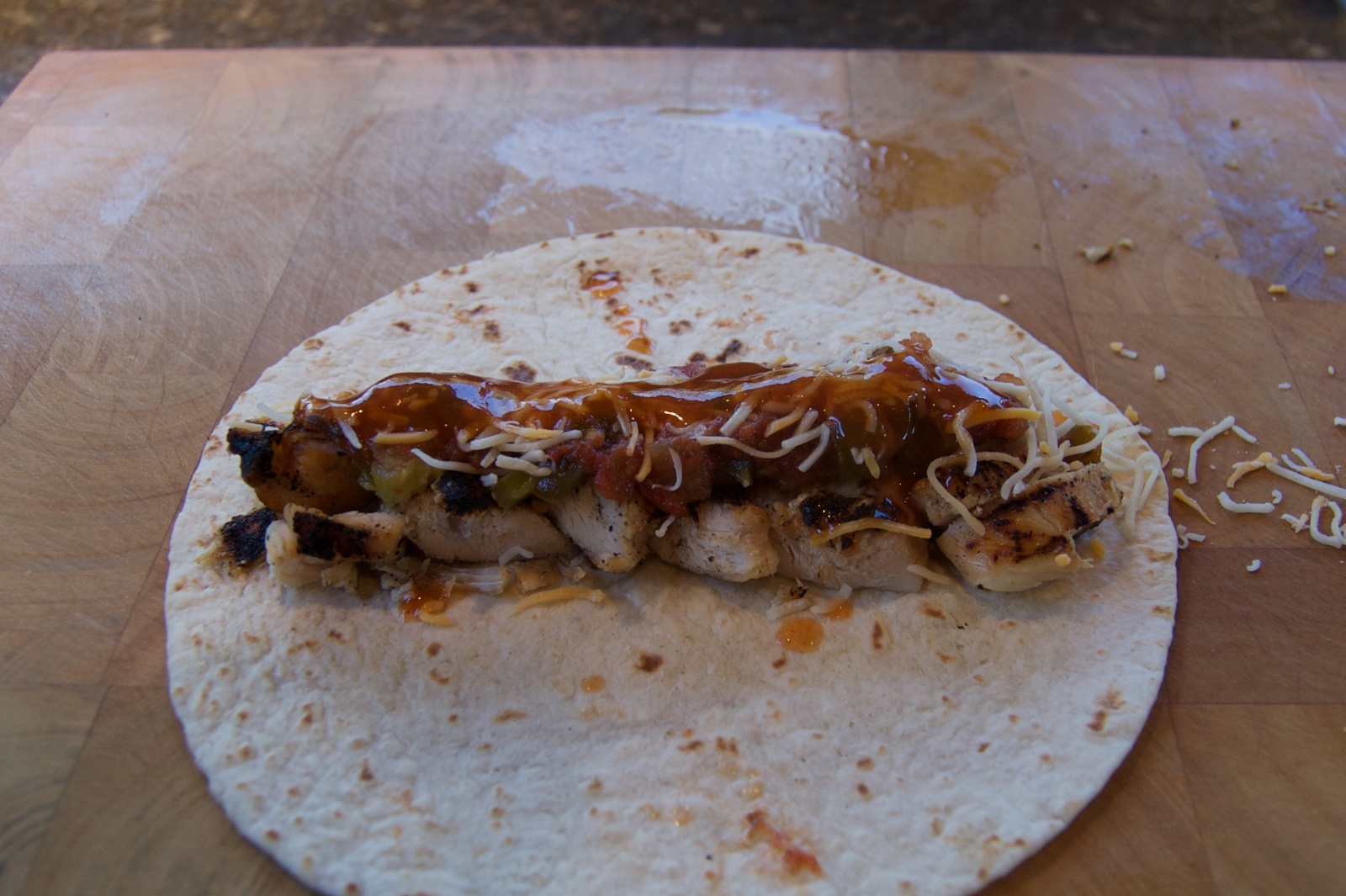 I heated it for 8 minutes at 350°F on parchment paper in an aluminum pie pan, as above, and it worked perfectly. Delicious!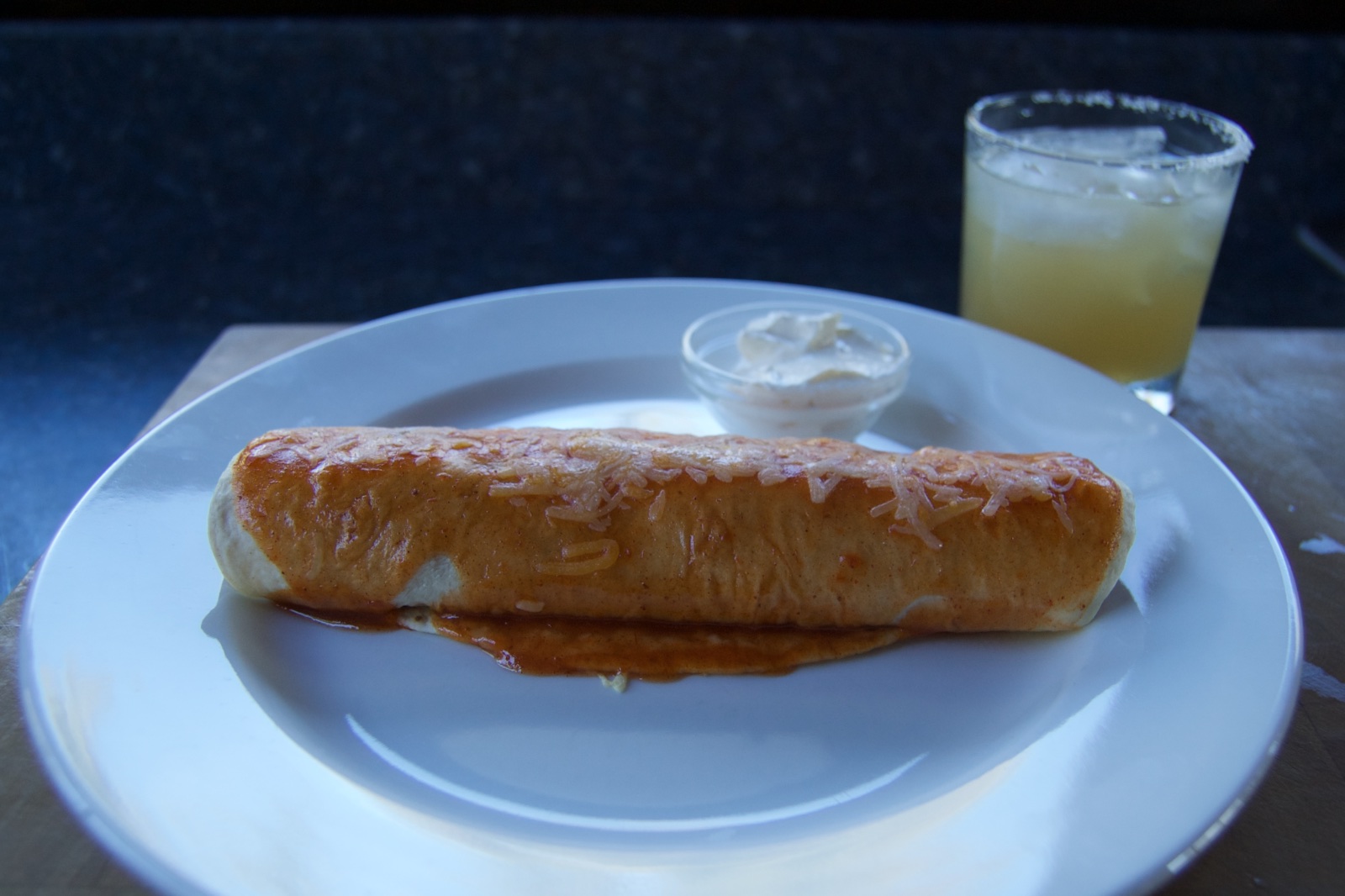 I've been eating it with Mexican rice and refried beans lately. Delicious and the rice and beans can be portioned out into individual servings, vaccum sealed and frozen.