Thanksgiving 2017
Here are my preparations for Thanksgiving dinner.
I did the first round of grocery shopping.
The turkey is big, 21 pounds, so I started it defrosting. Fortunately I have a spare beer kegerator that easily holds a 5 gallon bucket containing the turkey. It's set to 40°F.
I followed this guide which said 5 days, and it good to have it defrosted the day before, so that's perfect for cooking on Thursday.
When I removed the neck and gizzards on Wednesday night it seemed defrosted though there was still a little block of ice in the chest cavity when I rinsed it out, so the timing seems about right.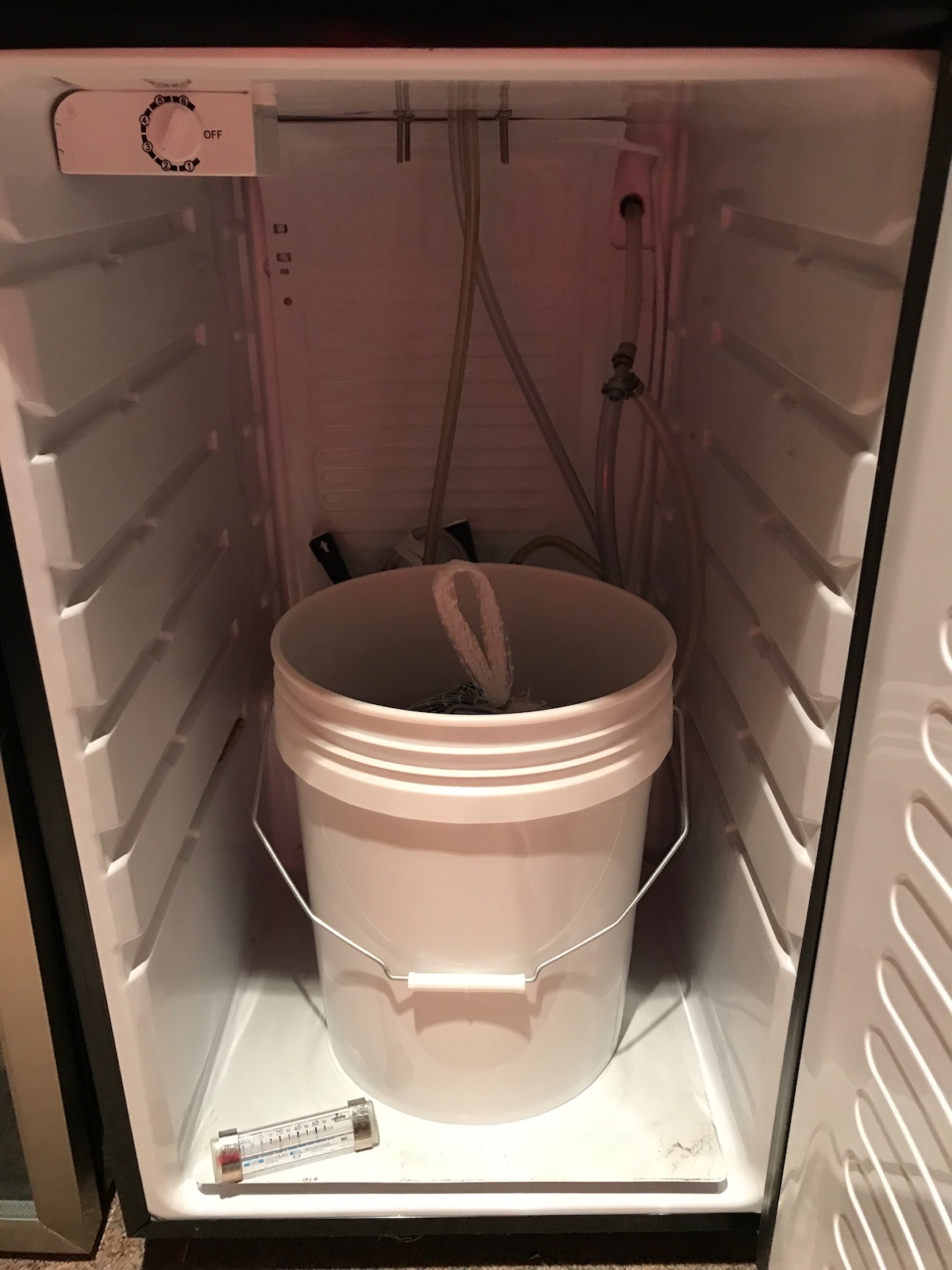 ---
More grocery shopping.
Sweet and spicy cocktail meatballs
I made a batch of homemade mini-meatballs (updated recipe). 1 lb. 7.4 oz. of beef made 56 mini-meatballs.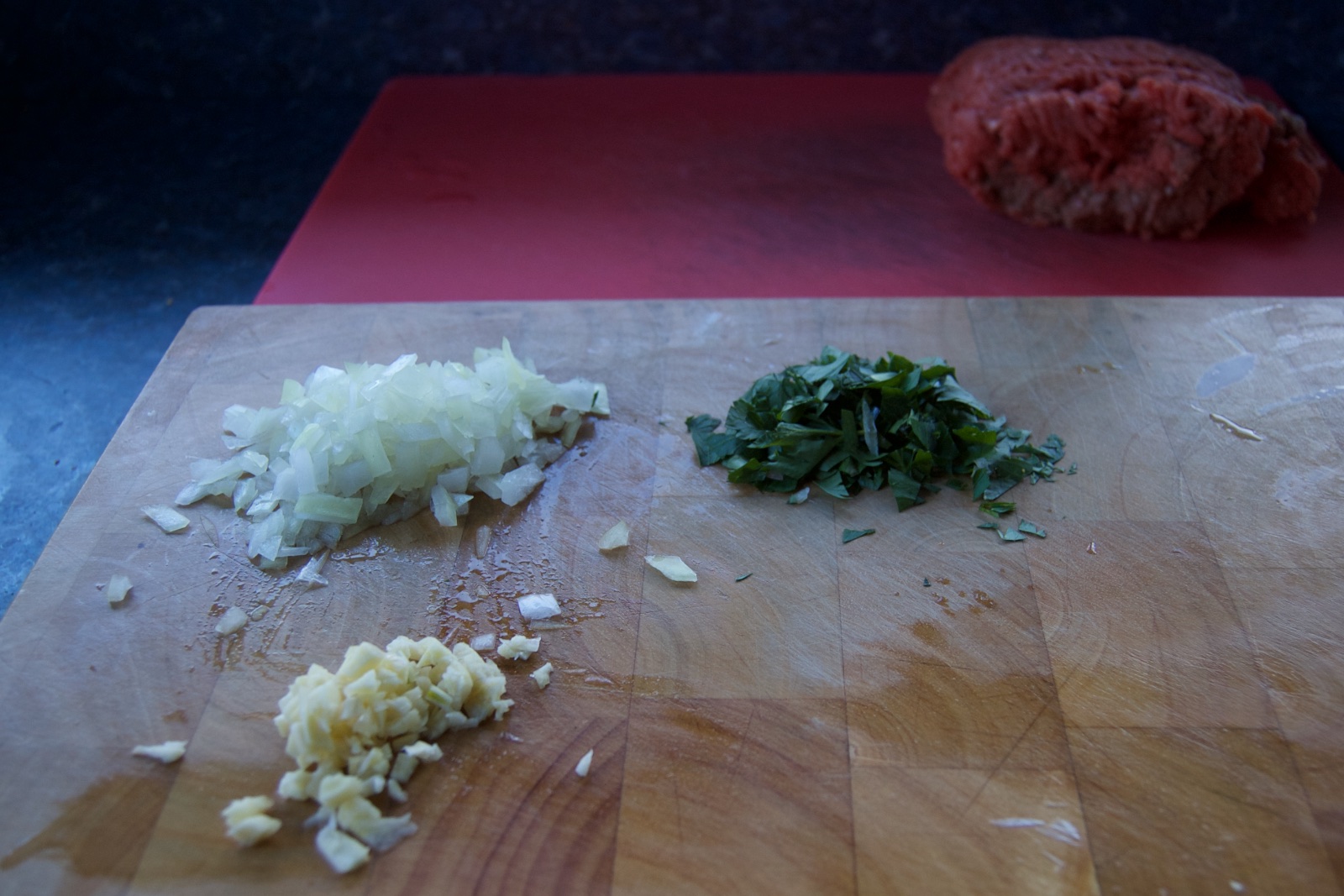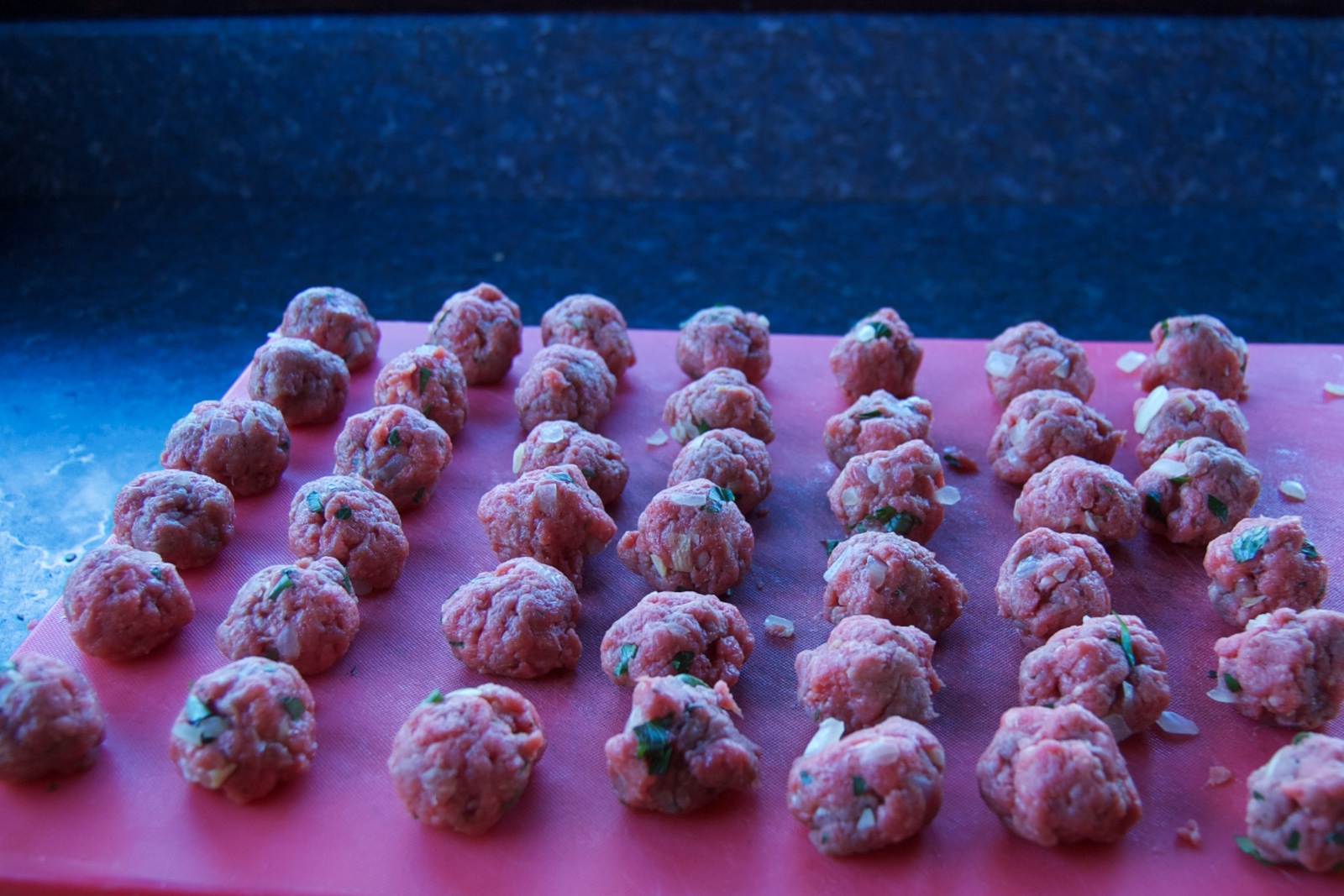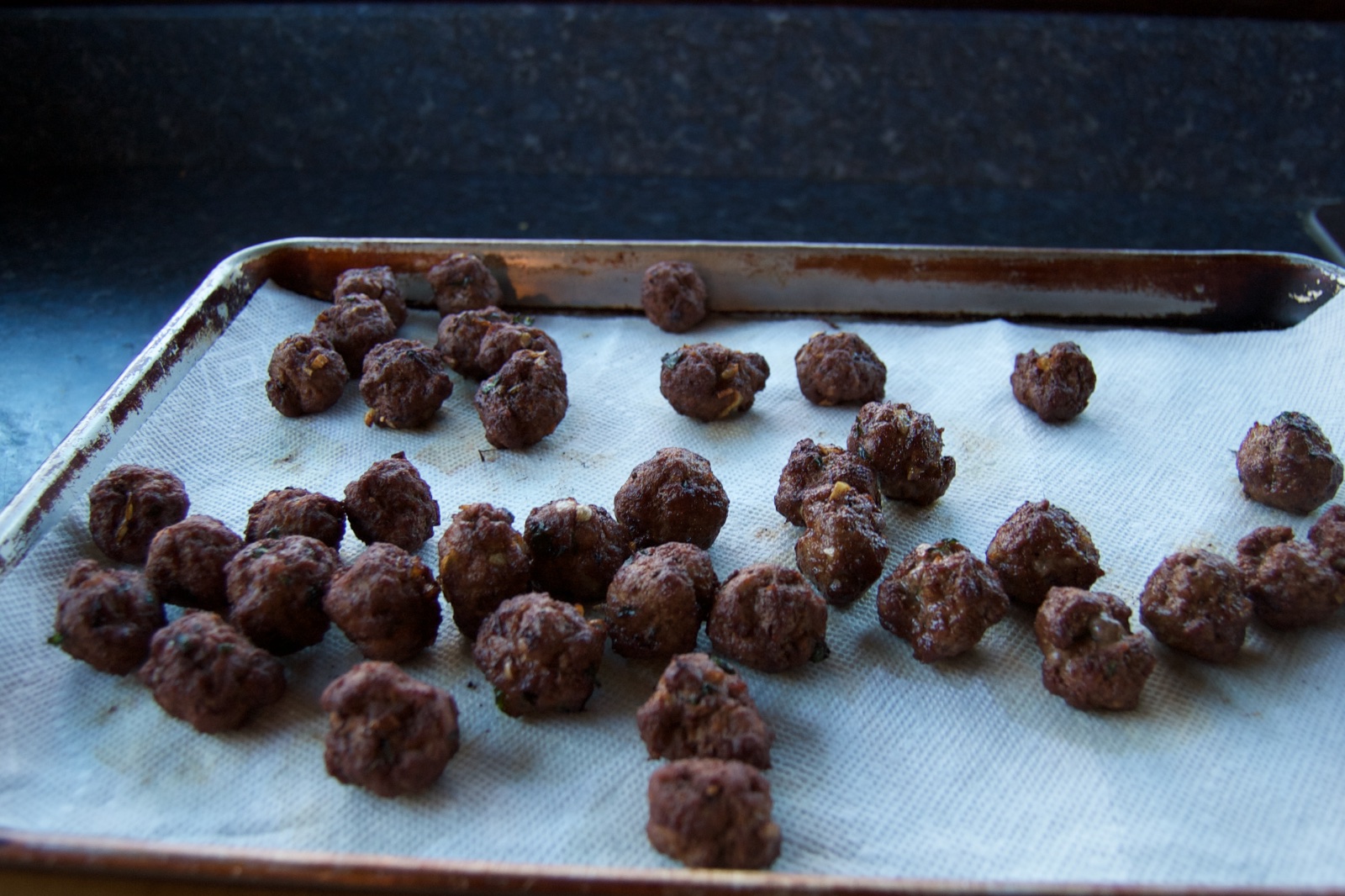 The sauce will be the standard chili sauce and grape jelly, reheated in a small crockpot.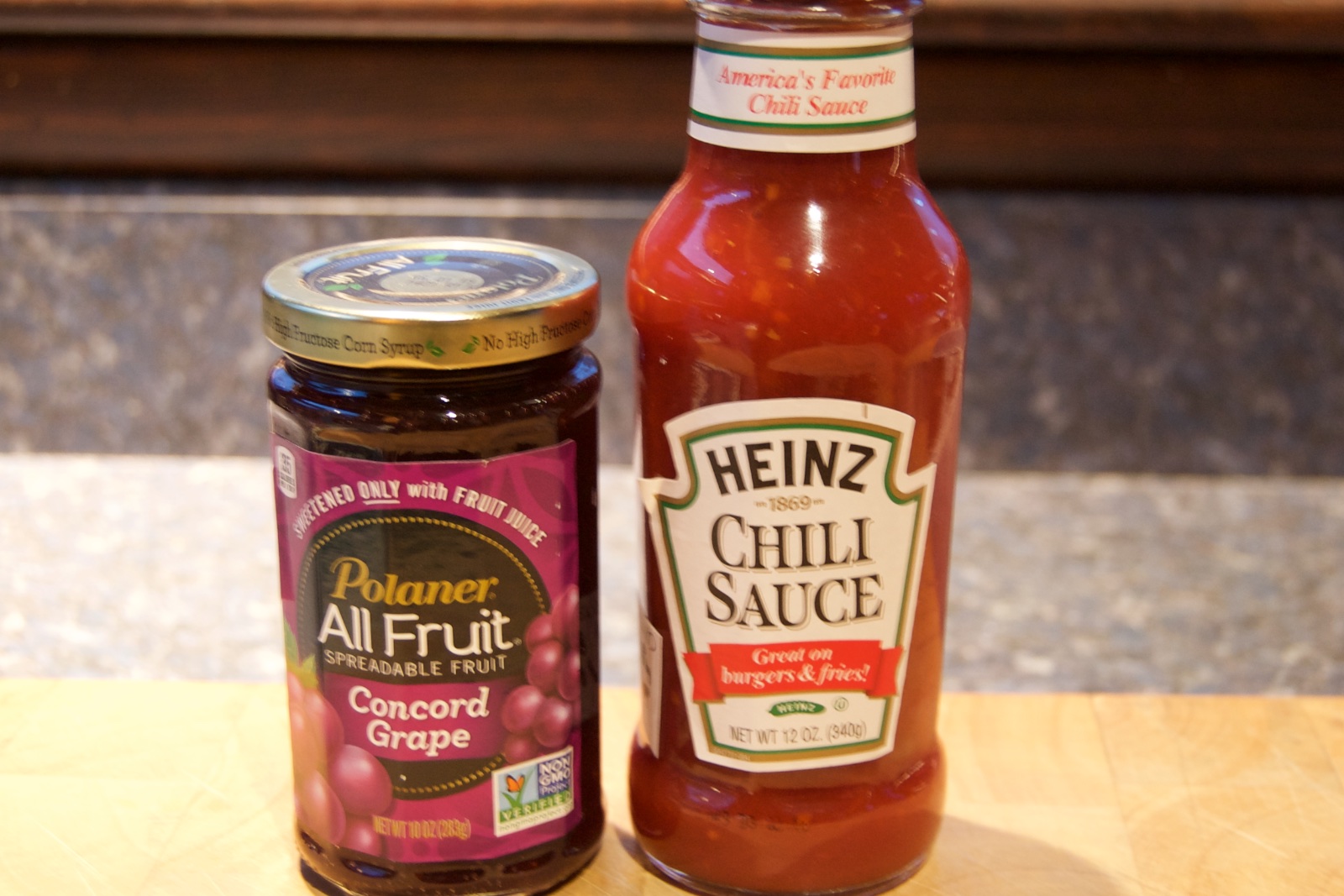 I only combined the ingredients on Thursday morning, but I could have done it much earlier. I was undecided whether to just mix the contents right in the crockpot at cooking time or not, but I eventually decided it was easier to transport in a vacuum sealed bag.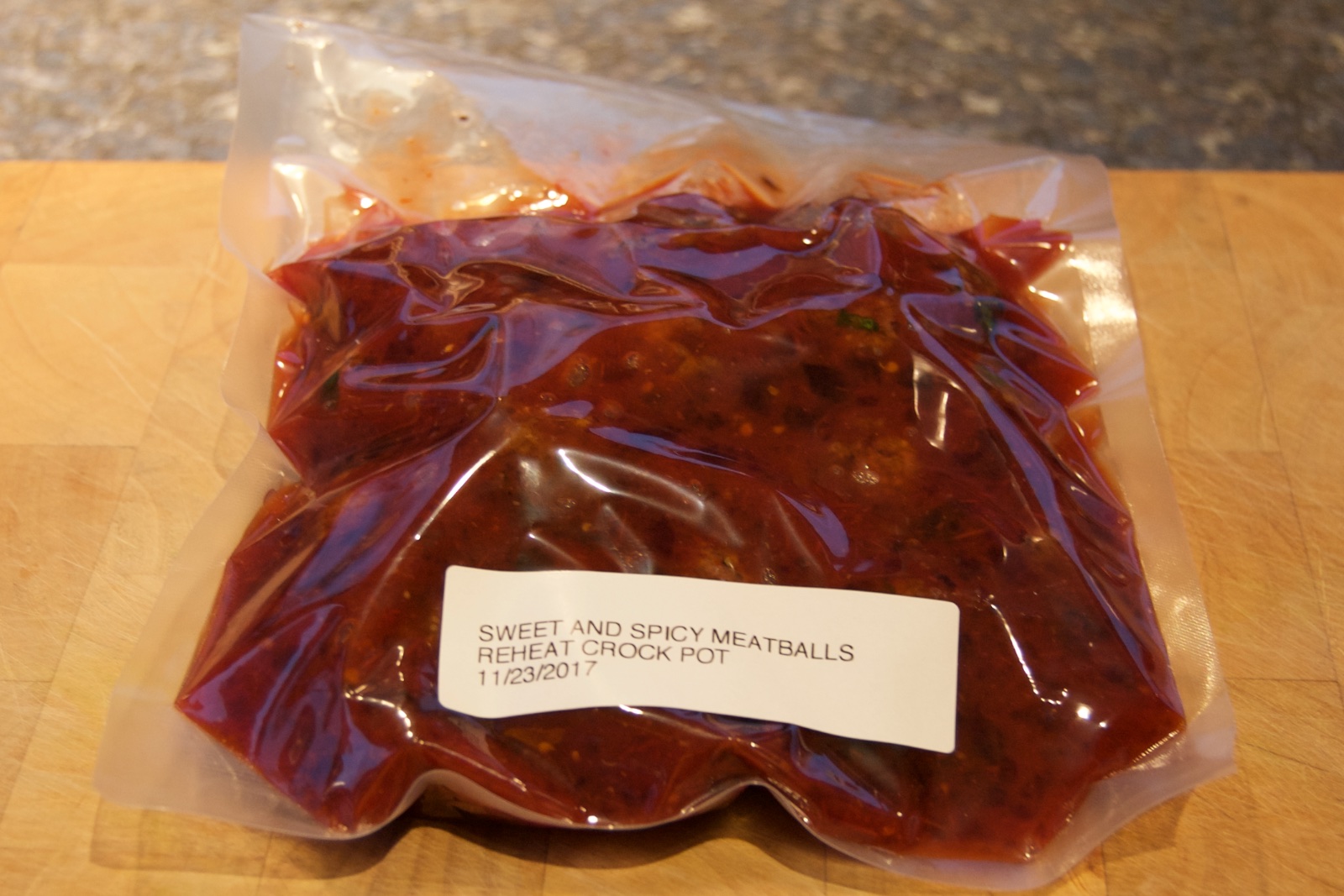 Cooked a batch of taco seasoned ground beef. Vacuum sealed and froze 5 packages of around 2.0 oz. each. This has nothing to do with Thanksgiving, but it is what I did with the rest of the ground beef in the package after making meatballs.
---
Dinner roll prep
Started the poolish and soaker for homemade whole wheat and oat dinner rolls .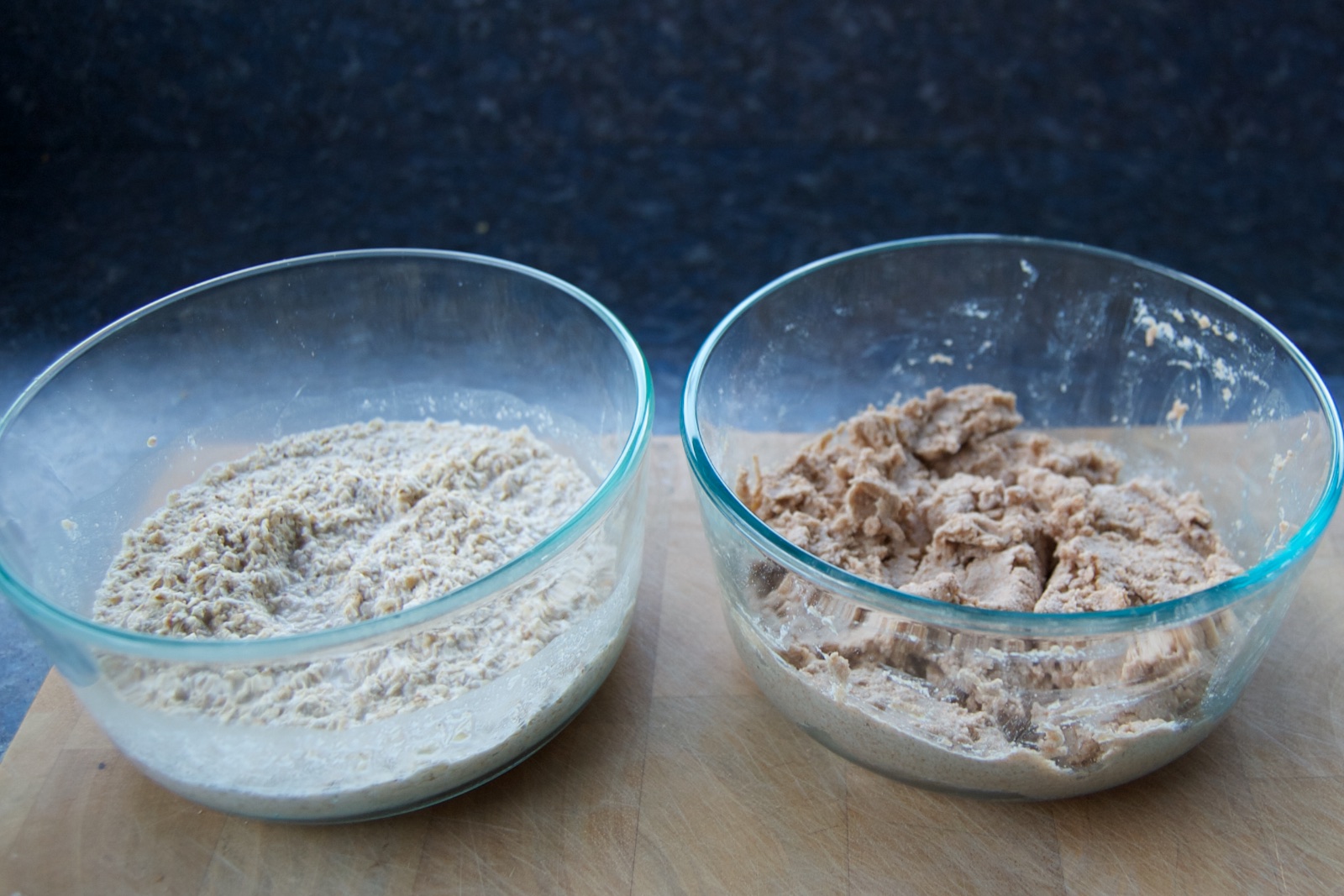 Mama Stamberg's cranberry relish
I made a half batch of Mama Stamberg's cranberry relish . It's a famous recipe from NPR, that contains onion and horseradish! I've never tried it before, so I made a half batch.
1 cup cranberries (less than half a bag) 1/2 cup sugar 1/2 of a small onion, diced 1 tbsp. prepared horseradish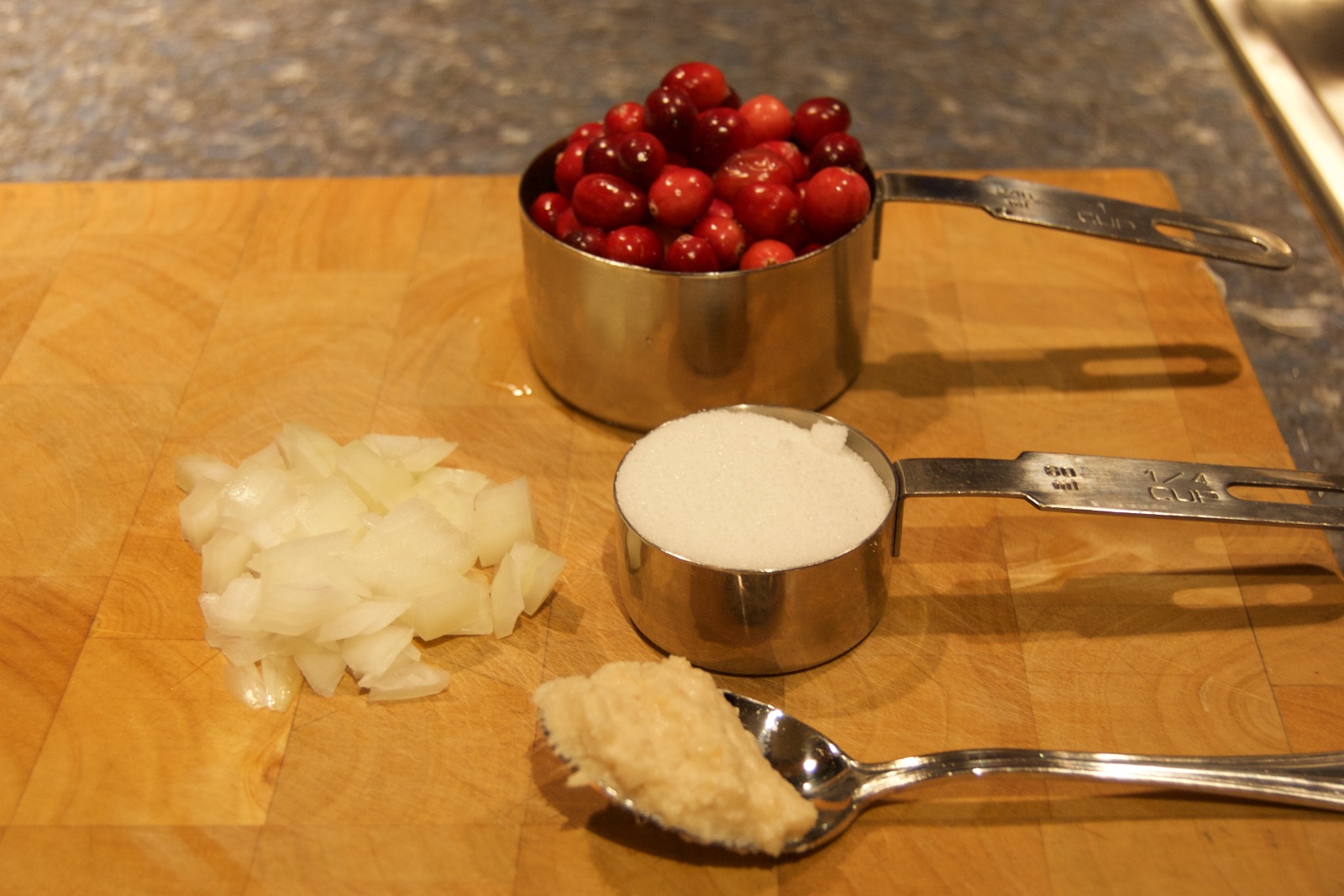 I minced the onions a bit in the food processor. Then added the cranberries. Finally, at the very end I added the remaining ingredients and pulsed for a few times.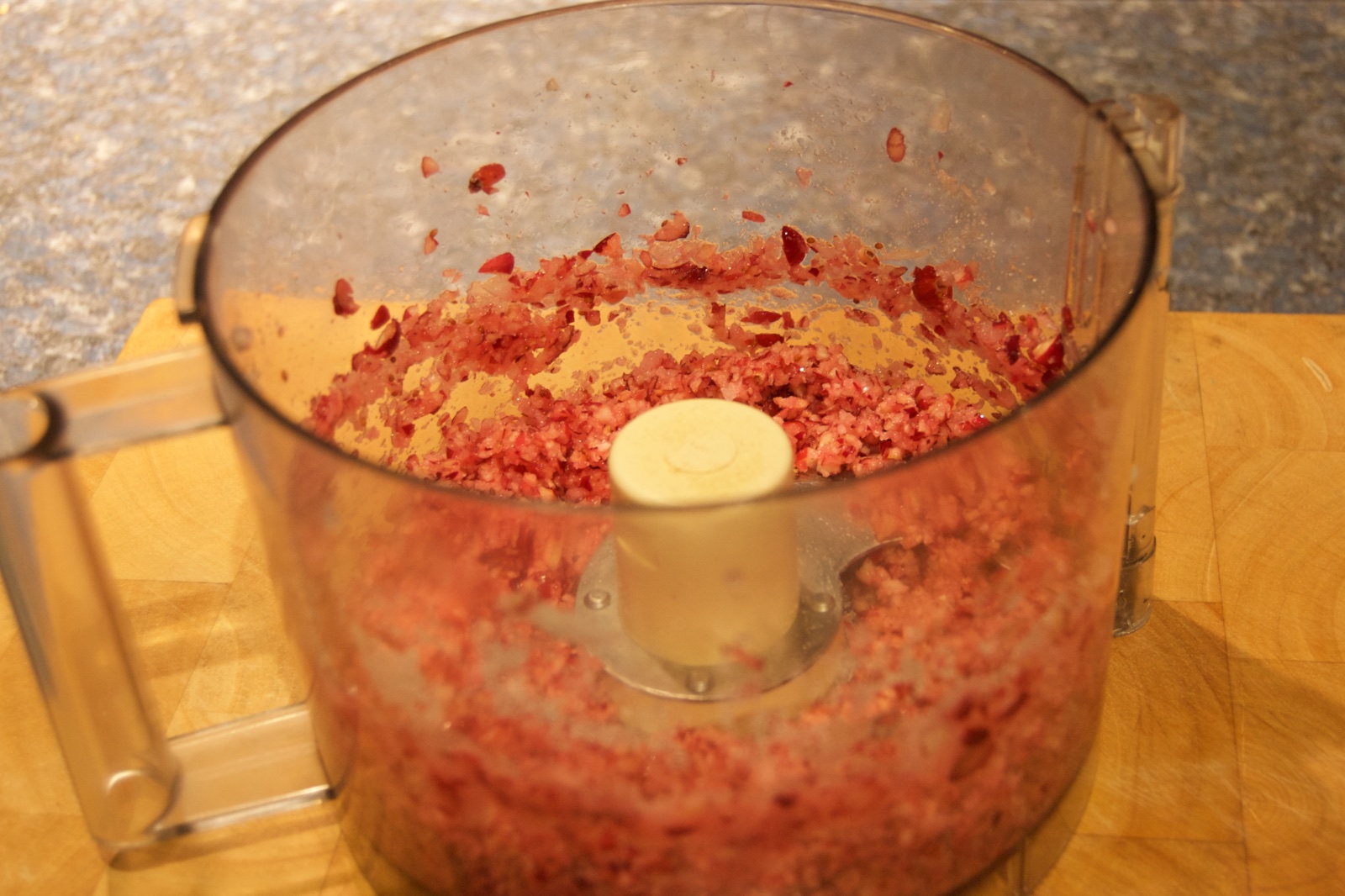 That's it. It's not bad, but we'll see how it tastes after it gets frozen and the flavors meld some more.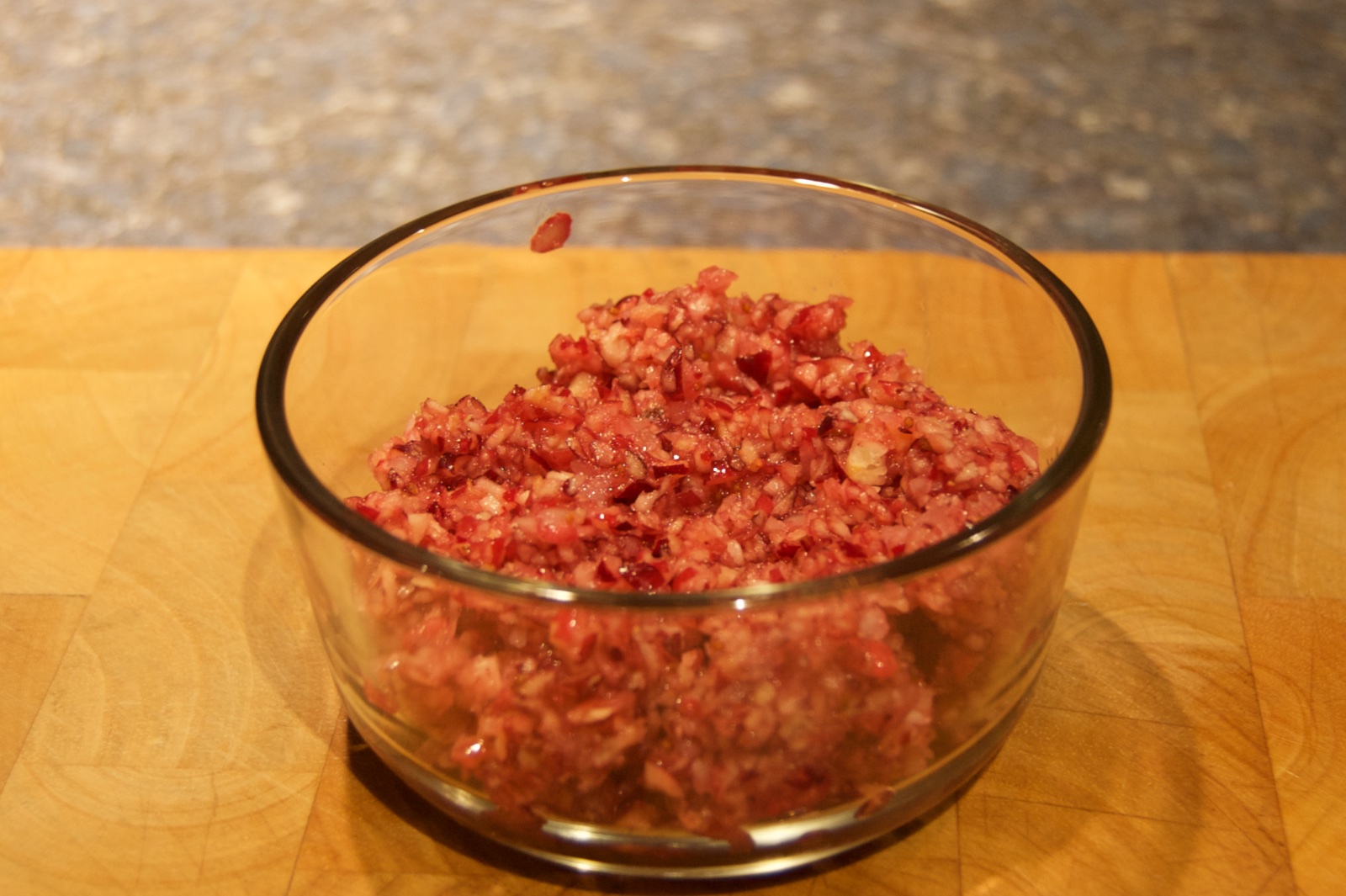 Breakfast sausage
I cooked a package of pork breakfast sausage. That's for Thanksgiving breakfast.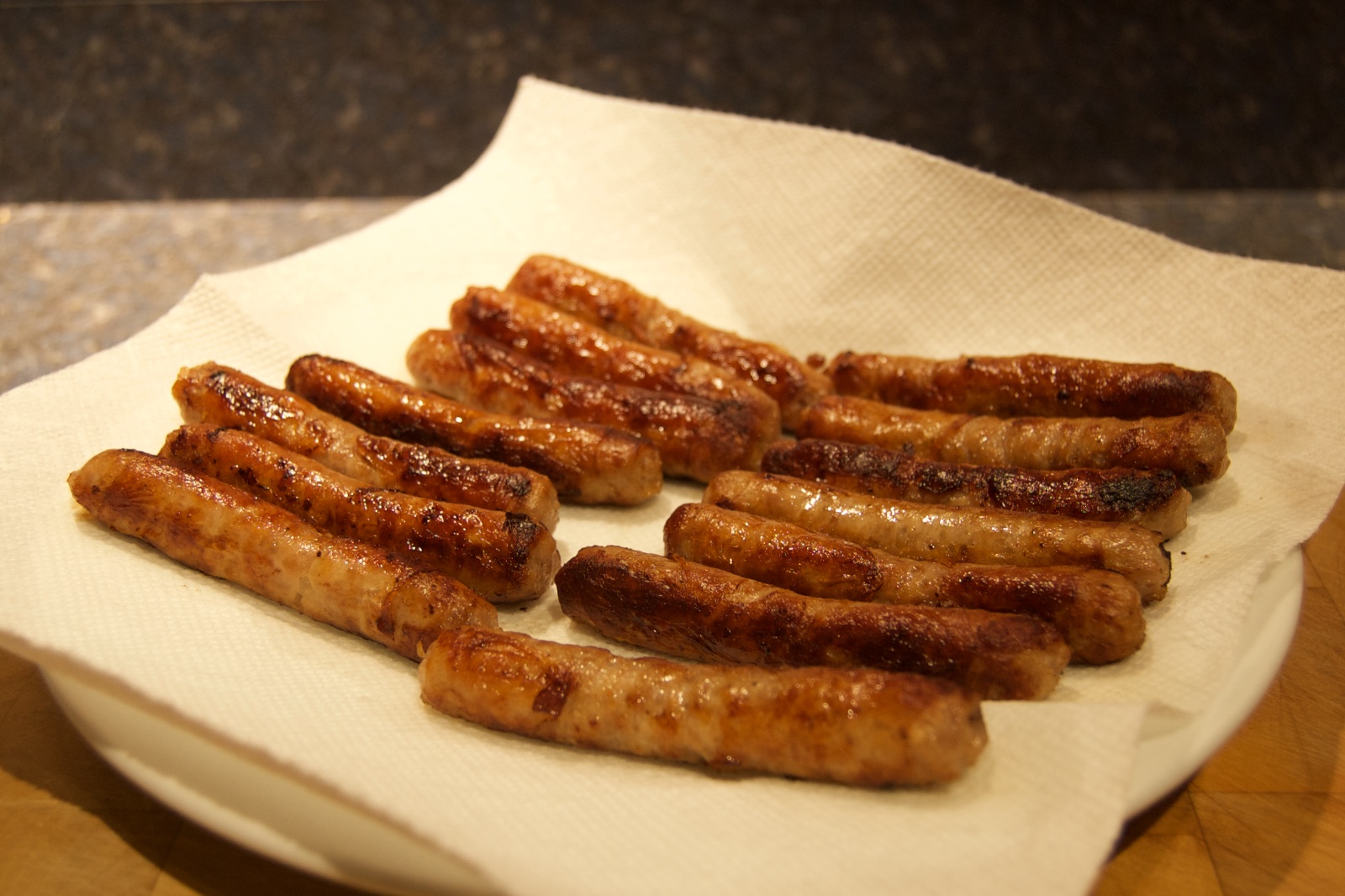 Gravy Defrosted 32 oz. of turkey stock. I vacuum sealed and froze it last year, and will be the base for the gravy.
The gravy is based on this recipe and is: 1/2 cup butter (1 stick) 1/2 cup all-purpose flour
32 oz. turkey stock
freshly ground black pepper (optional) soy sauce (optional)
Add the butter to the pan and melt. And the flour and cook for 5 minutes or more to make a roux. It should smell slightly nutty, but not burnt.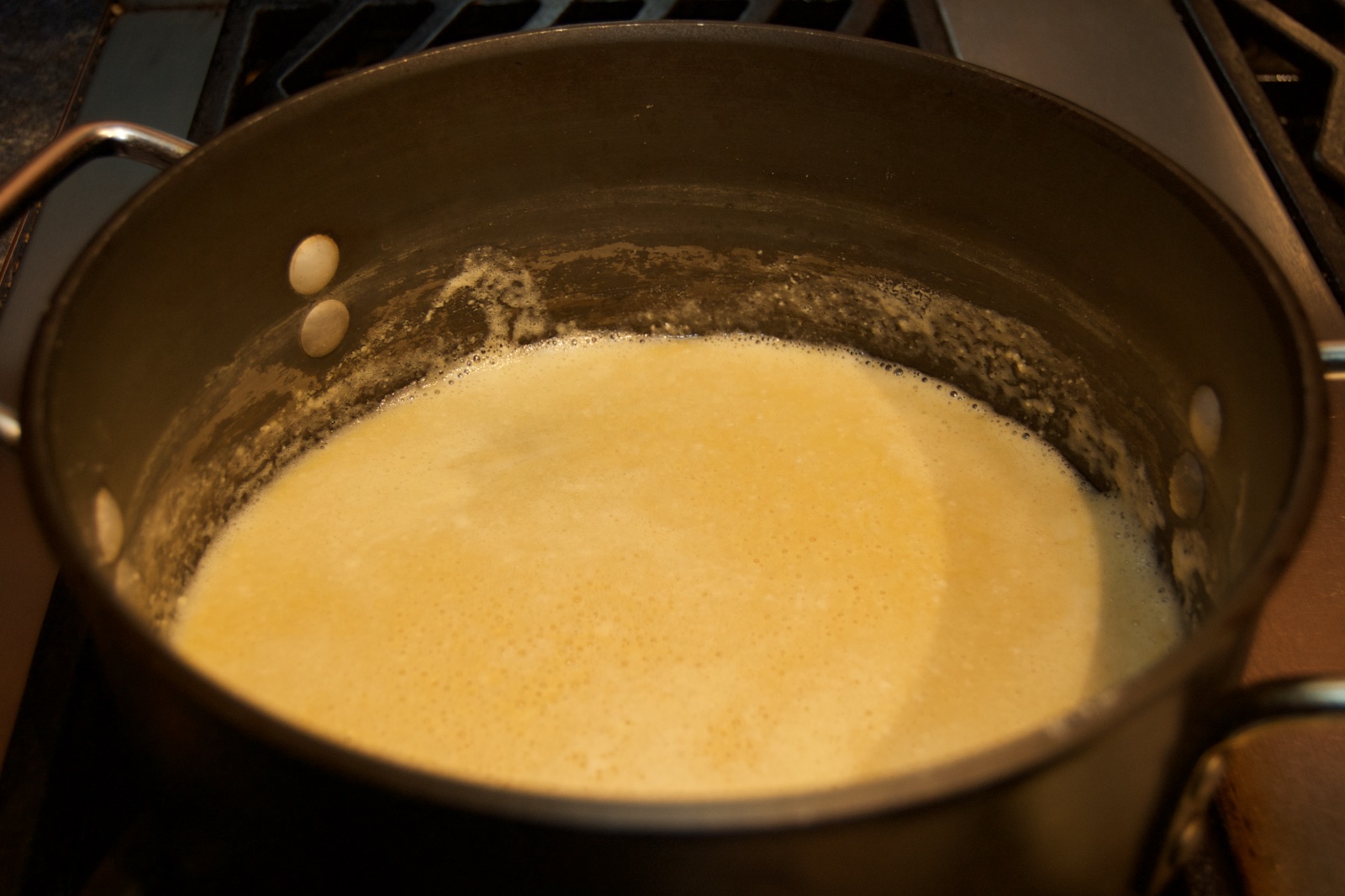 Add the turkey stock and combine. Stir for a few minutes until thickened. It will start out shockingly thin, but it thickens quickly.
I'm used to having soy sauce in my gravy because Mom always made it that way, so I add that too, a couple ounces.
Cool and refrigerate. Reheat in a large saucepan on the stove. Makes 4 cups.
4 cups easily fits in a 7 cup Pyrex container. It would be too full in a 4 cup/2 pint/1 quart container.
This was too thick after reheating; it makes much more gravy after adding water to make a better consistency.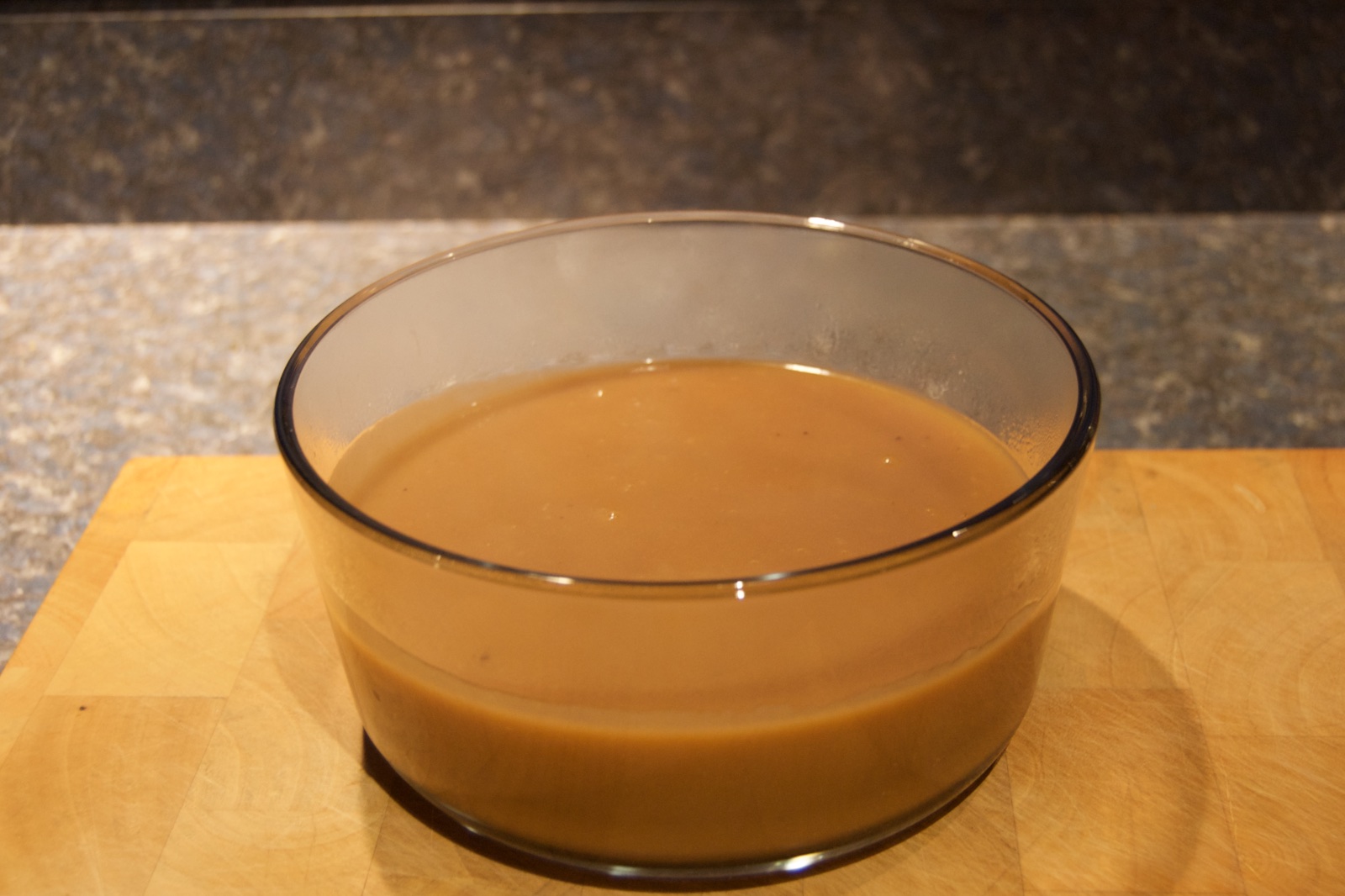 Mashed potatoes I made 3 pounds of mashed potatoes .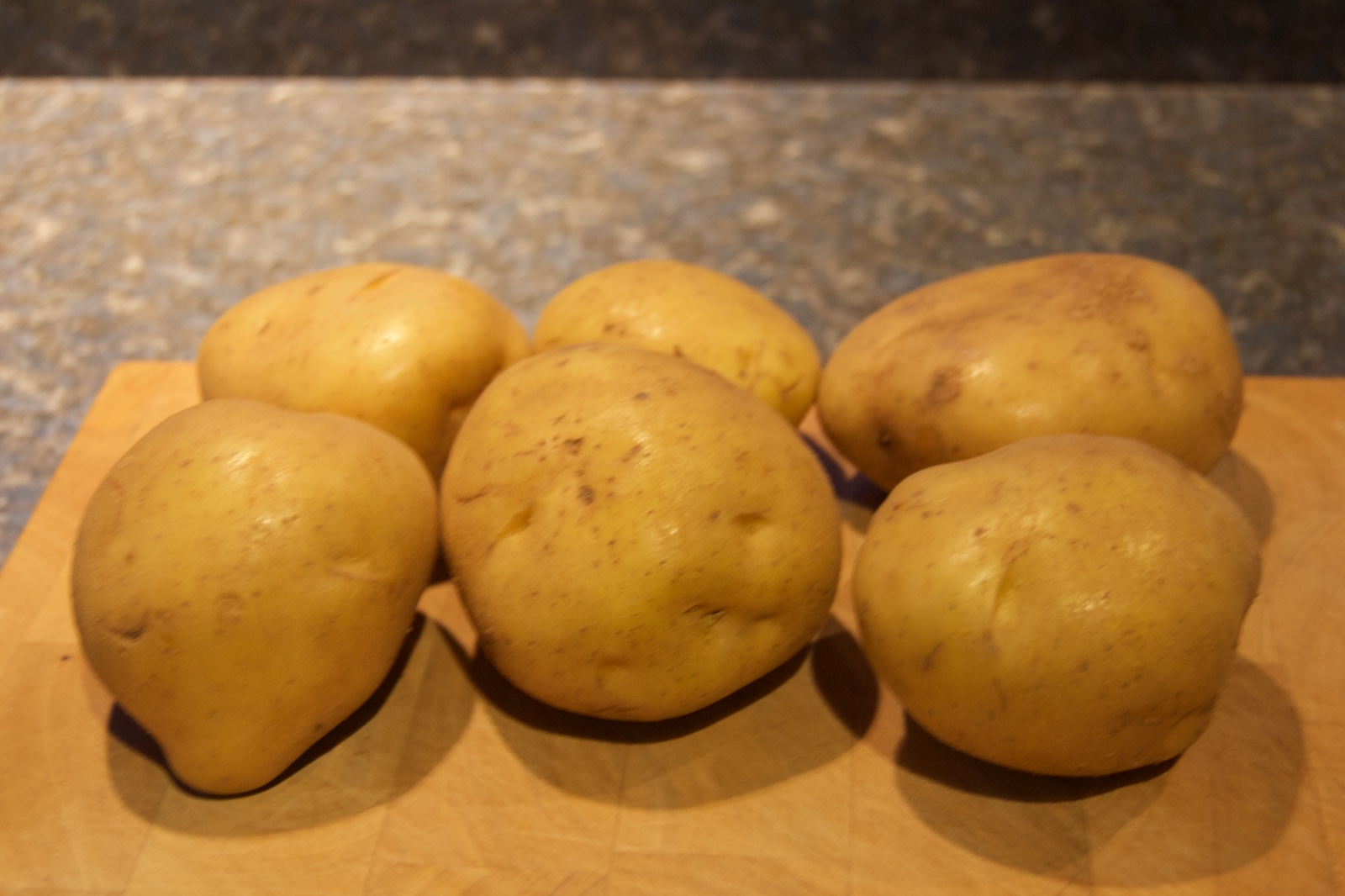 Peel and dice the potatoes.
Add to a pot of boiling water and cook for 20 minutes or until soft.
Drain in a colander, then crush in a potato ricer back into the pot.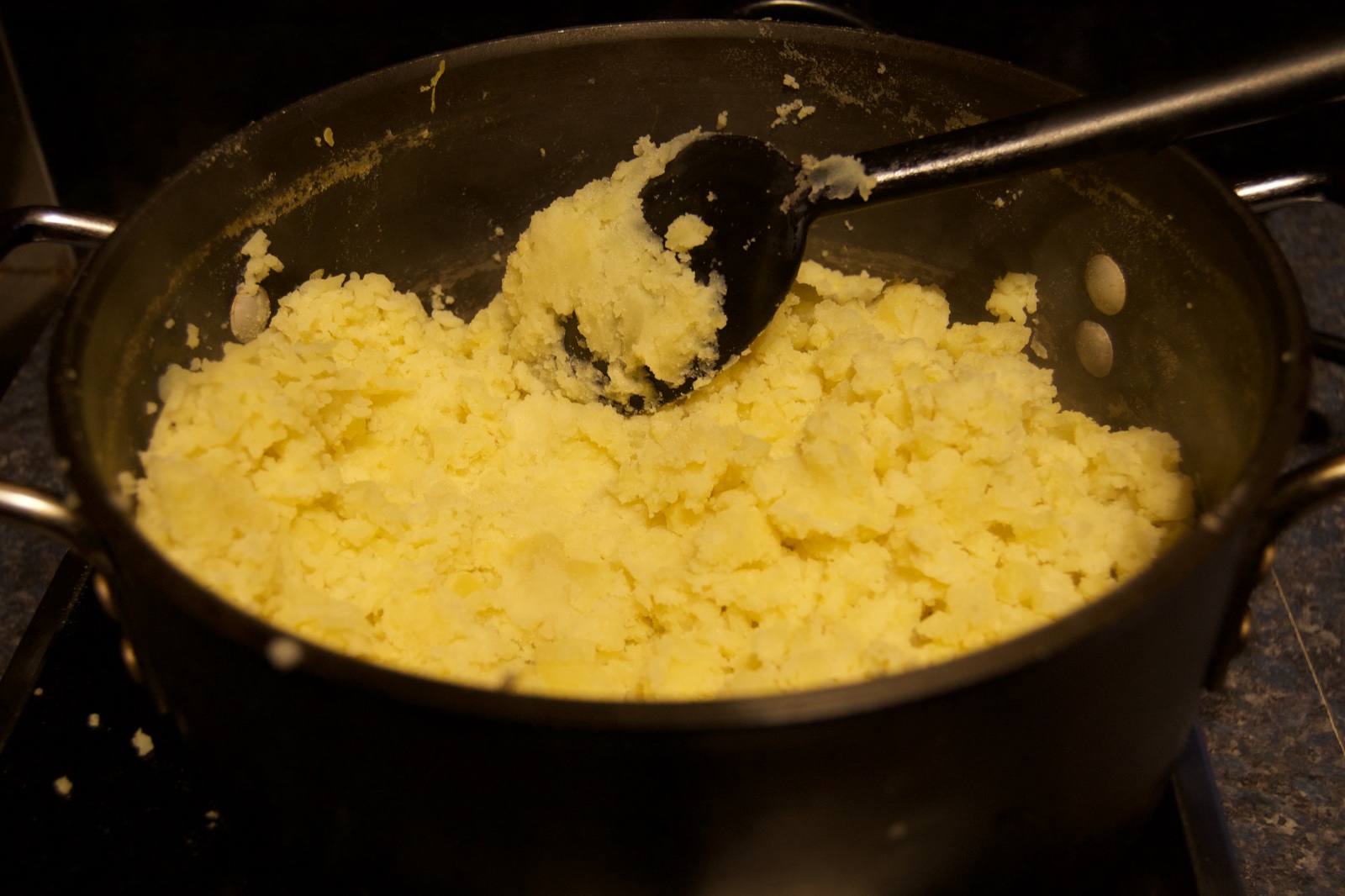 Add a stick of butter (4.0 oz.), diced.
Add a few ounces of heavy cream.
Season with salt and freshly ground white pepper.
3 pounds of mashed potatoes just fits in a 7 cup Pyrex container. Reheat in a pot on the stove over medium-low heat, adding a little cream or half and half if necessary, and stirring periodically.
It indeed is hard to reheat mashed potatoes. They didn't get hot enough in the oven so I had had to use the microwave at the last minute. I would have used the stove but the other large burner was broken.
There were 5x 5.0 oz. servings left.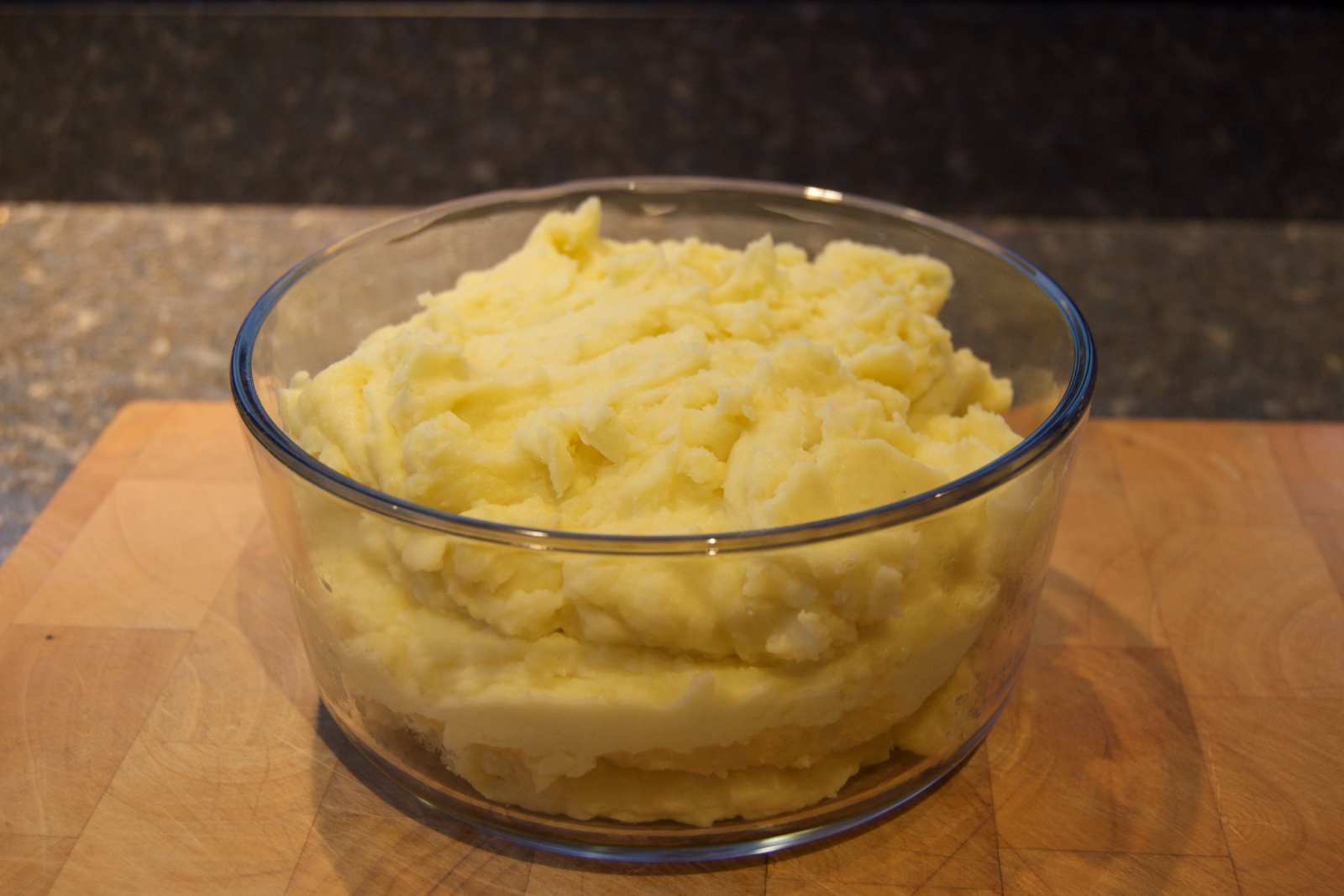 Green bean casserole Prepped a traditional-ish green bean casserole, based on this recipe . Mine has fried jalapeños instead of fried onions, and Mexican-style cheese instead of cheddar, however. I made a half recipe. 1 can of green beans (14.4 oz.), drained and rinsed 1/2 can of condensed cream of mushroom soup (10.5 oz. can), not diluted 1/3 cup shredded Mexican cheese (I used Sargento 4-cheese Mexican)
1 cup fried jalapeños (reserve until almost cooked)
Combine the ingredients except the fried jalapeños in a bowl.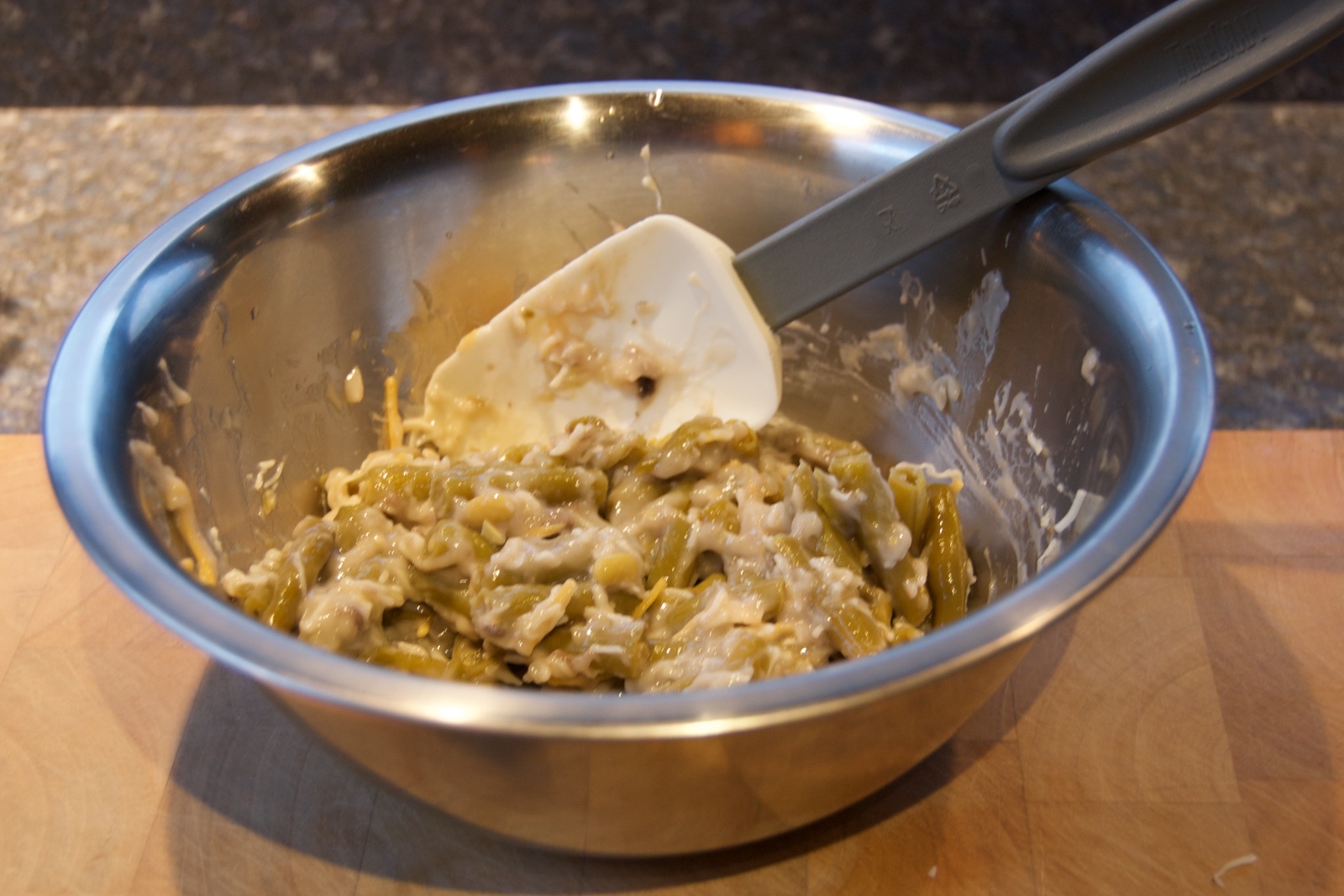 Spray a 5x9 Pyrex loaf pan with oil, add the green bean mixtures, cover, and refrigerate until ready to cook.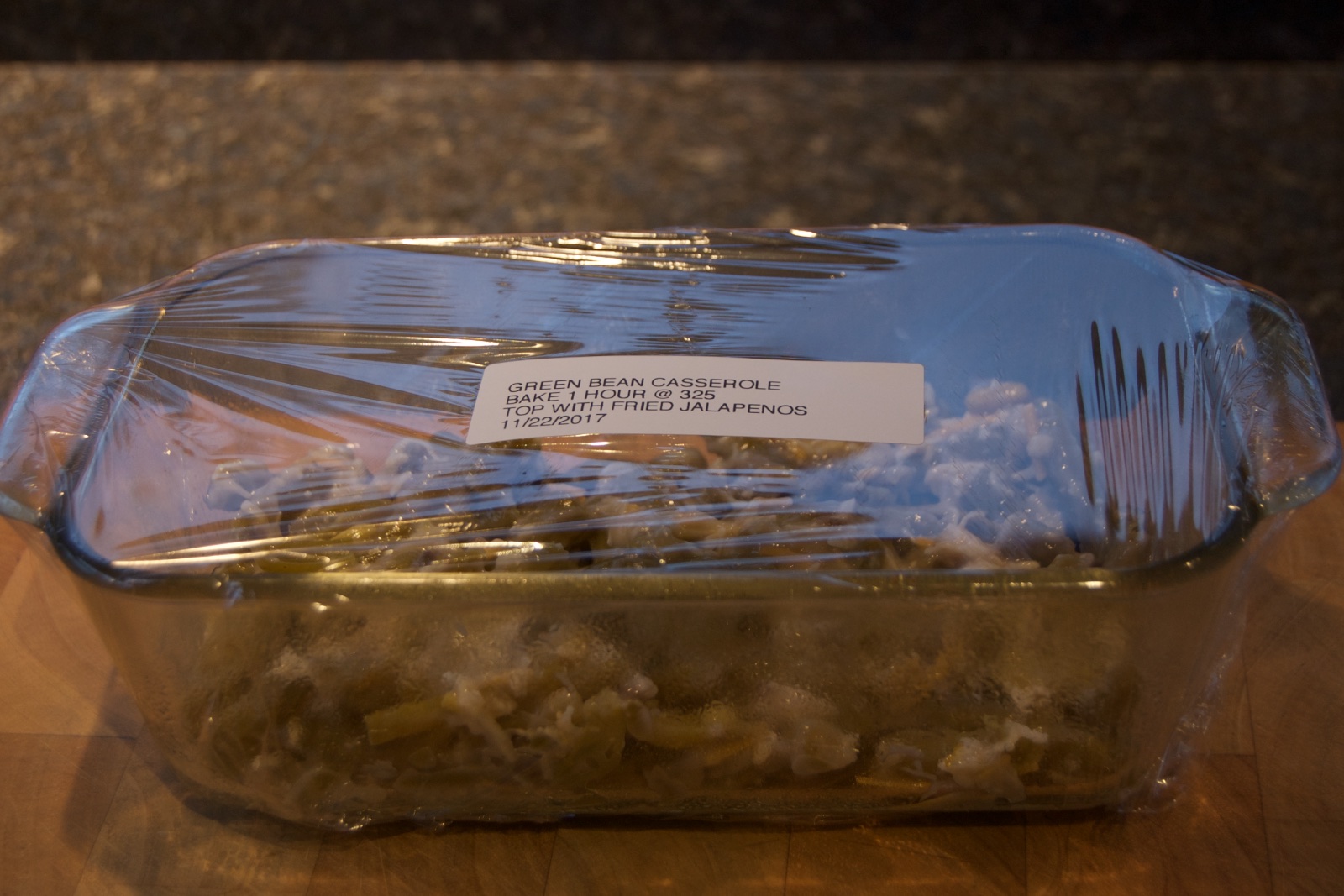 Bake for 1 hour at 325°F, adding the fried jalapeños during the last 10 minutes of cooking.
These are my fried jalapeños; you could substitute the regular fried onions instead. This made is spicier than I expected, but it was good!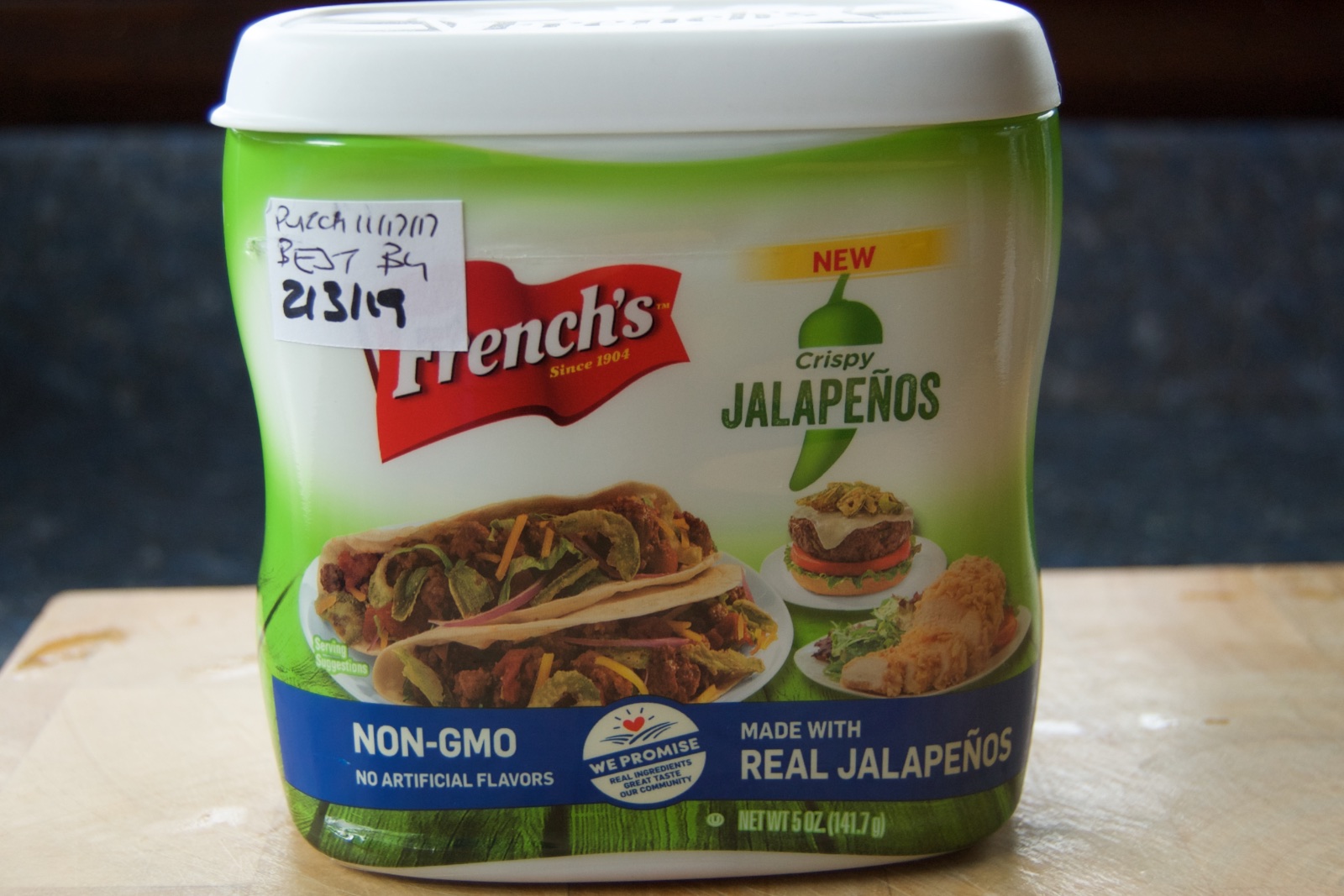 Whole wheat and oat dinner rolls I made a batch of whole wheat and oat dinner rolls . I started the poolish and soaker yesterday. In addition to making the dough, there's a 3 hour rise and a 90 minute rise to fit in.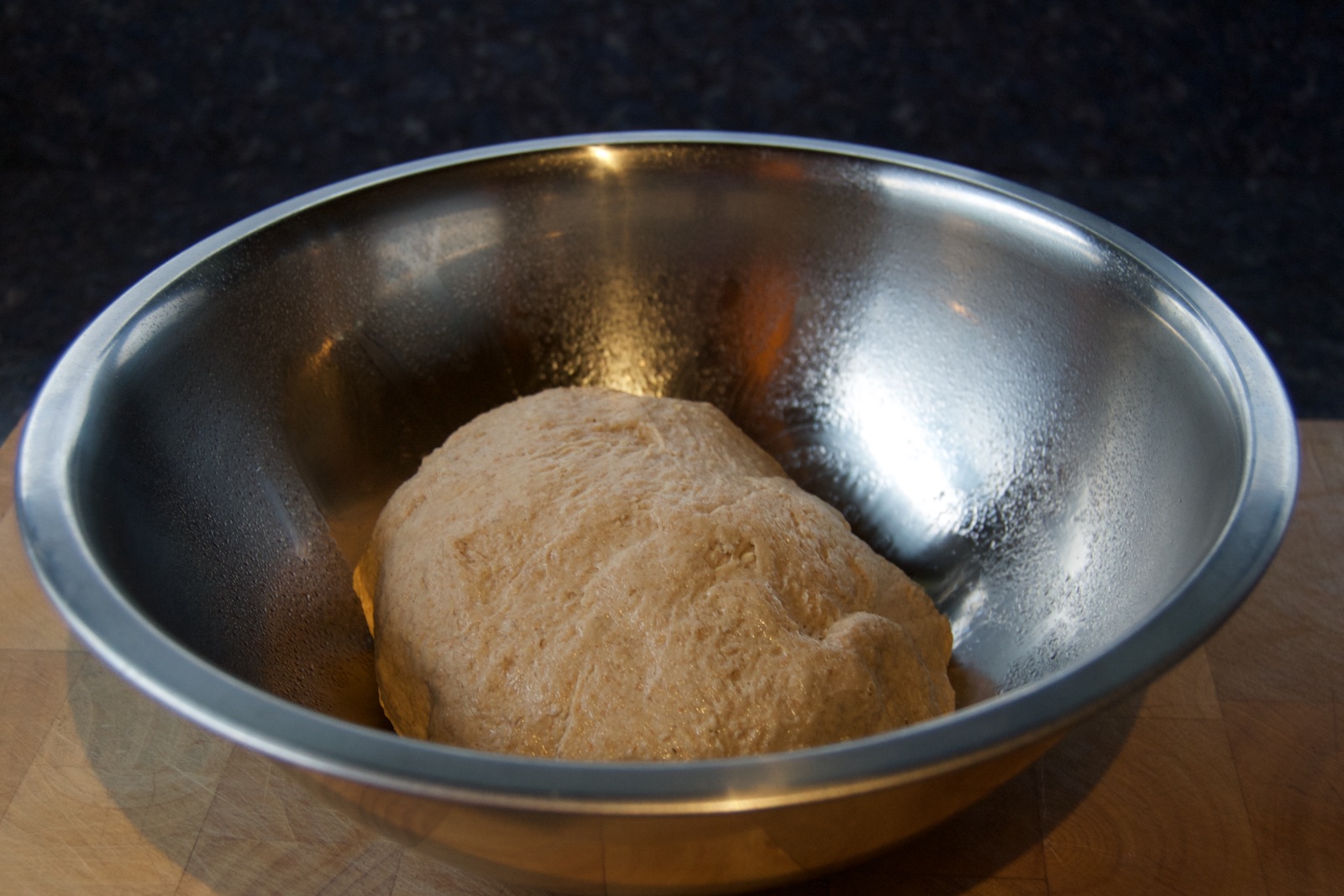 Scaled out to 2.0 oz each and ready for the second rise before baking.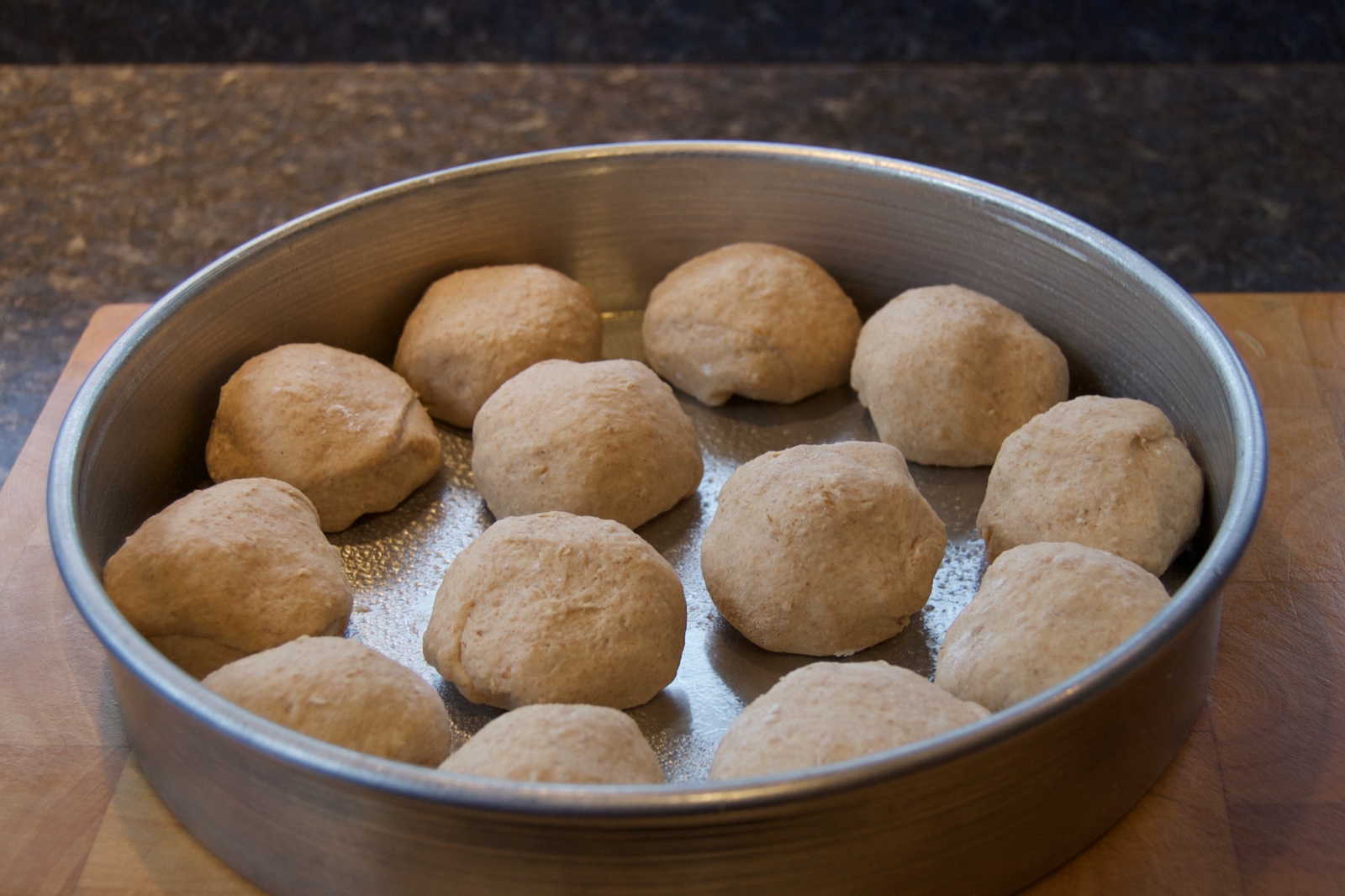 Done! I made 13 and froze 4 of them for later since I didn't need all 13 for Thanksgiving. Actually, I didn't need any of them since there was too much food.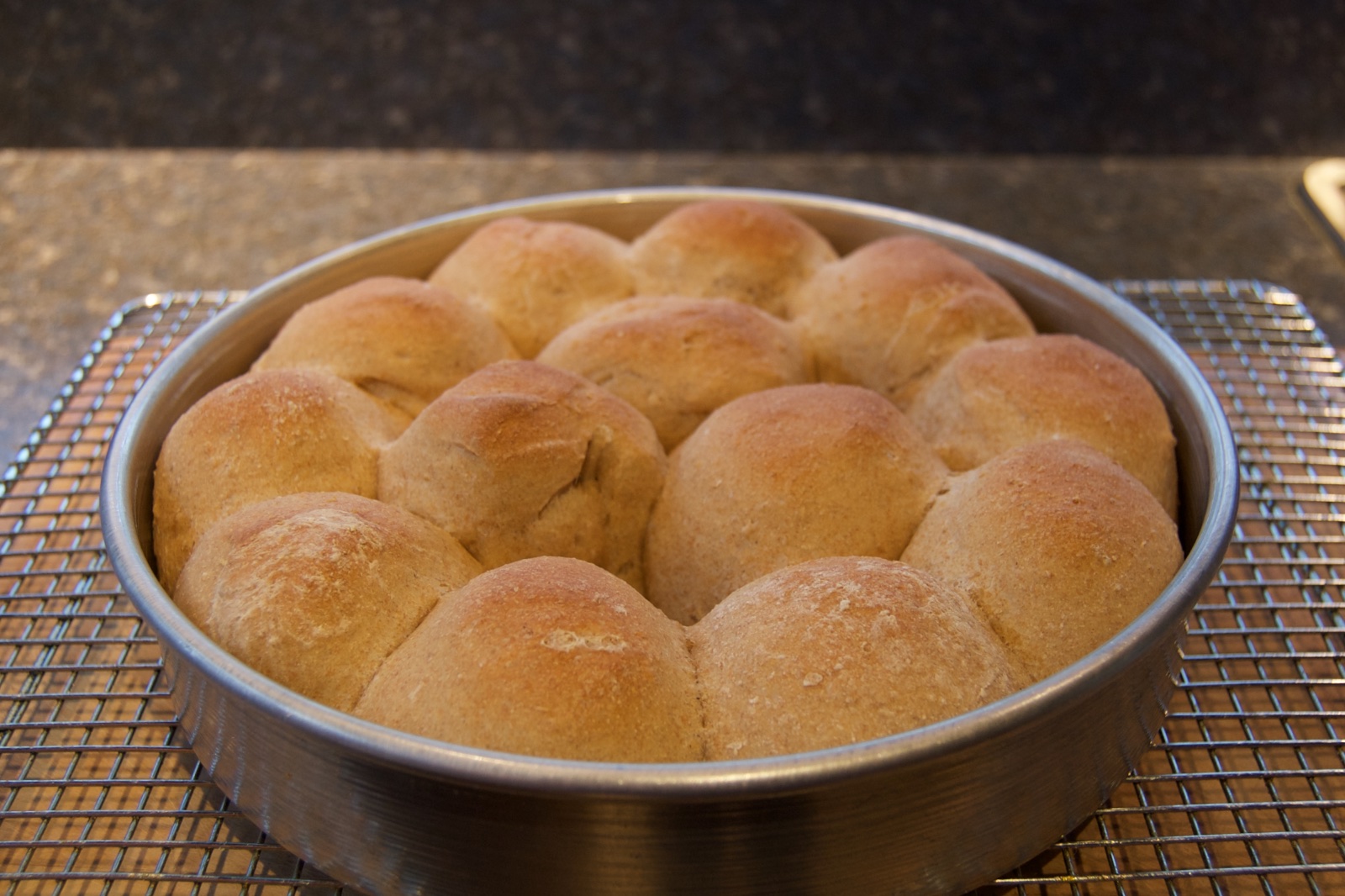 Dressing I used this recipe to make the dressing/stuffing. Stuffing, if I stuffed it in the turkey, which I don't. There's 2 1/2 cups of Vidalia onion (one really large one) and 1 1/2 cups celery.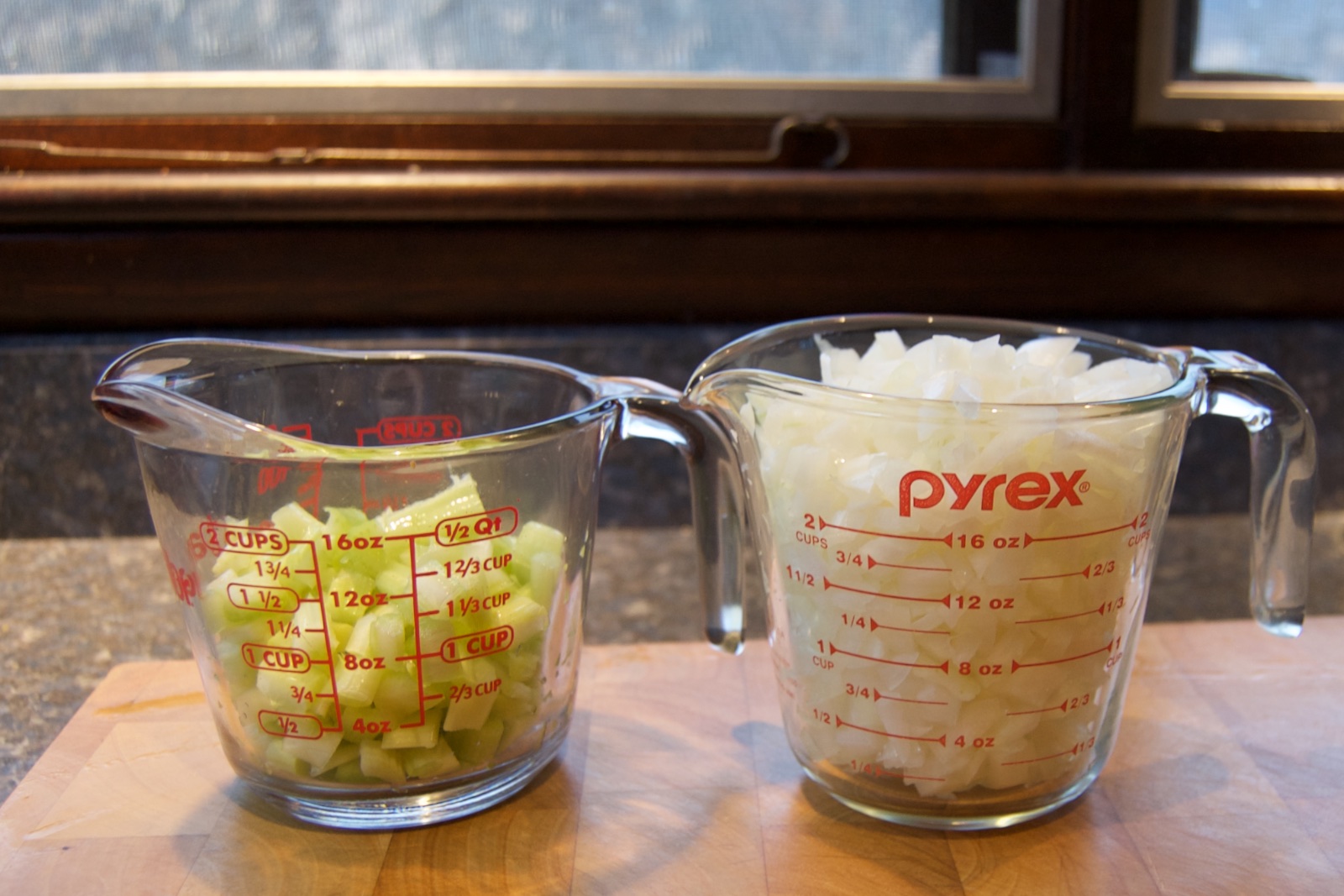 Chopped bread after baking for 1 hour at 325°F. I used 1 pound of Heidelberg white bread, about 3/4 of a loaf.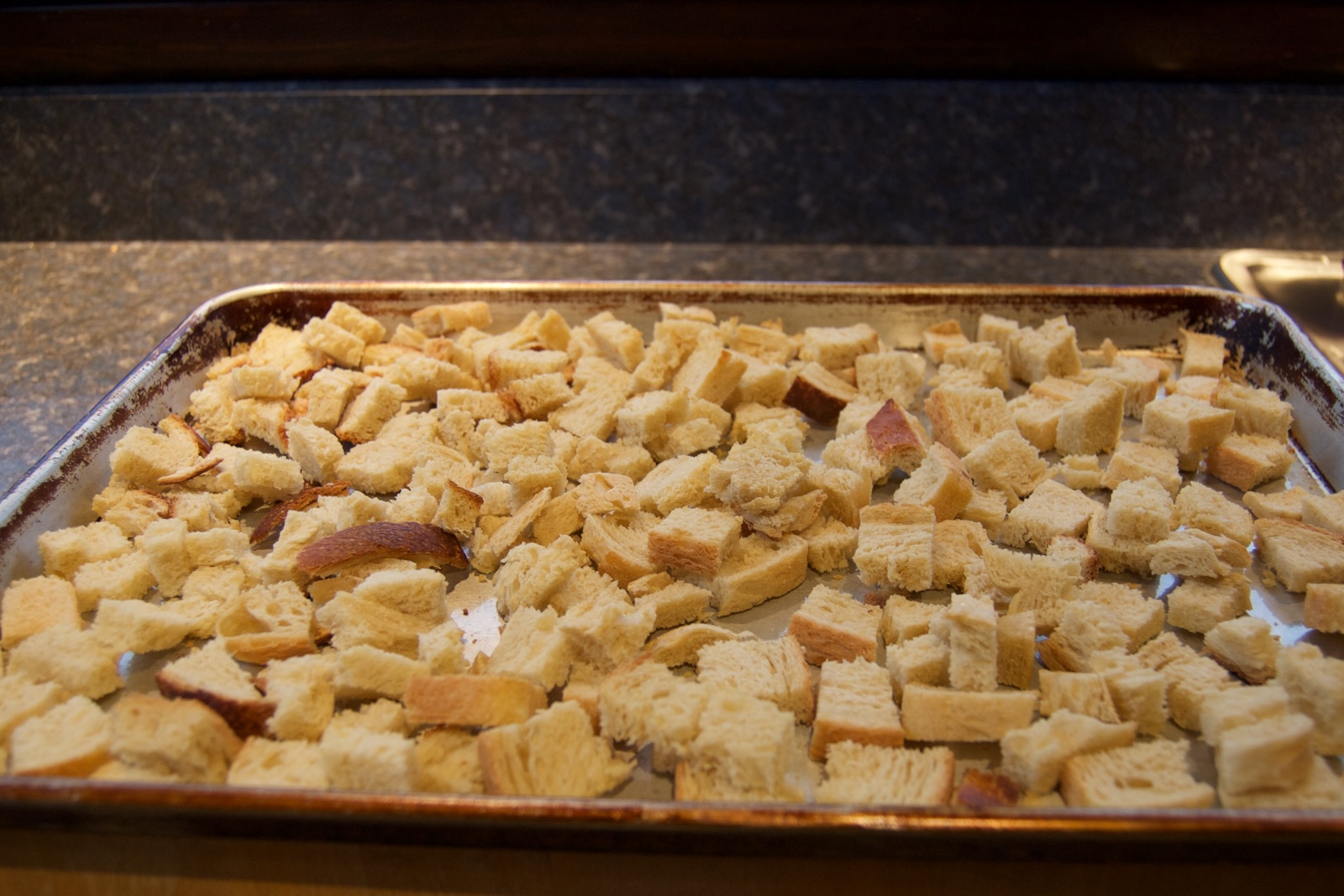 1 1/2 sticks of butter and the onions and celery is a lot. I probably should have used a bigger pan.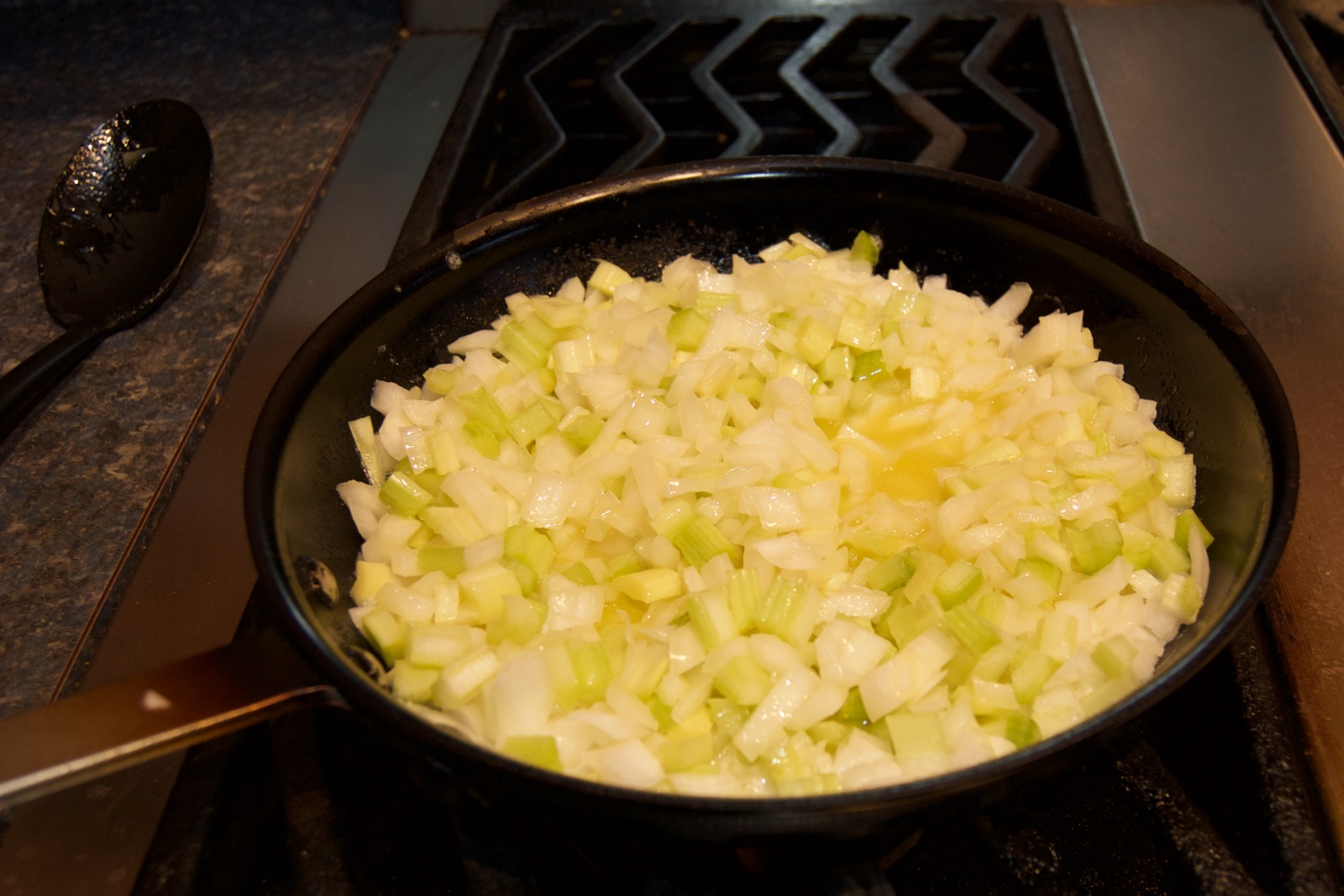 The recipe calls for fresh sage, rosemary, and thyme. My grocery store conveniently has all three in a single bag labeled poultry blend.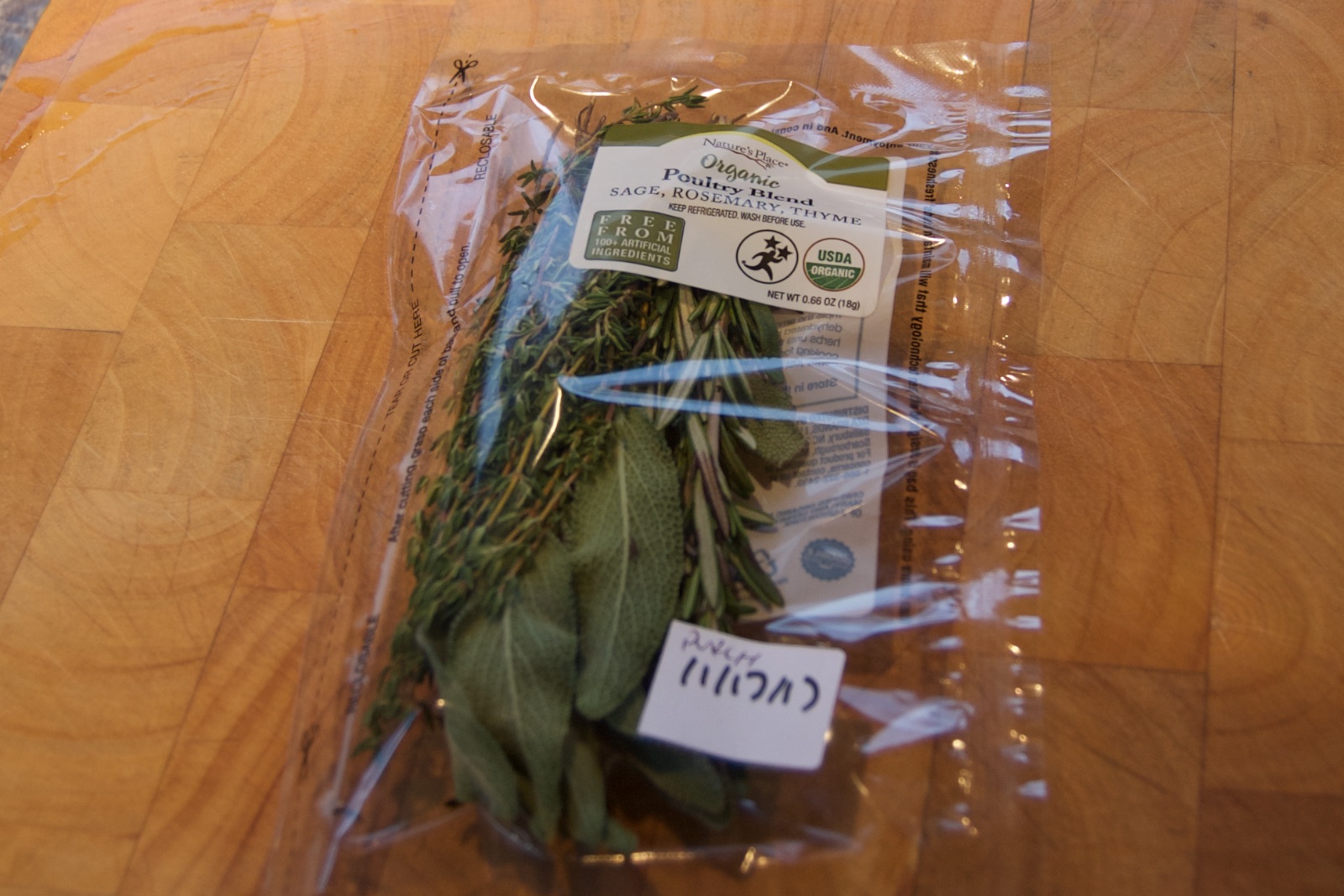 Minced. There should also be 1/2 cup of chopped parsley here. I had it, but forgot it!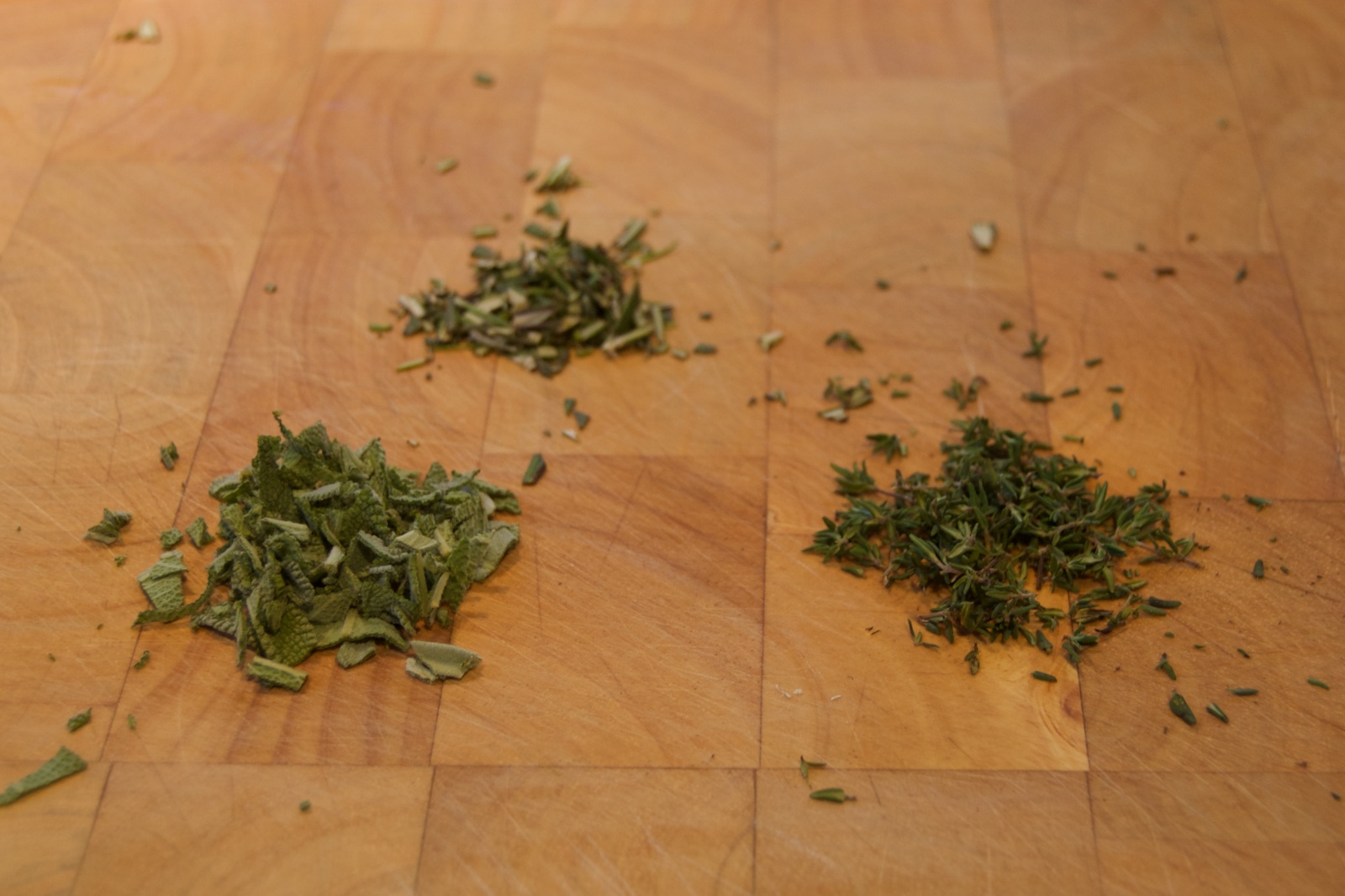 Combine in a big bowl.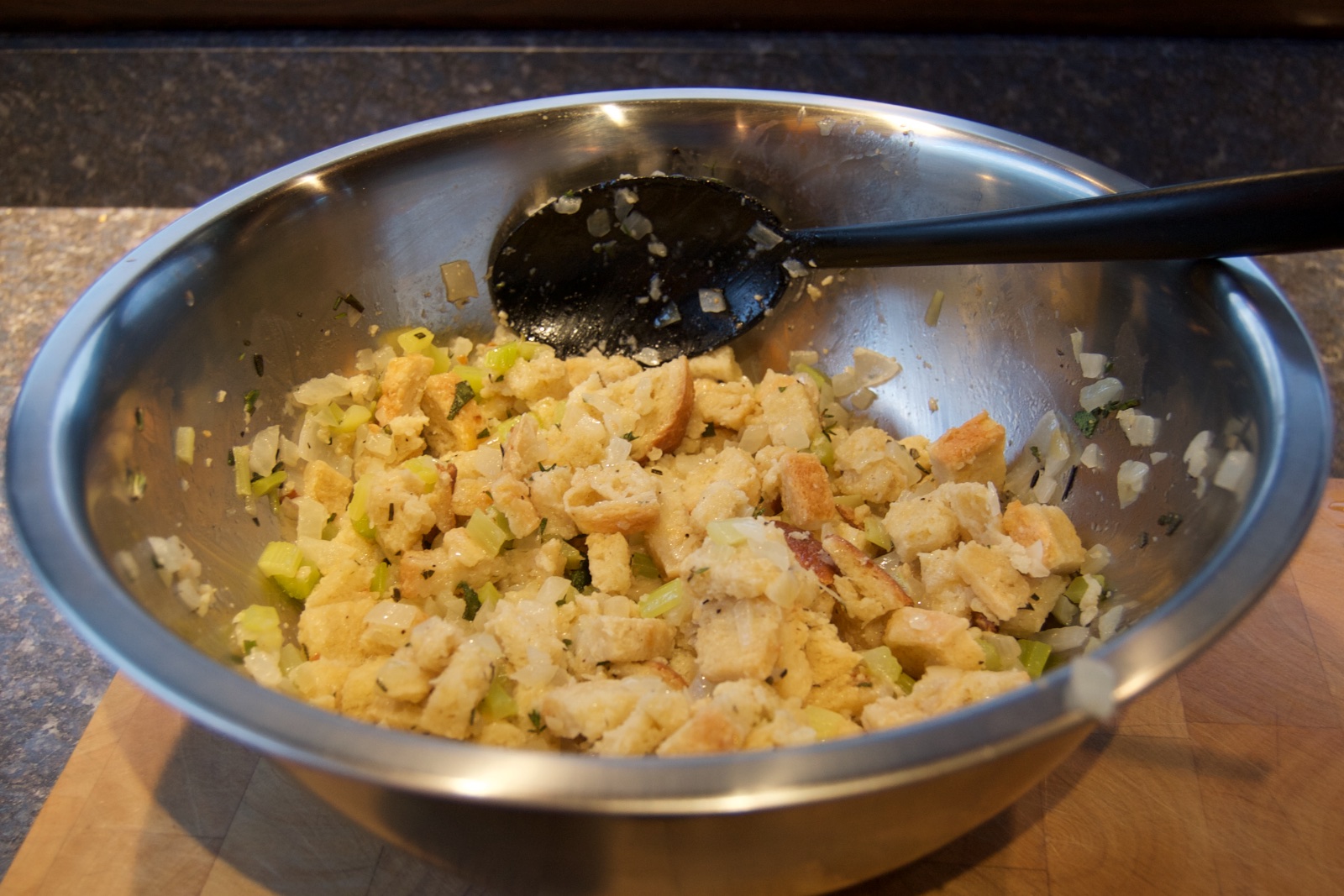 After baking. It will be baked once more, uncovered, tomorrow, when it will brown.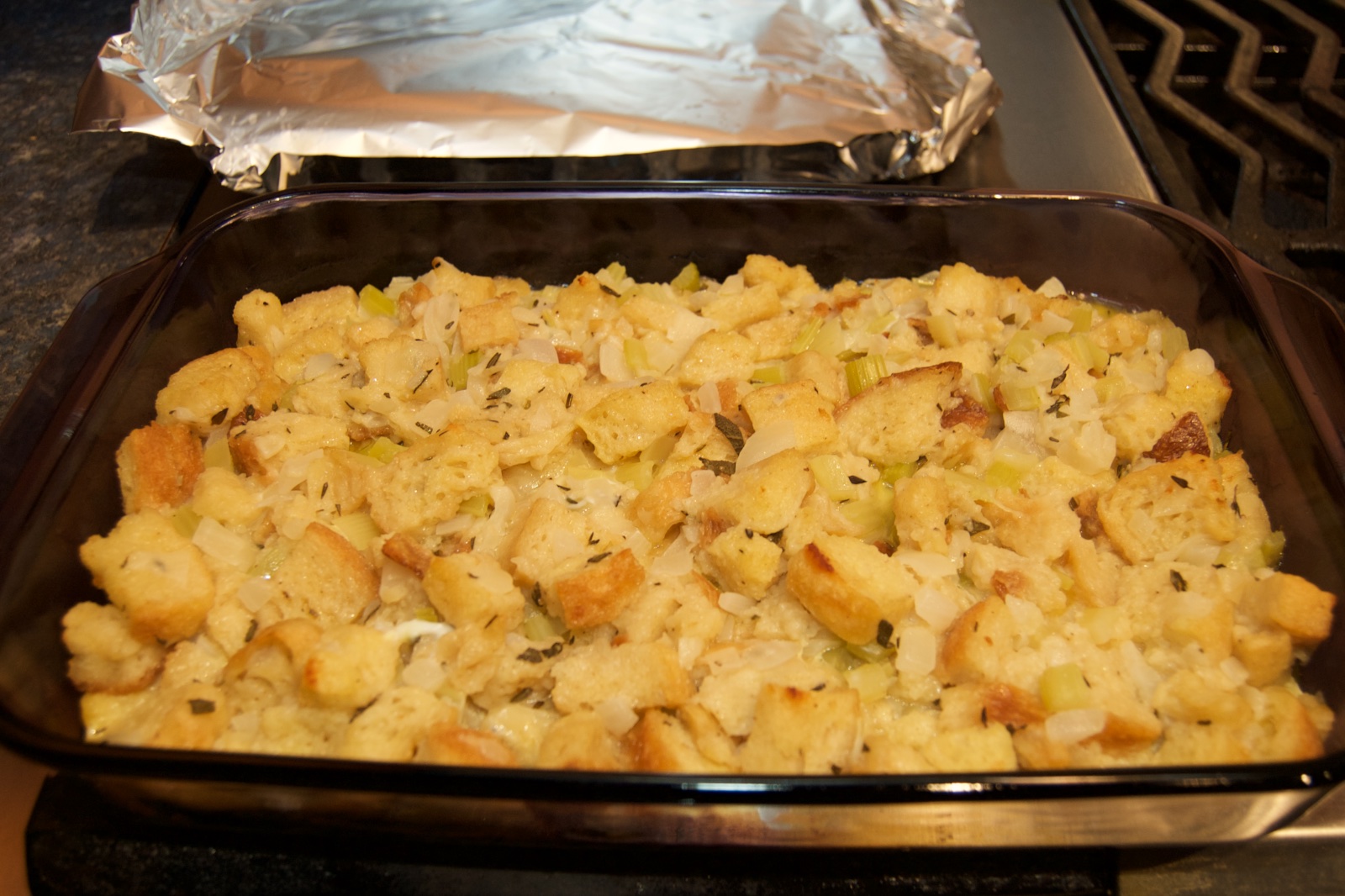 Cranberry sauce I made the Food Network cranberry sauce recipe . It's basically just a 12 oz. bag of fresh cranberries, 1 cup of sugar, and some lemon zest. We'll see how it tastes tomorrow.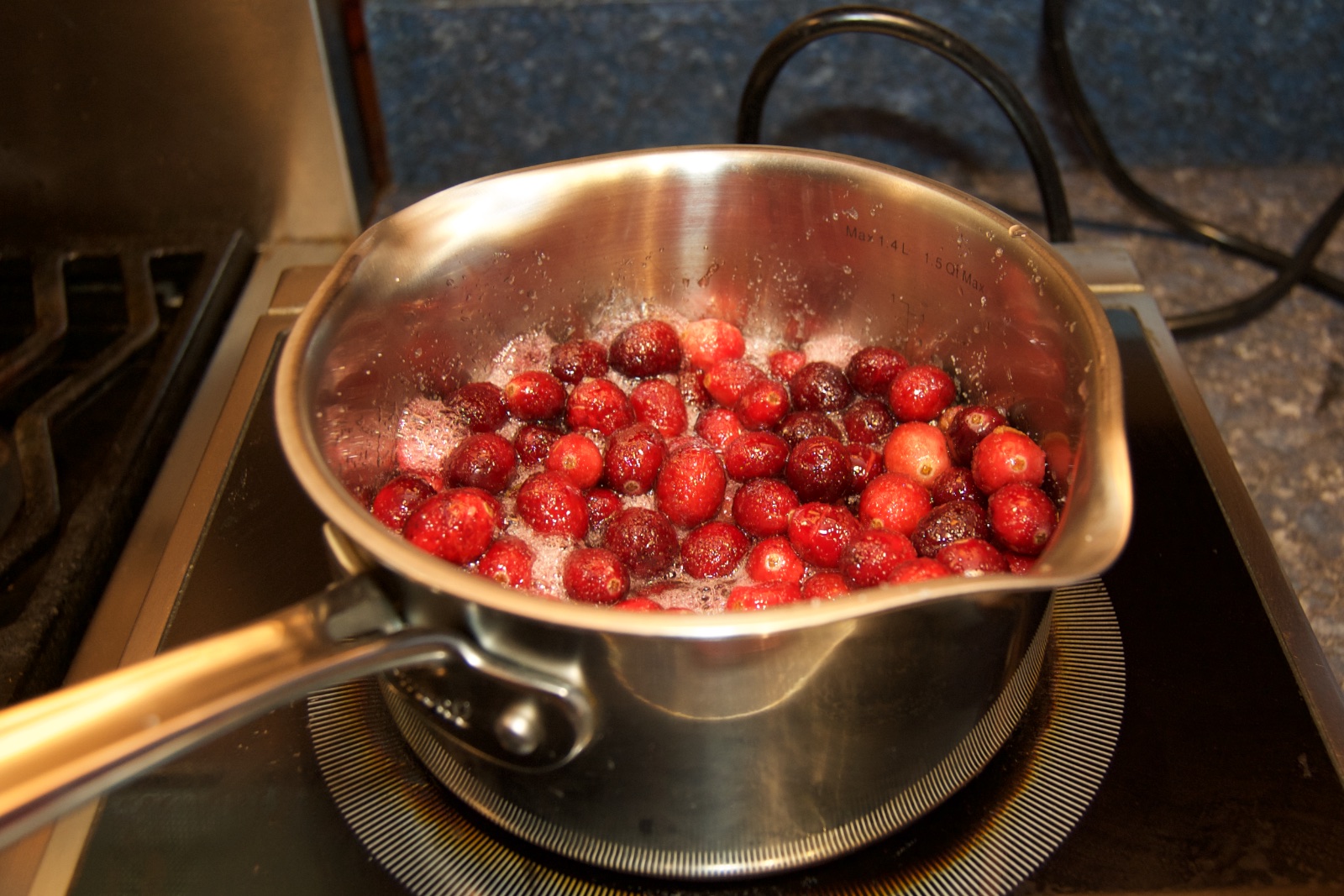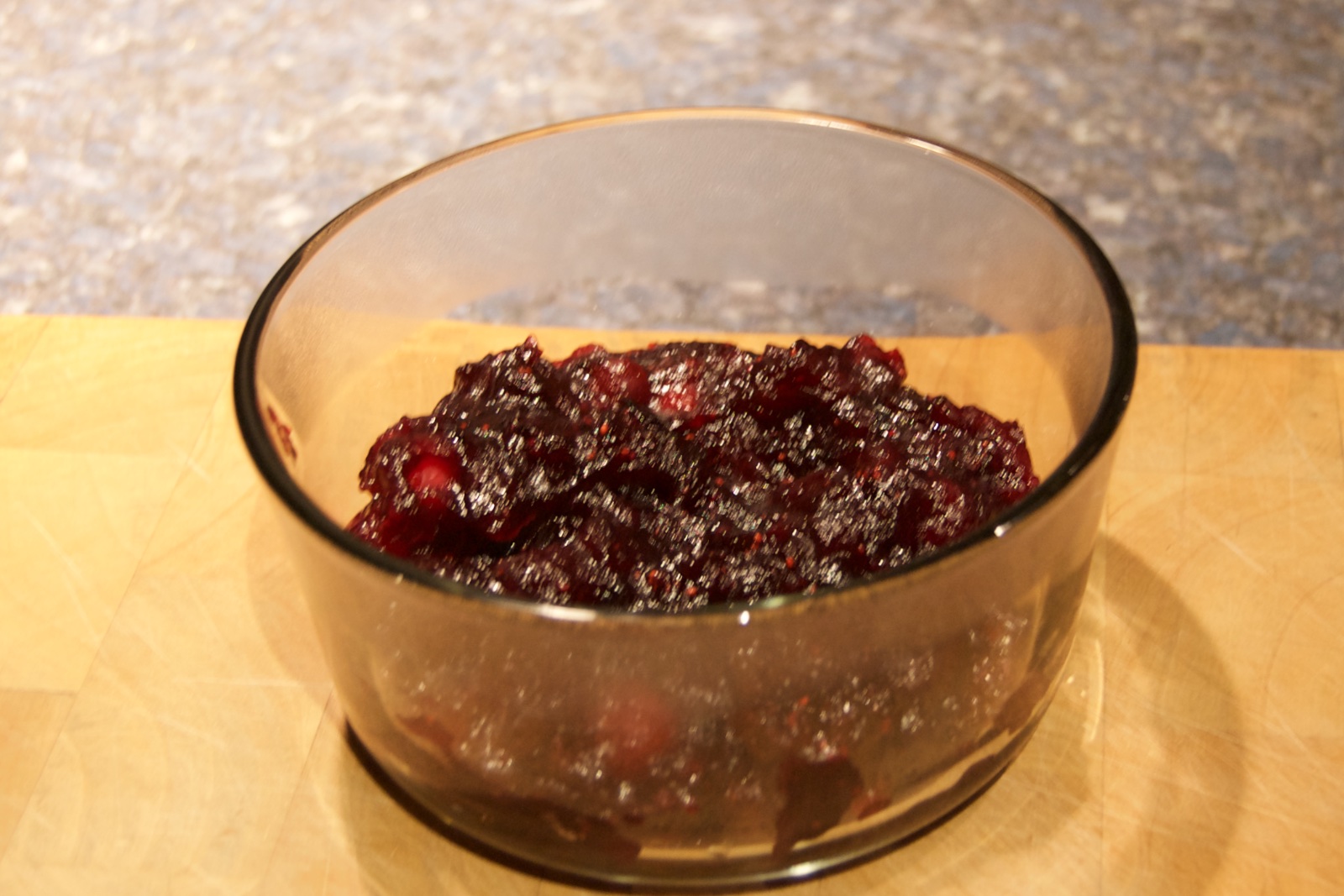 Sweet potatoes I made Mom's recipe for sweet potatoes. I used two very large sweet potatoes, peeled and cut into spears. I test fit them in the 9x13 Pyrex baking dish.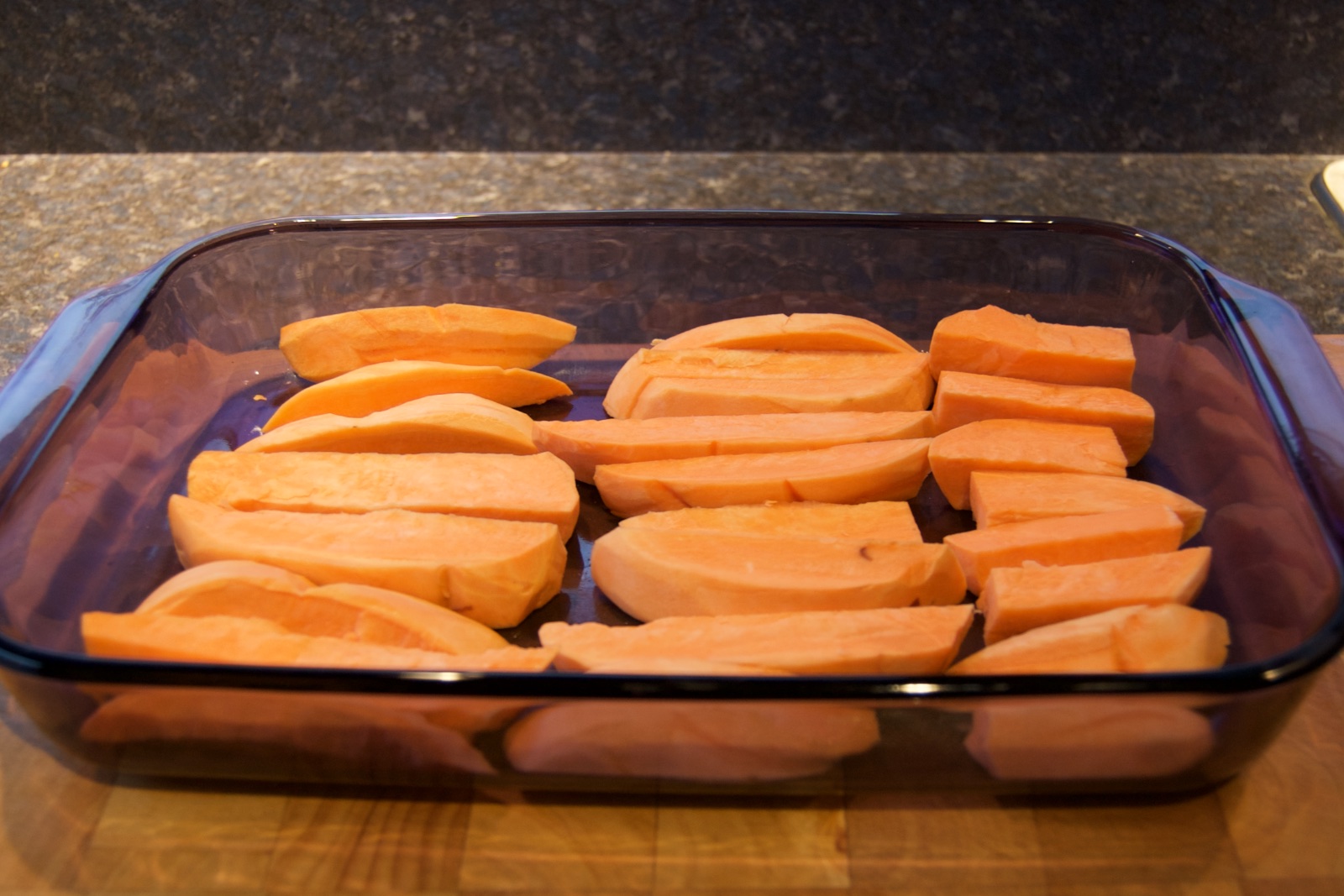 The cut sweet potatoes keep better if you store them in water, or vacuum seal them, as I did here.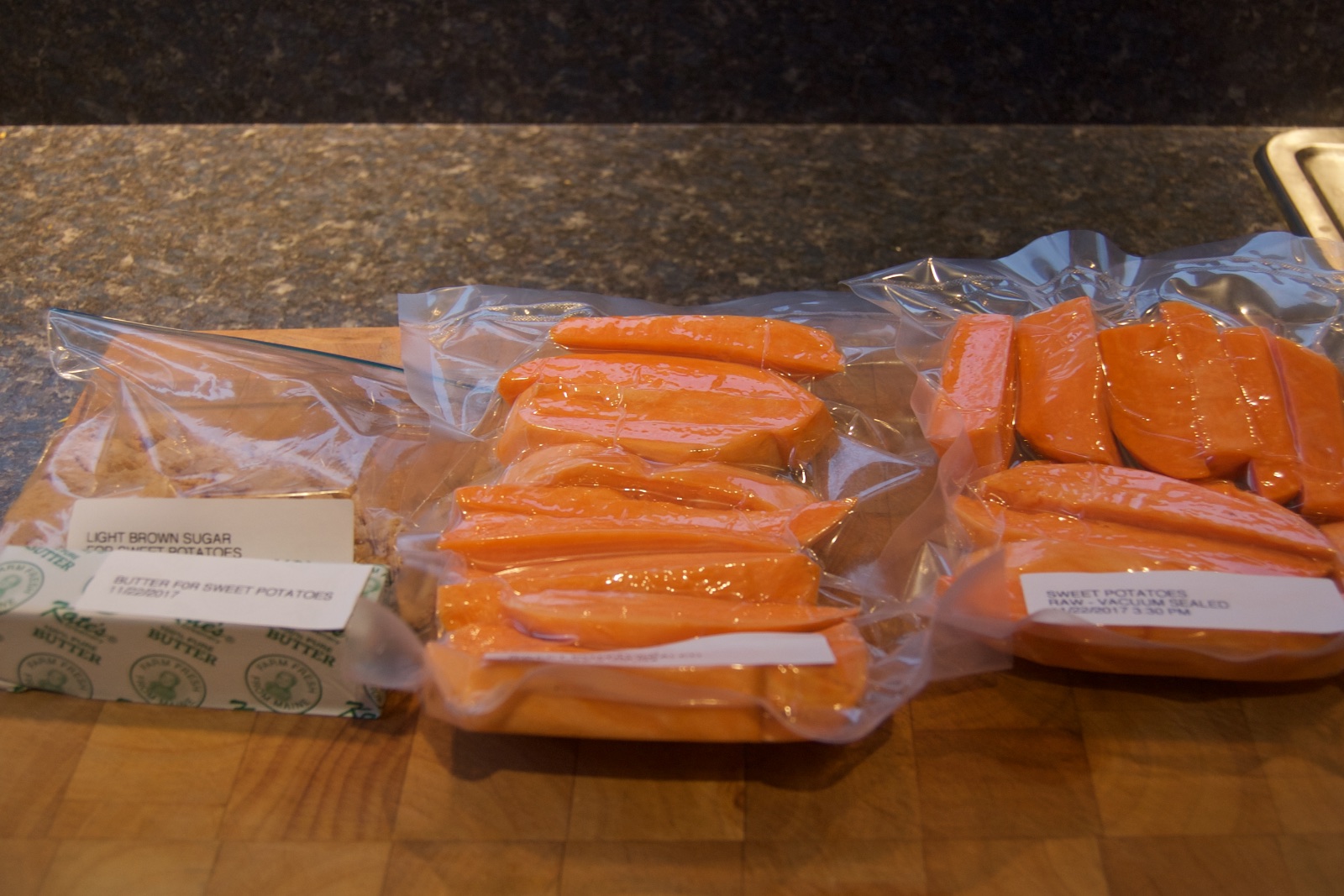 Vacuum sealed bags of sweet potato, butter, and brown sugar, ready for use tomorrow.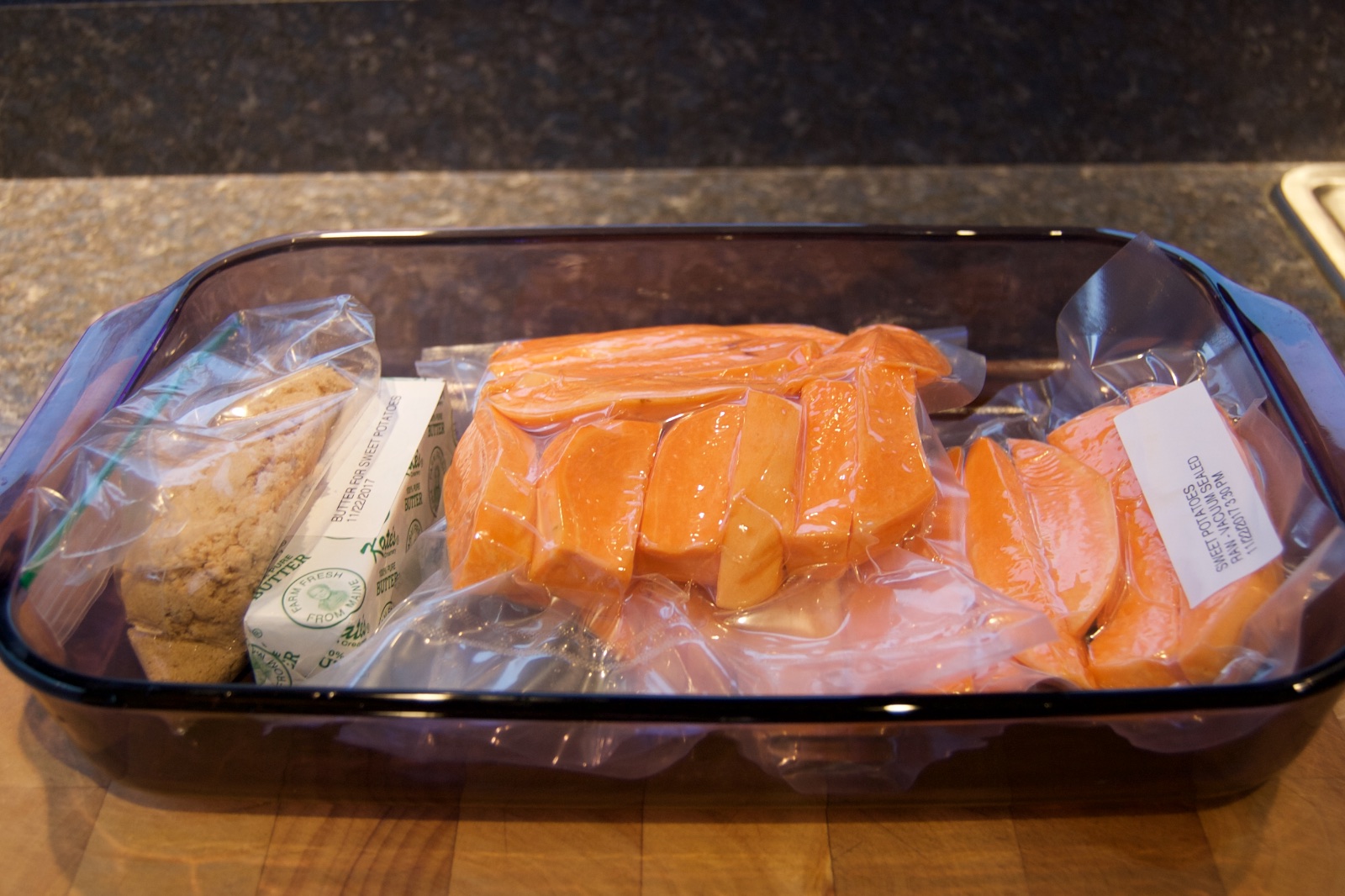 Fully packed and ready to go. It's stored in the refrigerator until tomorrow.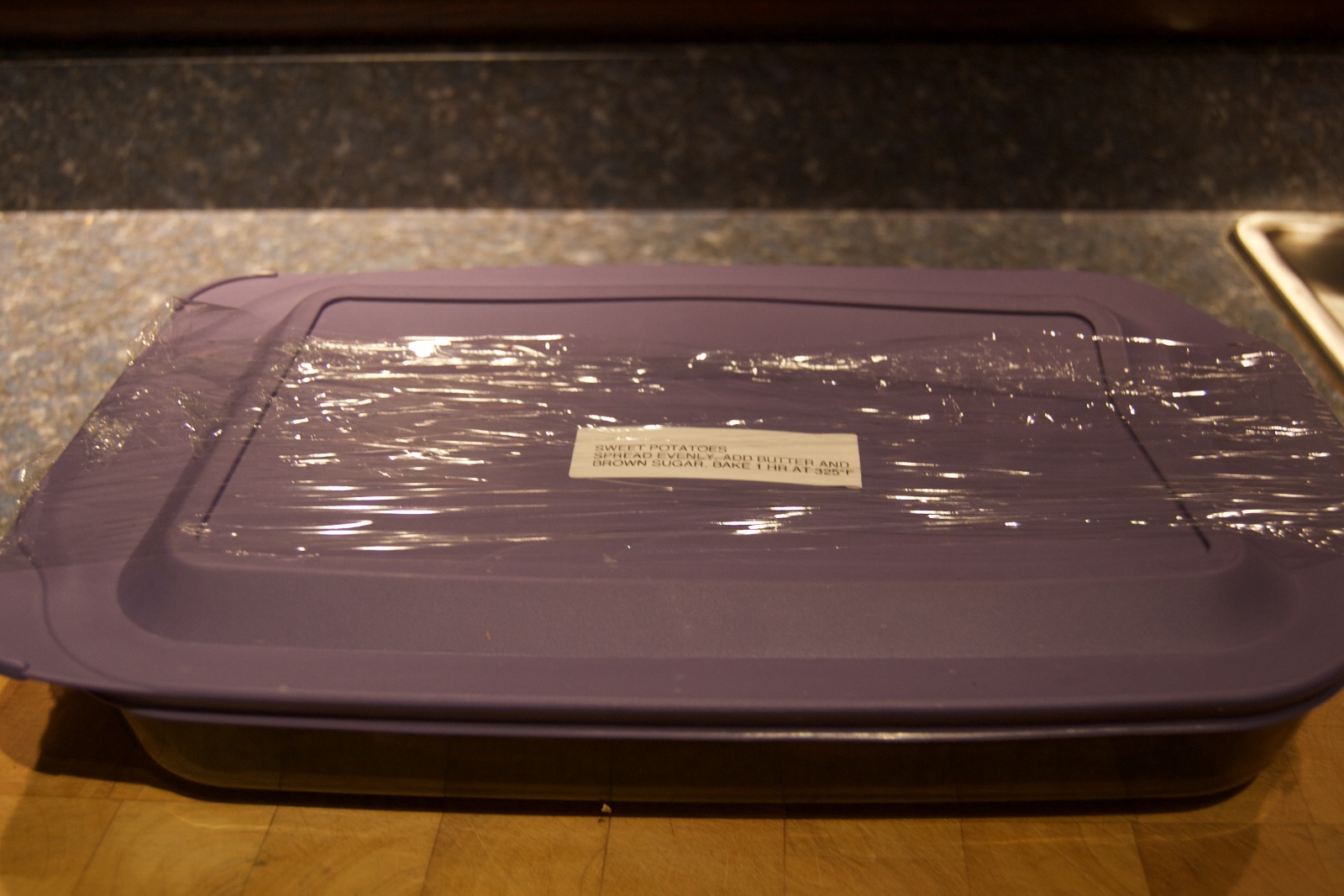 Pineapple Cut a whole pineapple for breakfasts.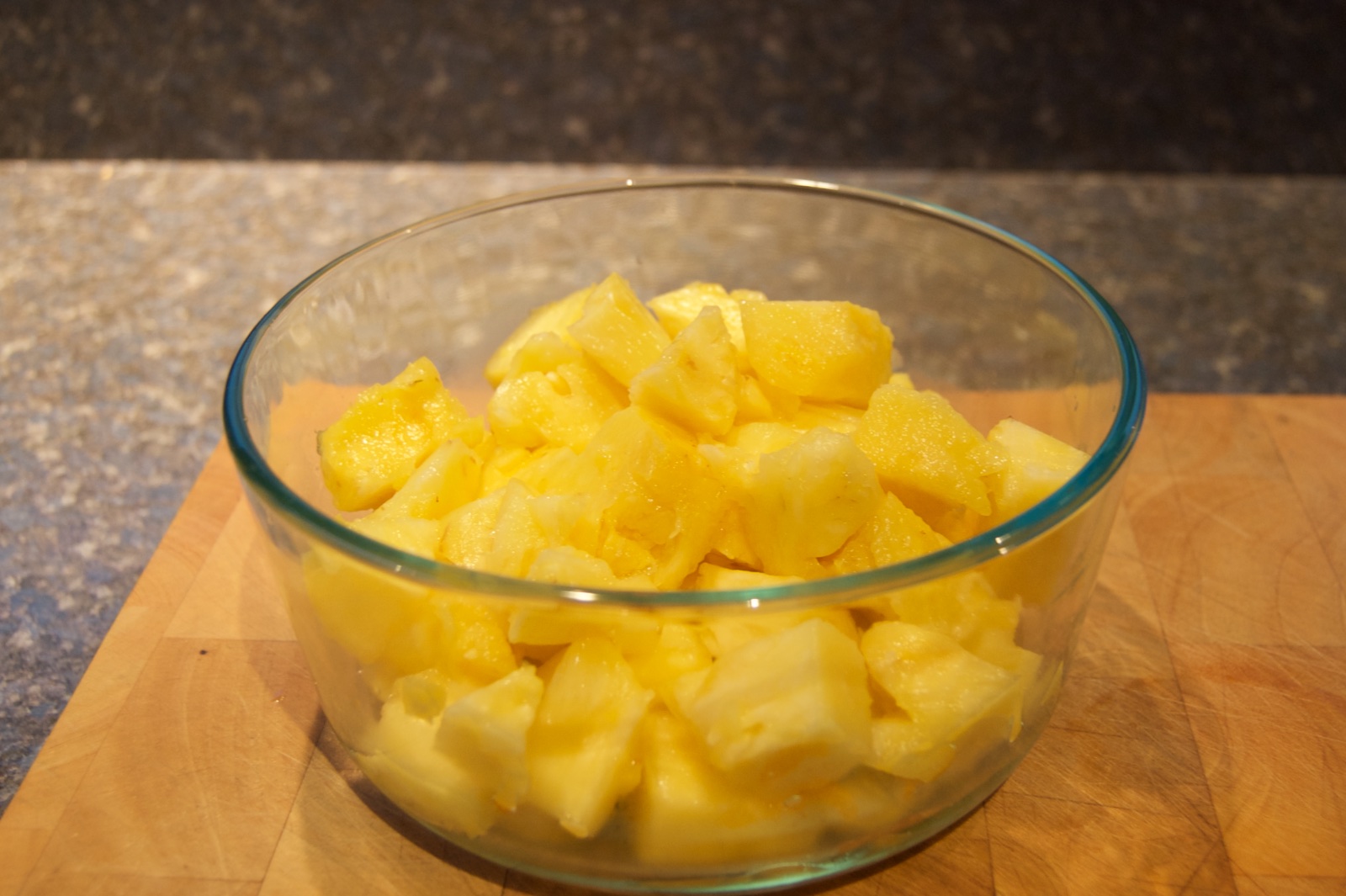 Spicy green beans I made a batch of my ****. Fresh green beans, blanched for 4 minutes, then stir-fried with toasted sesame oil, hot pepper sesame, chili garlic sauce, and soy sauce. They're way lighter than the green been casserole above, but not exactly traditional.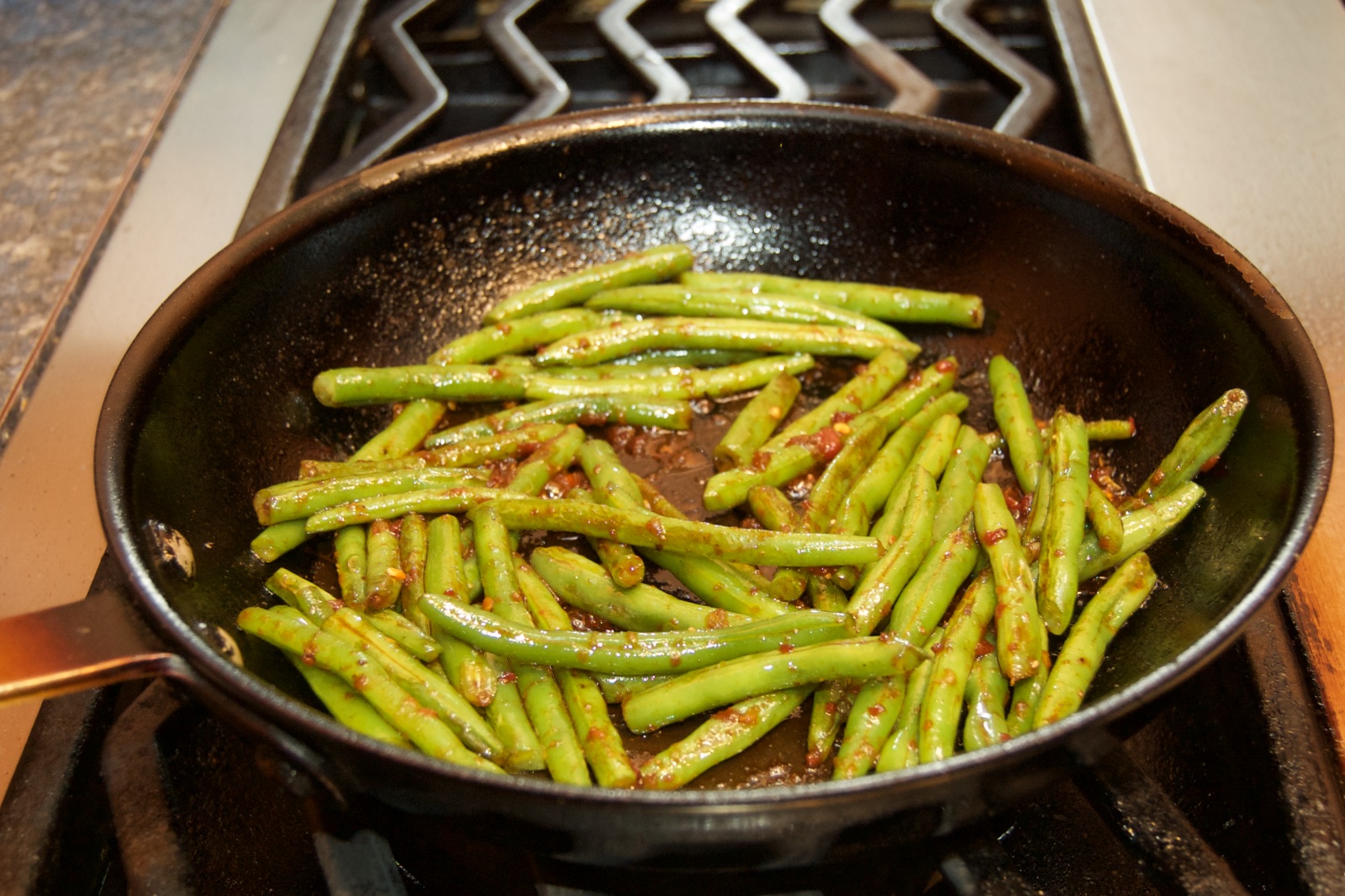 Done. They can be served cold, but I'll probably reheat them in the oven for a few minutes before serving.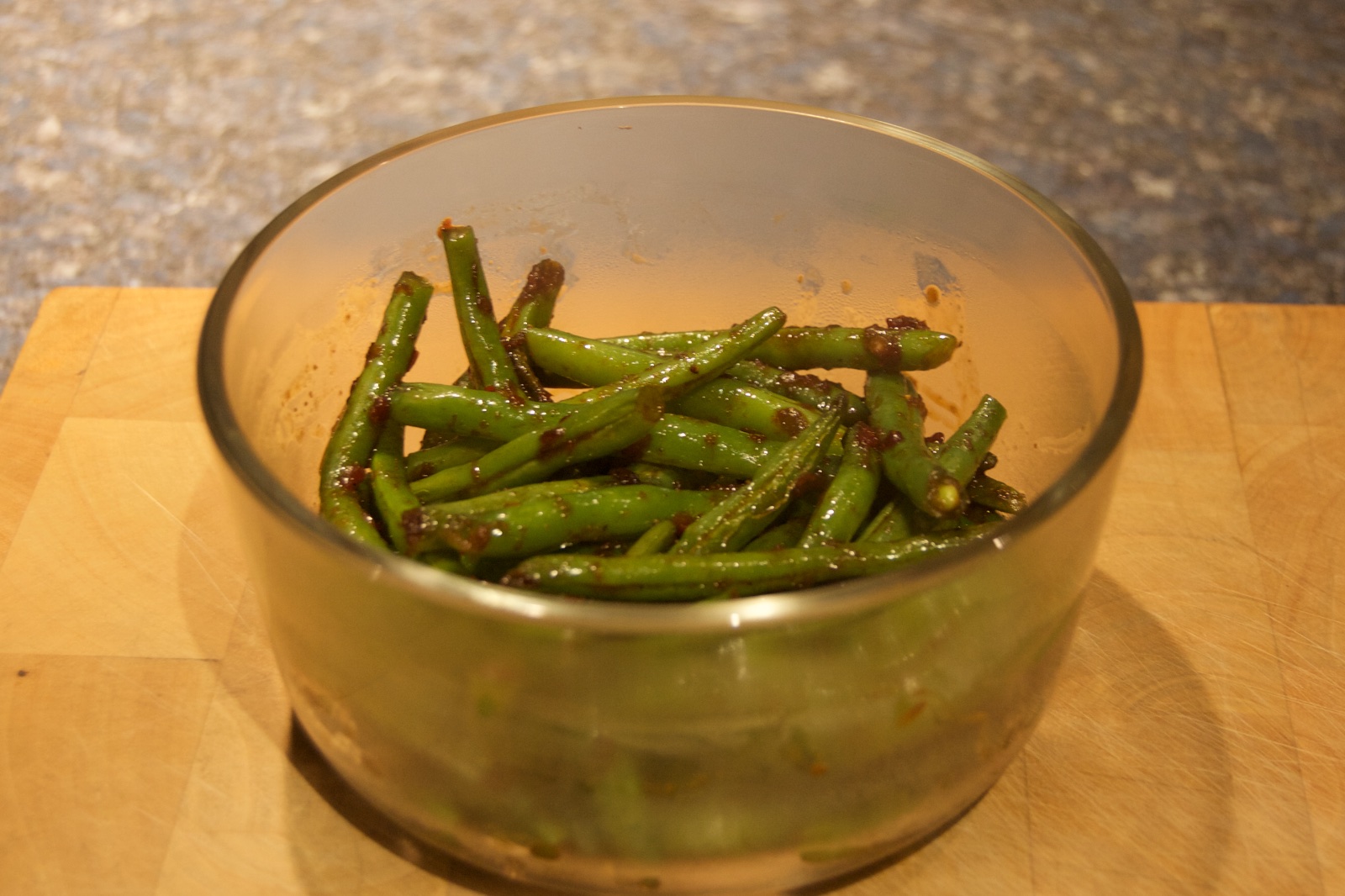 Turkey Prep The turkey, insides removed, rinsed, and seasoned. It will sit uncovered in the refrigerator until ready to cook tomorrow morning at 10:30 AM. (This is based on the Michael Symon technique for cooking turkeys.)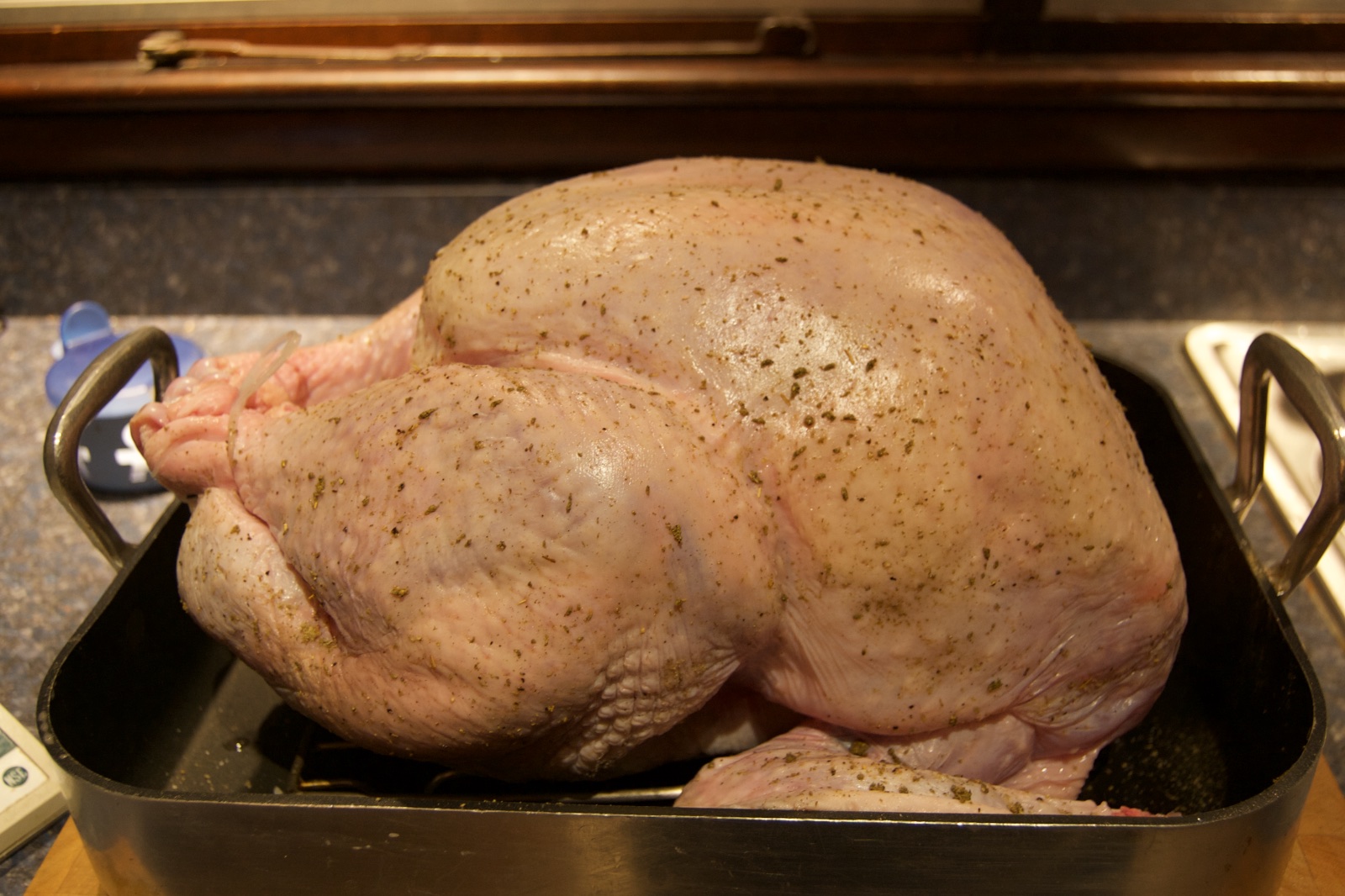 The neck, gizzards, and the other random stuff stored inside. Also the wing tips. Vacuum sealed and refrigerated until I make soup.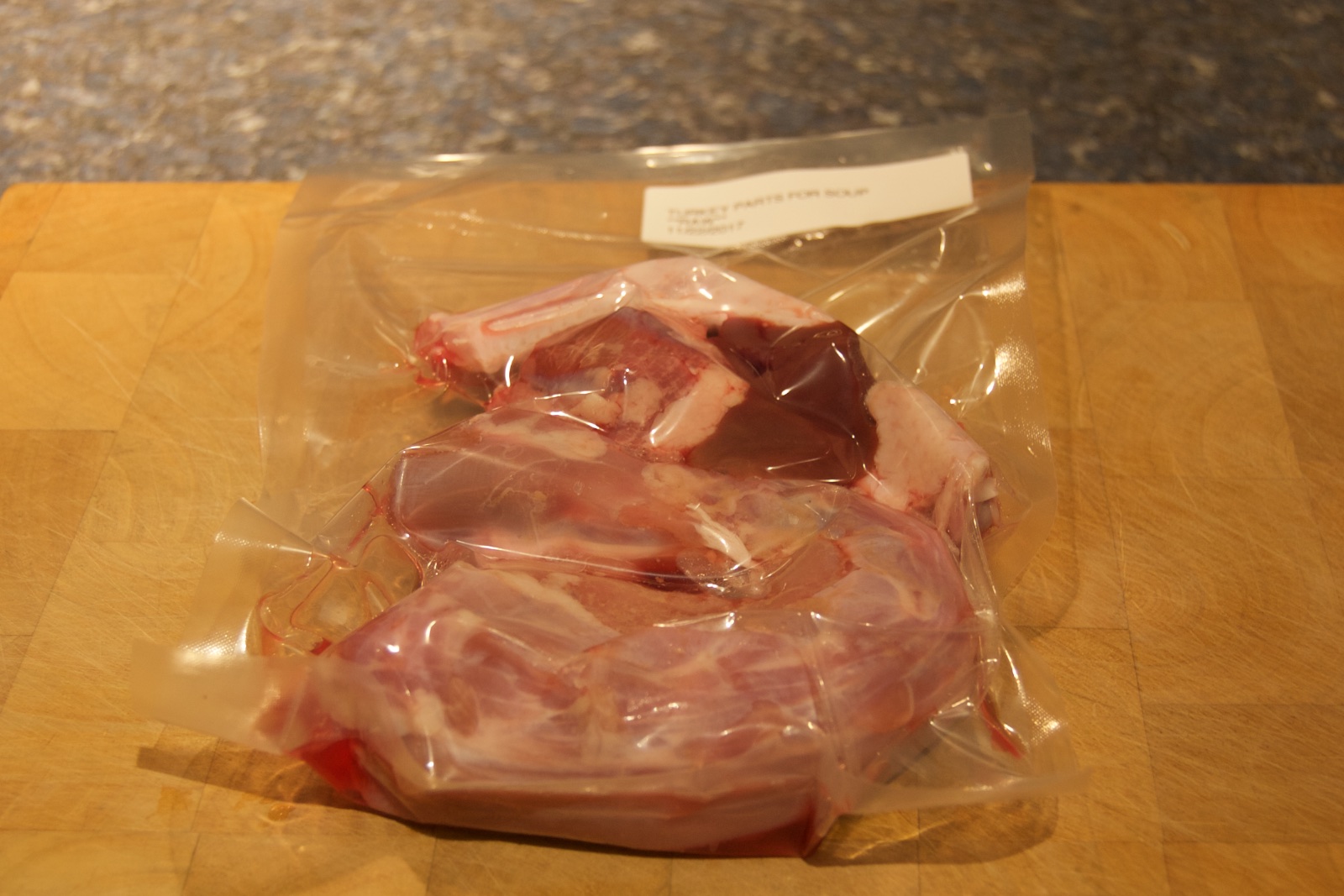 Broccoli Cut up a head of broccoli to boil tomorrow. That only gets a zip-lock bag because raw broccoli should never be vacuum sealed.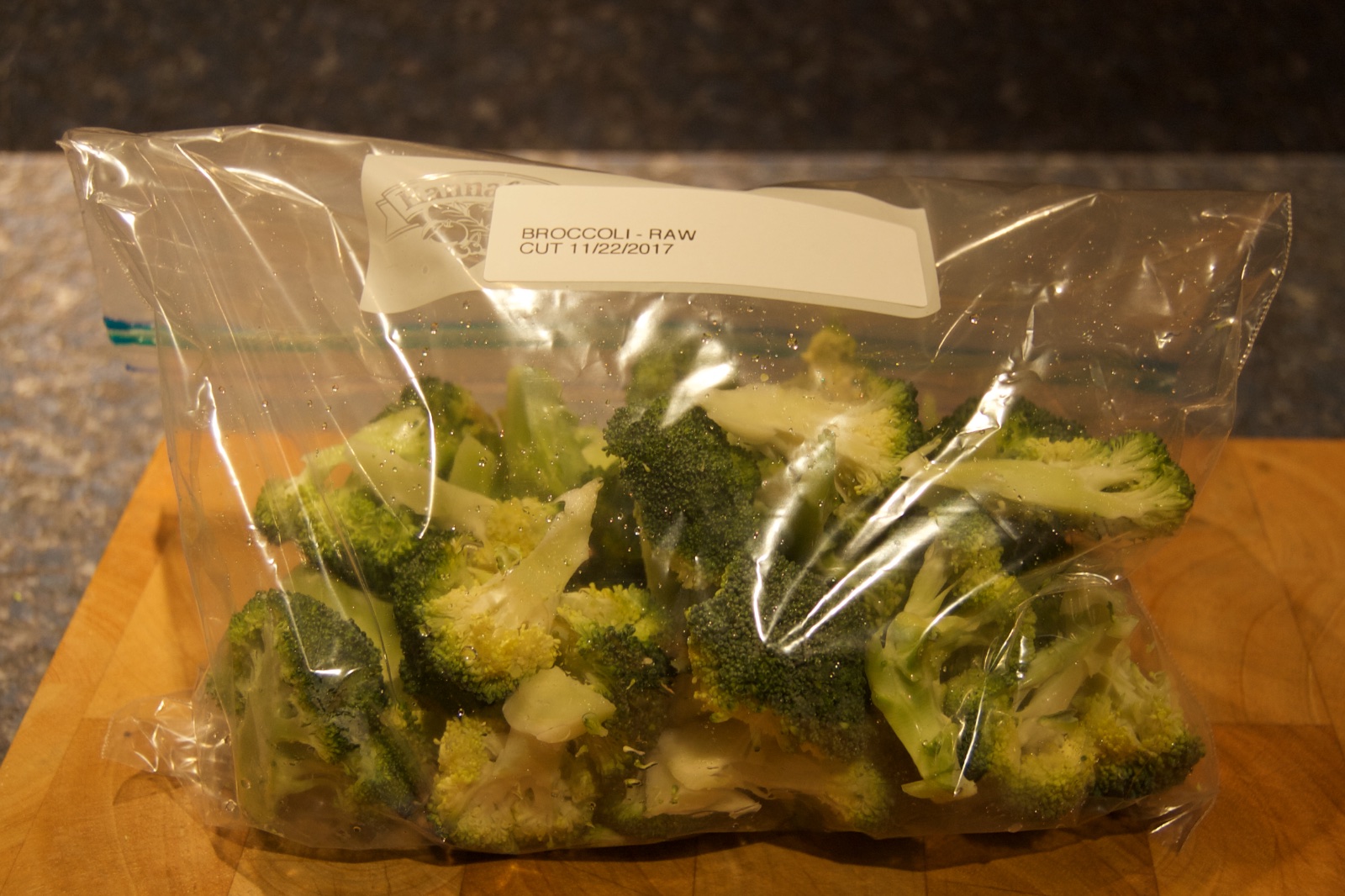 Prepped salad with lettuce mix, cucumber, grape tomatoes, celery, and carrot.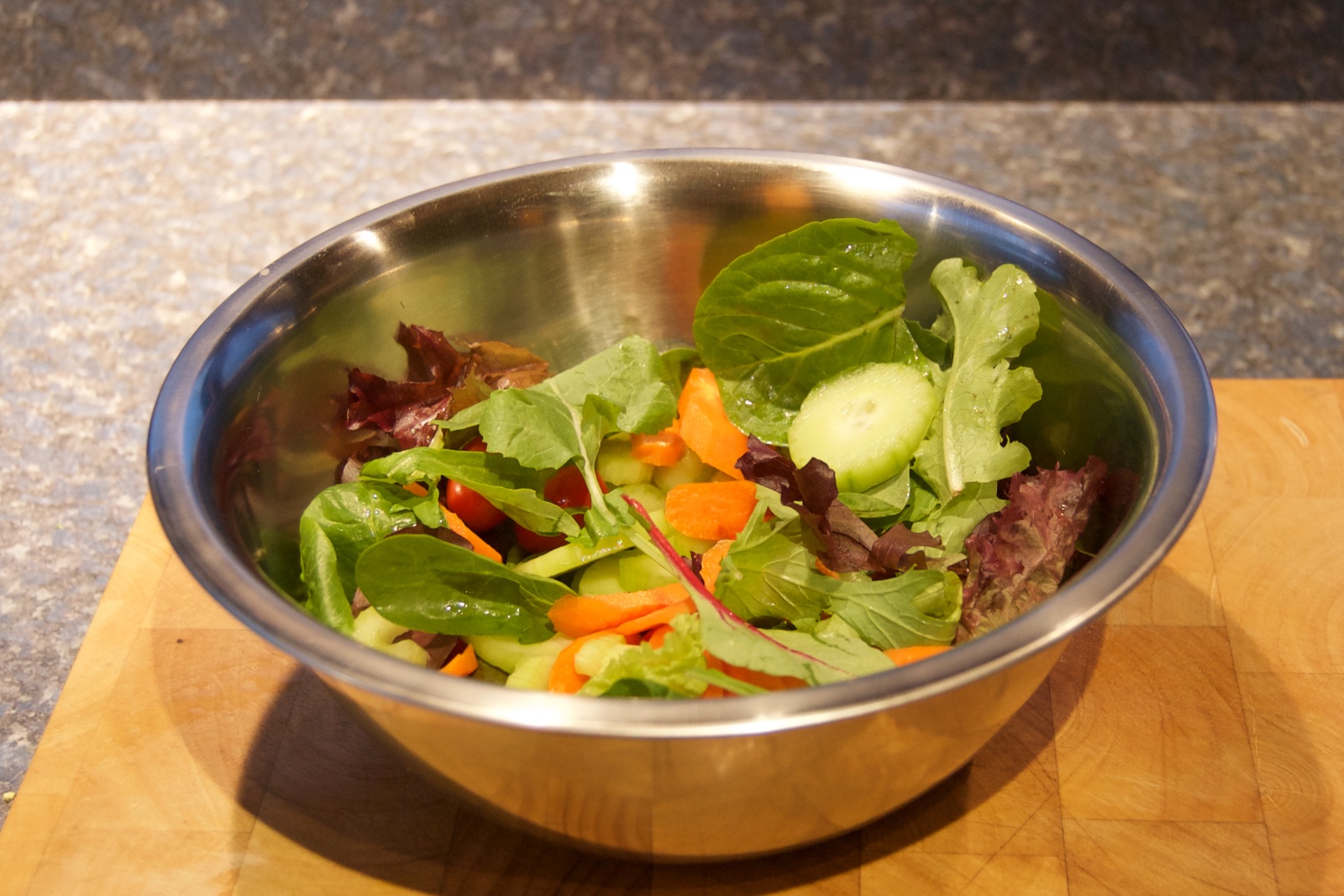 The bowl was just to I could check the volume of the various ingredients; I transferred it to a zip-lock bag and will put in a different bowl to serve. No dressing yet, so it stays fresh.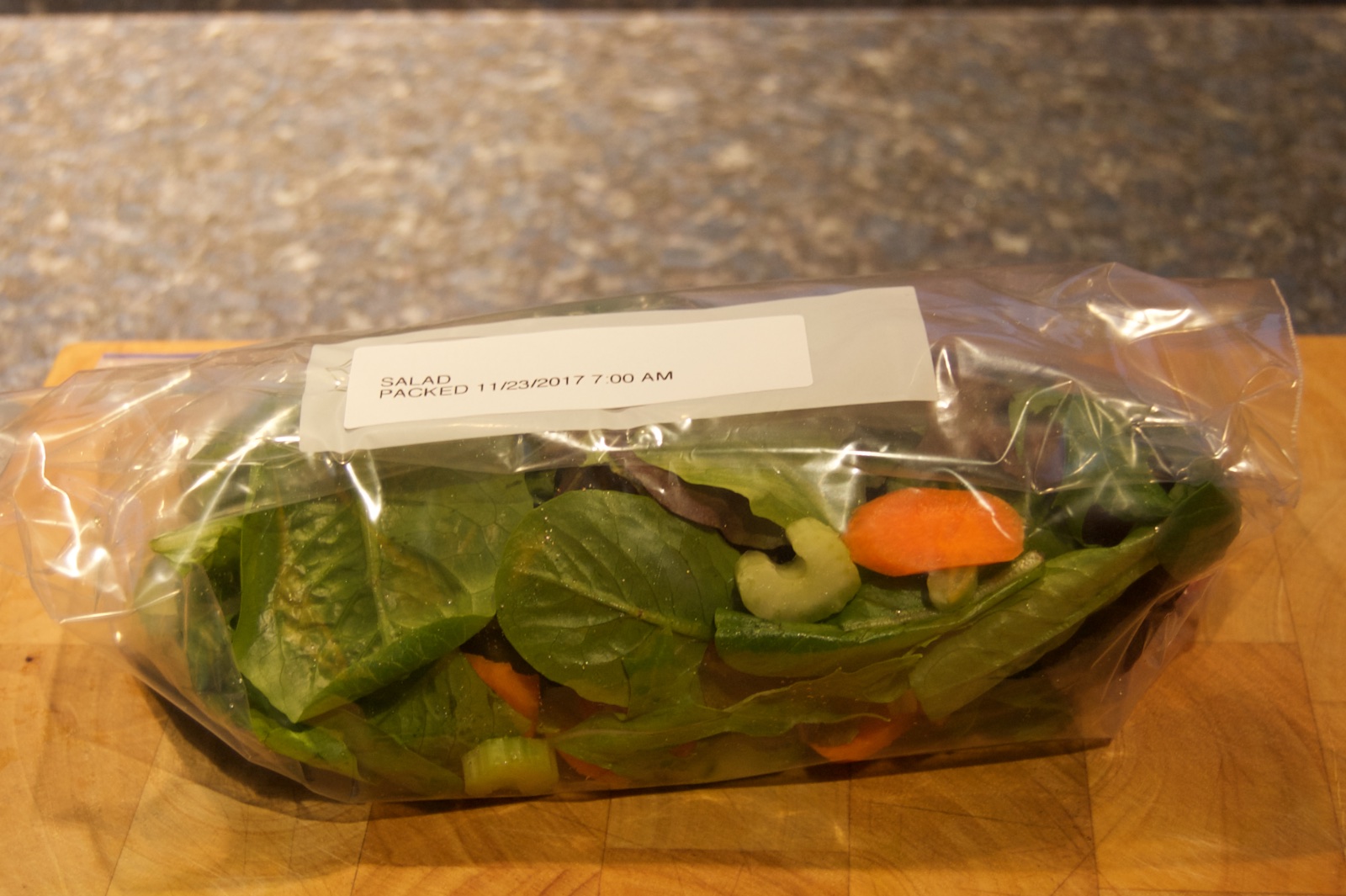 I'm doing a buffet, so I decided on a choice of dressings: Drew's chipotle ranch, Drew's roasted garlic and peppercorn, and Amy's Tuscany Italian. There's already French dressing at the lake.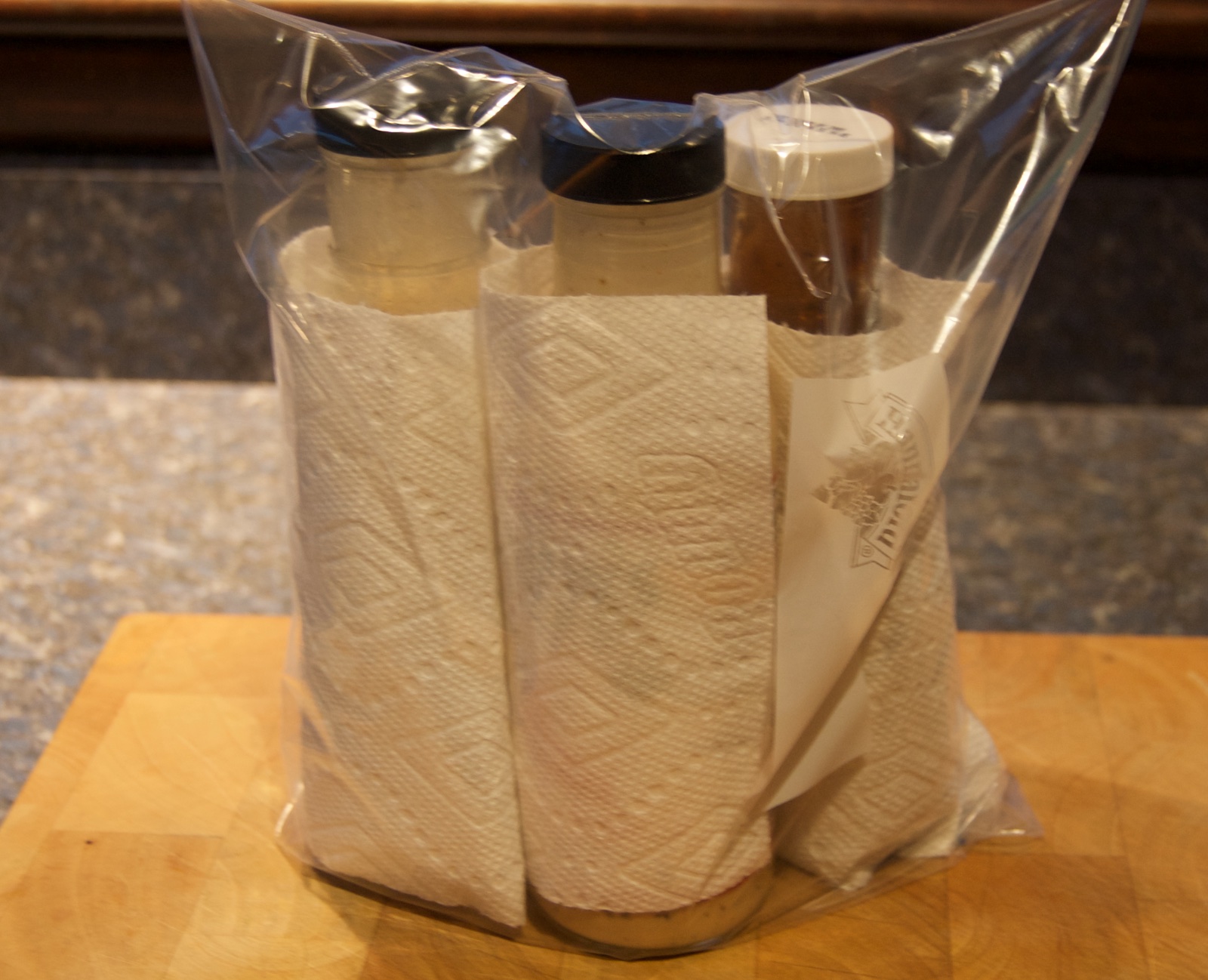 Prepped a cheese plate with horseradish cheddar, Cabot seriosuly sharp cheddar, herbed goat cheese, and Soppressata. This was a good amount, though goat cheese was the least favorite with this crowd.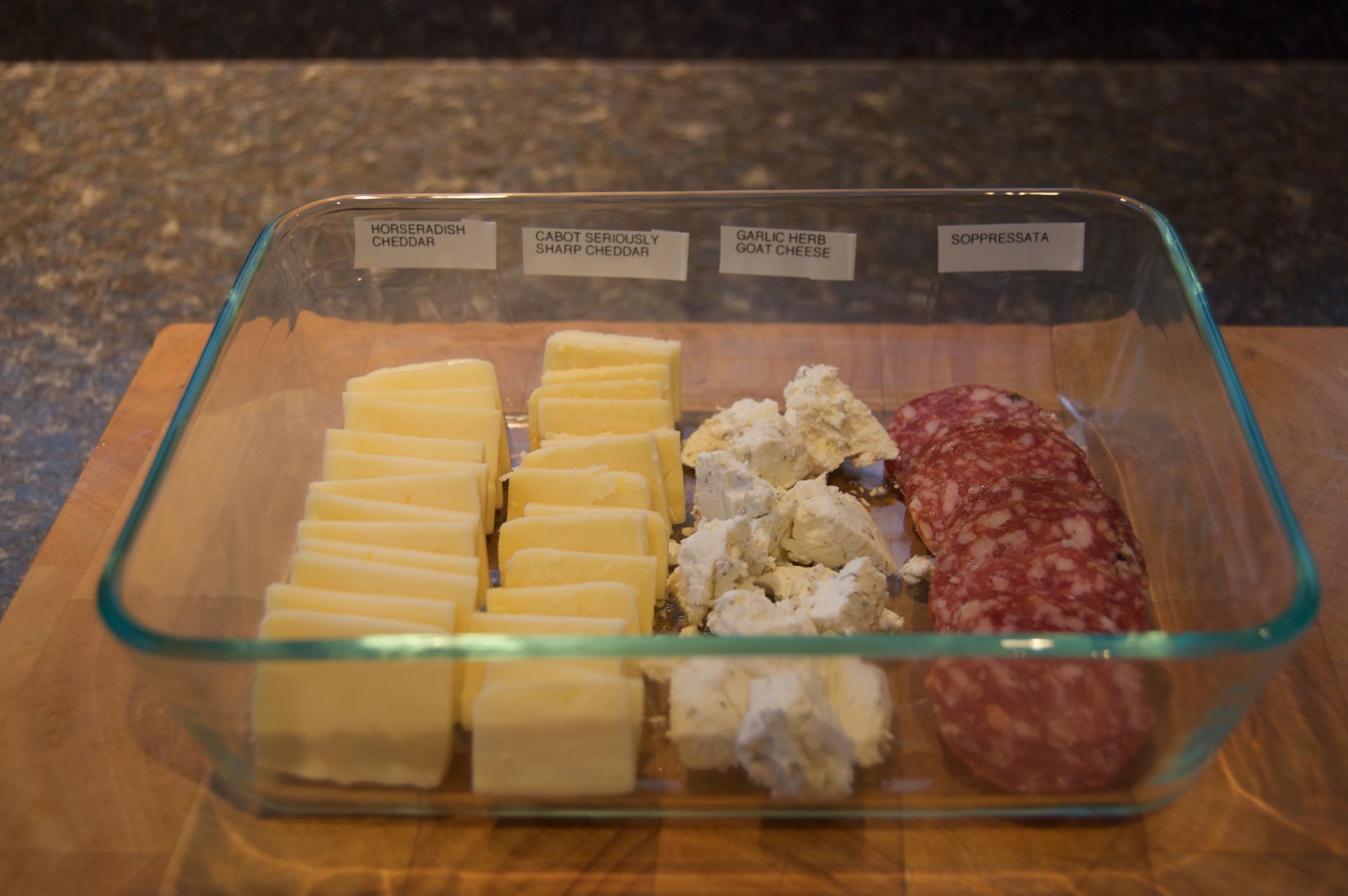 And crackers: roasted garlic Triscuits, Carr's peppered table water crackers, and ak-mak crackers. This was way more crackers than necessary.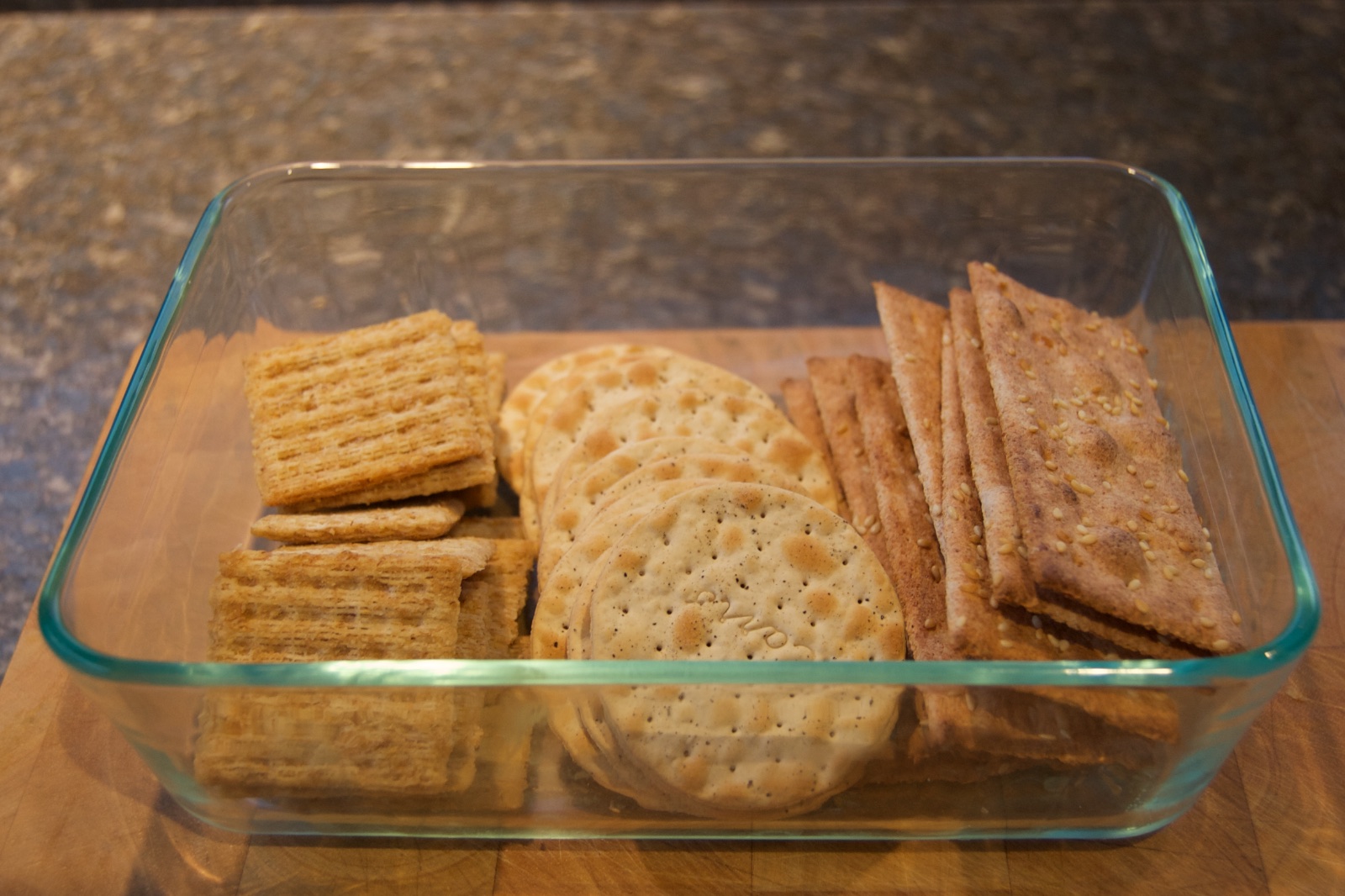 Heading out to the lake All packed up and ready to go!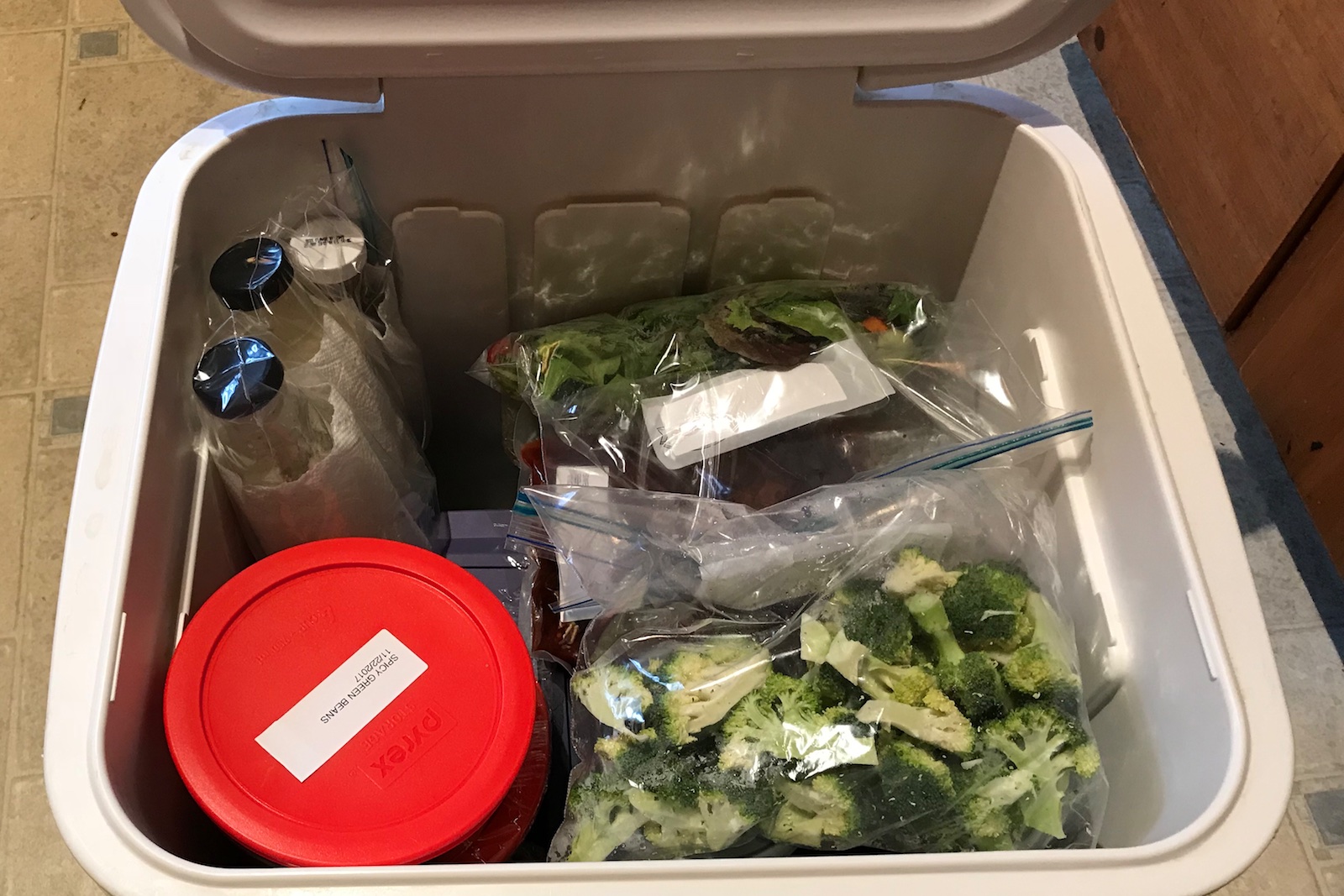 Turkey was good after cooking for 4:30 at 325°F. I could have cooked a little less, even.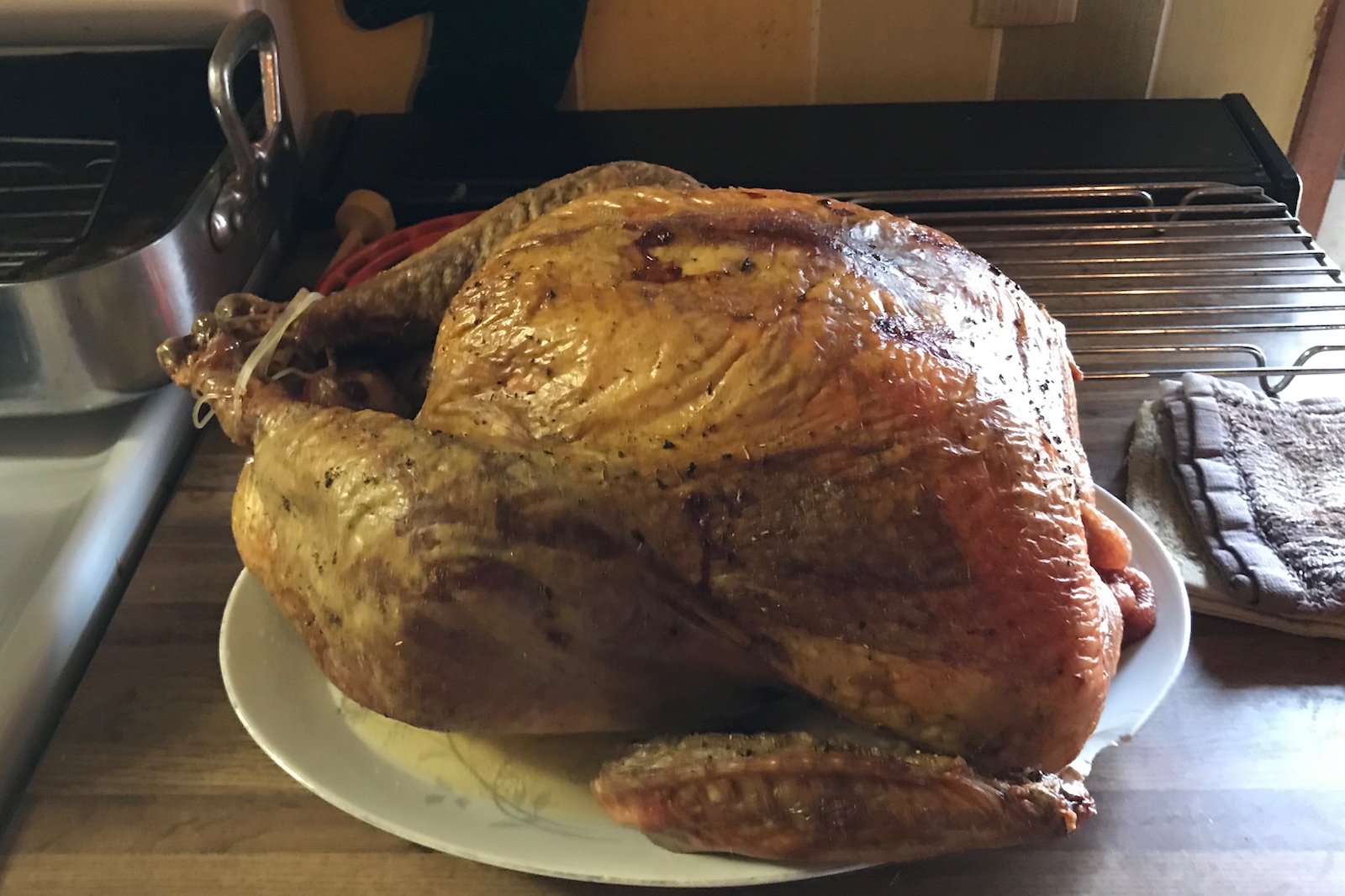 I said everything would be ready at 4:00 and I was ready at 4:03. Not bad for my first solo Thanksgiving cooking, and not in my own kitchen!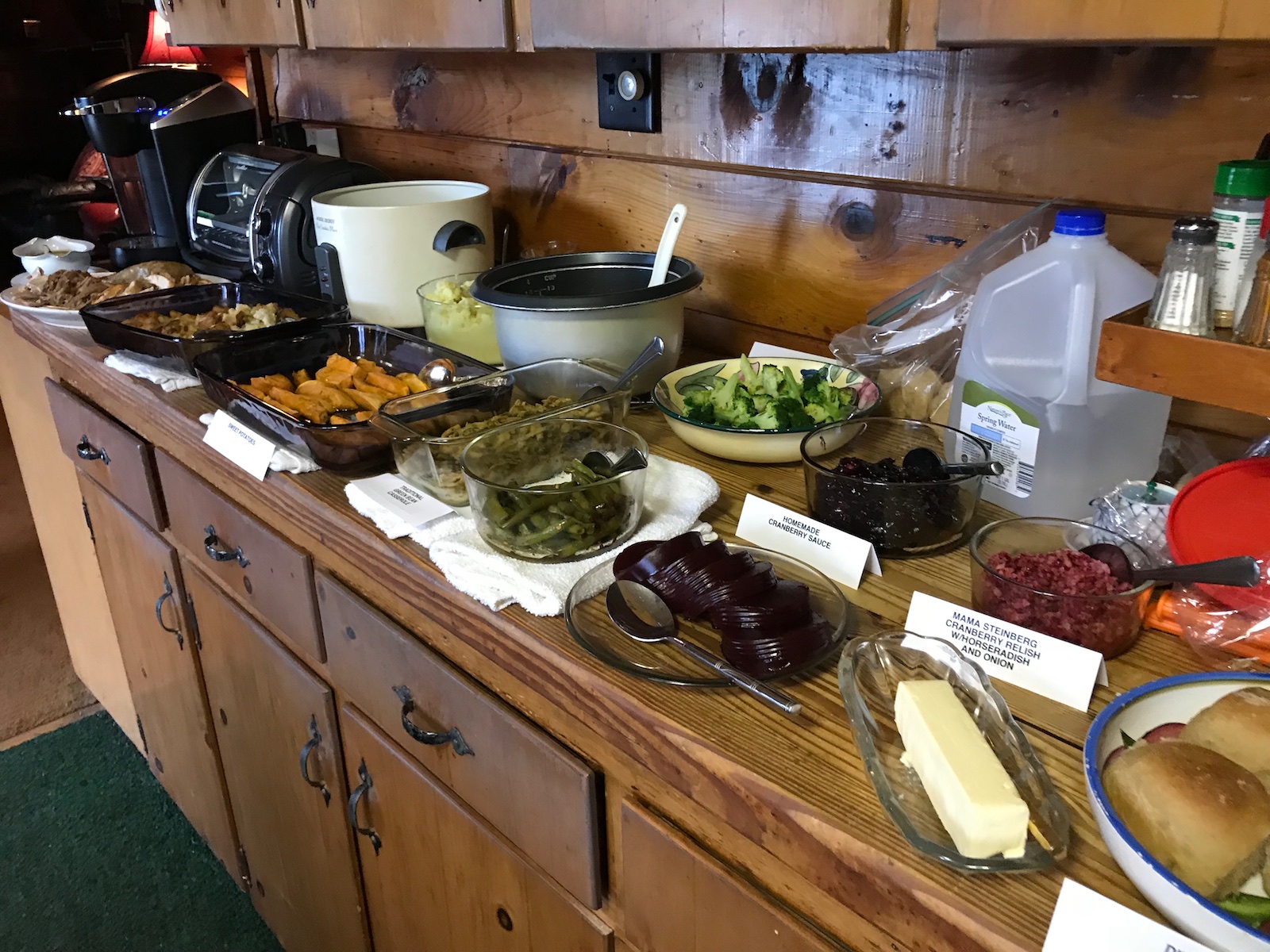 After dinner The best parts separated out, and the carcass hacked apart to make stock and soup tomorrow.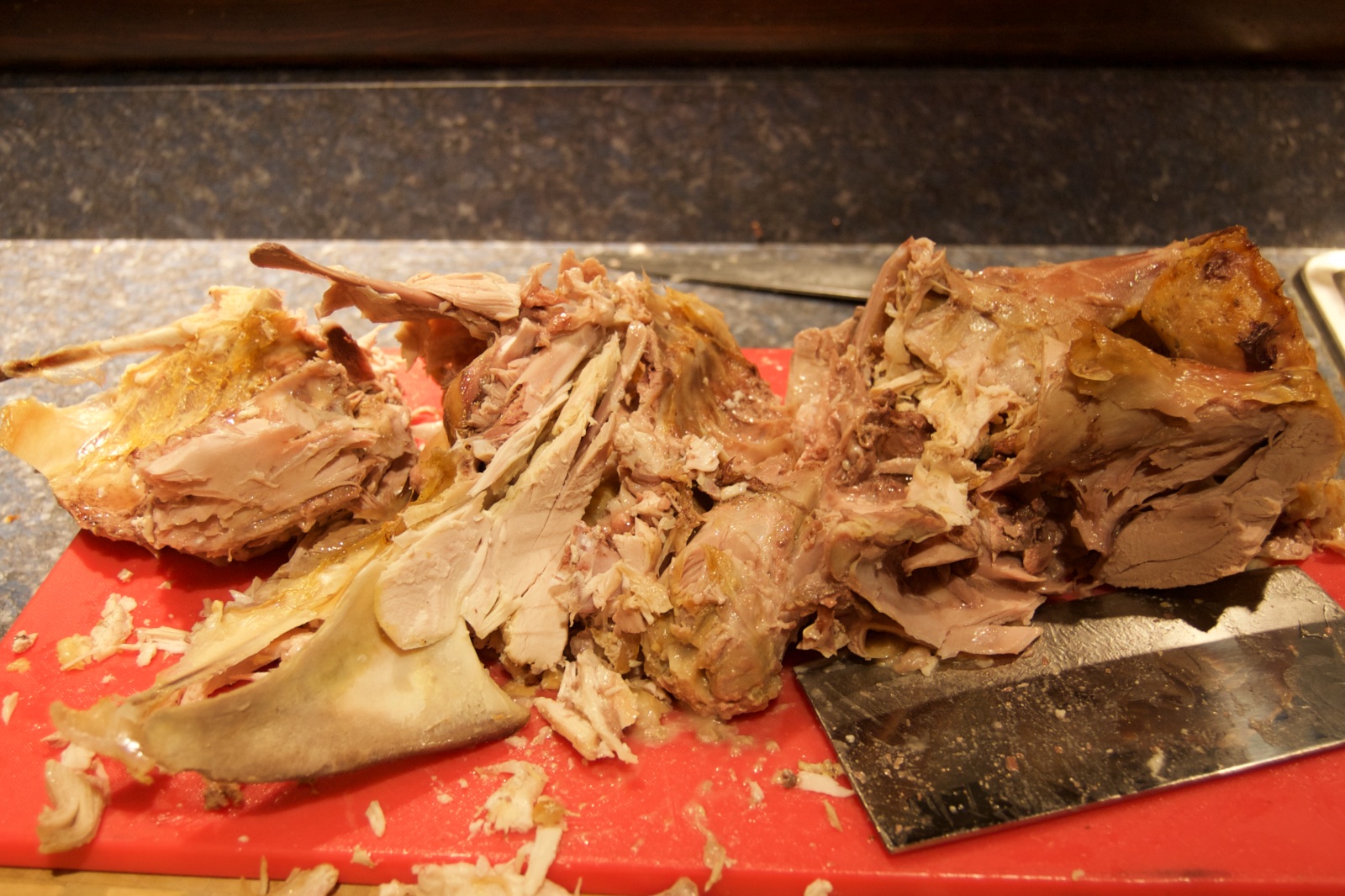 Dressing and mashed potatoes divided and vacuum sealed for future dinners.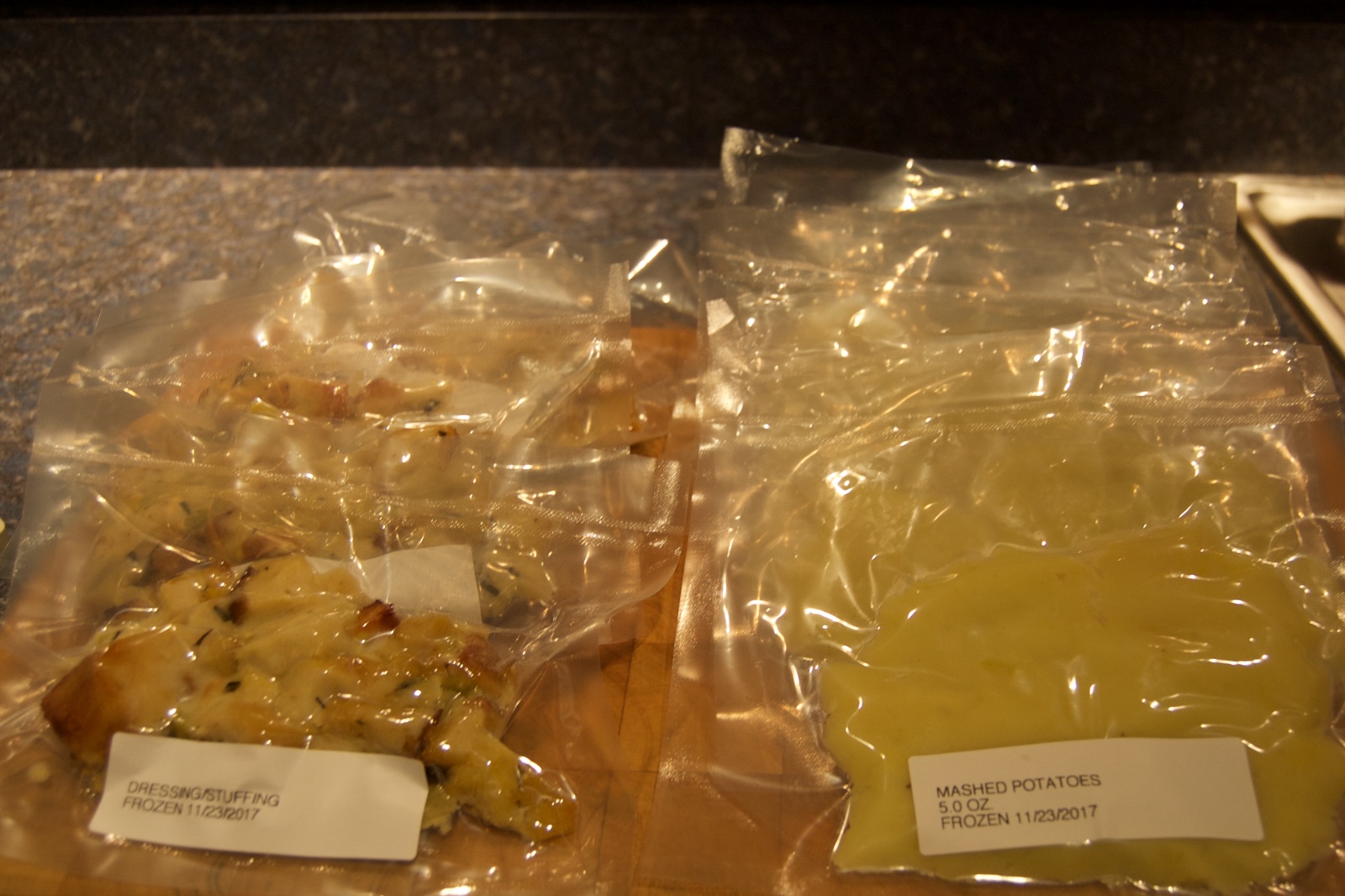 Gravy and turkey for dinner. 4x 4.0 oz. gravy and 5.0 oz. turkey.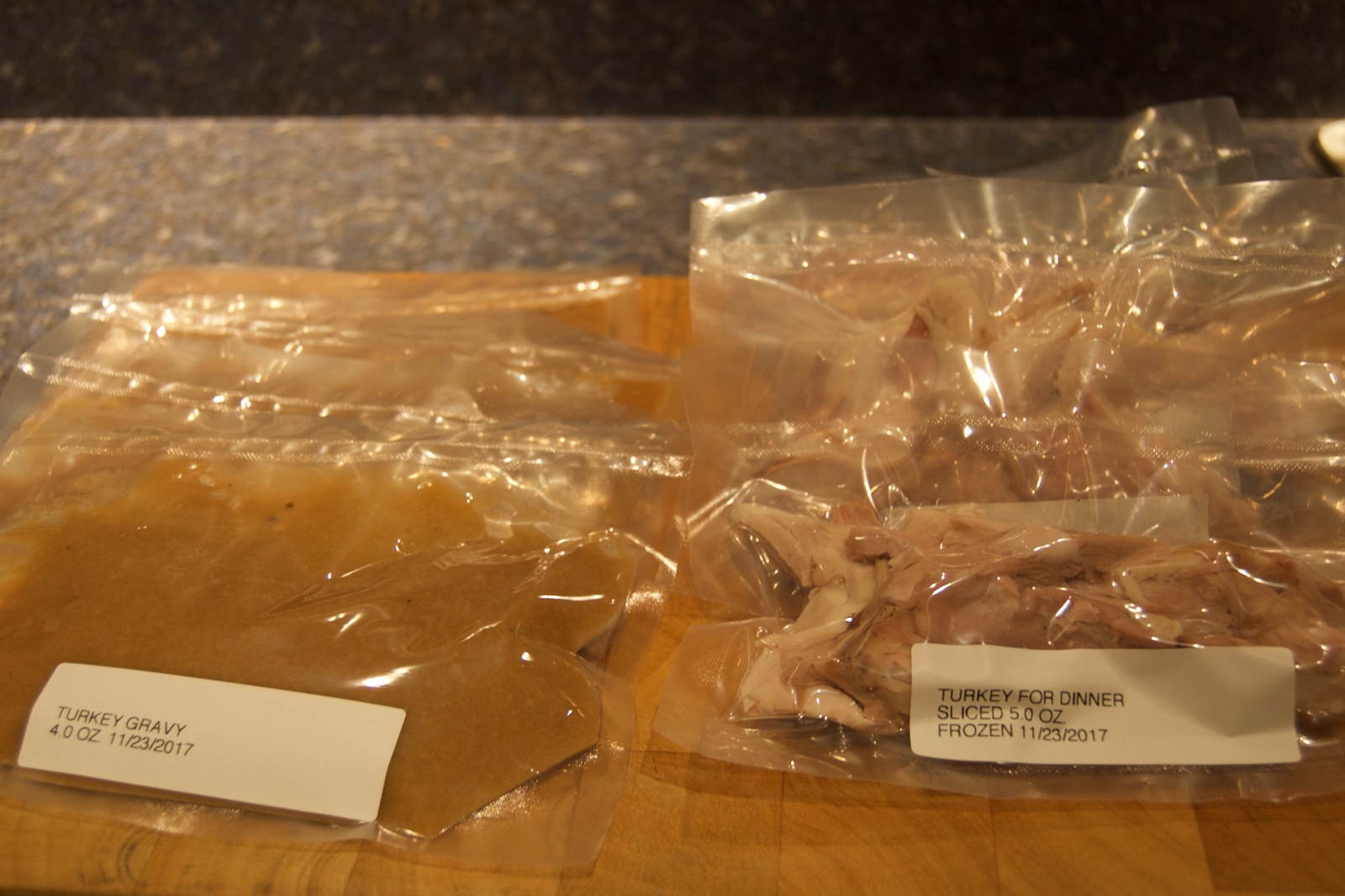 Turkey breast sliced for sandwich, and diced for stir-fry.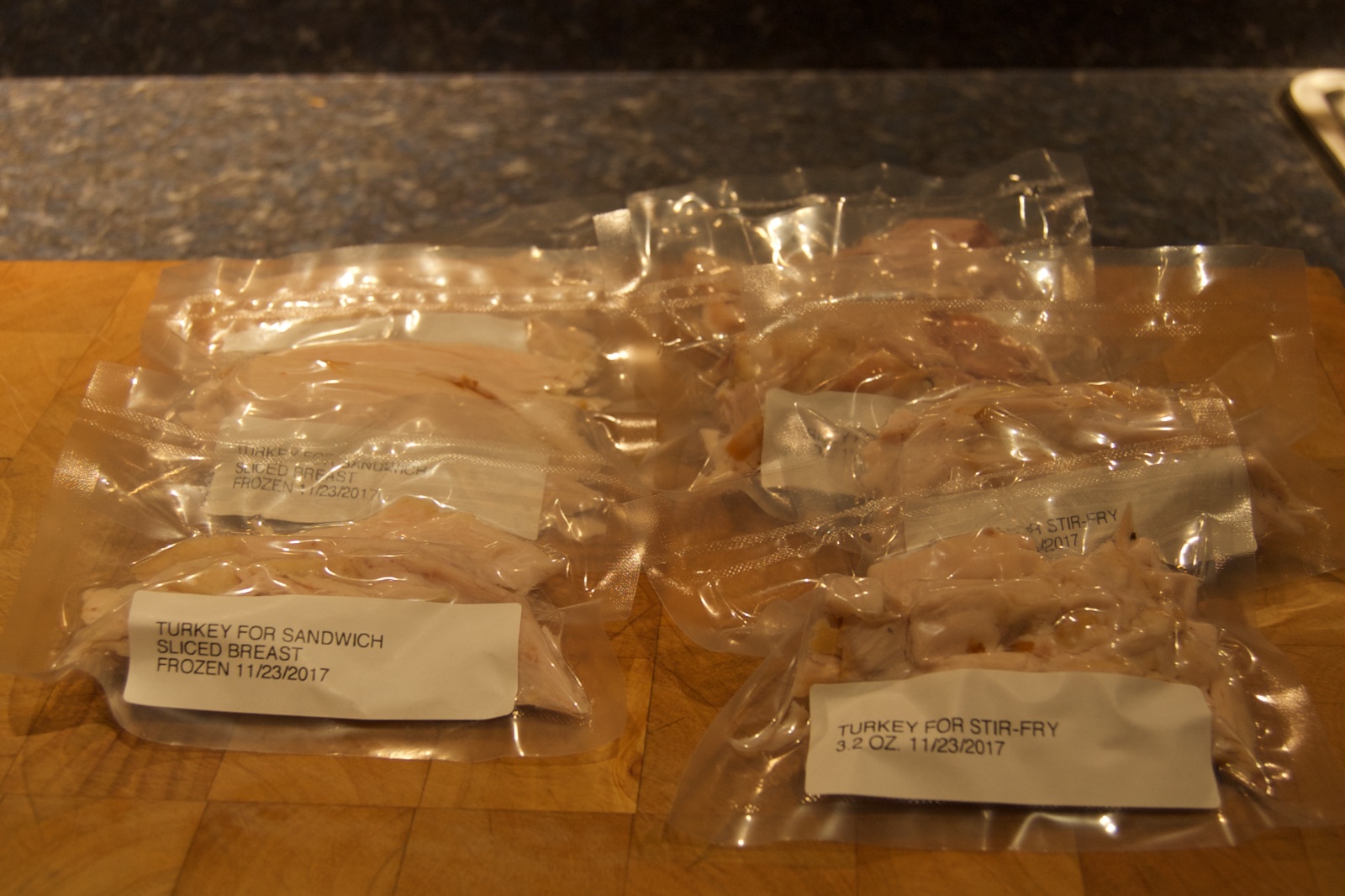 Four dinner packages, with turkey, gravy, dressing and mashed potatoes.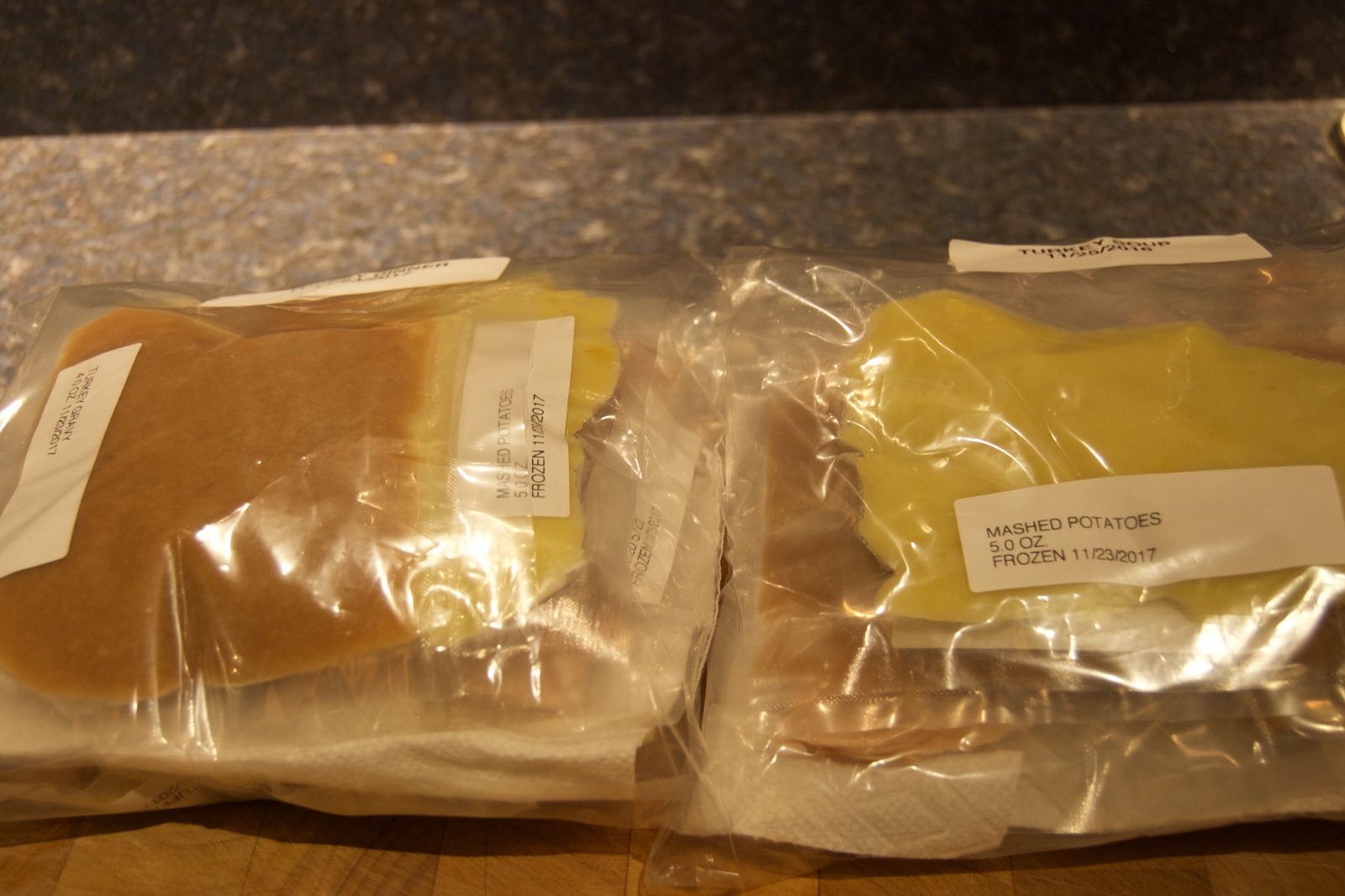 All that's left is to make the stock and turkey soup . 1 yellow onion
2 carrots
2 stalks of celery
2 bay leaves
1/2 tsp. salt
1/2 tsp. whole black peppercorns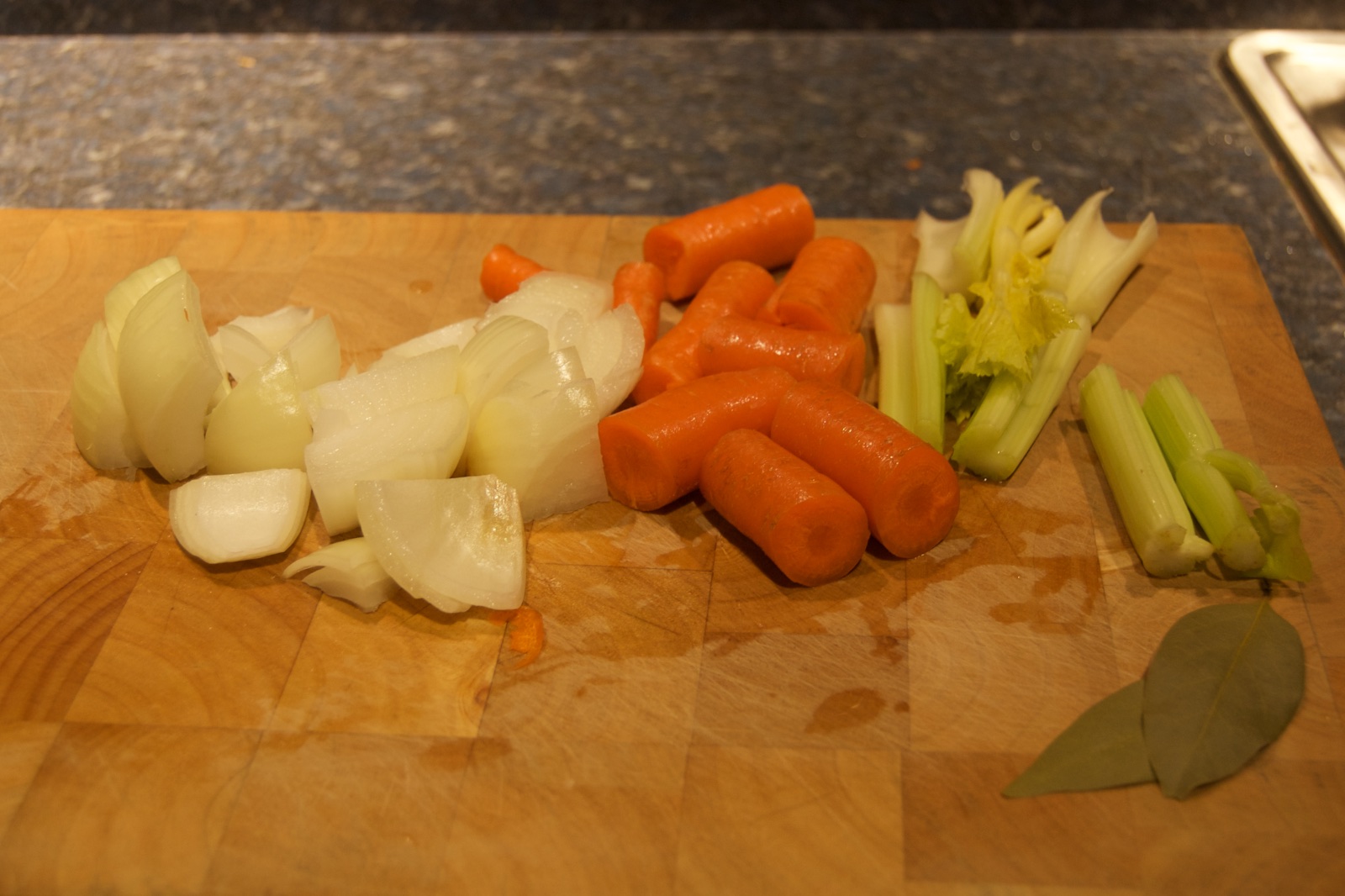 Into the Instant Pot for a soup pressure cooking cycle (30 minutes) with 80 oz. water. It was full!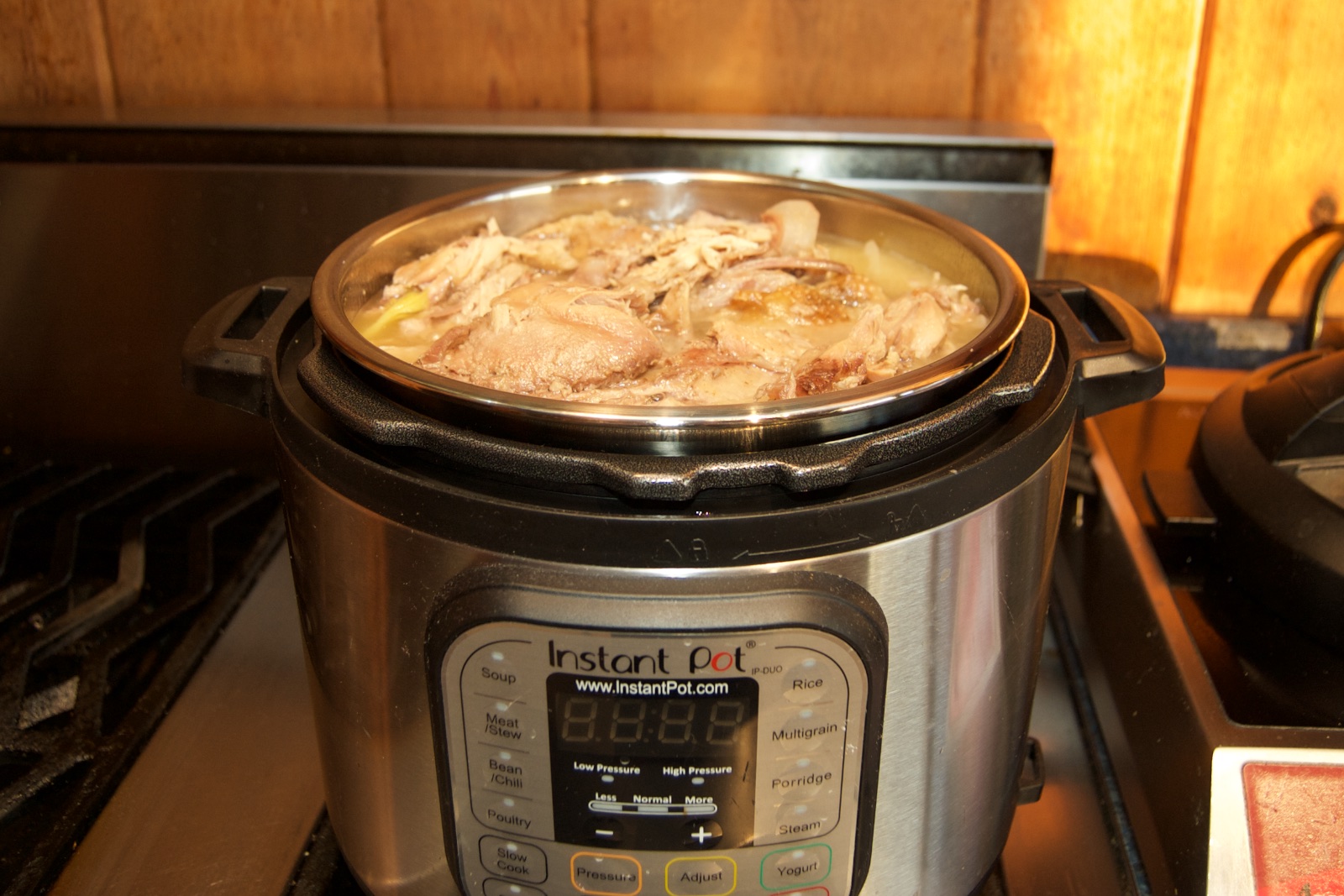 Let rest for 20 minutes after the cycle, the depressurize. Chill in a cold water. That's a sink full with about 5 pounds of ice.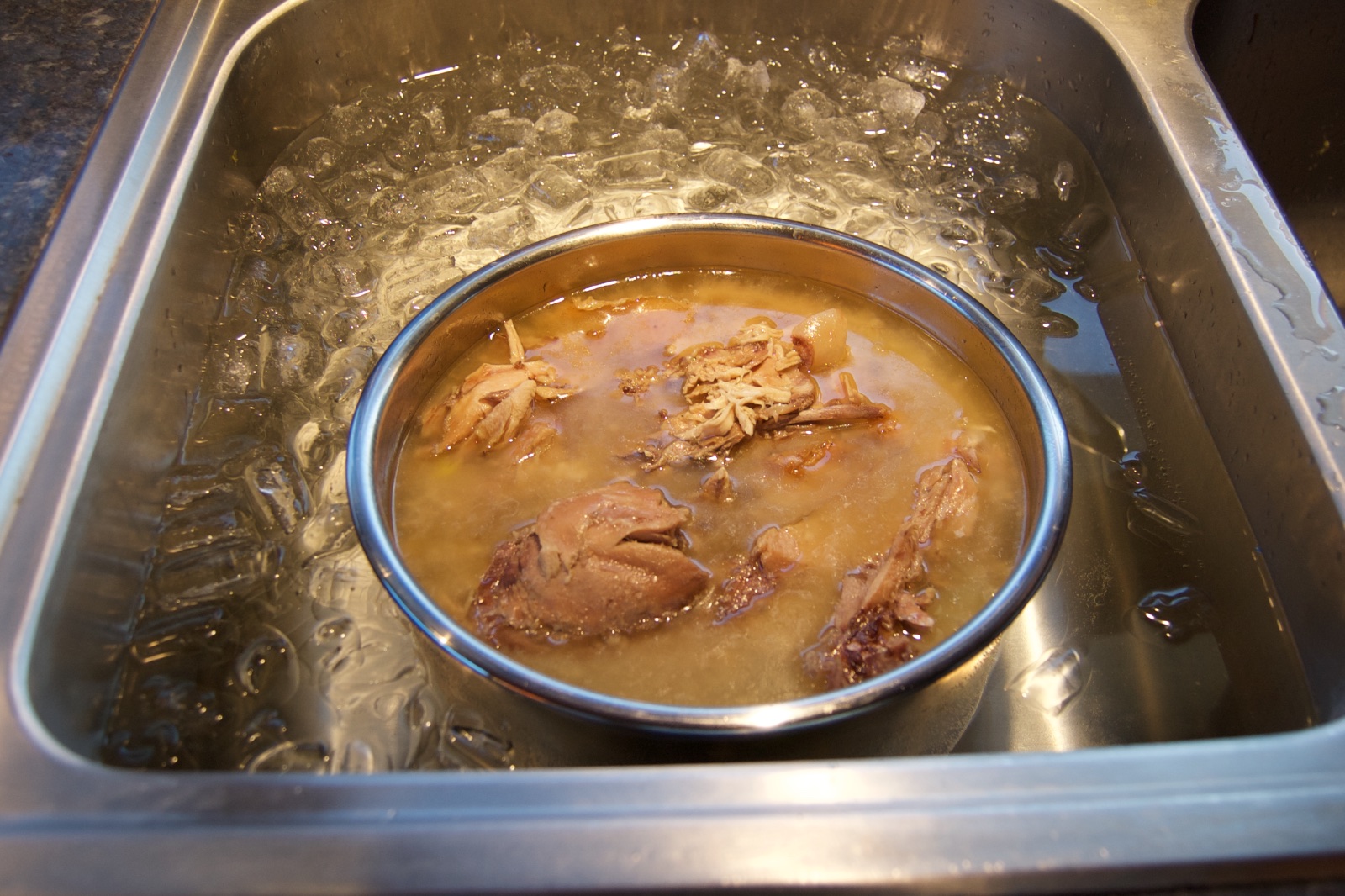 Most of the solids separated out. I just fish them out by hand before straining the stock through a mesh sieve.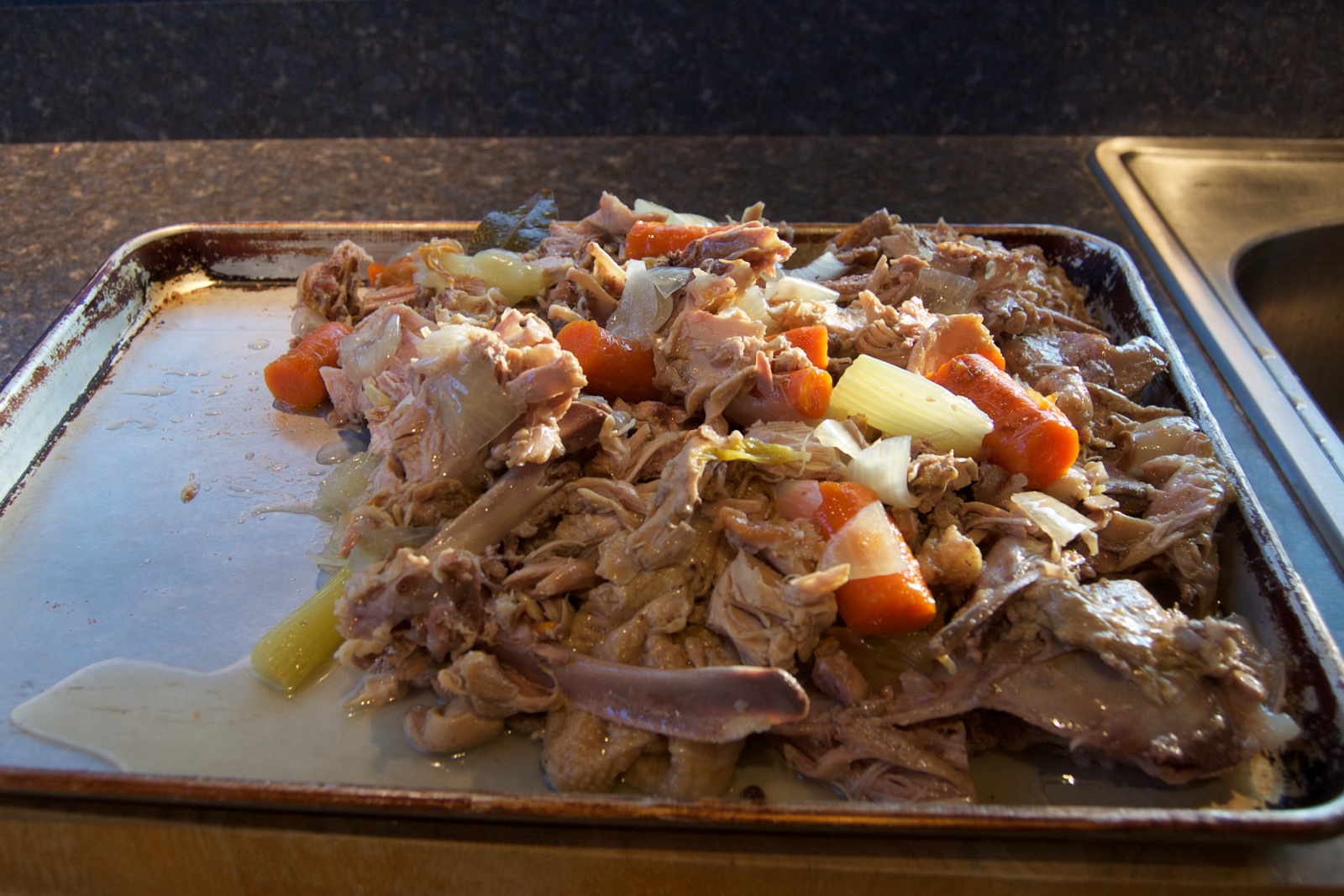 80 oz. of stock. Refrigerate so the fat rises to the top, then skim off the fat.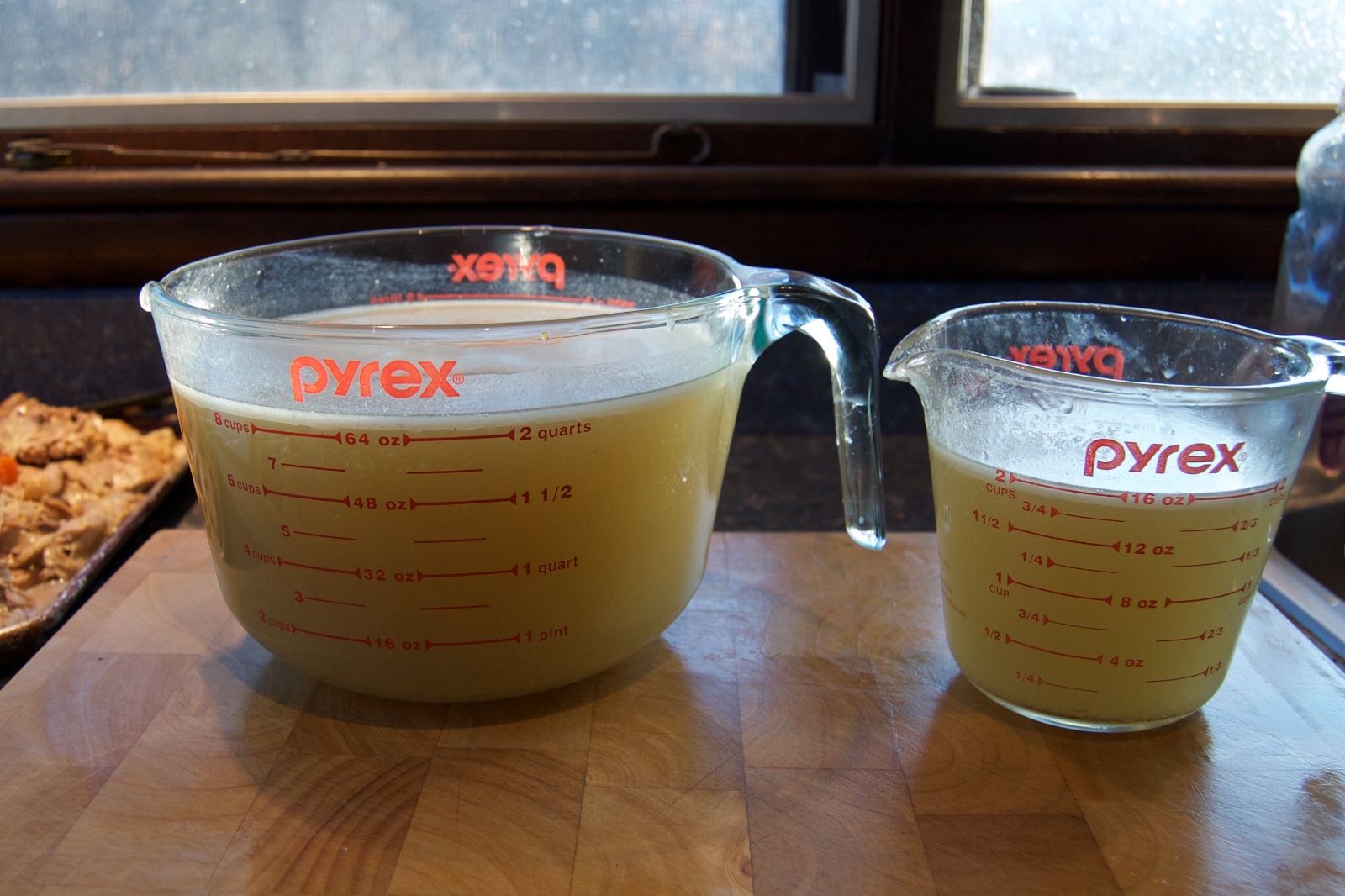 Packaged into 2 packages of 16 oz. of turkey stock only.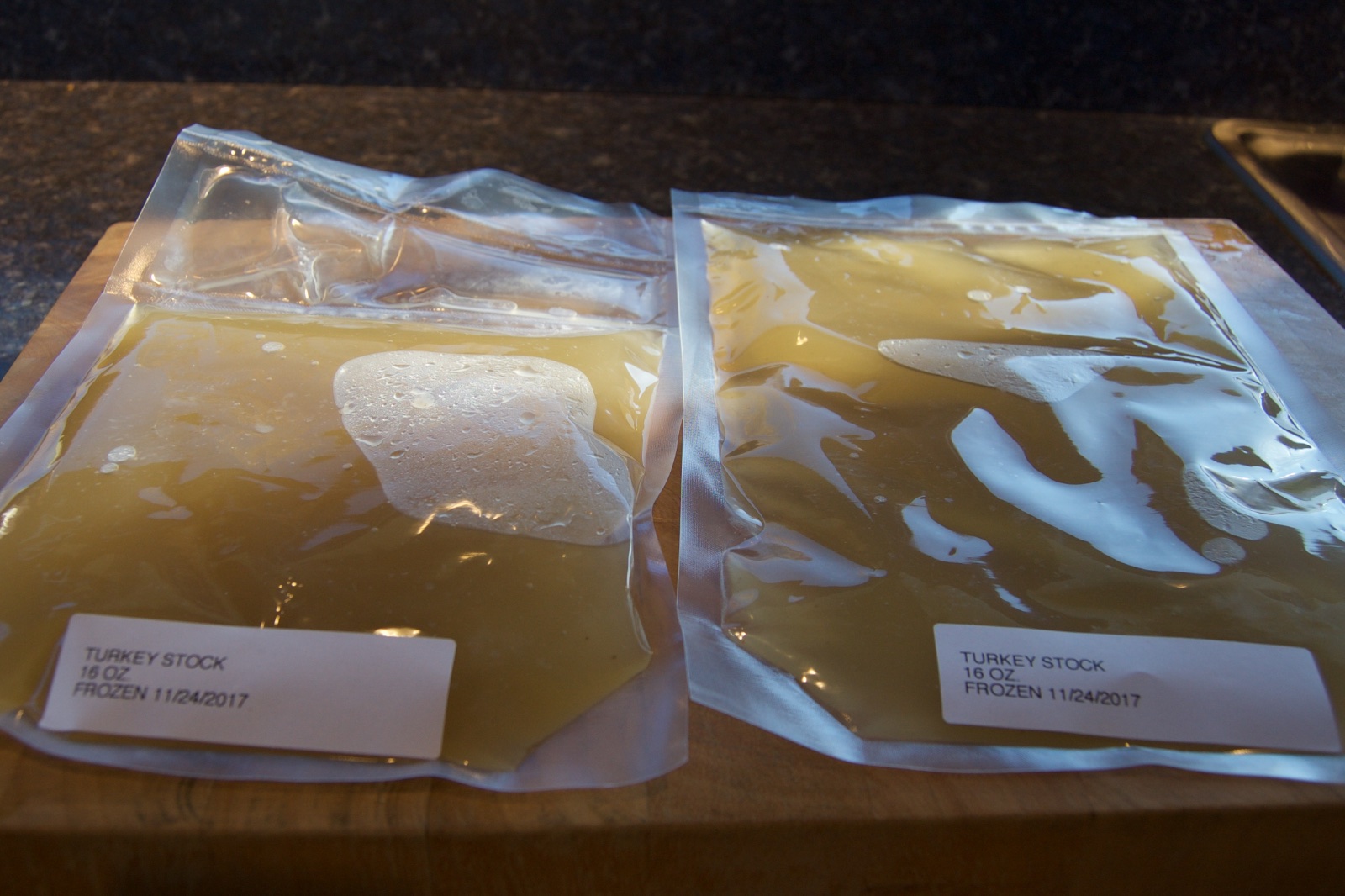 And 4 packages of 12 oz. stock with 3 oz. turkey for turkey soup.
Now I'm really done!