Thanksgiving 2021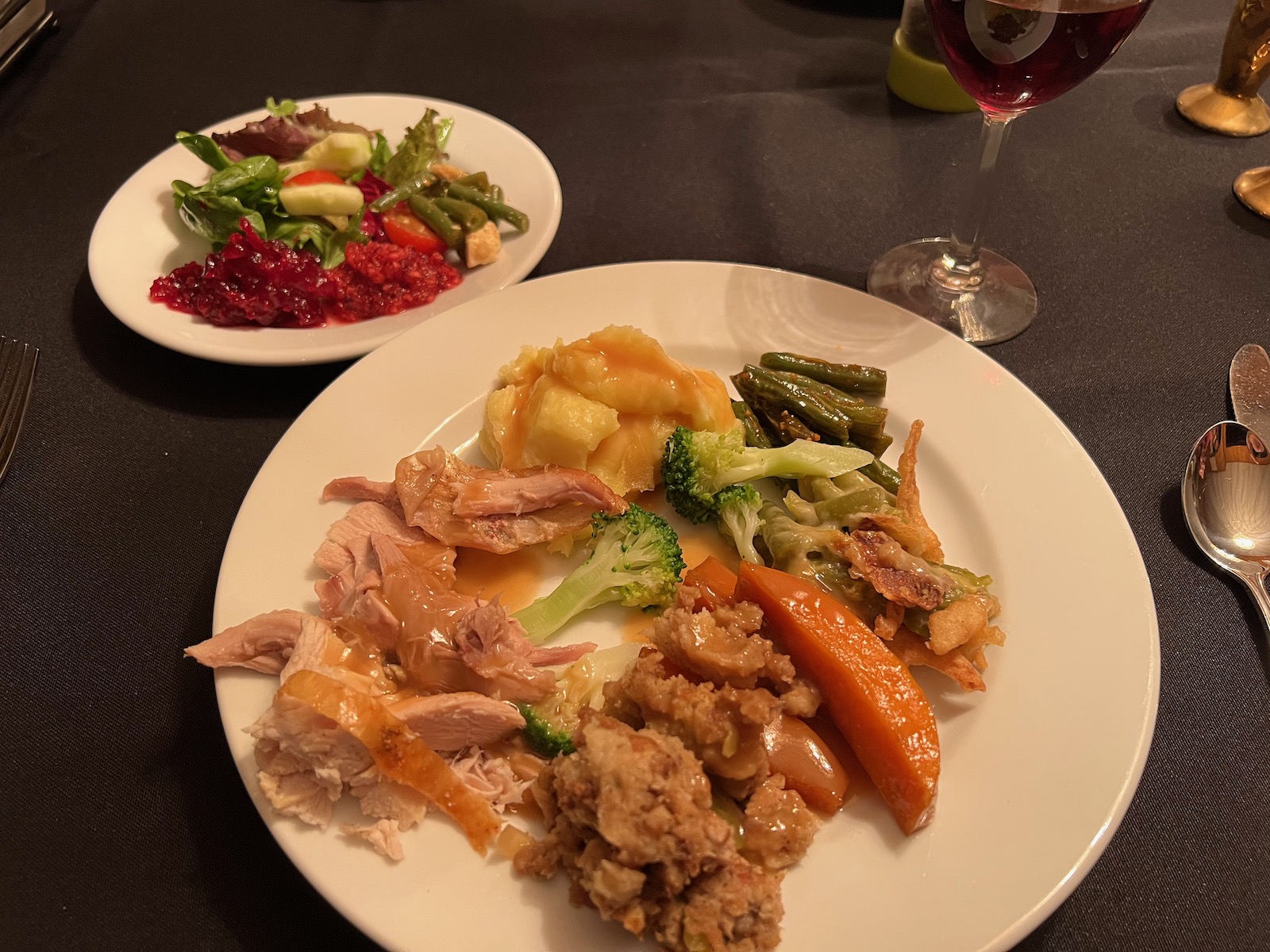 Here are my preparations for Thanksgiving dinner. Actually, I copy and pasted this from the Thanksgiving 2019 post and only edited the changes, so a bunch of the pictures are from 2018 and 2019.
Friday, November 12, 2021 (early shopping)
Fresh cranberries (2 bags)
Gold potatoes, 3 lbs. required, or get a bag of 5 lbs.
Sweet potatoes, 2 large or 3 medium
Celery, 1 lb.
Sweet onions, 1 large or 2 small
Carrots, 1 lb.
Broccoli, 1 medium head or 2 small
2x Lemons
2x Chicken stock (Pacific, 32 oz. each)
Pepperidge farm classic stuffing mix (12 oz.)
French's fried onions
Meatballs, bite-sized frozen (18 oz. pkg, 1/2 oz each, 36 count)
Heinz chili sauce (12 oz.)
Canned green beans (14.4 oz.)
Condensed cream of mushroom soup (10.5 oz.)
Polaner all-fruit concord grape jelly (10 oz.)
Butter, Cabot unsalted, 1 lb.
Turkey, frozen
Cashews, whole
Andes mints
Small chocolates for snack tray
I have a chest freezer so I was easily able to store the turkey until it's time to defrost it.
This year I got a 14.87 lb. turkey (frozen). It was $ 1.29/lb. or $19.18, which is significantly more than last year, but last year was anomalously low ($0.37/lb.).
Saturday, November 20, 2021
I got a small 14.87 lb. turkey so I only needed to defrost it for 3 days, 18 hours at 40°F following this guide.
Sat Nov 20 07:00 PM Start defrosting in refrigerator at 40°F (3 days, 18 hours required, this is a bit more)
Wed Nov 24 06:00 PM Unwrap turkey, remove insides, dry out overnight uncovered (refrigerated)
I actually defrost it in a bucket in the kegerator since it's so large and that way I don't have to worry about leakage or contamination of other food. And I don't drink enough beer to buy it in kegs anymore.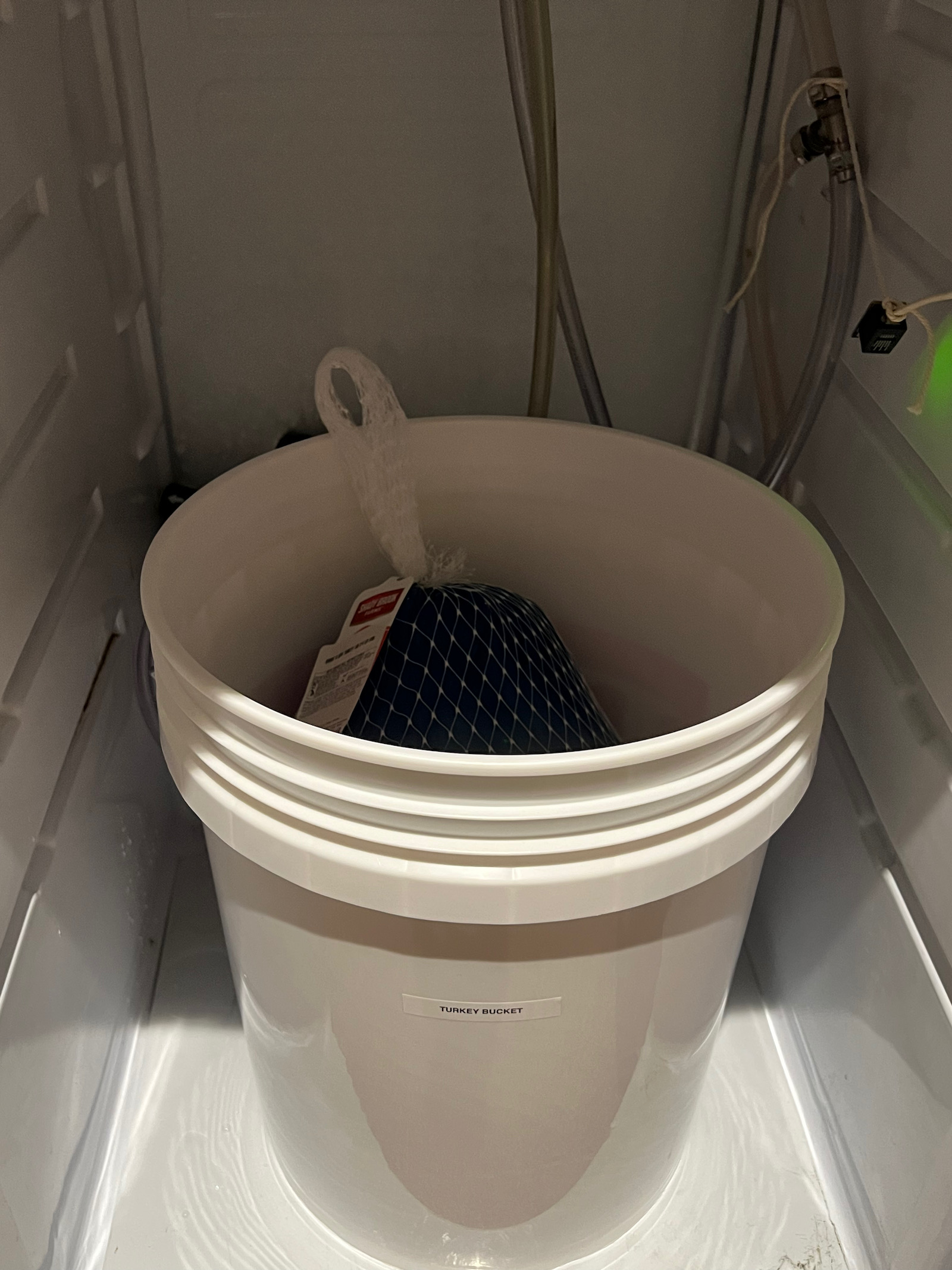 Monday, November 22, 2021
Final grocery shopping:
Fresh herbs: Poultry mix, parsley
Lettuce mix
Cucumber
Grape tomatoes
Fresh green beans
Feta cheese
Loose sweet Italian sausage (at least 8 oz.)
Tuesday, November 23, 2021
Cranberry sauce (traditional, homemade)
I made the Food Network cranberry sauce recipe . It's basically just a 12 oz. bag of fresh cranberries, 1 cup of sugar, a strip of lemon zest, and 1 oz. water. I like it. Add the cranberries, 1 cup of sugar, lemon zest and water to a sauce pan and heat over low heat, stirring occasionally until the sugar dissolves, about 10 minutes.
Increase the heat to medium and cook until the cranberries burst, about 12 minutes, then continue to cook until it reaches the desired consistency.
Season with salt and pepper. Put in a 1 quart Pyrex bowl with lid.
The original recipe calls for adding some reserved uncooked cranberries at the end, but I like it better without.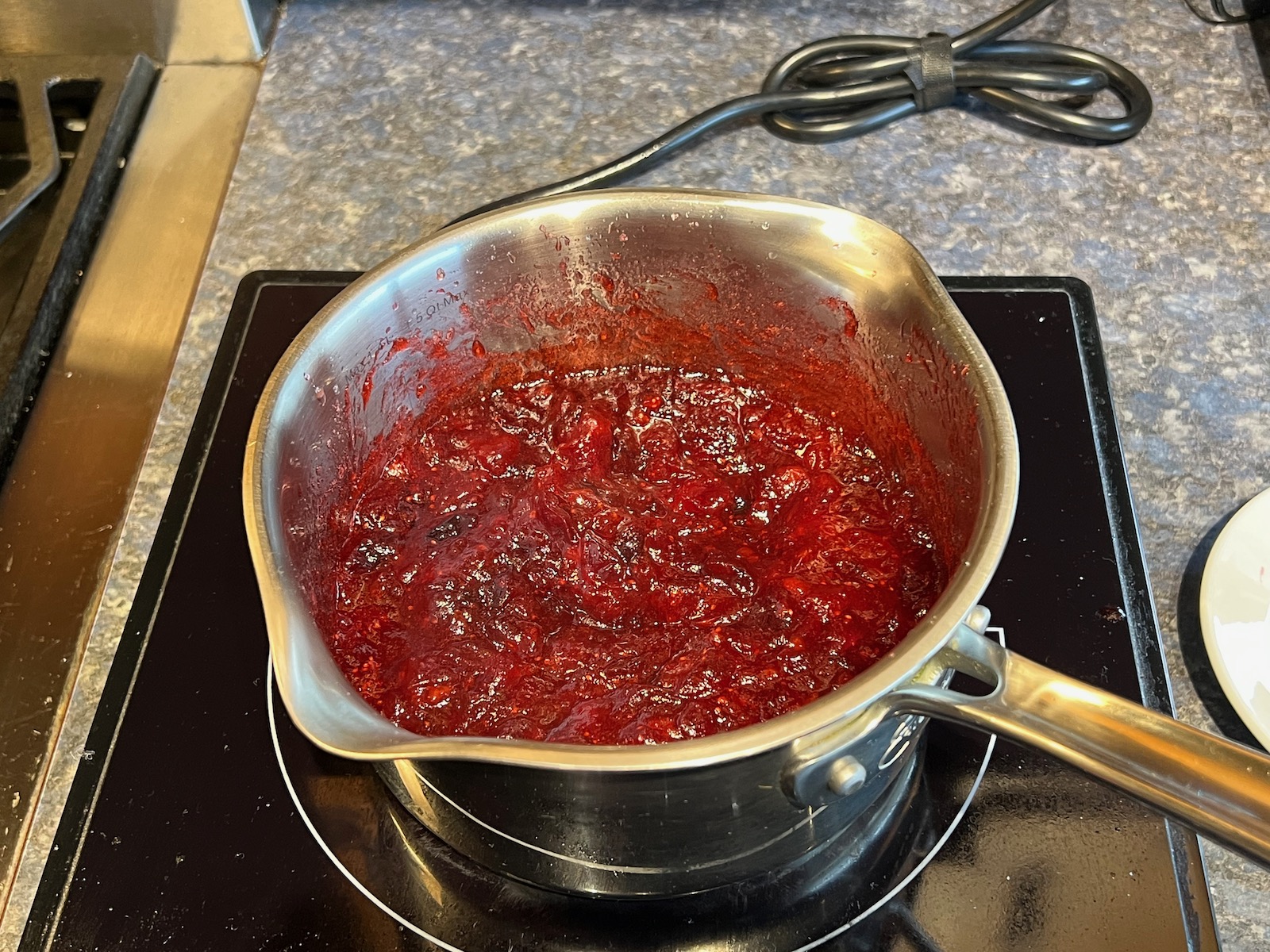 In 2021 I used a takeout container so it's easier to share the leftovers, plus I still have piles of them left from remote Thanksgiving 2020.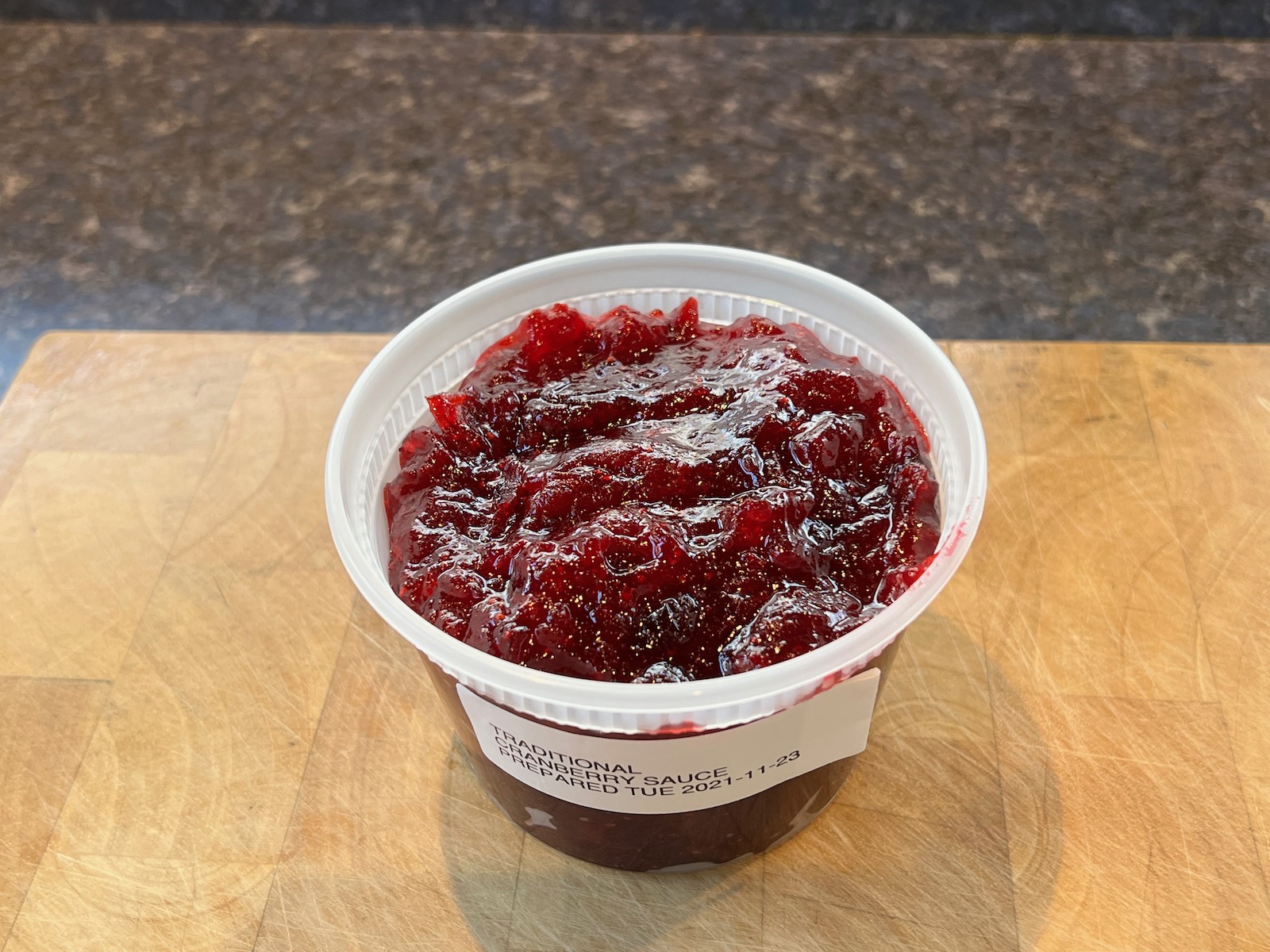 Mama Stamberg's cranberry relish
I made a half batch of Mama Stamberg's cranberry relish . It's a famous recipe from NPR, that contains onion and horseradish! It's not a huge hit, though I like it, so I only make a half batch.
1 cup cranberries (less than half a bag) 1/2 cup sugar 1/2 of a small onion, diced 1 tbsp. prepared horseradish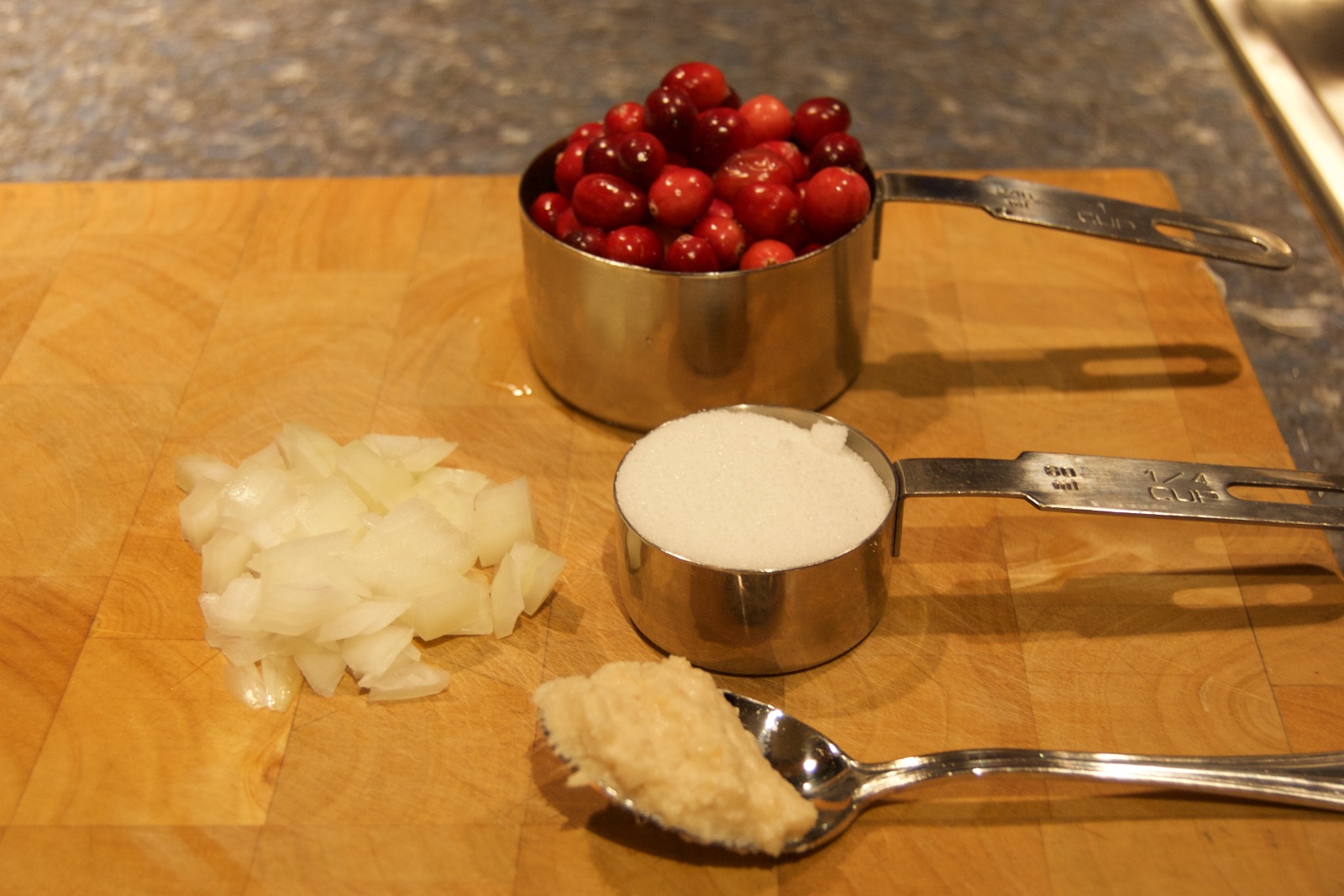 I minced the onions a bit in the food processor. Then added the cranberries. Finally, at the very end I added the remaining ingredients and pulsed for a few times.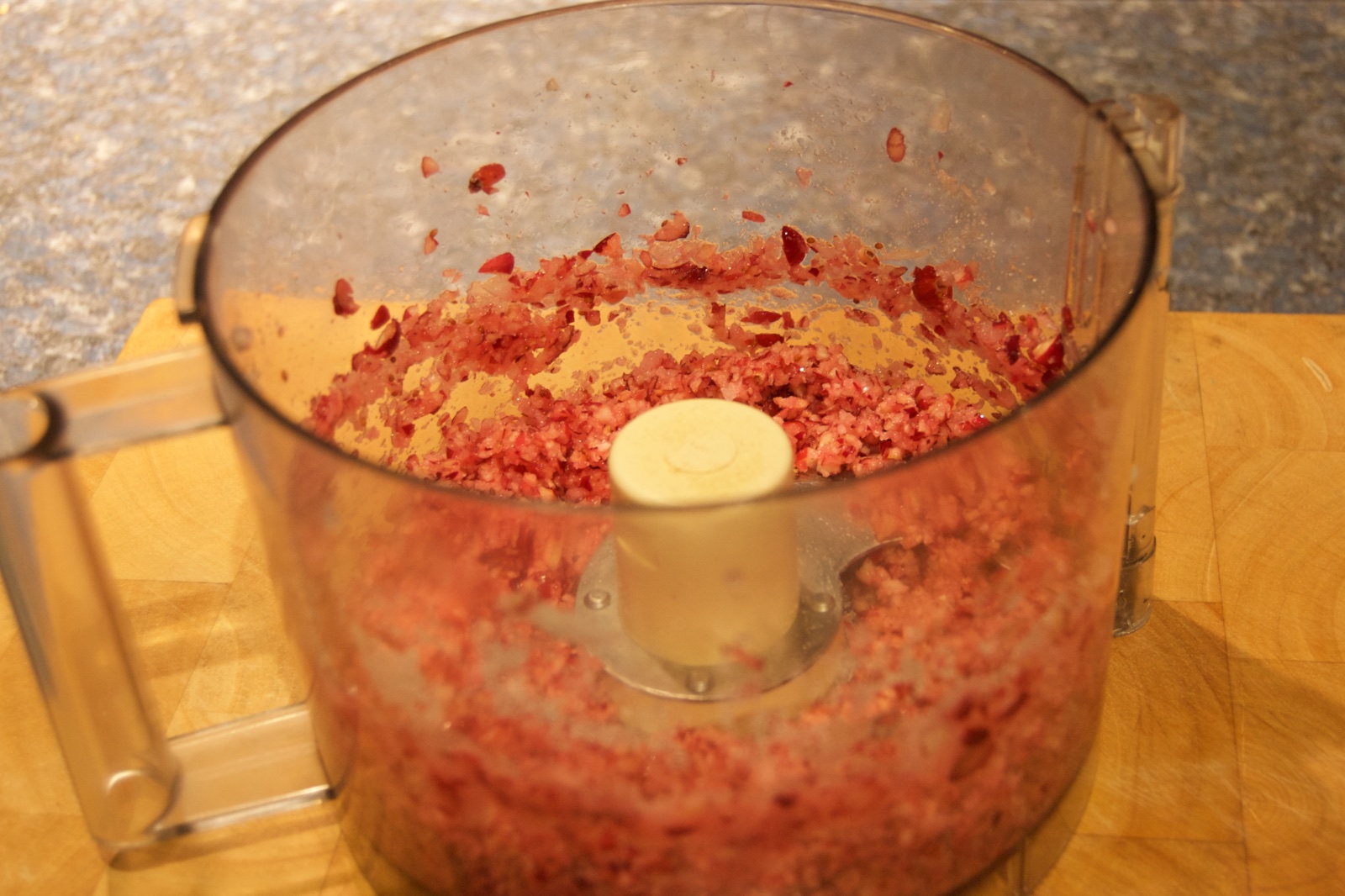 That's it! Put in a 1 pint Pyrex bowl with lid. Refrigerate until Thanksgiving.
Freeze for an hour or two before serving so it's a little icy but not a frozen block.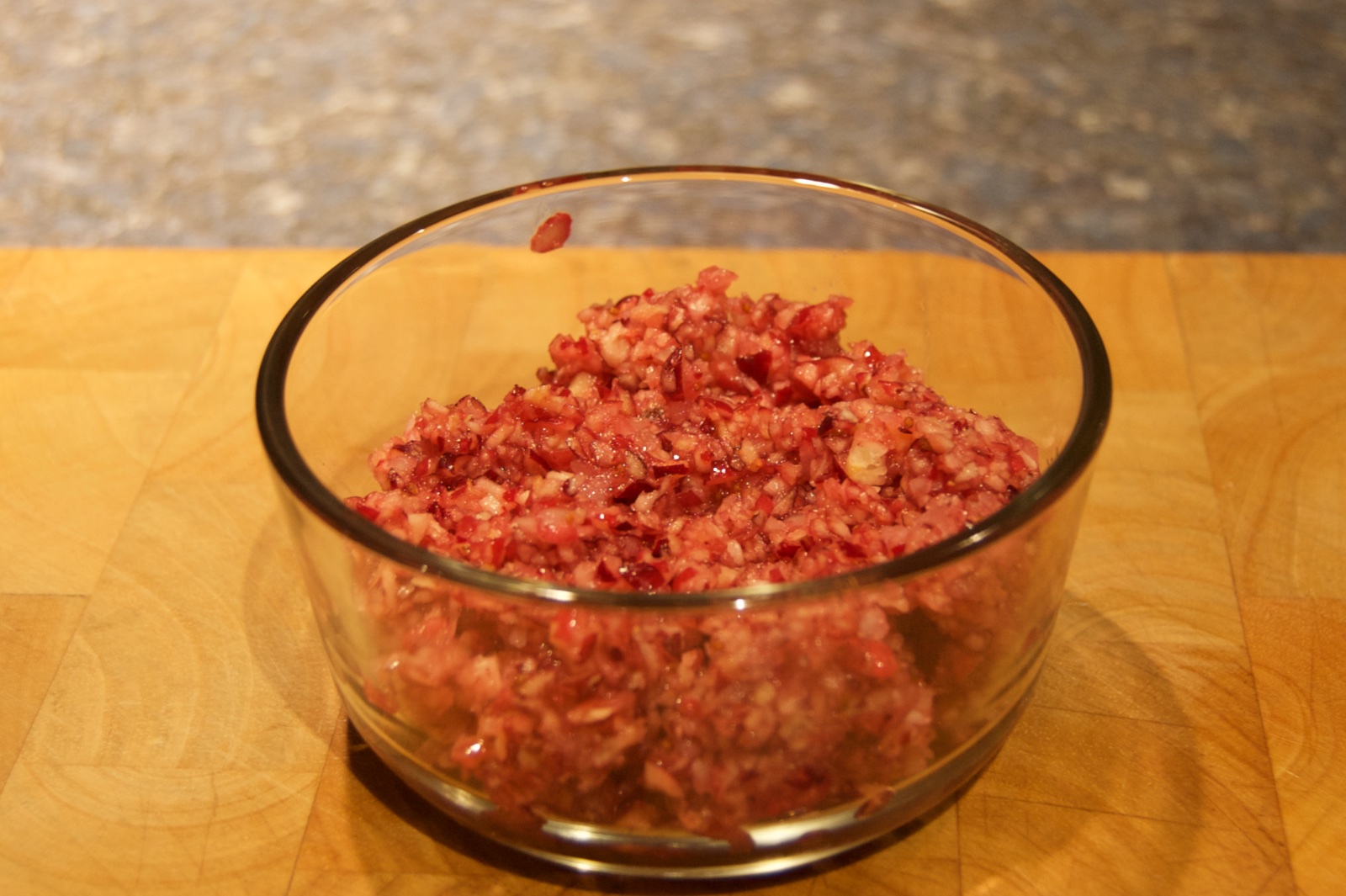 In 2021 I used a takeout container.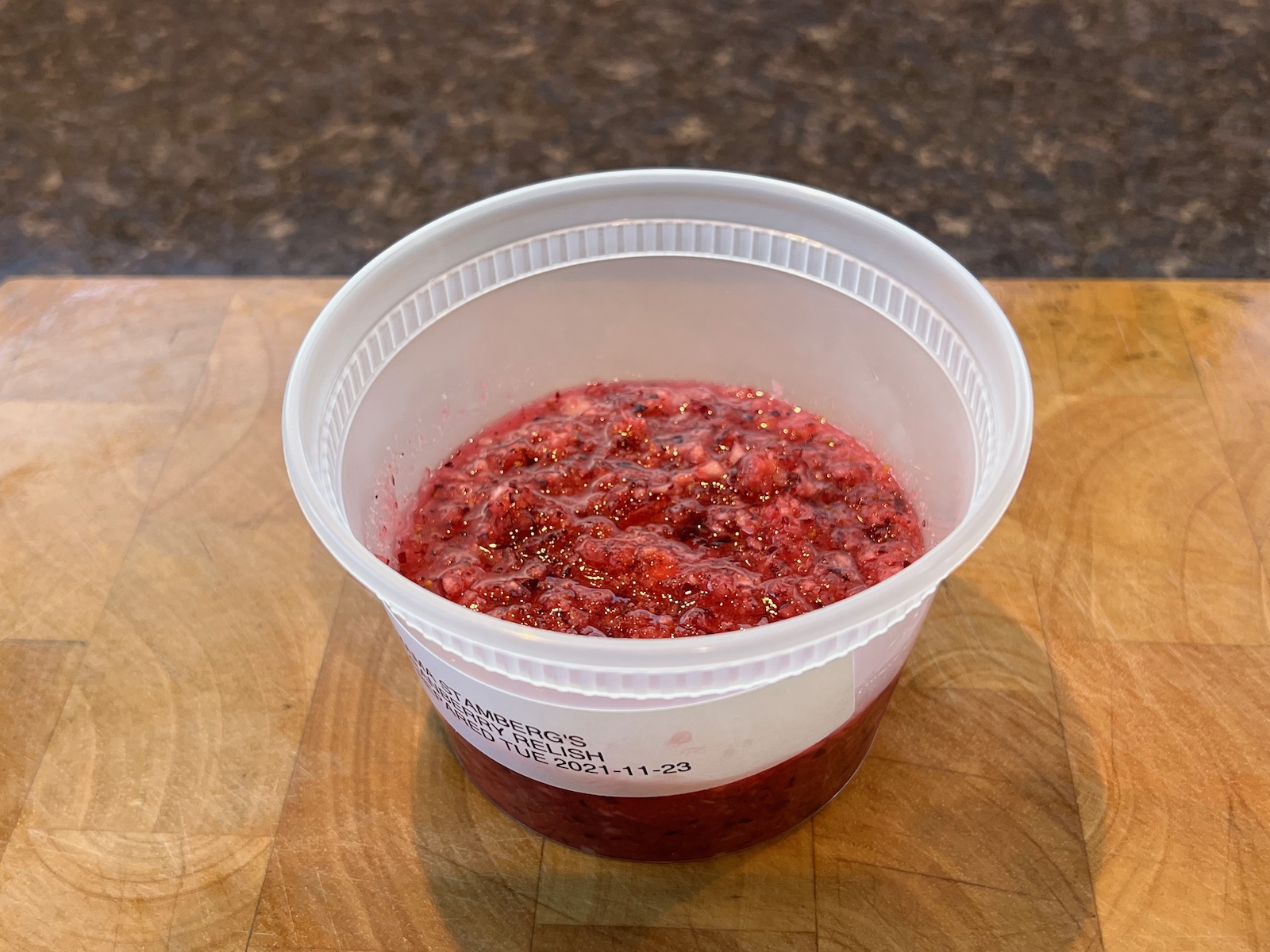 Wednesday, November 24, 2021
Gravy
Defrosted 46 oz. of turkey stock. I vacuum sealed and froze it last year, and will be the base for the gravy. I put the frozen bags in the sous vide at 140°F which also had the advantage of making the stock warm to add to the roux.
The gravy is based on this recipe and is: 1/2 cup butter (1 stick) 1/2 cup all-purpose flour
46 oz. turkey stock
freshly ground black pepper (optional) soy sauce (optional)
Add the butter to the pan and melt. And the flour and cook for 5 minutes or more to make a roux. It should smell slightly nutty, but not burnt.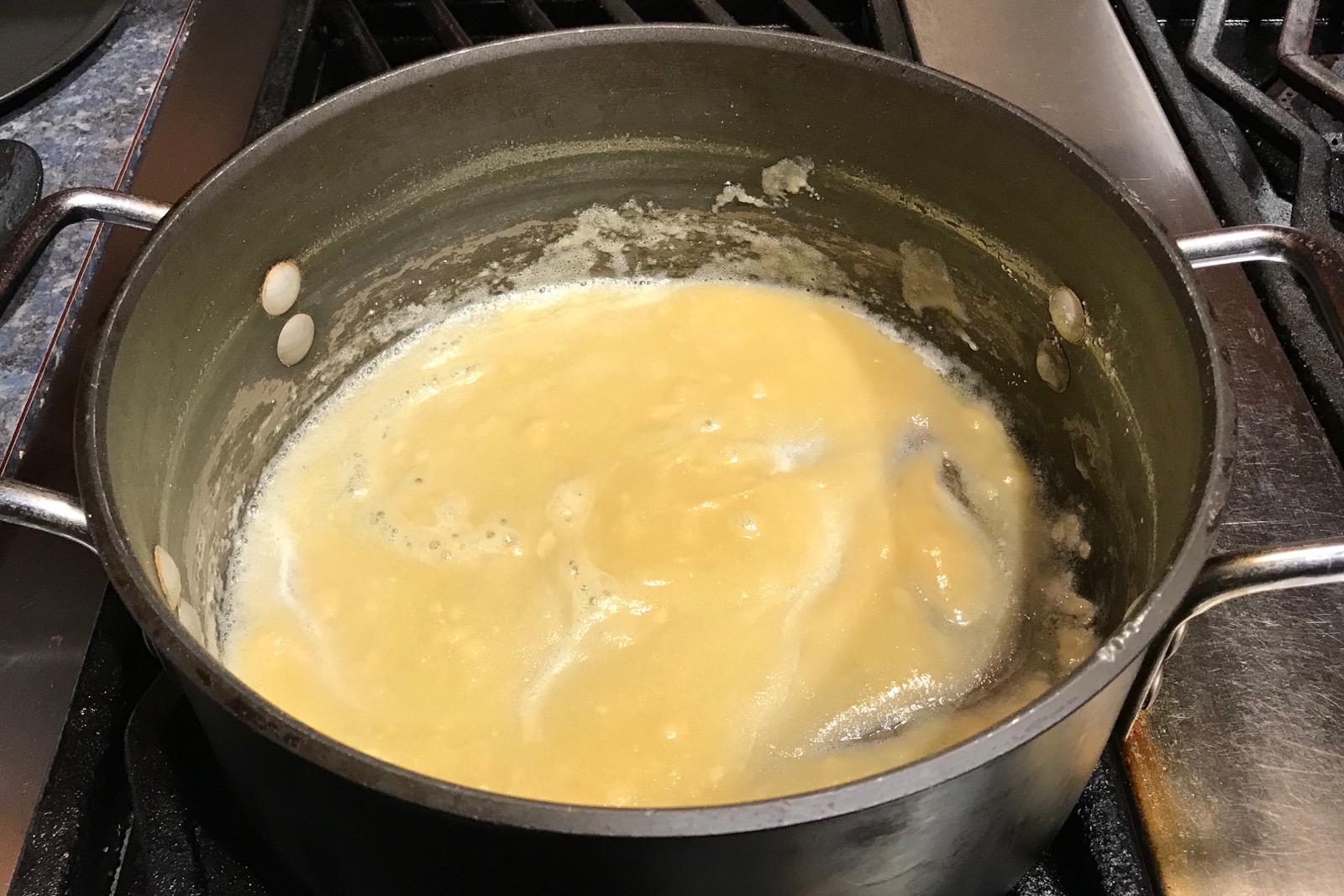 Add the turkey stock and combine. Stir for a several minutes until thickened. It will start out shockingly thin, but it thickens quickly.
I'm used to having soy sauce in my gravy because Mom always made it that way, so I add that too, several ounces.
Cool and refrigerate.
Transfer to two 4 cup Pyrex containers. One is for tomorrow, and one is for the leftovers.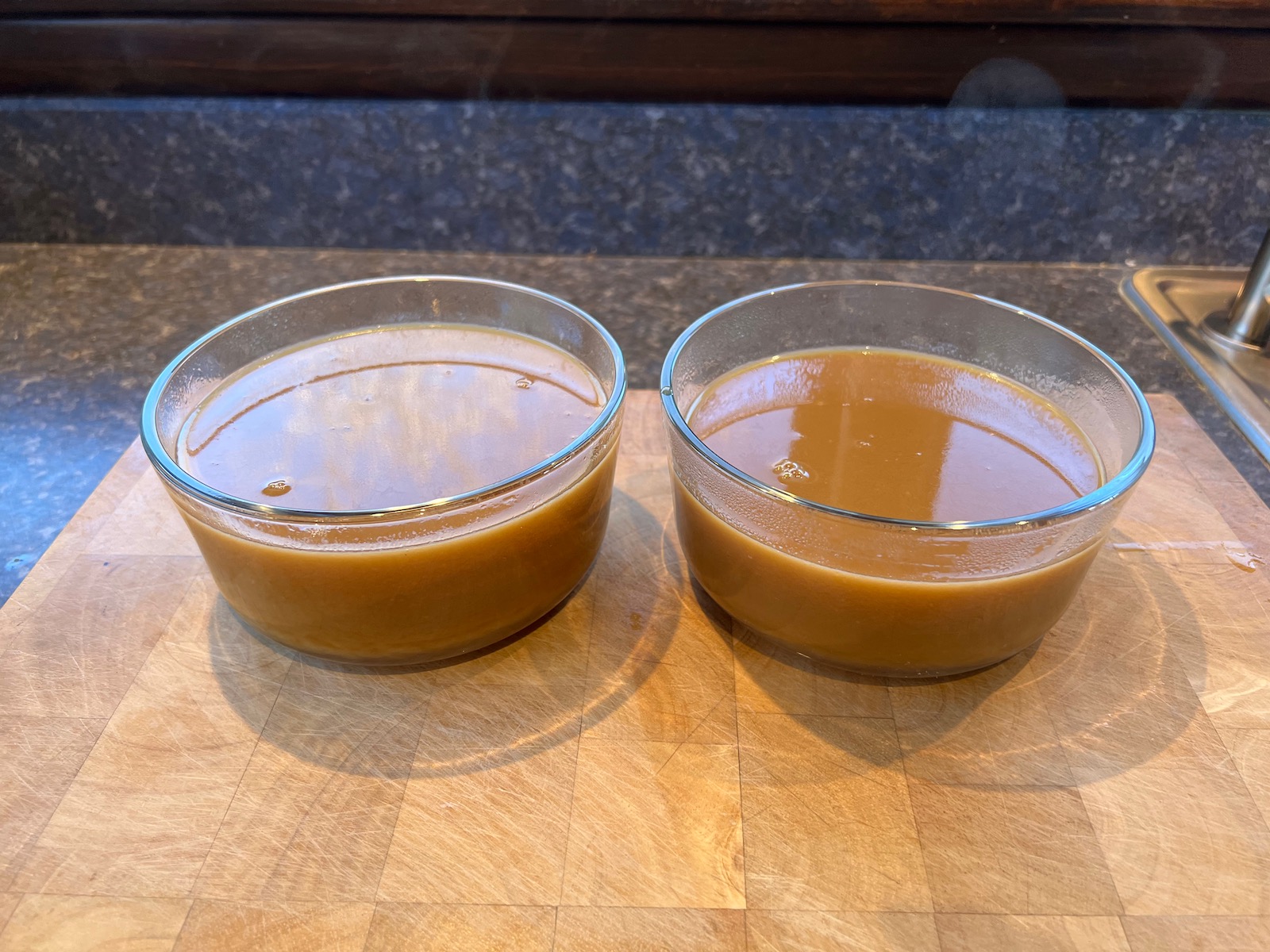 Reheat in a saucepan on the stove.
Rice
Cook 2 cups (dry) of Nishiki Japanese sushi rice. Yes, we have both rice and mashed potatoes.
Transfer to a 7 cup Pyrex bowl with lid.
Reheat in the container in the microwave 2:30 tomorrow, serve in a large (64 oz.) bowl.
Mashed potatoes
I made 3 pounds of mashed potatoes . Peel and dice the potatoes. There are yellow flesh potatoes (like Yukon Gold). I've also used Russet successfully.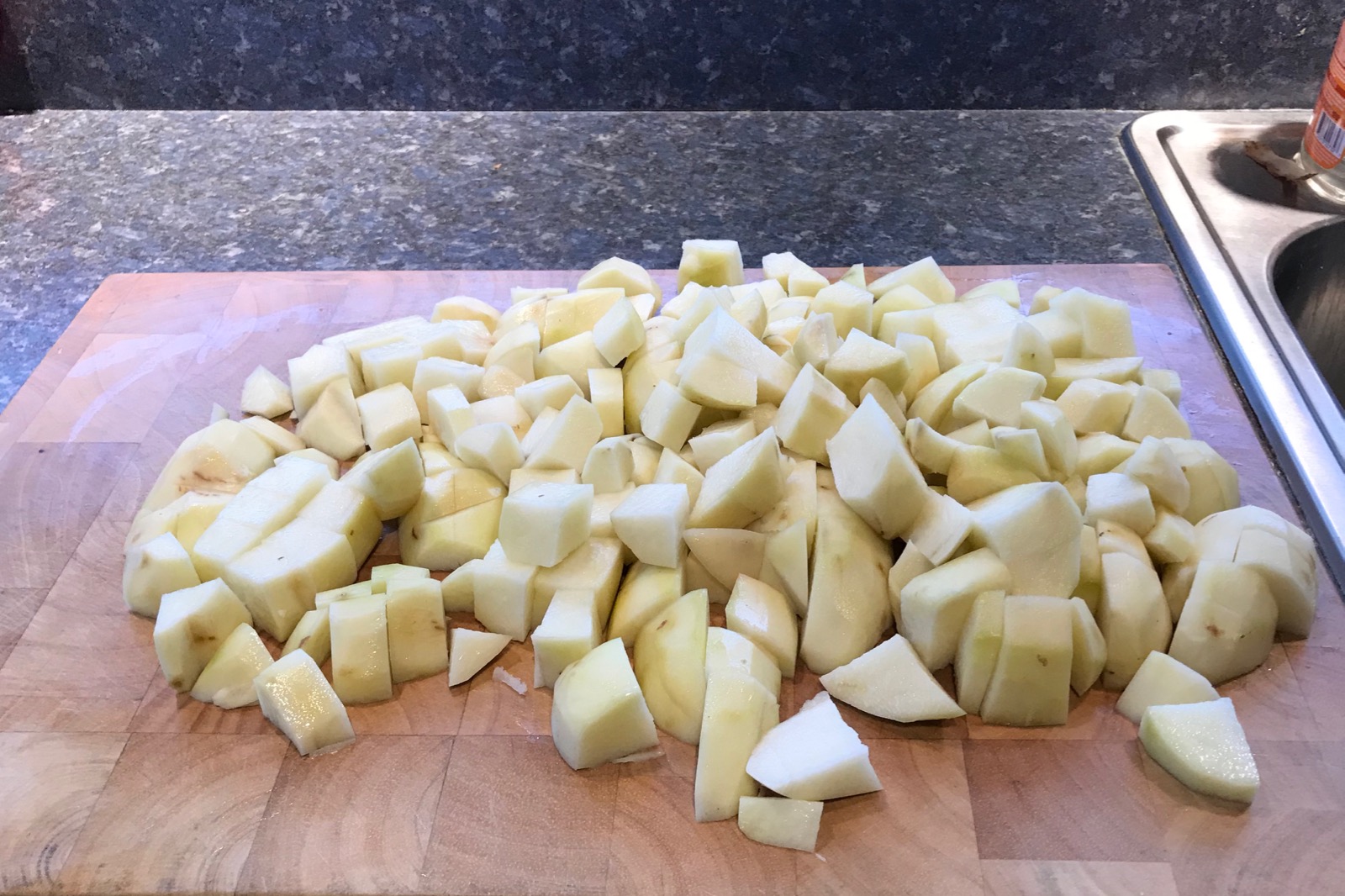 Add to a pot of boiling water and cook for 20 minutes or until soft.
Drain in a colander. I normally use a potato ricer to make mashed potatoes, but I used an electric hand mixer like Mom did. It makes really smooth whipped mashed potatoes, and is easier to clean than my gigantic potato ricer.
Add a stick of butter (4.0 oz.), diced.
Add a few ounces of heavy cream.
Season with salt and freshly ground white pepper.
3 pounds of mashed potatoes just fits in a 7 cup Pyrex container. I didn't take the whole amount to the lake, I left some behind so I didn't have to reheat them twice. The leftovers will be vacuum sealed and frozen for future turkey dinners.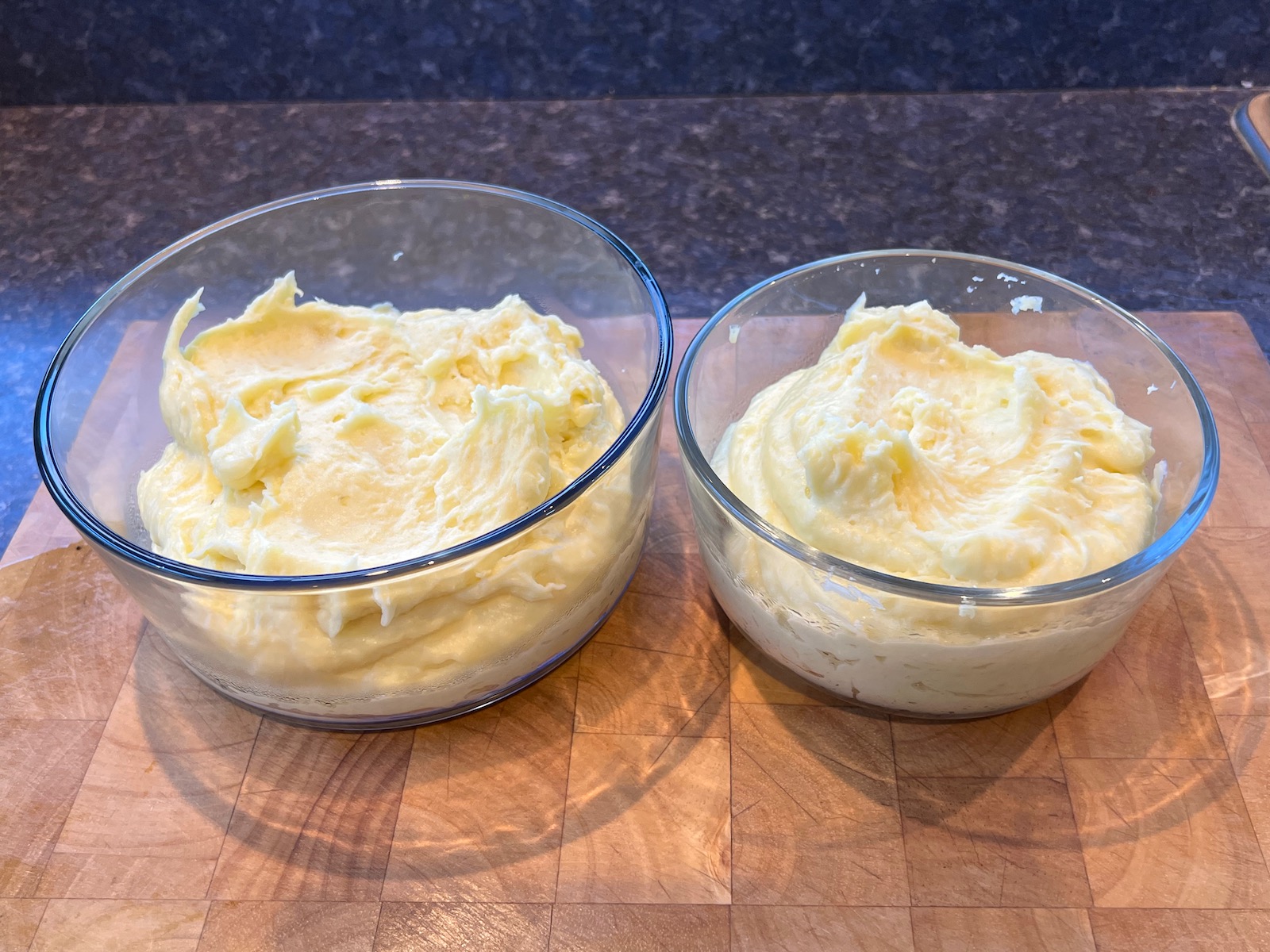 Reheat the potatoes for serving in a crock pot. 1 hour on high. This works the best of the oven, stovetop, and microwave. (Sous vide also works well.)
Serve in a large (64 oz.) bowl.
Green bean casserole (traditional)
Prepped a traditional green bean casserole, based on this recipe. This is a half recipe.
1 can of green beans (14.4 oz.), drained and rinsed 1/2 can of condensed cream of mushroom soup (10.5 oz. can), not diluted 1/3 cup shredded Mexican cheese (I used Sargento 4-cheese Mexican)
1 cup French's fried onions (reserve until almost cooked)
Combine the ingredients except the fried onions in 1 quart Pyrex bowl with lid.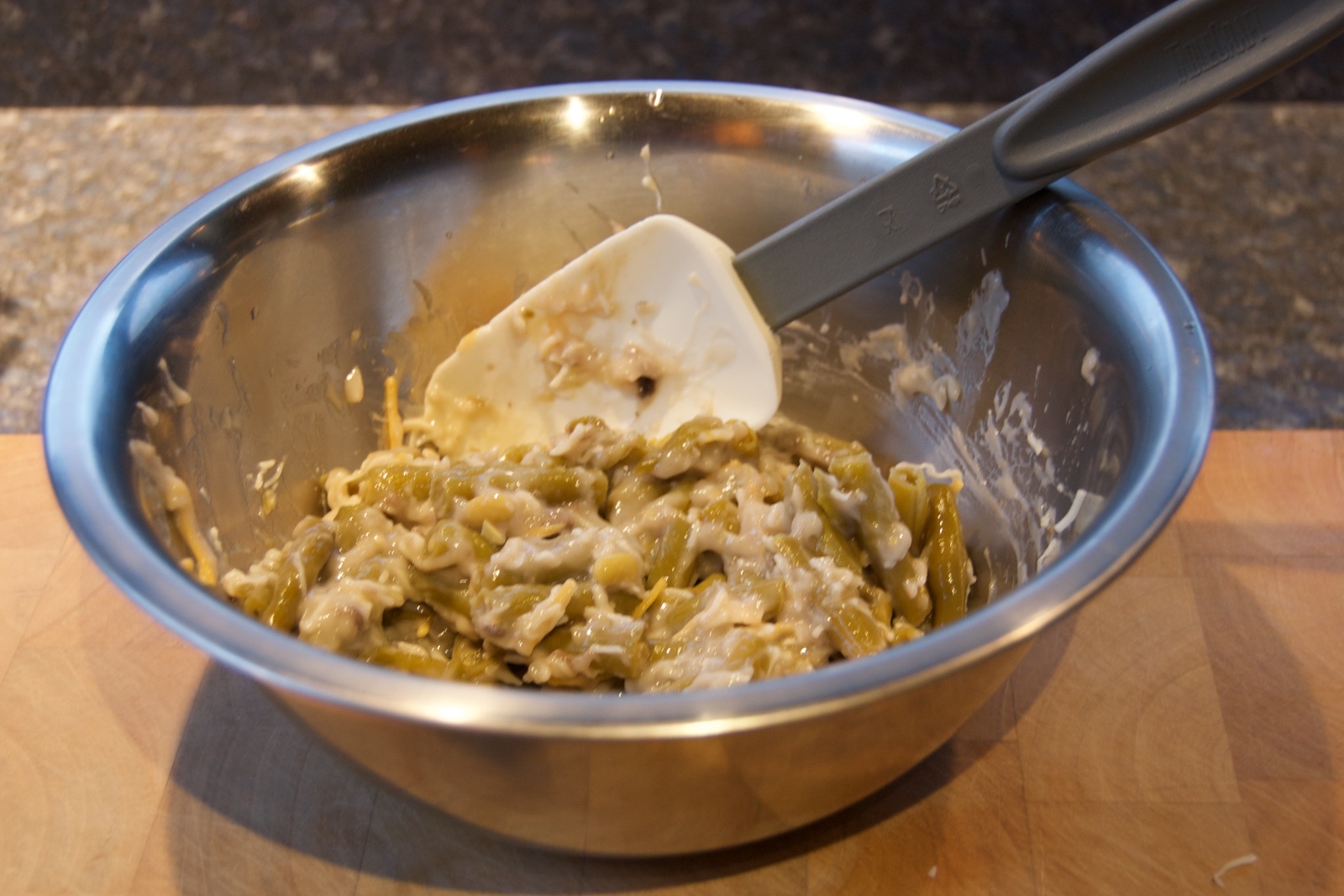 Bake for 1 hour at 325°F, uncovered, adding the fried onions during the last 10 minutes of cooking.
Cold balsamic green been salad
This is a new dish, loosely based on this one .
1 1/2 cups fresh green beans, tipped, tailed, and cut into 1 to 1 1/2" pieces. Blanched for 3:30 then shock in cold water.
1 clove minced fresh garlic
Olive oil - a couple tablespoons
Juice of 1/2 lemon
balsamic vinegar - a couple tbsp.
salt
freshly ground black pepper
red onion, thinly sliced to taste
grape or tomatoes, 6-10, halved
crumbled feta cheese (1 oz. by weight)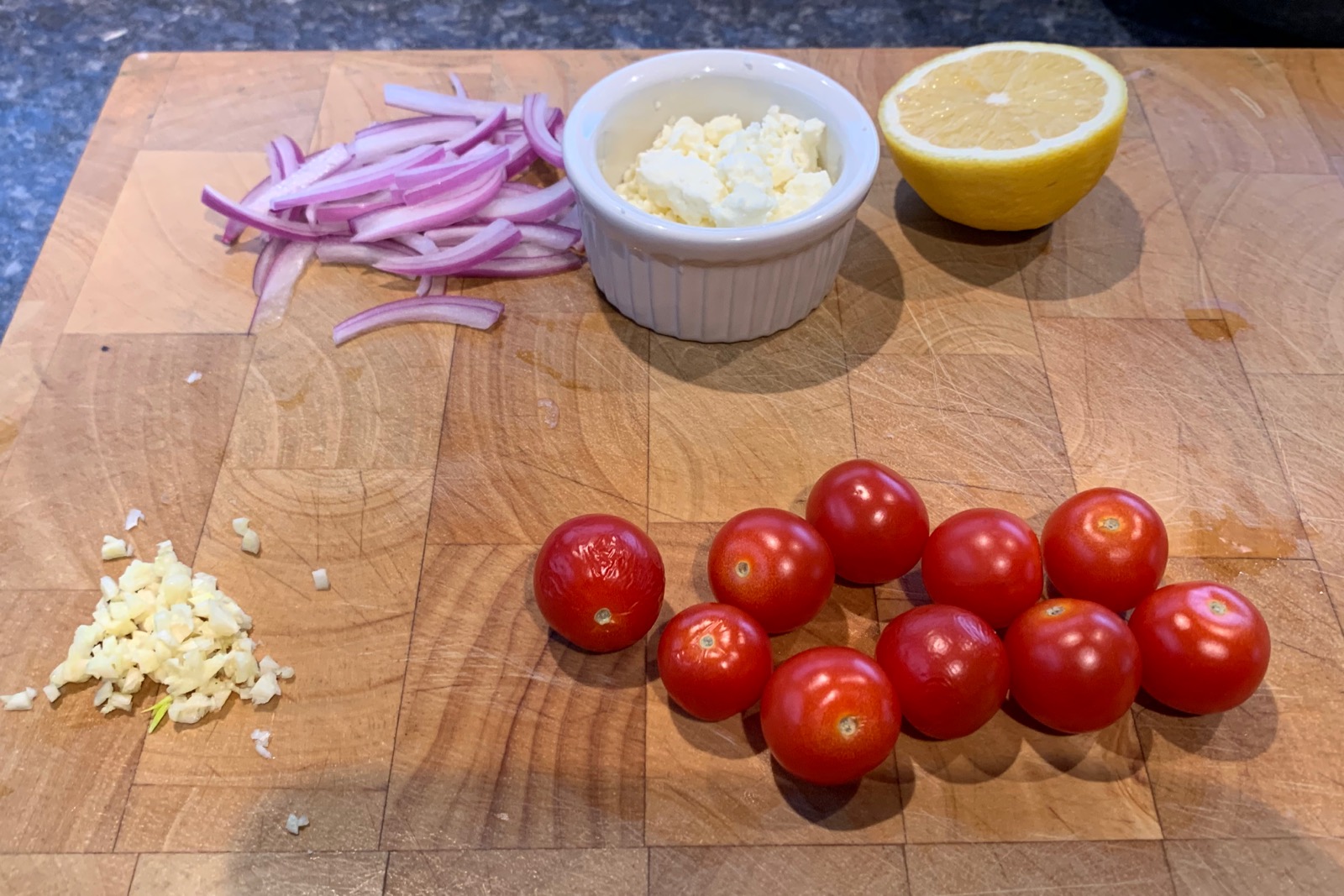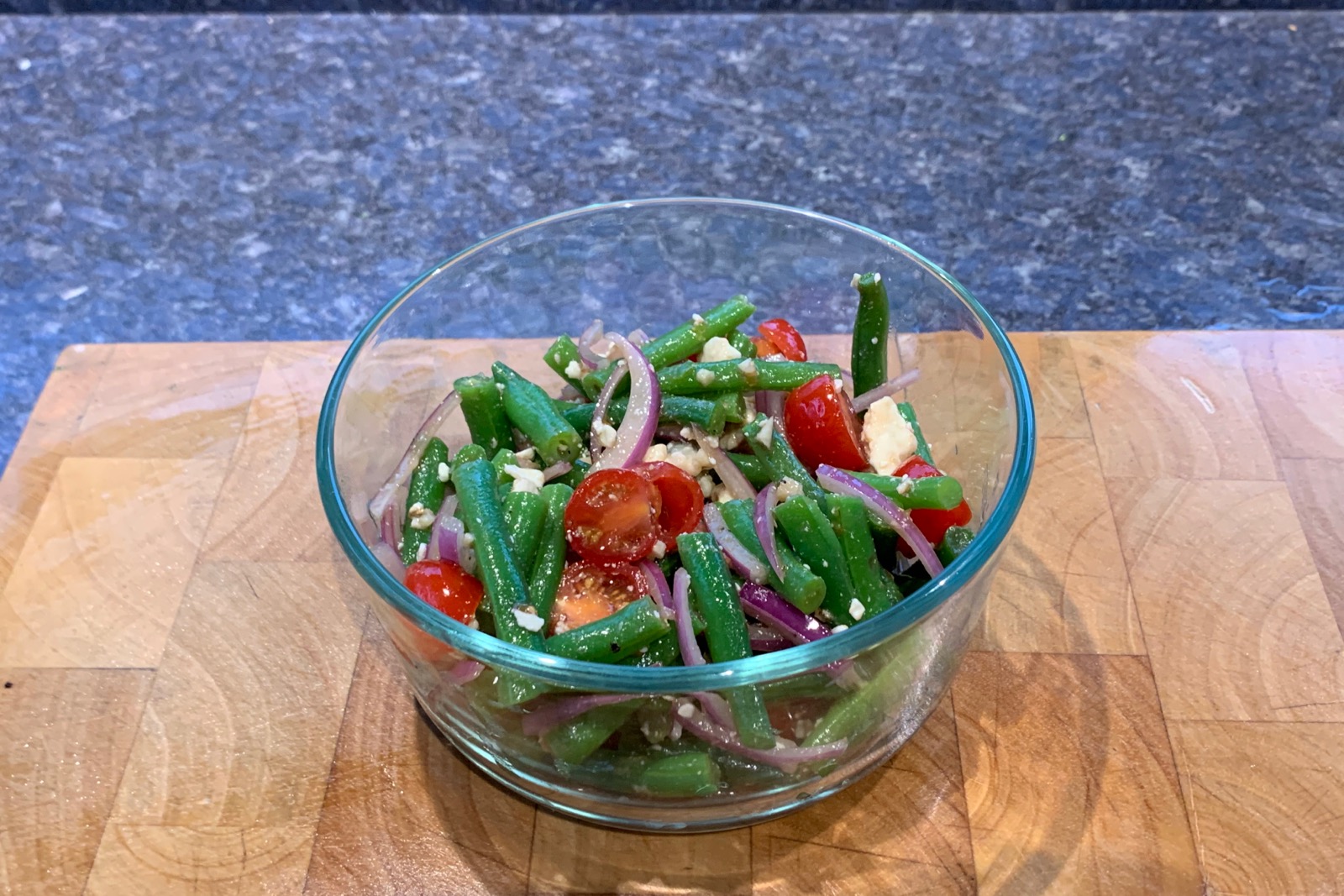 I used a plastic takeout container in 2021: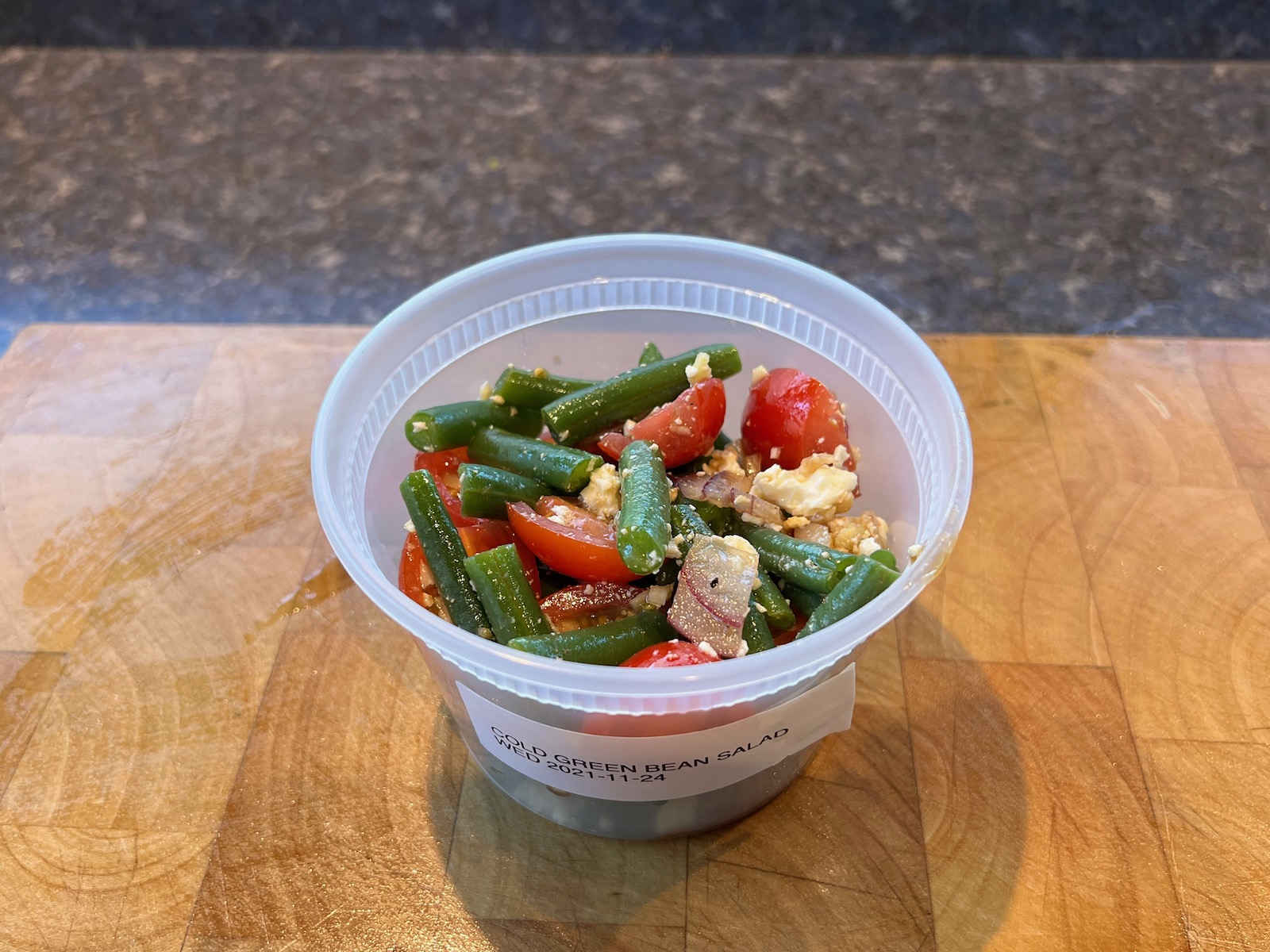 Spicy green beans
I had an empty space in the 4-compartment server and some extra fresh green beans, so I also made spicy green beans.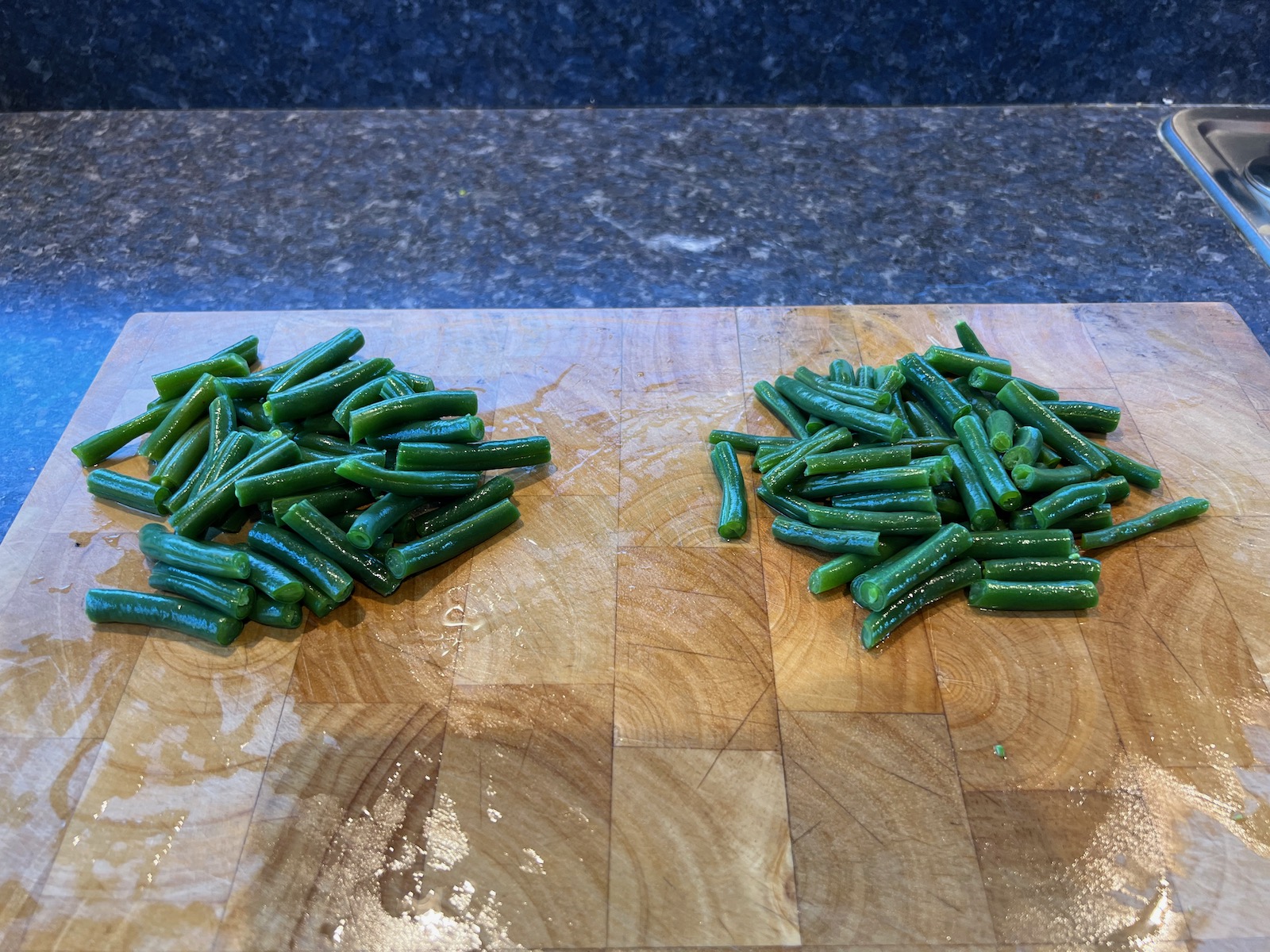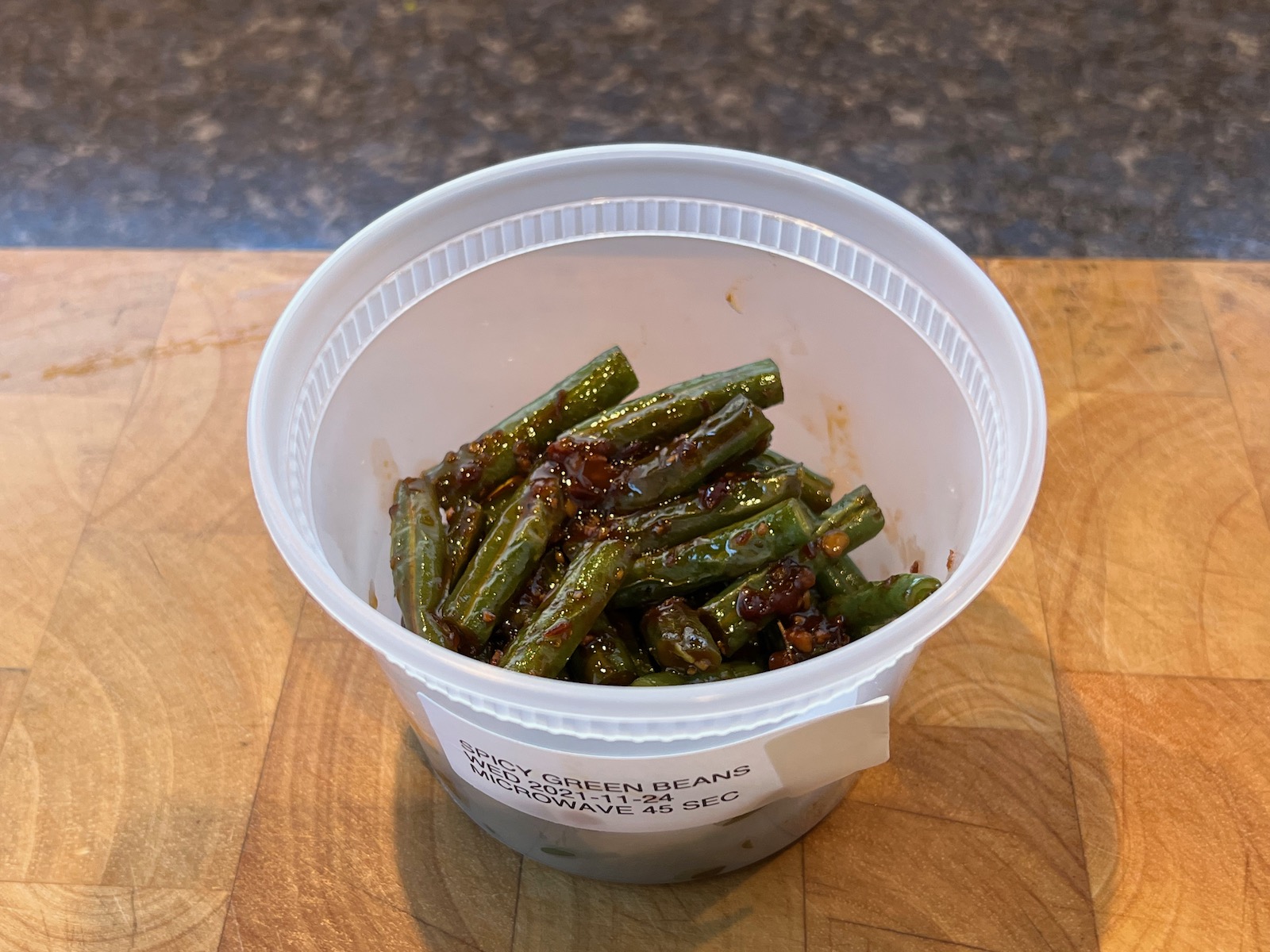 Dressing
This year I used Pepperidge Farm classic stuffing mix instead of cubed bread, but added several things. It's really more like the package directions than the recipe I made in previous years, though actually probably the closest to Mom's recipe (though she did not add sausage).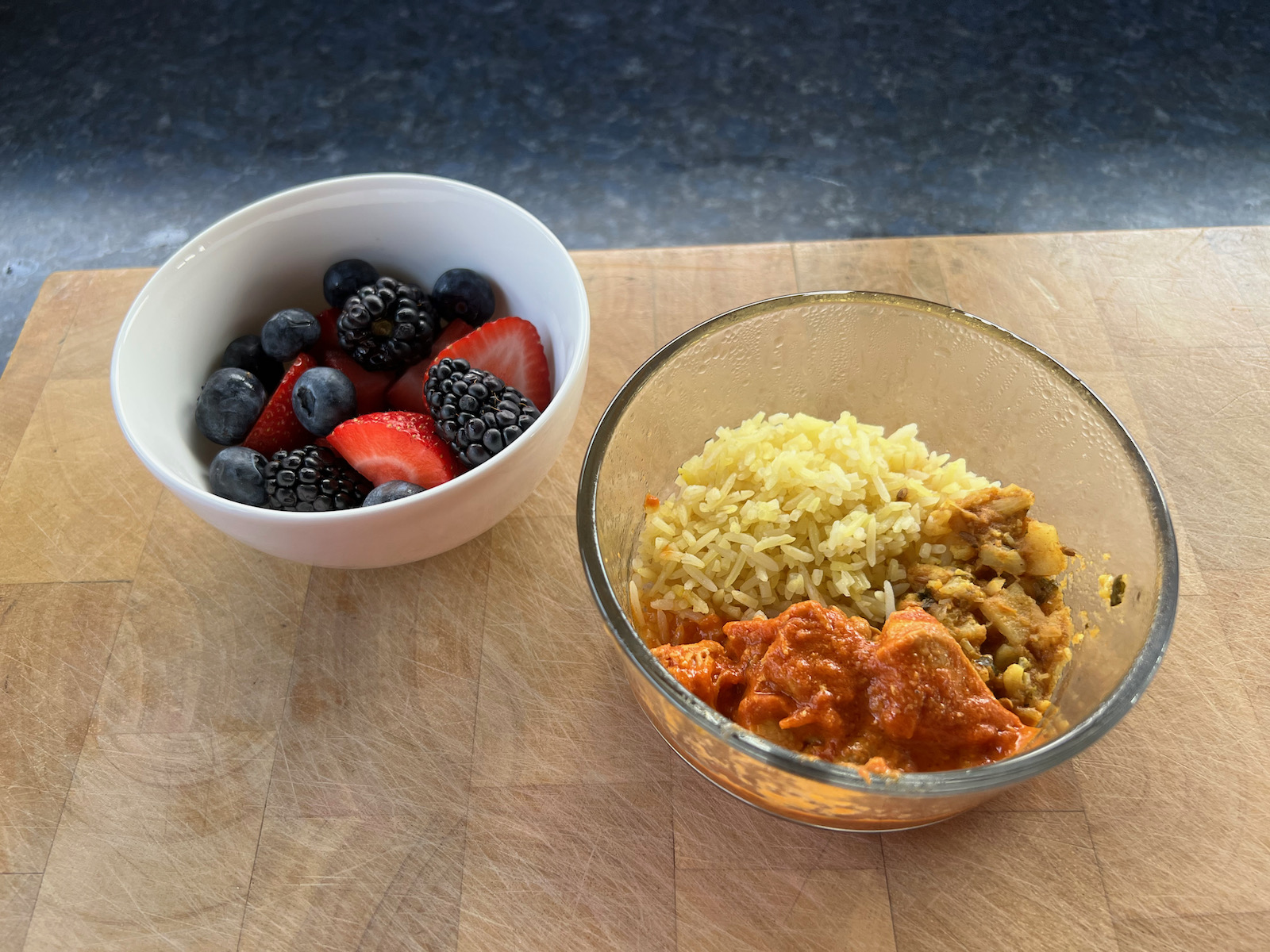 3.5 oz. loose spicy breakfast sausage
2 tbsp. butter
1/2 cup diced onion (1/2 small onion)
1/2 cup diced celery
2 cups chicken stock. This is twice the package amount, but this is more like Mom's.
6 oz. Pepperidge Farm classic stuffing mix (1/2 bag)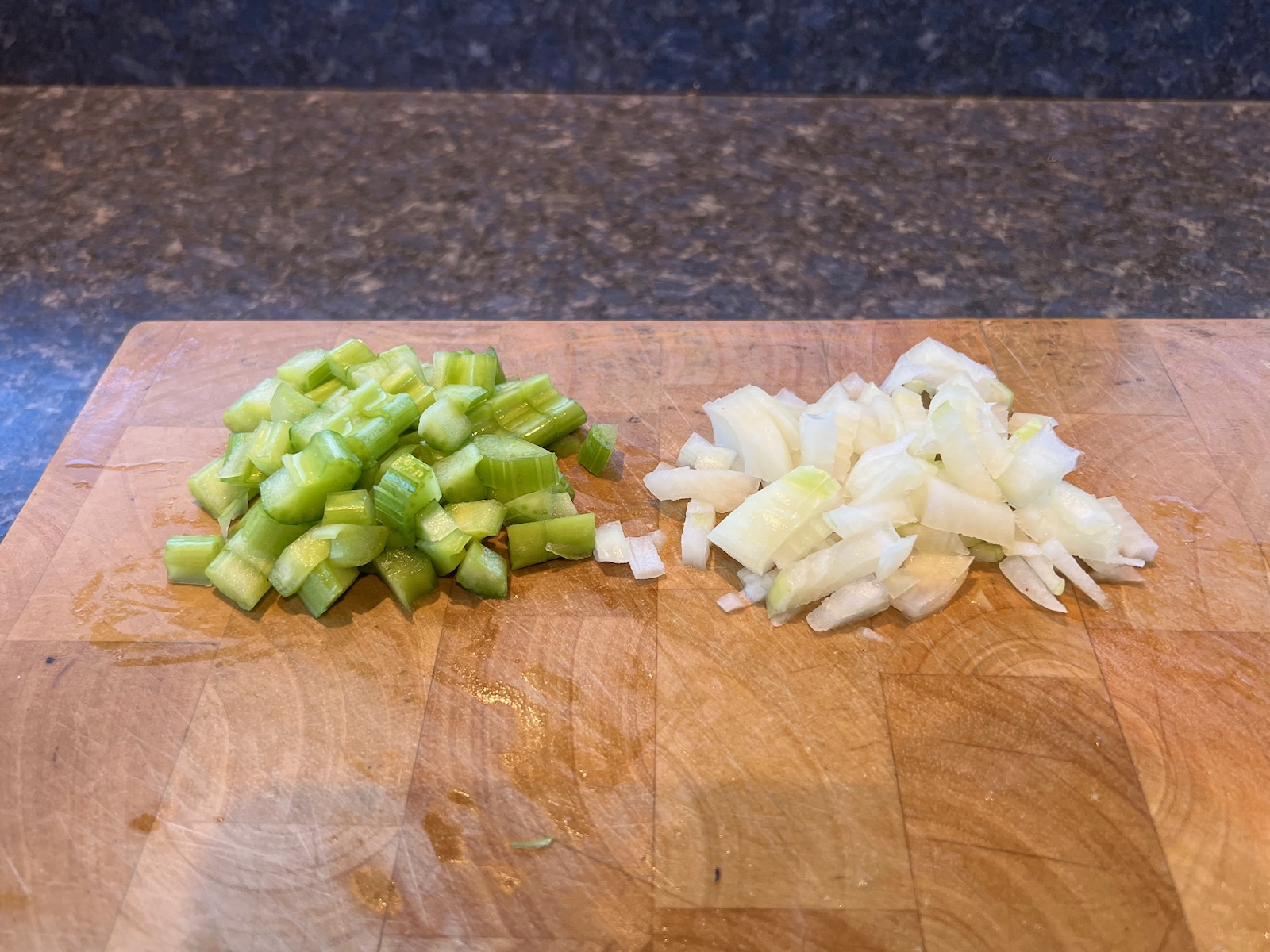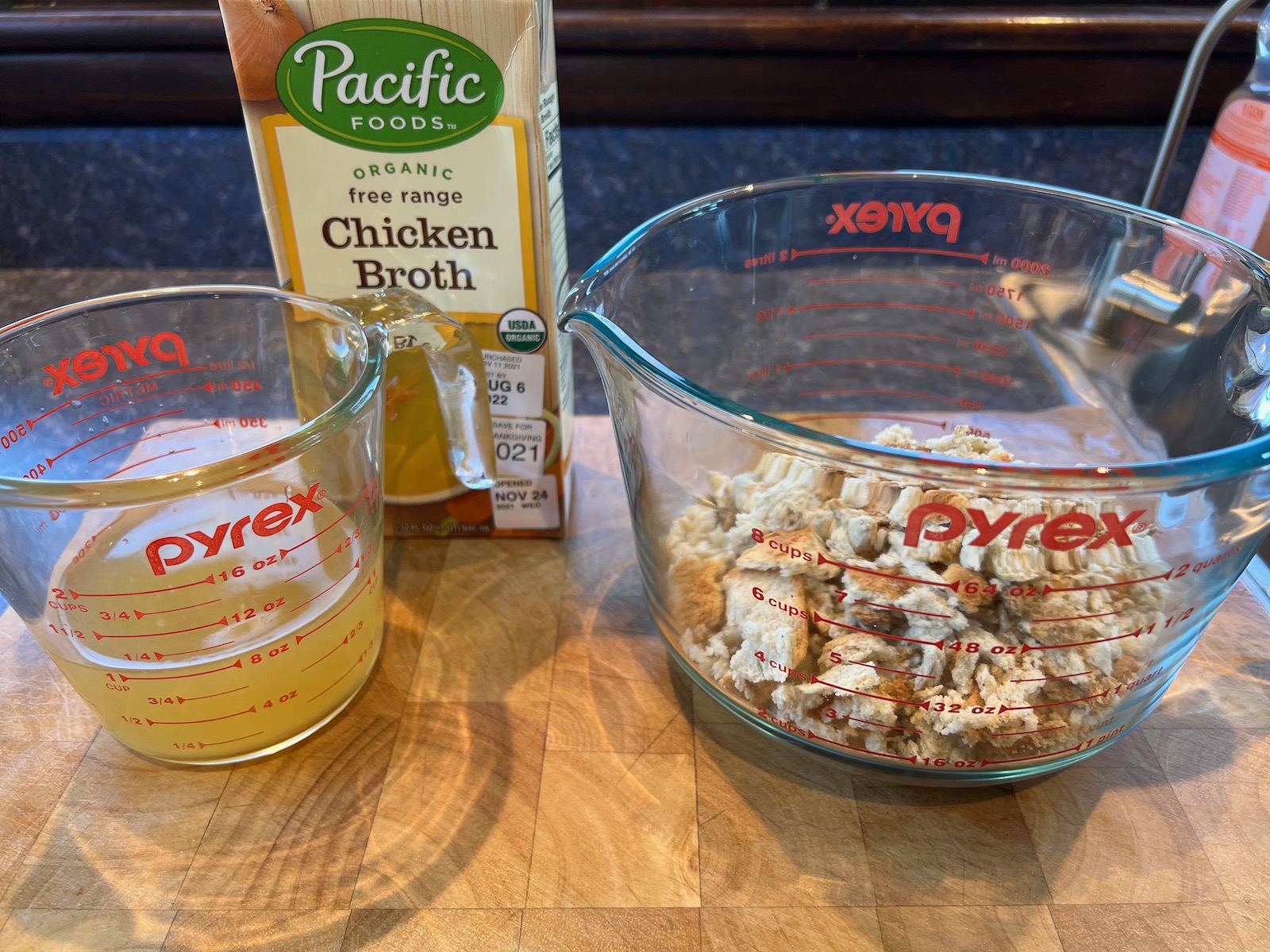 Cook the sausage in a sauté pan
Add the butter, onions, and celery and cook until slightly softened
Add the chicken stock and bring to a boil
Add the stuffing mix and transfer to a 4 cup Pyrex bowl with lid
Refrigerate until tomorrow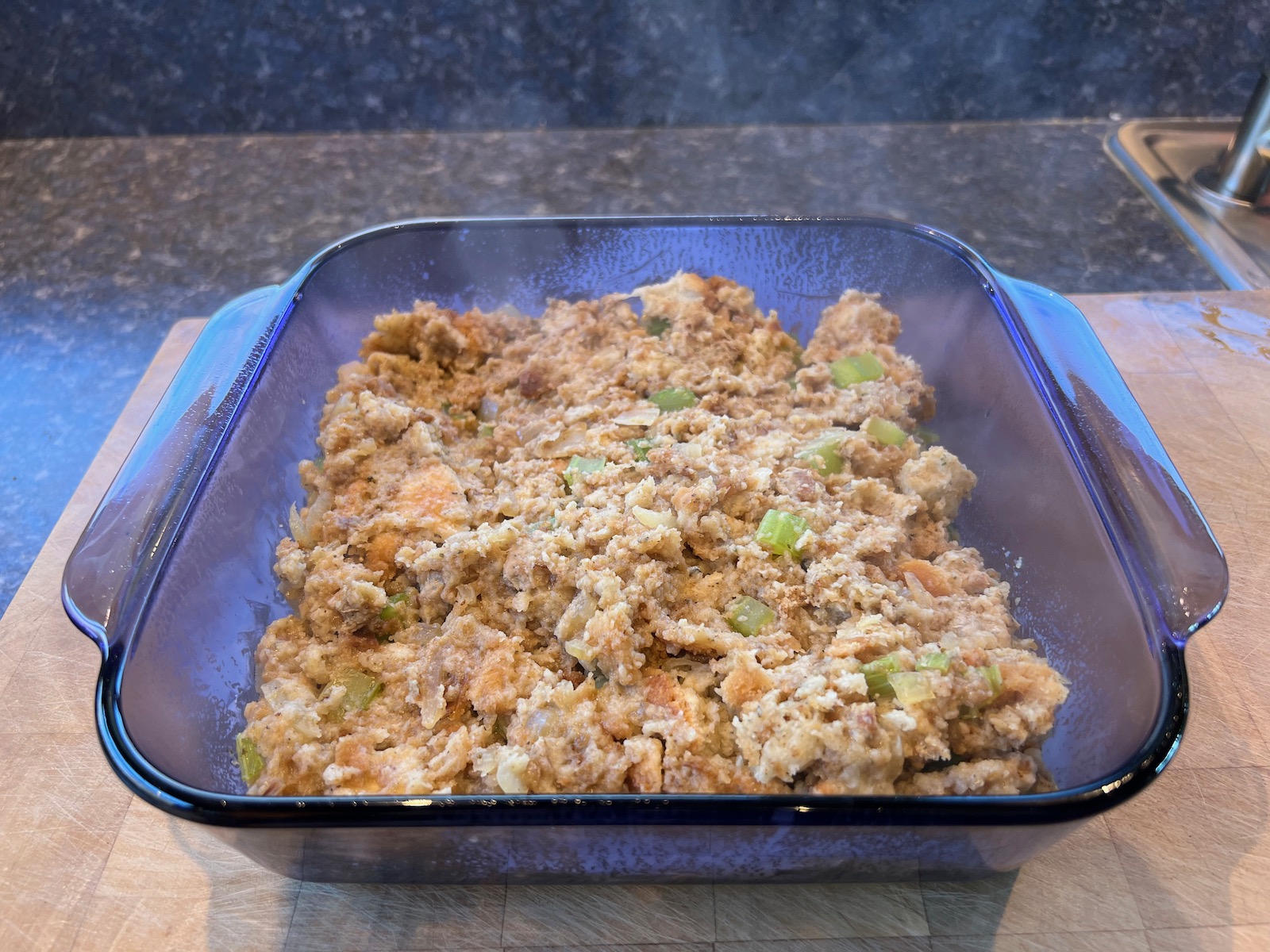 Bake 45 minutes uncovered at 325°F before serving.
Sweet potatoes
I made Mom's recipe for sweet potatoes. I used two very large sweet potatoes, peeled and cut into spears. I test fit them in the 9x13 Pyrex baking dish.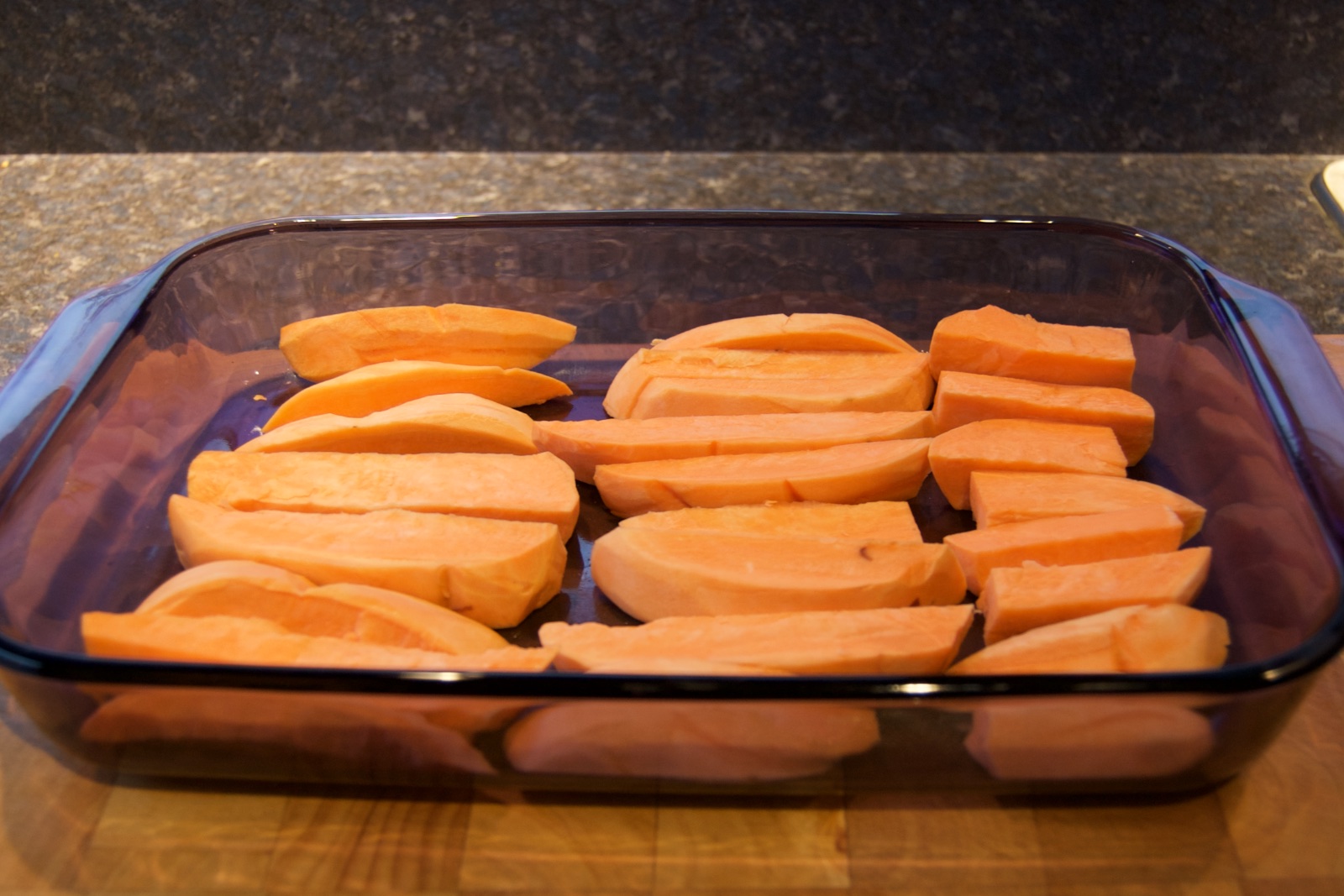 The cut sweet potatoes keep better if you store them in water, or vacuum seal them, as I did here.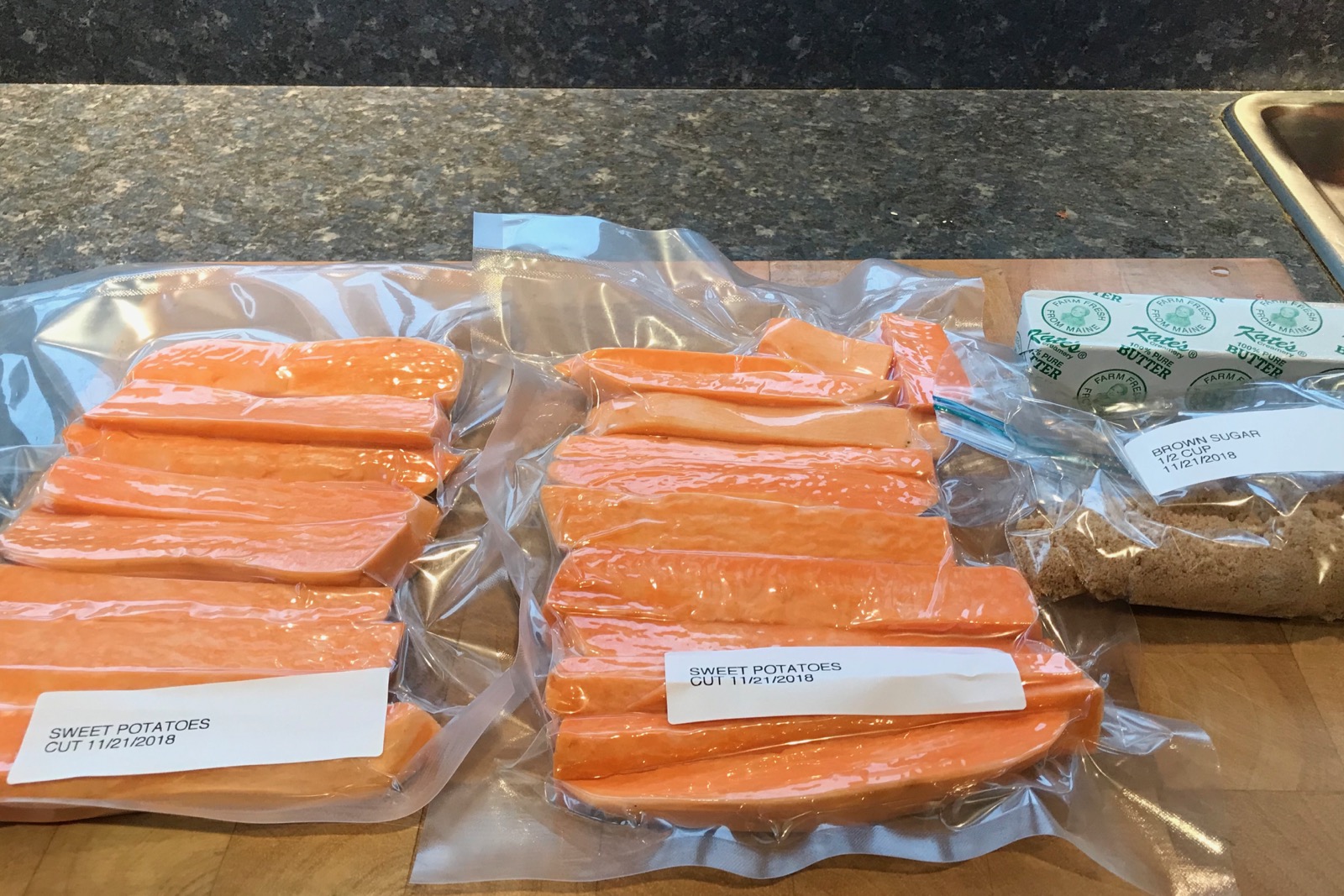 Vacuum sealed bags of sweet potato, 1 stick of butter, and 1/2 cup light brown sugar, ready for use tomorrow.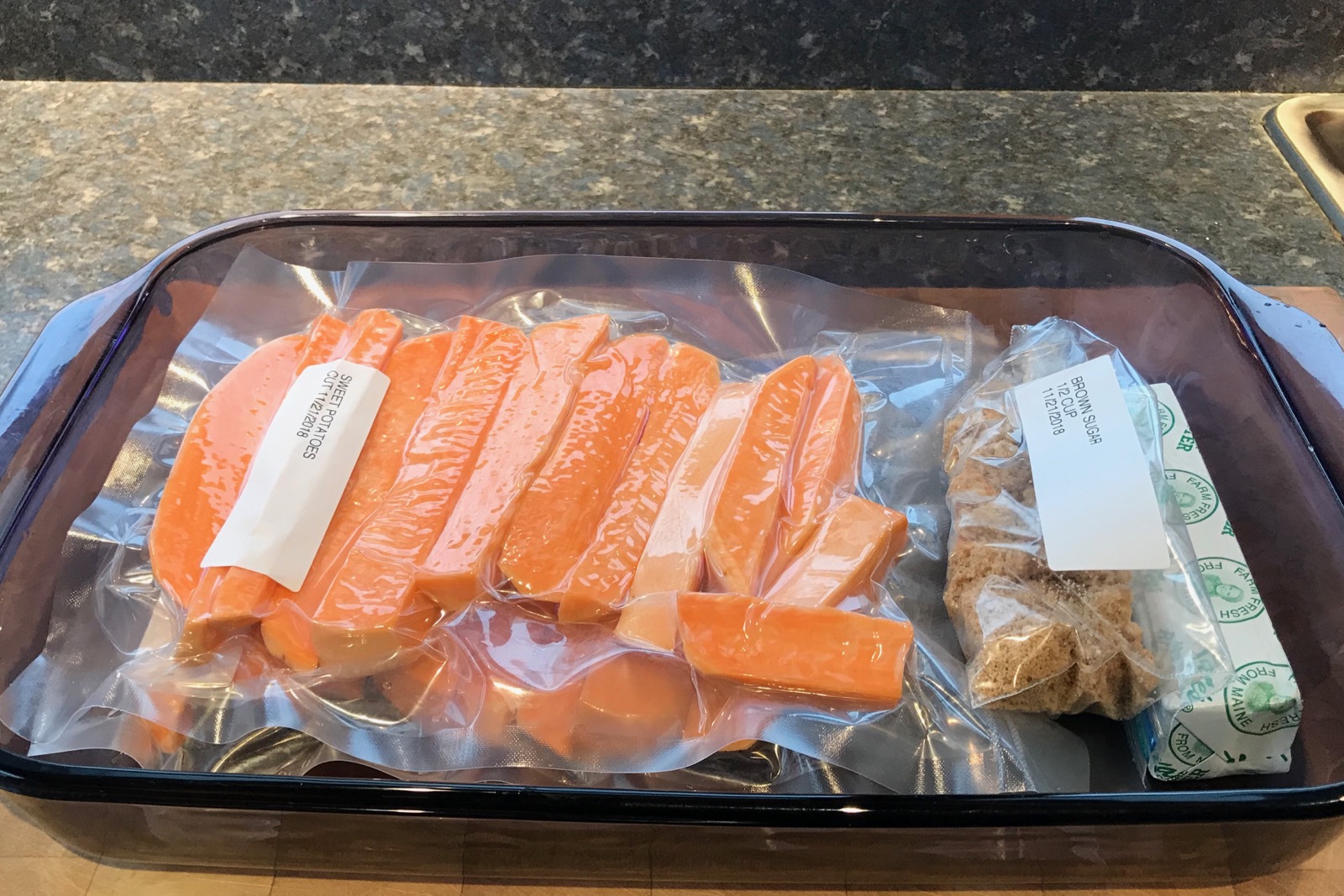 In 2021, I made a slightly smaller serving that fits in a 9x9 baking dish. Here are the ingredients packed and ready to go.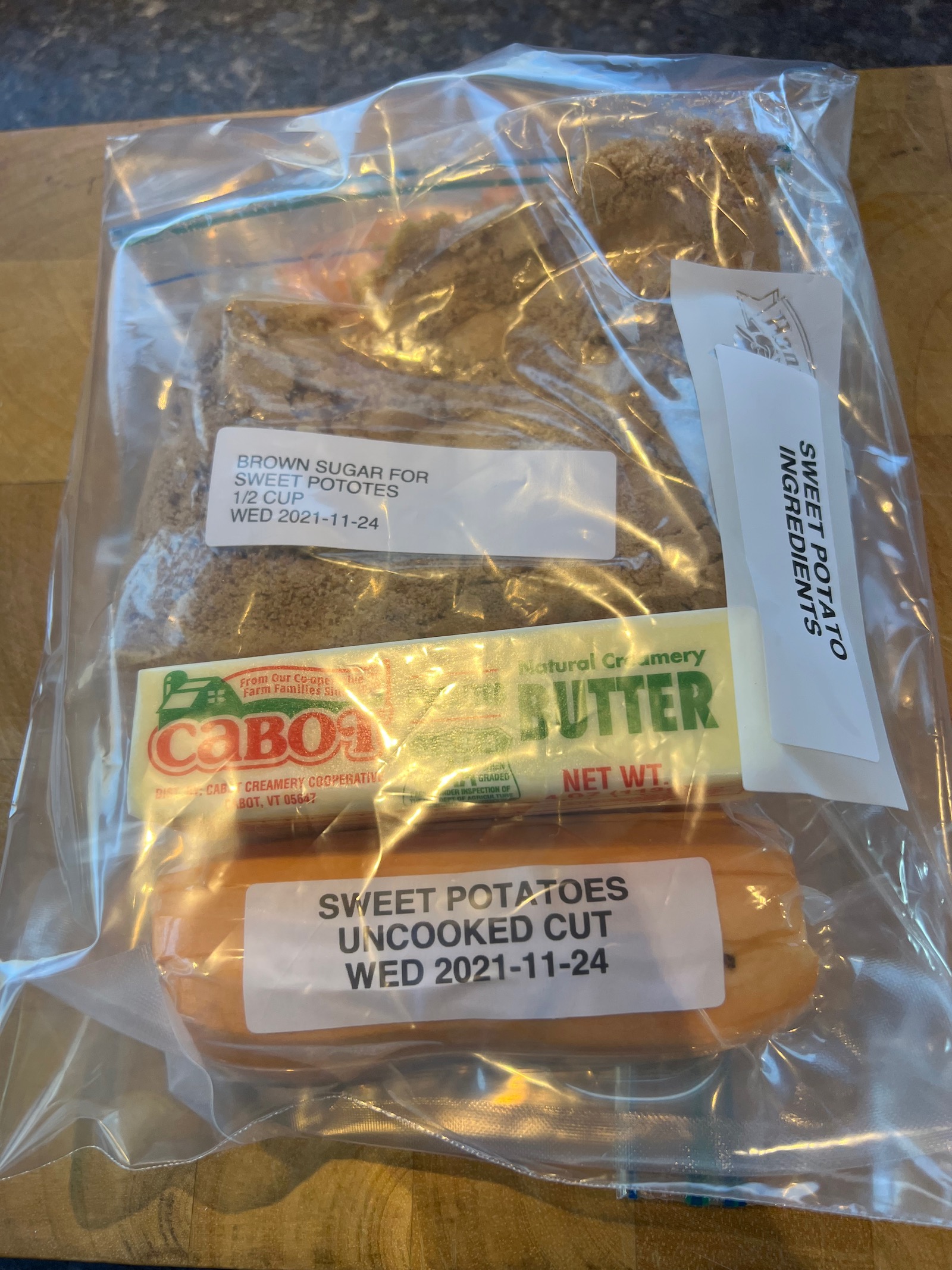 Final preparation is to dice the butter and scatter around the sweet potatoes. Top with brown sugar. Bake uncovered for 1 hour at 325°F.
Sweet and spicy meatballs
One 18 oz. package of pre-cooked mini-meatballs (1/2 oz each, 36 count). And the sauce of Polaner All Fruit Concord Grape (10 oz. jar) and Heinz Chili Sauce (12 oz. jar). 0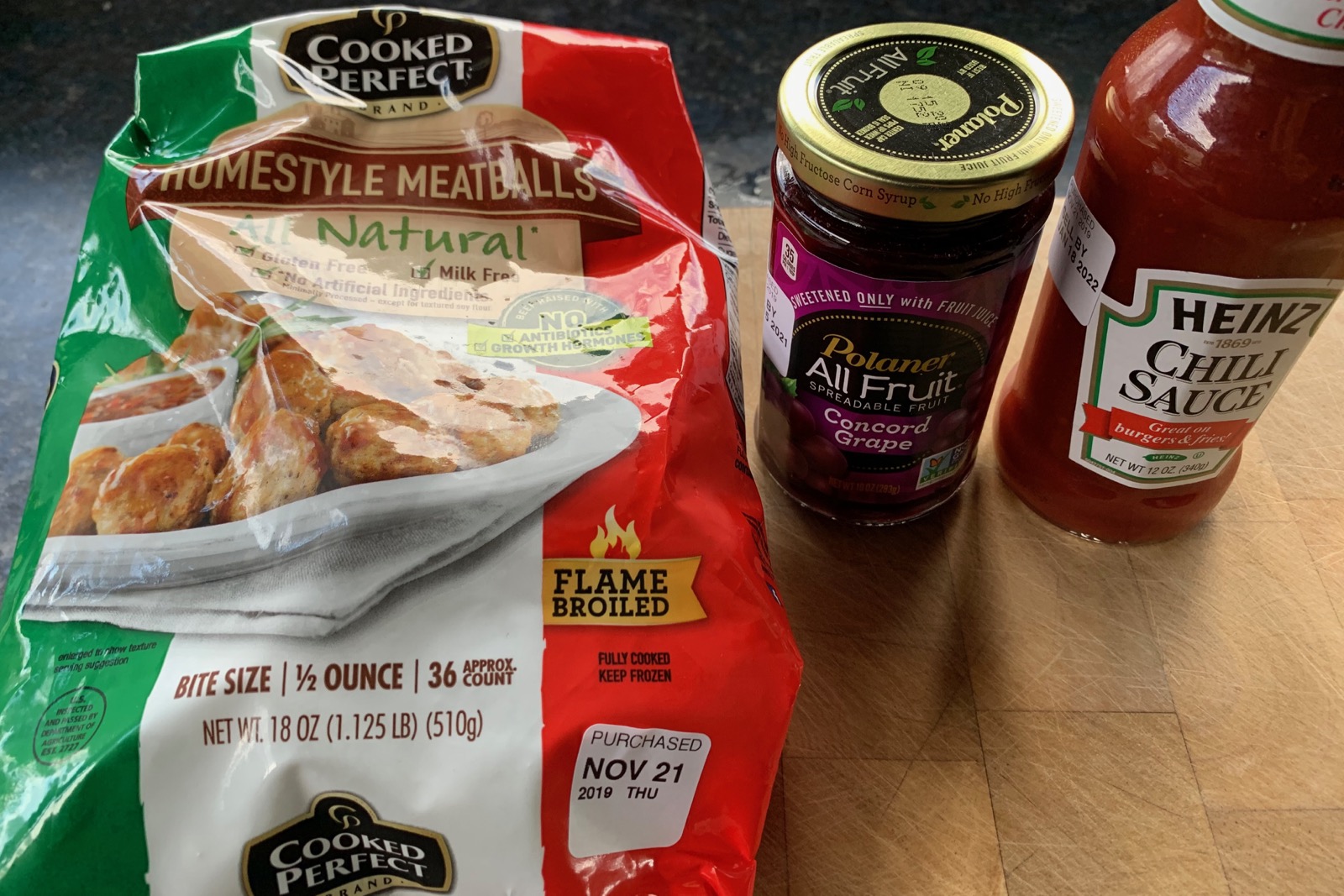 Vacuum sealed and refrigerated, ready to cook tomorrow in the crockpot.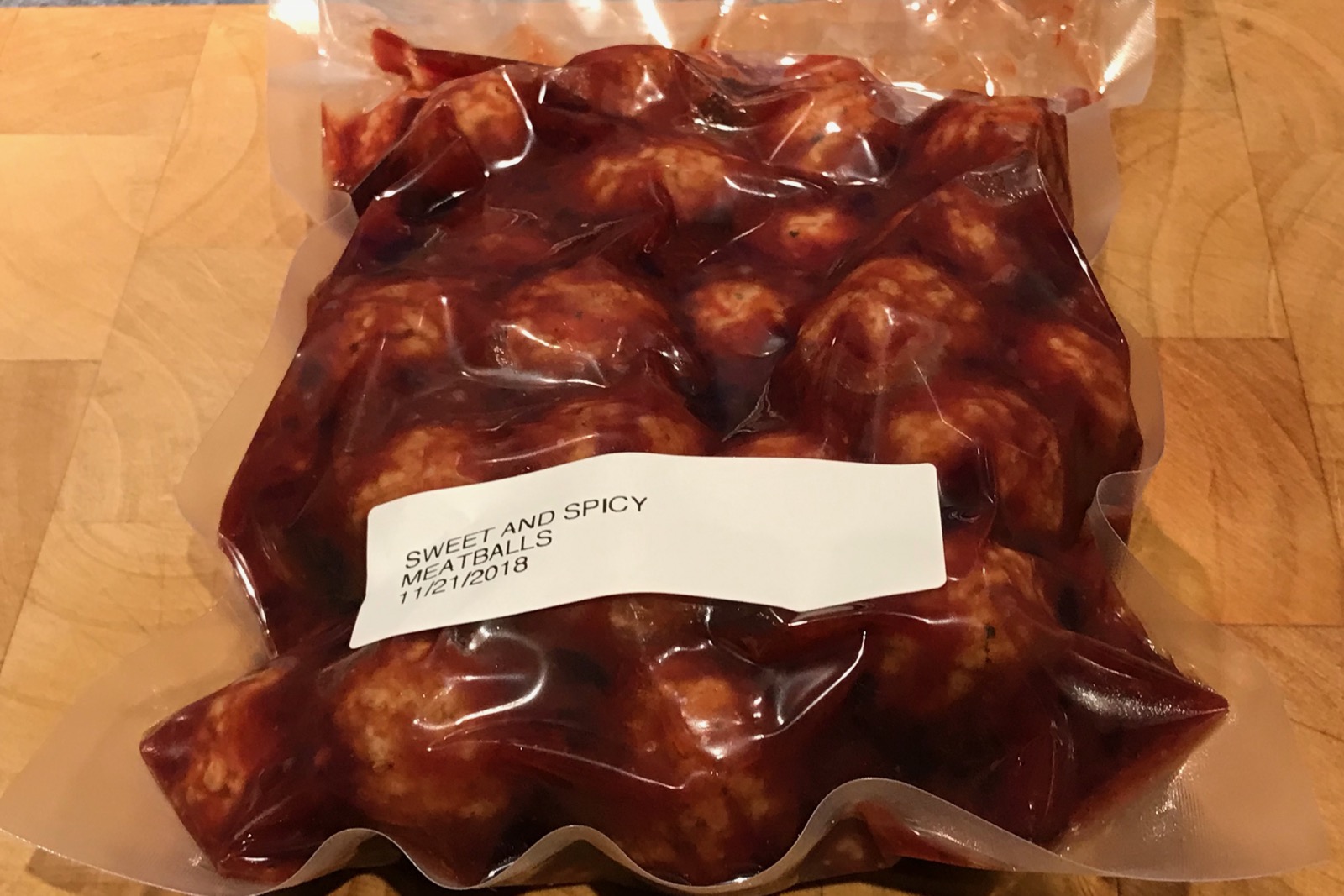 Broccoli
Cut up a small head of broccoli. In the past I've cut it the day of and boiled it at the lake. This time I cooked it ahead, drained and shocked it in cold water, so I don't need to cook it there. Stored in a 2 cup Pyrex dish that I'll use to warm it in the microwave before serving in the 4-compartment serving tray.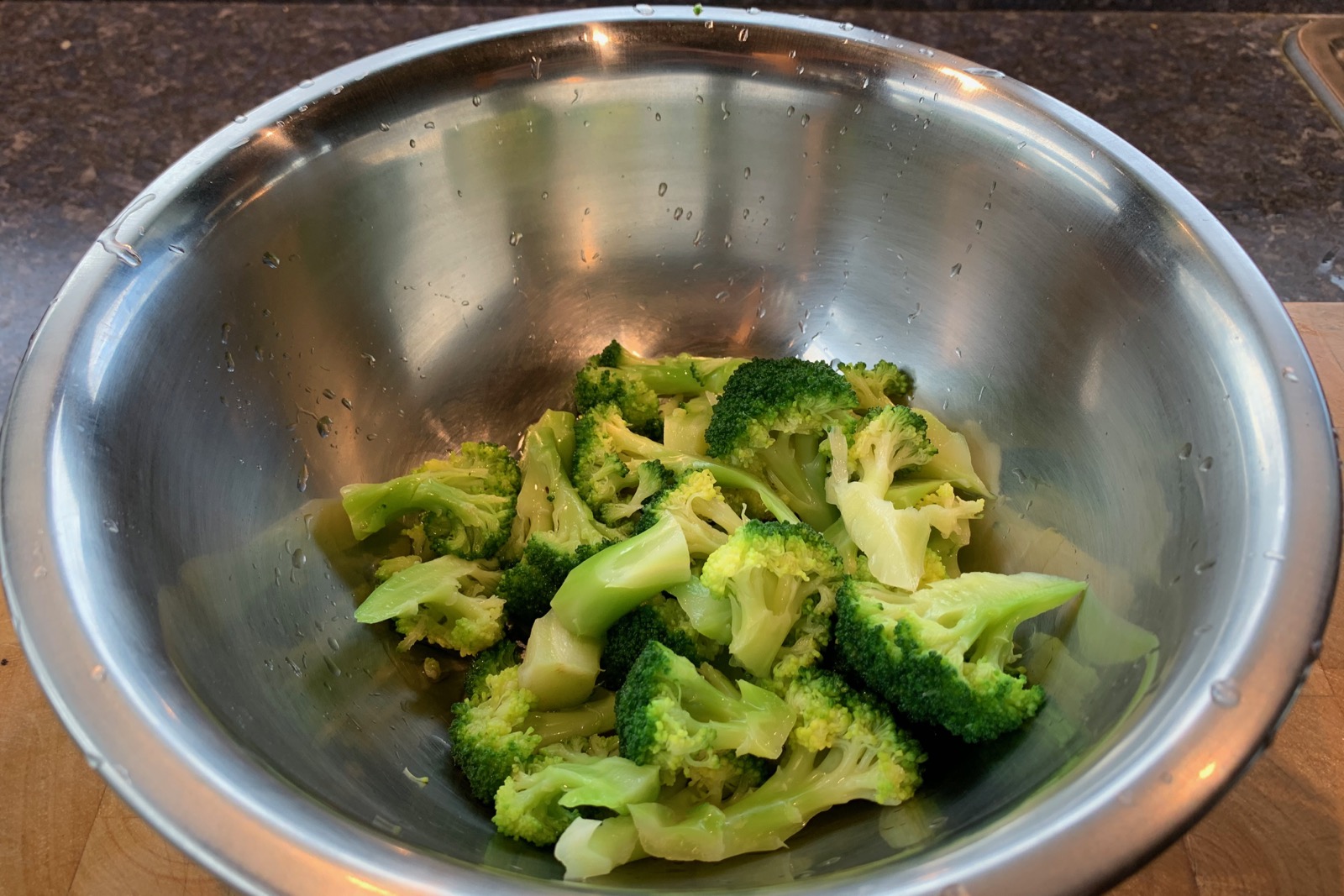 Dishes
Dishes, serving bowls, and utensils staged and ready to pack up tomorrow.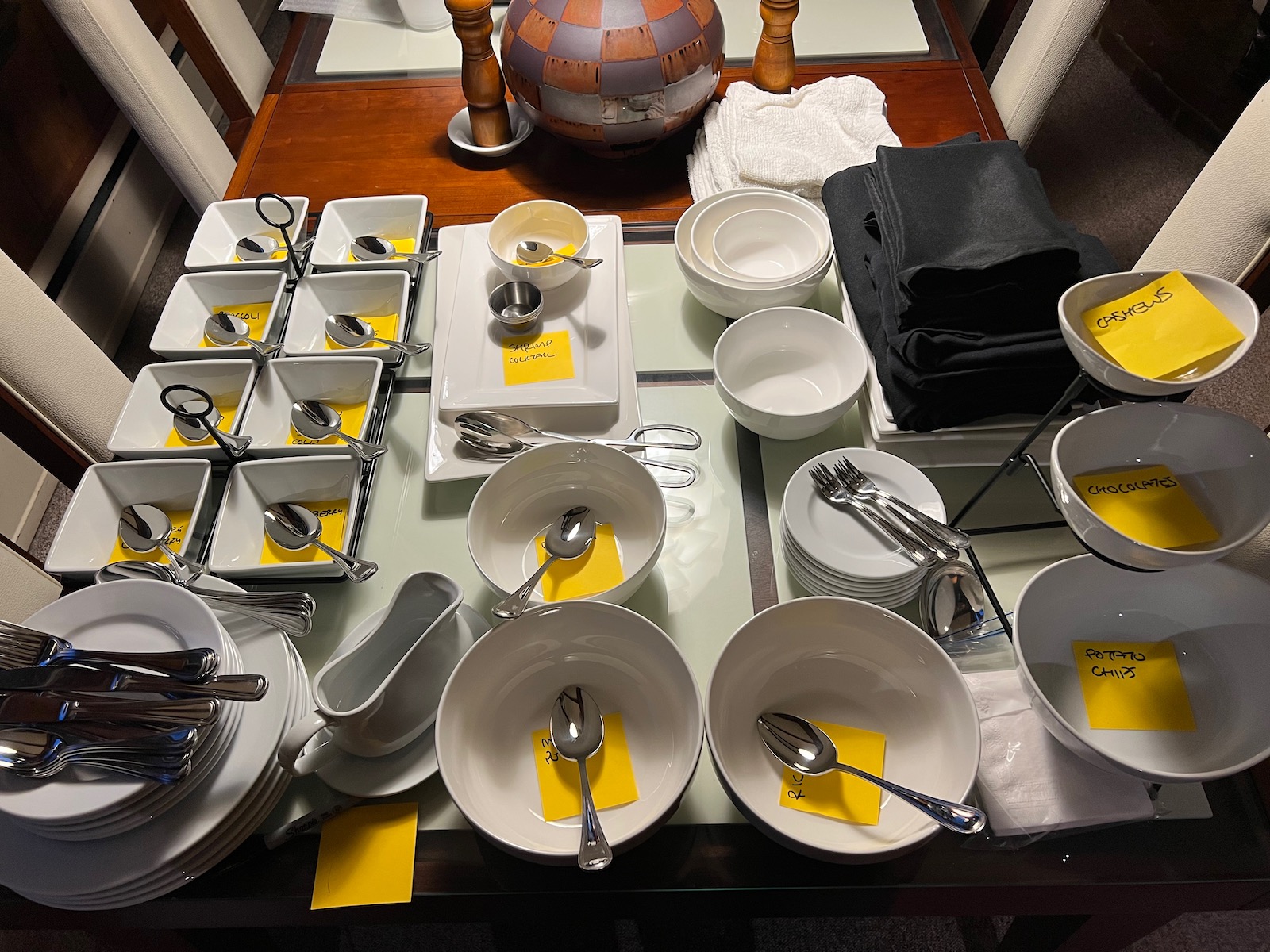 Turkey Prep
The turkey, insides removed, drained and seasoned with salt, freshly ground black pepper, garlic powder, and rubbed sage. It will sit uncovered in the refrigerator until ready to cook tomorrow morning at 11:15 AM. (This is based on the Michael Symon technique for cooking turkeys.)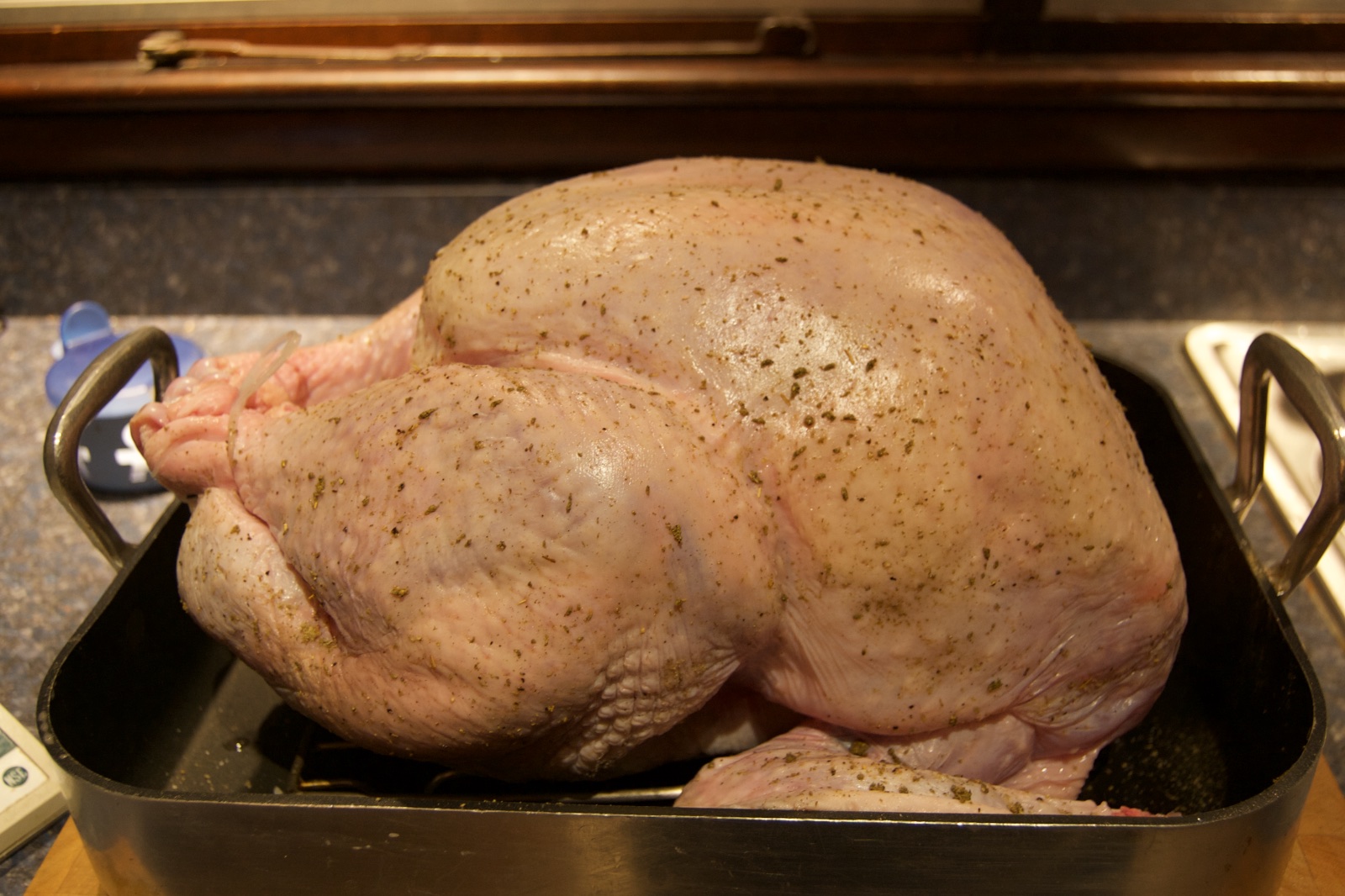 The neck, gizzards, and the other random stuff stored inside. Also the wing tips. Vacuum sealed and refrigerated until I make soup.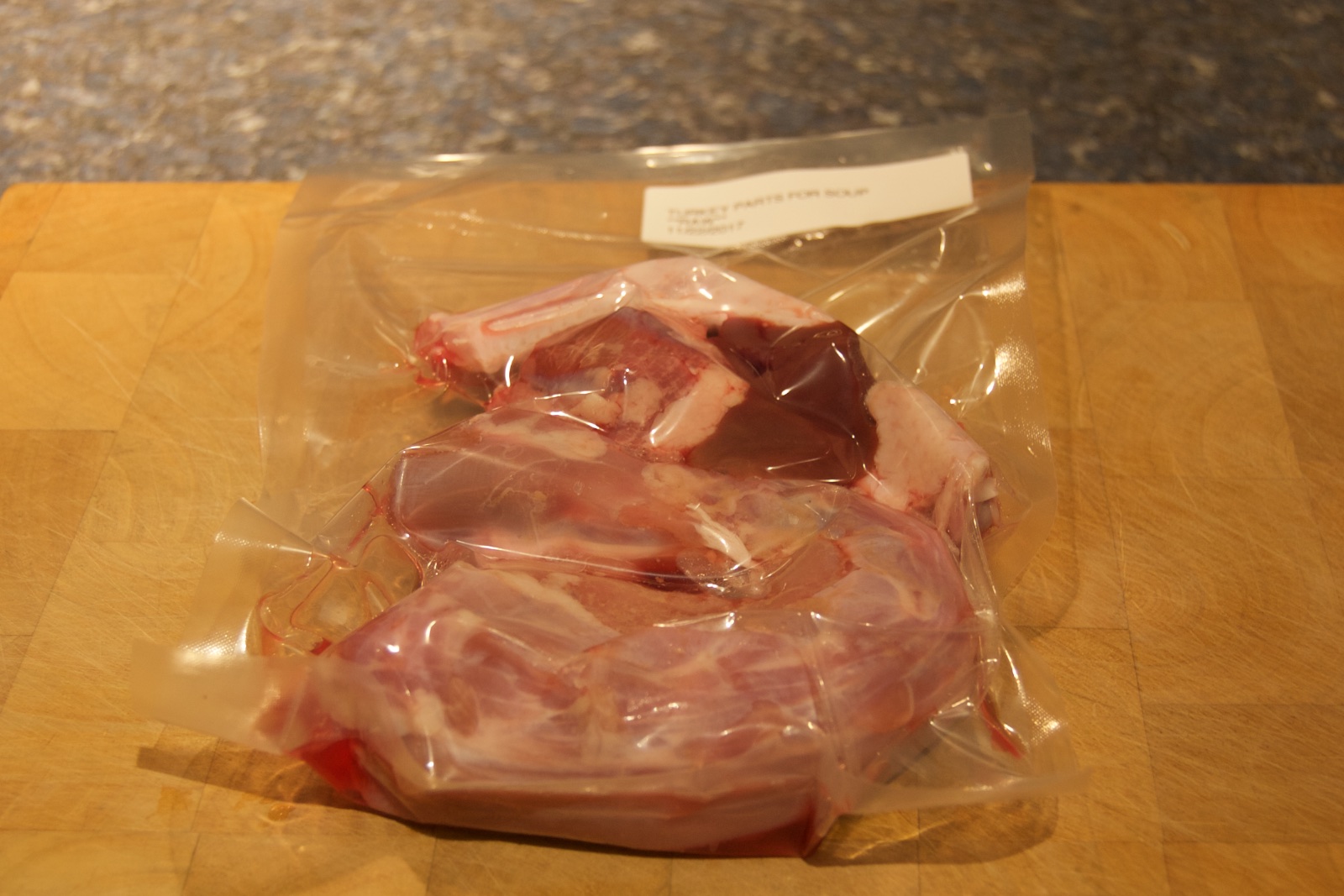 Salad
Prepped salad with lettuce mix, cucumber, and grape tomatoes.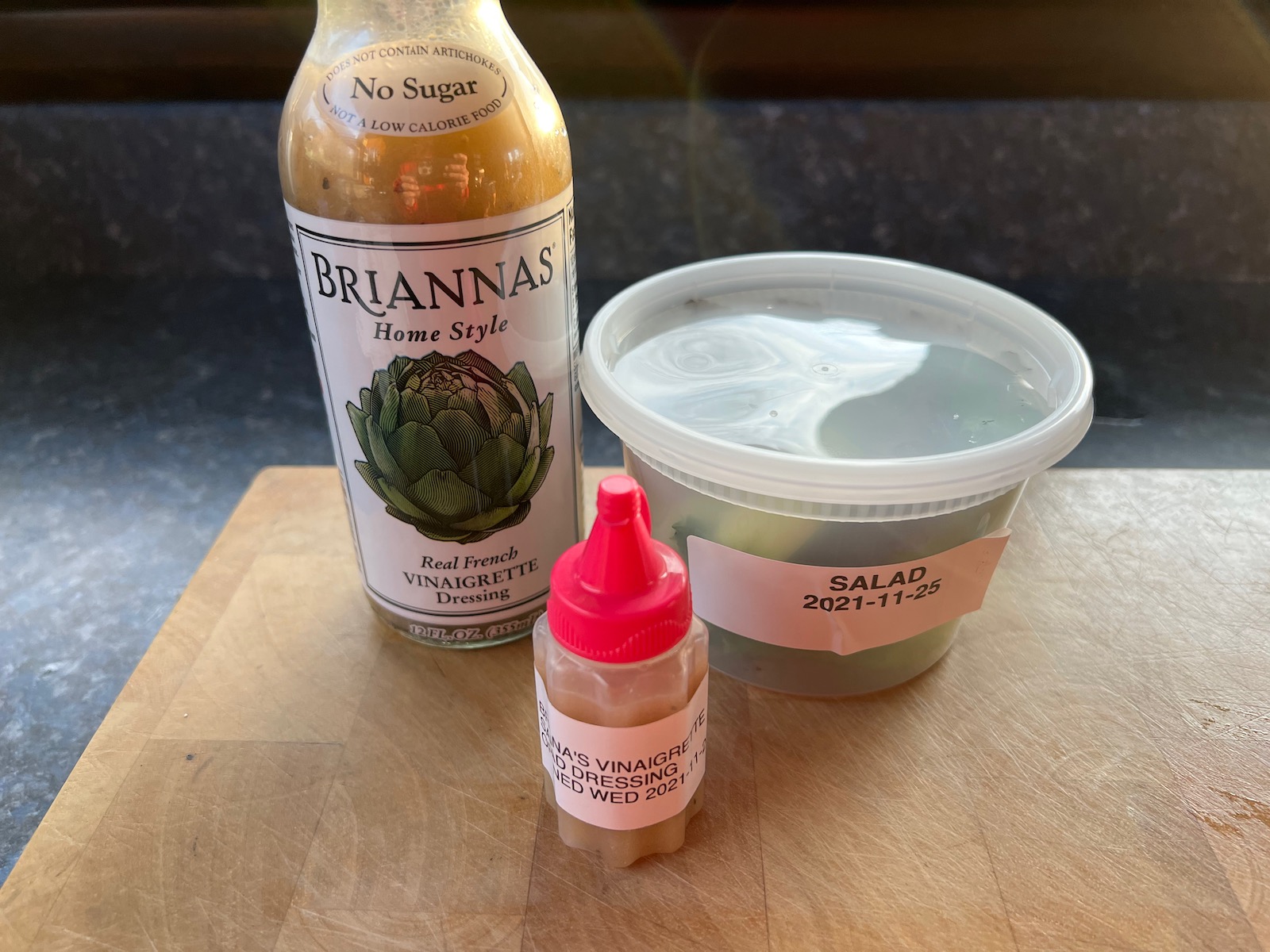 Supplies
Table cloth (black)
5x black napkins
small crockpot for meatballs
large crockpot for mashed potatoes
instant-read thermometer
alarm thermometer
Silicone gloves
Apron
10" chef's knife
Kitchen side towels
Prepped salad - in take-out container
Salad dressing
Broccoli
Homemade cranberry relish
Mama Stamberg cranberry sauce
Green bean casserole
Cold balsamic green bean salad
Spicy green beans
Turkey (in roasting pan, uncooked)
Dressing cooking pan (9x9 baking dish)
Gravy (4 cup Pyrex)
Pan to reheat gravy
Mashed potatoes (7 cup Pyrex)
Cooked rice (7 cup Pyrex)
Shrimp cocktail (cooked and peeled, tail on, large) vacuum sealed and defrosted
Shrimp cocktail sauce
Cocktail napkins
Appetizer plates (6)
Appetizer forks (6)
Flat take out containers for pie
Other take-out containers?
Serving utensils
All packed up and ready to go!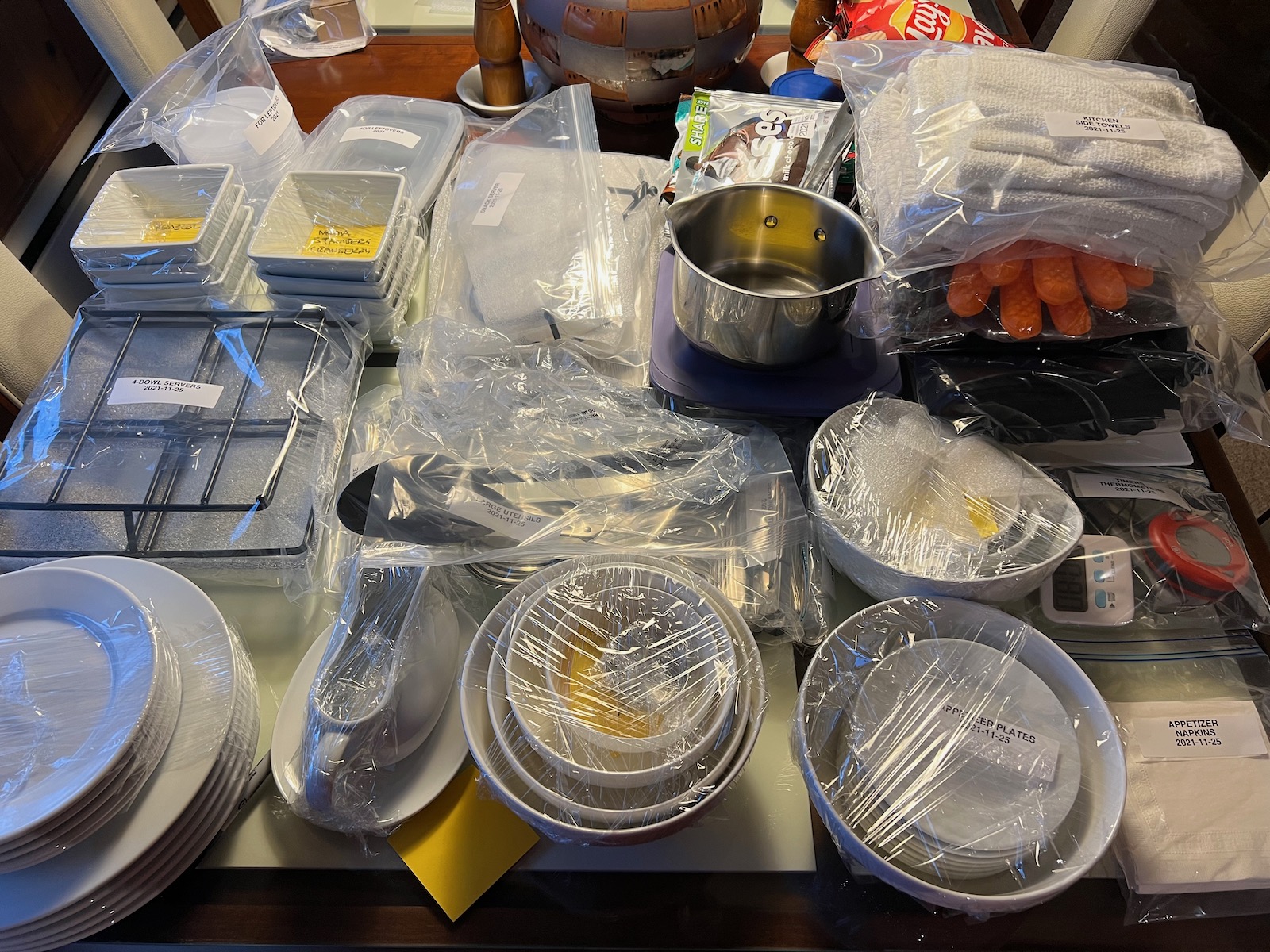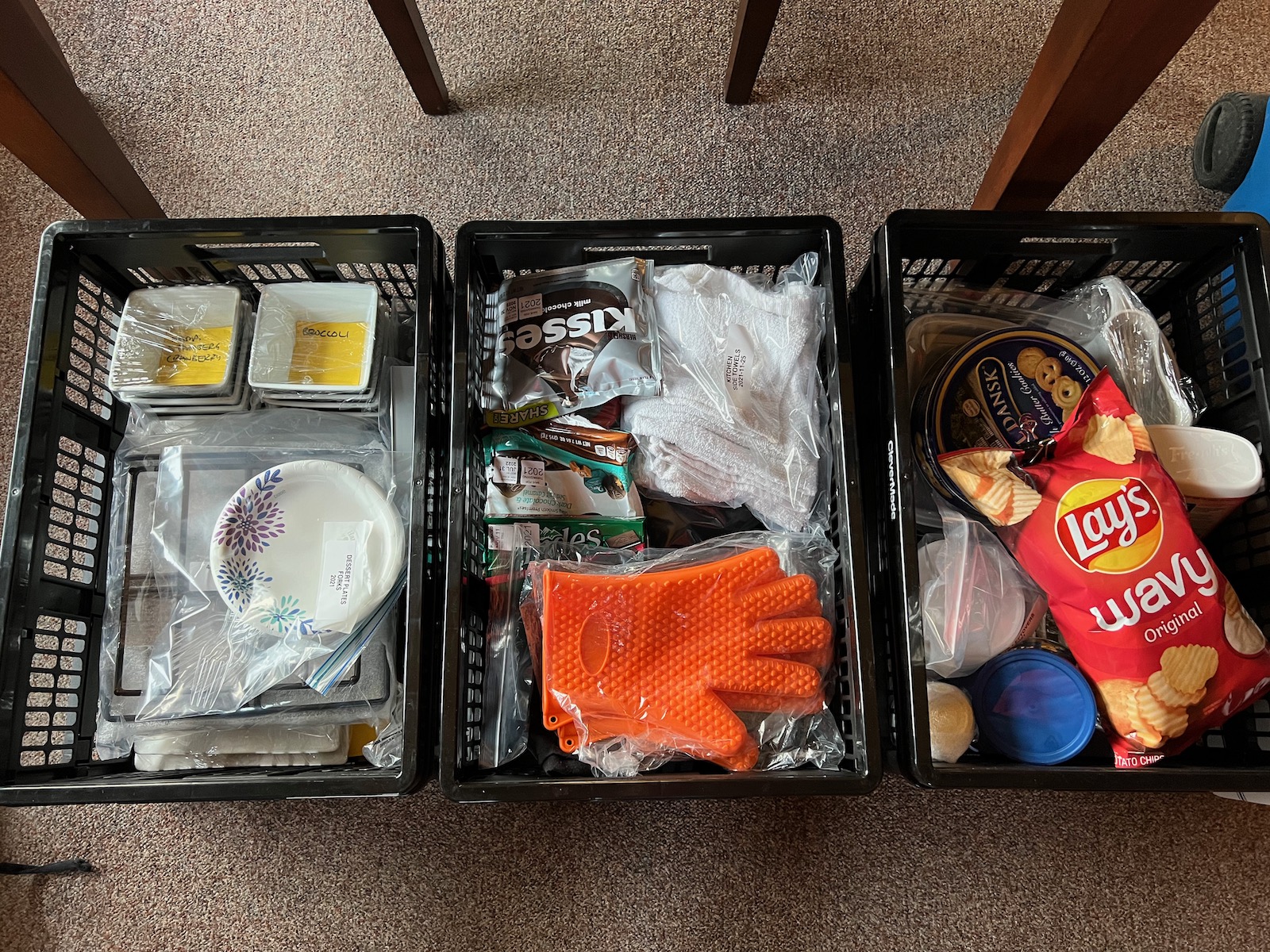 Thanksgiving schedule
10:15 AM Pack food, head to lake
11:15 AM Preheat oven to 325°F
11:30 AM Turkey into oven
11:30 AM Reheat meatballs in crockpot (high)
12:00 PM Put out snacks
12:00 PM Lower meatballs to low heat
12:15 PM Flip turkey over
1:00 PM Put out shrimp cocktail
2:15 PM Check turkey - insert probe thermometer
2:40 PM Mama Stamberg cranberry to freezer
2:40 PM Prep sweet potatoes for oven
2:30 PM to 3:15 Turkey done
2:30 PM Mashed potatoes reheat in crockpot high (lower once warm)
2:50 PM Dressing, sweet potatoes, green bean casserole to oven
3:35 PM Add fried onion to green beans
3:40 PM Slice turkey
3:45 PM Plate traditional and Mama Stamberg cranberry sauce
3:45 PM Reheat gravy
3:50 PM Sides out of oven
3:50 PM Microwave broccoli, spicy green beans
3:55 PM Microwave rice
4:00 PM Dinner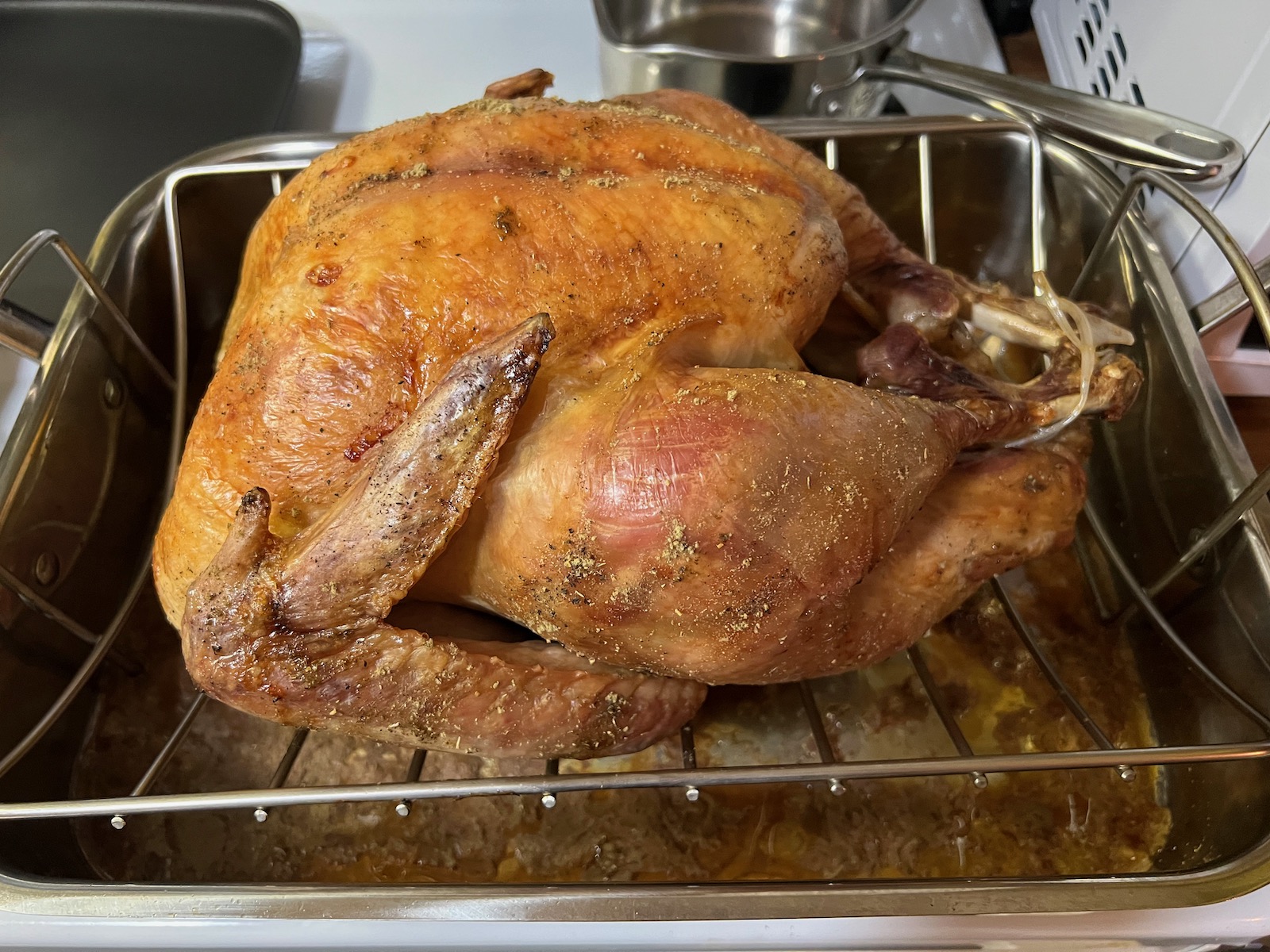 Serving
Since we only have 4 people in 2021, table serve instead of using buffet servers. This will save a lot of work.
New serving platters:
Large: 15.9" x 8.6" (2)
Medium: 13.4" x 8" (2)
Small: 11.8" x 7.3" (2)
New serving bowls:
64 oz. 8"DIA x 3.8"H (2)
42 oz. 7"DIA x 3.2H (2)
22 oz. 6"DIA x 2.8"H (2)
12 oz. 4.5"DIA x 2.3"H (2)
Appetizers
3-compartment snack tray in family room (3 different sizes)
Small: Cashews
Medium: Chocolate candies
Large: Potato chips
Mini-meatballs in small crockpot
Shrimp cocktail (small platter + 12 oz. bowl)
Danish butter cookies
Andes mints
Table Serving
Turkey - medium platter

Dressing - 42 oz. bowl

Gravy - 16 oz. gravy boat

Mashed potatoes - 42 oz. bowl

Rice - 64 oz. bowl

4-compartment condiment dish:

Broccoli

Green bean casserole

Spicy green beans

Sweet potatoes

4-compartment condiment dish:

Cranberry sauce (traditional)

Cranberry sauce (Mama Stamberg's)

Salad

Cold Balsamic green bean salad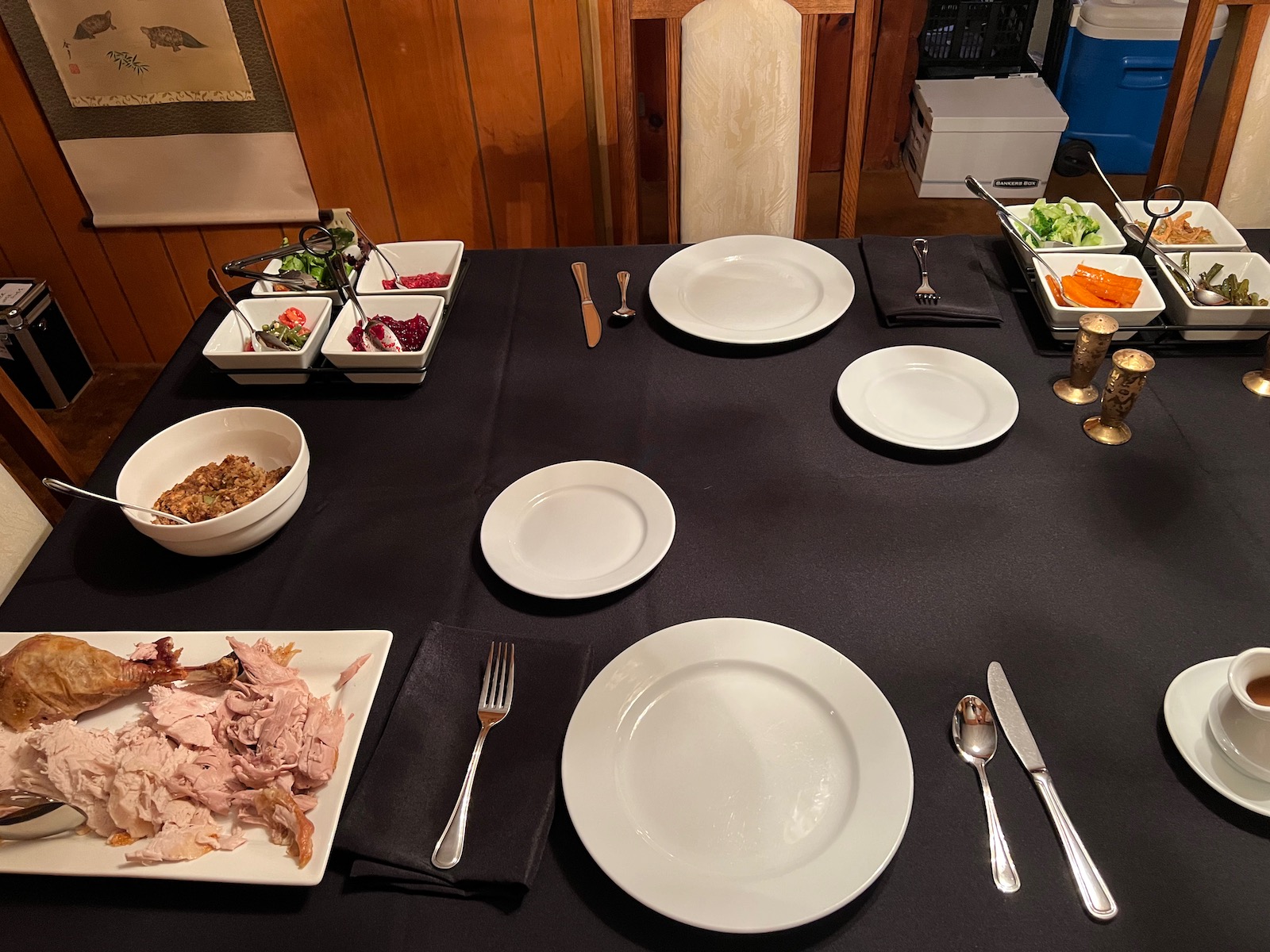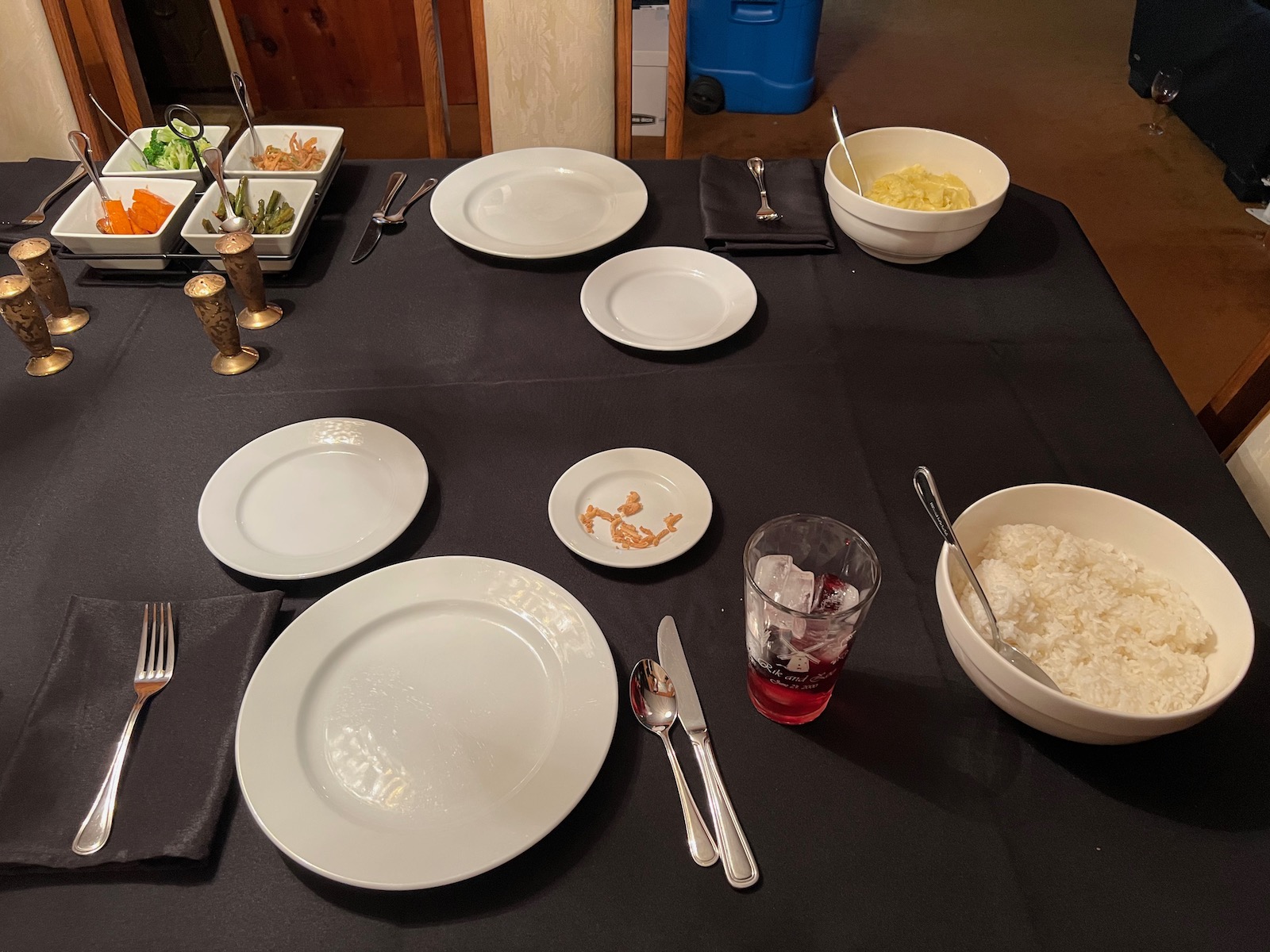 After dinner
I hacked apart the turkey to fit in zip-lock bags and refrigerated it until tomorrow when I'll package the left-overs and make soup.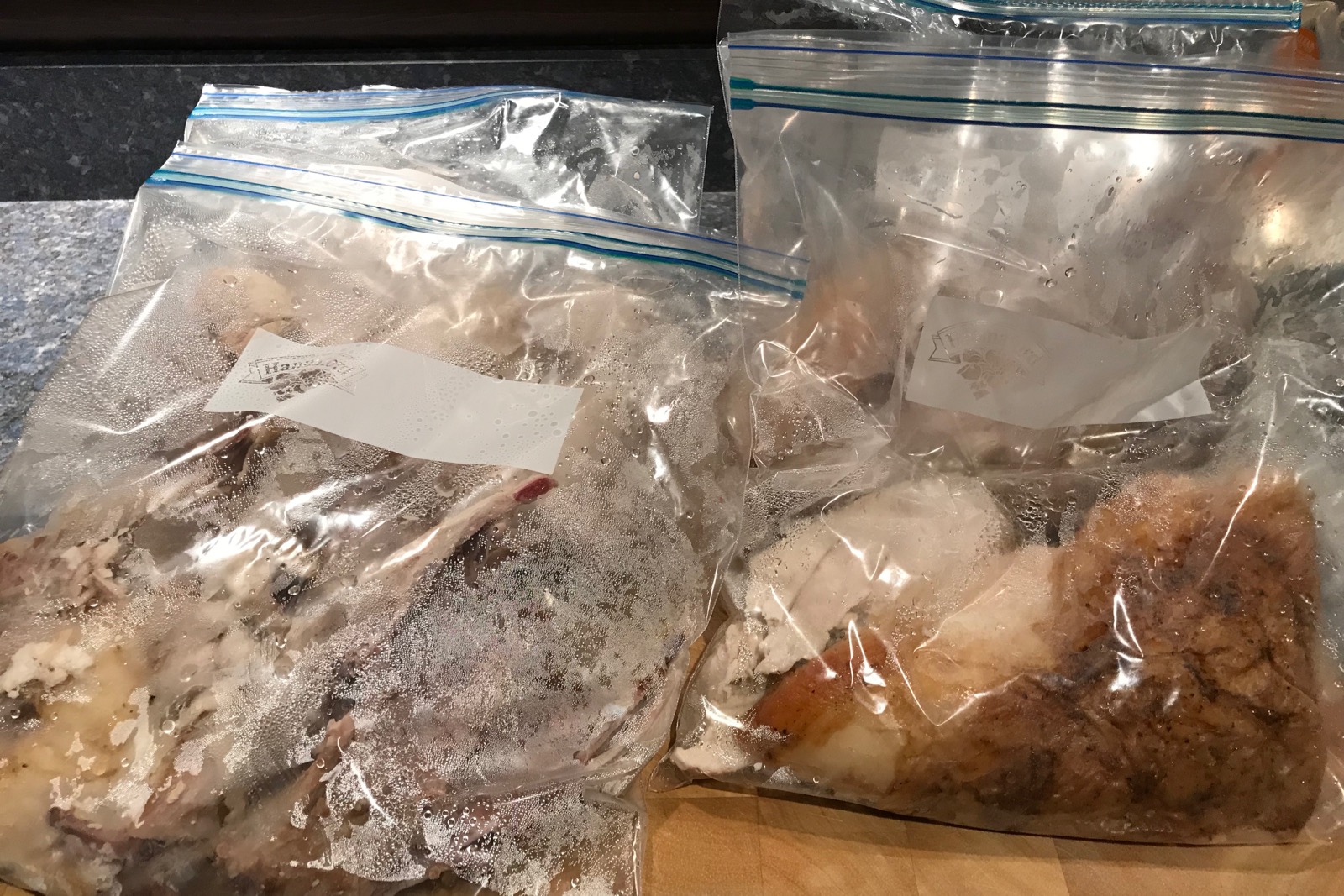 Friday morning leftover cleanup
Turkey sliced and ready for packaging.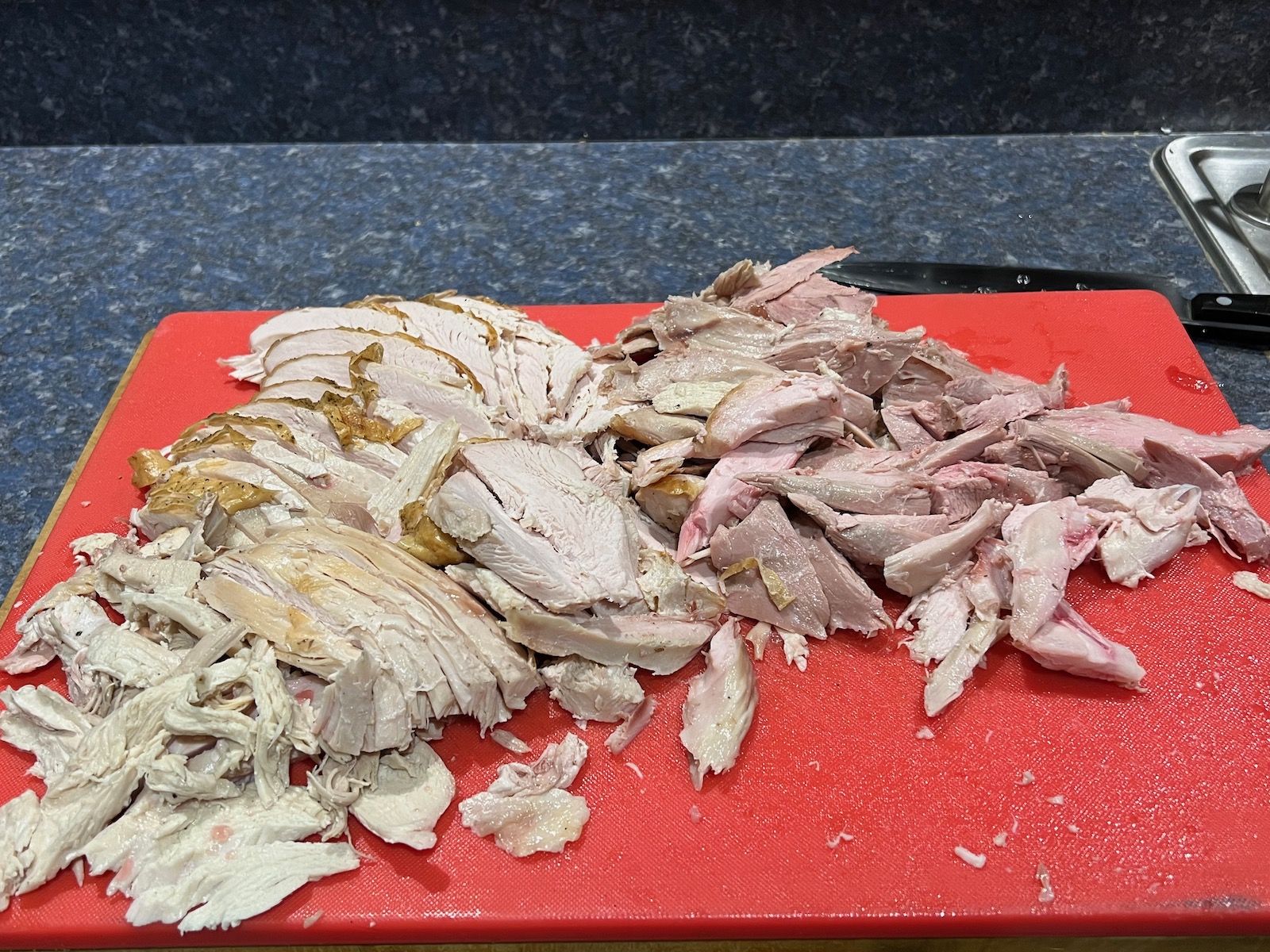 4 servings for dinner each with 4.5 oz. turkey, 4.5 oz. mashed potatoes, dressing, 5.0 oz. gravy, and sweet potatoes.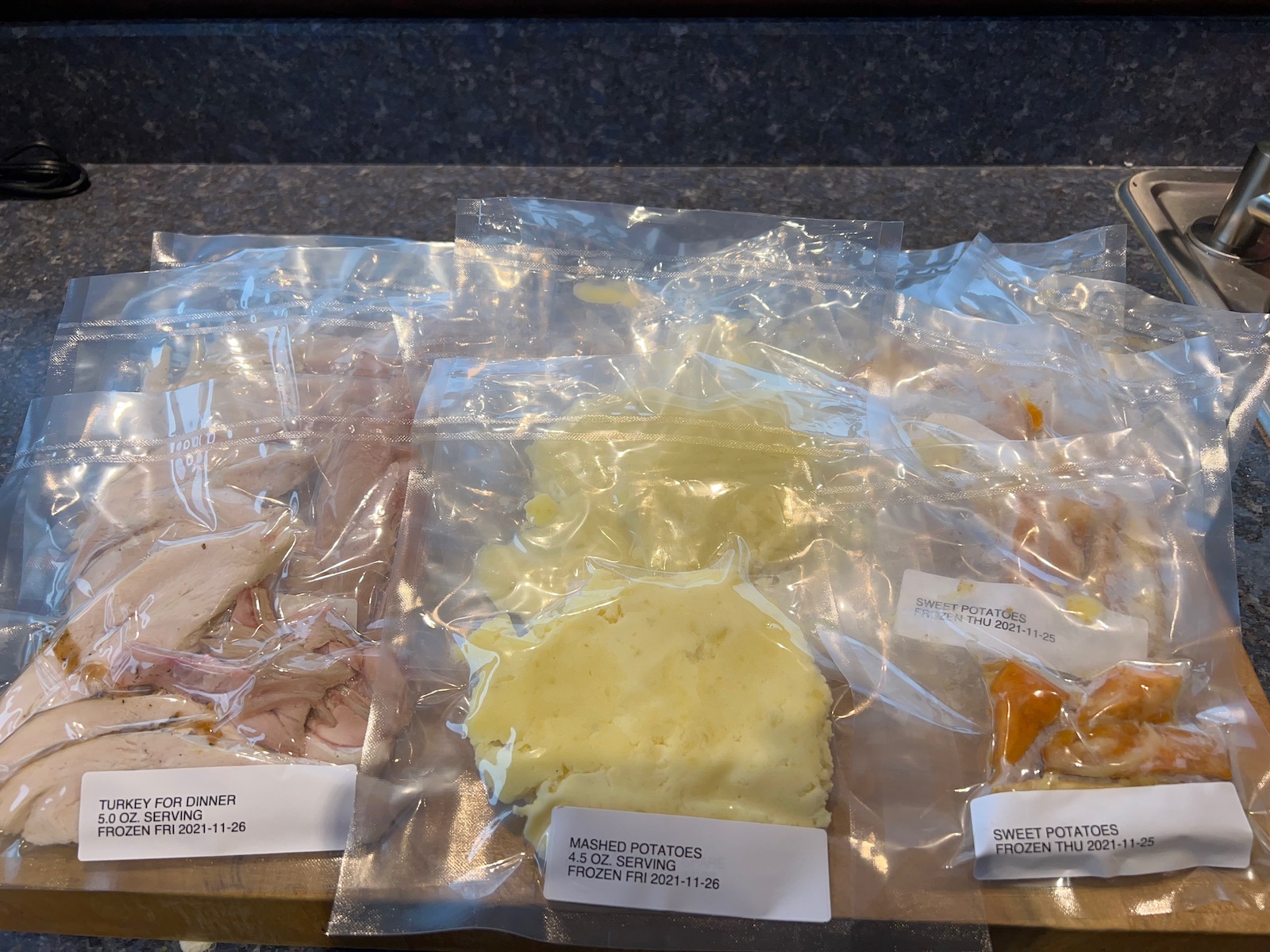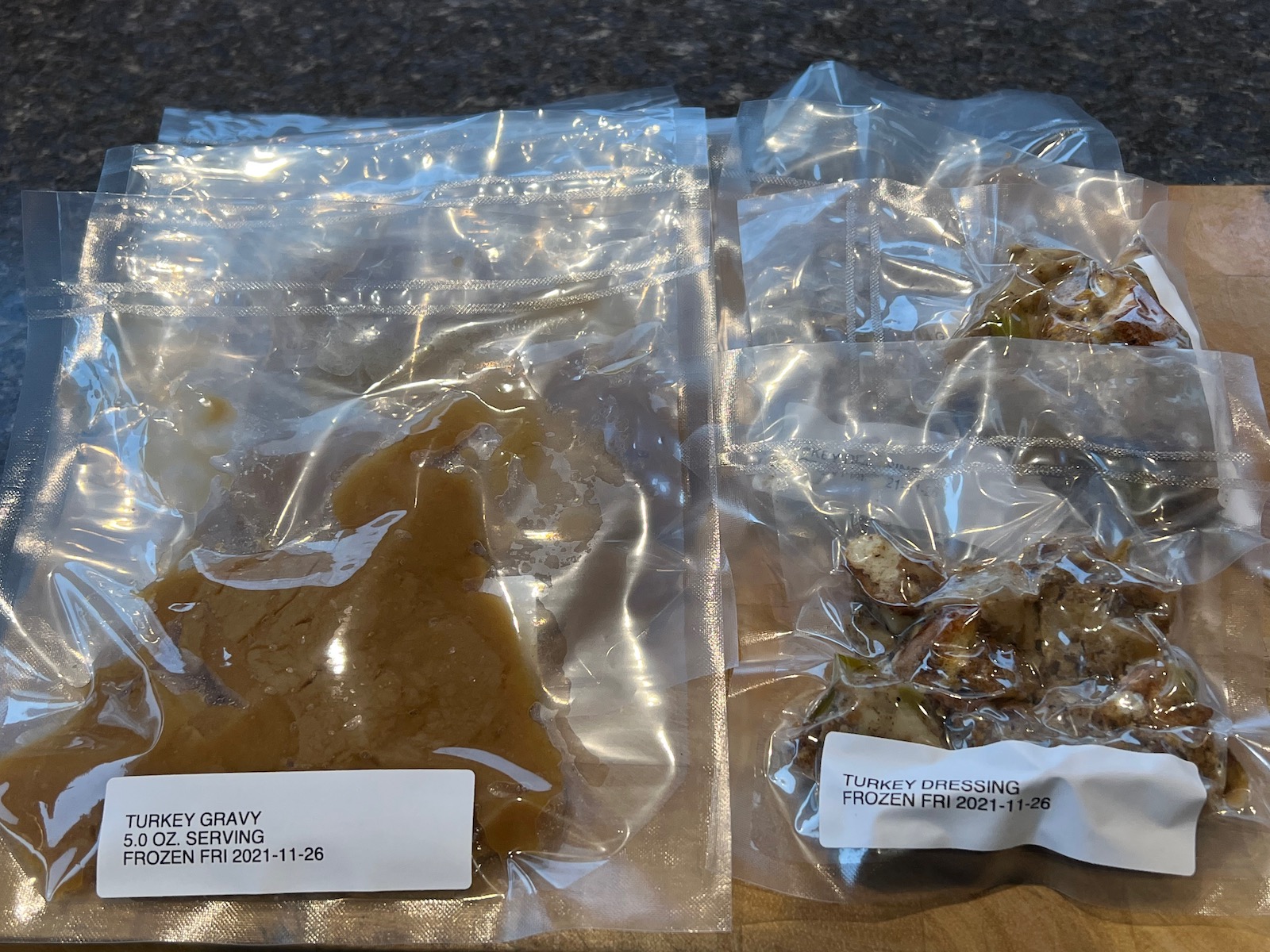 4 servings diced for stir-fry, and 3 servings for sandwiches, 2.8 oz. each.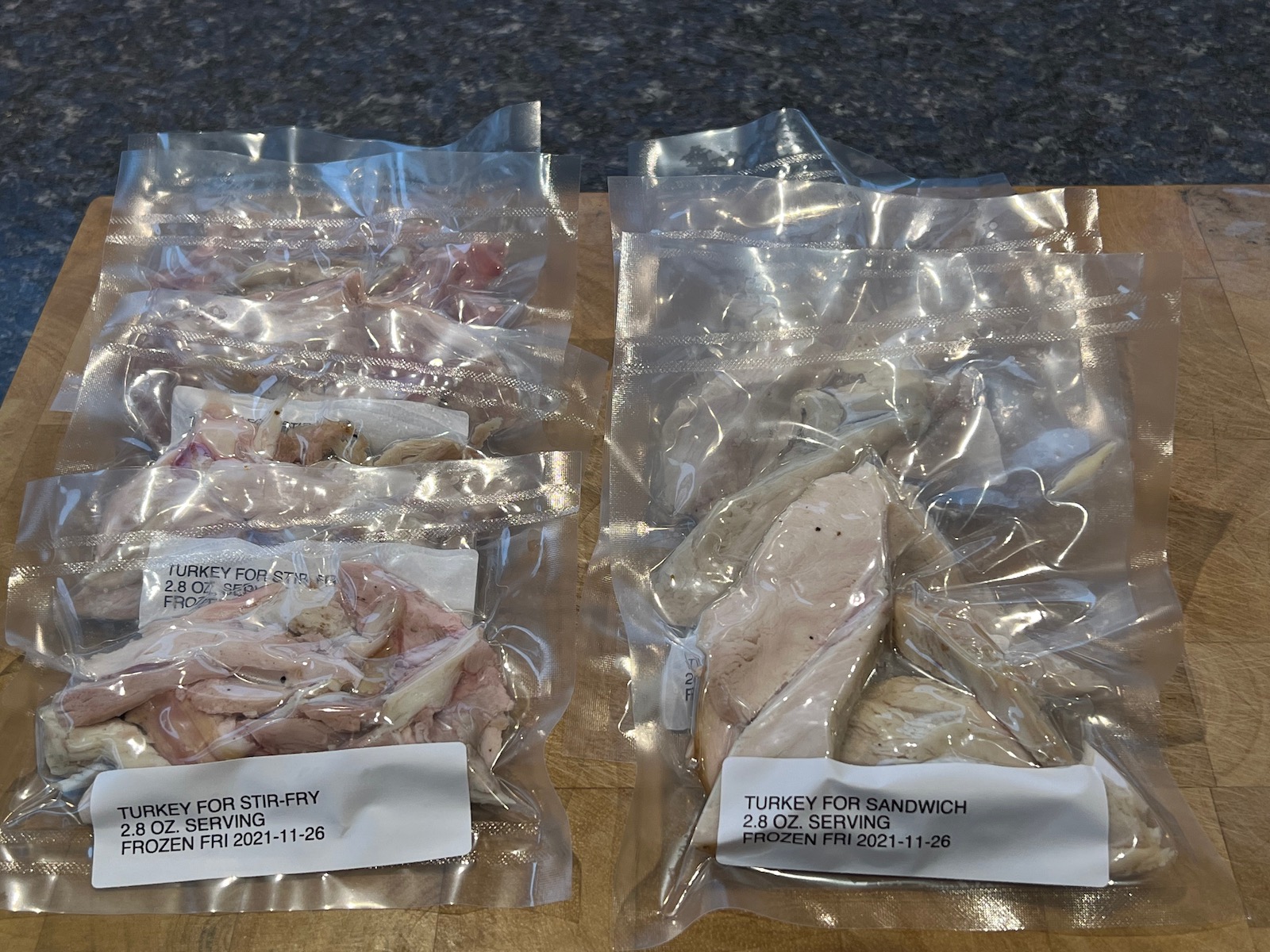 Almost our dinner packages, with turkey, gravy, dressing and mashed potatoes.
All that's left is to make the stock and turkey soup . 1 yellow onion
1 large carrots (or 2 small) 1 large stalk of celery (or 2 small) 2 bay leaves
1/2 tsp. salt
1/2 tsp. whole black peppercorns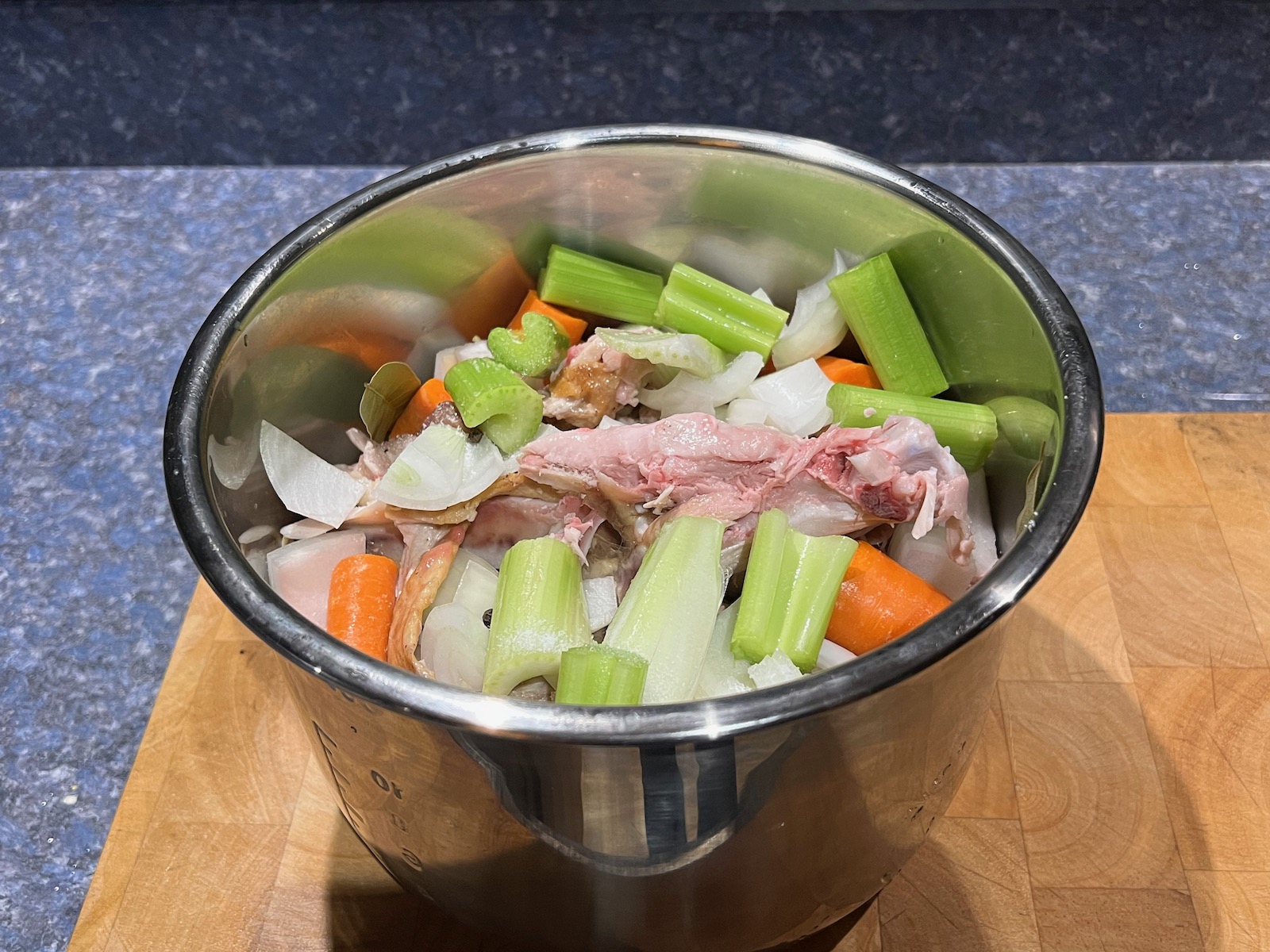 Into the Instant Pot for a soup pressure cooking cycle (30 minutes) with 68 oz. water.
Let rest for 20 minutes after the cycle, the depressurize. Chill in a cold water.
Most of the solids separated out. I just fish them out by hand before straining the stock through a mesh sieve.
68 oz. of stock. Refrigerate so the fat rises to the top, then skim off the fat.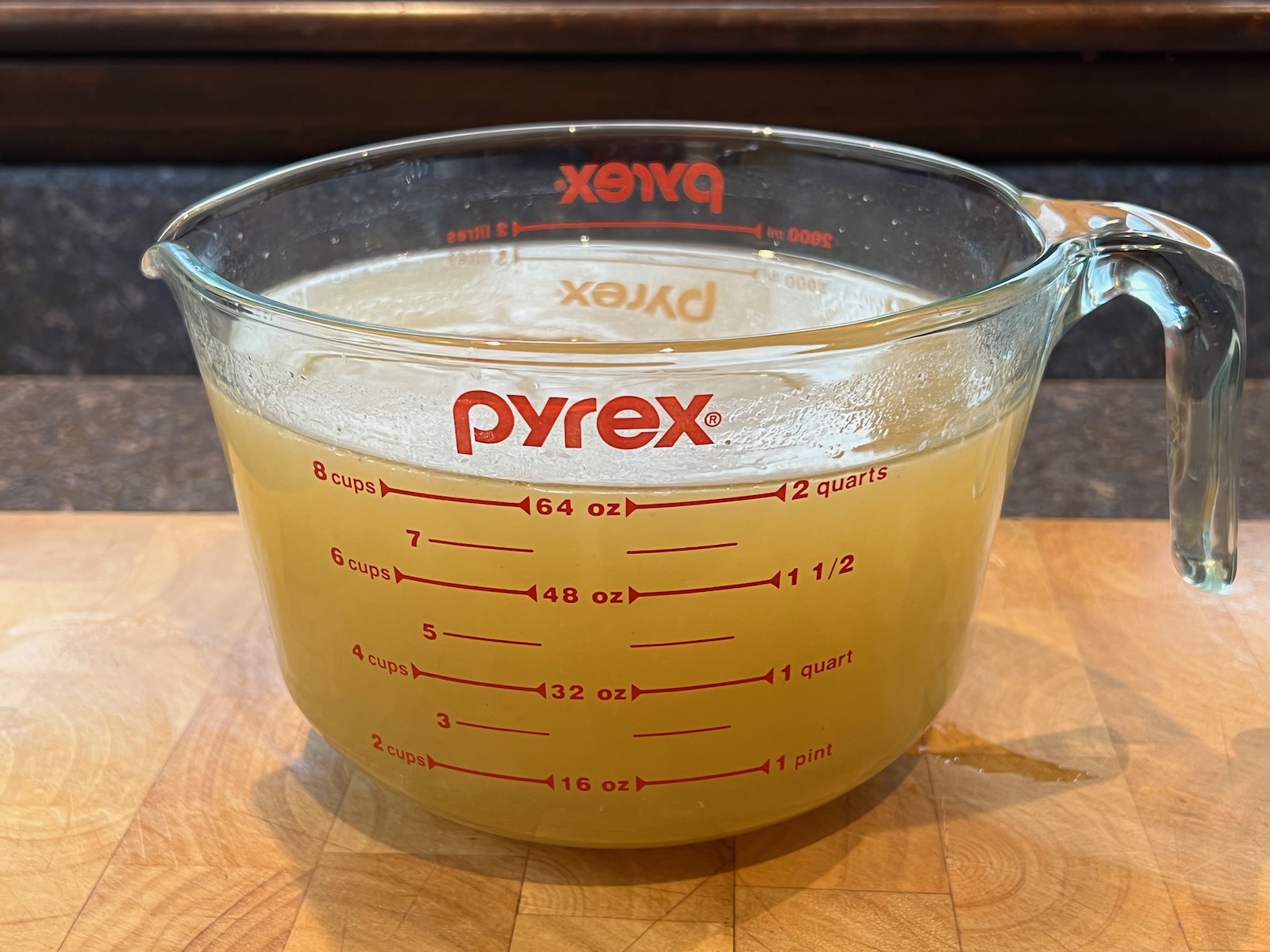 Packaged into 1 packages of 16 oz. of turkey stock only. and 4 packages of 12 oz. stock and 3 packages of 2.8 oz. turkey for turkey soup.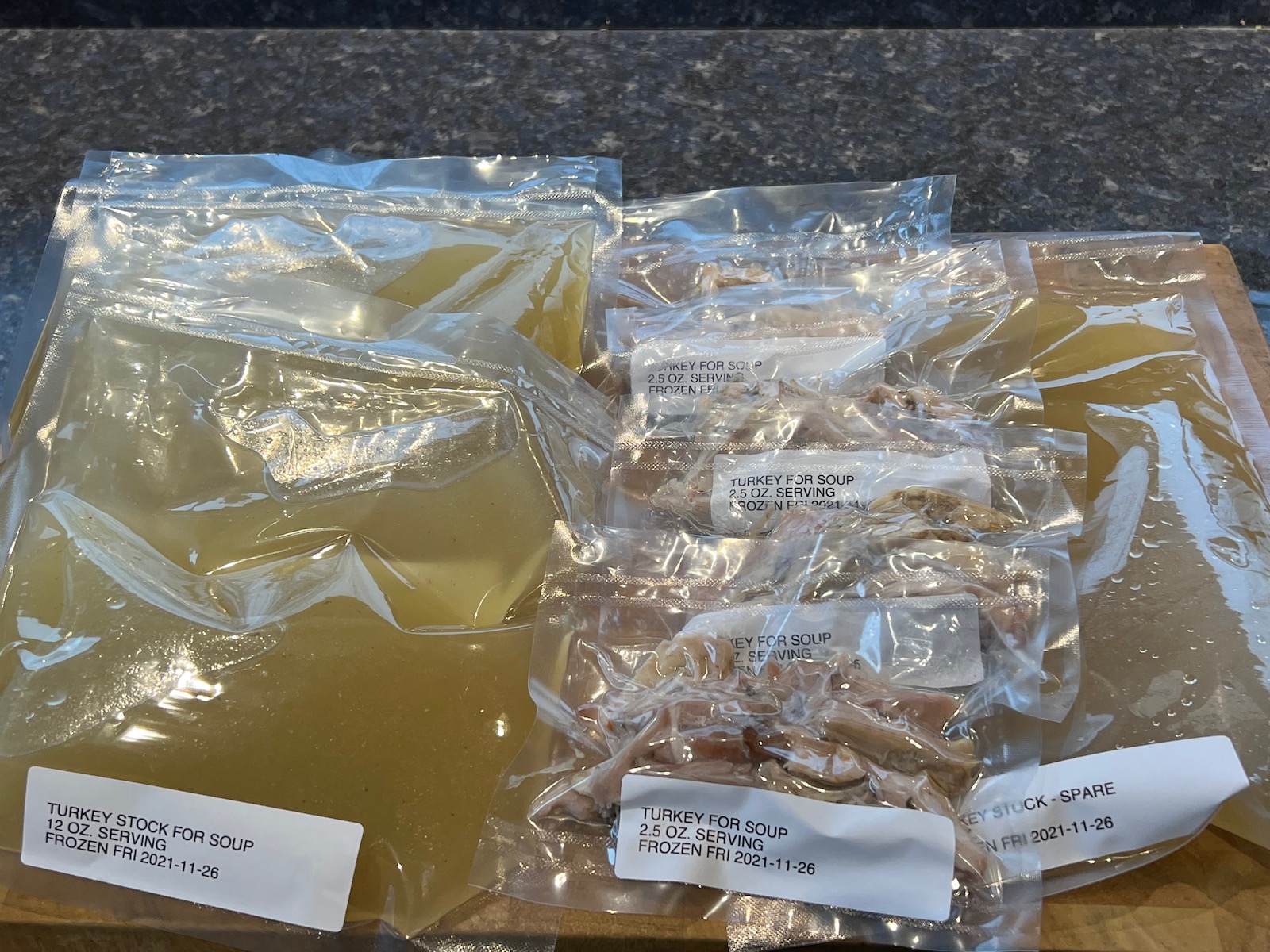 Dishes packed and put away.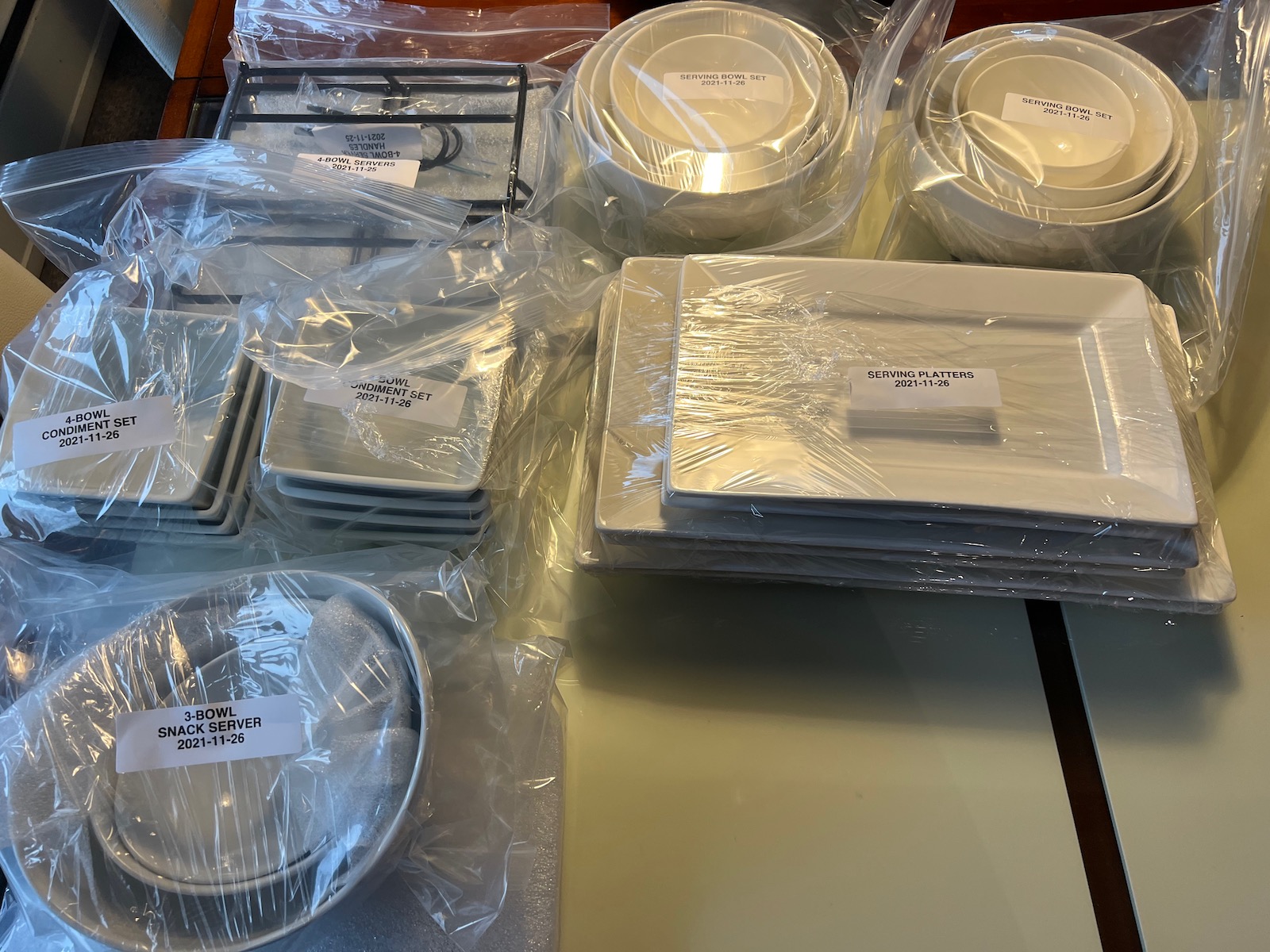 Now I'm really done!