Fish and chips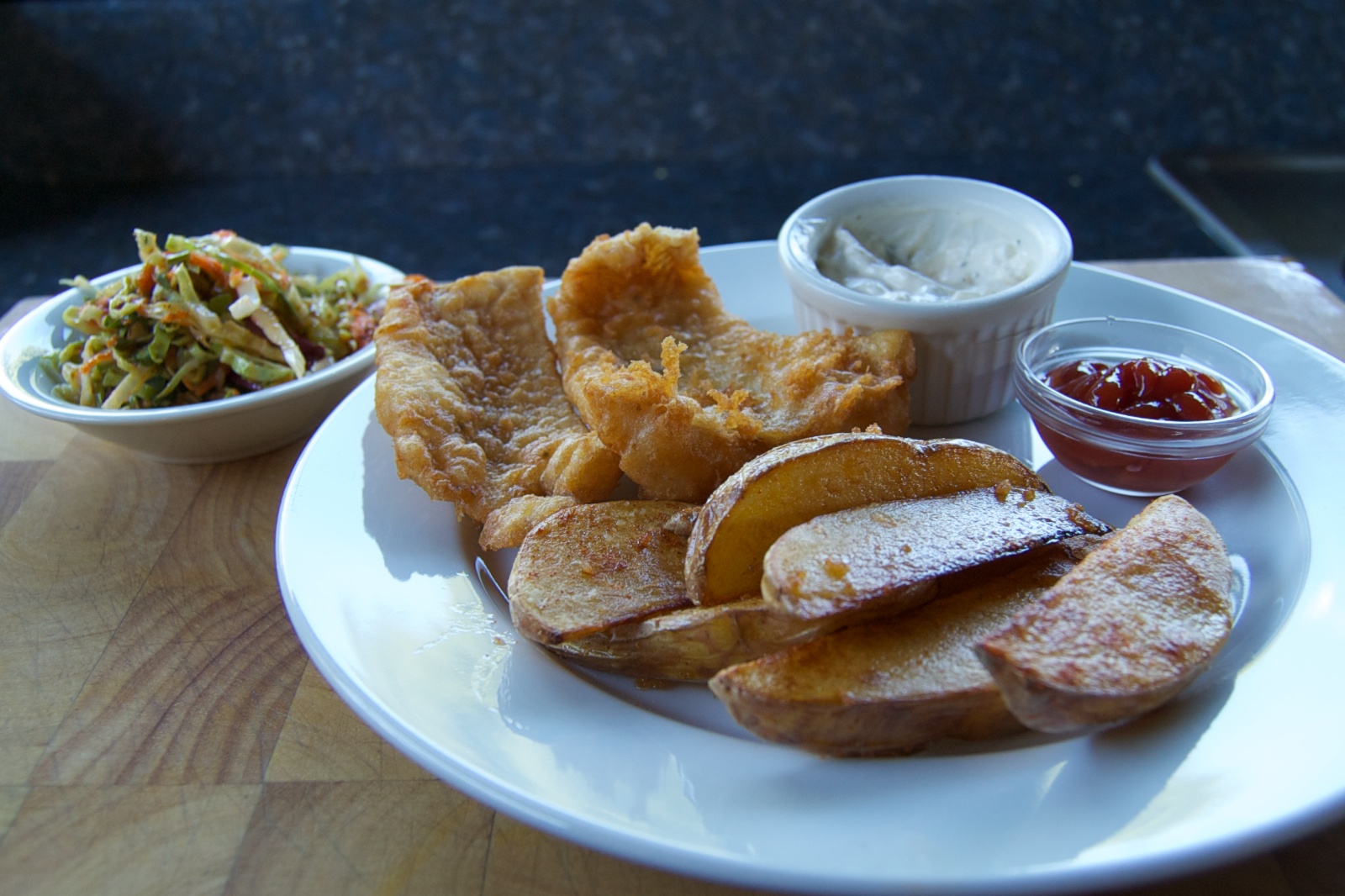 Note: There is an updated version of this recipe as Fish and Chips #2 .
Tonight's dinner was fish and chips, homemade tartar sauce and spicy coleslaw .
Tartar sauce Often I make garlic aioli with fish and chips, which is very delicious but it's impossible to make in very small quantities and is easiest to make in the food processor, but then requires cleaning the food processor.
I decided to make tartar sauce instead, which is quick and easy and can be made in as small or large quantity as necessary. I made exactly the amount in the ramekin.
mayonnaise sweet pickle relish (I used chopped sweet bread and butter pickles) minced shallot lemon juice salt pepper
I had previously been using onion based on a recipe I found online but I'm pretty sure the "correct" thing is shallot. I suspect that the substitution occurred because most home kitchens don't stock shallots, but I do always have them on hand so I switched.
Fries
I used my normal preparation for steak fries . Note that the potatoes have to be par-cooked in 270°F oil, so make sure you do that first!
Beer Batter
1 egg, beaten 1/2 c. all-purpose flour 6 oz. beer
This was way too much batter for the few pieces of fish that I made, but it's hard to scale much smaller because of the egg. I've also made it before with more flour and more beer , so there's quite a bit of flexibility as to the recipe.
Fish
I used haddock since that's what looked good at the supermarket. Cut into reasonably sized pieces, season with salt, pepper and granulated garlic. Dredge in flour then beer batter. Deep fry for about 4 minutes at 370°F. Pretty much the same as I've made before .