Chicken balsamic #2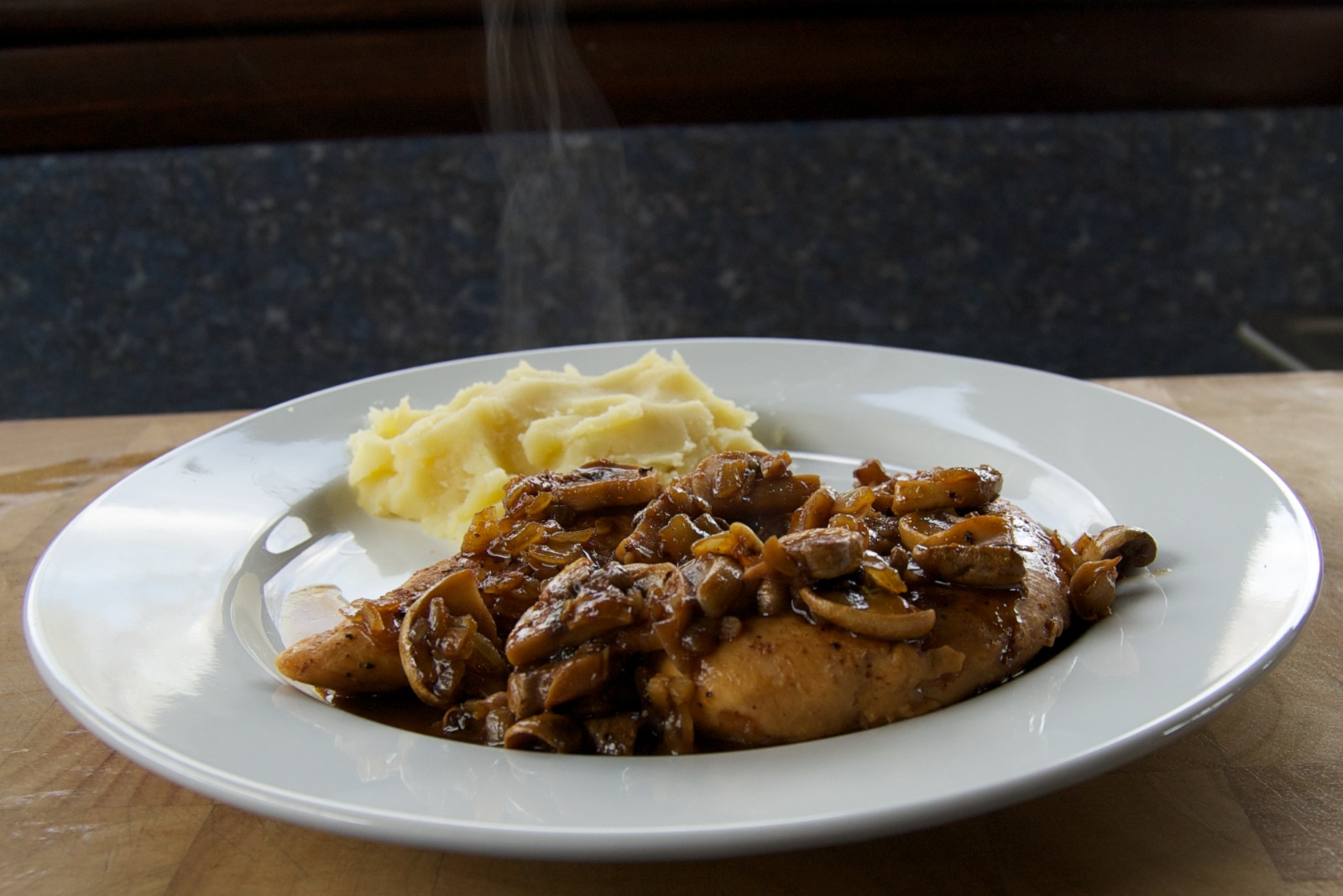 I used to make this dish fairly often a decade or two ago, then for some reason I stopped. I don't know why, because it's quite delicious!
This recipe makes exactly one serving with no leftovers, so be sure to scale it up if you want more.
6.0 oz. chicken breast tenders [or pork chop, see update below] half a medium yellow onion, finely diced 1 clove of garlic, minced 3 large white mushrooms 1 tbsp. More than Gourmet fond de poulet gold chicken stock concentrate 6.0 oz. hot water 1 tbsp. butter 2 tbsp. balsamic vinegar
The meal is pictured with 3.6 oz. of garlic mashed potatoes , previously vacuum sealed and frozen. To reheat the mashed potatoes, bring a pot of boil to a boil, add the frozen vacuum sealed bag, bring back to a boil, reduce to a simmer and simmer for 20 minutes. This takes the longest of any part of the meal, so it makes sense to start that first.
For one serving I use approximately 6.0 oz. of chicken breast tenders. This is 5.8 oz. A single piece of chicken breast also works well. Season with salt, freshly ground pepper and granulated garlic on both sides.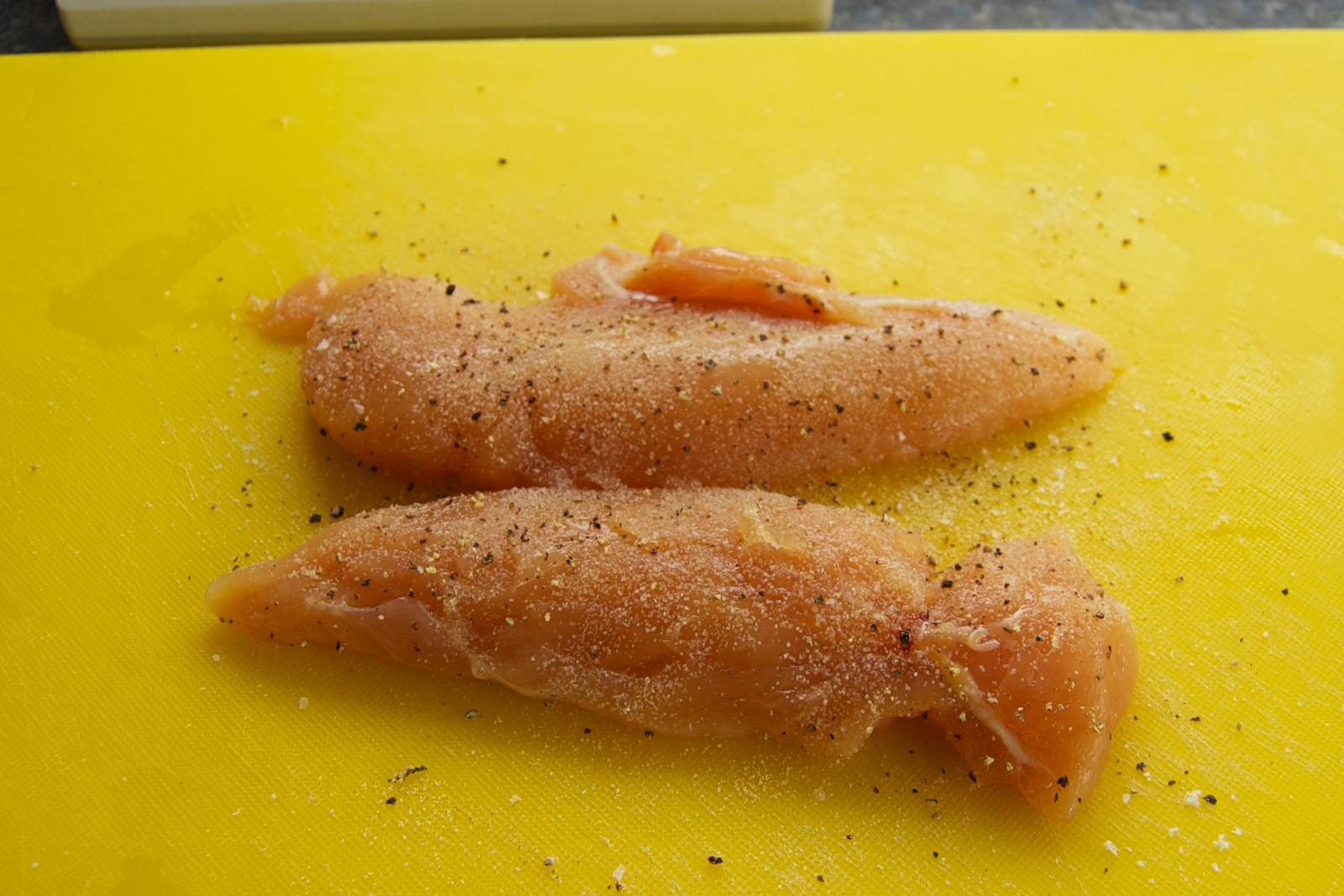 Also finely dice half a yellow onion, mince 1 clove of garlic and slice 3 large white mushrooms.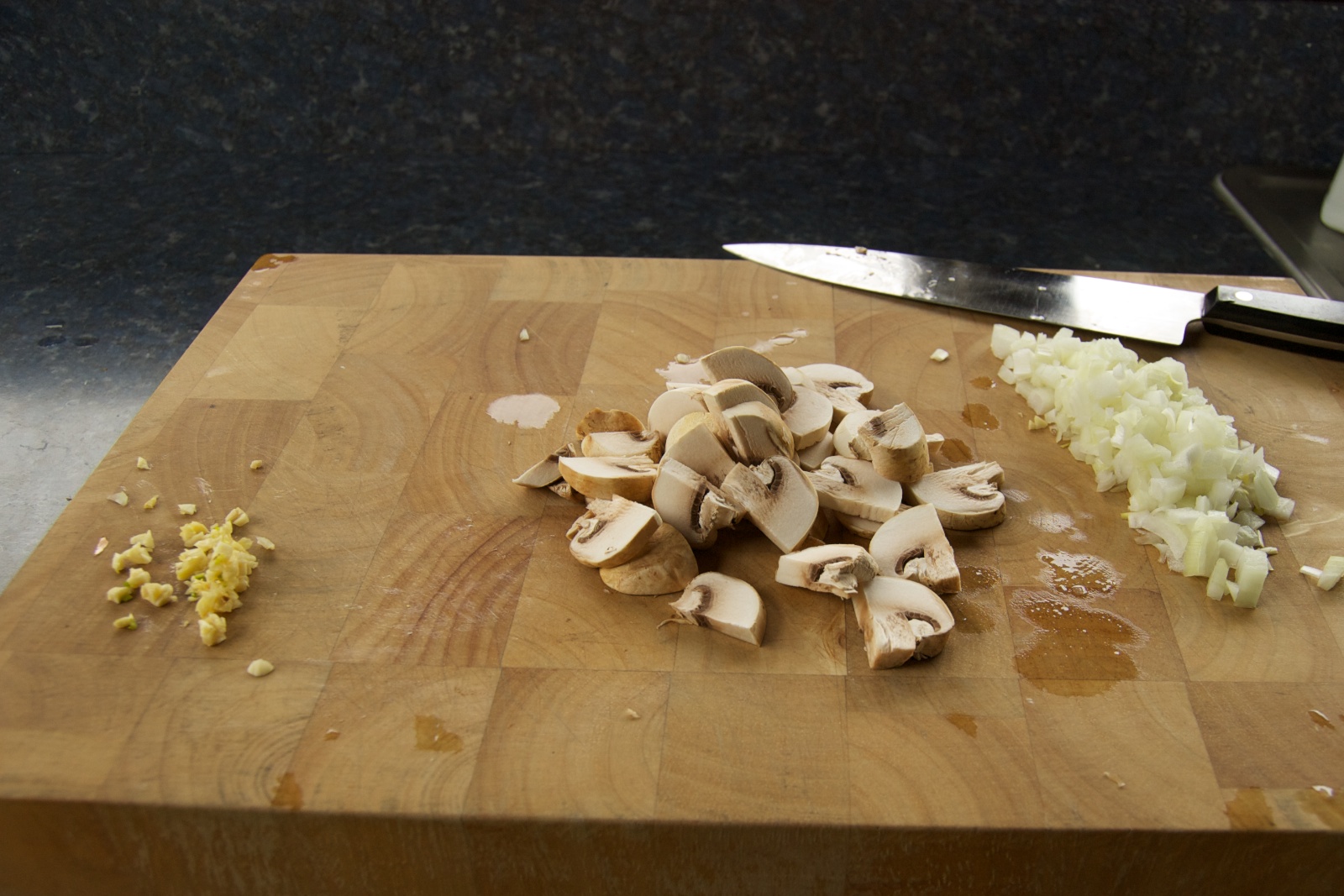 Bring 6.0 oz. of water to a boil. I use my electric tea kettle to heat the water and pour 6.0 oz. into a Pyrex measuring cup. Or you could microwave the water in the measuring chip. Add the chicken stock concentrate and dissolve. You could use actual chicken stock, but you should probably add a little extra and reduce it. The concentrate is great because you can make it any strength and the concentrate keeps forever in the refrigerator unlike an opened package of chicken stock.
Heat a sauté pan over medium-low heat. Add 1 tbsp. butter. Add the chicken on one half and the onions on the other. Lightly brown the chicken, the flip over to brown the other side. Add the mushrooms and garlic to the onions. When the chicken is browned, add the hot chicken stock to the pan.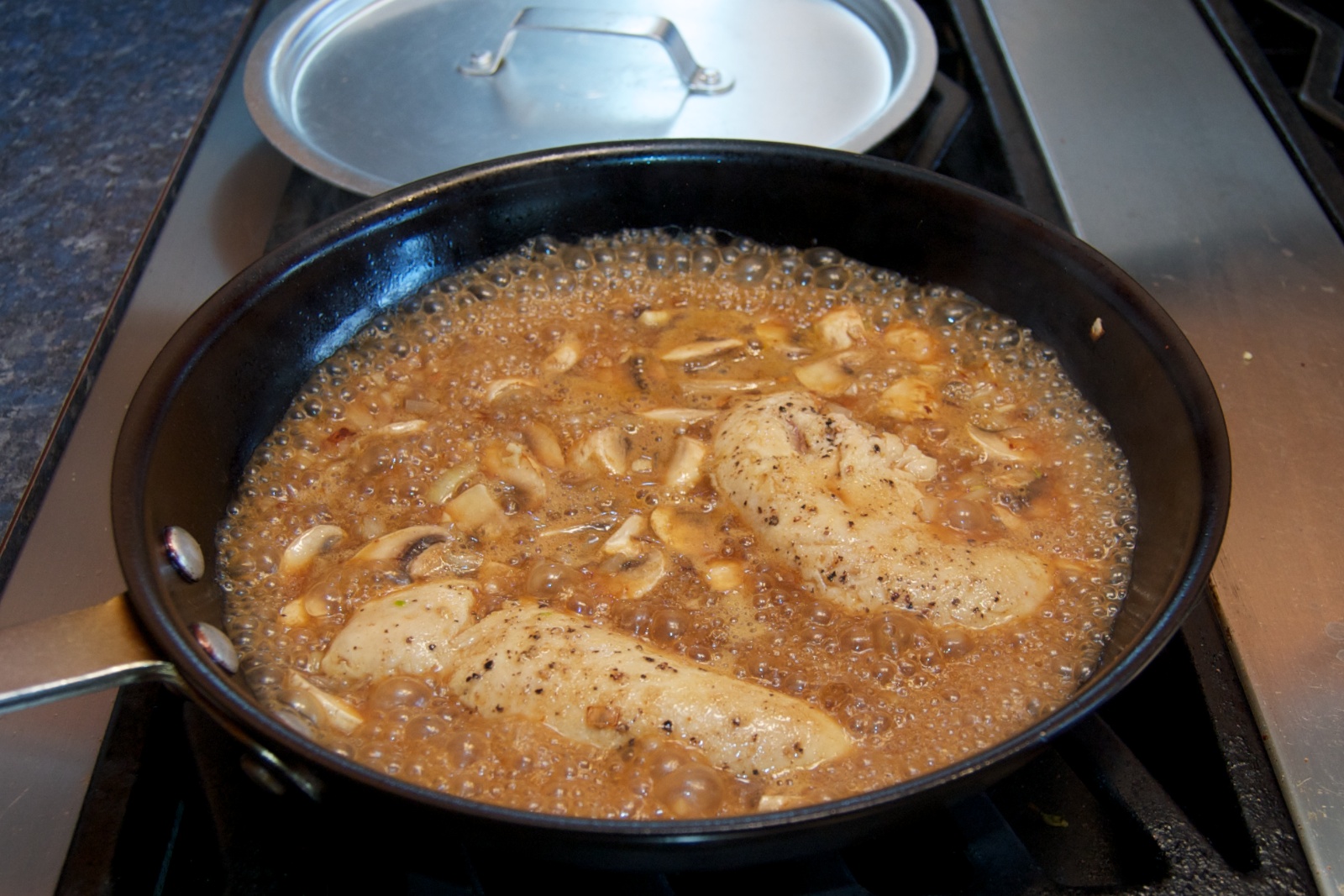 Cover and cook until the chicken reaches an internal temperature of 160°F, less than 10 minutes for chicken breast tenders, maybe 12 minutes for a thicker chicken breast piece. Flip the chicken once or twice during cooking.
Remove the chicken from the pan, increase the heat to medium-high and reduce the sauce, stirring frequently.
Plate the chicken, mashed potatoes and pour the reduce sauce, mushrooms and onions over the chicken.
The original recipe is here, but this recipe is better.
Update 6/21/2013: It also goes well with wild rice mix .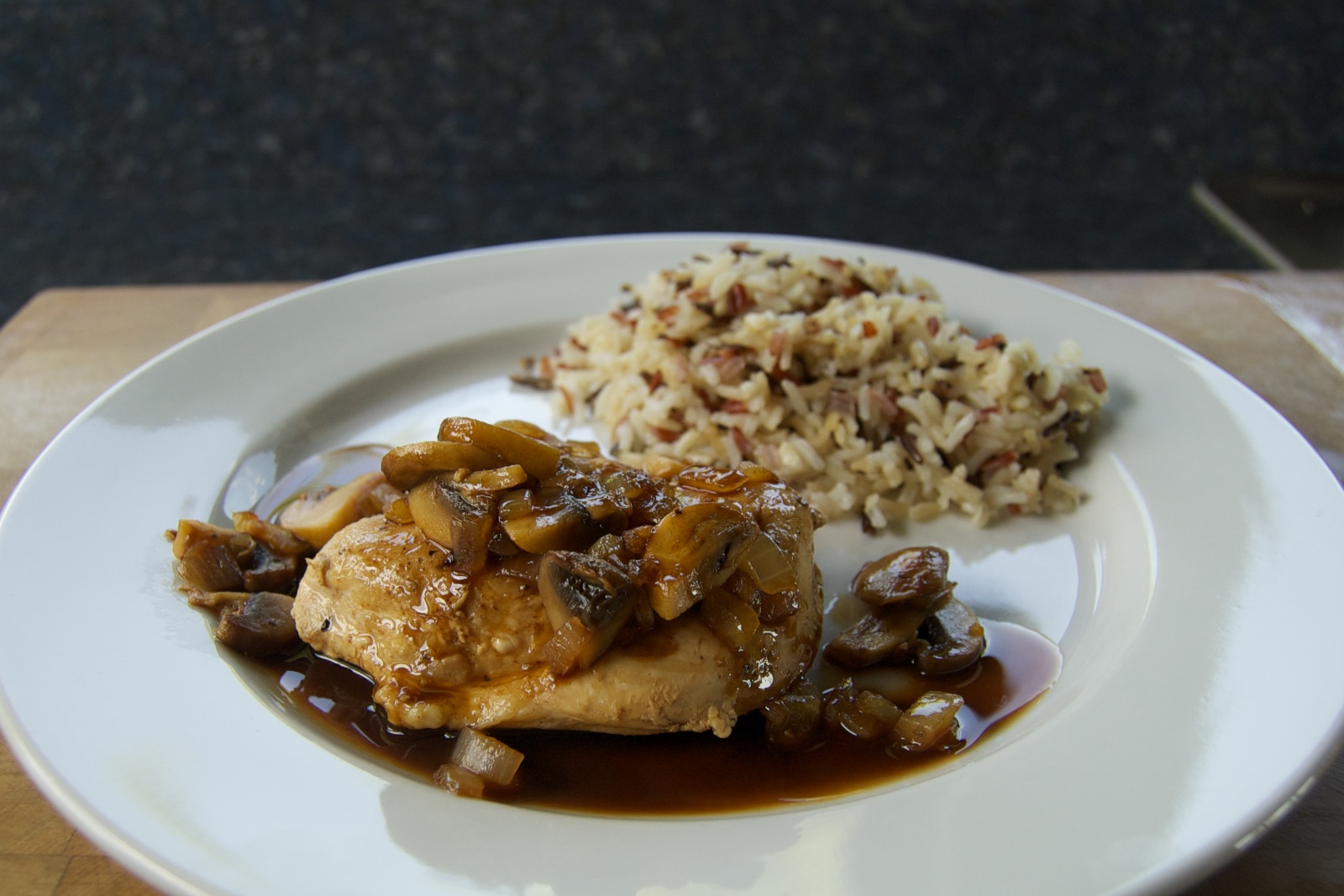 Update 9/9/2013: Here it is with a better recipe for wild rice mix .. I really like this combination!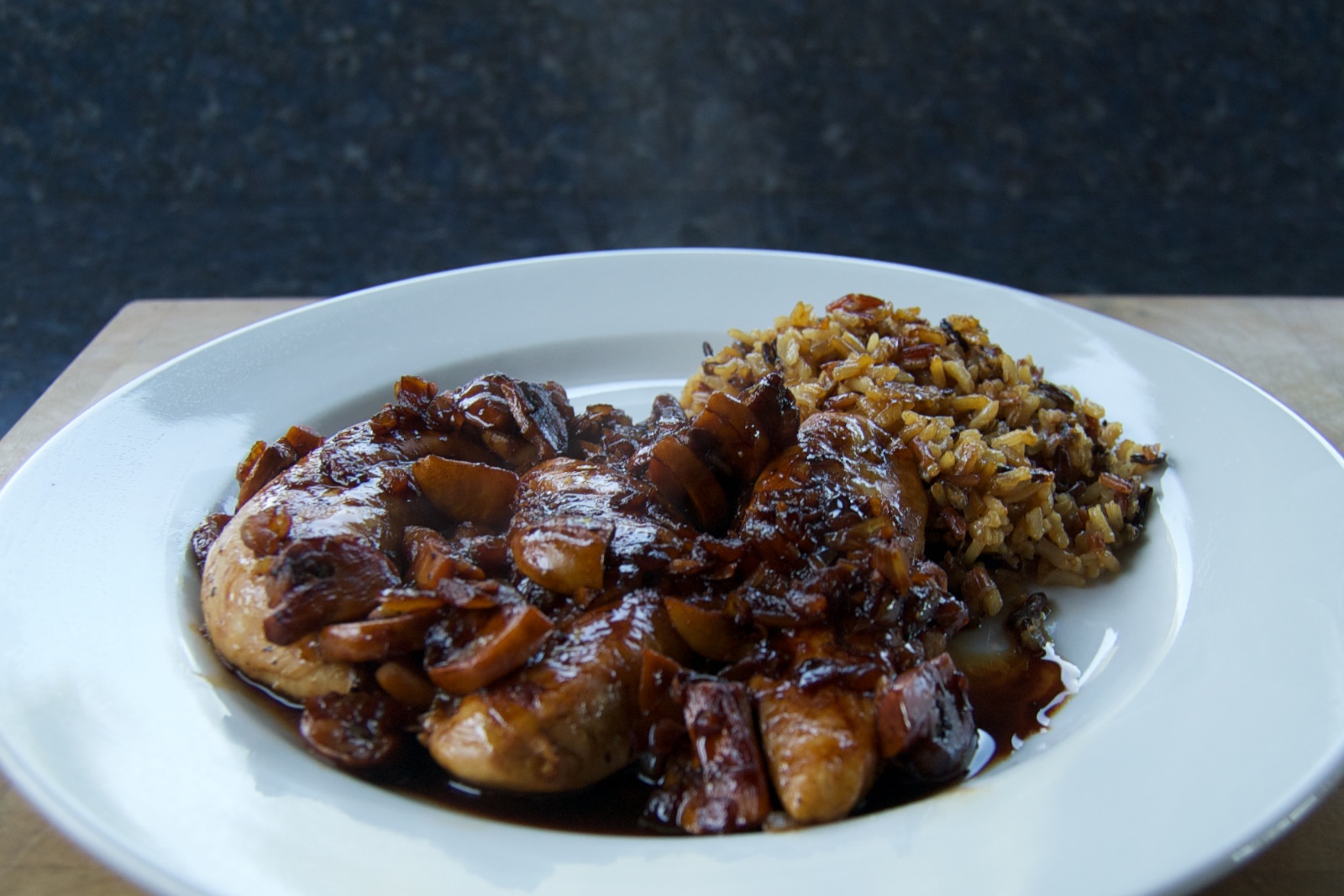 Update 11/22/2013: I made the recipe with a thick-cut bone-in pork chop instead of chicken breast and it was excellent!